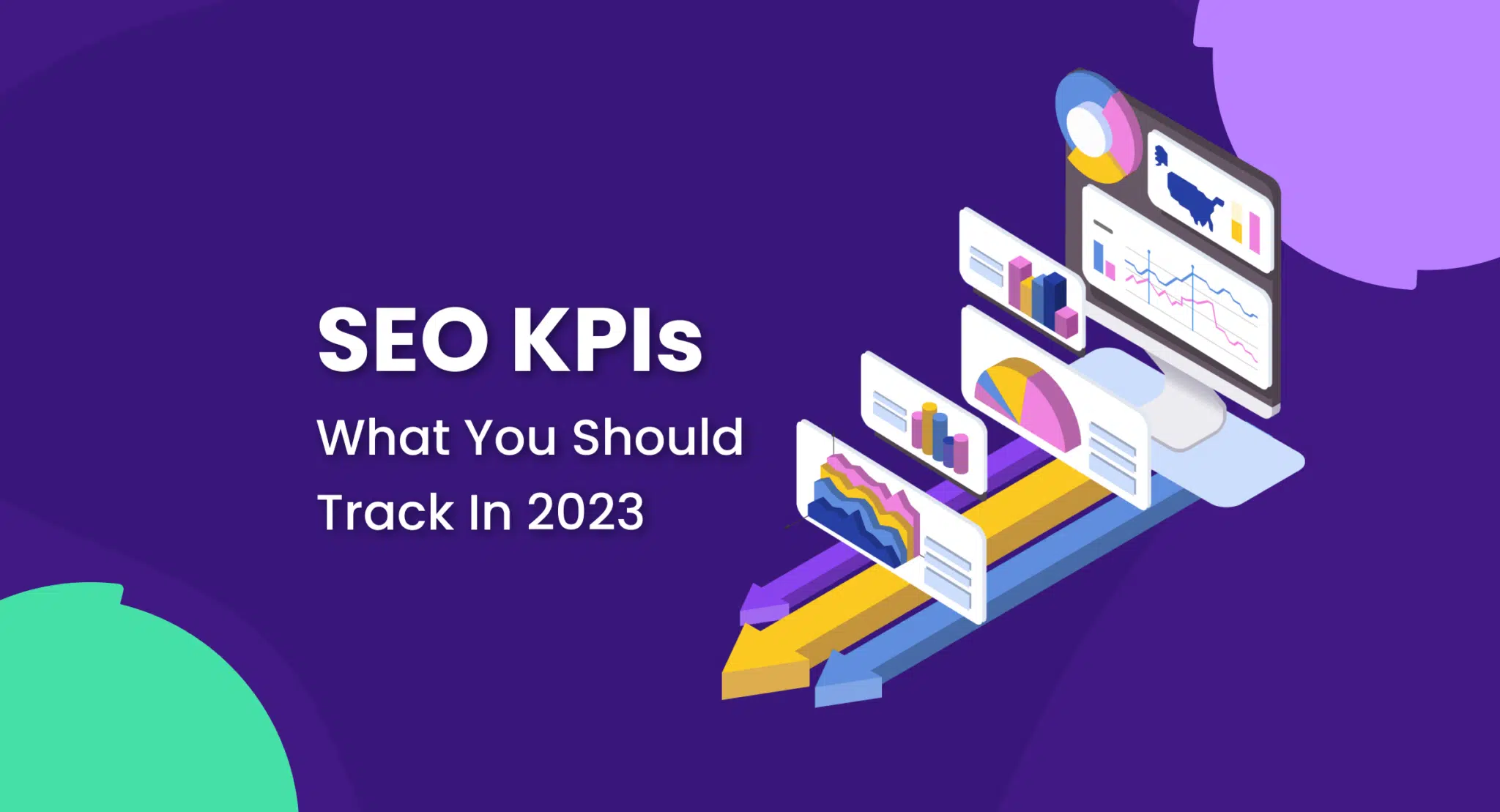 You might consistently work on optimizing your website, but do you know which SEO KPIs (key performance indicators) to track? How do you know if the keywords you've targeted bring in traffic?
In most cases, it's enough for small websites to track a few KPIs, such as the number of indexed pages, impressions, and organic traffic. However, which SEO KPIs do you set for giant ecommerce websites with thousands of web pages?
In this article, I'll walk you through various search engine optimization KPIs, explain why they are important, and show you how to track SEO progress.
Why SEO KPIs Are Important
You won't know whether or not your SEO efforts are successful if you don't set, track, and analyze SEO KPIs. Ultimately, you won't know how to scale your website growth without understanding which areas of your website should be optimized.
On top of that, if your stakeholders and business partners are curious about the impact of your work, you can demonstrate month-over-month SEO progress to prove you've done — and are doing — a great job.
It's helpful to have a solid list of KPIs that you continuously track to analyze your website performance. Let's take a look at how to select the SEO KPIs you need to track.
How to Choose What to Track
The SEO KPIs that work best for you will heavily depend on the current state of your website and your business goals.
Let's say you want to improve product page rankings to boost sales. In this case, tracking impressions, keyword rankings, click-through rates (CTRs), organic traffic, and sales will make sense. You'll also want to make sure you're using the best keyword research tool for your needs.
In another scenario, imagine that a slow page loading speed has led to a high cart abandonment rate. In this case, you'll have to work on technical SEO. Some of the KPIs that will help you address the issue and improve your website performance include:
Page load time
Core Web Vitals metrics (I'll cover this in detail below)
Bounce rate
The number of sales before and after fixing the issues
The average session duration
If you are in the process of setting SEO KPIs, the following steps will help you choose the most suitable ones:
Choose a focus area. You won't be able to tackle all SEO issues at once. I recommend focusing on one critical point at a time.
Align SEO KPIs with business goals. Ensure the chosen metrics will help improve business performance. For instance, to make more sales or generate more leads.
Pick no more than 3–5 KPIs at a time. The quality beats the quantity here. It's better to set fewer KPIs and ensure you can achieve them.
Use SEO tools to track website performance. I recommend using SEO tools, like Semrush Site Audit, to monitor SEO results.
Regularly review and adjust. SEO is dynamic, so regularly review your KPIs and adjust based on changes in your business, industry trends, and algorithm updates.
Essential SEO KPIs
I'm going to start with essential SEO KPIs worth tracking regardless of your goals. Measuring the following metrics will help you understand how your website performs and whether it's gaining more visibility in organic search results.
1. Organic Traffic
If you want to know whether your website grows organically but is new to SEO, start with organic traffic.
Let me explain what it is and how you can easily measure it.
What Is It?
Organic traffic is all unpaid traffic that comes to your website from different search engines.
Why Track It?
The more organic traffic you get, the better your website's visibility in organic search results will be, and the more target audience you'll attract.
However, organic traffic does not always equal an instant monetization opportunity (unless you monetize your website with display ads).
How to Track It
If you have verified website ownership in Google Search Console, the Search results report will show you the most accurate organic traffic numbers over time.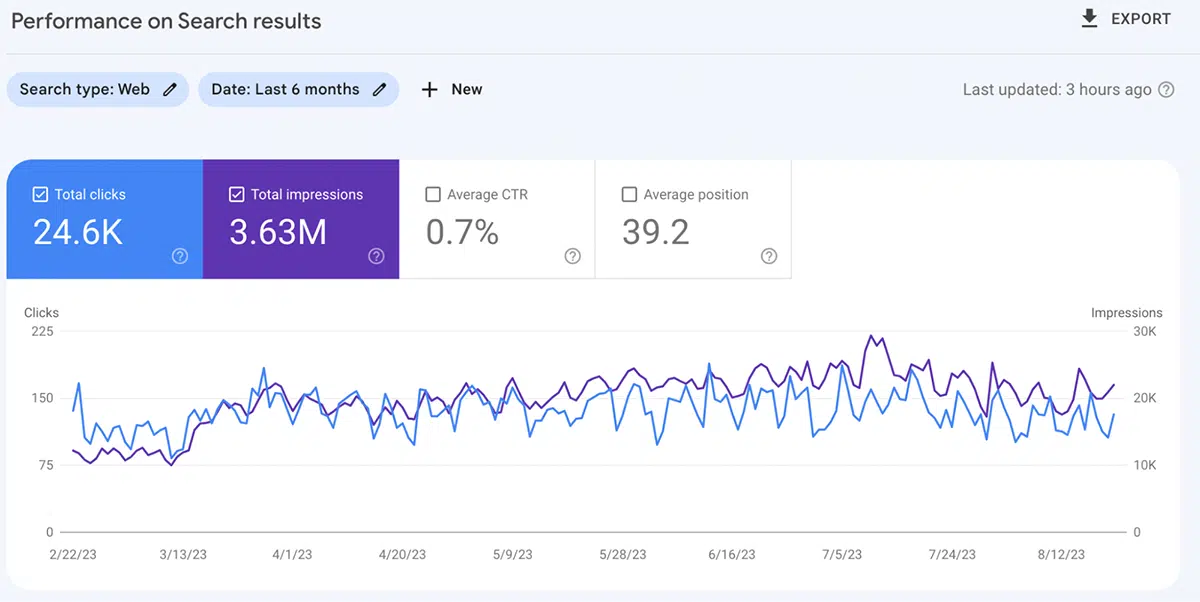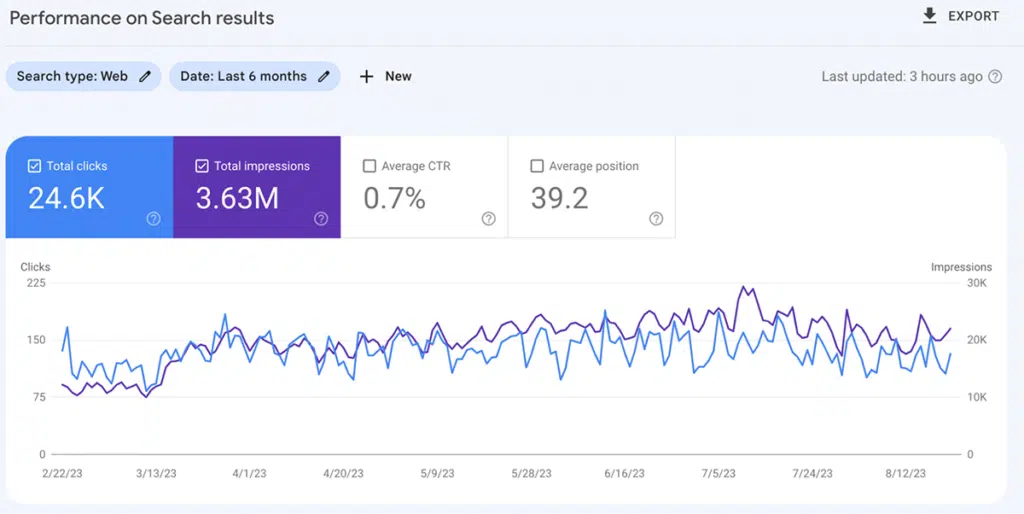 Alternatively, you can track the SEO performance of your website using the Semrush Organic Research report.
You can see how your website's organic traffic changes over time, top-performing pages, top-traffic generation keywords, and recent position changes.
It's an excellent tool to understand your website's current state and competitors. I recommend checking my Semrush review to learn more about this all-in-one marketing tool and how it can help you with SEO.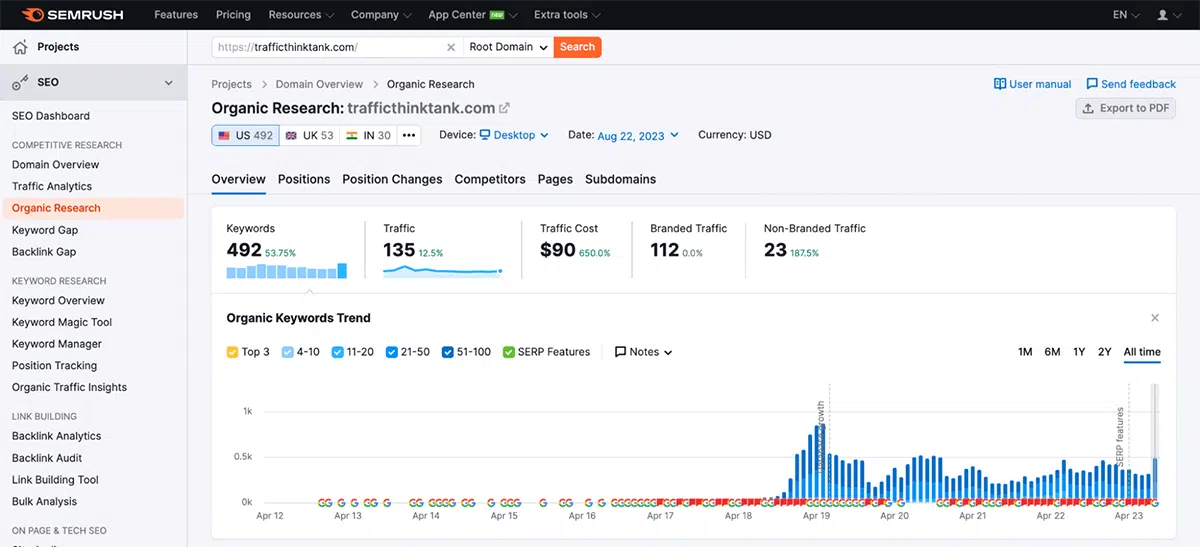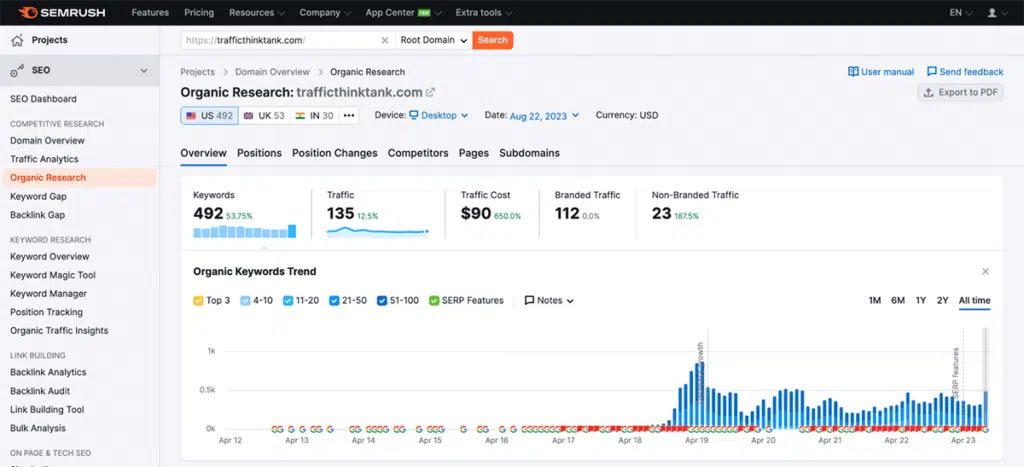 2. Keyword Rankings
Keyword rankings work as a separate SEO KPI, giving insights into which keywords drive organic traffic to your website. These insights can help you understand what content performs well and what you should do differently for declining web pages.
What Is It?
Keyword ranking is a website's ranking position in organic search results for a particular keyword.
Why Track It?
Higher rankings for target keywords mean more clicks, organic traffic increase, and potentially more sales.
Small websites can easily track all keywords they rank for. However, what should giant websites do if they rank for thousands of keywords?
In this case, I recommend monitoring keywords with business potential and keyword rankings on the first and second search engine result pages (SERPs). Why the second page too? Because you'll be able to take prompt action if keywords lose their rankings, as well as potentially craft strategies to get them to Page One.
How to Track It
Semrush Organic Research report shows all the keywords your website ranks for and their rankings. Besides, you'll also see the search intent of every keyword and whether your search result has a featured snippet or not.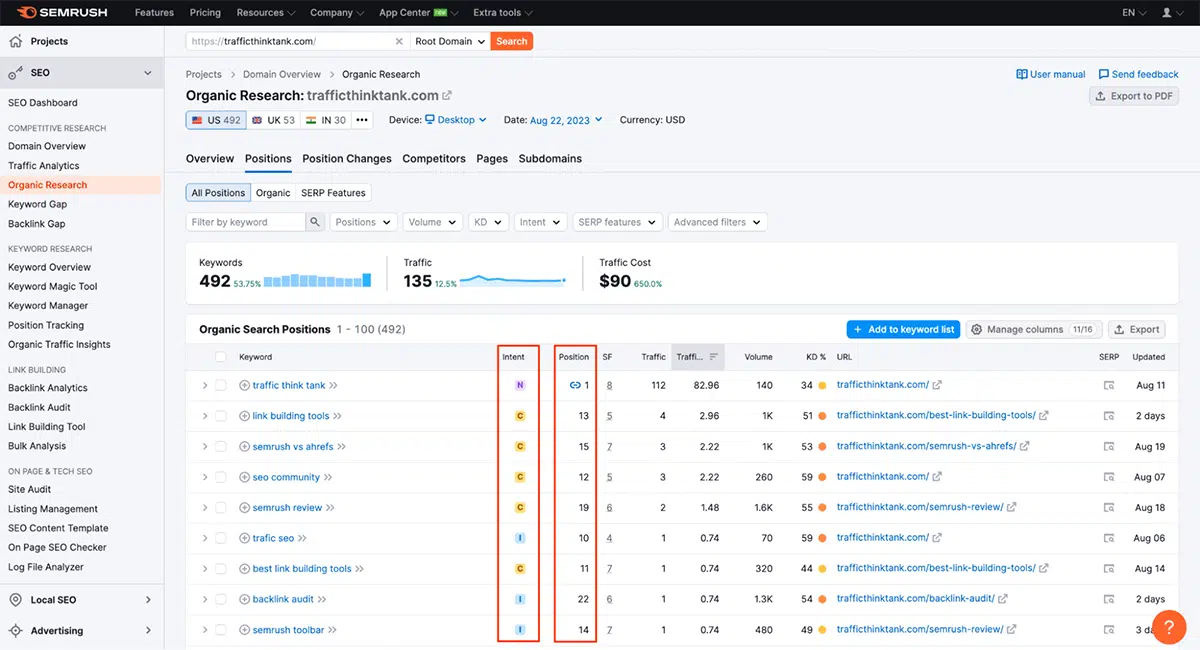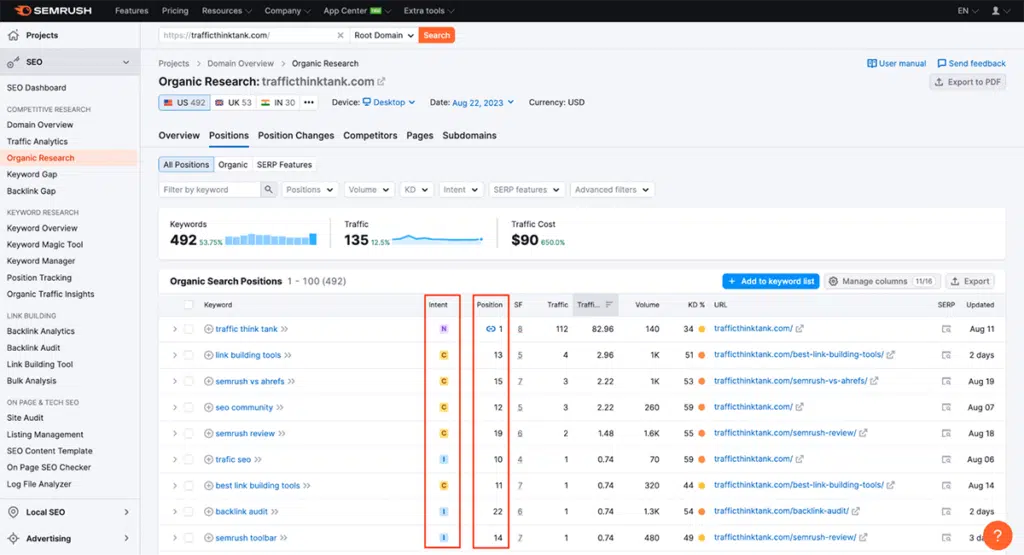 You can also use Semrush to track keyword ranking positions continuously and compare the current metrics to the historical ones. This helpful information gives you a better overview of how your website performance has improved or declined over time.
3. Organic Click-Through Rate (CTR)
Even though click-through rate is not a ranking factor, it does impact your website's performance in organic search results.
Ten web pages compete for users' attention on a SERP, but users will click on only one search result. The more they click on the same search result, the more Google believes this is the most relevant web page to users' search intent.
More clicks means a high CTR — that's why it's one of the essential SEO KPIs to track.
What Is It?
Organic CTR is a metric that shows the percentage of users who click on your web page after seeing it on SERP. The higher you rank, the more traffic your website will get.
Why Track It?
I've already mentioned that organic CTR can indirectly impact your website rankings since Google pays attention to online user behavior. The organic CTR also helps understand if the metadata is catchy and relevant to a user's query.
I recommend considering organic CTR when creating a meta title and description.
Ask yourself, "Would I click on this search result if I saw it?" If the answer is no, it's better to rewrite metadata.
How to Track It
You can analyze the organic CTR for your web pages and see historical performance in Google Search Console.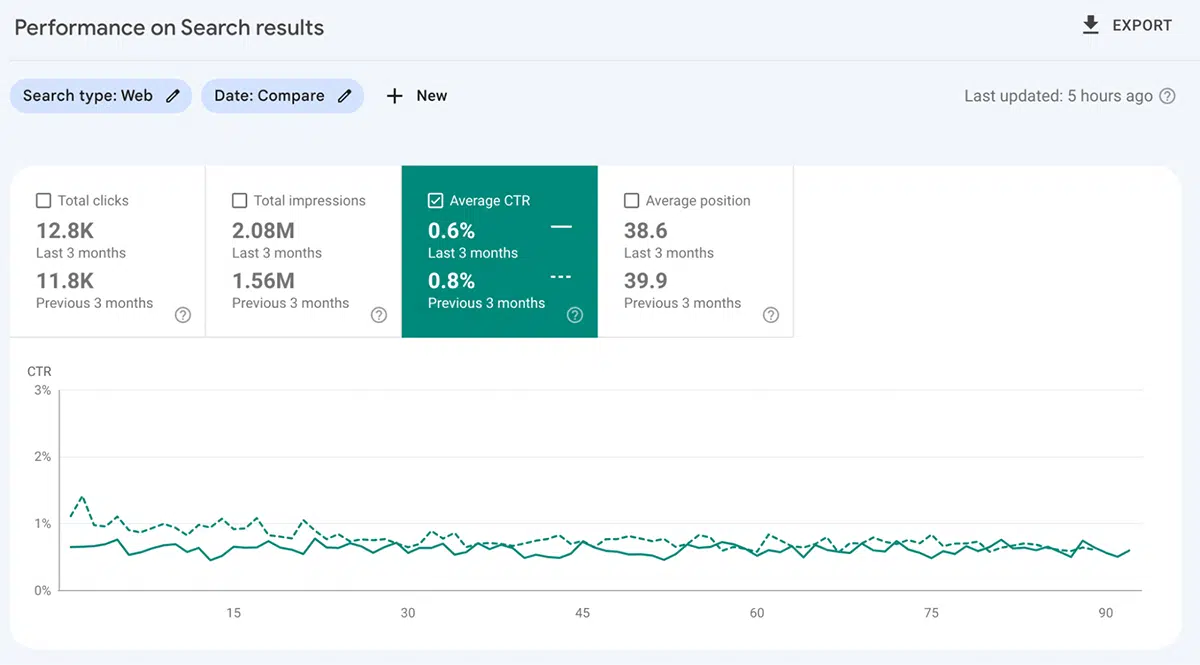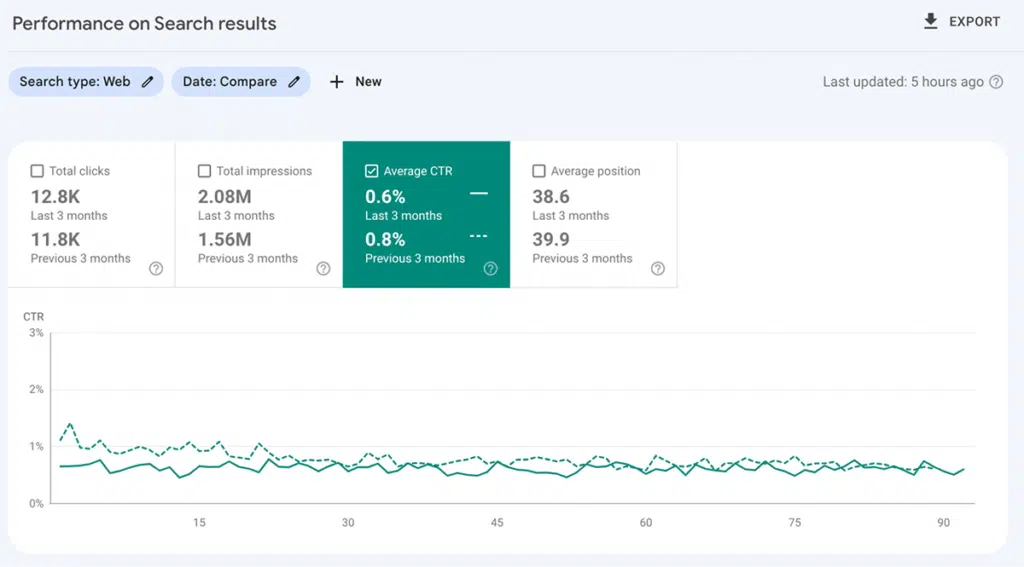 4. Domain Authority
Domain Authority is a metric website owners use to understand how strong a website's SEO profile is, but Google has commented that Domain Authority is not a ranking factor.
What Is It?
Domain authority represents the strength of a given domain. The score is usually displayed on a 100-point scale.
This metric is used by various SEO tools, such as Semrush or Ahrefs, to give you a quick overview of a domain's strength.
For example, Semrush uses an Authority Score, calculated based on the website's backlink profile, organic search traffic, spam signals, and other factors.
If you do a Semrush vs. Ahrefs comparison, you'll notice that Ahrefs also calculates the Domain Rating (DR), but it only takes the number and quality of backlinks into account.
Why Track It?
I recommend analyzing the domain authority if you have to report on your SEO progress.
If your domain rating grows, the overall organic performance of your website improves. If you notice a significant drop in the domain rating score, it's worth analyzing the issue. Perhaps many high-quality backlinks were removed, or an algorithm update adversely affected your website, to name a few.
How to Track It
You can use Semrush's Domain Overview feature to check the current state of your website and see its Authority Score.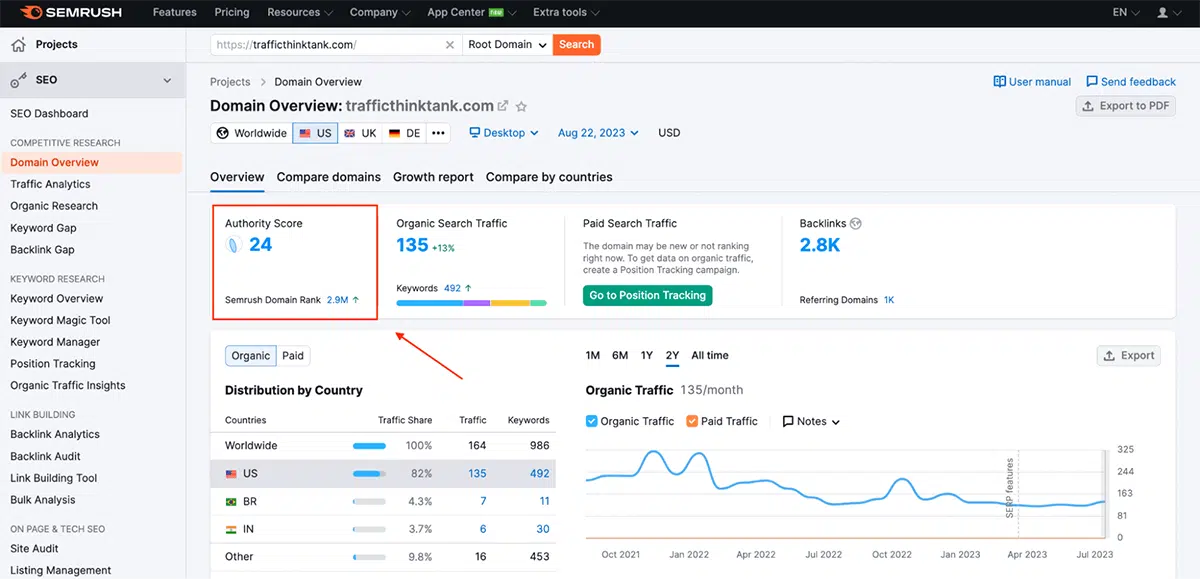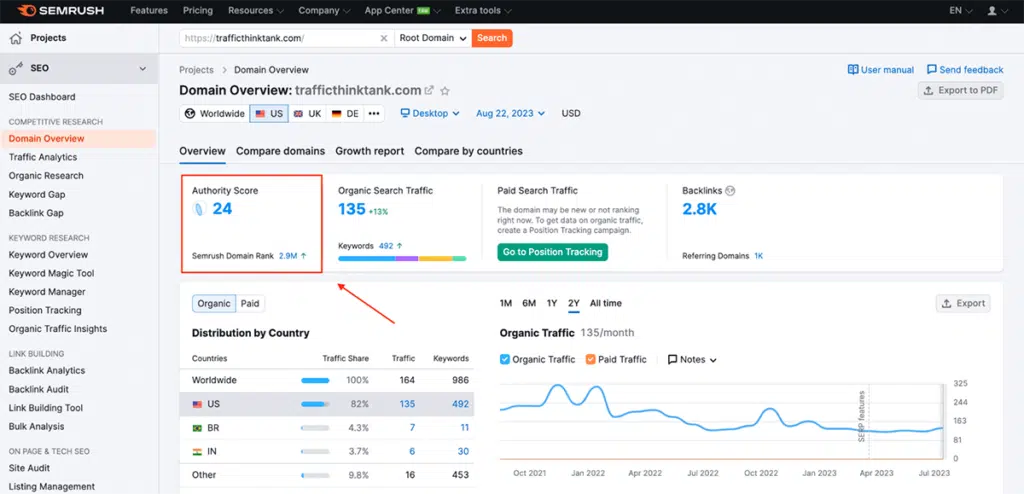 5. Search Visibility
Search visibility is a crucial metric for tracking, as it directly shows the impact of your SEO work on organic traffic.
What Is It?
Search visibility refers to how easily and frequently your website's content is found by users when they search for any topic on search engines.
It is a percentage from 0 to 100%, where 0 means your website does not rank on Google for any keywords. On the other hand, 100% would mean that a website ranks on top for all your target keywords.
Achieving 100% search visibility is unrealistic, even for established websites. However, reaching 30-40% search visibility could be a suitable SEO KPI for a growing website.
Why Track It?
The same logic applies here. As your search visibility increases, you'll reach more of your target audience and make more sales.
How to Track It
Your Google Search Console account gives a rough overview of your search visibility, displaying how the number of impressions and clicks change over time. However, it does not show the exact percentage.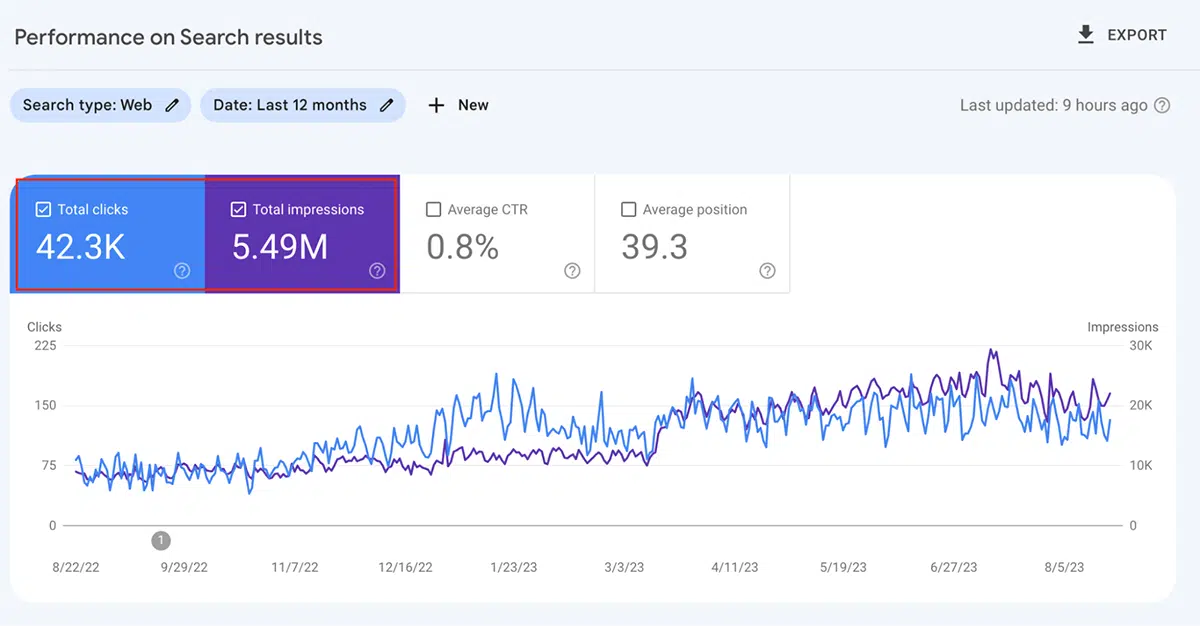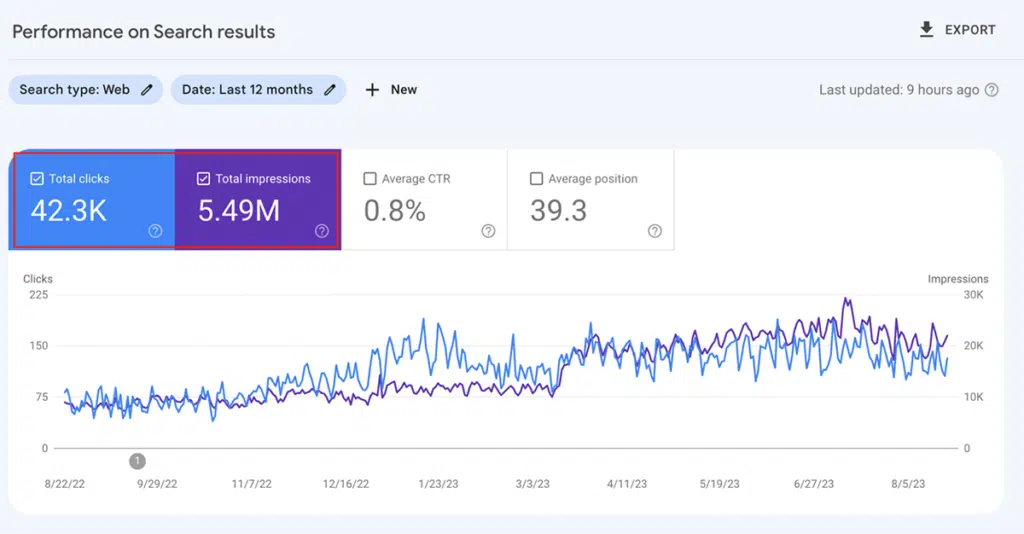 You can also use Search Analytics Add-on for Google Spreadsheets to quickly create performance reports without exporting data from Google Search Console. You'll get a performance overview report for an entire website in one click.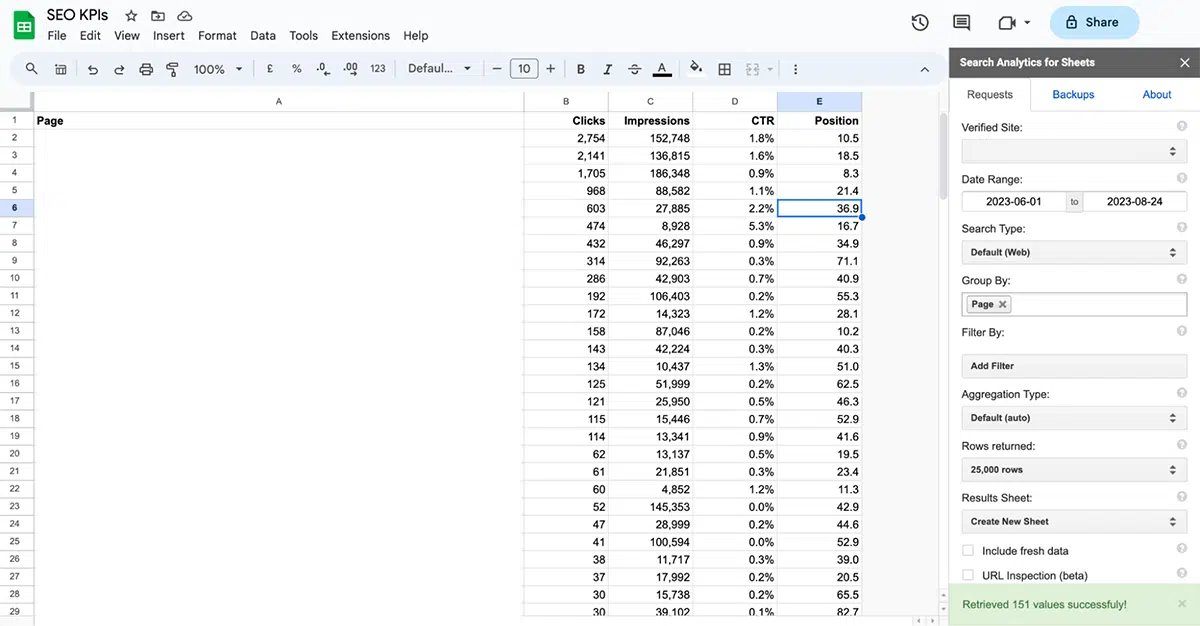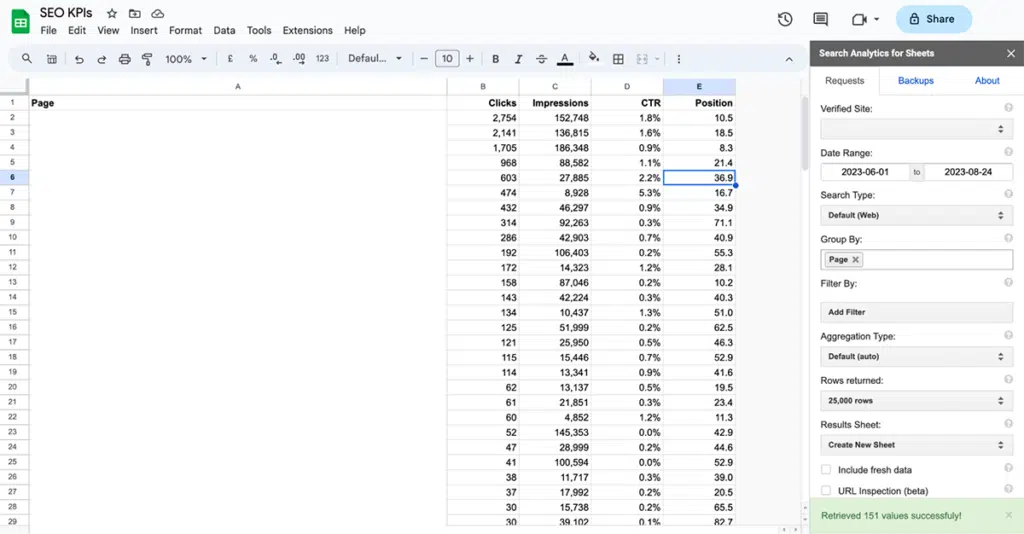 Alternatively, you can use Semrush's Position Tracking Tool to analyze how your website's search visibility changes daily based on the target keywords. In addition, you can also compare the visibility of your website to that of your competitors.
6. On-Page SEO
On-page SEO covers many aspects essential for successful rankings, and I've listed the most critical metrics for tracking below.
What Is It?
When I refer to on-page SEO metrics, I mean:
The length of the meta title and description
The usage of H1, H2, H3, and H4 headlines on a web page
The usage of the primary and semantically related keywords
The readability score
The structured data markups
There are actually a lot more SEO metrics, but I recommend focusing on the ones above.
Why Track It?
These SEO metrics directly impact rankings and on-page user experience.
If you don't optimize your website with the target keywords, Google won't understand what your web page is about. Consequently, it won't rank in organic search results.
If the content readability and the overall on-page user experience are poor, users likely won't stay very long and instead navigate to competitors. Sooner or later, Google will notice the decrease in traffic and downgrade your page in search results.
Therefore, I recommend tracking your on-page SEO. Luckily, it's pretty easy to do.
How to Track It
You can track the on-page SEO performance of your website using Semrush Site Audit. The tool constantly analyzes your website performance to discover issues worth fixing (including any 4xx error that might have slipped through the cracks).
You can filter the issues based on their type. In the example below, I chose all on-page SEO issues related to meta tags.


If you don't know where to start, Semrush has a dedicated On-Page SEO Checker report with multiple optimization ideas to boost your website's search visibility.


7. New Backlinks
Backlinks have always been among the top Google ranking factors, so paying attention to your website's backlink profile is really worthwhile.
What Is It?
Outreach, guest posting, and backlink exchange are all proven-to-work examples of link building.
Why Track It?
If you actively do link building, it's worth monitoring the outreach progress and the number of newly built backlinks. I also recommend checking whether previously built backlinks were removed since some website owners occasionally do that.
How to Track It
I recommend analyzing and tracking backlinks in the following way:
Keep track of existing high-quality backlinks you've already built.
Regularly conduct a backlink audit to understand the current state of your website's backlink profile.
Do a backlink analysis to understand whether getting a backlink from a particular website is worth it.
You can do all these tasks and even more with the help of the Semrush Backlink Audit and Backlink Analytics tools.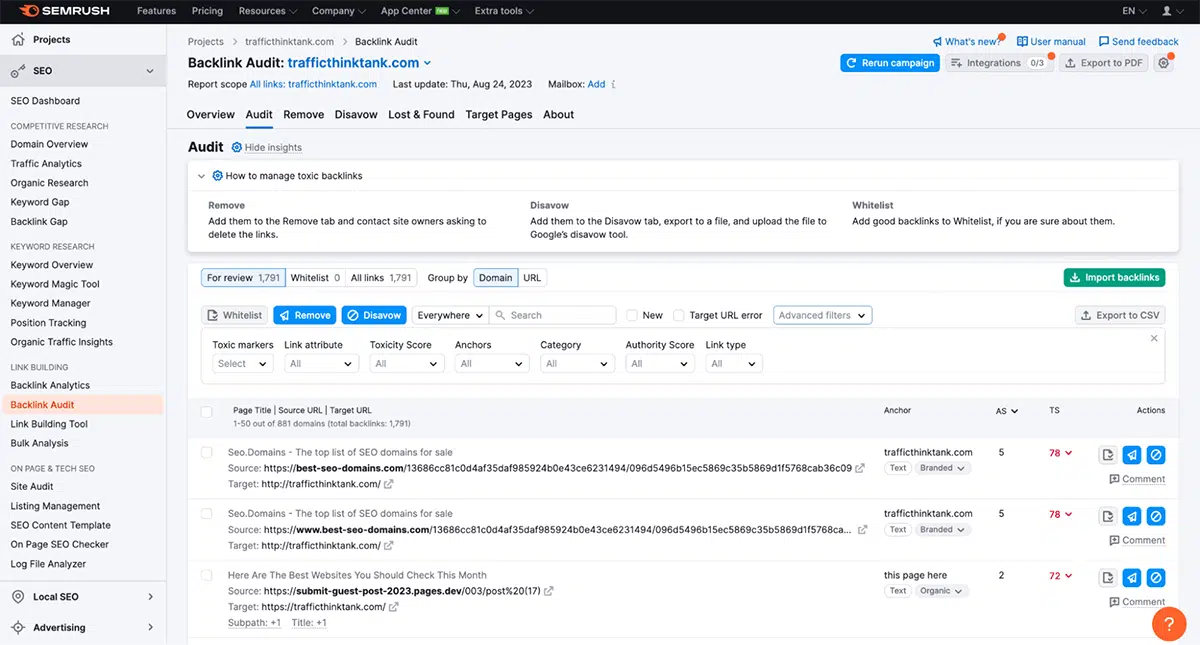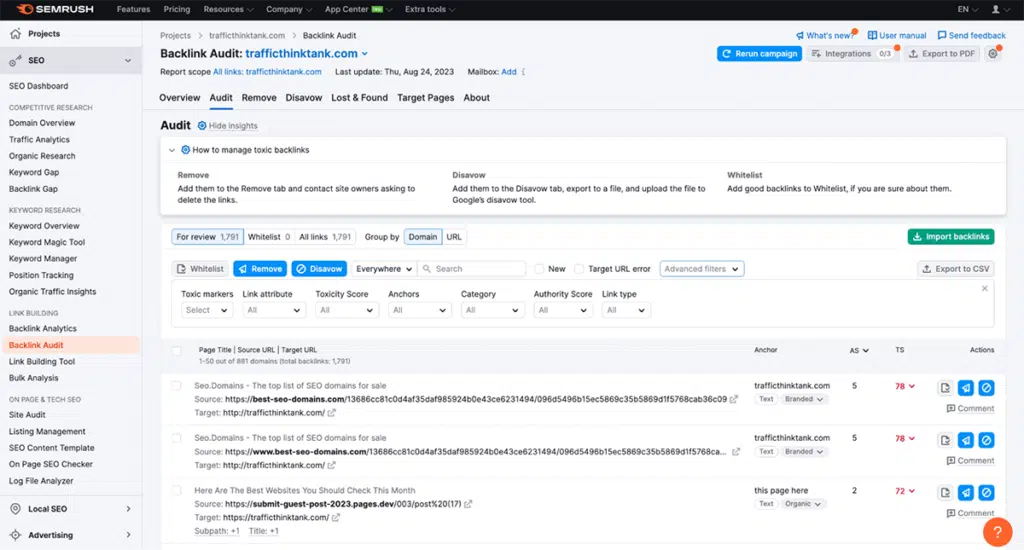 Technical SEO KPIs
Over the course of my SEO career, I've seen many companies that did not track technical SEO KPIs because they didn't know how to do it. To help everyone out, below I've listed the most important KPIs that will directly impact your website's ranking.
8. Number of Indexed Pages
Based on my experience, many websites face indexing issues, especially in the early stages of growth. Therefore, knowing how to discover and fix any issues is essential.
What Is It?
Once Googlebot indexes a web page, it goes to a giant "pool" of content called the Index, which serves users' queries.
If your web page has a "Discovered-not indexed," "Crawled-not indexed," or other errors in Google Search Console, it's a sign to investigate the issue.
Why Track It?
If your web page is not indexed, it won't rank.
Even though Google indexes most content on the web, there are exceptions. The URLs with duplicate and thin content are usually excluded from indexing.
How to Track It
Navigate to the "Page indexing" report in Google Search Console to see all indexed and excluded web pages on your website. You'll see that Google Search Console provides explanations of why a web page was excluded and how to fix the issue.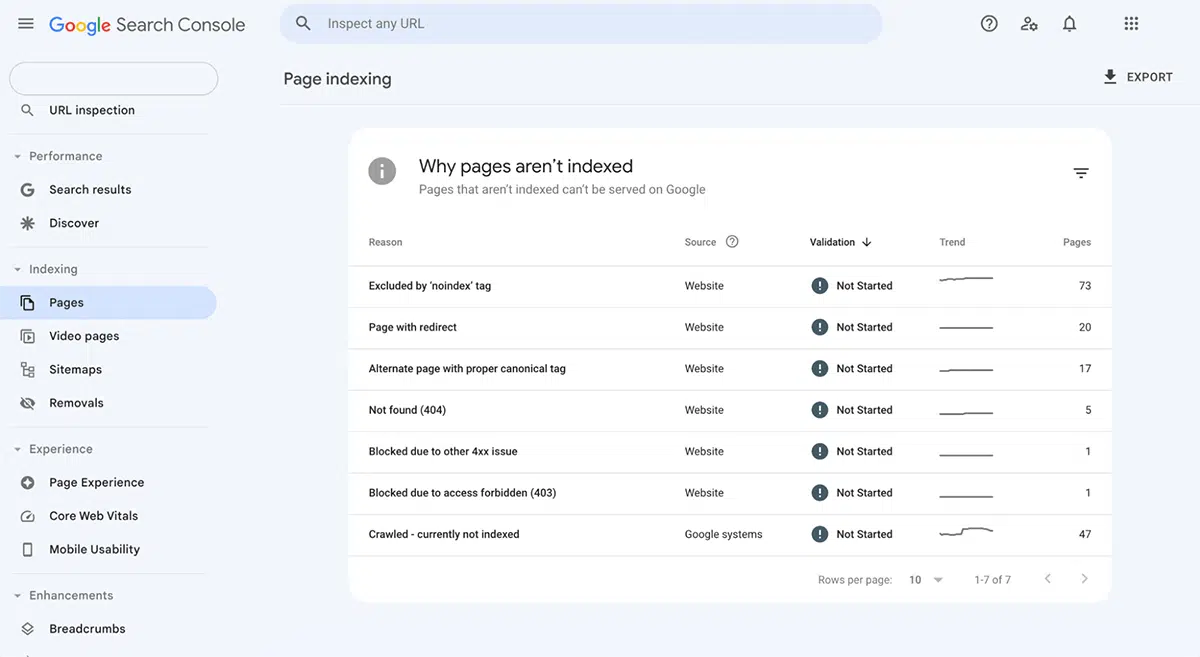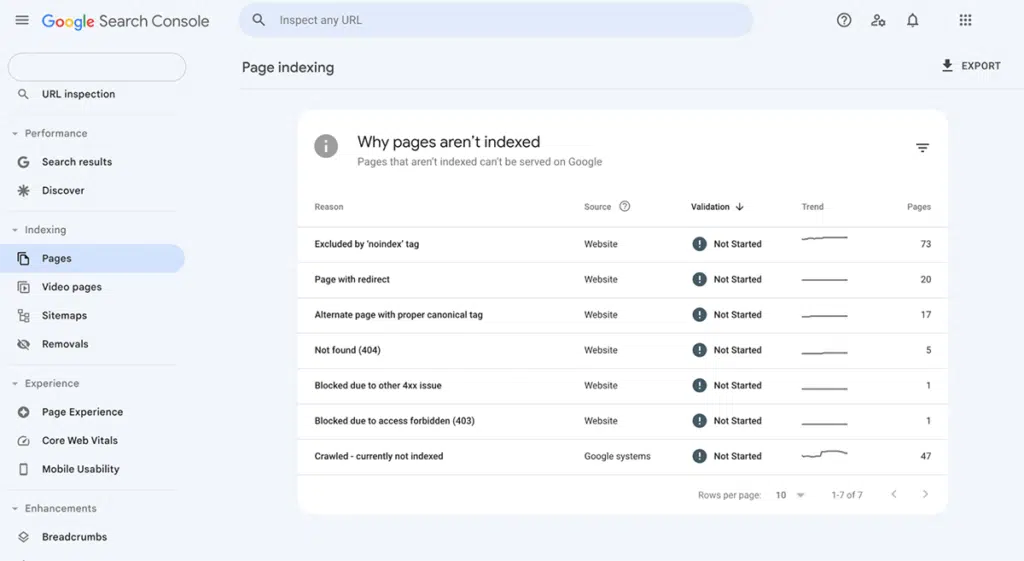 9. Core Web Vitals
Google introduced Core Web Vitals as a minor factor in its ranking algorithm. Even though it does not strongly impact rankings, I recommend tracking the Core Web Vitals metrics.
What Is It?
Core Web Vitals is a set of metrics measuring a website's loading speed, visual stability, and interactivity. I summarized the Core Web Vitals metrics and their optimal scores in the table below.
Core Web Vitals Metrics
Good
Need improvement
Poor
Largest Content Paint (LCP) Measures the loading speed.
<= 2.5s
<= 4s
> 4s
Cumulative Layout Shift (CLS) Measures visual stability.
<= 0.1
<= 0.25
> 0.25
First Input Delay (FID) Measures interactivity.
It will be replaced by Interaction to Next Paint (INP) in March 2024.
<= 100ms
<= 300ms
> 300ms
Why Track It?
By addressing the issues related to the Core Web Vitals metrics, SEOs can improve user satisfaction, reduce bounce rates, and potentially see a positive impact on search engine rankings.
How to Track It
You can check a detailed report for desktop and mobile in Google Search Console. The report shows healthy web pages and the ones that don't pass the Core Web Vitals performance test.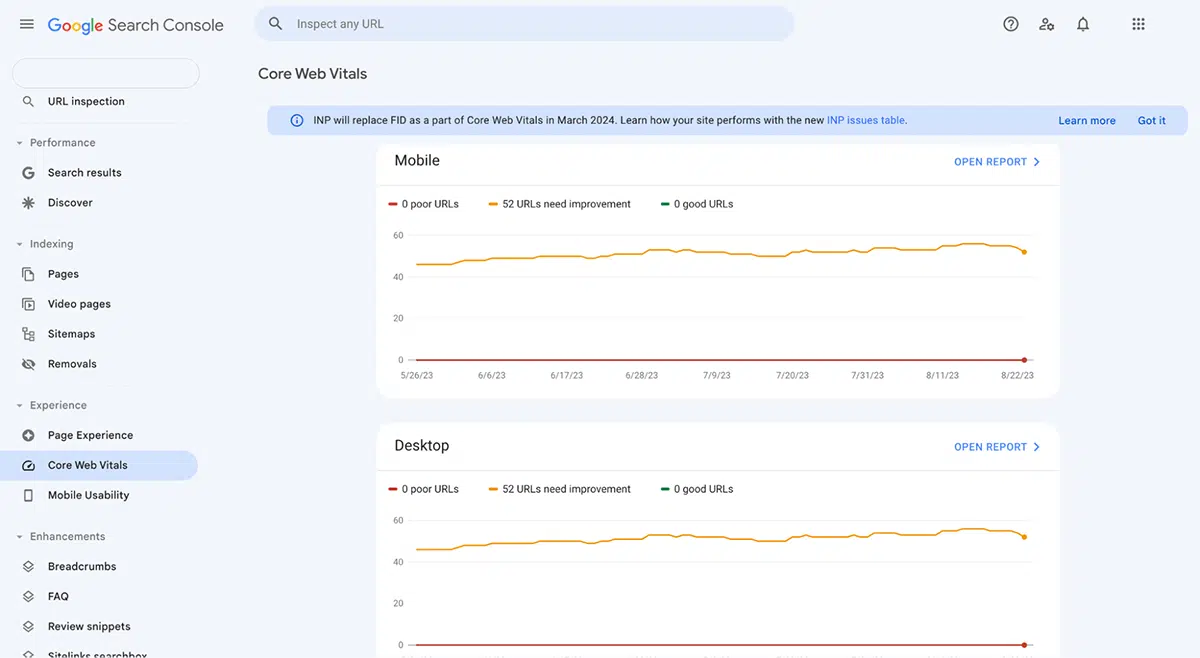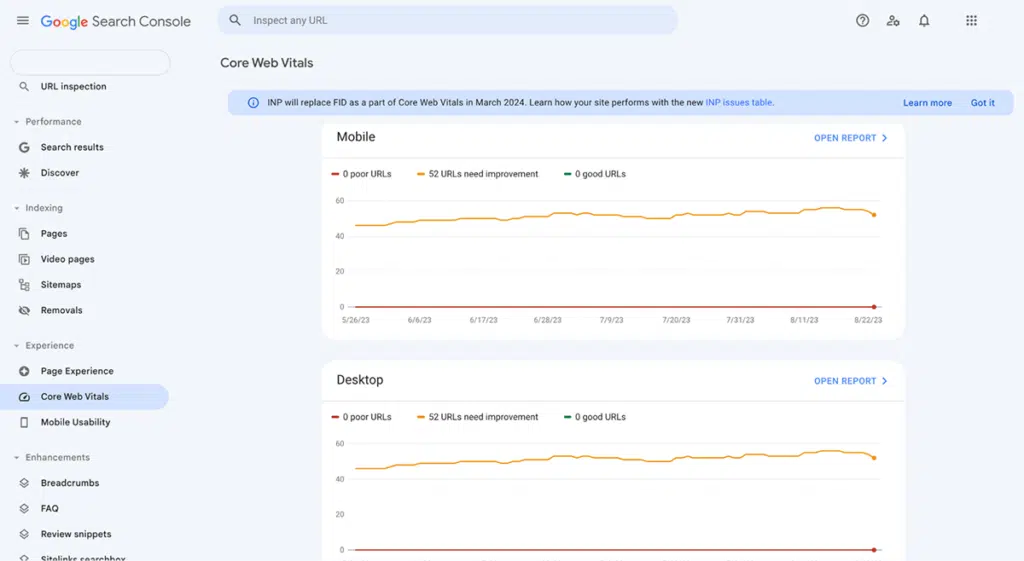 If you want to check Core Web Vitals for any website during an SEO competitor analysis, you can also use the Google PageSpeed Insights tool. Besides showing the score, the tool also provides a list of recommendations to improve the Core Web Vitals metrics.
Semrush Site Audit can also help you discover poorly performing web pages and suggest improvements.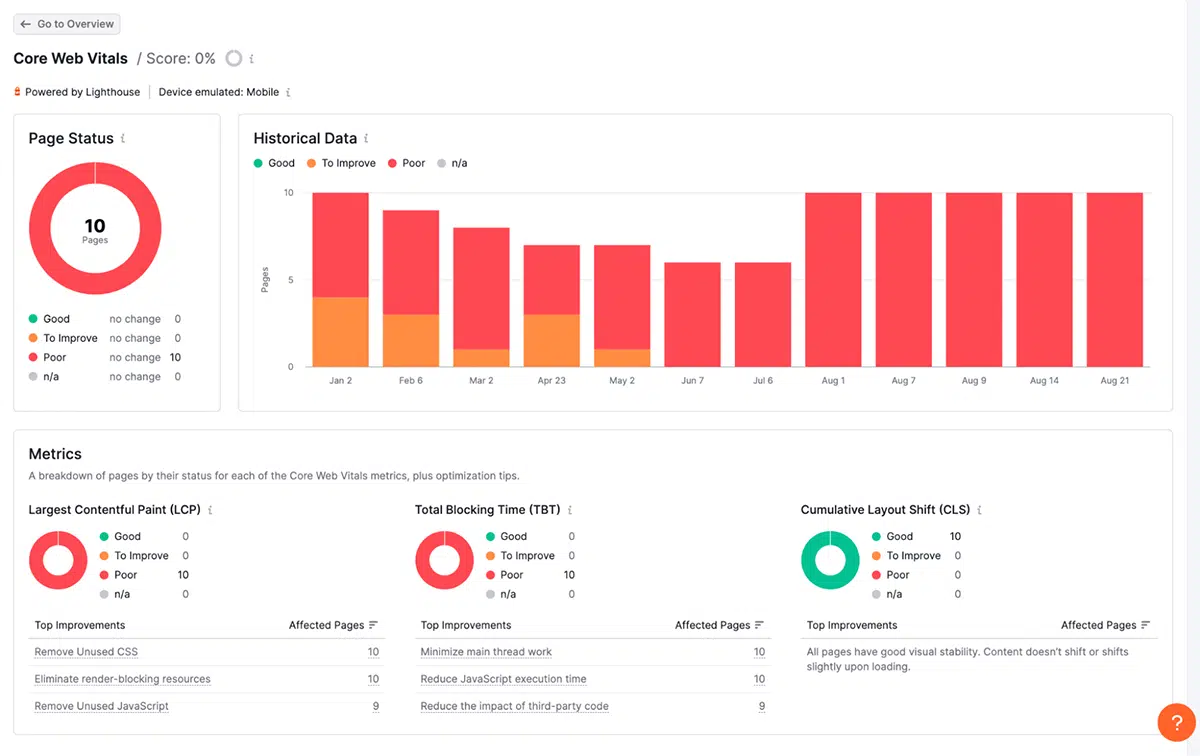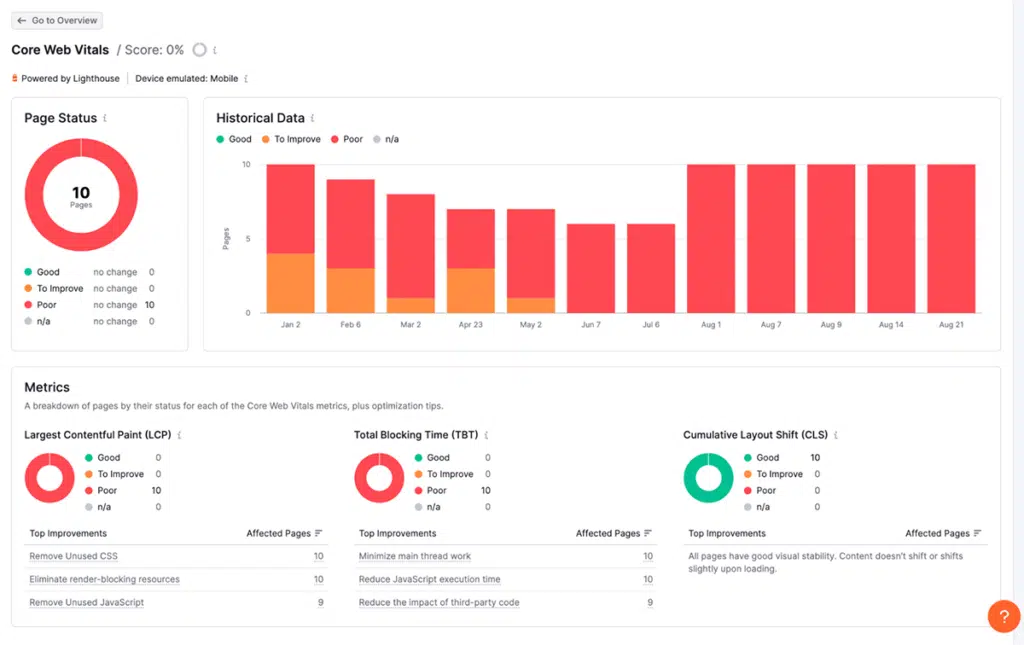 Marketing KPIs
There are a lot of marketing-related metrics to measure. However, I recommend focusing on the following five KPIs:
10. New Leads
One of the reasons businesses do SEO is to launch another lead acquisition channel. Even though it's not a quick process, the impact is usually positive.
What Is It?
A new lead is a prospect who can later become your customer.
If you run a B2B agency, a good SEO KPI to track would be the number of leads acquired from every top-performing web page. This way, you'll know what web pages help you generate leads and which should be improved.
Why Track It?
The more leads you have, the more deals you'll make. Moreover, you'll be able to decide who to work with if you have a lot of collaboration requests.
How to Track It
Storing your prospects' contact information in an Excel sheet is old school. Instead, you can try customer relationship management (CRM) tools like Hubspot or Pipedrive.
Alternatively, you can use Semrush CRM for agencies to manage an entire customer workflow, from adding prospects to managing client projects.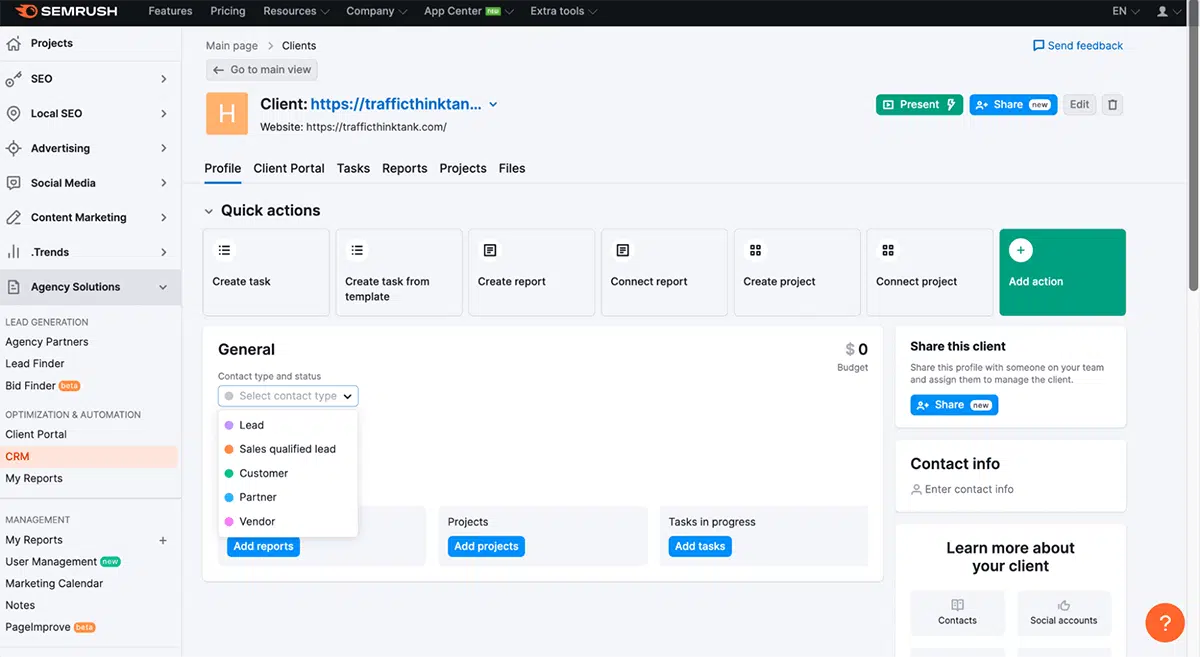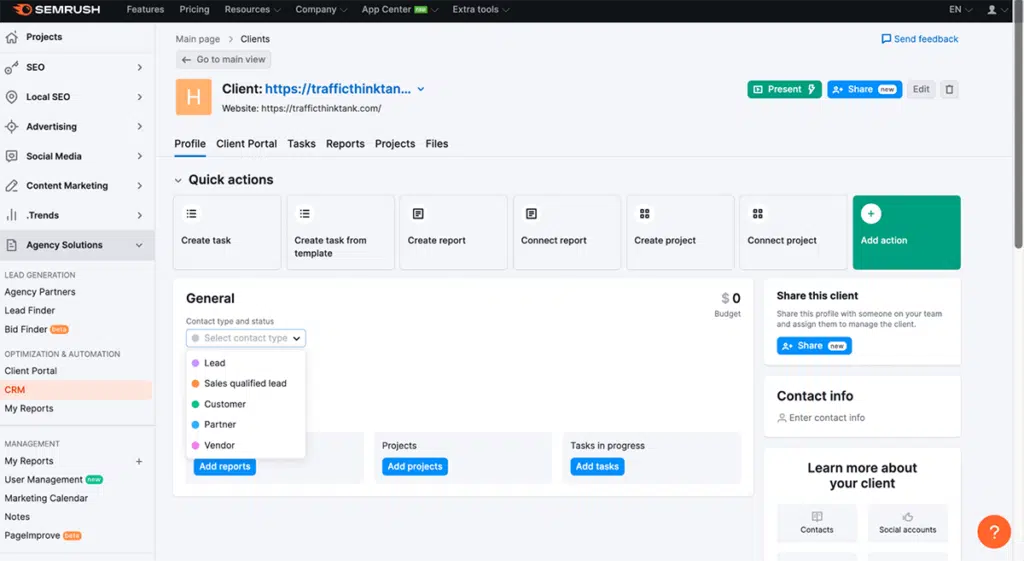 11. Conversion Rate (CR)
Conversion rates are among the first KPIs most businesses track for organic and paid traffic regardless of their growth stage. Startups can use this SEO KPI to track business growth, while established B2B and B2C agencies measure it for monthly performance analysis and comparison.
What Is It?
Conversions are important actions that users make on your website, such as a purchase, a contact form submission, or an order placement, to name a few.
A conversion rate is the ratio of users who performed a target action to the total number of users who visited a particular web page, such as a contact page.
Why Track It?
The higher the conversion rate, the more your website contributes to achieving your business goals. That's why many website owners regularly optimize conversion rates, even though it does not always bring the desired results.
How to Track It
If you haven't used Google Analytics 4 yet, I recommend setting up an account since this is an essential and probably one of the most reliable tools for website performance tracking.
You'll get accurate conversion rate numbers if you set up conversion tracking in Google Analytics and let the data about conversions aggregate within a few months.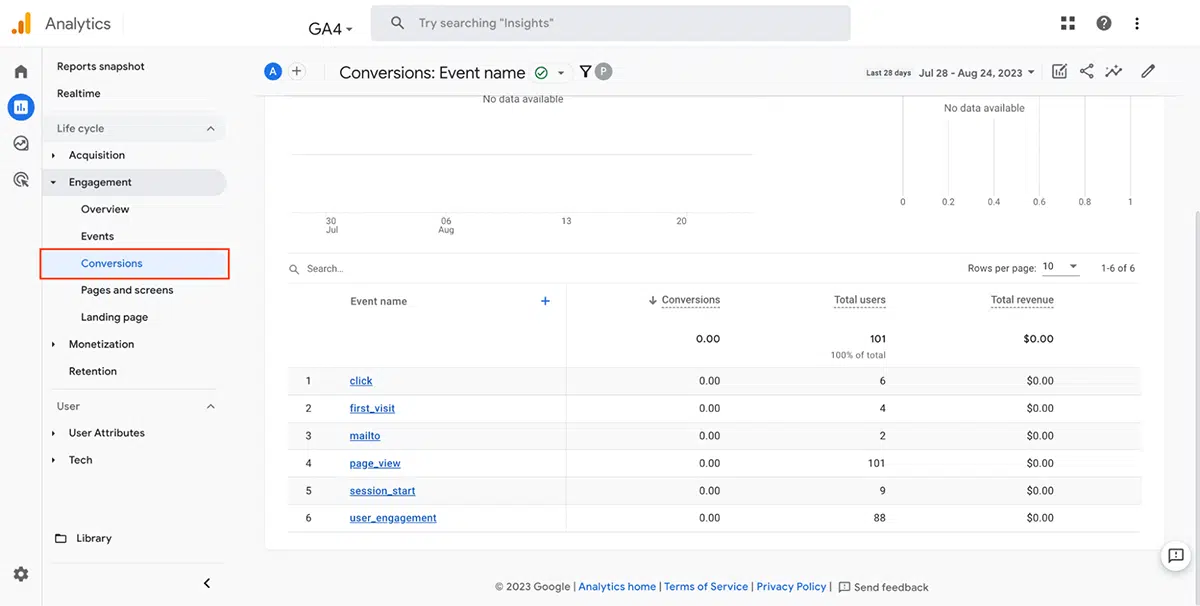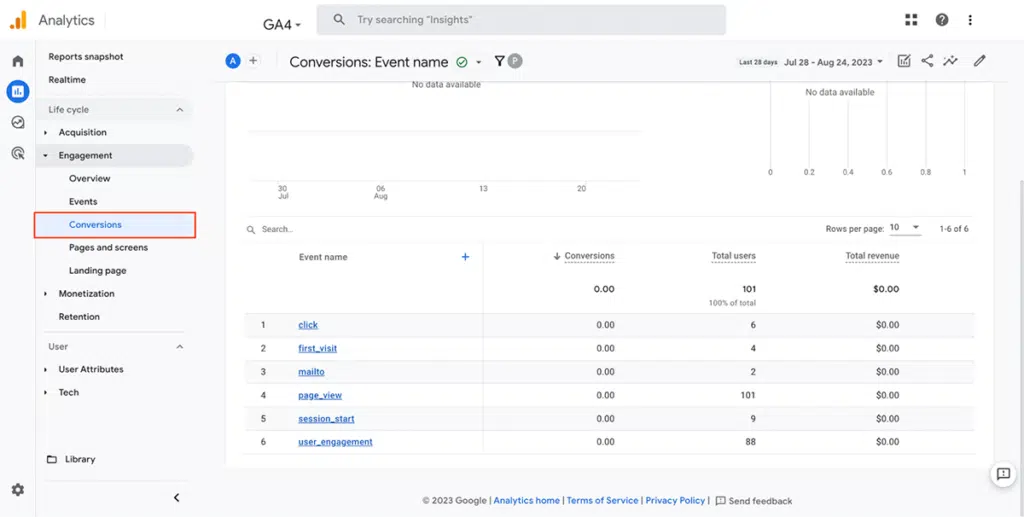 12. Branded Traffic
Branded organic traffic is not among the SEO KPIs of primary importance. However, I'd recommend tracking it for websites that have been live for at least a few years and want to improve brand awareness.
What Is It?
Organic branded traffic refers to users who land on your web pages by searching for your brand name or related branded keywords in search engines. In other words, these users are already familiar with your brand and are actively looking for it or related content online.
Why Track It?
Organic branded traffic is valuable because it represents users with a higher level of brand awareness and intent to engage with your brand. They will likely be more familiar with your products, services, or content and might be in various stages of their customer journey, from exploring to repeating purchases.
How to Track It
Tracking branded and non-branded traffic is easy with the Semrush Organic Research report. Semrush estimates the traffic coming to your website when ranking for your branded and related keywords.
It's worth mentioning that non-branded traffic is a better indicator of your SEO success since targeting non-branded keywords is more challenging.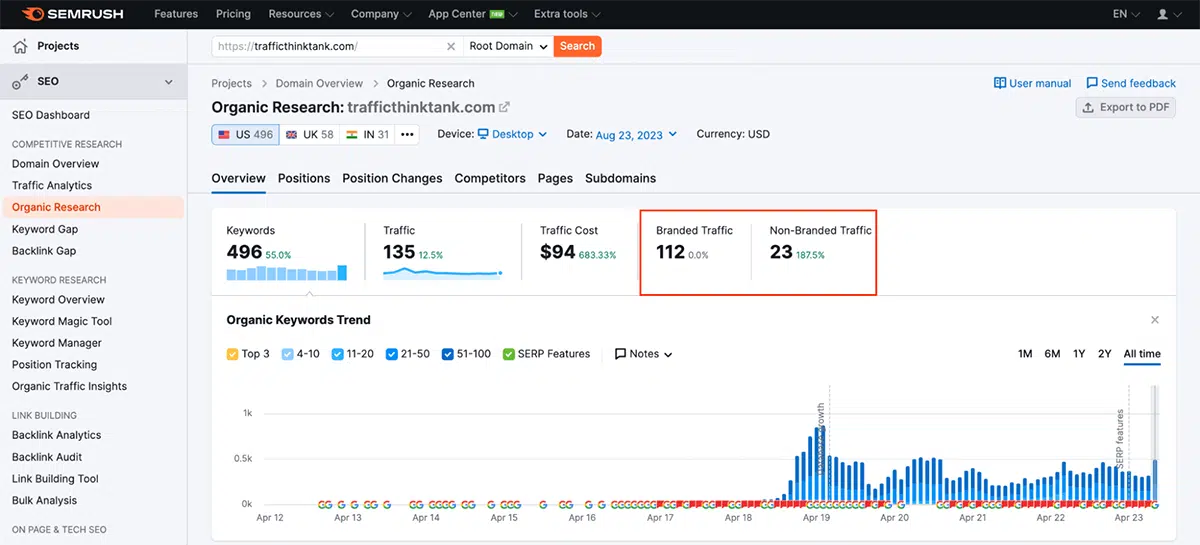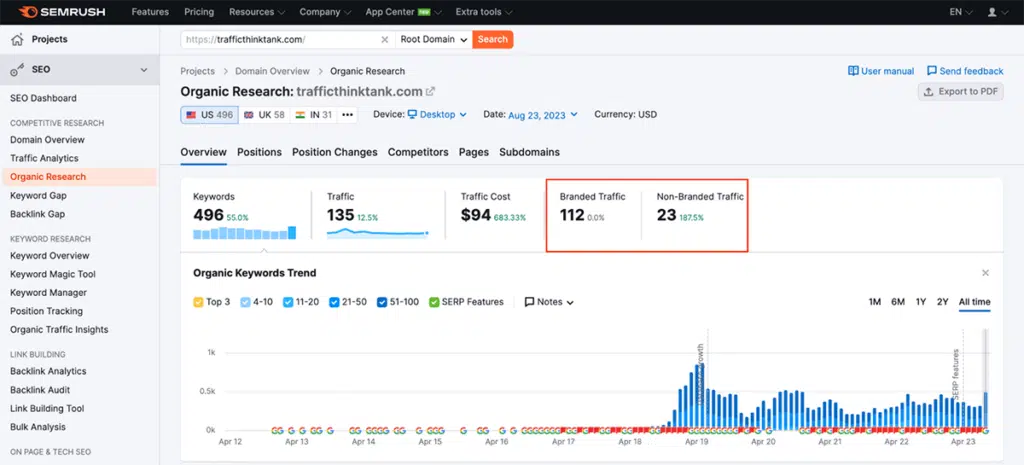 13. User Engagement
Even though John Muller from Google says user engagement metrics are not part of the Google ranking algorithm, they are important indicators of how users perceive your website. Depending on your available resources and priorities, I recommend improving the engagement metrics on your website.
What Is It?
Examples of engagement metrics include bounce rate, scroll depth, page views, average session duration, the number of pages viewed in one session, CTR, and return visits. In a nutshell, they show how actively users interact with your website.
Why Track It?
If user experience (UX) is good and users like your website content, they'll most likely stay and continue browsing. However, if users leave early for some reason, the engagement metrics will reflect it. As a result, you may also see a decline in sales.
It's worth mentioning that these metrics don't reflect your SEO growth in any way but rather your business growth.
How to Track It
You can keep an eye on the engagement metrics using Google Analytics 4. All reports are easily customizable, so you can add or remove the engagement metrics according to your needs.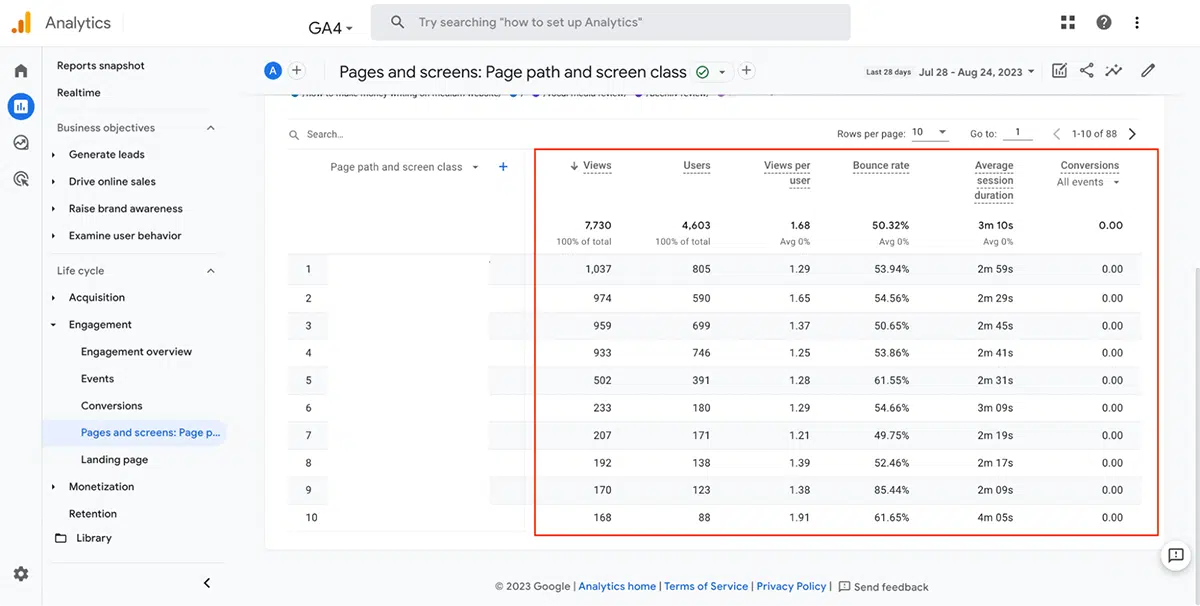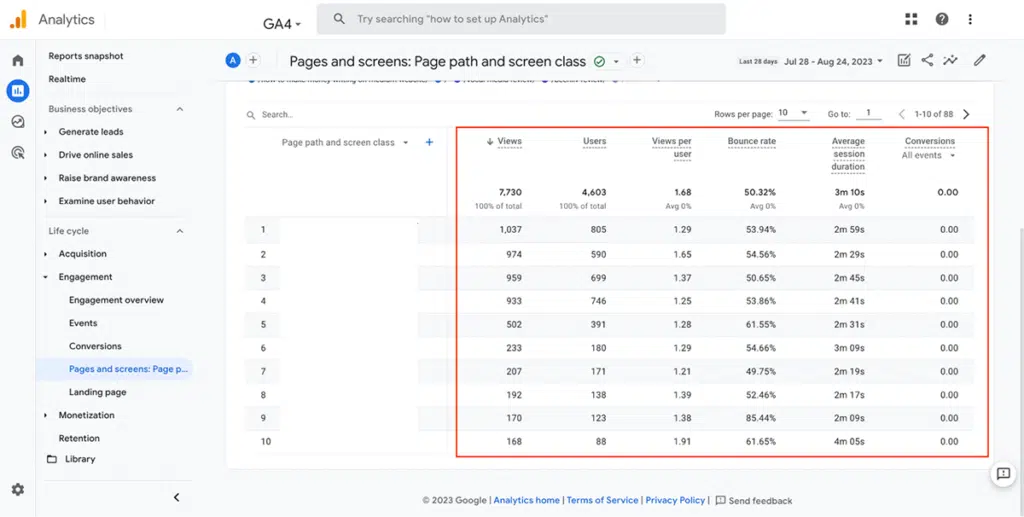 Monetary KPIs
Even though these metrics are not directly related to SEO, I encourage you to track them next to the essential and technical SEO KPIs. It will help you understand whether or not your SEO and SEM activities turn into revenue. 
14. Customer Lifetime Value (CLV)
Attracting prospects and nurturing leads is time-and-resource consuming, so you should balance it with maintaining relationships with existing clients. CLV should be one of your KPIs as well, especially if you do SEO for an ecommerce business, a B2B, or a SaaS company.
What Is It?
CLV estimates the total revenue a business can expect from customers throughout their engagement with a company.
Why Track It?
This metric will help you learn how much money you make from a single customer, whether they make repeated purchases, and where to allocate your resources to maximize customer value and, ultimately, profitability.
How to Track It
When calculating this metric, consider the revenue a customer will likely generate through repeated purchases, subscriptions, or other interactions with your business.
Here's how to calculate CLV:
CLV = Average Purchase Value × Average Number of Purchases × Customer Lifespan
15. Cost Per Acquisition (CPA)
If your SEO campaign costs $10,000 a month but only makes $5,000 in revenue, you're losing money! I hope you track the average customer acquisition cost from organic search results. If not, here is how you can do it.
What Is It?
Cost per acquisition is a metric that estimates how much it costs to bring a customer from a particular marketing channel. By "acquisition," I mean a click, a sale, a lead, or anything that helps you make a profit.
Note that CPAs will differ for organic, paid, social, and any other user acquisition channels.
Why Track It?
By measuring CPA, you'll know what marketing campaigns, channels, and strategies deliver the best results at the lowest cost.
How to Track It
If you want to measure CPA for an SEO campaign, I calculate the total costs spent on SEO and the number of generated conversions.
The formula is:
CPA = Total Amount Spent / Total Conversions
16. SEO Return on Investment (ROI)
A positive SEO ROI indicates that your time and resources spent on content production, website maintenance, link building, and other SEO-related activities have been worth it.
What Is It?
SEO ROI shows the profitability and efficiency of your investment by comparing the SEO net profit to SEO costs.
When your website impressions result in traffic, and that traffic turns into conversions, that's a sign of a positive SEO ROI.
Why Track It?
If you are an SEO agency, it's a great metric to show the results of your work to your clients.
For SaaS and B2B companies, a positive SEO KPI would mean their SEO efforts pay off. If it's your case, consider scaling your SEO efforts.
How to Track It
The formula to calculate SEO ROI is:
SEO ROI = (SEO profit / SEO costs) × 100
I recommend calculating the SEO ROI for every web page you actively work on. That's because you can measure the rankings, the revenue every web page generates, and SEO costs.
Please note that it can take months or even years to see decent SEO results. Therefore, don't rush to make any preliminary conclusions.
5 Tools to Help You Track and Measure SEO Success
Measuring SEO KPIs is easy when you know how to do it. I've used the following tools throughout my SEO career, which can help you track and measure all the metrics mentioned in this article.
1. All-In-One SEO Tools
I use Semrush whenever I want to check the health of a website and how it performs.
Semrush shows the search visibility, organic traffic, keyword rankings and page positions, domain authority, your website's backlink profile, and more. It's not free, but Semrush offers a 7-day free trial.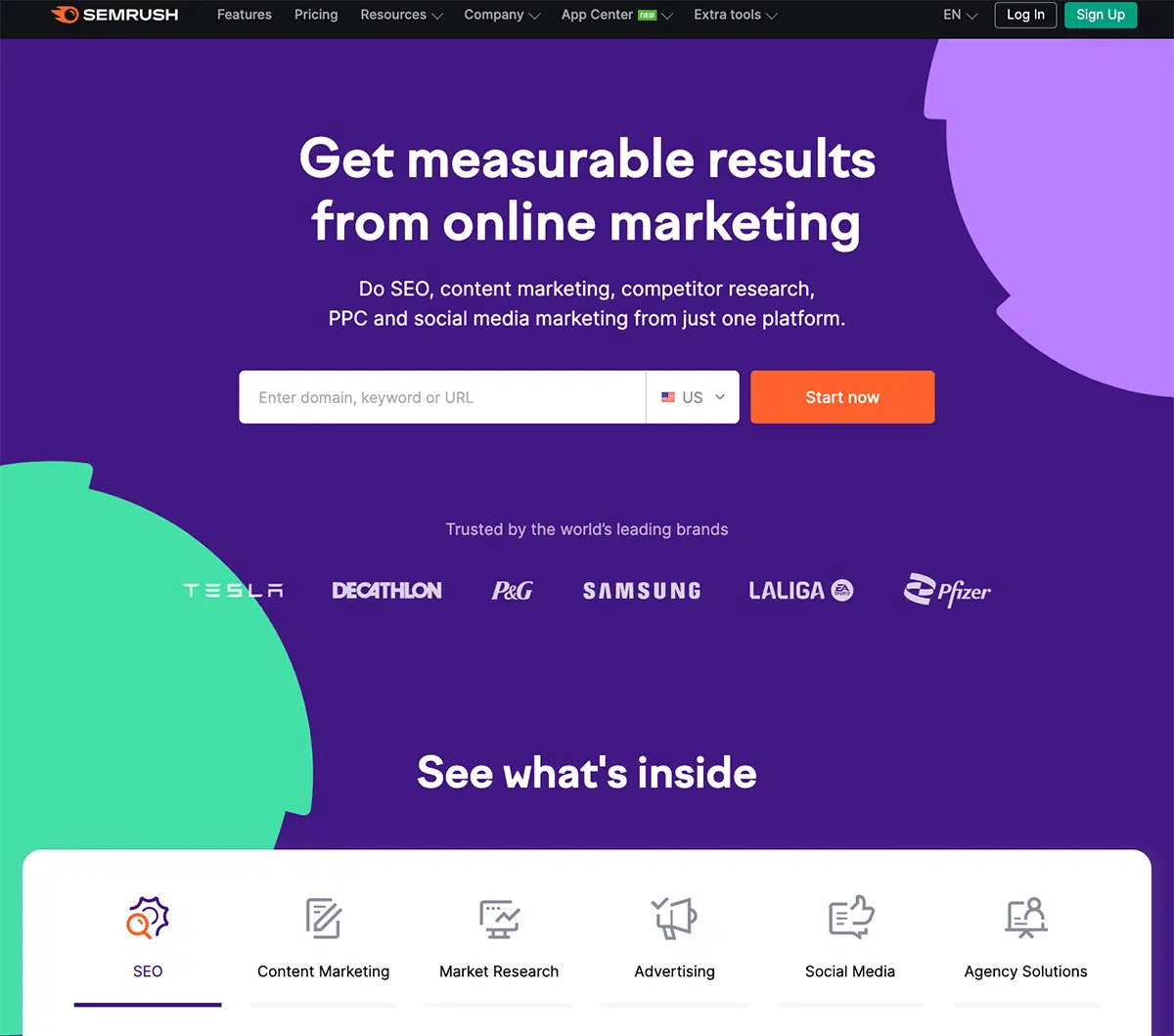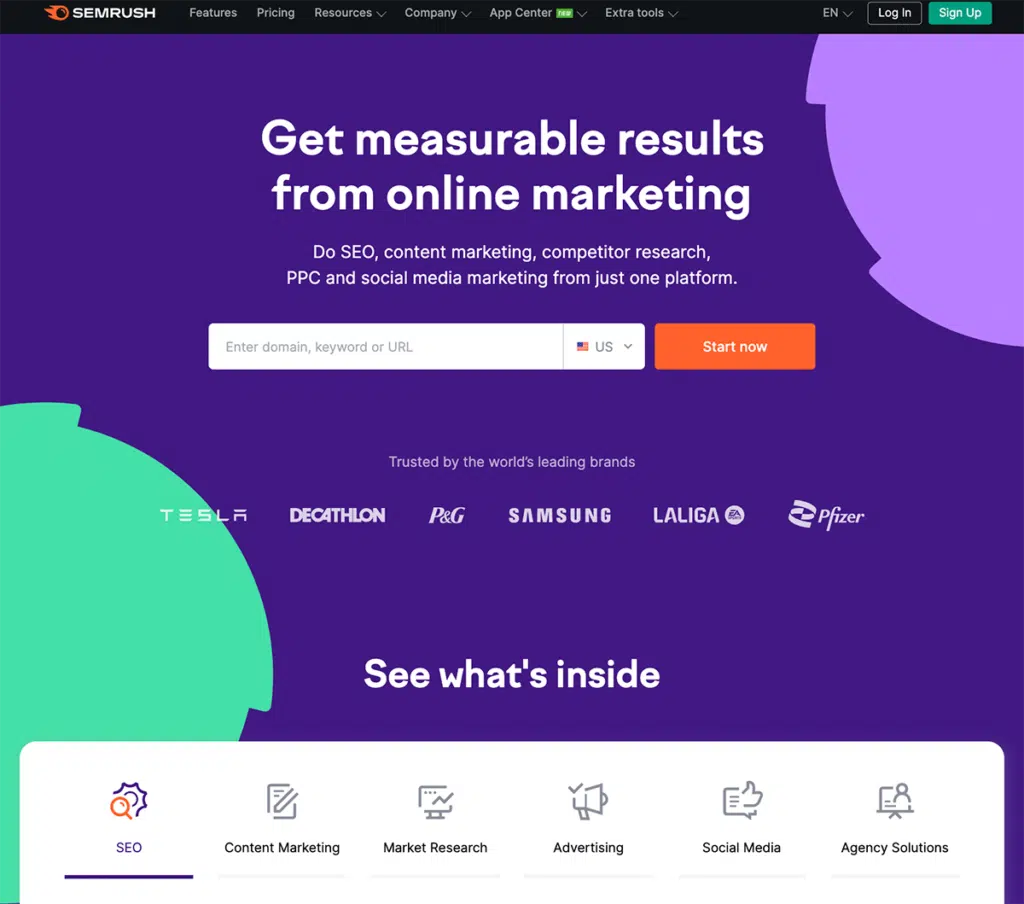 2. Google Search Console
It's the most reliable tool for managing and tracking your website's performance in organic search results provided by Google.
I recommend checking the performance and indexing reports daily to track impressions, clicks, the number of indexed pages, and indexicality issues if there are any. Besides, GSC is free!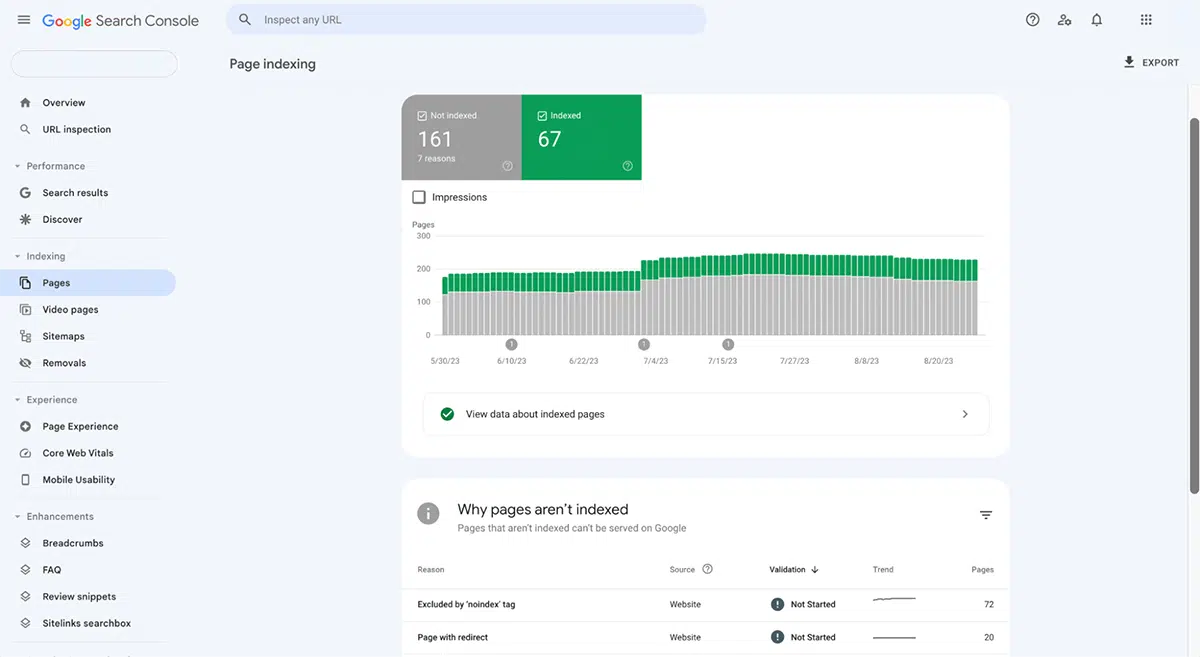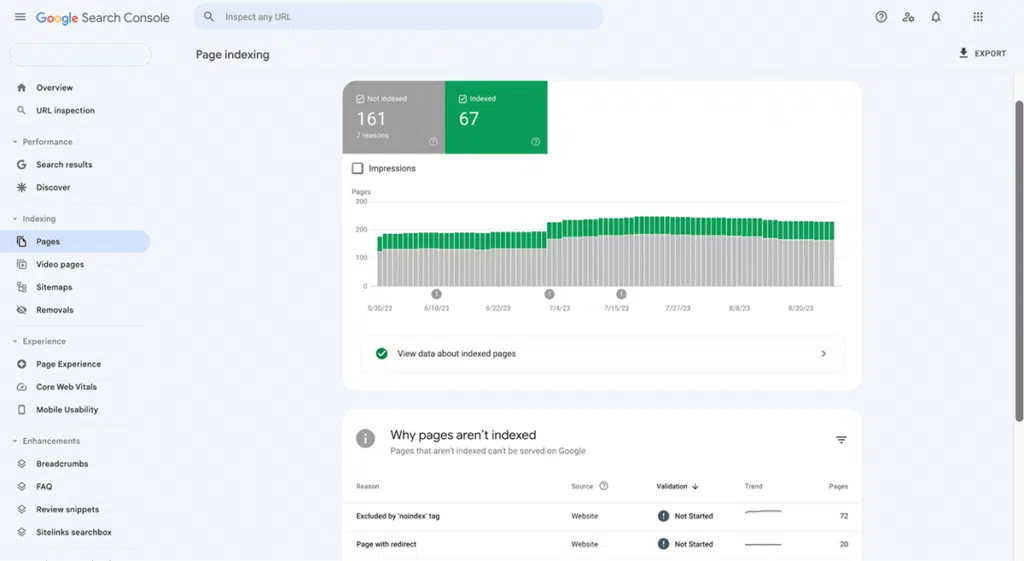 3. Google Analytics 4
You can accurately track most engagement and marketing KPIs with GA4.
I strongly recommend using it because none of the CRM and CMS platforms will provide you with as detailed and accurate data as Google Analytics.
I know we've all gotten used to the Universal GA, but setting up the newest version of Google Analytics is not rocket science. If you struggle with GA, this GA4 for SEO course by Semrush will help you confidently use the tool.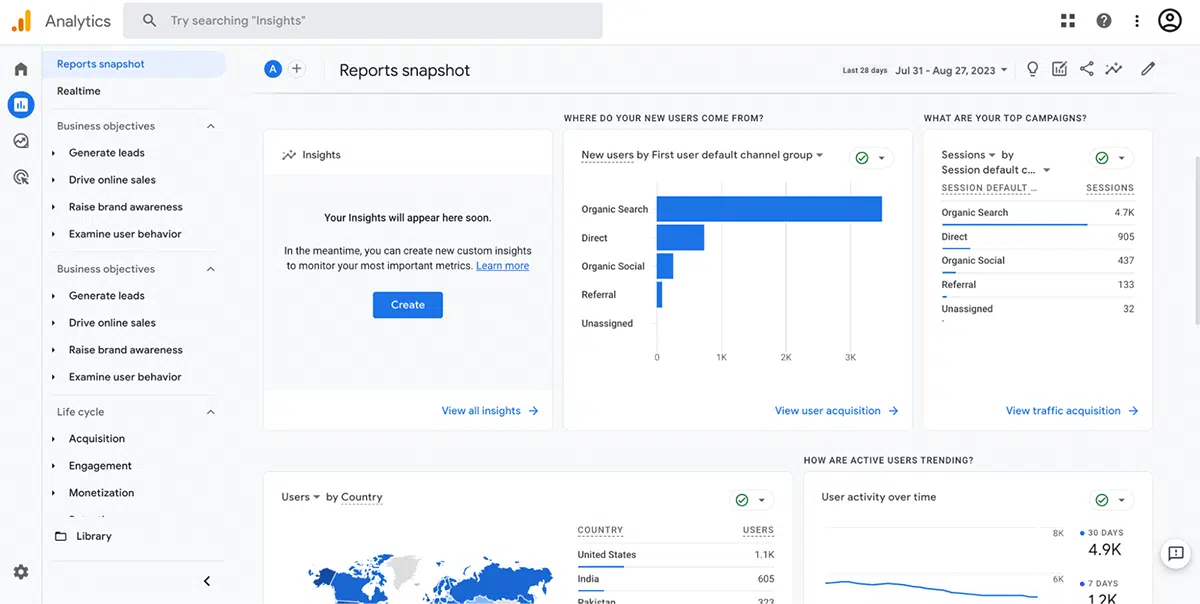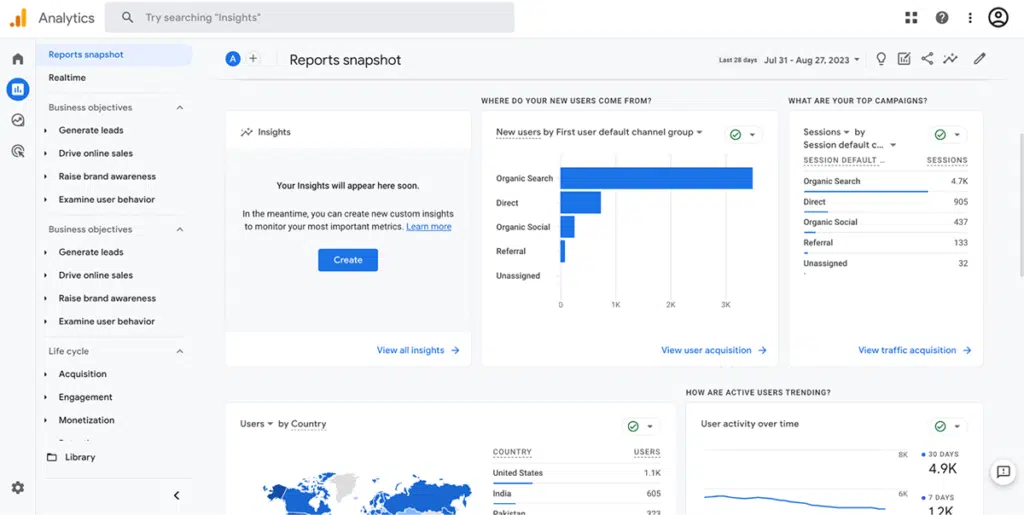 4. Screaming Frog
The advantage of Screaming Frog is that it can be used for discovering and analyzing technical SEO issues of any complexity. The downside is that you have to download it to your desktop.
Nevertheless, its free version can reveal many insights about your website's technical issues, including crawling, indexing, canonicals, HTTP status codes, and internal linking, to name a few.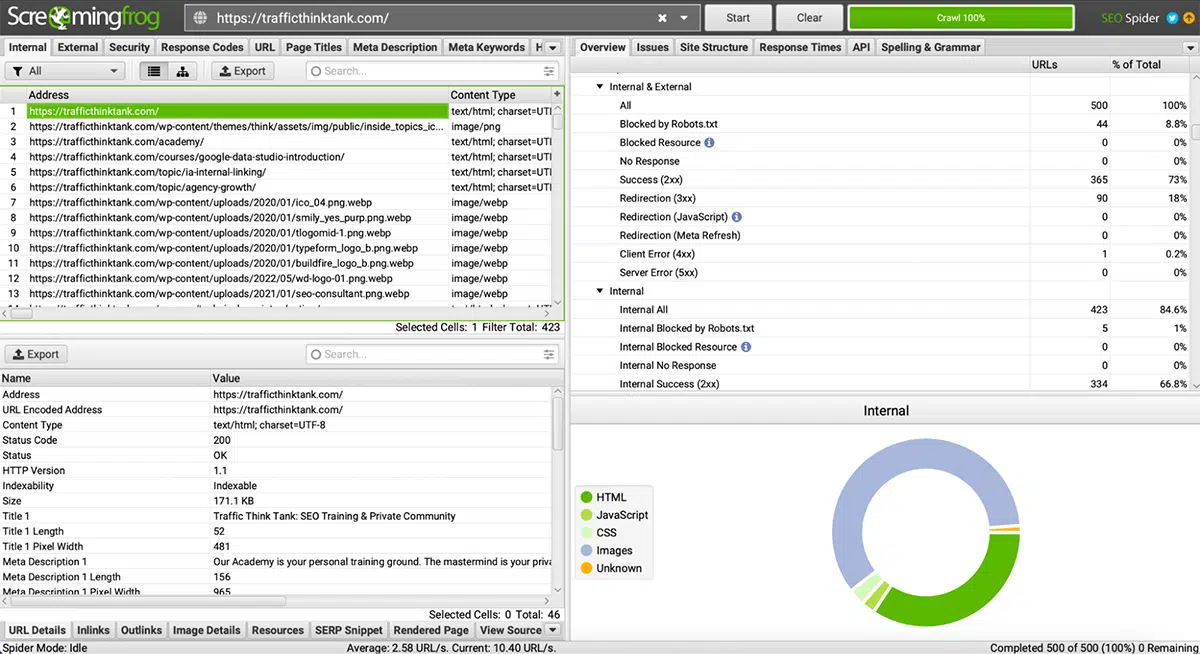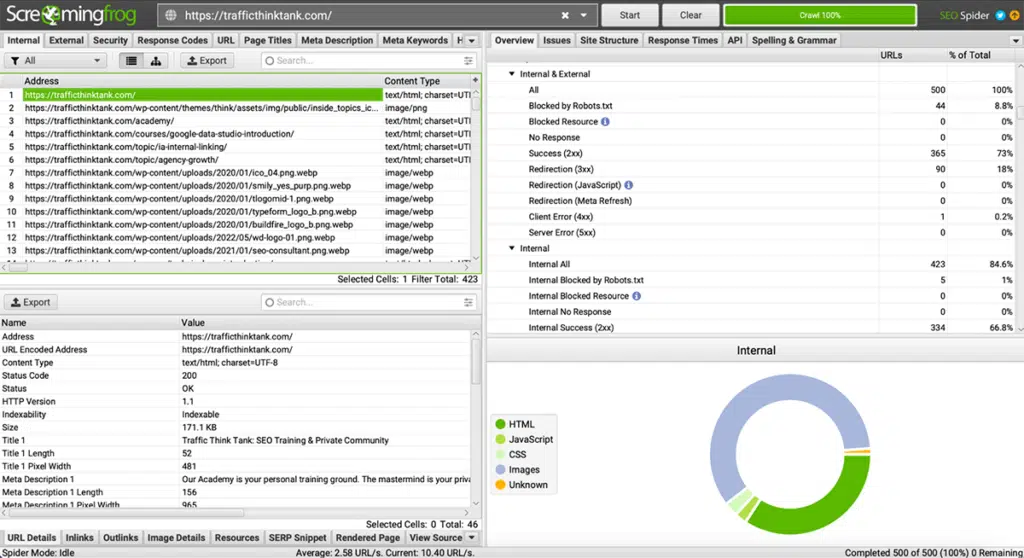 5. Google Looker Studio
Looker Studio is a free tool to turn your data into customizable, informative, and easy-to-understand reports. If you need to report on your SEO progress, you can quickly create various reports that visualize the current state of your website and its performance.
To build custom reports, you can import data from GSC, GA, Google Ads, Google Sheets, Campaign Manager 360, YouTube Analytics, and Semrush Domain Analytics, to name a few.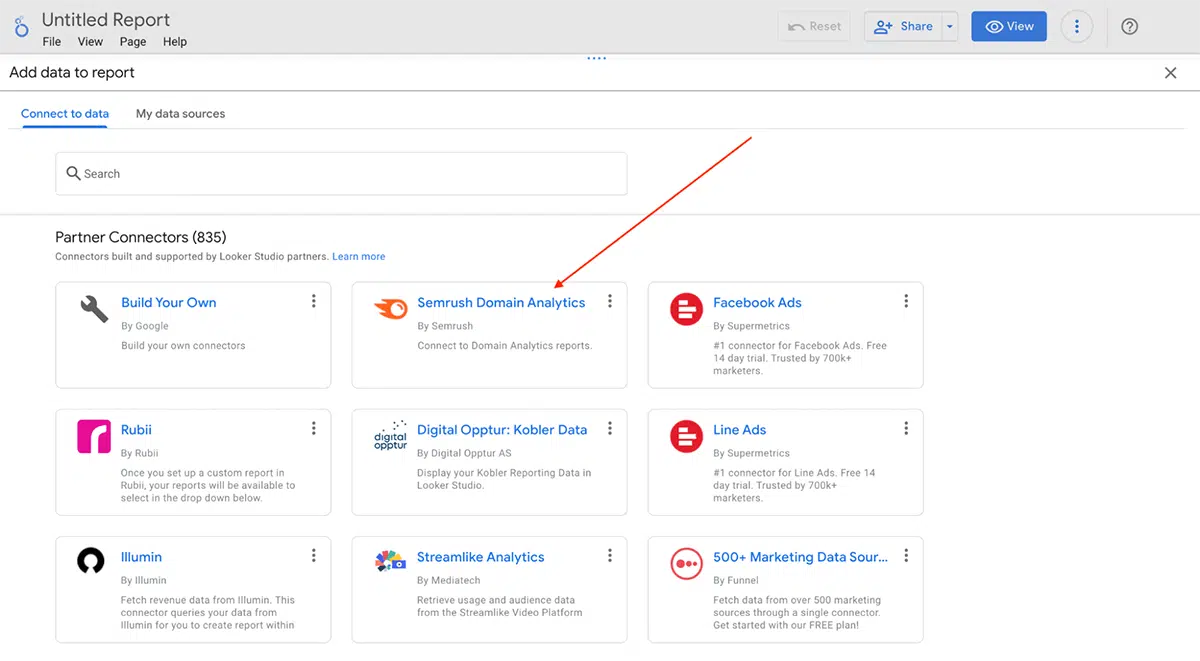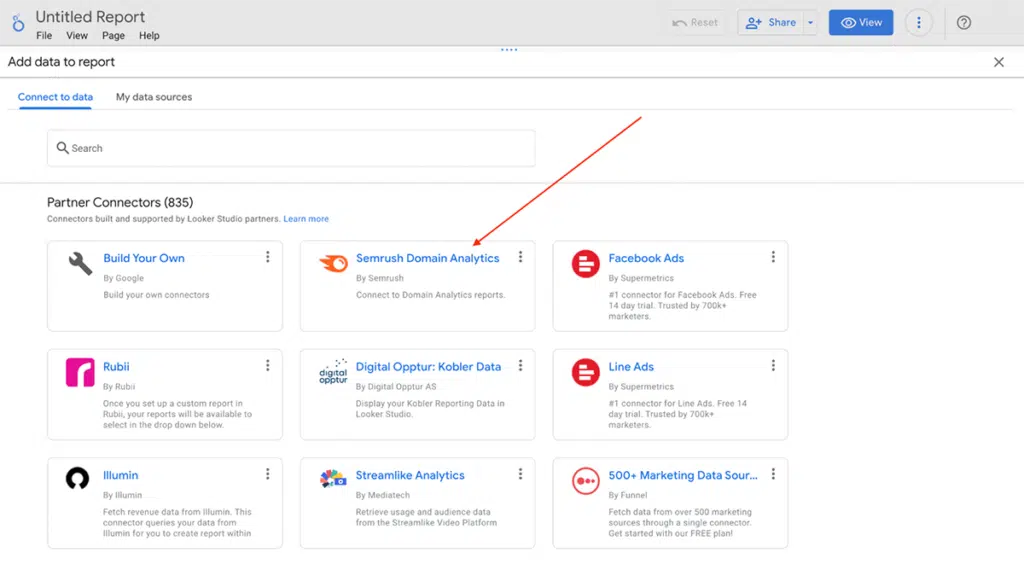 Get After Those SEO KPIs
Looking for a tool that can help track most, if not all, of the KPIs on this list?
Then start your 7-day Semrush Pro trial for free and supercharge your online presence.