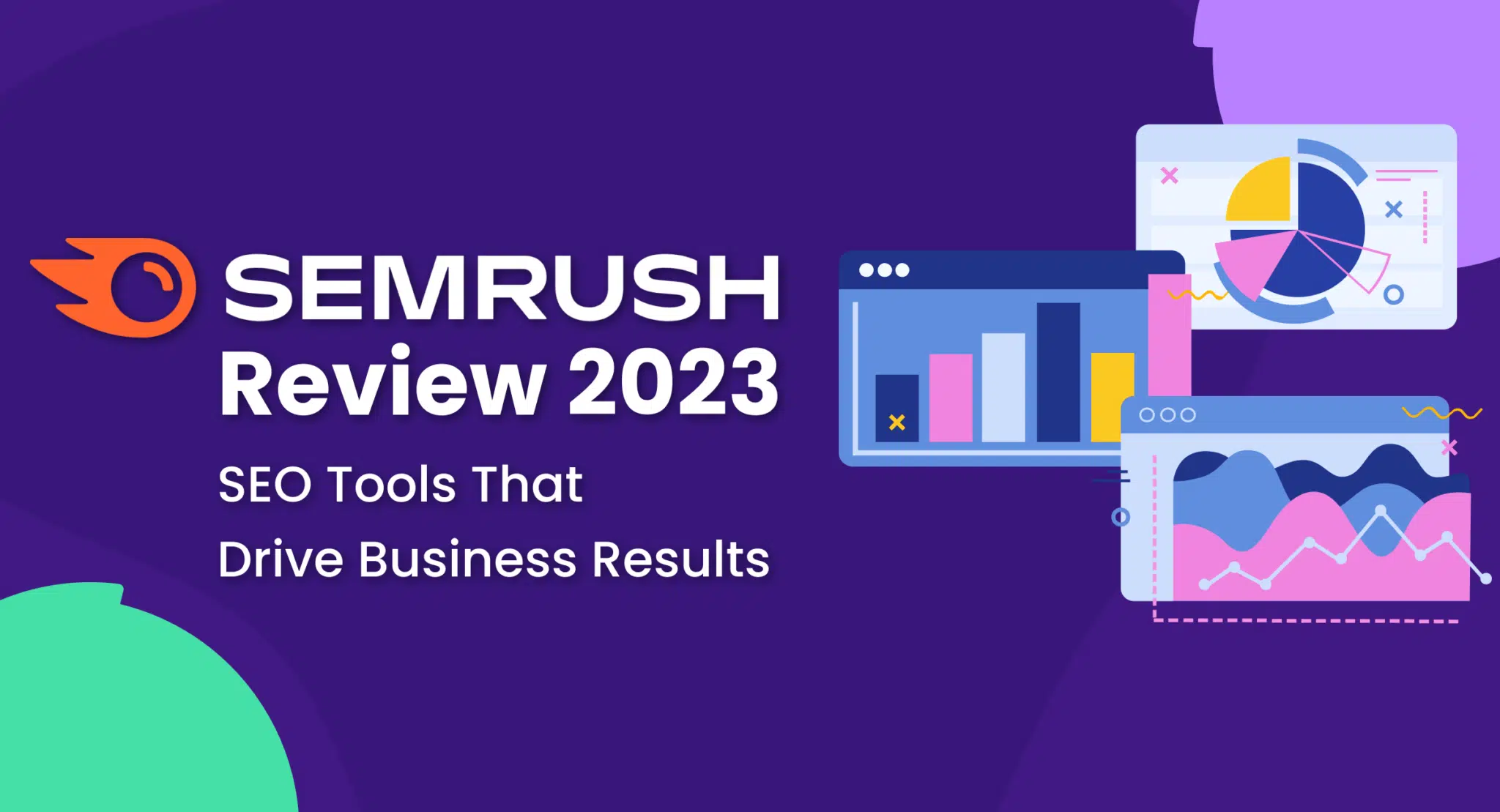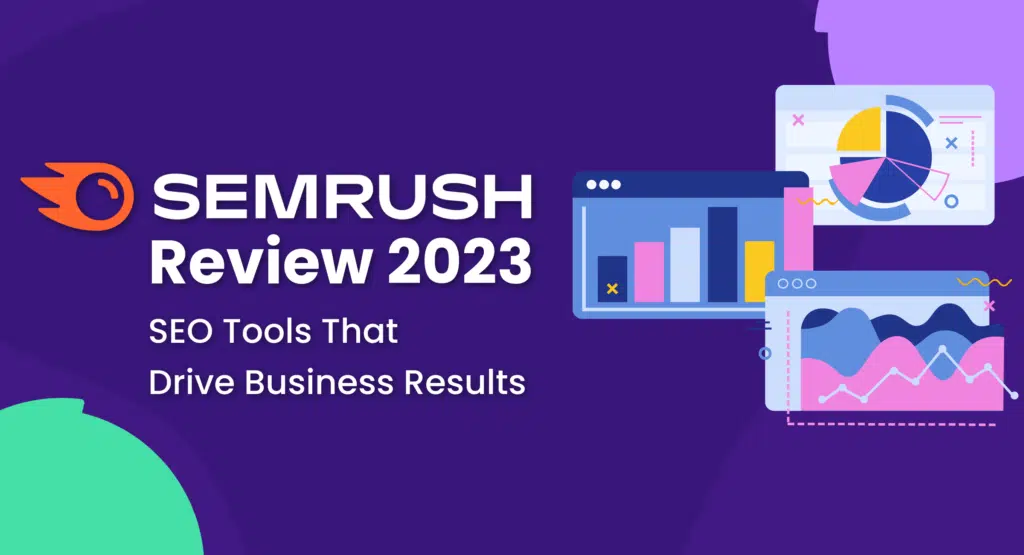 If you've read plenty of blog posts about software that are a bit tedious to get through, I'm hoping you'll find this Semrush review a welcome alternative. Since SEO projects have taken up the majority of my days for years, and I've tried every tool out there at some point, I'm going to jump straight into how Semrush features stack up.
In this Semrush review, I'll walk you through the top features of a Semrush subscription, including keyword research, competitor analytics, rank tracking, and paid advertising tools. After each section, you'll be able to determine whether or not the options on the Semrush toolbar will help you reach your SEO goals.
Let's start with some general categories and scores to lay the foundation for this guide.
At a Glance
Wondering if Semrush is worth it at a glance? To determine an overall score, I considered pricing, features, ease-of-use, keyword research, competitor analysis, and customer support.
| Category | Semrush rating |
| --- | --- |
| Overall rating | 4.5/5 |
| Pricing | 4/5 |
| Features | 5/5 |
| Ease-of-Use | 4/5 |
| Keyword Research | 5/5 |
| Competitor Analysis | 4/5 |
| Customer Support | 5/5 |
The overall score above reflects my great experience with Semrush — it's a suite of tools to master not just for the SEO you are today, but for the SEO you hope to become in the future.
Ready to learn more?
Let's get started.
What Is Semrush Used for When Marketing Your Brand or Business Online?
So, what is Semrush and how can a subscription help you make progress on your marketing campaigns?
Semrush is a subscription-based platform for online visibility management. Once you select and activate your subscription, you'll be able to manage SEO, competitor research, paid advertising campaigns, and much more.
By tracking results for your own site and monitoring your competitors, you'll get insights that inform your marketing strategies.
The suite of tools you get access to might appear overwhelming when you first log in, but you don't need to use all of them right away to get the most out of your subscription.
Instead, explore a few that make the most sense for you to use right now to get comfortable with using the software.
For example, you might want to start with a little Competitor Research to form the backbone of your campaign. This allows you to analyze the visibility of your competition. Then you can make decisions about the type of content that needs to be published on your own site in order to compete.
Next, the Keyword Magic Tool is your gateway to Semrush's database of more than 24 billion keywords. Inputting your topic into the search bar will generate a huge selection of keyword suggestions to consider.
Semrush Pros & Cons to Help You Determine If It's Right for You
In the last section of this Semrush review, I just barely scratched the surface of Semrush features. But that was intentional …
It's important to note that Semrush is simple enough for a beginner SEO to pick up, yet powerful enough to satisfy the needs of a 7-figure pro — because even an advanced user will appreciate the ease-of-use and intuitive layout.
That said, all of the Semrush competition out there can look similar (more on this in a bit), so here are a few pros and cons I've run into after using the software for hundreds of SEO campaigns and site audits.
Pros
Advertising Research, which can be found under the general Advertising tab, is an absolute secret weapon.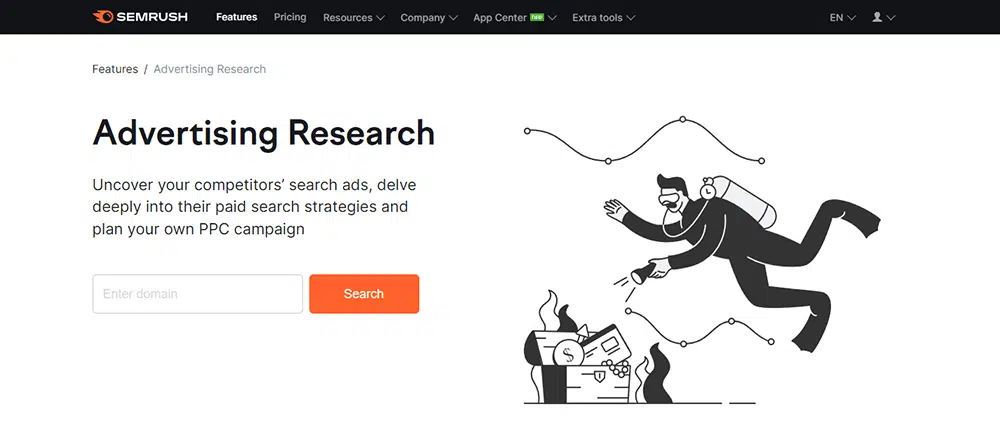 With Advertising Research, you get a behind-the-scenes look at what's working (and not working) for your competitors.
And if you need to monitor display advertising, there's an app for that. You'll want to add room in your budget (no pun intended) for AdClarity, an app you can integrate for an in-depth view of advertising strategies in your niche.
Pace yourself and uncover as little or as much data as you need. The dependable, real-time results are there whenever you need them to understand your competitors and identify opportunities. Also, the Keyword Gap feature helps you compare your current rankings with similar sites.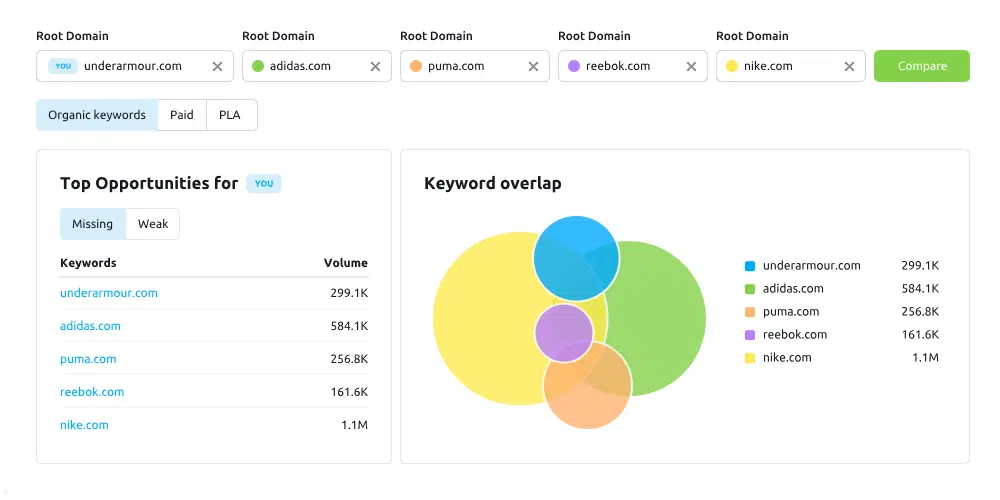 The Semrush platform itself is a "pro" because as soon as you log in, it's easy to see where to enter the domain name for a site. This search gives you a quick overview of handy information, such as domain, traffic, and backlink analytics.
Cons
A standard subscription doesn't allow unlimited access to your account. In other words, only one email address can be logged in at one time. You can't give your login information to multiple people on your team and have them all access Semrush at once.
To have more than one person use the software at one time, you have to add users to your account for additional fees.
One thing you also have to keep in mind is that organic traffic estimates are typically just that … estimates. The actual number of people visiting your site or your competitor's site might be higher or lower.
As we'll get into later, Ahrefs has a keyword breakdown tool that might allow you to make better decisions about keywords you should go after. Ahrefs can also help you determine the number of people who click on PPC ads rather than just organic search results.
Lastly, as I mentioned above, if you don't narrow down a few go-to tools that you'll immediately start playing around with, the interface might seem overwhelming. The sheer number of features can make it more difficult to find the exact functionality you need.
A Detailed Look at Semrush Features
You might have been inspired to read a Semrush review because you've decided it's time to learn more about online visibility. Or, you're an SEO who needs more data – you're ready to move beyond free or budget tools.
Perhaps you want the most competitive edge you can get (I know I do), so you're looking to add another software suite into your daily SEO routine.
In any of these cases, your interest likely means you want more interested prospects to find your website. And site visitors want to find the best products or services for their needs.
That's where SEO copywriting comes in …
Content that attracts the right prospects to your products or services has strong SEO roots. It connects the right site visitors to the content that will help them the most.
That's a tall order. So where do you start?
The Semrush toolbar peels back the curtain on tactics that are already working. Then it's your job to identify weaknesses in your competitors' strategies that you have the know-how to strengthen in your own content.
Here are some Semrush features you'll find in the SEO sidebar.
Domain Overview
In the Domain Overview tab, you'll find the same type of information available in most SEO tools: a general look at a site's organic traffic, PPC advertising rankings, and backlinks.
It's at the top of the sidebar because this is where you'll start to analyze a certain domain.

You'll also be able to compare domains and track progress, so you have a better understanding of both your site and your competitors' sites.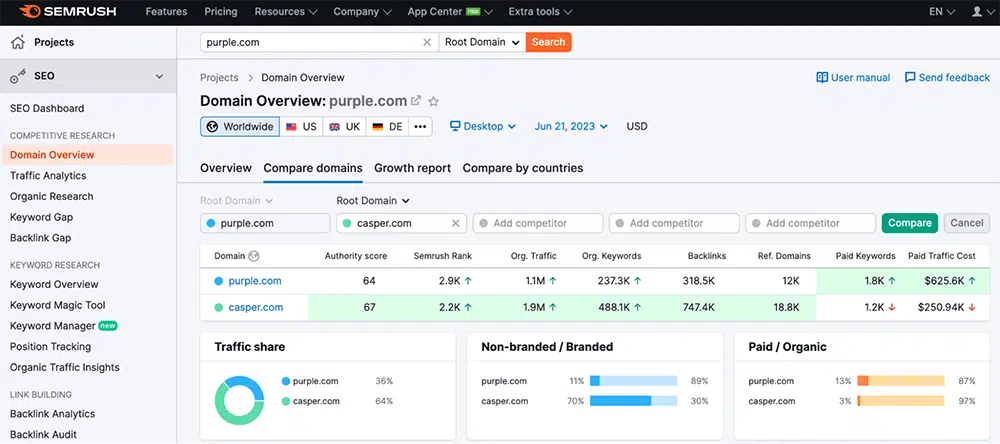 Keyword Analytics
Semrush's keyword research tools answer a lot of questions you might have about the potential to rank for top keywords in your niche.
These six Semrush features work together to help inform your content marketing strategy:
Keyword Overview
Organic Research
Keyword Magic Tool
Keyword Gap
Organic Traffic Insights
Keyword Manager
Just like the Domain Overview tab, the Keyword Overview report gets your analysis rolling. You'll evaluate search intent and different keyword difficulty levels to uncover the ones that will be the most beneficial to target.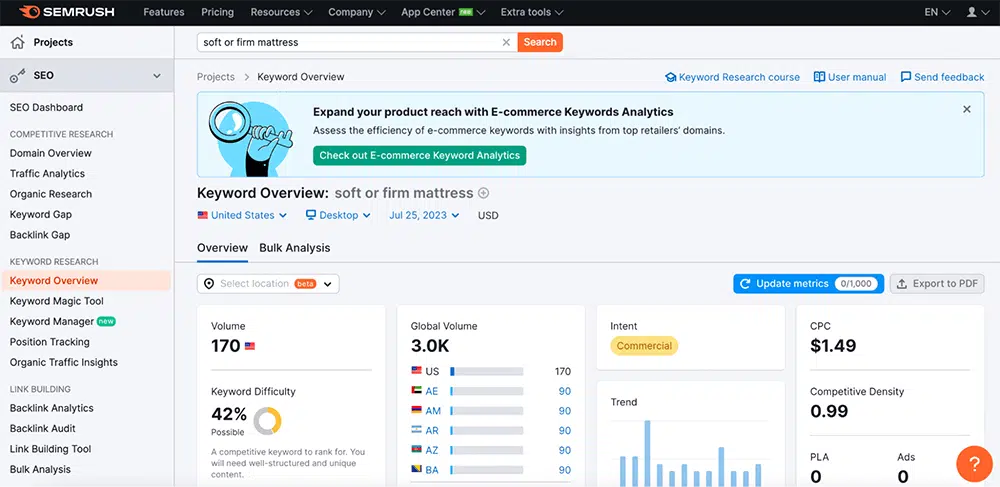 Semrush's Keyword Magic Tool is a specific feature that makes it easy to find low-competition, long-tail keywords and variations you might not have originally considered, such as popular search questions and alternative phrases for your topic.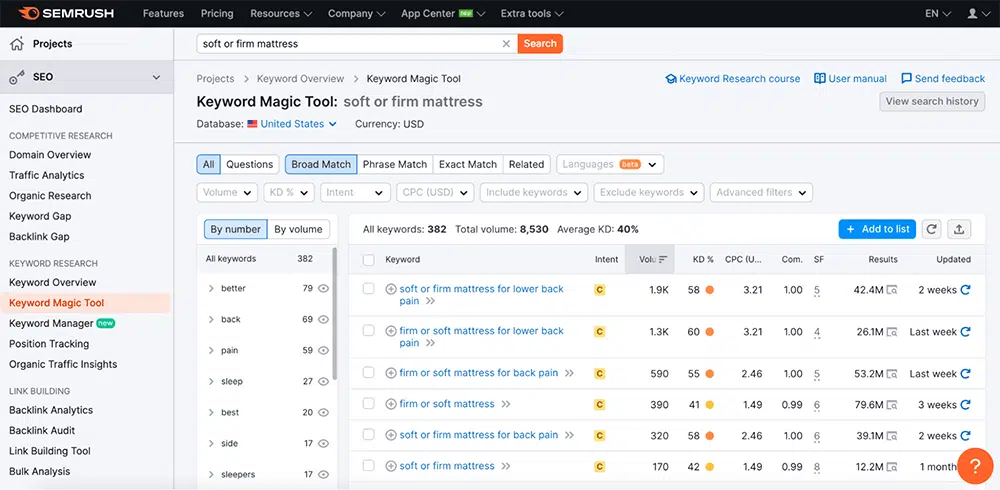 On-page SEO
This is a particularly fun part of SEO for many people, because on-page SEO helps you evaluate and optimize the current version of your website.
There are a lot of moving pieces when you first create a website and while you hope that all of your content and code is crystal clear from the start, it doesn't always turn out that way.
Do you already have stellar SEO titles and meta descriptions? How about your internal linking strategy and image sizes?
Semrush can improve technical details you might have previously overlooked with:
Site Audit
On Page SEO Checker
Dissecting your site's health will help you add the right SEO steps in your content publishing process going forward.
Backlink Analytics
Backlink Analytics are your chance to get ideas for your own marketing outreach by monitoring your competitors' link-building strategies.
Semrush's backlink audit tool is accurate and fast. Plus, it reveals the anchor text, position, and authority of backlinks that point to your own website.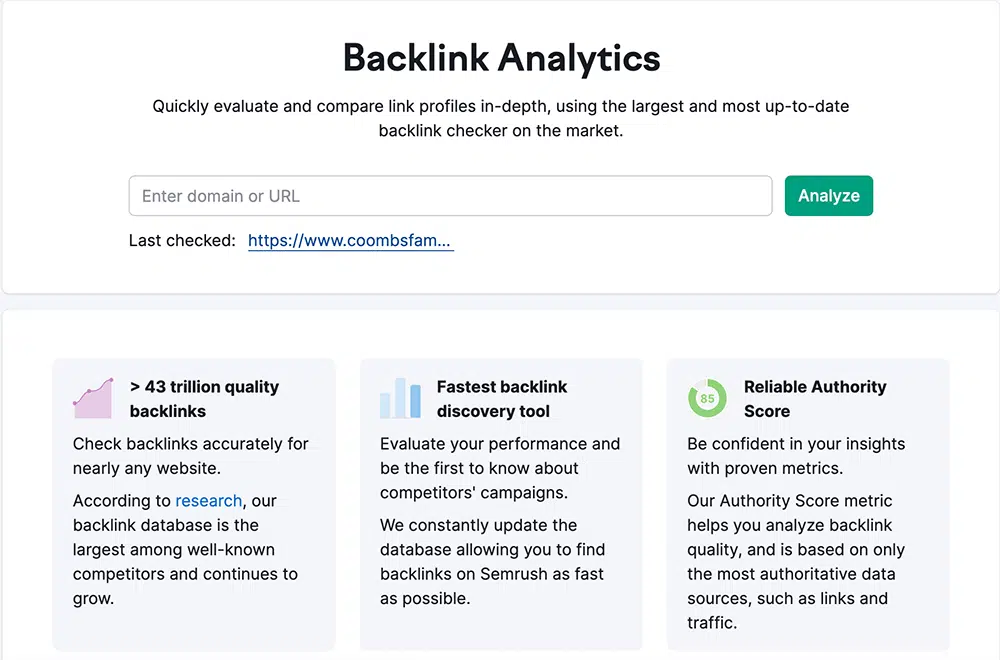 Backlinks to your own site are important to monitor because search engines take the quality of backlinks into account.
To stay up-to-date with what's going on with your off-page SEO, you can even get alerted when backlinks are deleted. All in all, a great tool at your disposal.
Competitor Analysis
We've already covered a few competitive research features and the importance of this process can't be understated.
A strong SEO campaign takes your competitor's keywords into consideration. And in Semrush you can grab the details you need at a moment's notice, including a site's main competitor in Google.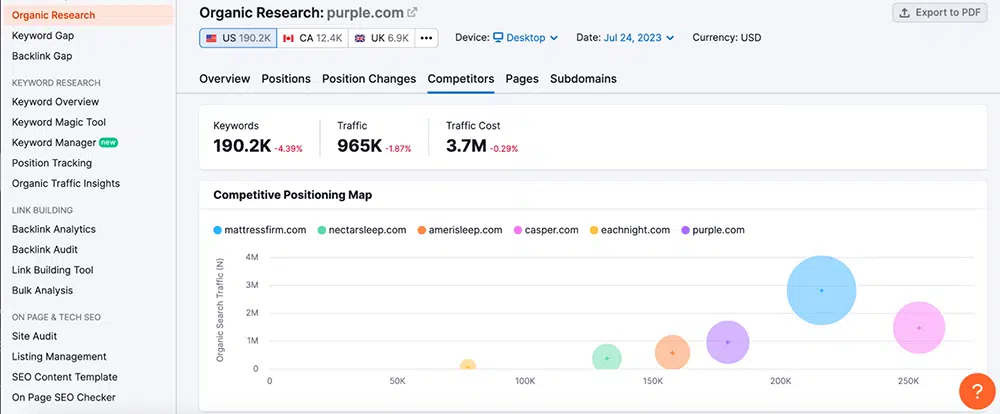 You can take advantage of:
Traffic Analytics
Organic Research
Advertising Research
Social Media Tracker
Traffic Analytics will be your go-to source for surveying the current market and identifying new opportunities.
Local SEO
If you work on a website for a business that wants to attract more local customers, you can immediately start taking advantage of these features:
Listing Management
Position Tracking
On Page SEO Checker
Social Media Toolkit
While we've gone over the majority of these features, the Social Media Toolkit will help give your local SEO efforts a boost.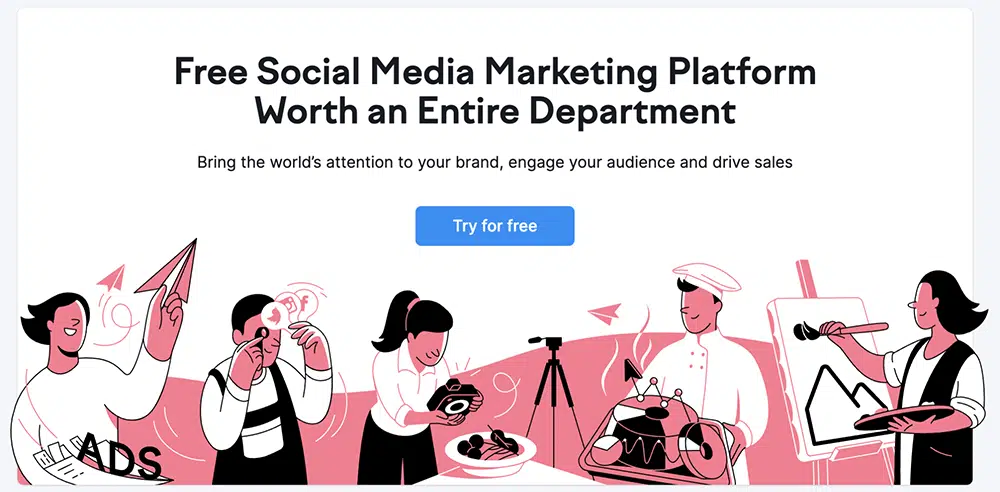 Reviews are a special part of site ranking factors for local businesses, and with the Social Media Toolkit you can schedule posts for your audience and manage your Google Business Profile.
Rank Tracking
Rank tracking (or Position Tracking) can be a bit addictive, right?
So of course Semrush's tool is top notch for:
Comparing rankings over time
Discovering a site's overall visibility
Monitoring rankings distribution
This is a straightforward feature you're probably already using, so it's a snap to set up and get started tracking your positions for different keywords.
Paid Advertising
If you take one thing away from this Semrush review, it's that the PPC keyword research tools are a must-have for any SEO professional.
The ability to research the investments your competitors make with PPC can help inform the type of ads you run.
For example, if an ad your competitor uses doesn't generate a lot of clicks, you'll want to go in a different direction for your campaign.
Very helpful.

With this awareness of the marketplace, you'll be able to save yourself time and money!
If you opt for the AdClarity app, you'll be all set with display ad analytics as well.
Semrush Prices: An Access Level for Every Stage of SEO Growth
The access level to choose for your Semrush subscription will vary depending on the extent of your SEO projects.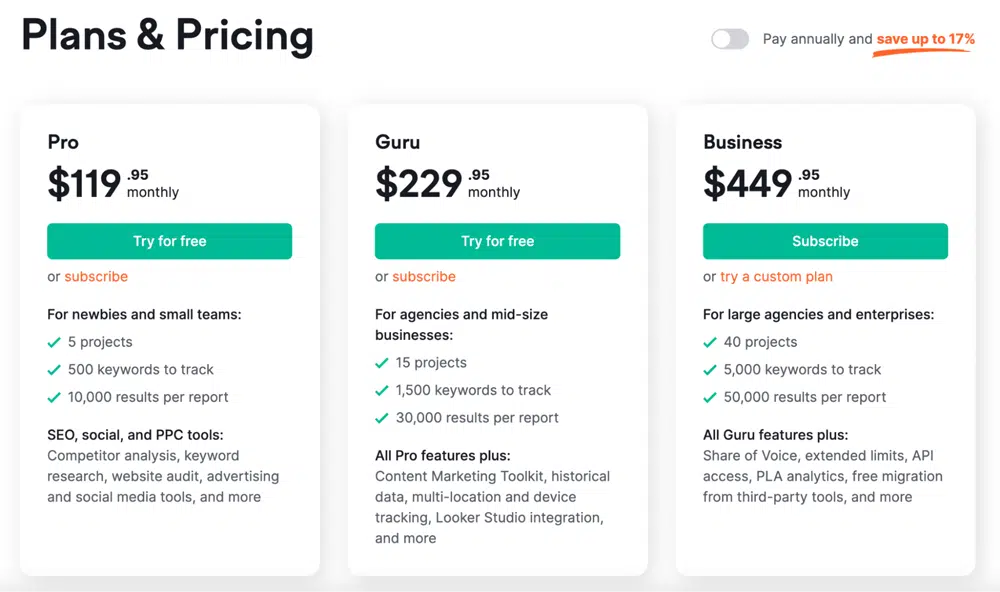 For example, Semrush's Pro account has a 7-day trial and its price is comparable to its competitors. You can even get an indefinitely free account if that's what best fits your needs right now.
And if you manage SEO for a number of clients, Semrush pricing for the Guru or Business subscriptions are well worth the cost. You'll have everything you need to generate reports to keep your clients up-to-date on your progress.
Free Account
Although there's no icon or tab that says "Free Account," you can start using Semrush without automatically getting charged at the end of your 7-day trial.
Simply sign up for an account with your email address and select, "Skip trial." You won't have to enter credit card details, so it's a great way to get a feel for the software without any long-term commitment.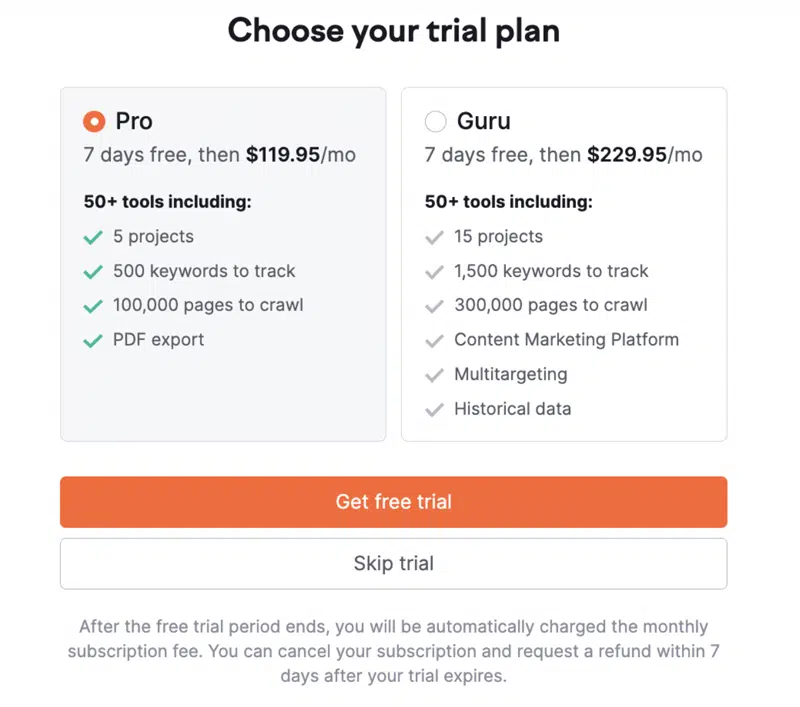 With a free account, you're limited to one project and can only track 10 keywords. Analytics reports are limited to 10 per day.
Pro
A Pro account is the starting place for dedicated SEO professionals. It starts at $119.95/month. If you want to add users to the account, it's $45/month per user.
You can manage 5 projects and track 500 keywords. This is a basic plan that gives you access to an impressive number of features such as keyword research, competitive research, on-page tools, and PPC advertising.
A 7-day free trial of this plan is available if you enter credit card information. Your credit card will be automatically charged at the end of the trial.
Guru
A Guru account takes things up a notch. This plan for mid-size agencies and businesses starts at $229.95/month. If you want to add users to the account, it's $80/month per user.
You can manage 15 projects and track 1,500 keywords. This is where Semrush's value starts to stand out from competitors. In addition to the features in the Pro plan, you also get historical data, a content marketing toolkit, and Looker Studio integration to help you convert data into reports.
A 7-day free trial of this plan is also available if you're prepared to put a credit card on file.
Business
A business plan is the most appropriate for large companies and enterprises. A custom plan is the only account type above this one, so you know the business plan means … business.
It starts at $449.95/month, and if you want to add users to the account, it's $100/month per user.
You can manage 40 projects, track 5,000 keywords, and get free migration from third-party tools. This is the ultimate suite of tools with extended limits, API access, PLA analytics, and Share of Voice.
Semrush Customer Support Designed for Your Success
You're able to spot the quality of Semrush customer support before you even create an account. A chat box pops up when you're on the pricing page to help answer your questions.
That experience continues when you're logged in. The Live Chat feature for customers gives you speedy replies.
And if you're not ready to chat but could use some guidance, take a look at their comprehensive Help & Support center below.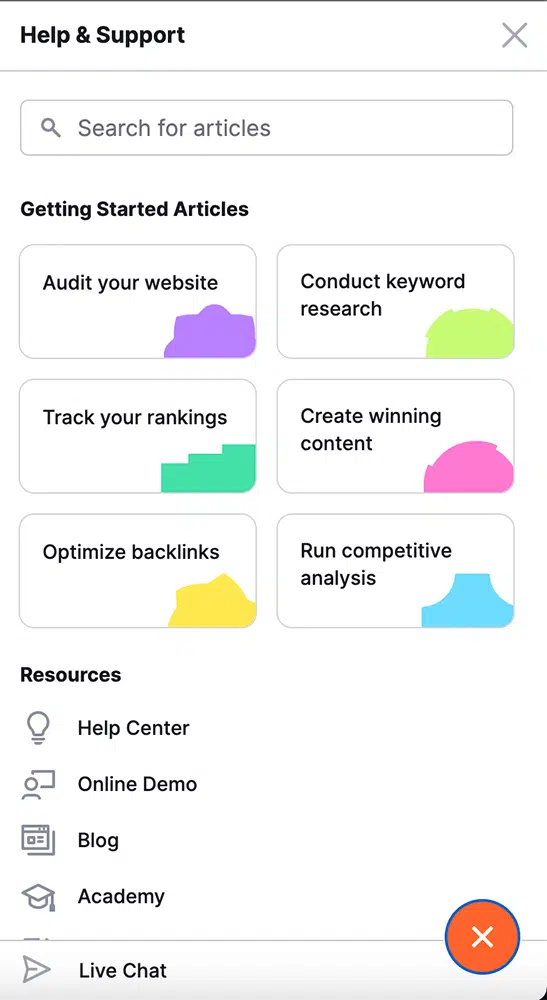 The resources in there will get your project moving along in no time.
Semrush Competition to Consider
If you're using this Semrush review to compare it to similar options, check out the quick summaries below.
To help you decide, you could pinpoint your SEO goals and then select the software that'll give you more of what you're looking for in a new suite of tools.
Semrush vs. Ahrefs
One of the most common SEO battles is: Semrush vs. Ahrefs. The winner for you could easily come down to personal preference, as they both meet industry standards for features like:
Organic Research
Backlink Analytics
Site Audit
One cool thing about Semrush is that it has a link building management tool, which takes your entire marketing strategy into account and helps you move toward your goals.
Semrush's Backlink Checker also gives details about a site's referring domain, providing you with categories that correspond to the types of sites that send traffic your way.
Ahrefs reveals a lot of details that could affect which target keywords you select, such as how many people click on a site from search results.
Semrush vs. Similarweb
How much do you care about traffic from Google? Probably a lot … and that's the Semrush vs. Similarweb debate in a nutshell. Traditionally, Semrush served up Google traffic for you.
But a service like SimilarWeb is going to reveal sources of traffic not from Google.
That information could certainly be useful to see which communities online refer traffic to your site. Accordingly, Traffic Analytics in Semrush now gives you these details.
Semrush vs. Serpstat
Next up: Semrush vs. Serpstat. This is a classic case of "you get what you pay for." Serpstat has a cheaper price tag that comes with limitations.
While its keyword tracking features are comparable to Semrush, you might outgrow Serpstat and need to switch to Semrush to gather more data. Eventually you'll want to dive deeper into competitor analysis, backlink audits, and paid advertising.
Semrush vs. Moz
Finally, Semrush vs. Moz. Moz goes head-to-head with Semrush in a lot of ways, and some users might prefer Moz's interface.
As I'm sure you can tell from this Semrush review, Semrush is a complete solution that will serve you now and into the future.
The price points of both Semrush and Moz subscriptions are similar, but Semrush comes with unbeatable benefits, such as phone support, PPC advertising analytics, and tools for the project manager in all of us.
Is Semrush Worth It for Your Online Marketing?
If you want all the tools you need for SEO in a single intuitive platform, you'll be able to quickly dive into Semrush and get your projects up and running.
It's a powerful combination of basic and advanced features that are with you every step of the way on your SEO journey to Page One.
Plus, with world-class customer support you get specific answers to any challenges that arise as you figure out how to address an opportunity in your niche.
Give Semrush a try today … and if you get hooked, don't say I didn't warn you.