About Traffic Think Tank
Traffic Think Tank is an accelerator for your SEO skills, network, and career. Split into two distinct parts, the Academy is your personal training ground, and the Mastermind is your private sounding board.

The Academy is where respected names in SEO spill the beans on the exact processes, tactics, and strategies they use. There are over 200 hours of content, taught by more than 40 different experts, with new videos released every week.

Powered by Slack, the Mastermind is the private community made up of ambitious people who take SEO seriously. Everyone's here to make real connections and get better results. And because it's private, experts share ideas that aren't published anywhere else.
The Founding Team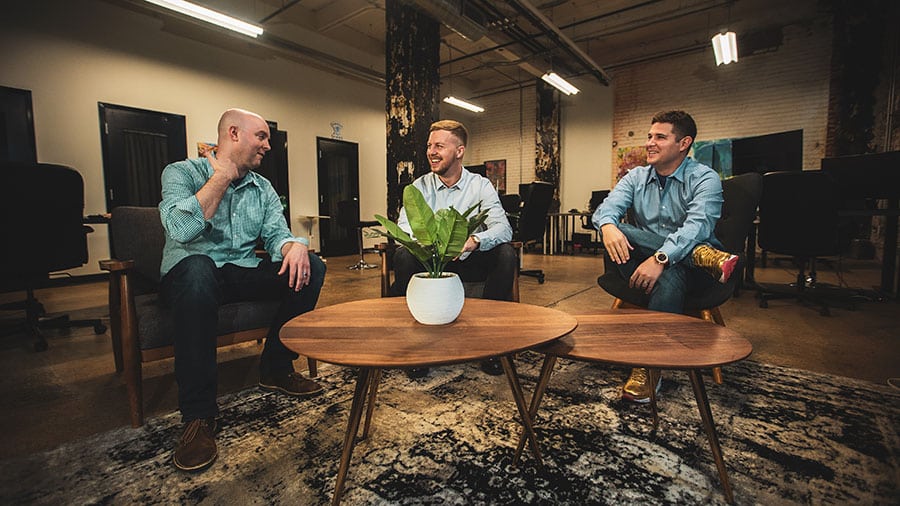 Nick Eubanks founded his first company at age 19, and sold his first business at age 24. Now, he consults on SEO strategy to billion-dollar businesses as the Founder and Chief Strategist of I'm From the Future. Because free time is overrated, he wrote and sold a 47-post blog for $100K on a whim, and launched multiple infoproducts in niches he had less than no experience in that netted over $500k in revenue.
Matthew Howells-Barby has built his entire career on his ability to drive results. After years of leading digital campaigns at some of the most respected agencies in the UK, Matt was hired as HubSpot's Global Head of SEO. Within six months, he'd grown organic traffic by more than 50%. Within two years, it'd skyrocketed over 200%. As HubSpot's Senior Director of Acquisition, he's helped the company more than double sitewide conversions.
If you've never heard of Ian Howells, it's because he'd probably prefer it that way. He's more of a "shut up and rank sh*#!" guy. Since '99, he's competed in and dominated in the fiercest niches and darkest corners of the web (think: poker, pills, and… you know.) His agency work began in 2007, eventually landing him at Red Ventures where he managed a book of business worth millions per month. He then lead SEO at LendingTree, ranking for terms like "car loans" and "debt consolidation." He's now an independent SEO, monetizing his own sites and doing limited consulting.
---
Brand Assets
Do you want to write about Traffic Think Tank? If so, well… thanks! Below are some of our brand assets that you're free to use within your content.
Simply click the button below to download all three variations of our logo in .ai and .png file formats.
---
Community Statistics
Here are some useful statistics about the Traffic Think Tank community. This data was last updated in July 2020.
Community members from some of these brands…
Data on our community
How many active community members are inside the Traffic Think Tank Mastermind?
As of July 2020, there are 761 active community members. In the past 30 days, those members posted 24,828 messages across 42 public channels.
How large are the companies inside Traffic Think Tank?
0-10 Employees: 63.7%
11-200 Employees: 26.4%
201-999 Employees: 5.5%
1000+ Employees: 4.4%
What's the split of employment type inside Traffic Think Tank?
Founder/CEO: 26.4%
Agency: 21.1%
In-House: 24.8%
Freelancer: 27.7%
Where do Traffic Think Tank members do their work?
Fully Remote: 35.7%
In-Office: 38.7%
Hybrid: 25.6%
What's the locations split of Traffic Think Tank members?
Europe: 26.8%
North America: 60.8%
Latin America: 0.3%
Africa: 0.3%
Asia: 5.8%
Oceania: 6.0%
Have a question?
Get in touch via the contact form below.