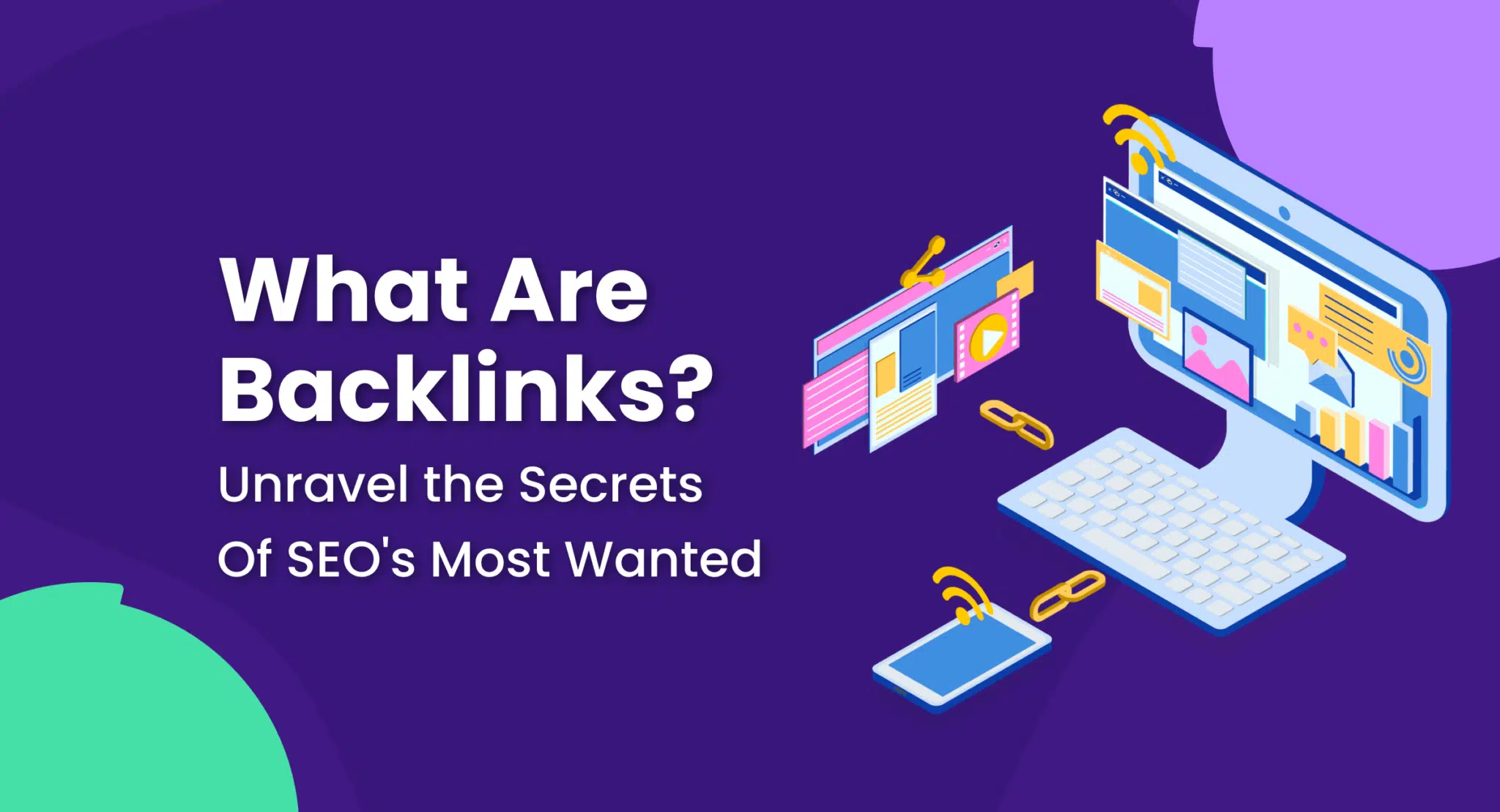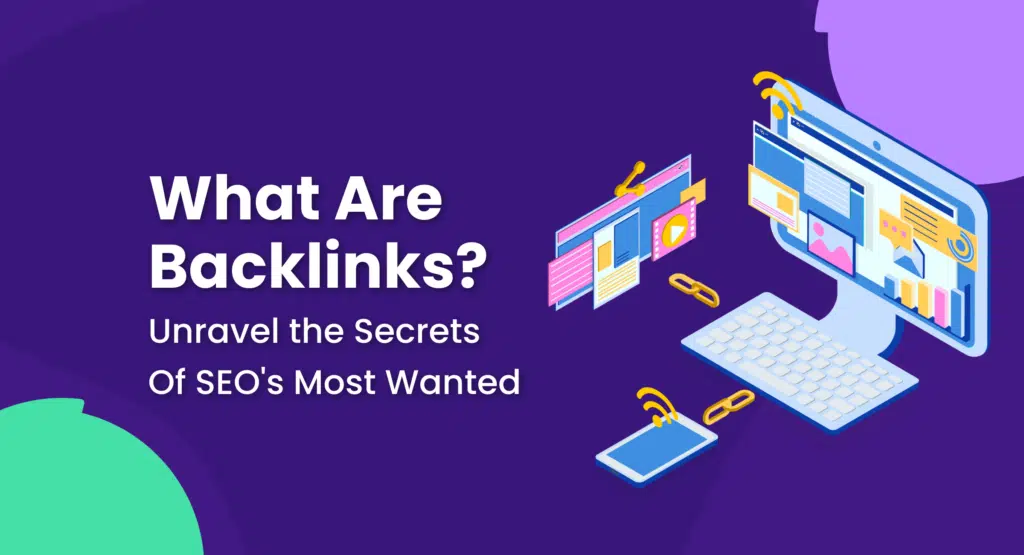 What are backlinks, and why are they such an essential part of the puzzle for SEO?
Acquiring backlinks is critical for SEO because quality backlinks can significantly improve your site's online visibility and credibility.
In this article, you'll learn what backlinks are and why performing a backlink audit is an essential part of SEO. We'll also take a deep dive into how to get backlinks for your sites.
What Are Backlinks? The Difference Between a Link and a Backlink
A regular hyperlink and a backlink both connect information on the web, but they have slightly different functions.
When it's clicked or tapped, a regular hyperlink, often just called a "link," brings a user to another place within the original content (or to another piece of content).
A link could lead to a related page, an image, a document, or a social media post that takes you to an article.
A backlink in SEO, on the other hand, has a more specific definition. A backlink is an incoming link to a website from another website. It's like a digital vote of confidence from one site to another.
Creating backlinks is essential for off-page SEO because backlinks indicate the popularity or credibility of a website. Search engines view websites with a higher number of quality backlinks as more authoritative and trustworthy. When you get lots of backlinks, it can boost your search engine ranking.
Keep in mind that not all links function as backlinks.
Why Are Backlinks So Important?
Now that we've covered what backlinks are, here's a look at why they're so significant:
Backlinks correlate with rankings: A study by Backlinko revealed that the number of distinct domains linking to a specific page is the most important correlating factor to Google rankings. Backlink portfolios don't just build authority — they directly influence how well a page performs in SERPs.
Most content doesn't get backlinks (so it doesn't stand out): Another study by Backlinko found that approximately 94% of all content fails to attract backlinks. It's a dog-eat-dog world out there, and competition for links is fierce. So, every backlink you get can have a major impact.
The social shares myth: It's easy to assume that content that receives a high number of social shares naturally attracts more backlinks. The research tells a different story. The same study found no discernible correlation between the volume of social shares a piece of content receives and the number of backlinks pointing to it.
Social media can be a great way to distribute content and build brand awareness, but it might not directly translate into backlink growth. You'll need to do your own link-building to improve your rankings.
What Gives a Backlink Authority?
Let's look at the key factors that make some backlinks more valuable than others.
Relevancy and Contextual Alignment
Backlinks originating from closely related domains, niches, topics, or sections carry more weight. Each backlink needs to align with the content's purpose and audience.
When analyzing your backlinks, consider how well each link fits within its context and serves its audience. This contextual alignment reinforces content authenticity and value in the search engines.
The Weight of "DoFollow"
Google's search algorithms place significant emphasis on backlinks without the "rel=nofollow" attribute. These links, often referred to as "dofollow" (though the term is more of a marketing buzzword than a technical standard), are the ones that typically pass on SEO value.
But to make sure your website's backlink profile looks organic and authentic, you need a mix of "nofollow" and "dofollow" links. Overemphasizing one type over the other can make your backlink profile appear manipulated — leading to penalties.
For example, Semrush's Backlink Analysis Tool shows that the site artdesigna.com has a ratio of 74% Follow to 26% Nofollow backlinks.
Credibility via Domain Authority

One of the most important factors determining the strength of a backlink is the domain authority (DA) of the linking website.
When high DA sites link to you, it indicates that credible sources vouch for your content.
But while high DA links are desirable, your overall backlink profile should be diverse to avoid the appearance of manipulation. (It's always a balancing act, right?)
The Specifics of Page Authority
Page authority (PA) is a predictive ranking score for individual pages. A page's authority hinges on factors like the quality and number of backlinks, top-notch content, on-page SEO elements, and even subtle signals from social interactions.
The overall DA influences this metric and places a premium on search engine accessibility, a well-structured internal linking system, and overall user experience.
And just like with domain authority, it's beneficial to have links from pages with a range of PA scores when creating backlinks.
The Number of Backlinks From a Particular Domain
When it comes to backlinks, the first link you receive from a new domain is akin to striking gold — that link carries the most weight.
Every subsequent link from that same domain holds slightly less power.
Anchor Text Matchups
The dance between anchor text and target keywords is a subtle one.
The closer the backlink anchor text is to your target keyword, the better. But while always aiming for an exact match with every backlink might seem tempting, it can sometimes come off as unnatural to the search engines.
You should align your anchor text as closely as possible with your backlinks, without stepping over the line of relevance and authenticity.
How to Check Backlinks
Knowing how to dig up the details on your website's backlink profile is crucial for any SEO pro.
Here's a brief walkthrough of how to uncover your backlinks so you can create a smart link-building strategy.
How to Check Backlinks in Google Search Console
Google Search Console (GSC) is one of the most direct ways to see the backlinks Google recognizes for your site.
Note: You'll need to verify ownership of the site to access all the backlinks data, so this is a method you should use only for your own websites.
Here's a step-by-step guide on how to view your backlinks in GSC:
Access Google Search Console: Start by logging into your GSC account. You'll need to verify your website first.
Navigate to the "Links" section: Once you're in the dashboard, click on "Links" in the left-hand menu.
Examine external links: Within the "Links" section, you'll find a list of external links showing you the sites that link back to you. Click "Top Linking Sites" to get a list of domains linking to your content.
Get a detailed view: Click any linking domains to see the specific pages that link to you on that site. When you click "Top Linked Pages," you'll see a list of your pages with the most backlinks.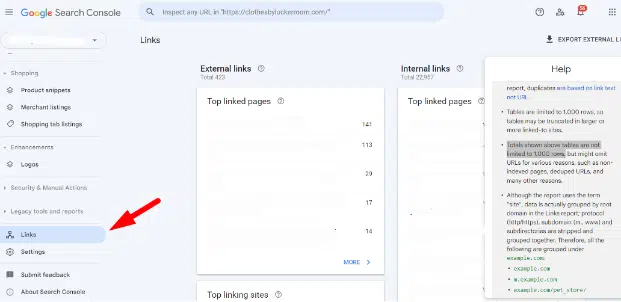 Keep in mind that while GSC is an excellent tool for a peek into how Google perceives your backlinks, it comes with limitations. GSC only displays up to one thousand results.
So, if your site has attracted a large number of backlinks, you'll only see a snapshot and not the complete picture. But GSC does give you the closest representation of the backlinks Google currently sees for your site.
Trusted Backlink Tools for Thorough Analysis
Let's look at the other industry-leading platforms — Semrush, Moz, Majestic, and Ahrefs — that can help you conduct a thorough backlink analysis.
Semrush is a comprehensive suite of SEO and link-building tools.
You can use its backlink analysis features to discover referring domains, look at backlink types (text, image, form, or frame), and examine the top anchor texts associated with those backlinks.
With Semrush, you can also track the evolution of backlink numbers to see how your link-building efforts pay off over time. Semrush's backlink audit tool also shows you potentially toxic backlinks you can disavow to help you maintain a healthy backlink profile.
In this example, you can see artdesigna.com has 1,600 backlinks.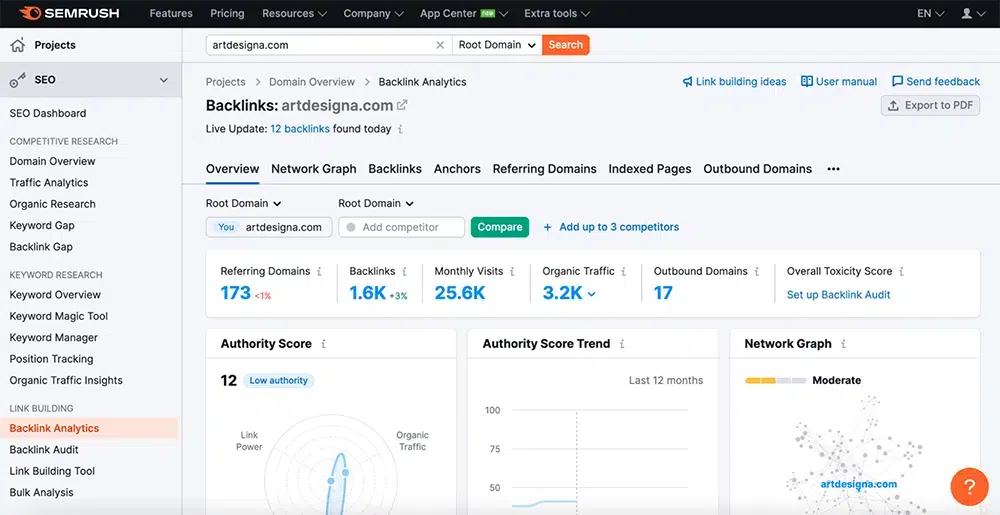 Moz's Open Site Explorer is dedicated to link analysis. As the creators of the Domain Authority (DA) and Page Authority (PA) metrics, Moz places special emphasis on the quality of backlinks.
With their tool, you can find data about domain and page-level link metrics, identify the content on your site that's attracting the most backlinks, and compare the backlink profile of your site to your competitors.
Majestic has a rich historical database of the web, so it offers unique insights into backlink data. It classifies backlinks as fresh (recently discovered) and historic.
You can check out your site's:
Citation Flow: a score between 0-100 that gauges the link equity or "power" the website or link carries
Trust Flow: the measurement of a site's trustworthiness based on the quality of sites linking to it
Ahrefs offers the usual backlink auditing tools, with real-time updates. You can use this platform to explore referring domains, backlinks, and anchor text distribution. One standout feature is the "Lost Backlinks" report, which helps identify links you might have lost.
The Ahrefs competitor analysis also lets you see where your competitors are getting their links from, which can help you shape your backlink strategies.
The Top 6 Strategies for Acquiring Backlinks
Now that you understand what backlinks are, why they're important, and how to conduct a backlink analysis, let's look at six of the most successful link-building tactics.
1. Create Highly Linkable Content
The cornerstone of a successful link-building strategy is quality content.
Today's online audience is constantly looking for value, credibility, and uniqueness. When you invest in creating exceptional content — that matches search intent — you significantly increase your chances of getting great backlinks.
But what do I mean when I say "quality content"?
Here are some examples:
Case studies tell engaging stories, offer a detailed look at specific topics, and provide actionable insights.
Original statistical research brings fresh and exclusive data to the table, which can enhance your credibility and build buzz around your brand.
Infographics can quickly grab attention with their visual appeal and condensed takeaways. They're also easily shareable across channels.
Ultimate guides are comprehensive, in-depth resources on a particular topic that aim to answer all of your readers' questions. When writing ultimate guides, your goal is to be a one-stop resource and become the go-to source for information on that topic.
With original surveys, you can offer unique data that others in the industry can reference and add outbound links to. This is a particularly effective strategy if your findings are surprising or newsworthy.
Interviews with industry experts can be a valuable resource. This type of highly linkable content provides a unique perspective that high-authority domains can cite and link to.
And keep in mind that long-form content tends to perform better in the search engines. No matter what the online rumors might be, long-form content isn't dead and is ranking better than ever!
Detailed content is more informative and comprehensive, making it link-worthy. On average, long-form content attracts 77.2% more backlinks than its shorter counterparts.
By focusing on the types of content I've mentioned above — and investing in great SEO copywriting — you can ensure that what you publish is highly linkable, and that your efforts will get you more high-quality, organic backlinks.
2. Create Profitable Partnerships
When two entities come together in a partnership, there's an implicit endorsement of each other's expertise and credibility. You can partner with other brands or organizations to create joint content, exchange guest posts, or provide simple shout-outs on each other's platforms.
Each of these interactions naturally leads to the exchange of backlinks that elevate both partners' online reputations.
You can also form partnerships to co-host webinars, events, or online challenges that help you generate exclusive content. This type of content can be a magnet for backlinks.
3. Leverage Broken Backlink Building
"Broken backlink building" is an SEO strategy that focuses on identifying and capitalizing on broken external links pointing to non-existent pages on other websites (a type of 4xx error). The goal is to provide a valuable replacement for the missing content and gain a backlink for your site.
To get started with broken backlink building, use tools like Semrush or Ahrefs to identify broken external links on relevant websites in your niche or industry.
Evaluate the broken links to ensure they were initially pointing to a resource relevant to your target keyword. Check the authority and relevance of the linking site. It should be a website you'd want a backlink from.
If you already have a piece of content that's a suitable replacement for the broken resource, great! If not, create a new one. The replacement content should be of high quality and offer genuine value. Ideally, it should be as good as (or better than) the original content that's missing.
Once you've got an appropriate piece of content to suggest, contact the owner or webmaster of the site with the broken link. Politely inform them about the broken link on their site and suggest your content as a potential replacement.
Emphasize the Value Your Content Provides
Remember to be courteous and provide clear instructions on the location of the broken link.
If the site owner or webmaster agrees that your content is a suitable replacement, they may replace the broken link with a link to your resource, giving you a valuable backlink.
Broken backlink building is a strategic way to earn backlinks, but it requires effort and persistence. Not every outreach will result in a backlink, but with high-quality content and polite persistence, you can get results with this technique.
4. Use Direct Outreach
While creating exceptional content is crucial, there's no guarantee that people will link to it.
Direct outreach is a proactive approach where you introduce your content to those who might find it beneficial, relevant, or worth sharing.
This process involves:
Identifying and contacting website owners, bloggers, or industry influencers
Presenting them with your content
Explaining why it would be of value to their audience
Wondering how to turn direct outreach into a successful link-building strategy? Personalization is the key, especially if you use an outreach platform such as Pitchbox.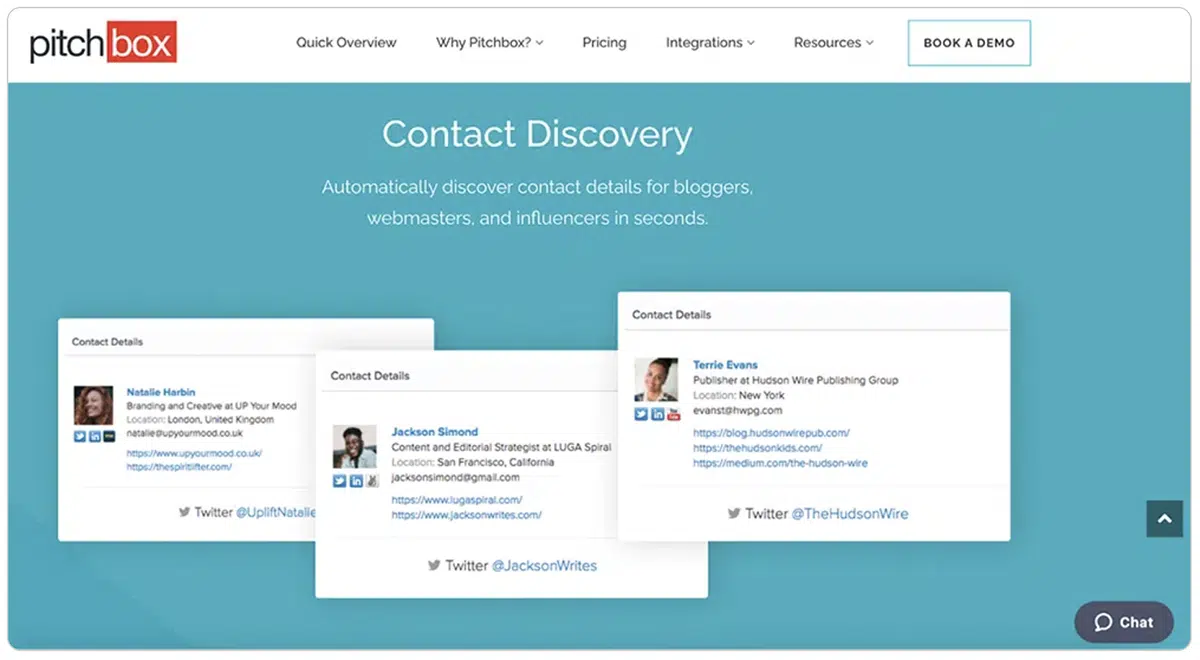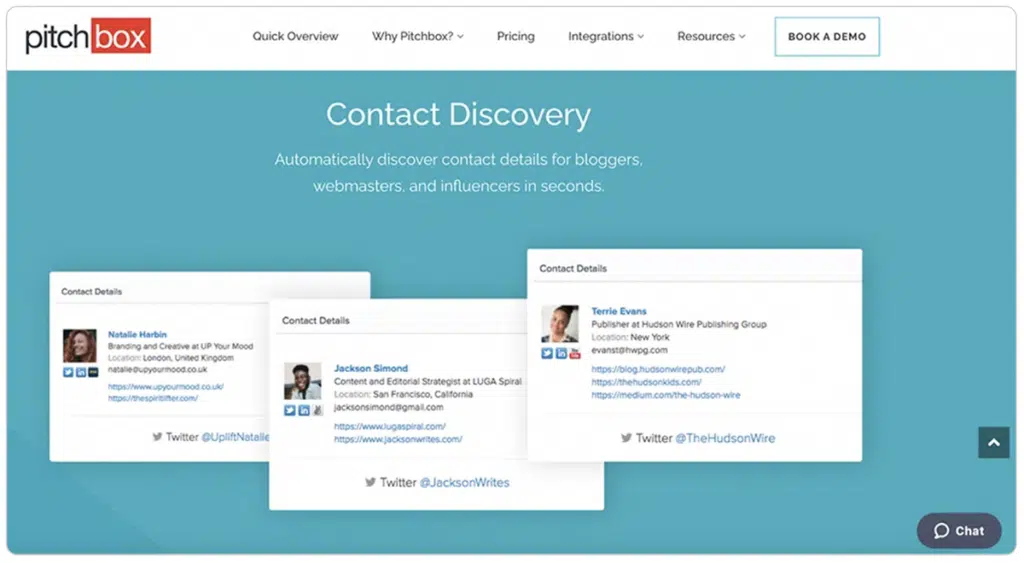 Generic or templated messages tend to get lost in the shuffle or ignored. You must tailor each message to highlight how it provides a unique perspective, fills a gap, or aligns with the recipient's interests.
When executed with tact and genuine intent, direct outreach can help you secure backlinks from high-quality sources and open the door for future collaborations and partnerships. The key is approaching it as a two-way street where both parties stand to gain value.
5. Turn Guest Blogging or Podcasting Into Valuable Backlinks
Guest blogging and podcasting can both be opportunities to share your expertise, reach a new audience, and attract valuable backlinks.
By writing for reputable industry blogs or speaking on popular podcasts, you can leverage their established viewership or listenership and build your credibility in the search engine algorithm.
With guest blogging, you identify relevant blogs within your niche, pitch unique content ideas, and then deliver high-quality content that benefits the host's audience. Remember, the goal isn't just to earn a backlink but to provide real value to readers and establish yourself as a thought leader.
Podcasting, however, is about sharing insights, stories, and experiences in an audio format. You can host your own podcast or appear as a guest on other people's shows — both are great ways to discuss industry trends, challenges, and innovations.
When you get featured on someone else's podcast, bring a unique perspective and share valuable takeaways that entice listeners to explore your site further.
In both cases, integrity and genuine contributions are crucial to building links and creating meaningful, long-lasting connections.
6. Research Your Competition
Want to chart a path for acquiring more backlinks? Do some competitor backlink analysis.
By identifying the domains that link to your competitors but not to you, you'll get a treasure trove of potential link-building opportunities. These domains have already shown an interest in your industry, making them prime candidates for outreach or other link acquisition methods.
This type of research can also give you insights into your competitors' content strategies. What types of content are attracting the most links? Is there a gap in the market that you could fill with superior or complementary content? Use the information you uncover to shape your editorial calendar.
Beyond the Basics: Elevating Your Backlink Game with Semrush
Backlinks play a critical role in online visibility, acting as critical signals of trust and authority. In our exploration of "What are backlinks in SEO?" we've emphasized the importance of quality and context.
As you refine your link-building efforts, Semrush's tools — like its backlink analytics, toxic backlink identifier, and competitor backlink insights — can be invaluable assets.
These features provide a granular look at where your links are coming from, help you avoid potential link pitfalls, and even offer a sneak peek into the strategies of your competitors.
Take Semrush for a spin today to dig into your data and start acquiring valuable backlinks to boost your search engine rankings.