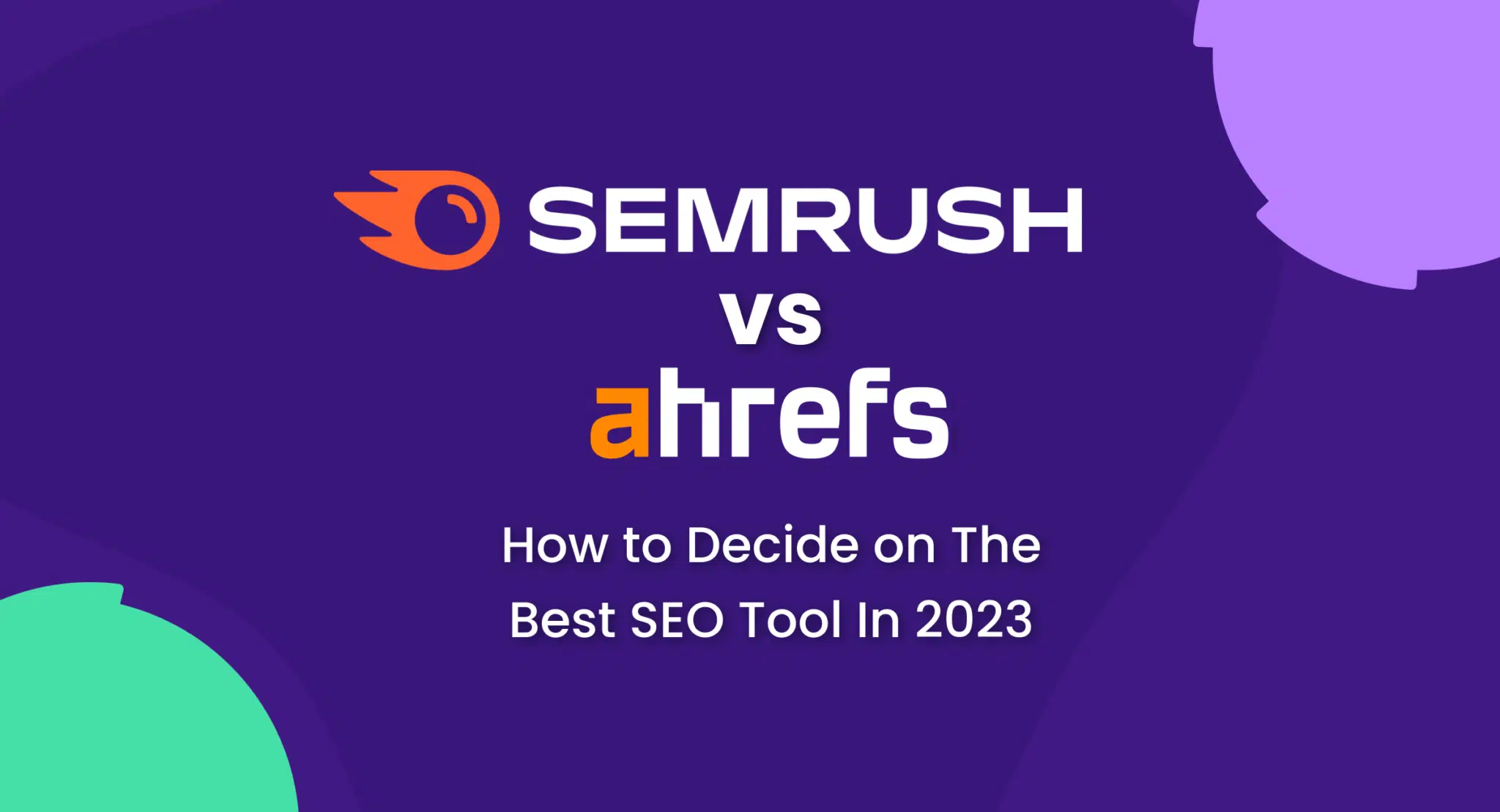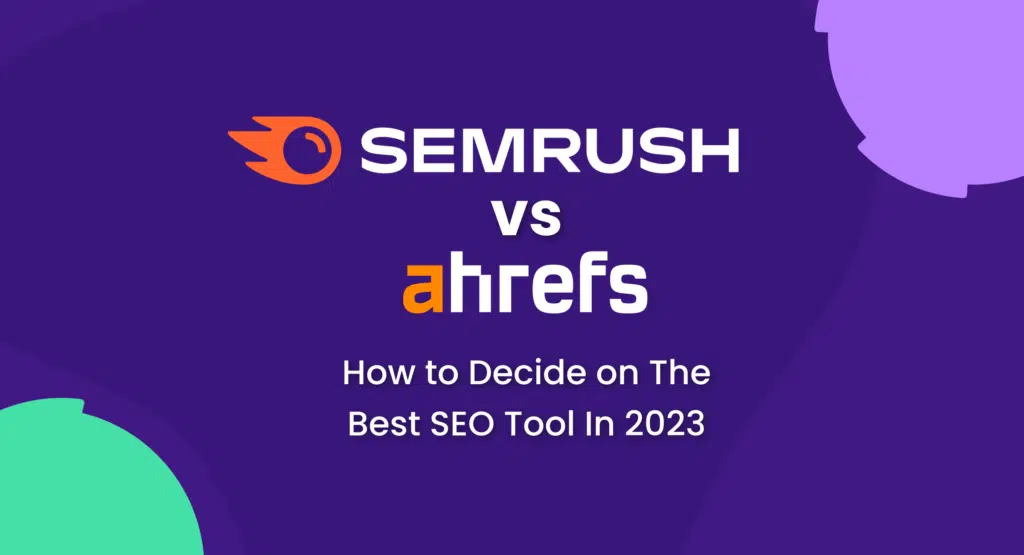 Since you probably want the most competitive edge you can get, I'm sure you've found yourself wondering: Semrush vs. Ahrefs — which tool is better for SEO? You're not alone in this struggle.
In 2008, Semrush was founded with only two tools for keyword research and ranking. Twelve years later, it has become a powerful platform with 50+ tools helping businesses improve online visibility.
Launched in 2010, Ahrefs originally served as a backlink analysis tool. Since then, it's grown into an all-in-one SEO suite offering keyword research, content analysis, rank tracking, and site audit tools, just to name a few.
But with both leading tools bringing so much to the table, how do you decide which to use?
Below, I'll run you through the similarities and differences, pros and cons, and unique features of both Ahrefs and Semrush. I'll share the facts that will help you decide which is the clear winner in the SEO arms race.
TL;DR Semrush vs. Ahrefs
Ahrefs and Semrush are two marketing toolkits that can help you optimize your website for search rankings.
Ahrefs is simple enough for SEO beginners with a clean and easy-to-understand user interface (UI).
Semrush provides advanced functionality for SEO experts and entire marketing teams dealing with social media, content marketing, and paid advertisement. Both tools have pros and cons, which I've discussed in more detail below.
If you don't have time to read the entire article, I summarized key points in the table below. Feel free to refer to this table any time you or your team have a debate about which tool to use.
Keyword Rankings Updates
Daily
Weekly
Keyword Database Size
22.3 billion keywords
7 billion keywords
Backlink Database Size
43 trillion backlinks
30.6 trillion backlinks
How Keyword Difficulty Is Calculated
The number of backlinks, the country, the word count of a keyword, whether a keyword is branded, and a search volume are considered
Primarily on backlinks
How Domain Rating Is Calculated
Backlinks, website traffic estimates, and spam factors
Primarily on backlinks
Historical Data
Dates back to 2012
Dates back to 2015
Pricing
The cheapest plan is $129.95.
You have access to all features covered by a chosen monthly plan.
The cheapest plan is $99.
The Lite plan comes with 500 credits. If you consume more credits, you'll be charged extra.
Free Trial
7 days
Unavailable
Customer Support
Email Live chat Phone
Email Live chat
Unique Features
Search Intent Topic Clustering Advertising Research SEO Writing Assistant Backlink Audit Toolkit for Outreach
Word Count Metric Traffic Potential SEO WordPress Plugin
User Rating on Gartner
4.4 out of 5 (58 reviews)
4.5 out of 5 (37 reviews)
Pros
3,000+ daily reporting requests
Wide range of features for SEO, PPC, content marketing, and social media
Free trial
Clean UI
Easy to understand and use
10 search engines supported, including Amazon, Baidu, and Bing
Cons
Traffic estimates are not always accurate
Only one user can be logged in at a time
Confusing pricing policy
A maximum of 750 monthly reports are available
No free trial
Pros and Cons
I've used both tools for years, so keep reading for essential details you'll only find in this Semrush vs. Ahrefs review.
Let me start with a brief overview of Semrush's pros and cons.
Semrush
Semrush is more than an SEO tool. Unlike Ahrefs, Semrush can help you plan, analyze and improve ad campaigns, grow your brand's visibility on social media, and understand what content performs best in your niche.
The Semrush Keyword Research toolkit provides way more information than Ahrefs Keyword Explorer. For example, Semrush shows search intent for every keyword and provides automatically-generated keyword clusters, meaning you don't have to waste your time researching semantically-related keywords. Ahrefs does not offer anything similar.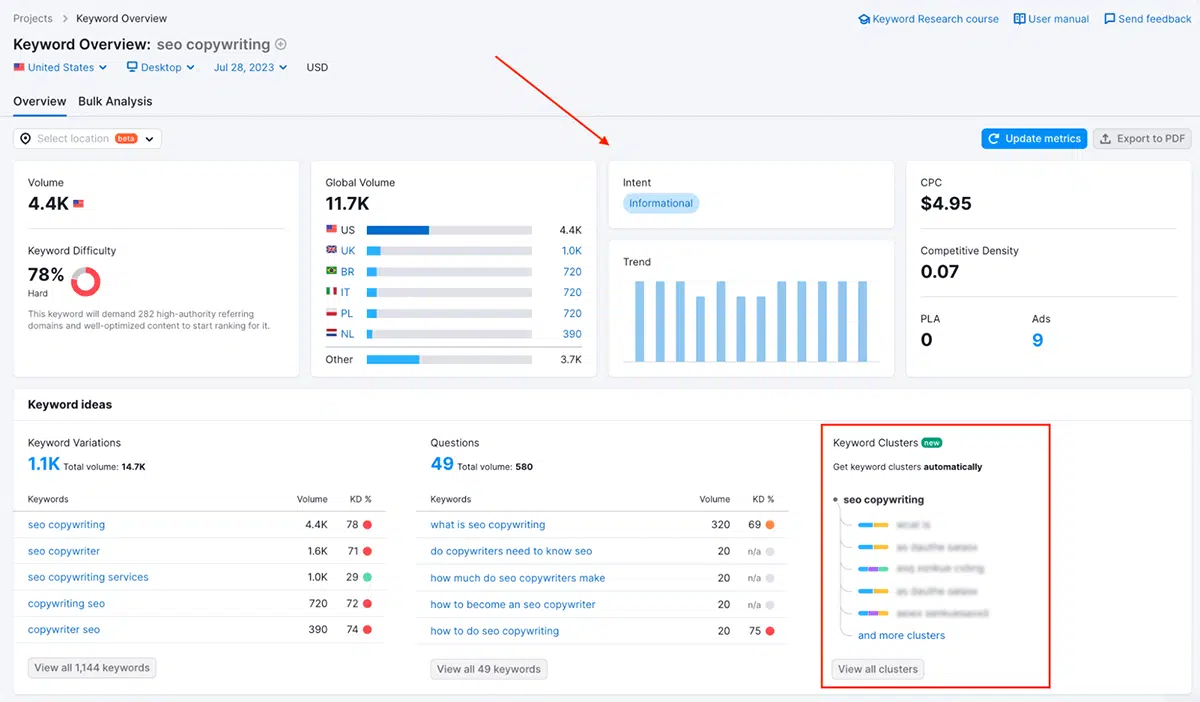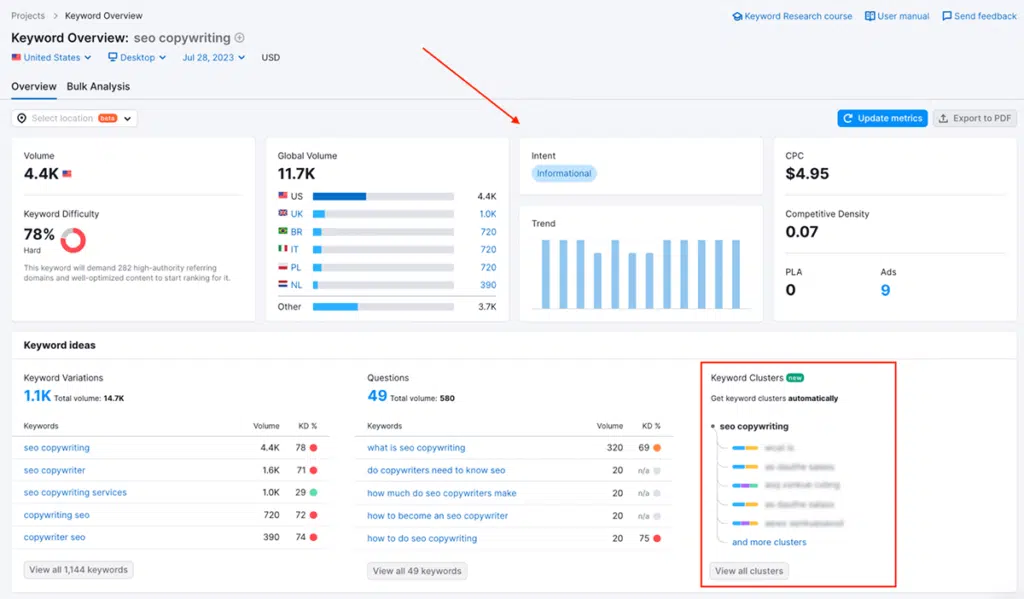 Semrush is also more generous with daily reporting limits than Ahrefs, which means you can pull more reports regardless of the pricing plan.
Even though Semrush relies on multiple clickstream data providers to assess website traffic, you should understand that the traffic metrics are just estimates. I recommend considering this information while analyzing your website and competitors via Semrush.
It's also worth mentioning that only one user can be logged in and use Semrush at a time. If you want to add users to the account, it starts at $45/month per user for the Semrush Pro plan.
If you want to learn more, check out my Semrush review that I recently published.
Ahrefs
Ahrefs offers a few helpful features I couldn't find in other tools, such as traffic versus the number of published pages. In a nutshell, this report helps you compare how the number of published pages on your website correlates with its traffic. This way, you can see when your website's traffic has significantly increased and what pages positively impacted this growth.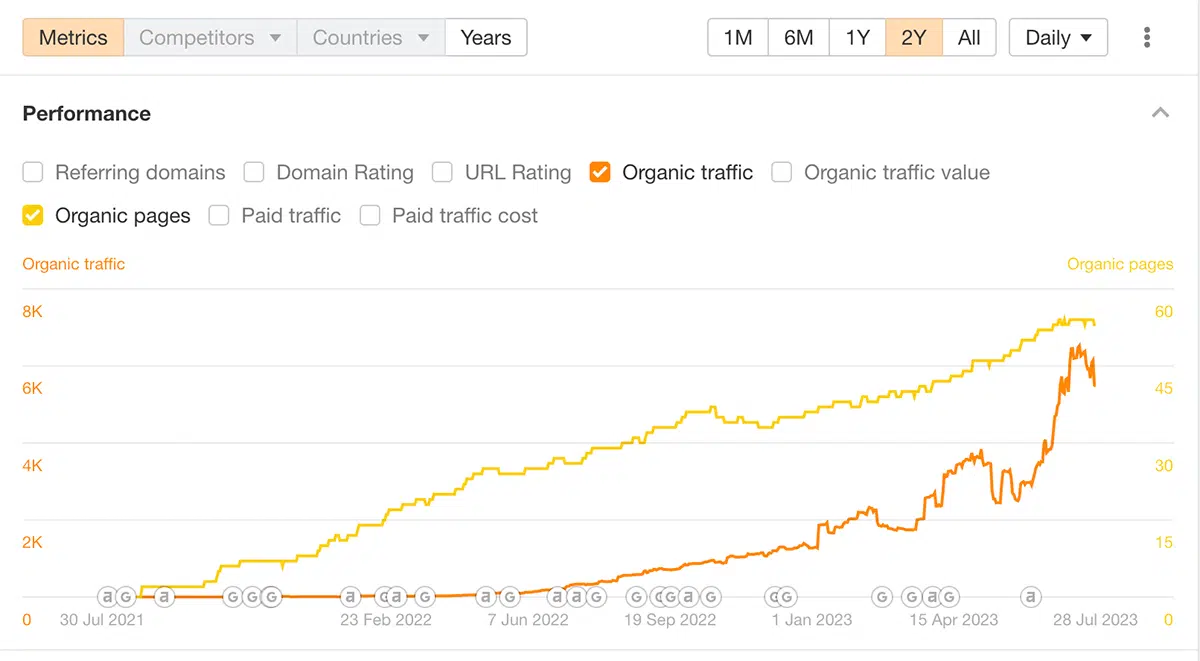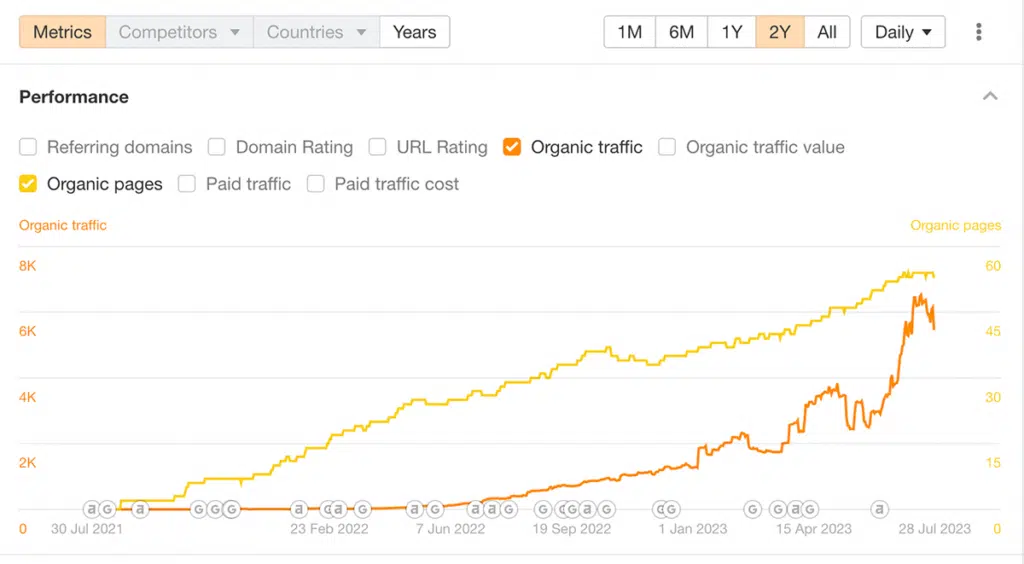 It's also worth mentioning that Ahrefs lets you see the current and historical webpage rankings right on the keyword analysis page. It helps to quickly assess how your website ranks for a particular keyword and how rankings change over time.
On top of that, SEO copywriting specialists will find the word count estimate for the top-ranking pages helpful when determining the content length for SEO optimization.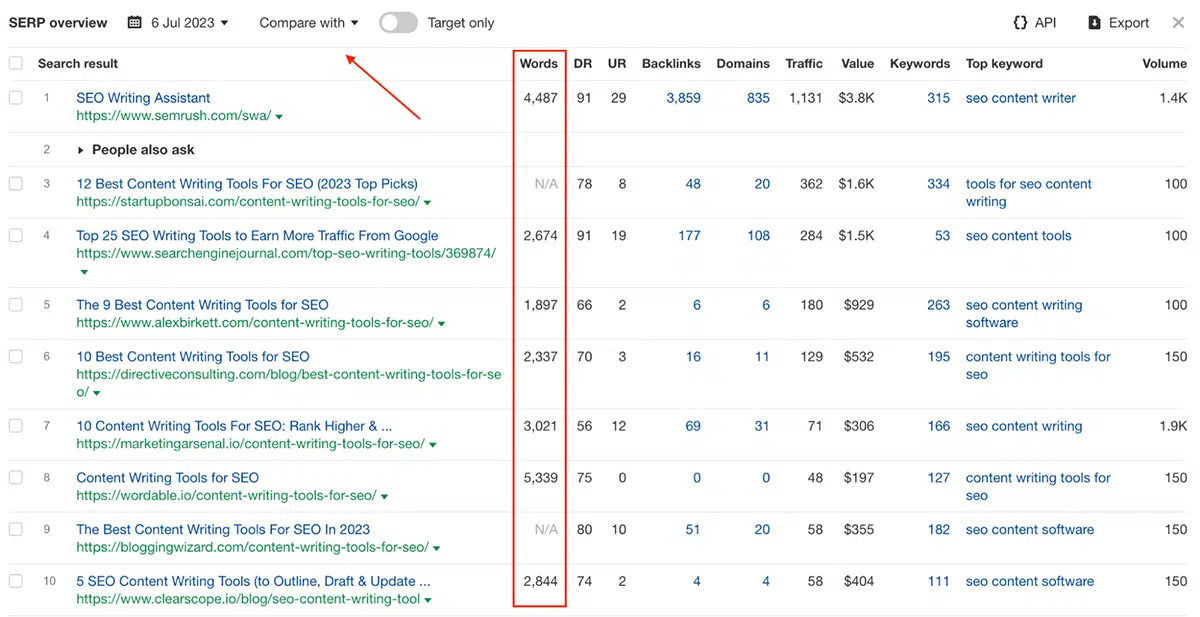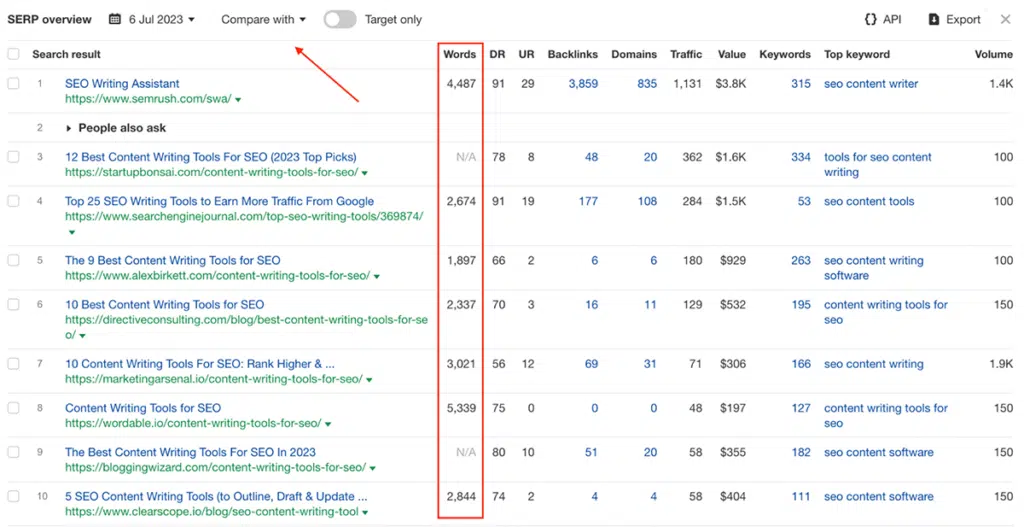 Unlike Semrush, Ahrefs does not have a free trial. So, you'll have to upgrade to Ahrefs Lite for $99 to try the tool. You might have heard the Ahrefs Webmasters Tool is free for verified site owners. However, its functionality is very limited. Besides, it does not grant access to essential tools such as Keyword Explorer, Content, and Web Explorer.
When comparing Ahrefs vs. Semrush, Semrush seems to be a winner in the variety and the number of features. However, your conclusion might differ depending on your budget and the project goals.
Key Features Compared
Even though Semrush's and Ahrefs' features might seem similar, there are many key differences.
1. Keyword Research
Unlike Ahrefs, Semrush shows more information in the Keyword Overview report. Some unique metrics and features you won't find in Ahrefs are keyword search intent, the number of results in SERP, the number of ads for a particular keyword, and keyword clusters.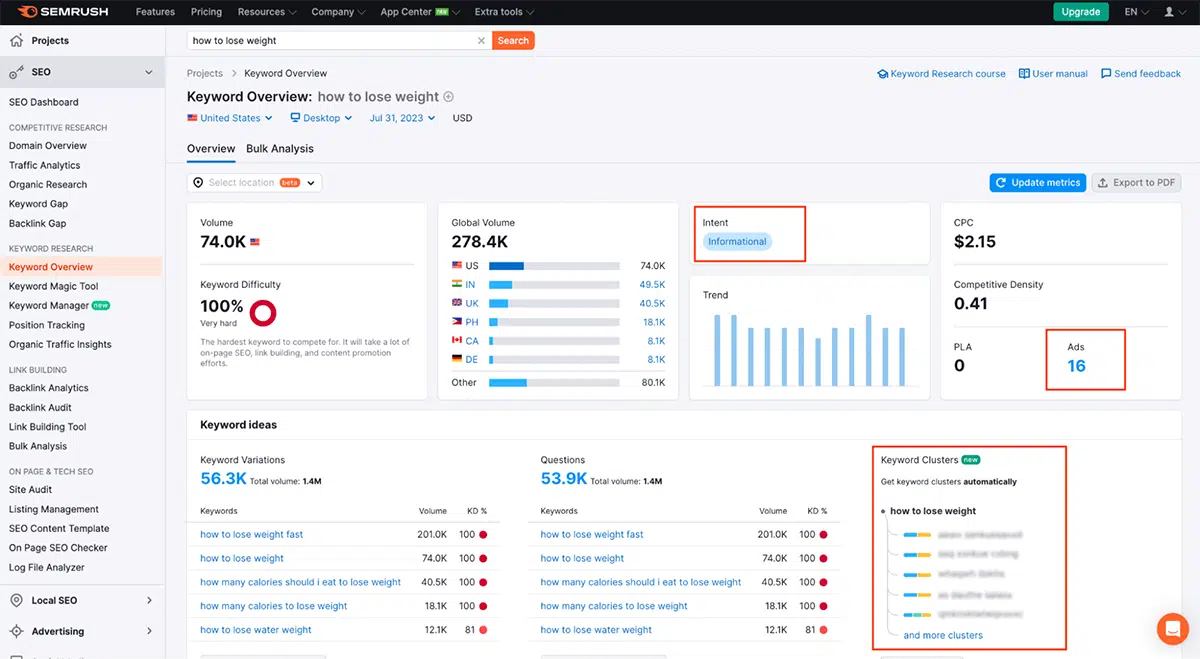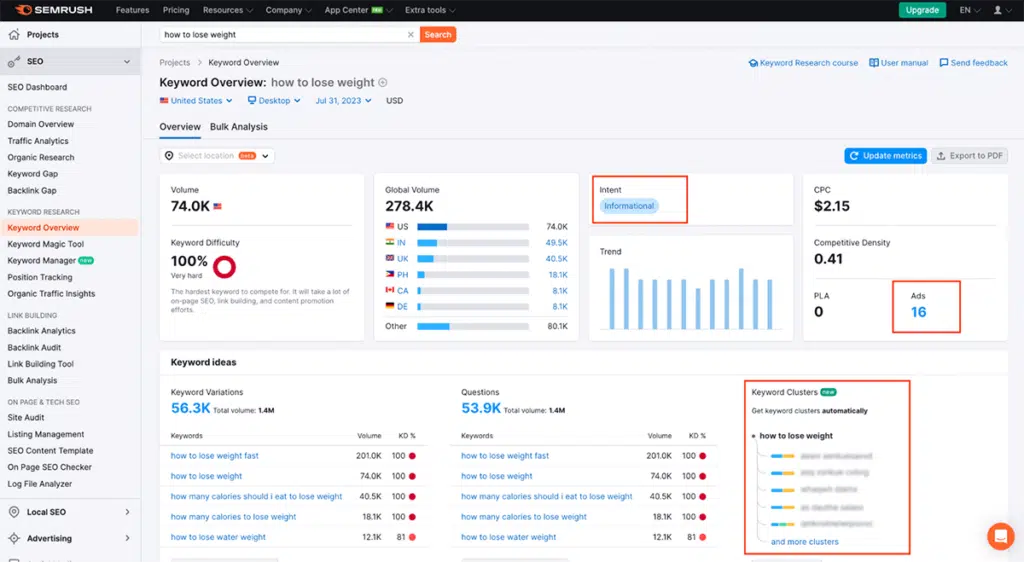 What's unique about Ahrefs Keyword Explorer is that it shows the traffic potential for a specific keyword.
Why is this an important metric? Because Google "steals" clicks from website owners by showing featured snippets and ads at the top of organic search results. That's why traffic potential is a more accurate metric to rely on.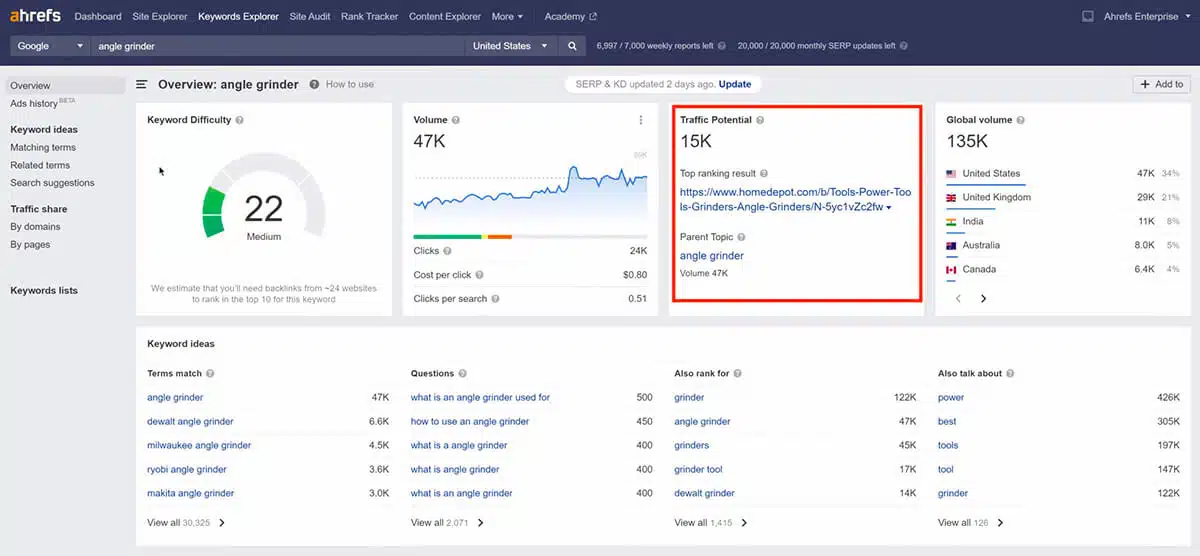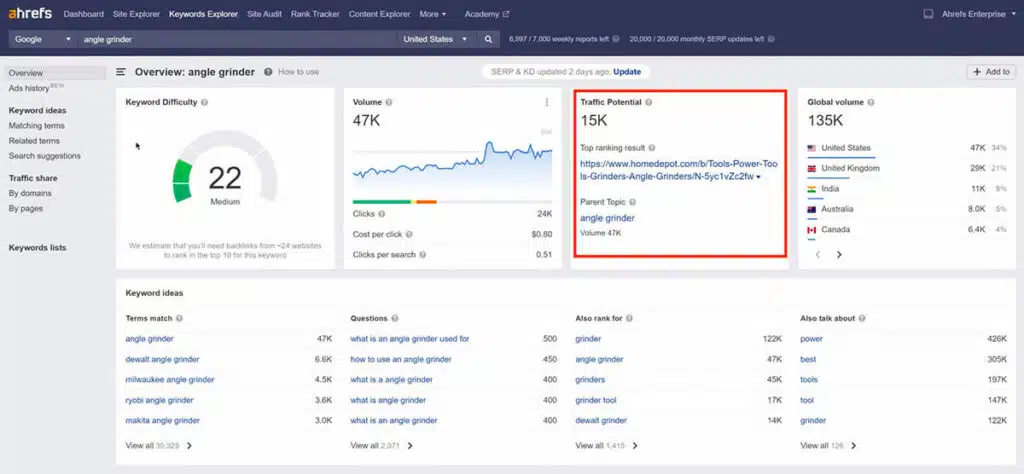 Overall, I'd say Ahrefs UI might be easier to understand if you're new to using SEO software. However, Semrush shows a lot more data in its keyword research report, including PPC, making Semrush a more suitable tool for in-depth keyword research.
2. On-Page and Technical SEO
If you compare Ahrefs vs. Semrush, you'll notice they both have a Site Audit feature that helps analyze your website's "health" and find opportunities for improvement.
From my experience, Semrush Site Audit is better since it identifies more technical issues, like keyword cannibalization, and prioritizes them based on the potential impact on performance. I'd argue that top issues determined by Ahrefs, such as the image file size being too large, are worth fixing immediately.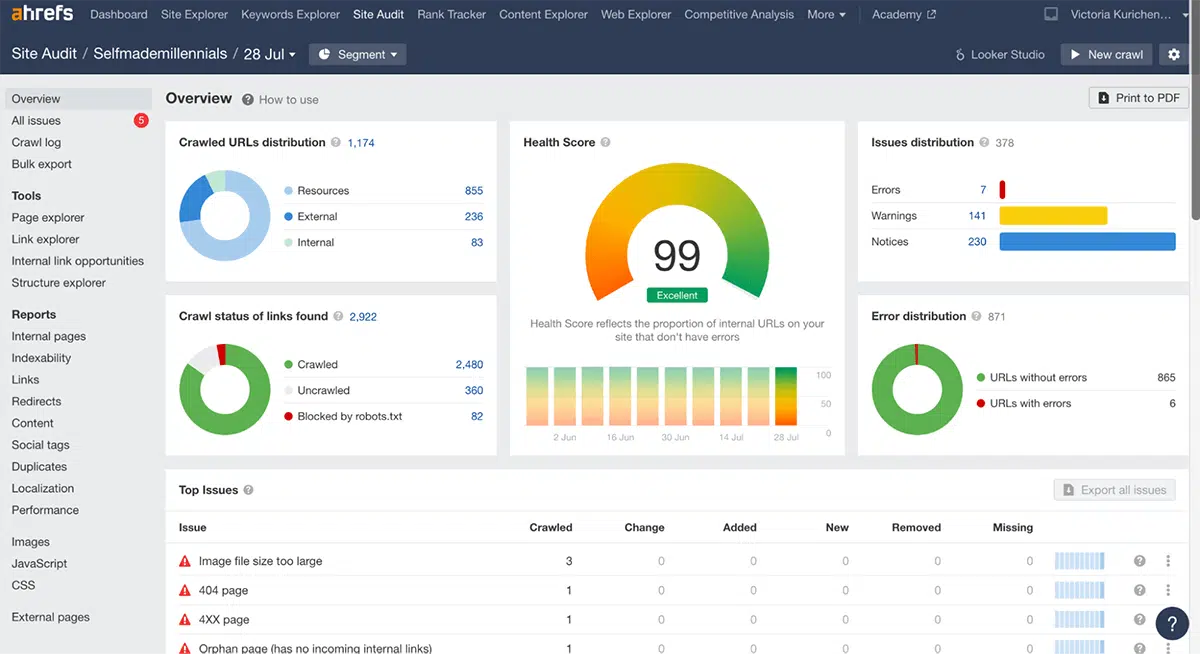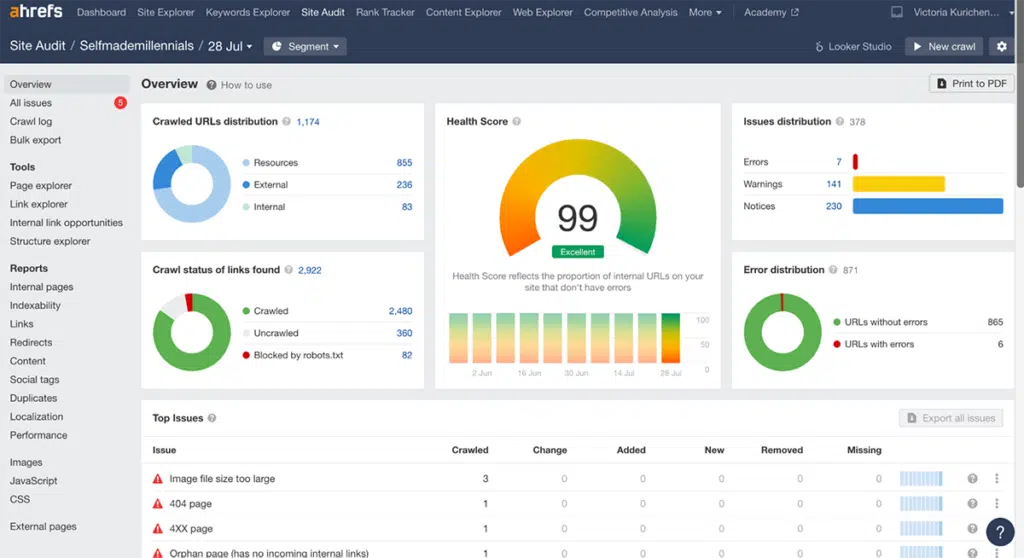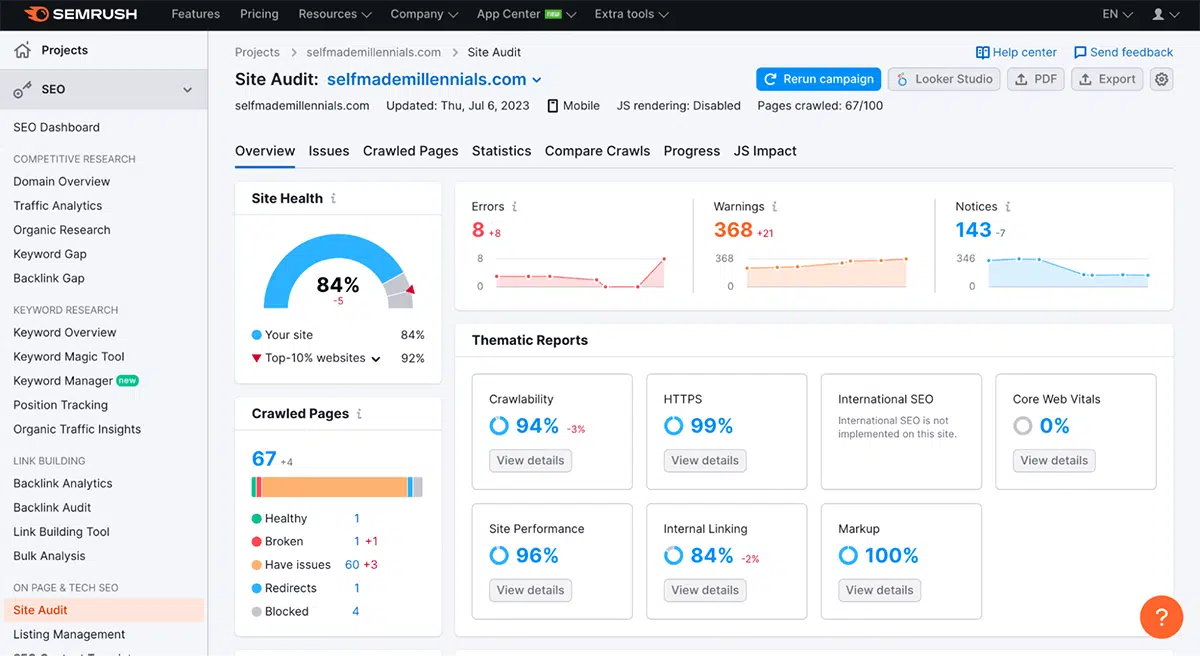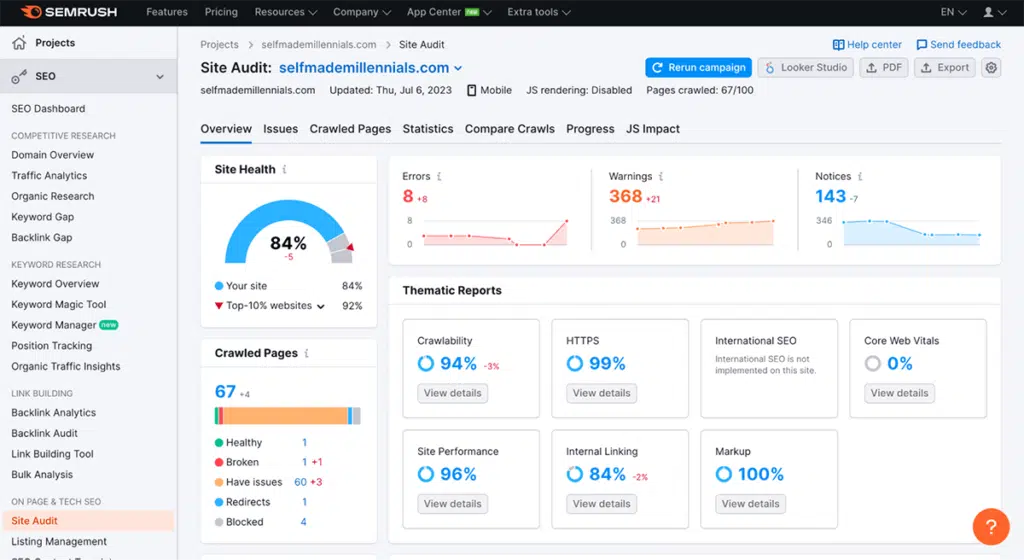 Unlike Ahrefs, Semrush has a powerful On Page SEO Checker that analyzes the current state of your website and recommends ranking improvements. This tool is ideal for SEO beginners and anyone willing to improve their website's rankings but doesn't know where to start.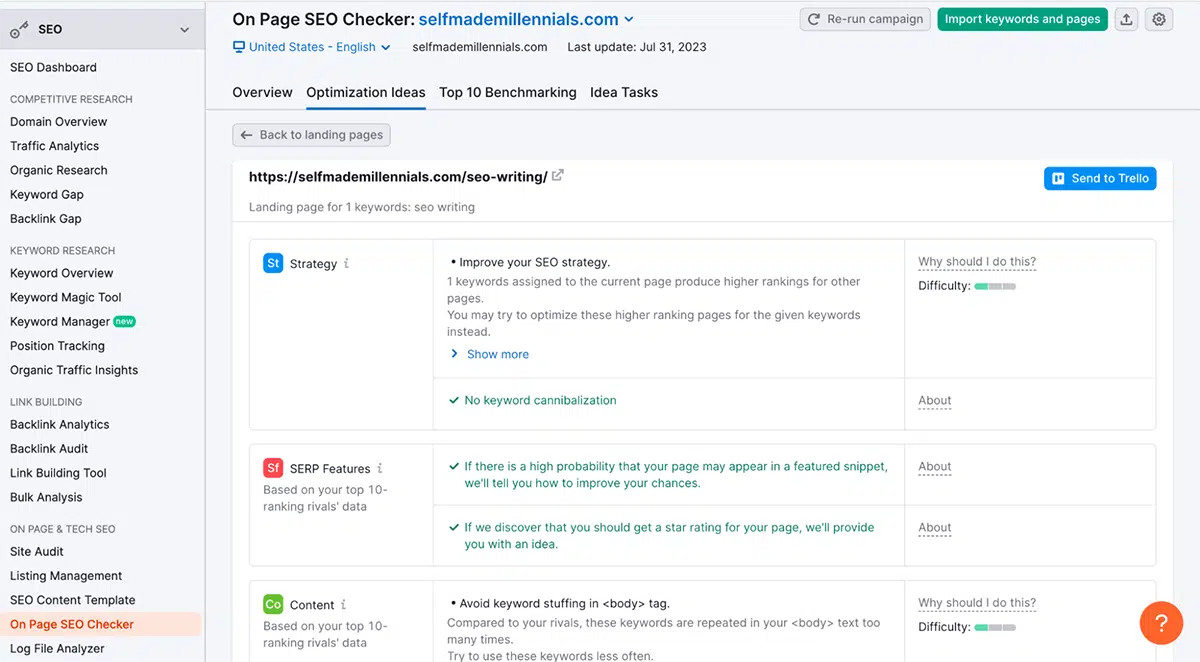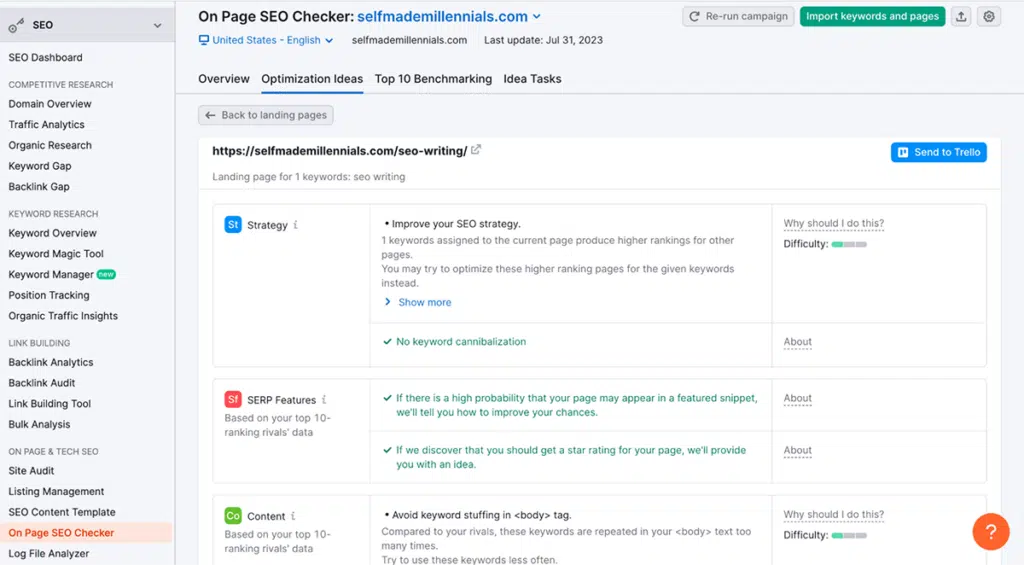 If you want to assess on-page optimization with Ahrefs, you'll find several helpful reports, such as the Content Report with insights on H1, metadata, and internal linking opportunities.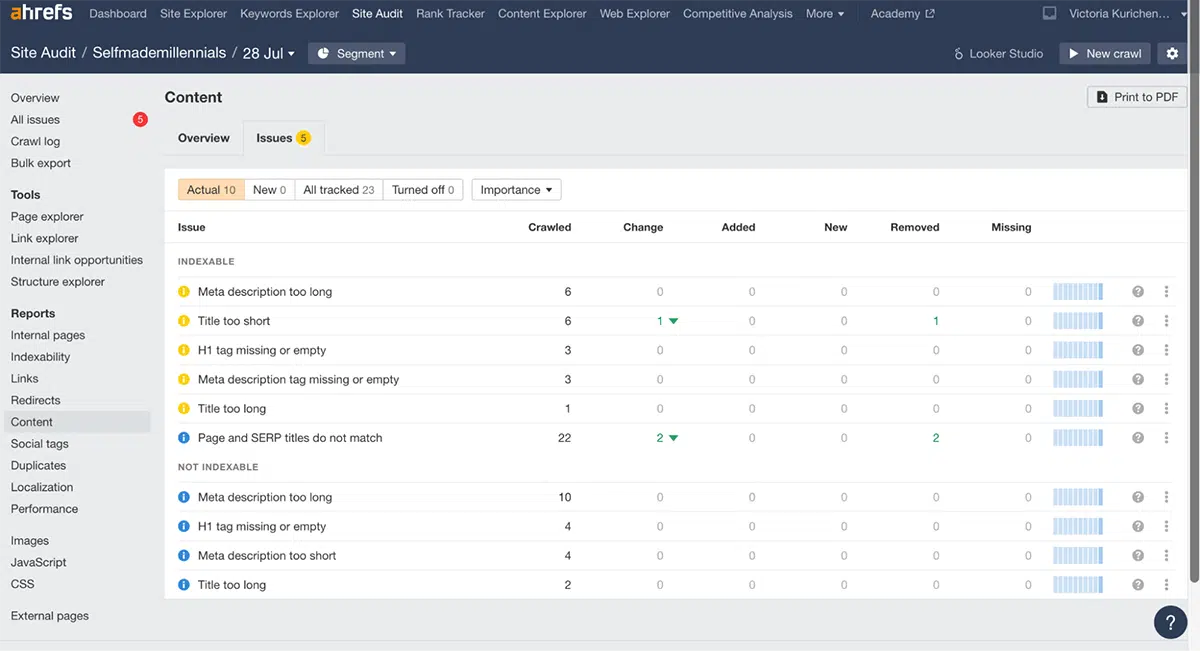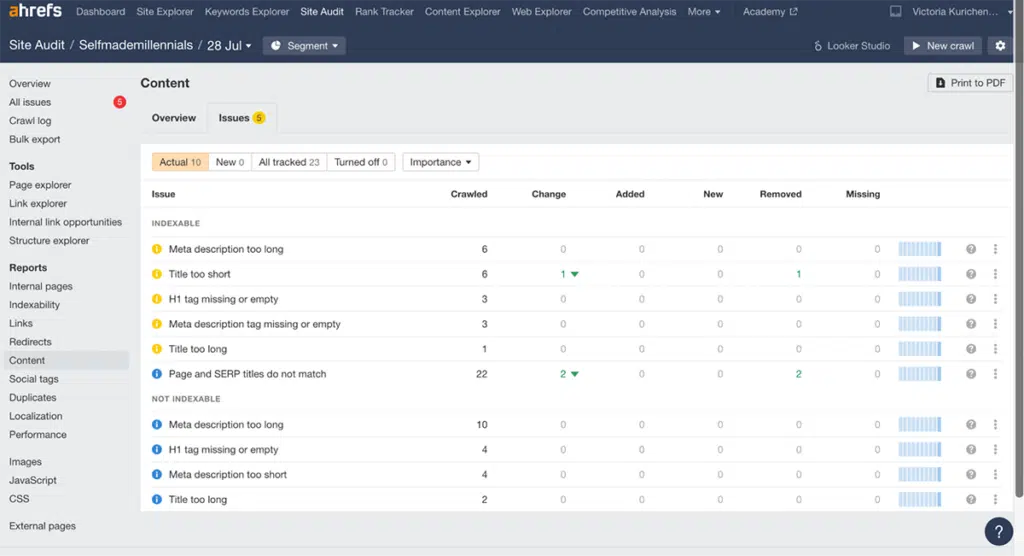 Overall, Semrush stands out based on its technical and on-page optimization features. I think it does a much better job of showing the problematic areas of your website and directing you toward what you should tackle first.
3. Off-page SEO
One of the most common off-page SEO activities is link building – which is why I'll detail the difference between Semrush's and Ahrefs' backlink reports and link building tools.
Both tools have a backlink analysis report, which includes referring domains and backlinks, new and lost referring domains, backlink charts, anchor texts, and backlink types. However, the Semrush backlink index is quite a bit bigger, having 43 trillion backlinks updating daily compared to Ahrefs' 30.6 trillion backlinks.
Unlike Ahrefs, Semrush also measures backlinks toxicity. In other words, it shows backlinks that might potentially hurt your website's reputation.
If you actively use outreach for link building, I recommend checking Semrush Link Building Tool, which finds backlink opportunities for your website and helps you connect with site owners.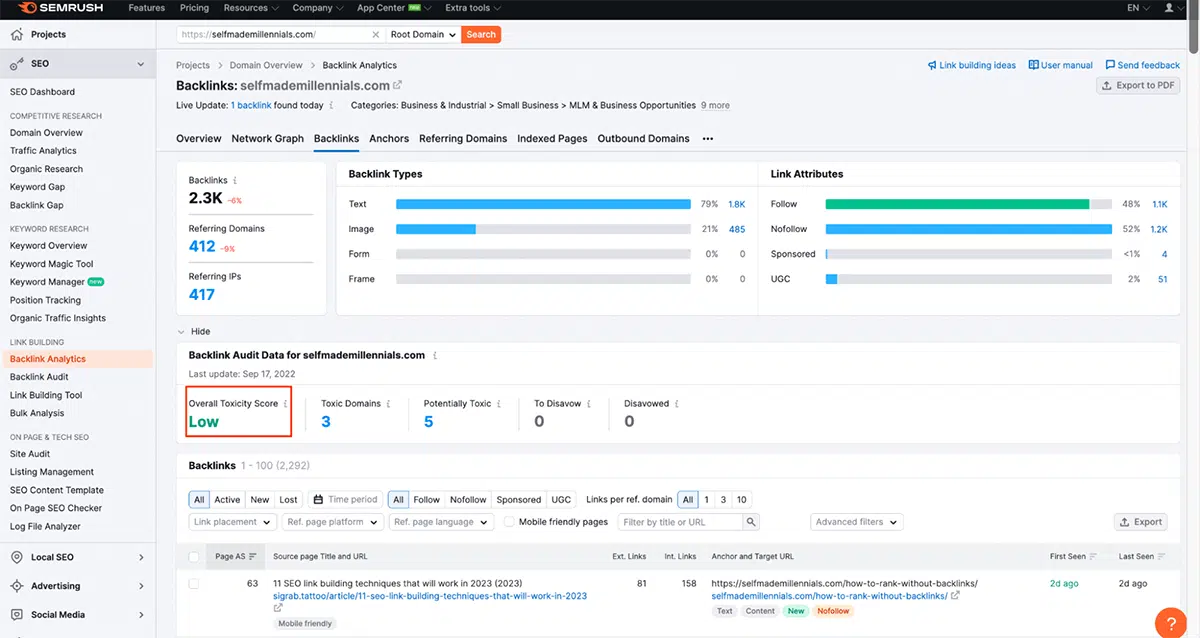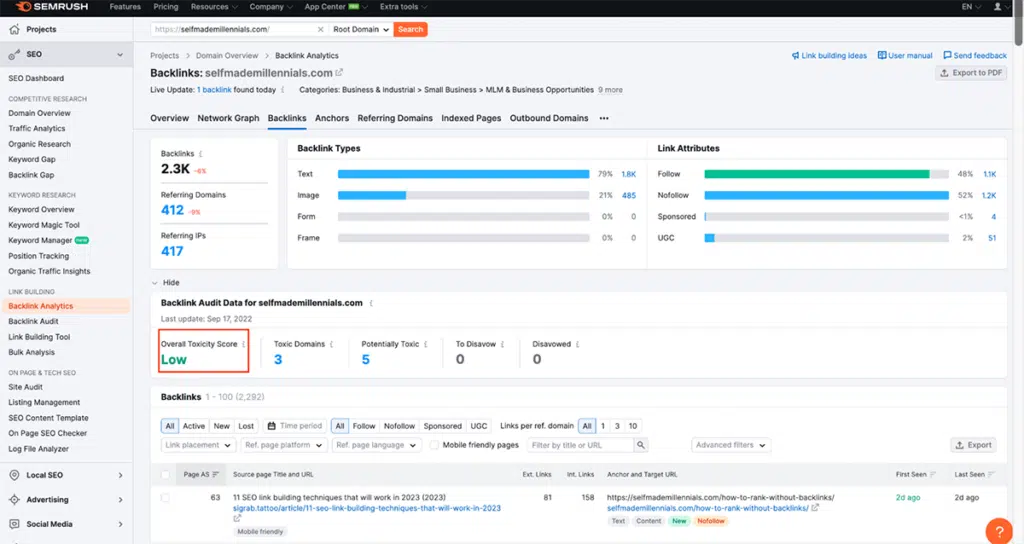 Ahrefs has a broken link building report that shows the referring pages linking to your website's 404 pages. If you fix broken backlinks, they'll pass the authority to live pages on your website. Ahrefs offers this feature in the Standard plan for $199/m.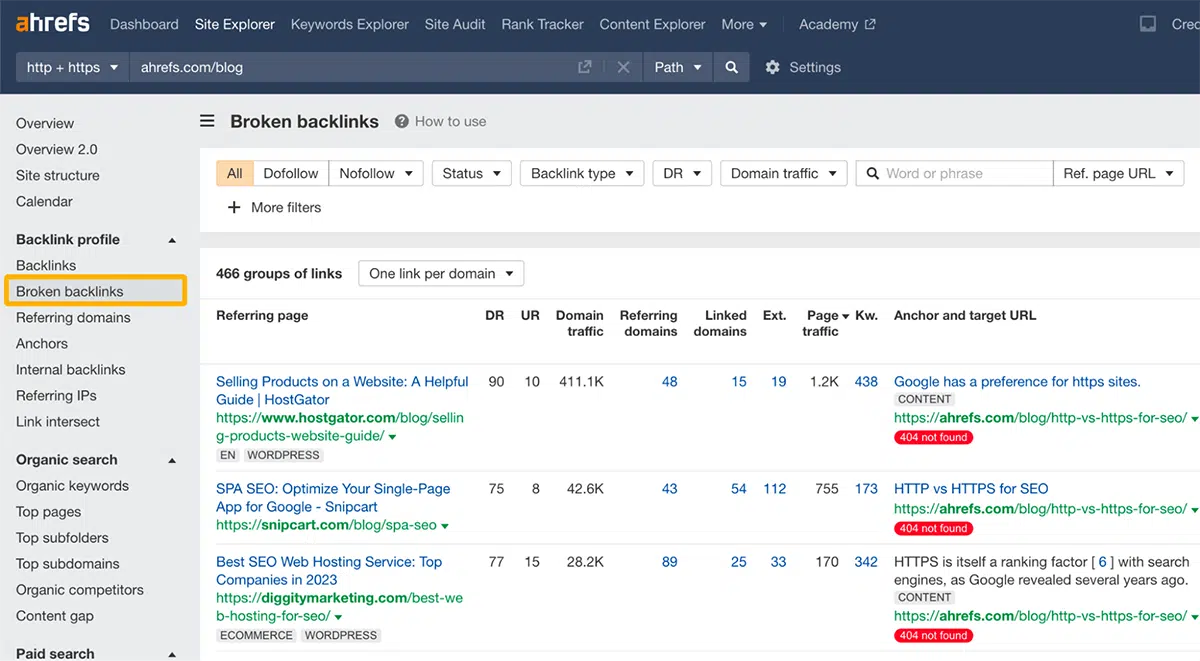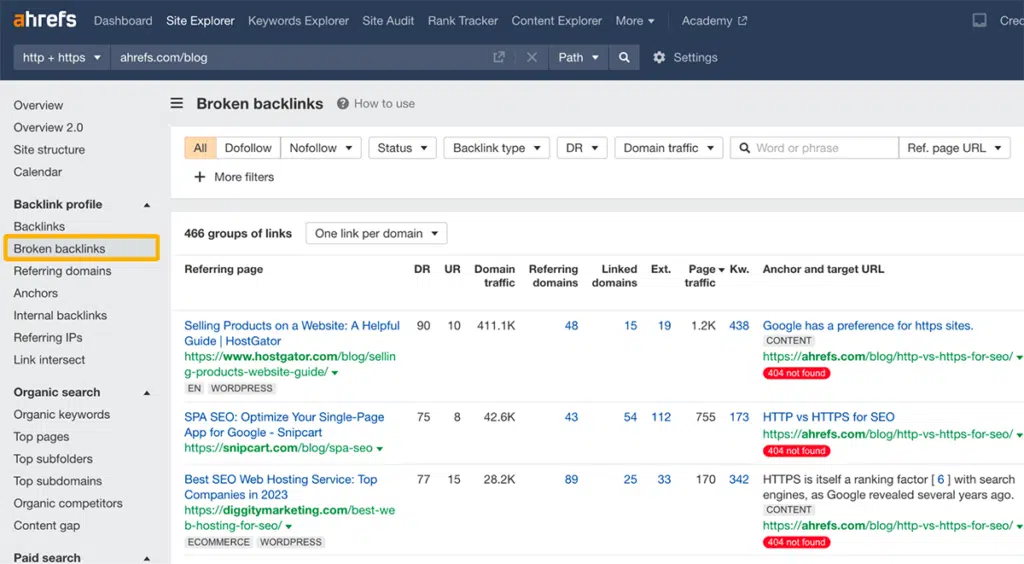 Overall, both tools have solid backlink analytics features. If your current goal is to conduct a thorough backlink audit, Ahrefs can do a better job here. But Semrush is your go-to solution for backlink profile analysis and link building.
4. Local SEO
Semrush is a suitable option If you need a comprehensive and easy-to-use local SEO tool. Semrush Listing Management Tool helps manage your local listings across multiple directories, including Google My Business, Yelp, and Bing Places for Business.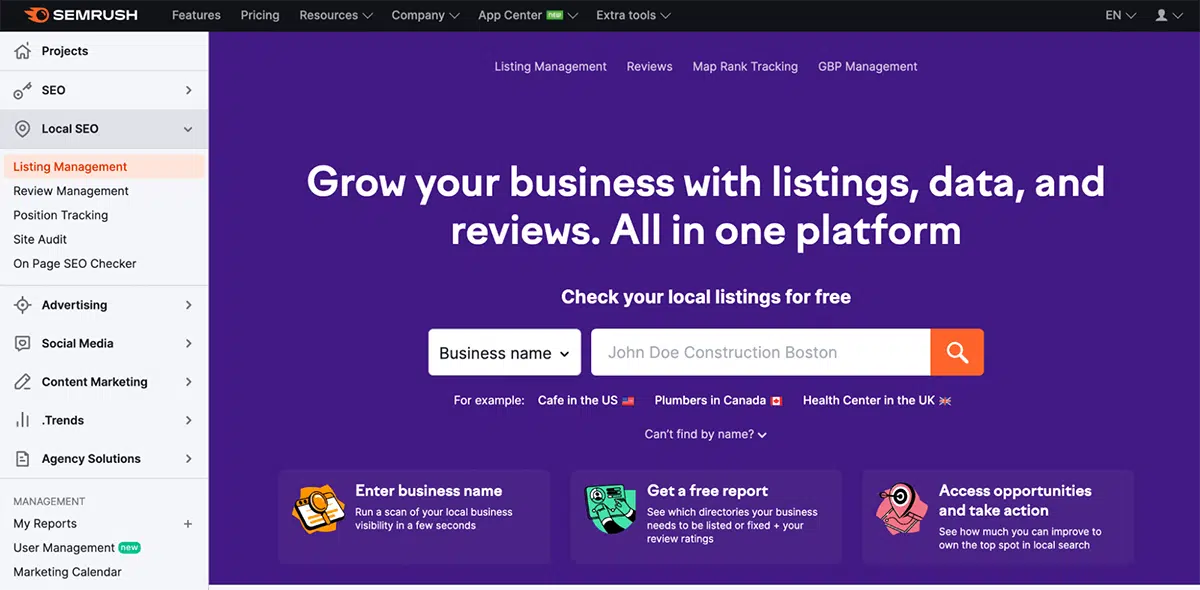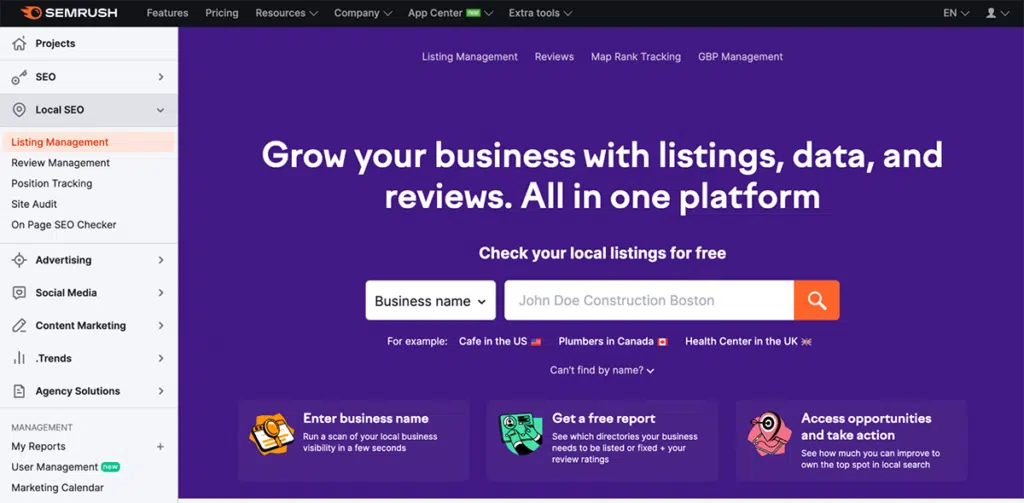 Unlike Ahrefs, Semrush lets you check keyword metrics for a particular location, including keyword difficulty, volume, search intent, and cost-per-click (CPC). You can use the Keyword Research Tool to discover and analyze local keywords tied to countries, states, cities, and municipalities.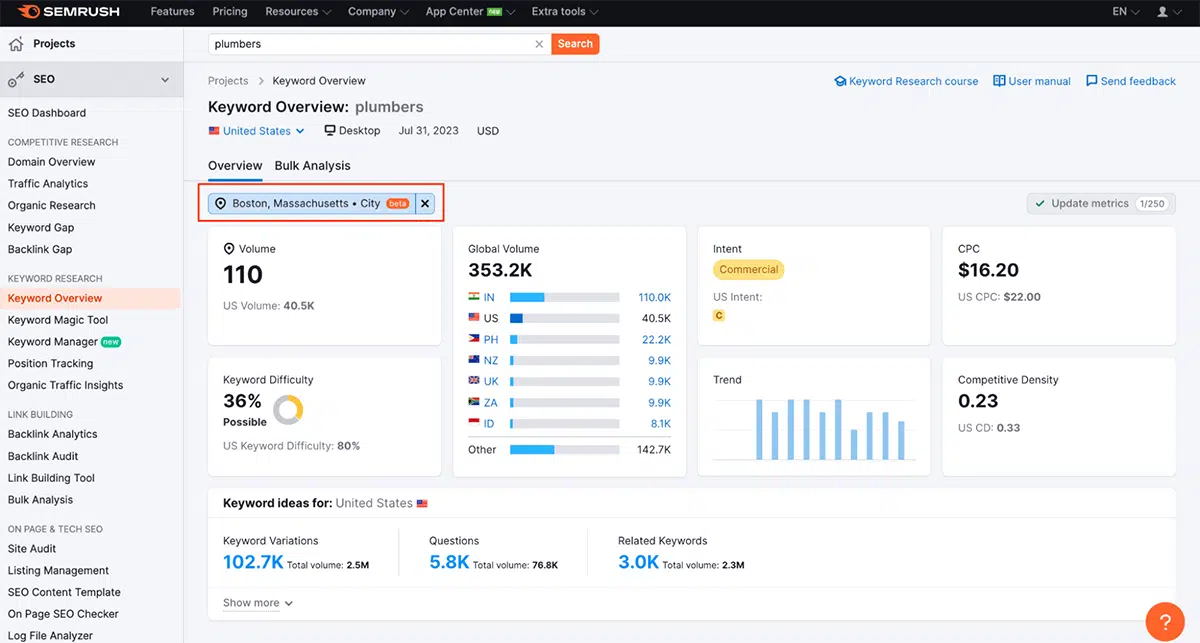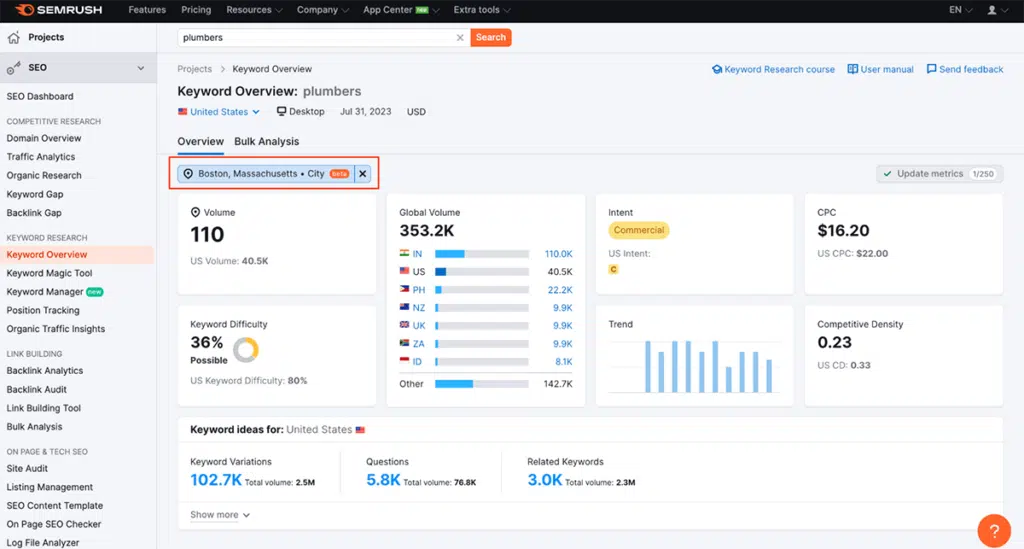 Ahrefs doesn't have a local SEO tool. However, you can use its Keyword Explorer to conduct local keyword research. In addition, Ahrefs Rank Tracker lets you track your website's rankings for desktop and mobile across 170+ countries.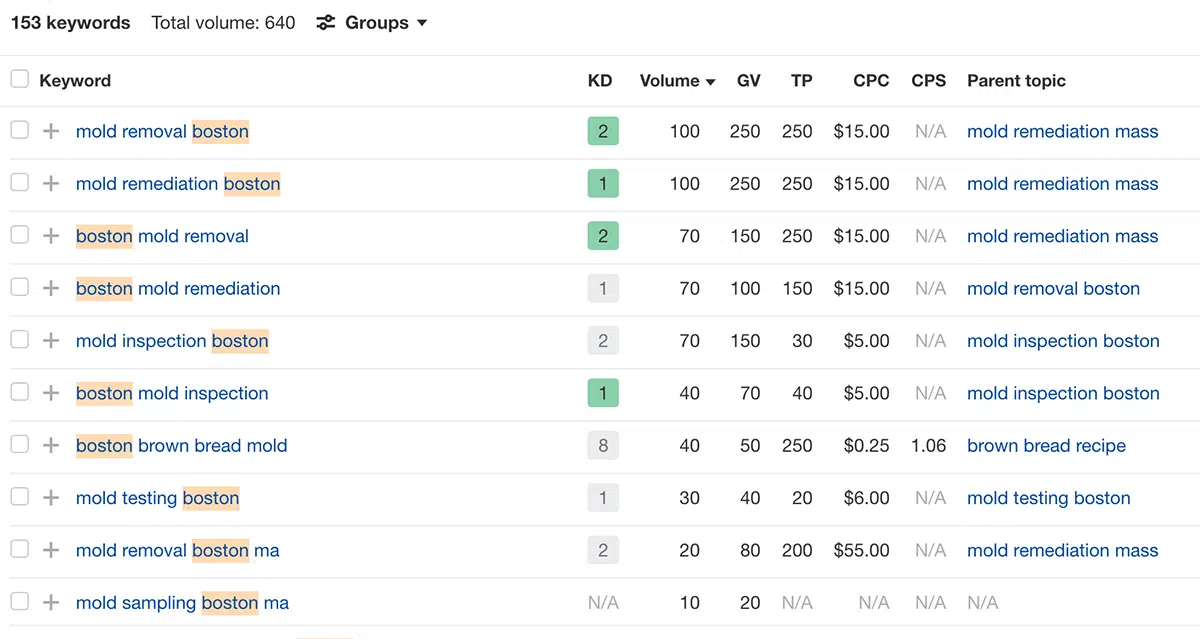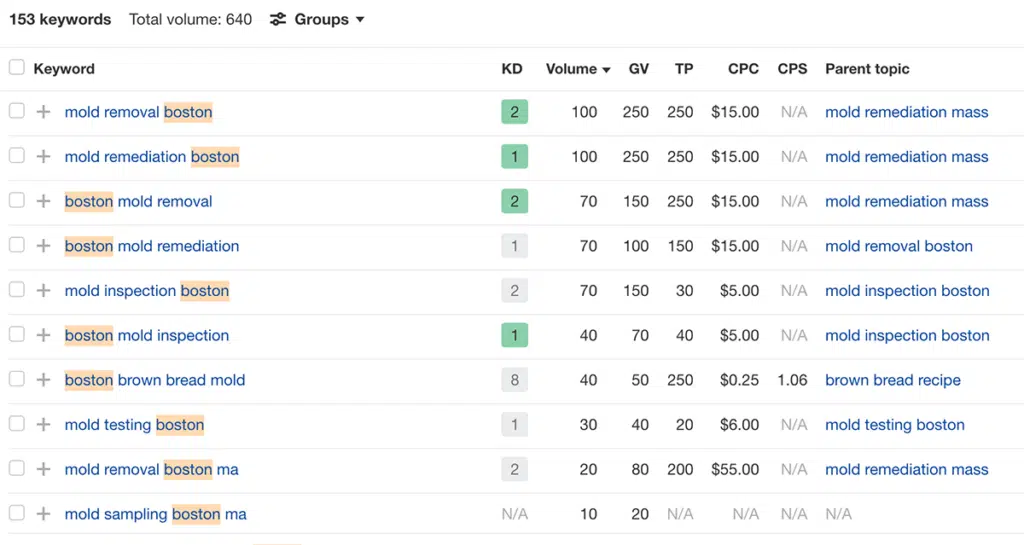 When comparing Ahrefs vs. Semrush for local SEO, Semrush is an absolute winner, offering tools for local businesses looking to improve their website's visibility.
5. Paid Advertising
Although Ahrefs is used primarily for SEO, it does have some advertising features.
With Ahrefs Paid Keywords report, you can see competitor bidding keywords, CPC for every keyword, what keywords send the most traffic, their positions, destination URLs, and ad copies.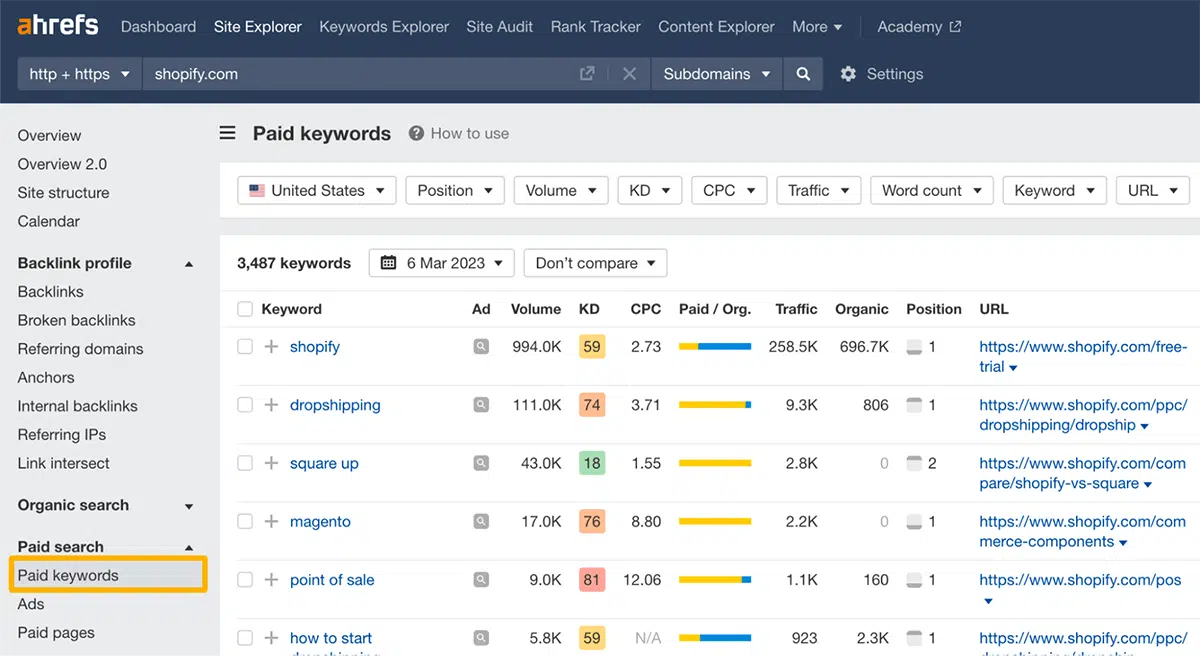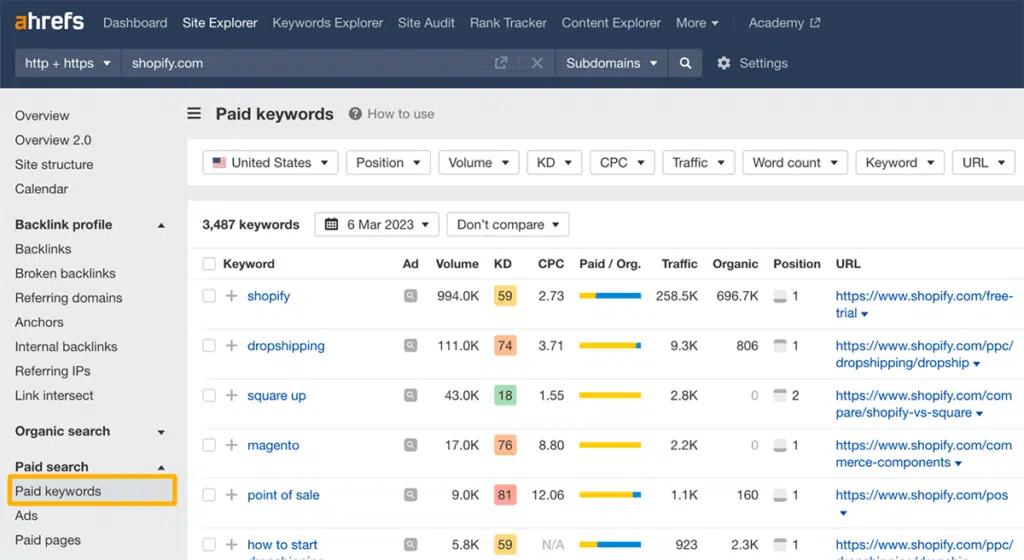 Semrush's PPC Advertising Toolkit provides more reports and tools for display advertising, product listing, ads research, ads history, ad tracking, and the keyword list export to Google Ads-compatible .csv or .xls files.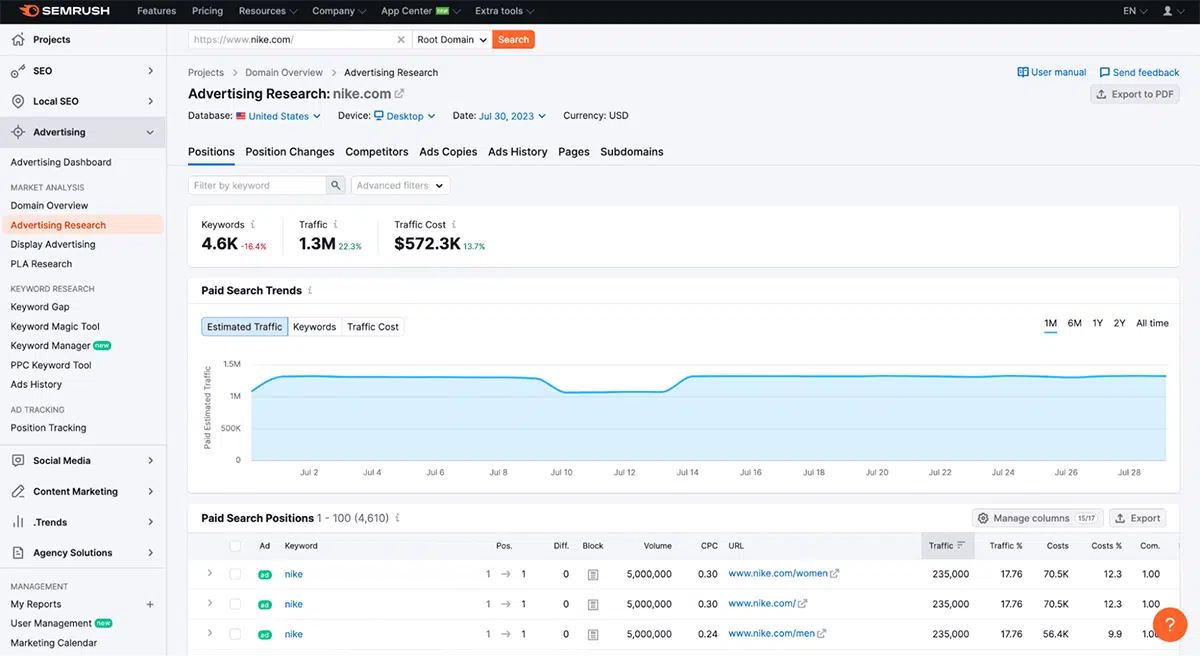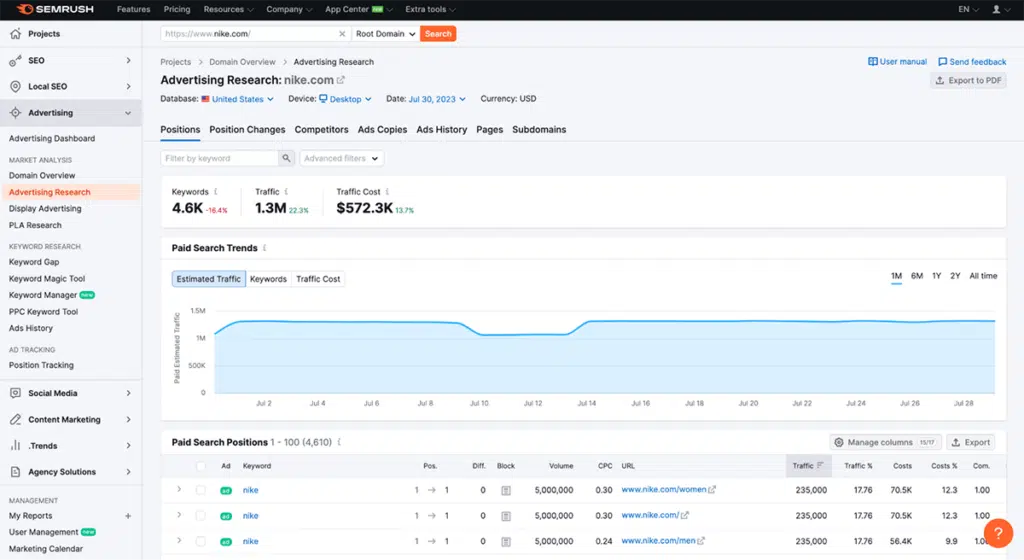 In my opinion, Semrush is a clear winner if you run both SEO and Google Ads campaigns.
6. Reporting
Semrush lets you pull 3,000 domain analysis reports daily, even on its entry-level plan. Semrush limits increase up to 30,000 reports a day on its Guru plan and 50,000 reports on the Business plan.
Now compare it to Ahrefs, which offers up to 750 credits per month depending on the pricing plan. Credits are consumed every time you pull a new request except for Rank Tracker and Site Audit.
You'll likely run out of available credits if you use Ahrefs for extensive keyword research and website analysis. In this case, Ahrefs will ask you to pay extra for additional credits.
All in all, Semrush is an absolute winner here, providing much better value for money. (Semrush also dominated here in my Semrush vs. Similarweb review.)
7. Content Marketing
In addition to SEO and PPC features, Semrush and Ahrefs have reports and tools to help you with content marketing.
With Semrush's Content Marketing Platform, you can identify top-performing keywords in your niche, automatically create content briefs and optimize content for rankings using SEO Writing Assistant. Based on my experience, this feature is helpful during the entire content creation process. However, it's only available for Guru and Business plan users.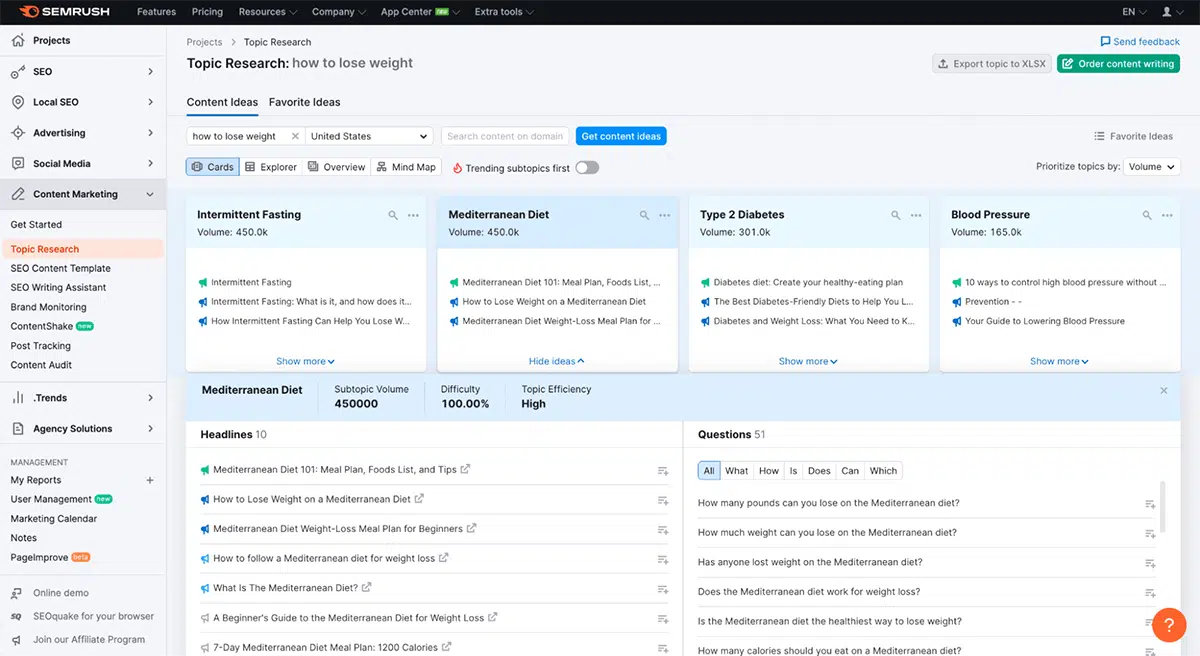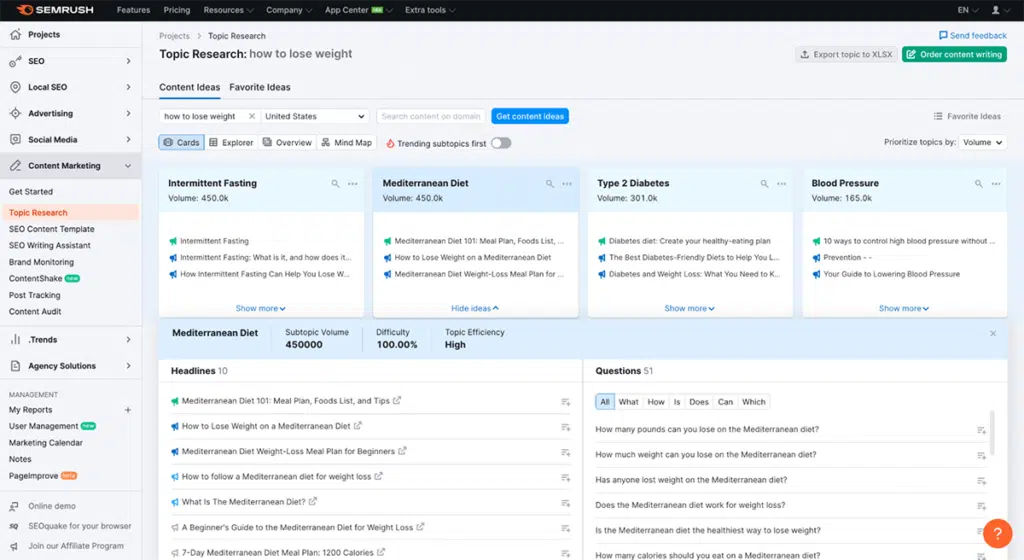 Ahrefs Content Explorer is less powerful but still can be used to find top-performing content in your niche and high-quality link prospects. In addition, Ahrefs has recently started offering free AI writing tools, including a blog title generator, content ideas generator, and SEO-friendly blog post ideas generator.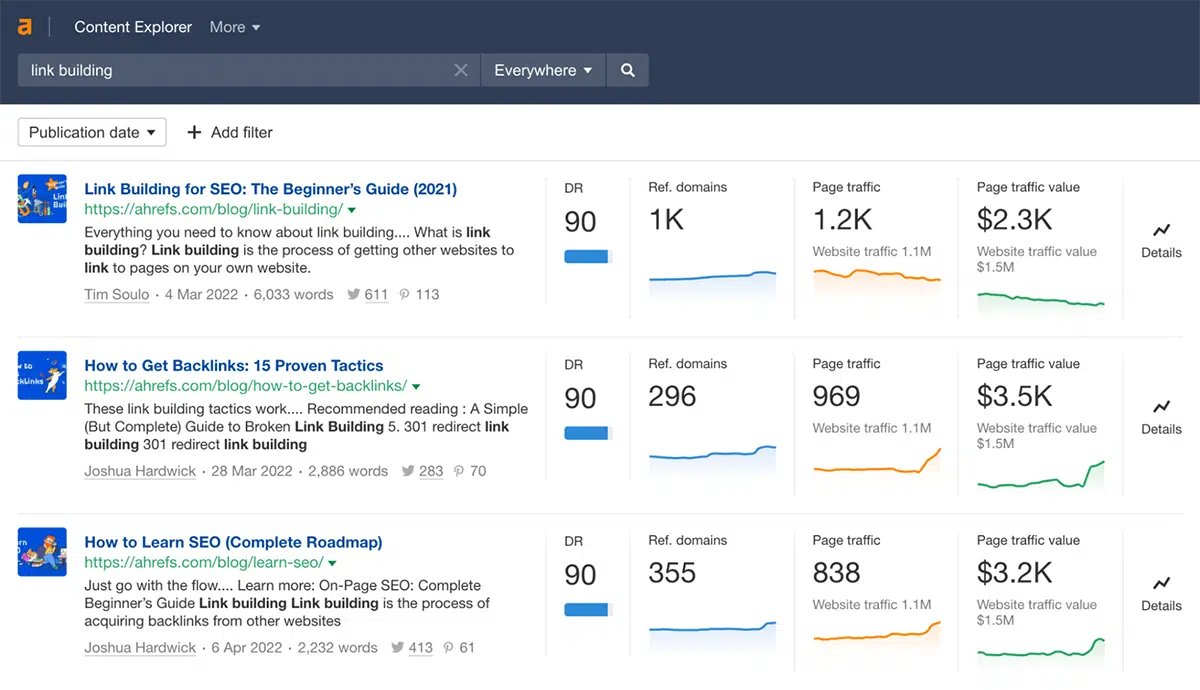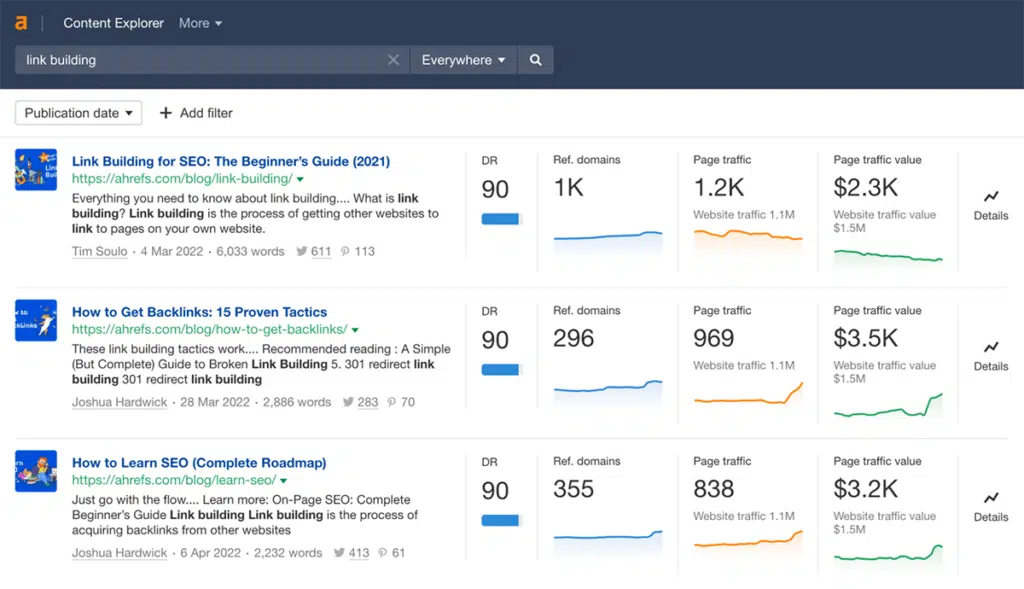 Both Ahrefs and Semrush offer various tools for content marketing. However, I'd vote for Semrush here, which can help your marketing team meet Google's E-E-A-T and YMYL guidelines at every step of the content creation process.
8. Social Media Marketing
With Semrush's Social Media Platform, you can identify the best social media channels to reach your target audience and analyze competitors' top-performing content.
You can keep track of your audience growth, posts reach, and engagement using Semrush Social Analytics. At the same time, Social Poster enables you to schedule social posts in advance and distribute them online automatically.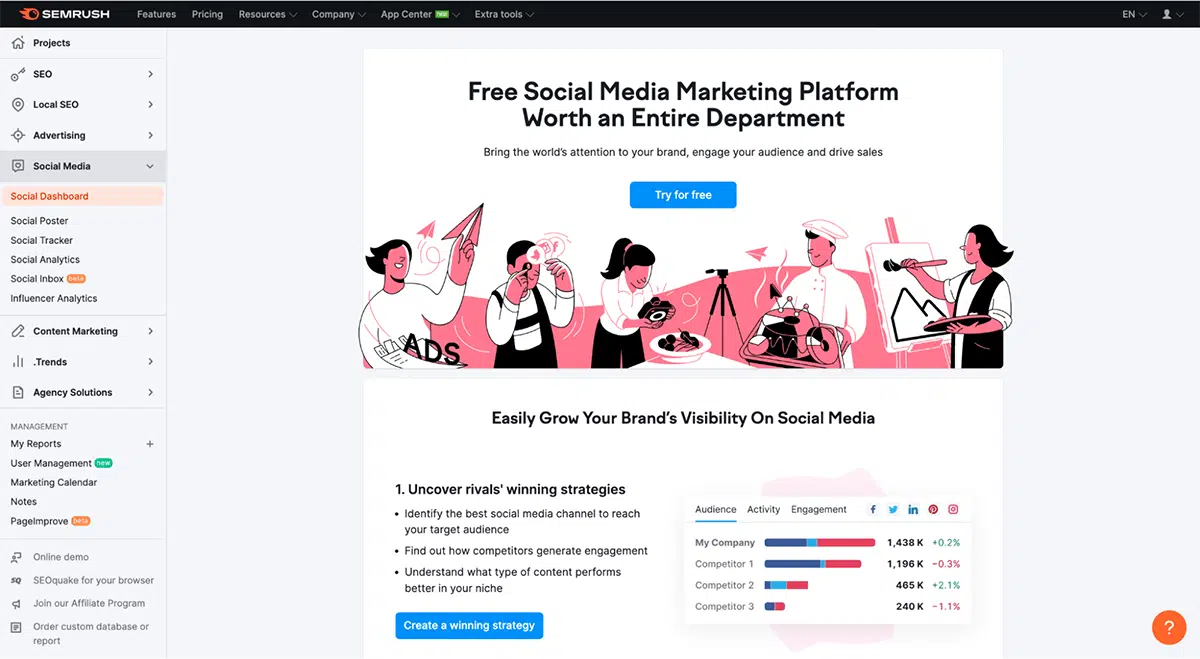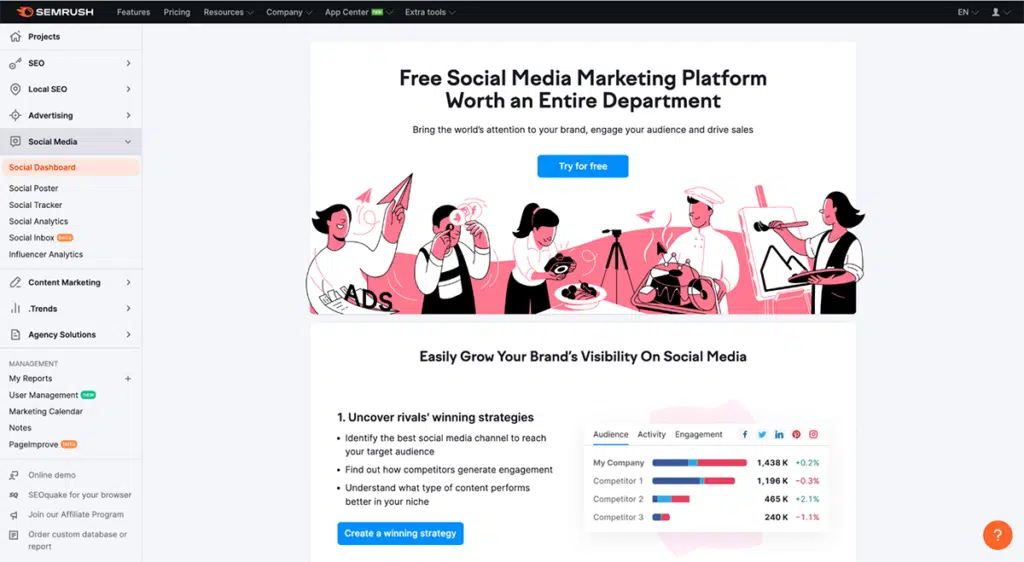 Unlike Semrush, Ahrefs does not have any social media features. However, its free AI writing tools can help you generate Instagram captions, hashtags, a profile bio, and a hook. It actually generates pretty good captions, enabling you to automate previously manual writing tasks.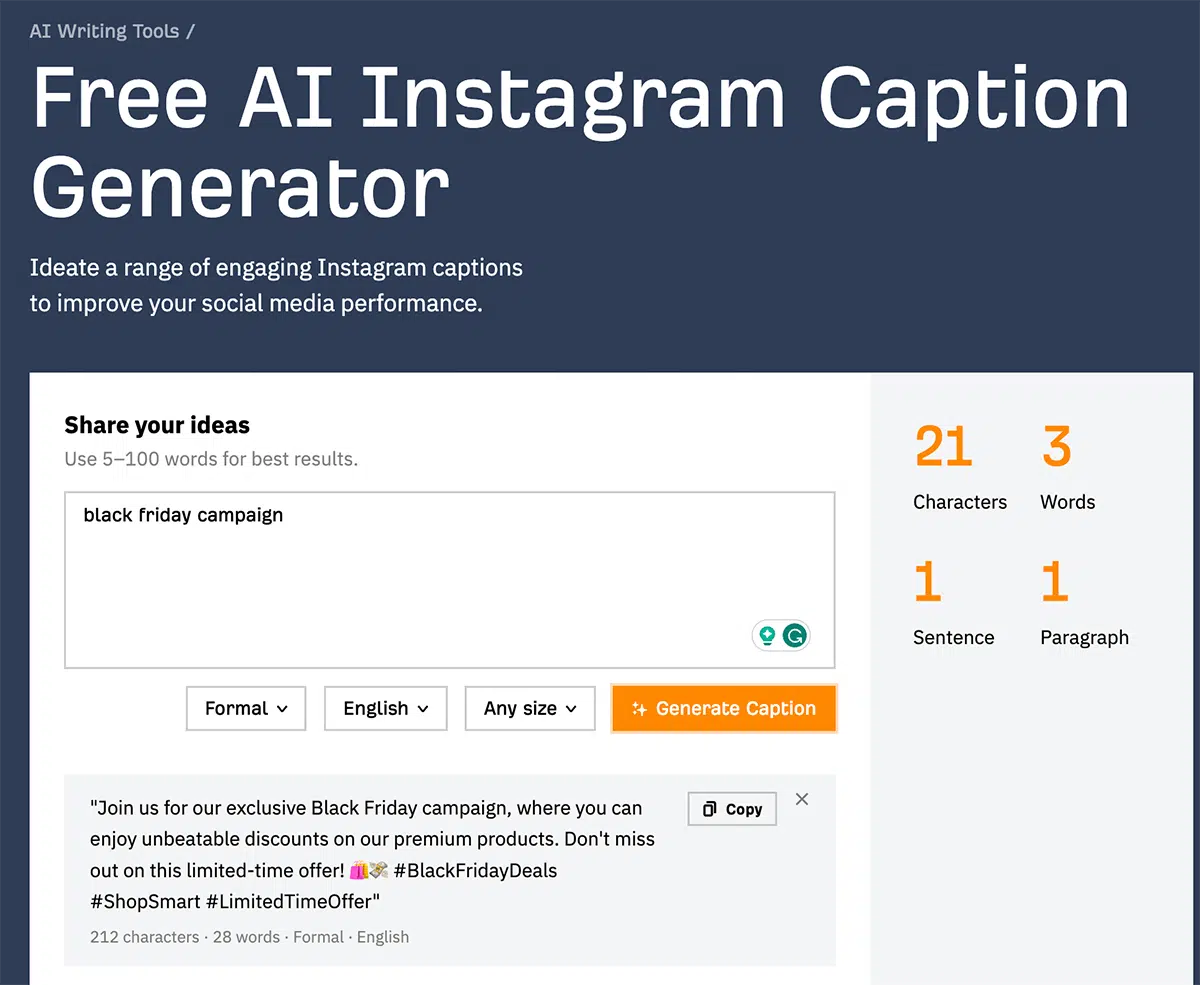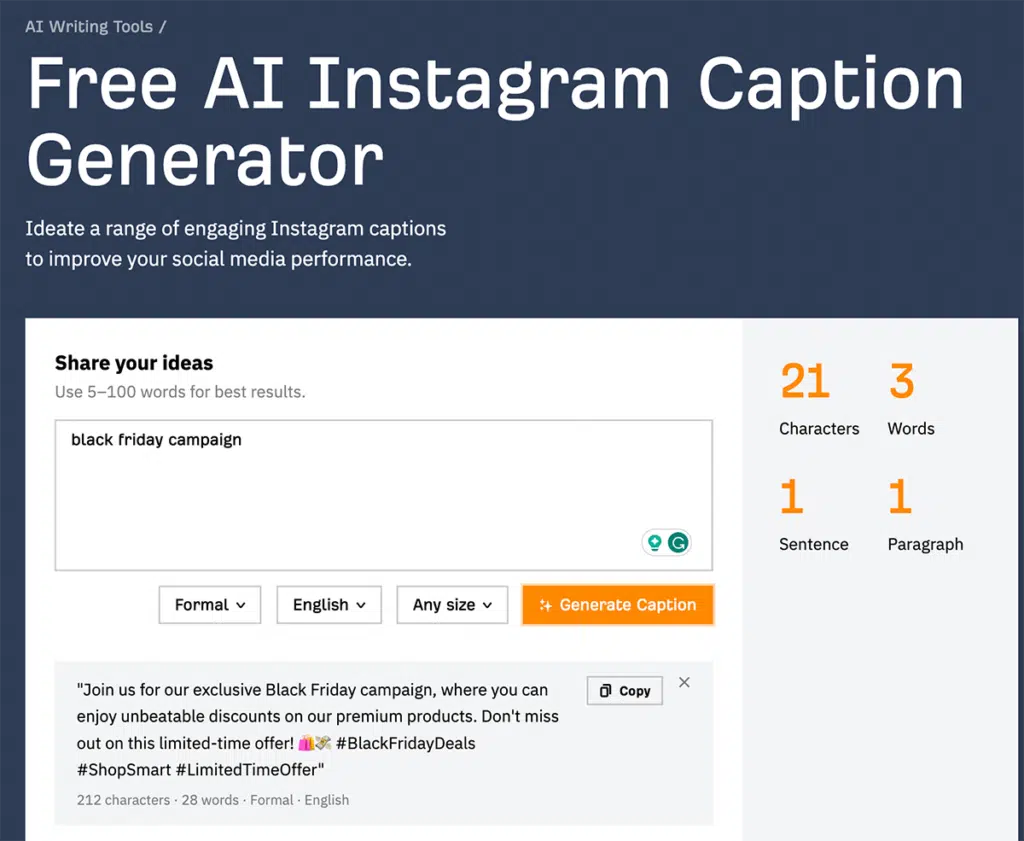 Ahrefs and Semrush Data Sources
Have you ever wondered where Ahrefs and Semrush get their data from? Surprisingly, they don't get it directly from Google or other search engines. Nevertheless, their metrics are accurate most of the time.
Where Does Ahrefs Get Its Data?
Ahrefs has a search crawler called AhrefsBot that works 24/7. Ahrefs claims they use their own database and don't get any information from third parties, such as Google, Alexa, Altavista, and Webalta.
Ahrefs updates its backlink index every 15 minutes. However, it needs up to two months to update the information about all backlinks in its database. That's why new backlinks don't immediately show up in the backlinks report.
Updating keyword metrics might take from a few days up to two months.
Where Does Semrush Get Its Data?
Semrush obtains its data from a combination of its machine-learning algorithms and trusted data providers.
For search engine rankings and keyword metrics, Semrush relies on third-party data providers to gather Google search result pages for 500 million popular keywords. Semrush analyzes organic and paid search results for the top 100 positions to estimate your website's rankings.
Despite employing powerful resources for crawling and data analysis, Ahrefs' and Semrush's numbers are estimates. Therefore, your actual website data and competitors' data can differ.
What Users Say
I was curious to learn what users think about Ahrefs vs. Semrush, so I checked their ratings and testimonials on Gartner Peer Insights.
Some Semrush users commented that its Keyword Research and Backlink Gap features are "highly beneficial in discovering untapped keyword and backlink opportunities." Others mentioned its powerful all-in-one marketing solution for agencies.
As for Ahrefs, many users highlighted its comprehensive SEO toolkit for backlink research and analysis.
Some mentioned Ahrefs' ability to provide data estimates and measure website performance outside of Google. Among the Ahrefs' dislikes, users mentioned its expensive pricing plans, limited monthly credits, and only allowing one user seat per account.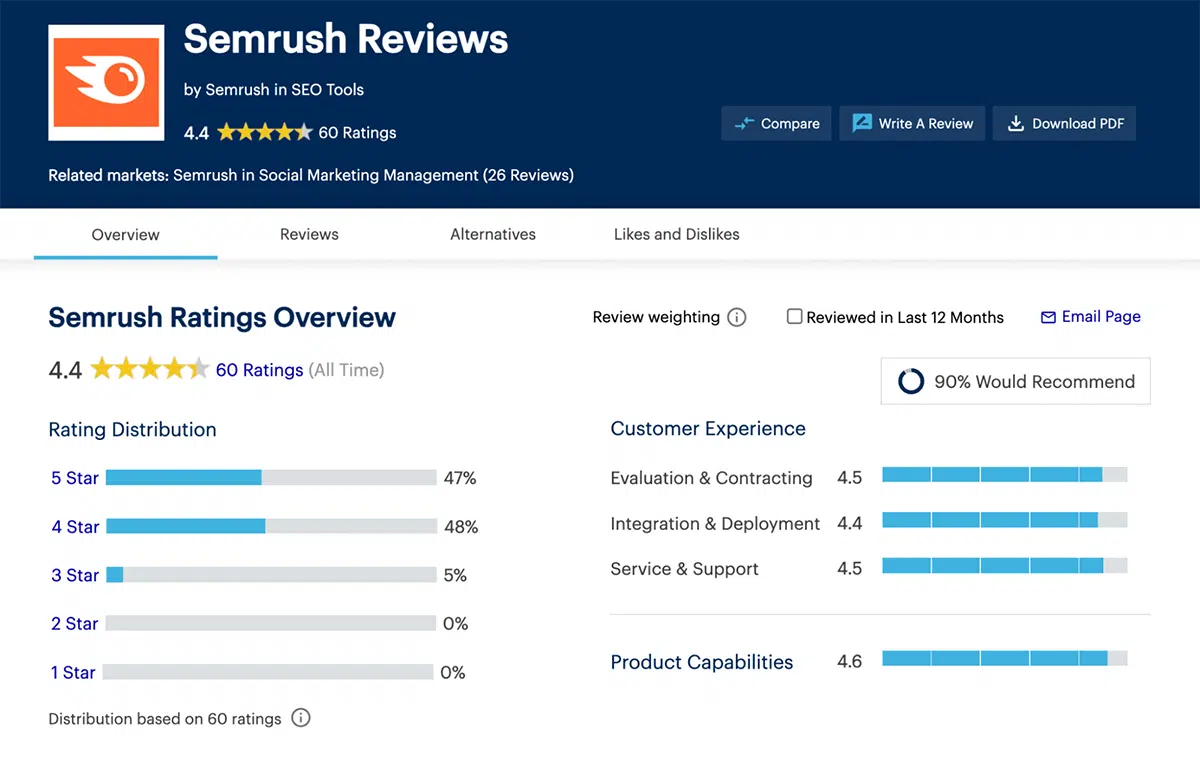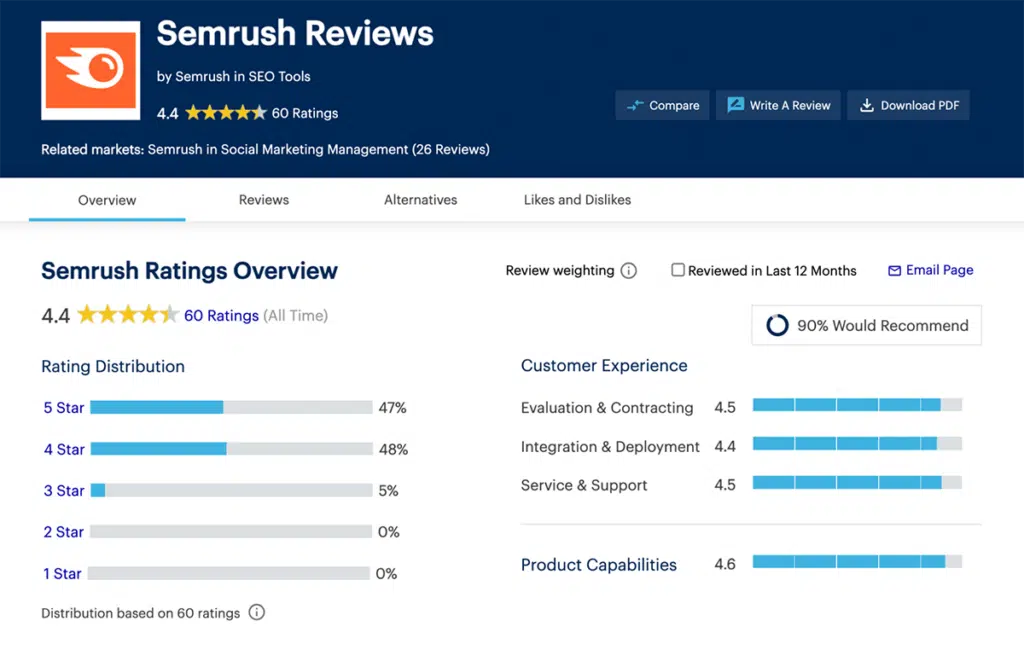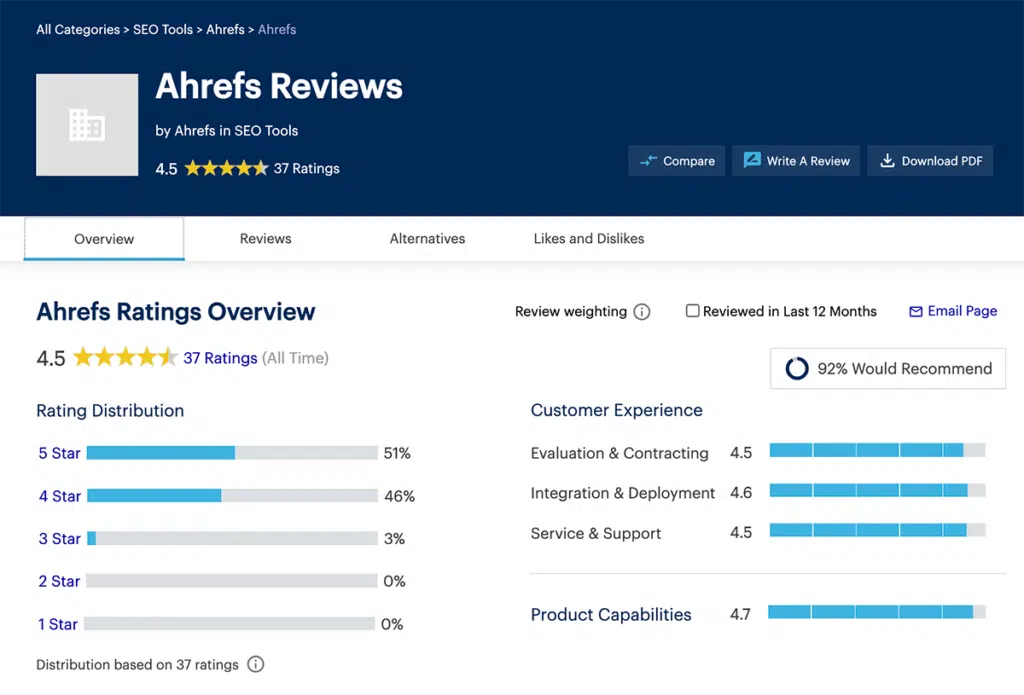 Pricing
Ahrefs and Semrush are expensive compared to other SEO tools. Therefore, consider what you'll want to use them for before choosing any paid plan.
If you work at an agency that helps website owners analyze their backlink profiles and build new backlinks, the Ahrefs Standard Plan can be your go-to solution. Alternatively, if you are looking for an all-in-one tool for an entire marketing department, the Semrush Guru or Business Plan will work better for you.
If you are a small business on a budget, Semrush provides access to all its essential features on the entry-level plan — Semrush Pro. You'll be limited to five projects, 500 tracked keywords, and 3,000 reports per day, which is enough to start with. Besides, you can start with a 7-day free trial to decide whether Semrush suits your business needs.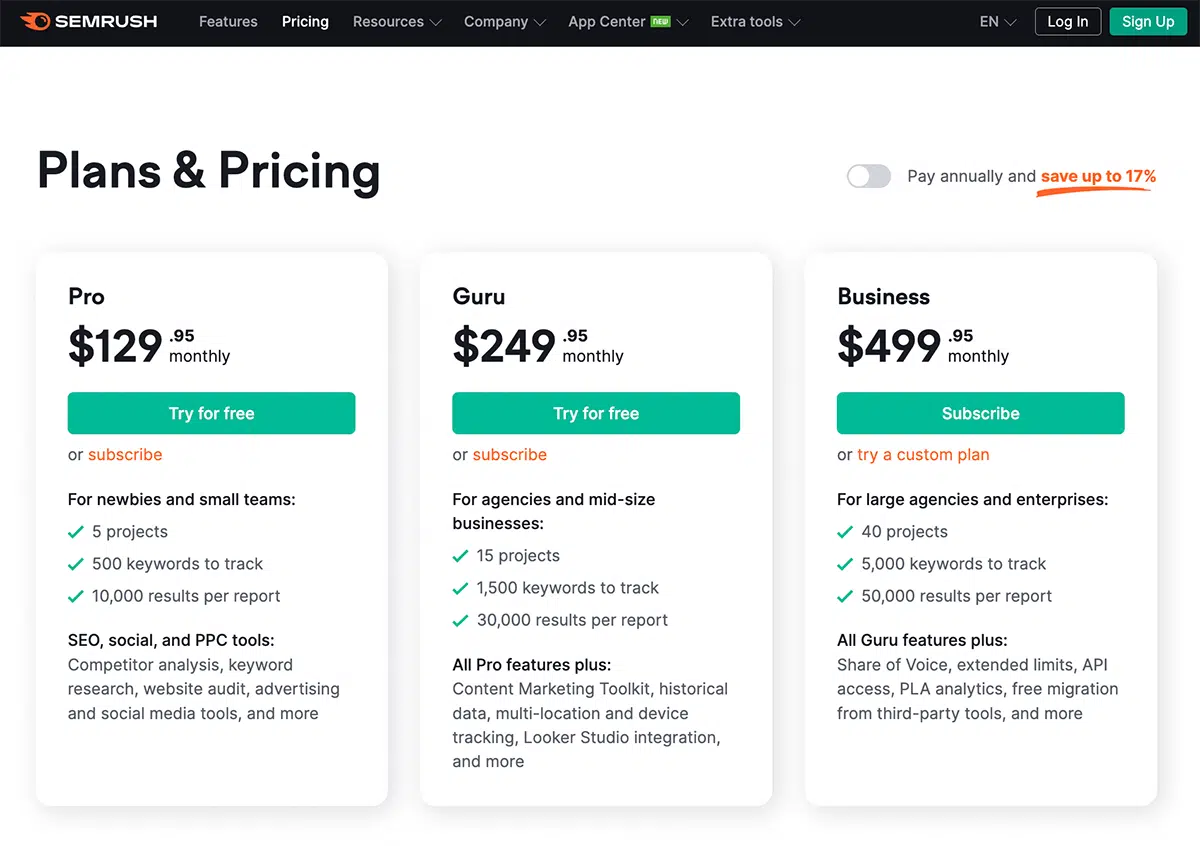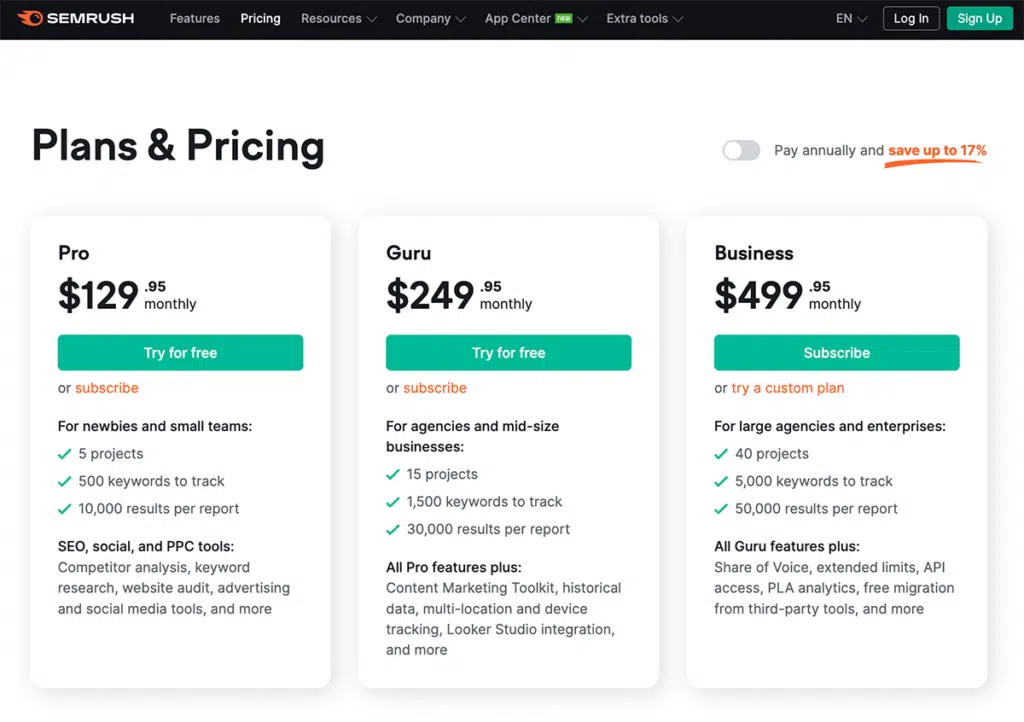 Even though Ahrefs' entry-level plan is cheaper than Semrush's one, it's considerably less generous. It does not include many essential features, such as the content explorer, broken link building, content gap, and SEO competitor analysis tools, to name a few. 
Ahrefs pricing plans offer one user seat with up to 750 monthly credits. Rank Tracker and Site Audit are excluded from the monthly limits. However, if you exceed the pricing plan's limits, you can be automatically charged for extra credit consumption.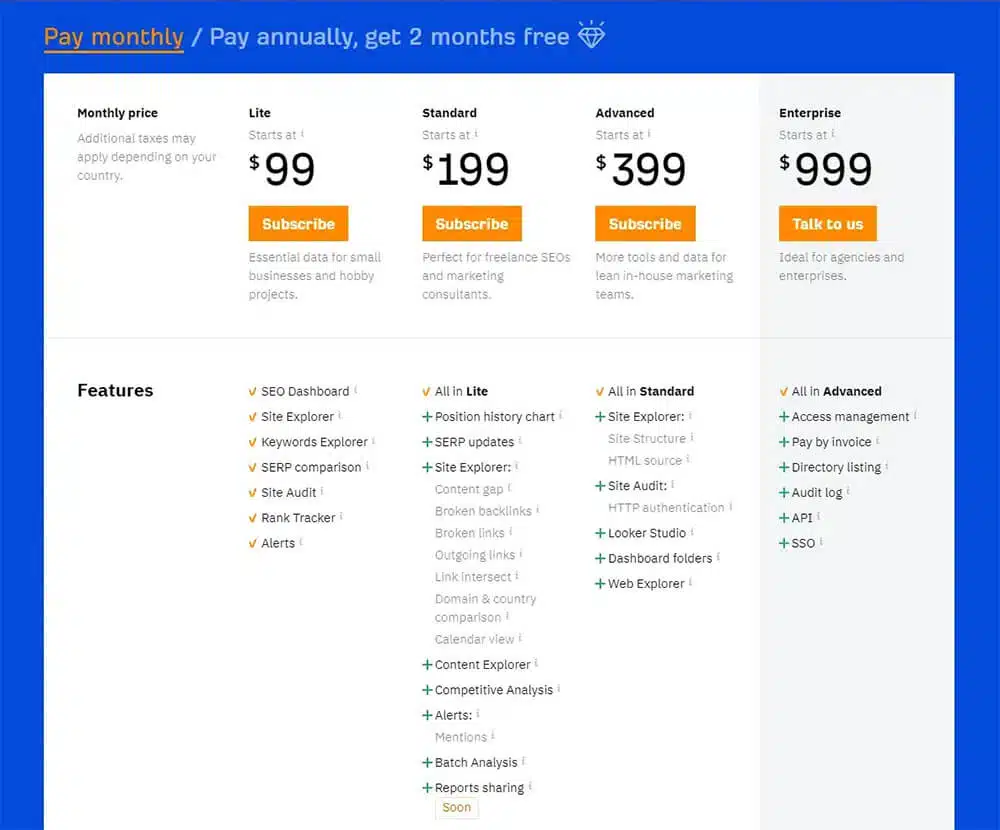 Which Tool Has the Best Support?
You can reach Semrush customer support via email, live chat, and phone.
If you don't have an account, you can still get your questions answered via a chatbot on the Semrush pricing page. For existing users, Semrush offers live chat and a contact form.
True to their word, Semrush replies within one business day. I once accidentally paid for Semrush Pro instead of starting a 7-day free trial and immediately reached out through the contact form and requested a refund. The Semrush team responded in several hours and initiated a refund that arrived a few days later.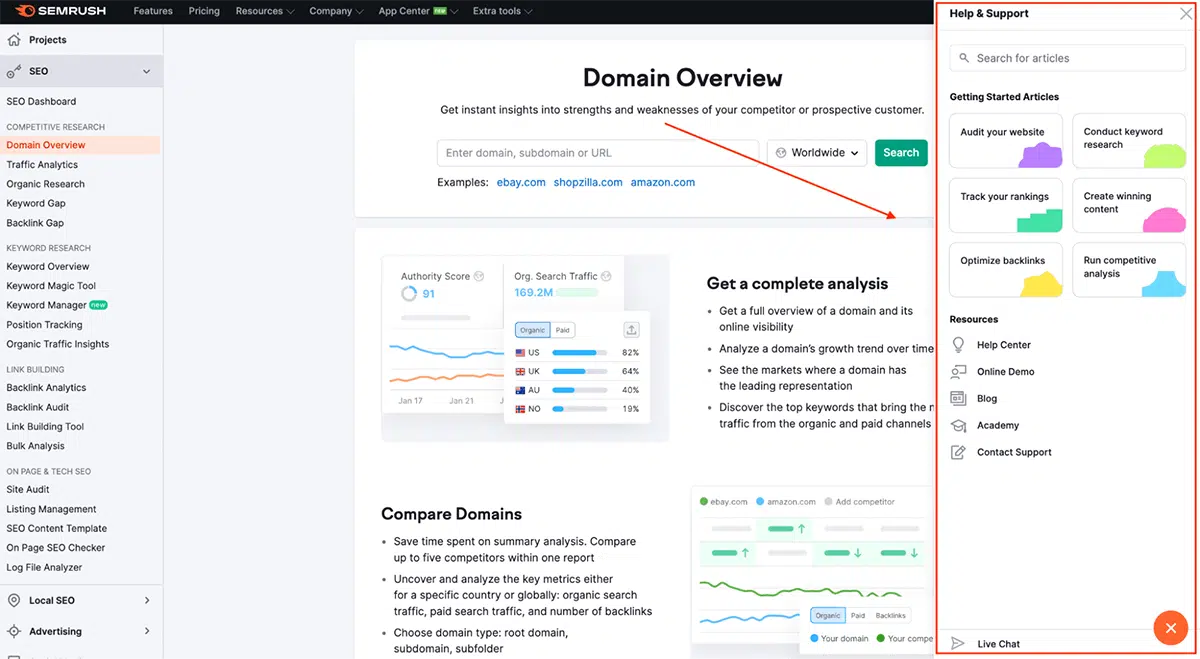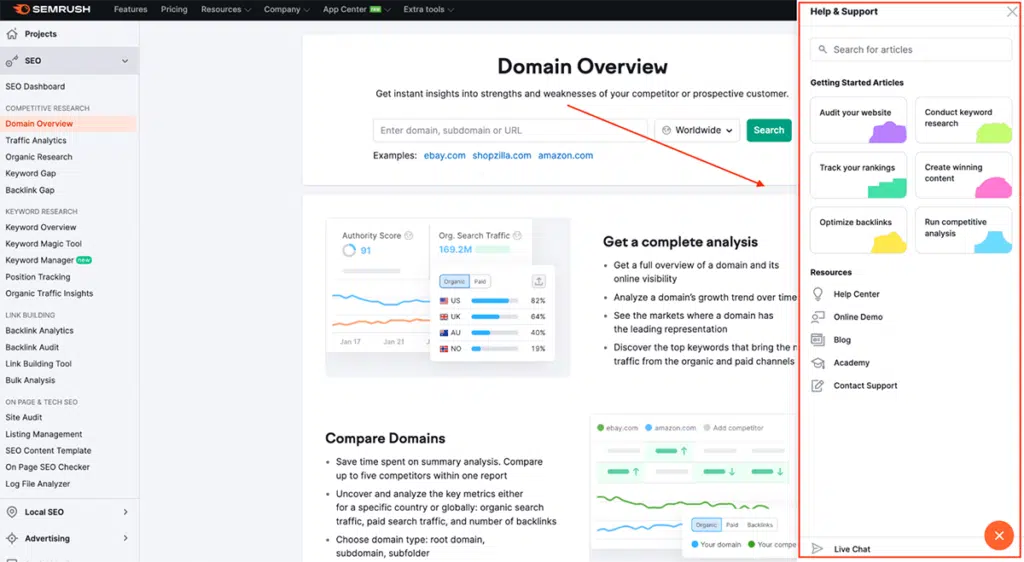 Ahrefs also has a live chat on their website. However, you must be logged in to chat with the Ahrefs team. If you prefer emails, you can also contact the Ahrefs team by clicking "Contact us" in the footer.
Overall, both tools offer various means to reach customer support and provide timely responses.
Which Is Better: Ahrefs vs. Semrush?
I believe every tool has its advantages and can help you achieve your business goals.
However, if I had to choose one, I'd go with Semrush.
My verdict is based on the variety of features and data accuracy. However, it does not mean that Ahrefs is inferior. Depending on your requirements, it can also be of immense benefit to your project.
FAQs
I've collected a few frequently asked questions you might be interested in.
Which tool is better to use for SEO: Ahrefs or Semrush?
Both Ahrefs and SEMrush are popular and powerful SEO tools that can be incredibly helpful for optimizing your website's search engine performance.
Ultimately, determining which is better depends on your specific needs and budget. That being said, for the reasons outlined above, I believe that Semrush offers more bang for your buck.
Which SEO tool is most accurate?
There are metrics where Semrush data is more accurate than Ahrefs.
Semrush tends to be better for competitive analysis, keyword research, and content optimization, while Ahrefs is often favored for its backlink analysis and SEO insights.
Can I use Ahrefs and Semrush for free?
Ahrefs doesn't allow you to use it for free. However, Semrush offers a 7-day free trial for users. Give Semrush a try today!