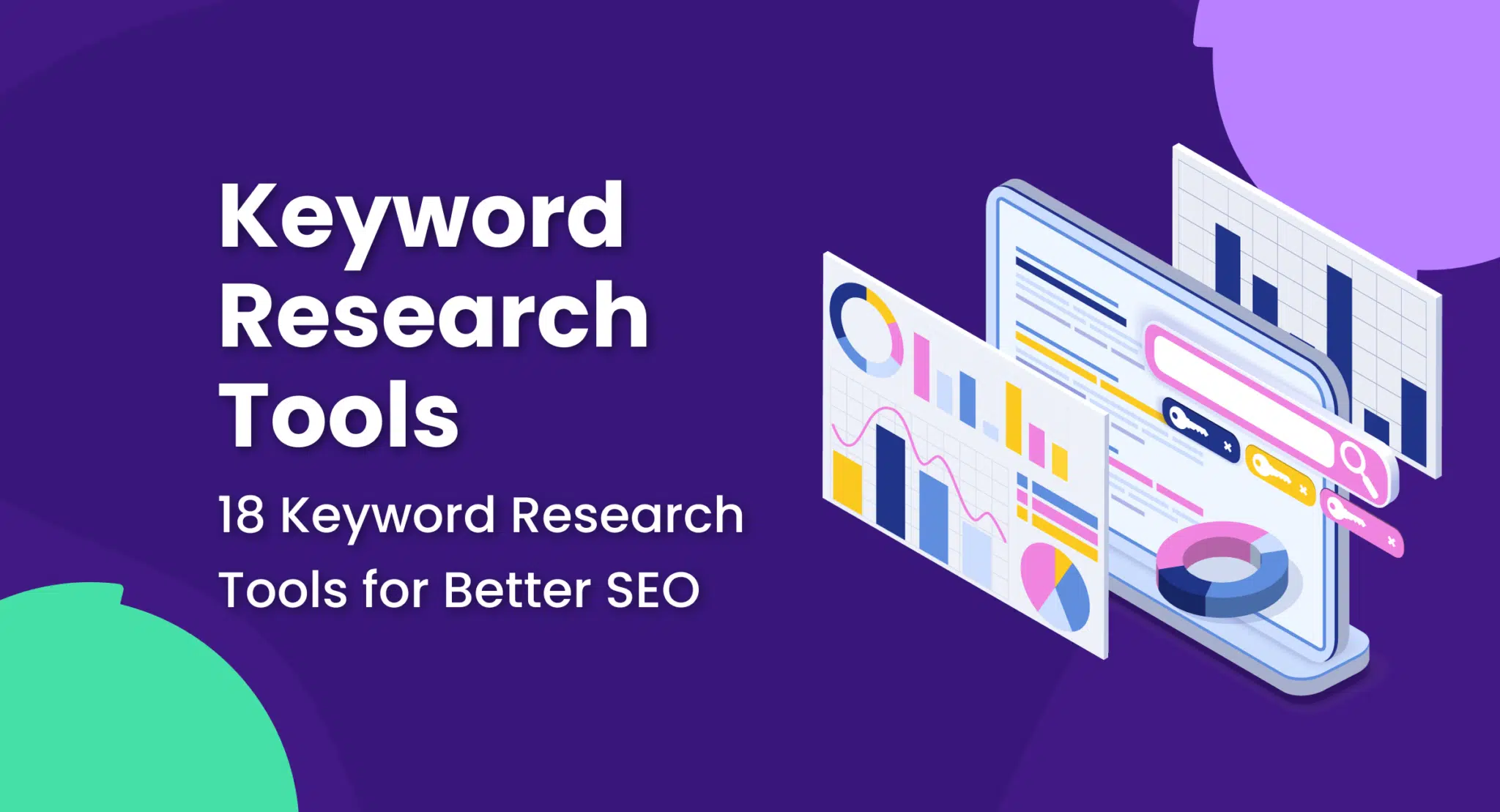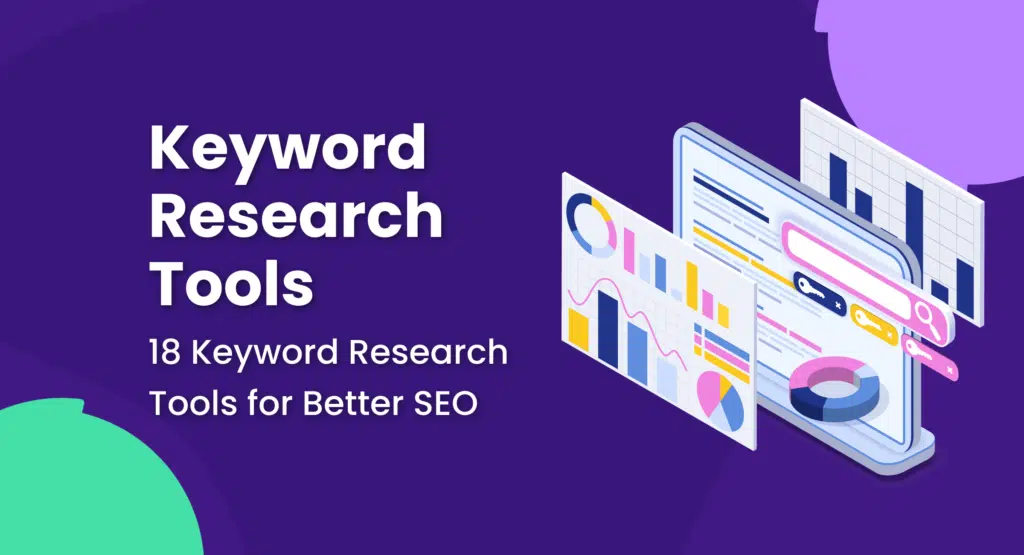 What's the best keyword research tool to inform your content marketing strategy? Or, do you simply rely on intuition?
During my SEO career, I've worked with startups and established companies with different SEO approaches. Some used tools for keyword research to discover, analyze, and pick keywords with business potential.
In contrast, others relied on their intuition to come up with topics. The reality is, however, that SEO doesn't work this way.
Every term has a search intent, monthly search volume, keyword difficulty (KD), and website traffic potential. These are a few metrics to consider while conducting keyword research, and you can use various tools to discover new keyword ideas, check out what competitors are doing, and analyze and prioritize keywords.
In this article, I'll share 14 paid keyword research tools and 4 free keyword research tools that you or your SEO team can use to get the most out of your keyword research.
Here's a preview to help you navigate this post.
14 Best Keyword Research Tools (Paid)
4 Best Keyword Research Tools (Free)
14 Best Keyword Research Tools (Paid)
I'll start this article with paid tools for keyword research because they have an extensive keyword database and provide reliable keyword research data.
If you're wondering how I picked the tools, the following are a few criteria for how tools were evaluated and selected:
Price: Costs vs. value of every tool
Functionality: The number and variety of features
Ease of use: Beginner-friendly and advanced tools for SEO professionals
Data reliability: I checked data sources
Semrush
Semrush is an all-in-one digital marketing tool with a powerful keyword research toolkit.
What I like about Semrush is that it lets you conduct keyword research in many ways.
For instance, the Keyword Magic Tool helps you generate thousands of keyword ideas from one seed keyword. Since Semrush's keyword database has over 25 billion keywords, you'll definitely find new ranking opportunities and low competition keywords.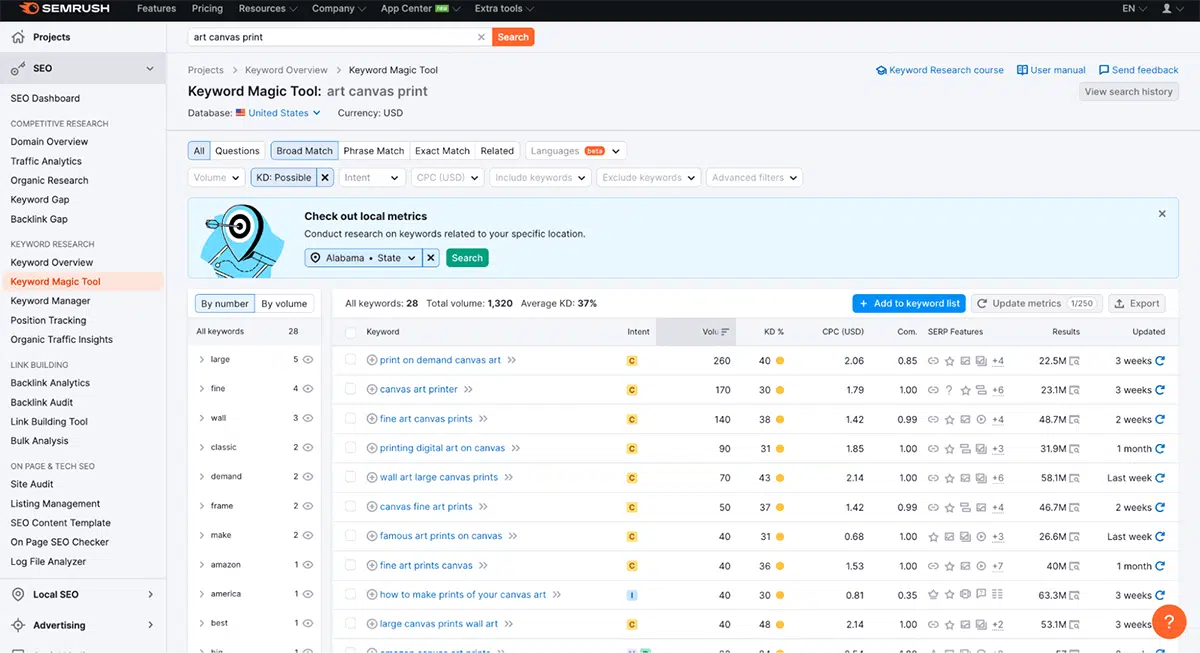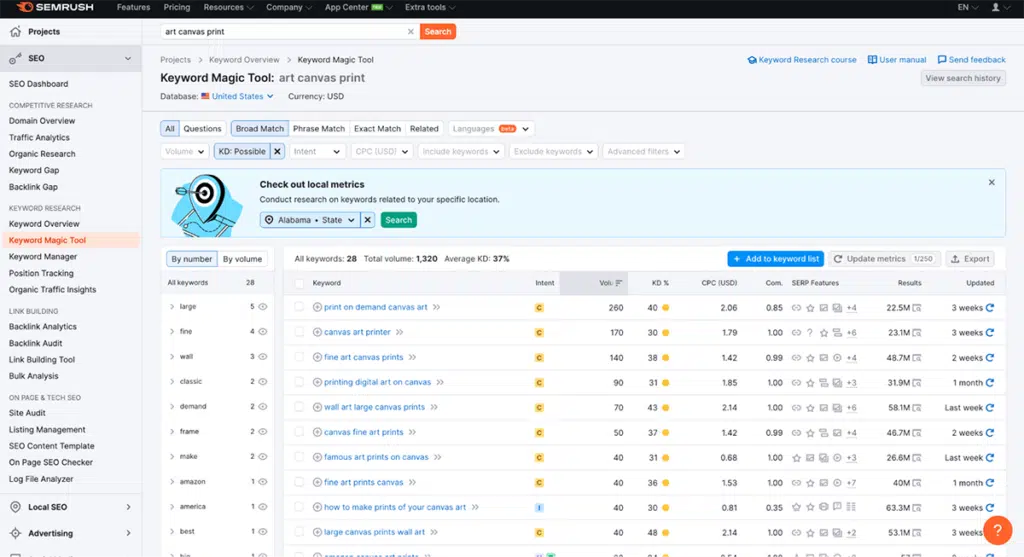 With the Keyword Gap Tool, you can quickly identify keywords your competitors rank for, but you don't.
Imagine discovering a transactional keyword that your competitor ranks for in the top 10 search results, but you somehow missed — it's an excellent business opportunity!
I've often used this tool when I can't find promising keywords. Based on my experience, checking two to three competitor URLs will provide you with thousands of keyword ideas for your website.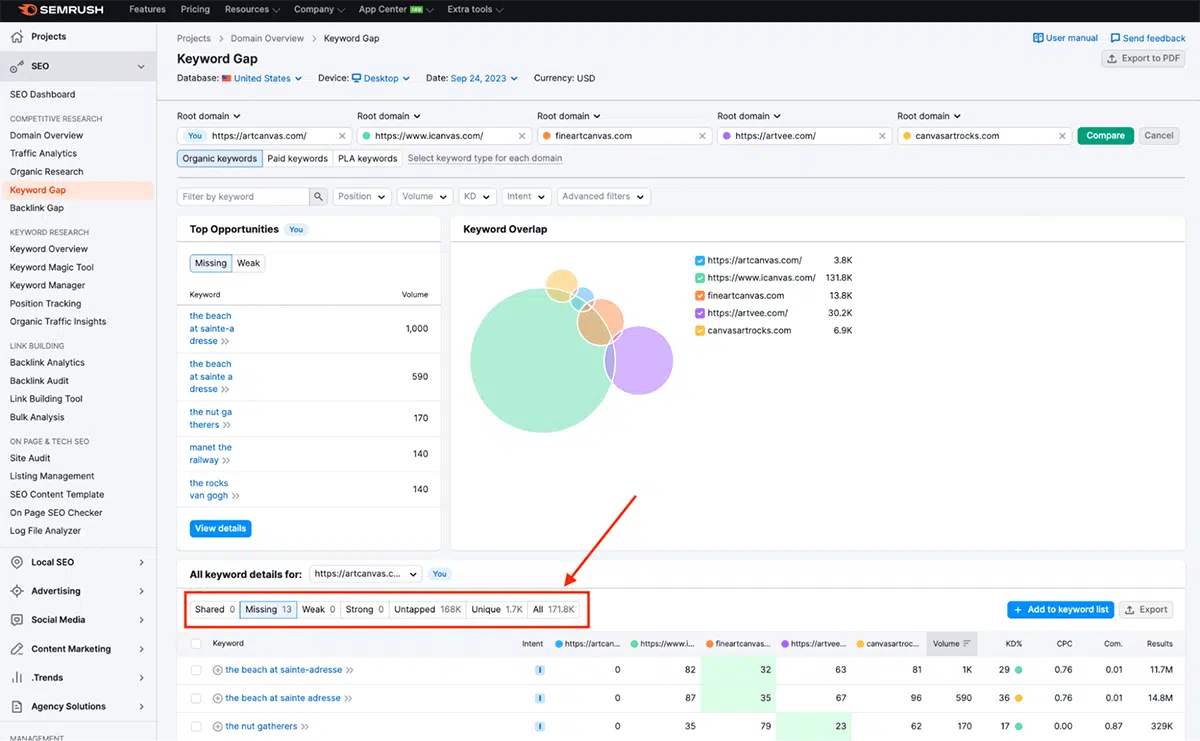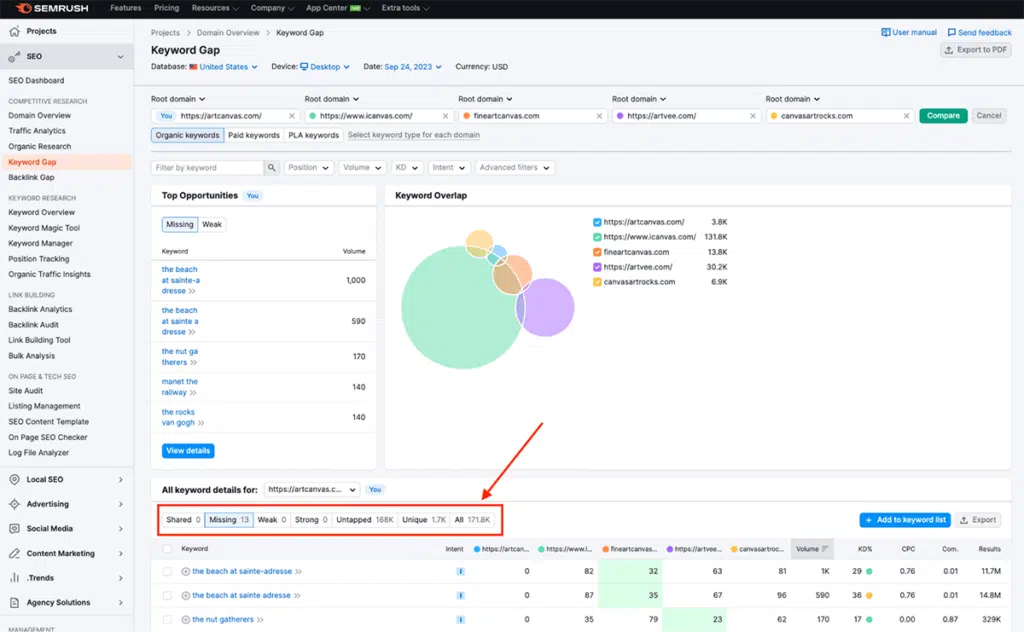 Moreover, Semrush provides a detailed keyword overview report, including unique metrics and features you won't find elsewhere, such as search intent and keyword clusters.
I wrote an in-depth Semrush review if you want to learn more about this tool.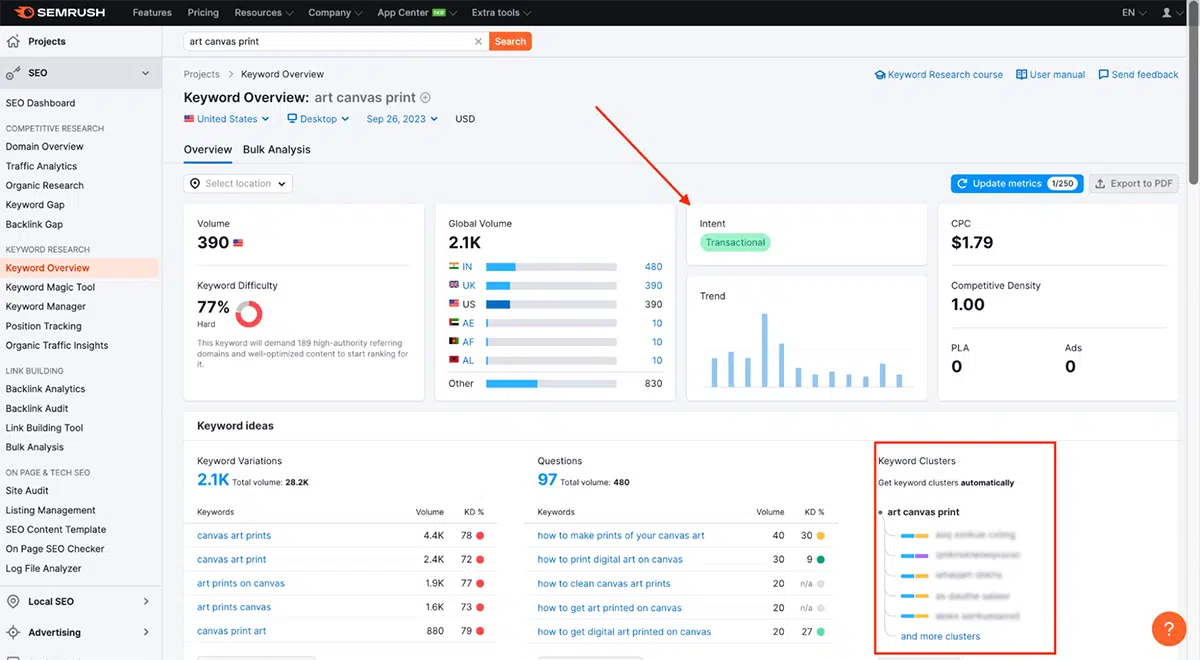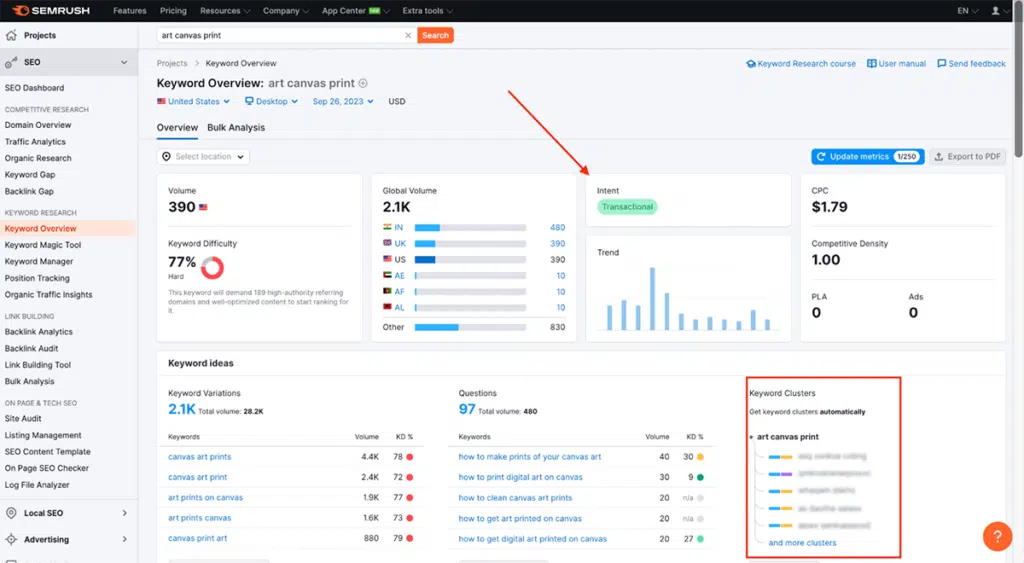 Pricing
Unlike many keyword research tools, Semrush lets you analyze 10 keywords daily for free. If you want to analyze more keywords, sign up for the Semrush Pro Plan for $129.95 monthly or $108.33 if billed annually.
Best Feature: Keyword Magic Tool
It's my opinion, but I'm sure you'll agree once you try the Keyword Magic Tool.
Why?
Well, suppose you want to launch a niche website but only know the general topic. The Keyword Magic Tool can help you discover thousands of topics for your seed keyword for 142 countries.
Ahrefs
Ahrefs is another tech giant in the SEO tools market.
Even though Ahrefs specializes in link building, it has a dedicated keyword research tool called Keyword Explorer.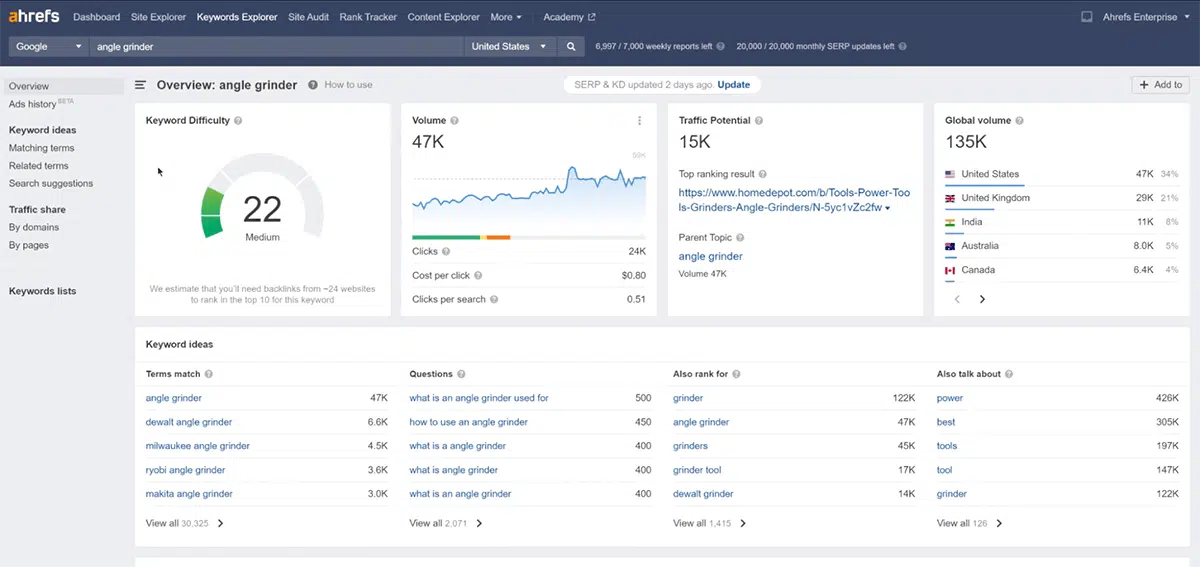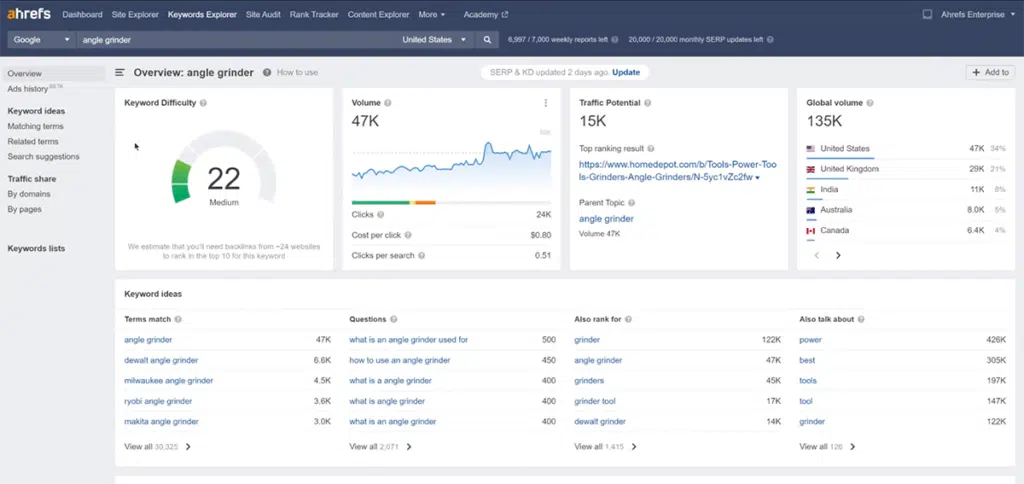 Ahrefs provides all essential metrics for keyword research, such as keyword difficulty, search volume in a target country, global search volume, traffic potential, and the number of clicks per search.
Unlike Semrush, Ahrefs does not have a tool that could generate thousands of ideas from a seed keyword. Instead, you'll find semantically related keywords in the keyword ideas report.
I actively used Ahrefs until they introduced a credit system. This is how it works: you consume one credit whenever you open a new report, apply filters, or run a new search.
The cheapest Lite plan provides you with 500 monthly credits, which, in my opinion, is insufficient to conduct proper keyword research for a big website.
You can learn more about Ahrefs from my Semrush vs. Ahrefs comparison.
Pricing
Ahrefs does not have a free trial. The pricing starts from $99 per month and 500 credits. If you exceed the limits, additional credits will cost you $35/month.
Best Feature: Top Pages Report
My favorite Ahrefs feature is the Top Pages report that shows the top rankings URLs with all keywords those URLs rank for.
If you don't have time for proper competitor research, check competitors' top-performing URLs to understand what keywords bring them the most traffic.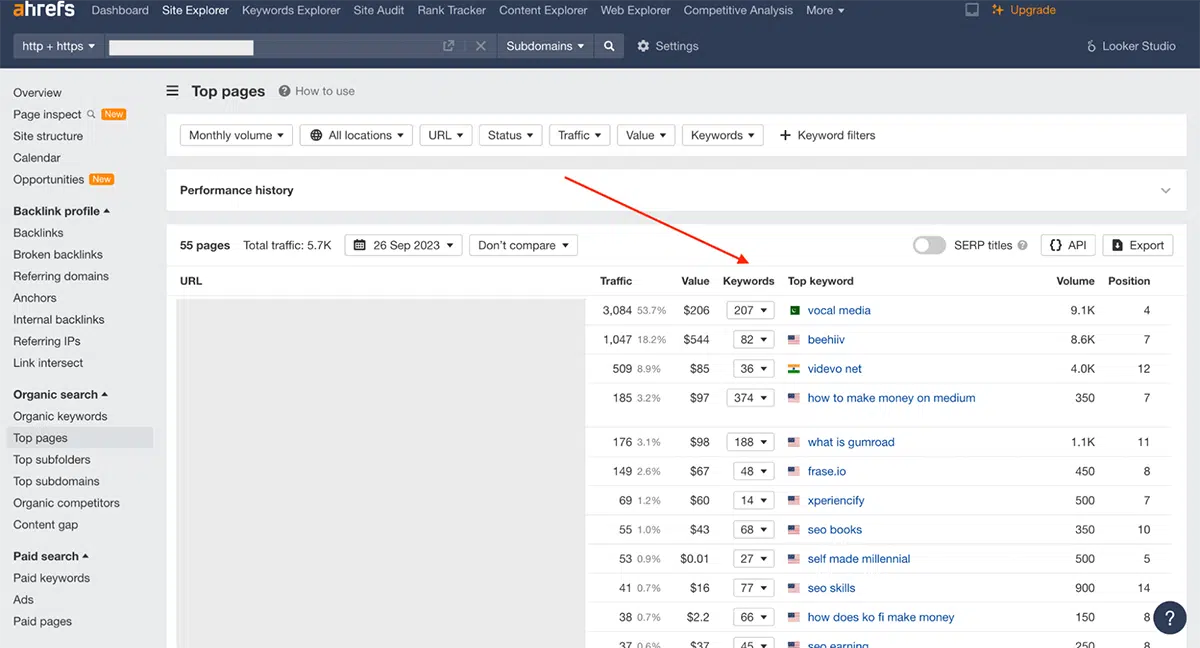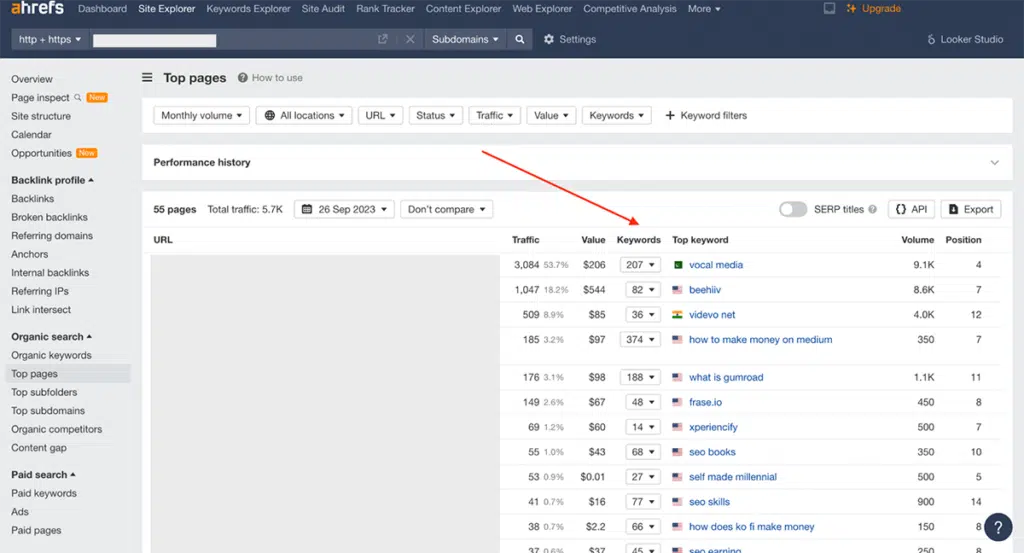 Moz
Moz is a popular SEO solution that can help you improve your website's visibility in organic search results. Moz offers various backlink analysis, rank tracking, and keyword research tools.
Like Semrush and other Ahrefs alternatives, Moz offers 10 free queries per month to research and analyze keywords. The keyword report data is limited, though. You'll only see monthly search volume, keyword difficulty, organic click-through rate (CTR), SERP overview, and keyword suggestions.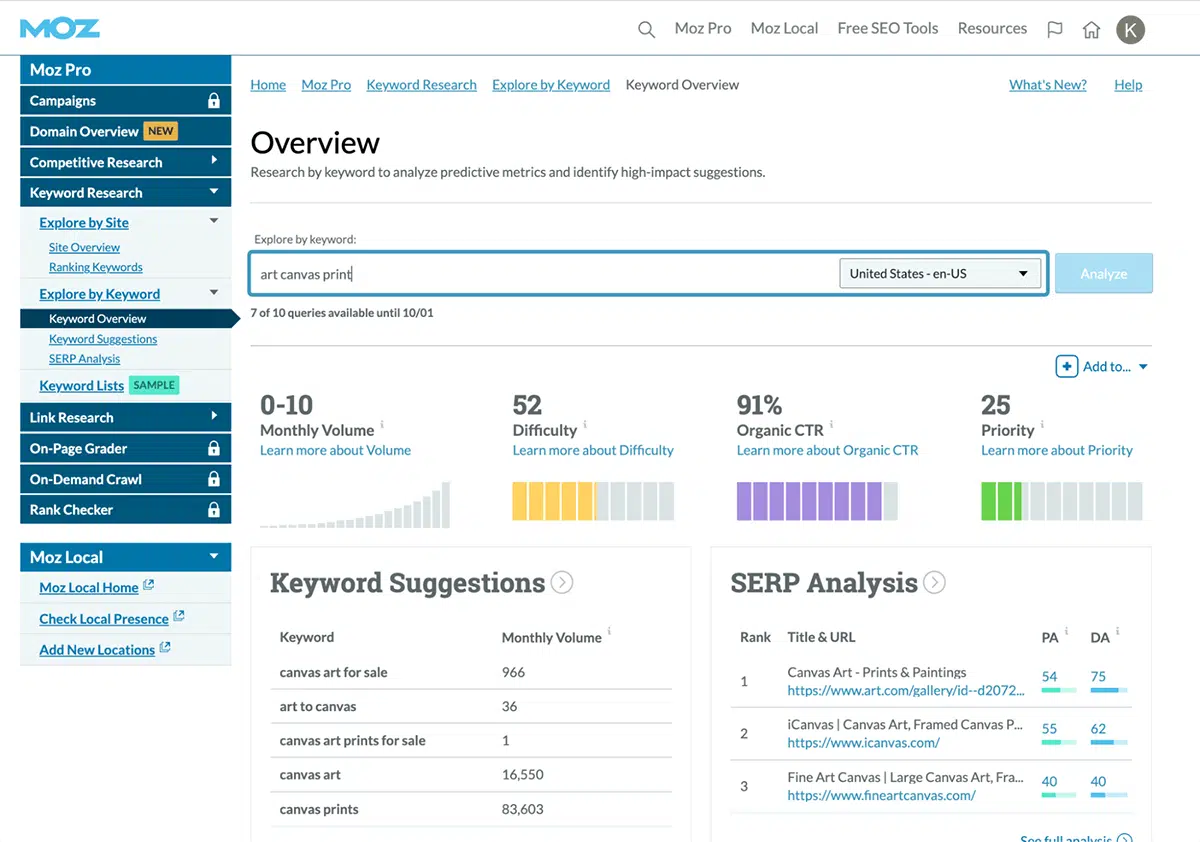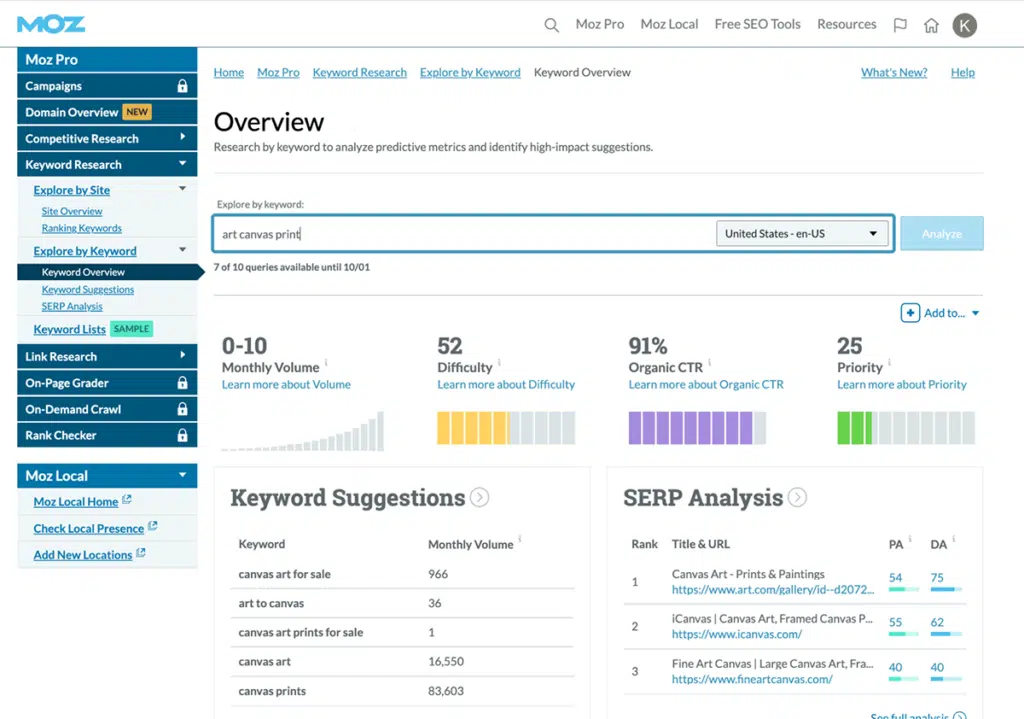 Pricing
Moz is a paid tool, but it offers a free 30-day trial, so you can try it out before you commit. Moz Pro offers four pricing plans — the cheapest costs $99 monthly or $79 if you choose an annual plan. In contrast, the most expensive plan is $599 for SEO agencies and marketing teams.
Best Feature: Keyword Lists
Moz Keyword Lists let you organize and manage your keywords in Moz Pro. You can create keyword lists manually by entering keywords, uploading a CSV file, or adding keywords from Moz Keyword Explorer.
​​You can use Keyword Lists to track your website's ranking for specific keywords over time. It will help you see whether your SEO efforts pay off and identify improvement areas.
Serpstat
Serpstat offers multiple keyword research tools for SEO and PPC to help websites improve their online visibility and advertising campaigns.
With the Serpstat freemium plan, you can check country-specific search volume, keyword difficulty, cost-per-click (CPC), semantically-related keywords, competitors, and their ad copies.
Note that the volume metric is provided based on the Google Ads data, which is accurate for paid traffic. However, organic traffic numbers can differ.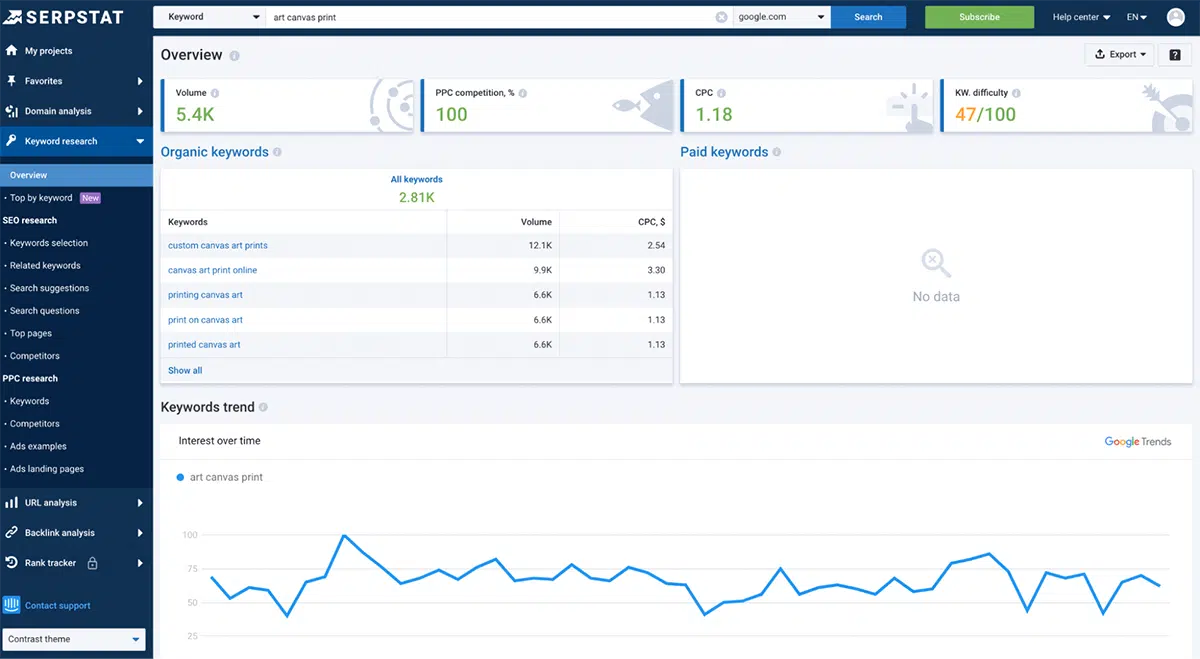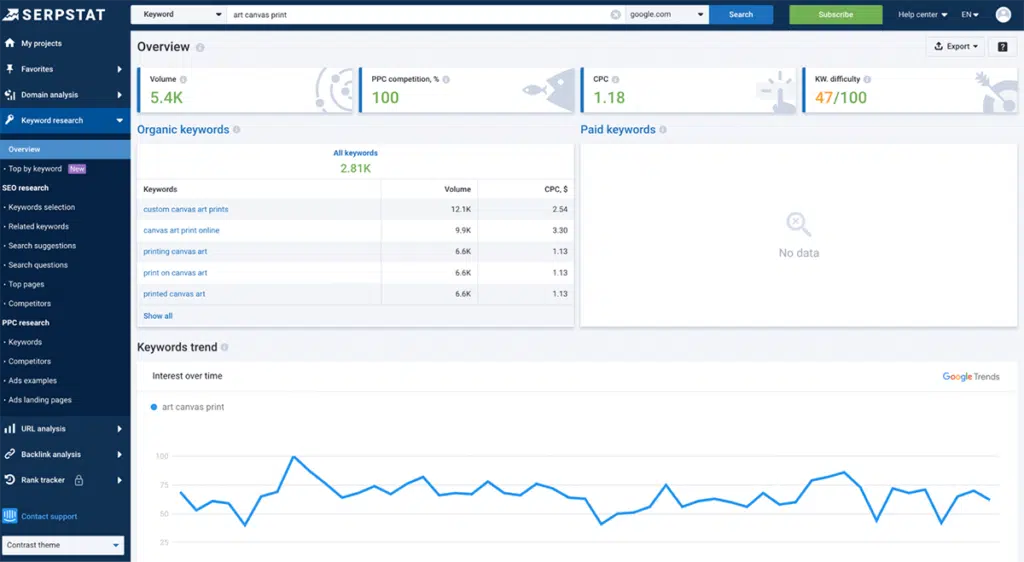 Pricing
Serpstat offers a 7-day free trial to test the tool and its features. If you want to use all Serpstat keyword research tools, including AI-content generator, competitor analysis and site audit tools, then the price starts from $59 for the Individual monthly plan or $50/month if billed annually.
If you want to conduct extensive keyword research for a big website, the Agency plan with 5,000 daily searches for $479 monthly is recommended.
Best Feature: Keyword Clustering Tool
Serpstat's Keyword Clustering Tool can help you automatically group up to 50,000 keywords based on the SERP similarity. You'll get keyword clusters in a few clicks and know what keywords to use for on-page optimization.
SEO PowerSuite
SEO PowerSuite is an all-in-one SEO software designed to help businesses and individuals improve their site rankings.
SEO PowerSuite offers 24 different keyword research tools and seven keyword research methods.
I've only used some tools to conduct keyword gap analysis, discover semantically-related keywords and questions, and conduct competitor research.
The SEO PowerSuite's free version provides a lot of data for keyword research, which should be enough for small websites. However, there is one disadvantage — you have to download and install the software on your desktop.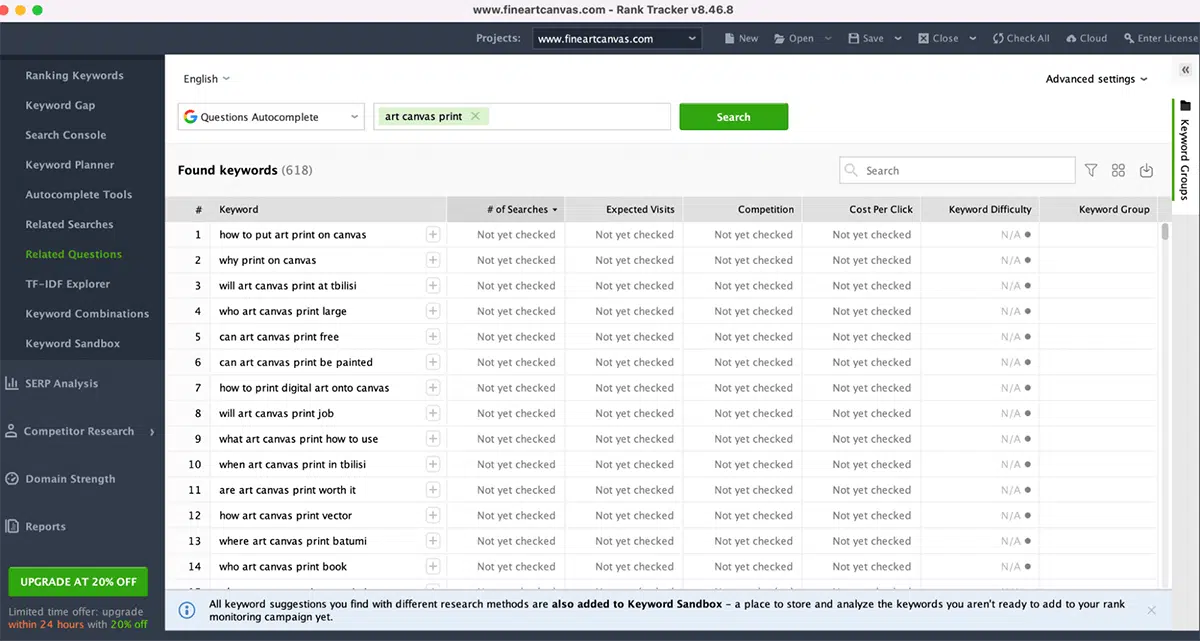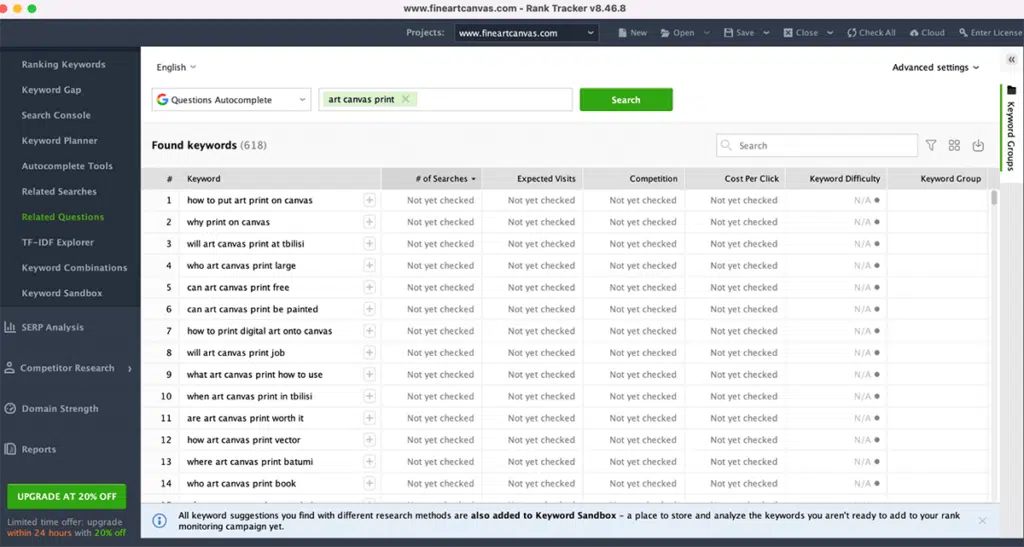 Pricing
SEO PowerSuite is relatively cheaper compared to other SEO tools.
The free version provides basic functionality but comes with limitations. The Professional plan costs $299 annually and covers unlimited keyword tracking, website auditing, backlink analysis, and link building features. There is also an enterprise solution, which costs $499 per year.
There is no monthly subscription fee. Therefore, I recommend trying the free plan and upgrading if the tool suits your needs.
Best Feature: TF-IDF Explorer
TF-IDF Explorer is a tool that helps you identify the most important keywords on a web page. It analyzes the frequency of each word on the page and its importance in the context of the overall web.
Majestic
Majestic is a well-known SEO tool that primarily focuses on providing backlinks and website authority data.
However, they also have the Majestic Keyword Checker tool to help you analyze your website's rankings for specific keywords, which can be used to monitor keyword performance and identify opportunities for improvement.
Even though you can quickly check your website's performance data in Majestic, the keyword research tool is unavailable for free.


Pricing
Majestic is a paid tool that does not offer a free trial. In my opinion, it's challenging to understand whether the tool suits your needs if you have limited access.
The keyword research tool is not available in a free plan. You'll have to pay at least $49.99 monthly or $41.67 annually for the Lite plan to use the keyword generator, bulk backlink checker, and other tools.
The Pro plan costs $99.99 monthly or $83.33 for an annual subscription.
Best Feature: Trust Flow and Citation Flow
​​Majestic introduced the Trust Flow and Citation Flow metrics to measure the quality and quantity of backlinks. Trust Flow focuses on the quality of backlinks, while Citation Flow measures the quantity. You can use Trust Flow and Citation Flow to assess the quality of your own website and your competitors' websites.
WordStream
WordStream is a digital advertising and marketing software company helping businesses manage and optimize their online advertising campaigns.
What I like about WordStream is their free keyword research tool. You don't even have to register to use it and getting a keyword report takes only a few seconds.
The keyword overview report provides data on search volume, competition, and CPC. You'll find it exceptionally helpful if you run search ads and look for new keyword ideas for advertising.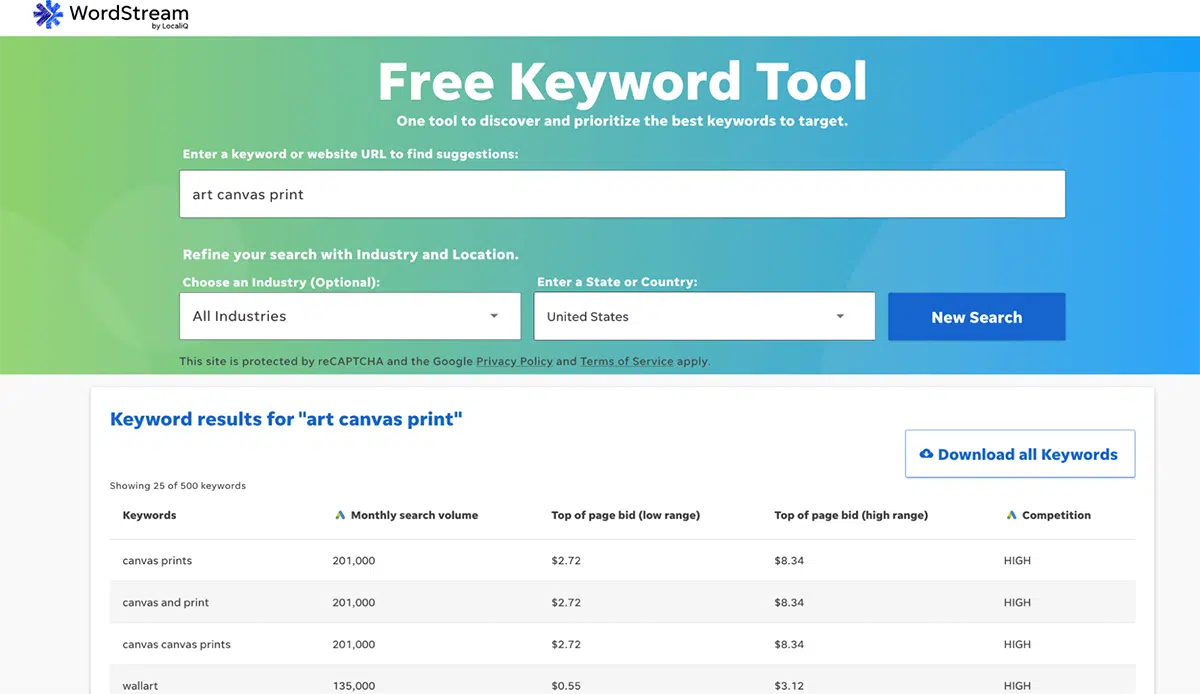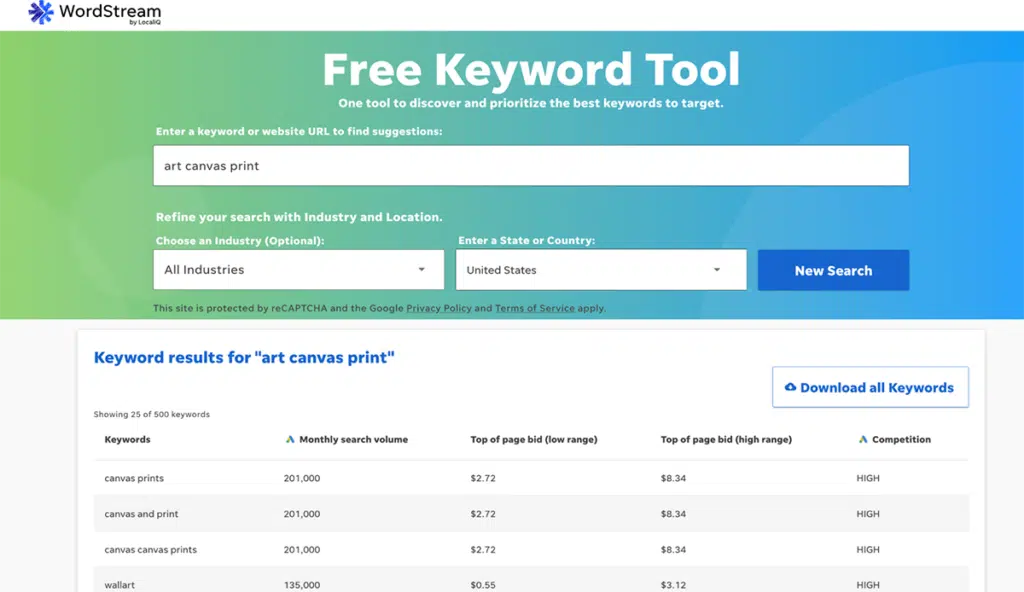 Pricing
WordStream offers many free tools to assess your ad campaigns and find promising keywords. However, it does not have a monthly payment plan we've all got used to. Instead, you can request a free demo to test the tool and decide on the next steps.
Best Feature: Google Ads Performance Grader
The Google Ads Performance Grader is a free tool that can help you assess your ad campaigns on a scale from 0 to 100, keyword selection and optimization, and budget spent.
Moreover, it can help you identify areas where your campaigns underperform and make changes to improve their performance.
SE Ranking
SE Ranking is an SEO tool designed to assist you with keyword research, site audits, backlink audits, and more.
Based on my experience, it's a popular choice for SEO professionals because SE Ranking is easy to use, affordable, and offers various features.
With SE Ranking, you can track keyword rankings, discover new topics with the Keyword Suggestion Tool, and group semantically-related keywords with Keyword Grouper.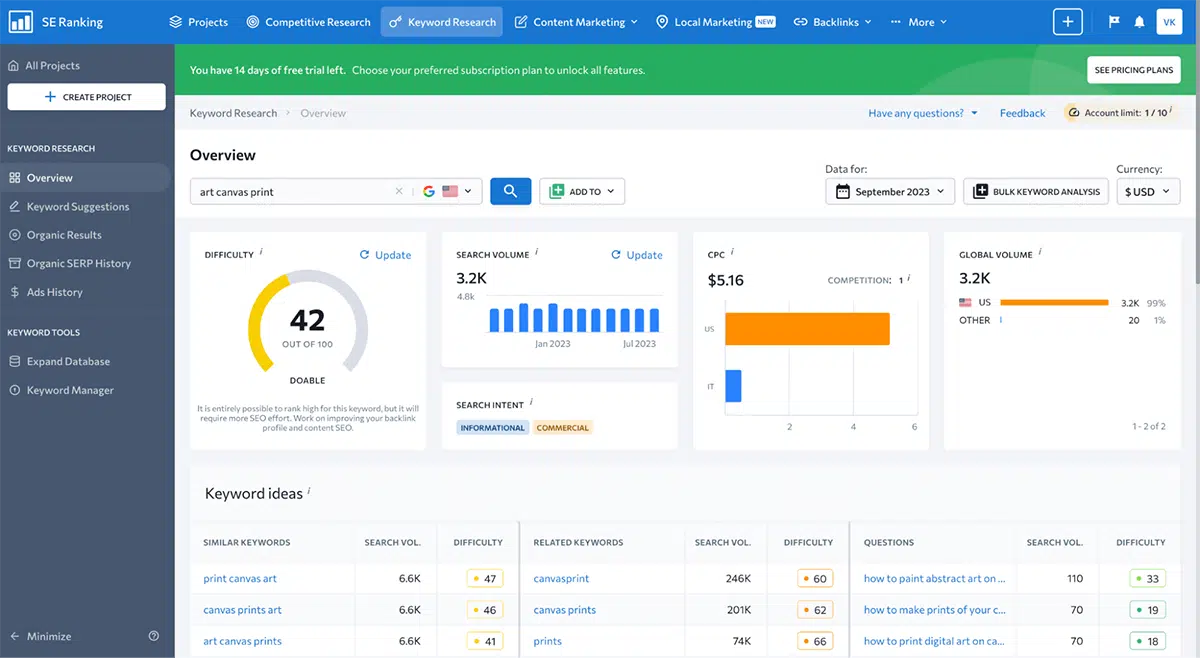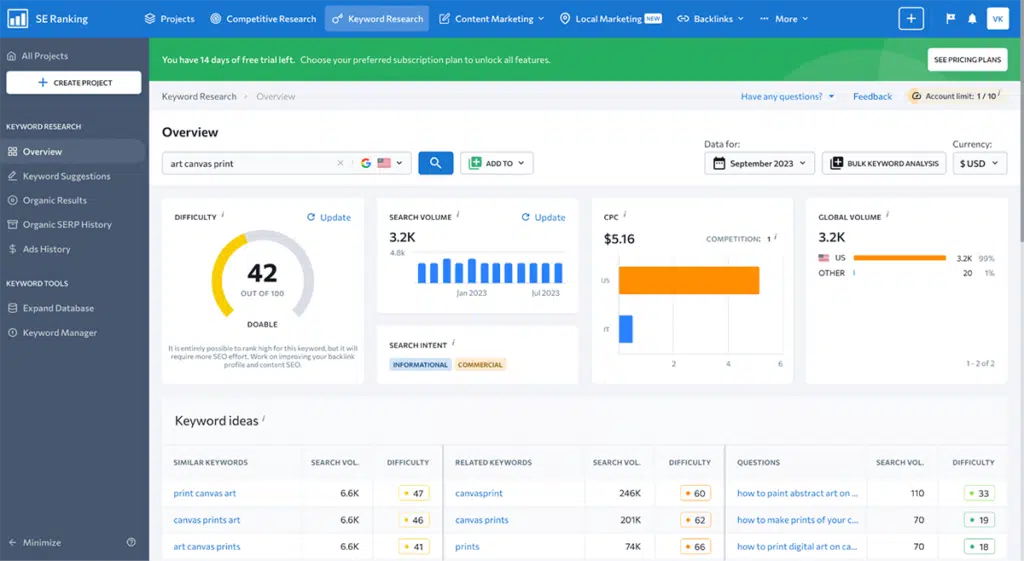 Pricing
SE Ranking is a paid tool with a 14-day free trial. However, it's pretty affordable compared to other industry giants. Site owners and freelancers will benefit from the Essential plan for $39 monthly or $31.20 annually. SE Ranking Pro for agencies costs $89 monthly or $71.20 annually.
Best Feature: Content Idea Finder
Content Idea Finder is particularly beneficial for niche website owners since it helps analyze keywords in your niche and create a content strategy based on collected data.
AnswerThePublic
AnswerThePublic is a keyword research and content ideas tool that can help you discover questions people ask about a specific topic. It uses autocomplete data from search engines to generate a list of questions, prepositions, comparisons, and related searches.
Besides keyword data for Google, you can research the most popular questions for YouTube and Bing.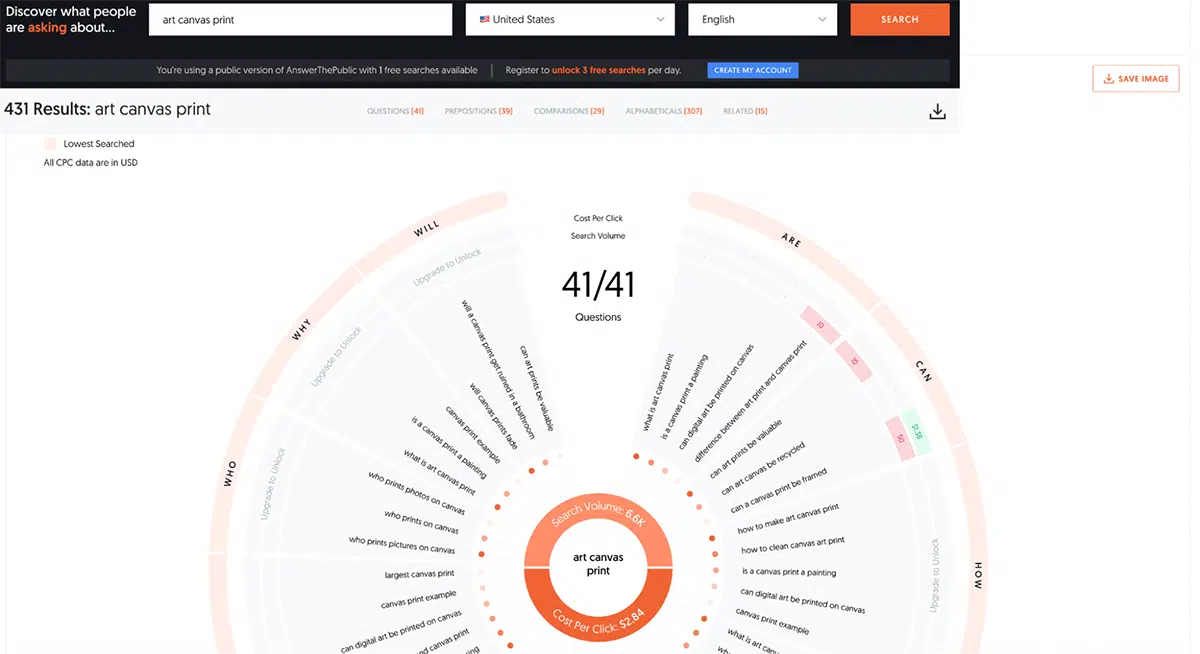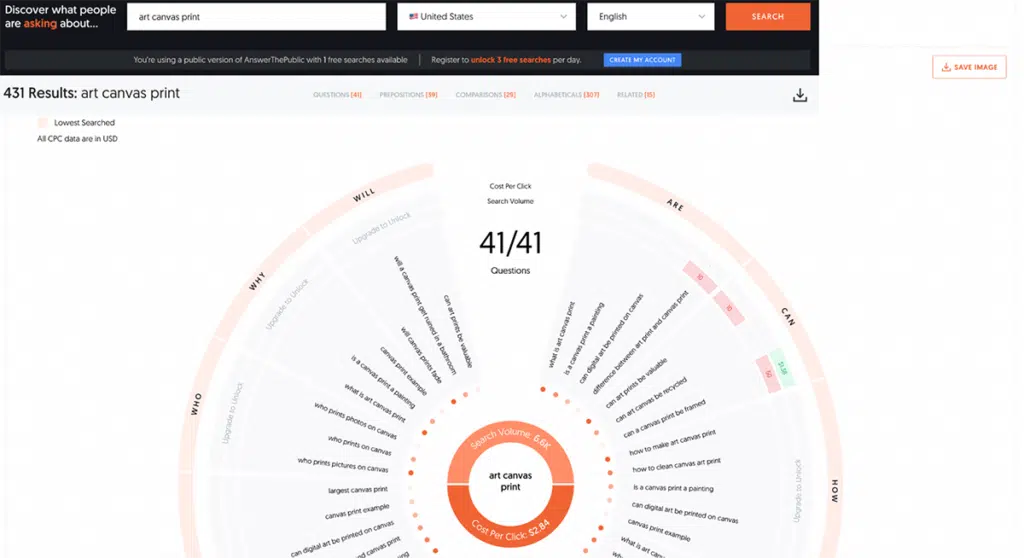 Pricing
You can use Answer the Public for free without registration. Unlike many other keyword research tools, checking the data for your target keyword takes a few seconds.
However, if you want to conduct extensive keyword research, I recommend upgrading to the Individual plan for $9 monthly or $99 for a lifetime with 100 daily searches.
For agencies, there is a Pro plan for $99 monthly with unlimited daily searches and up to 3 users.
Best Feature: Aggregated Suggestions From Search Engines
Answer the Public aggregates users' search queries and shows popular questions, topics, and trends related to your target keyword.
In addition to questions, you'll also find prepositions (pop art canvas print for sale), comparisons (canvas print vs. oil painting), alphabeticals ("canvas art print anatomy" is grouped under A), and related searches.
It's a quick and easy way to learn about your audience's pains and needs in your niche.
SpyFu
SpyFu is a competitor keyword research tool that can help you identify new keyword opportunities, understand your competitors' SEO and PPC strategies, and track your own progress over time.
You don't need to register to check the keyword data. SpyFu quickly generates several reports based on your seed keyword, where you can check organic search volume, CTR, KD, and semantically-related keywords.
Besides SEO, SpyFu provides insights about competitors' ad campaigns, including keywords, ad copies, and ad spent.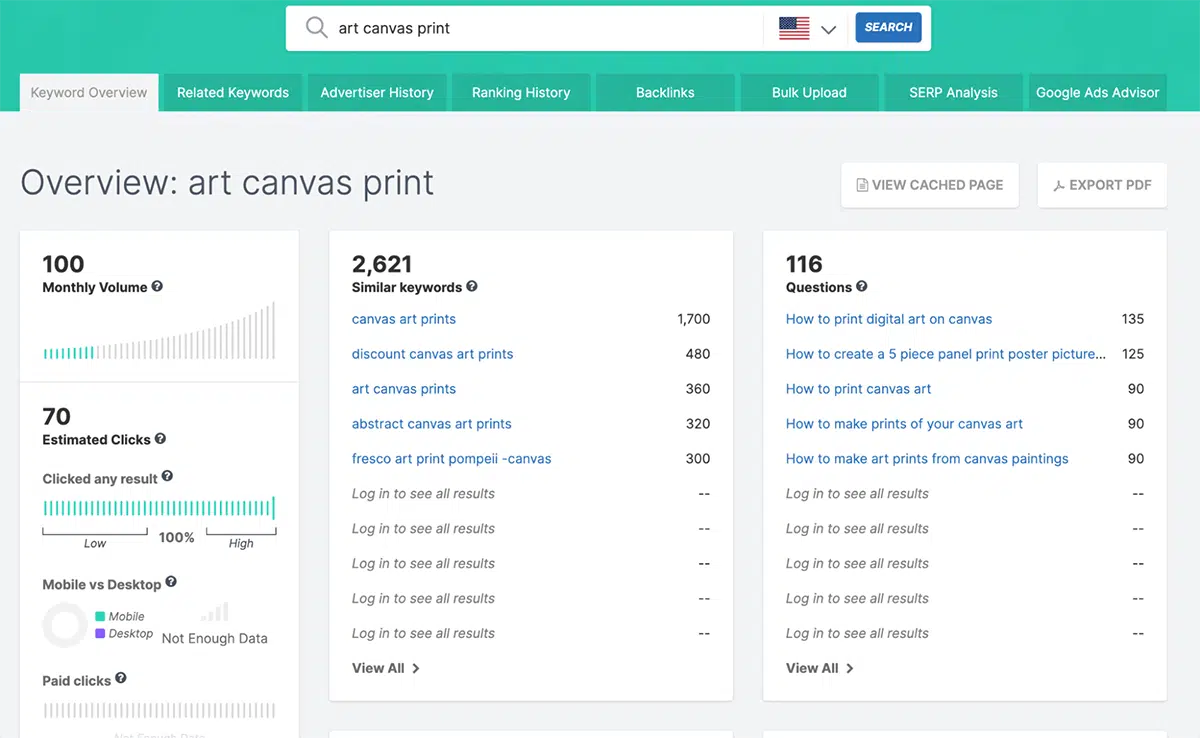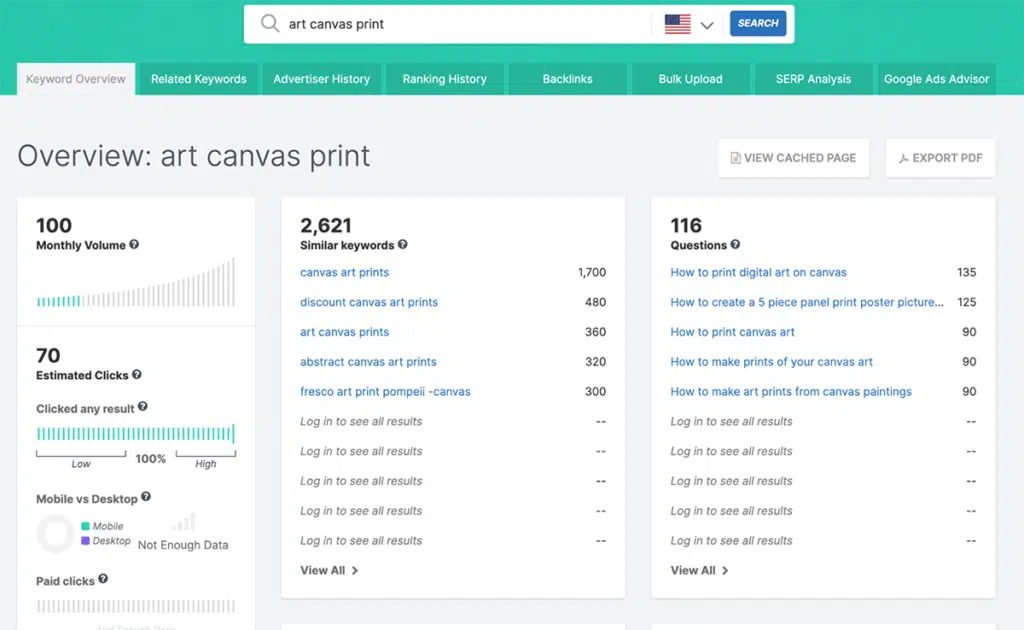 Pricing
SpyFu doesn't offer a free plan or a trial. However, they have a 30-day money-back guarantee policy, so you can try the service risk-free.
The Basic plan costs $39 monthly or $16 if billed annually and is suitable for small businesses with a limited budget. Alternatively, you can pick the Professional plan for $79 monthly or the Team plan for $299 with unlimited search results, data exports, and domain overviews.
Best Feature: Kombat for SEO
Kombat for SEO is similar to the Keyword Gap tool in Semrush. It lets you see what keywords your competitors target and how well they rank for them.
Furthermore, you can also see how your website's keyword rankings change compared to your rivals. Use this information to make better decisions about your SEO strategy.
Long Tail Pro
Long Tail Pro is a keyword research tool designed to help you discover long-tail keywords for your website, which are specific and usually less competitive compared to short and broad keywords.
It's worth knowing that Long Tail Pro aggregates data from Google Ads and Majestic to provide you with average keyword competition, Trust Flow and Citation Flow (Majestic metrics), and bids.
Be aware that Long Tail Pro doesn't show a global search volume metric due to limitations from their data service providers.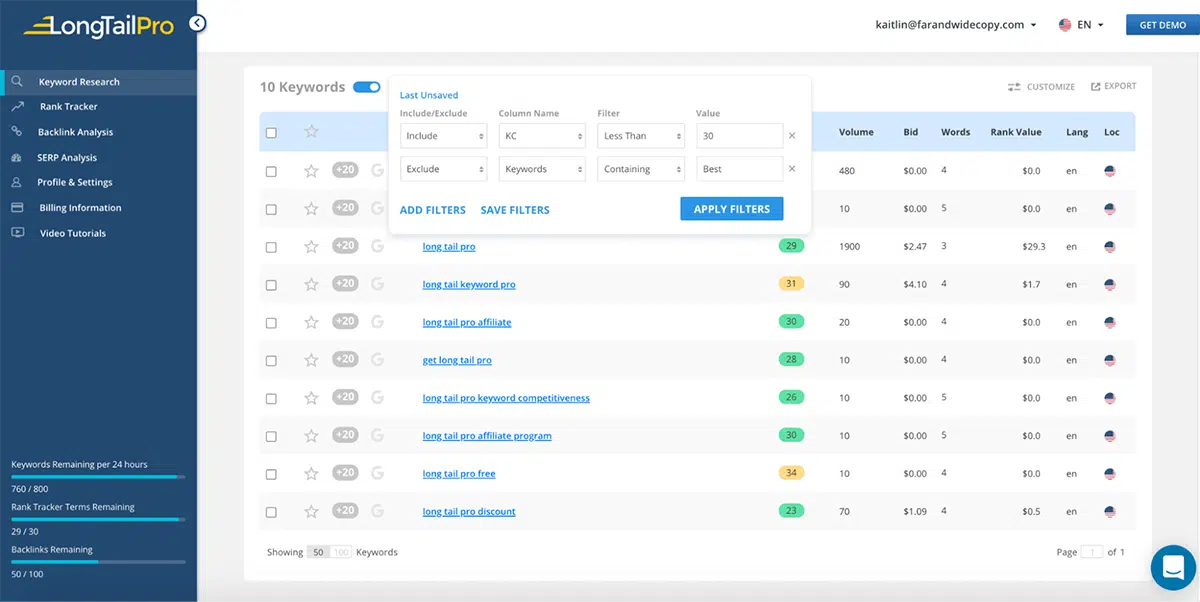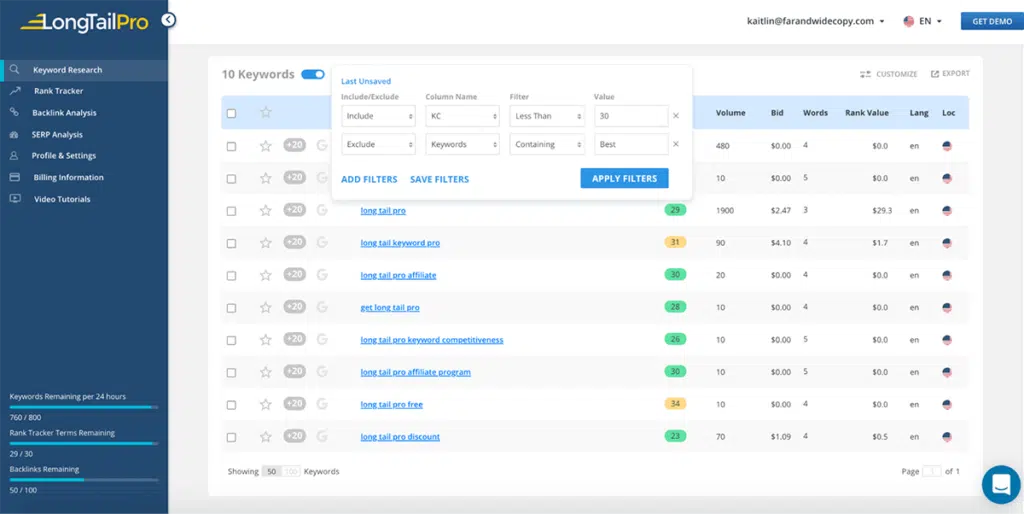 Pricing
Long Tail Pro has implemented Ahrefs' old pricing policy, where a free trial costs $8 for eight days. On top of that, there's no free plan.
The Starter plan will cost you $59.99 monthly or $539.99 annually. The Agency plan includes 6,000 keyword results and 1,000 tracked keywords for $299.99 monthly or $2,699.99 annually.
Best Feature: Long Tail Keyword Research Tool
Discovering long tail keywords with 2–3 words and medium to low competition is a unique selling proposition of the Long Tail Pro. At least, I see it this way.
With Long Tail Pro, you can discover low-hanging fruit keywords that aren't targeted yet or have low competition.
KWFinder
KWFinder is a keyword research tool developed by Mangools, a company offering a suite of SEO tools.
I've used Mangools KWFinder for several projects and found its reports easy to understand and use.
The free plan provides basic keyword metrics, such as search volume in a target country, CPC, KD, search trends, and the SERP overview. However, you'll only get 15 semantically-related keywords. If you need more ideas for your research, you'll have to upgrade to the paid plan.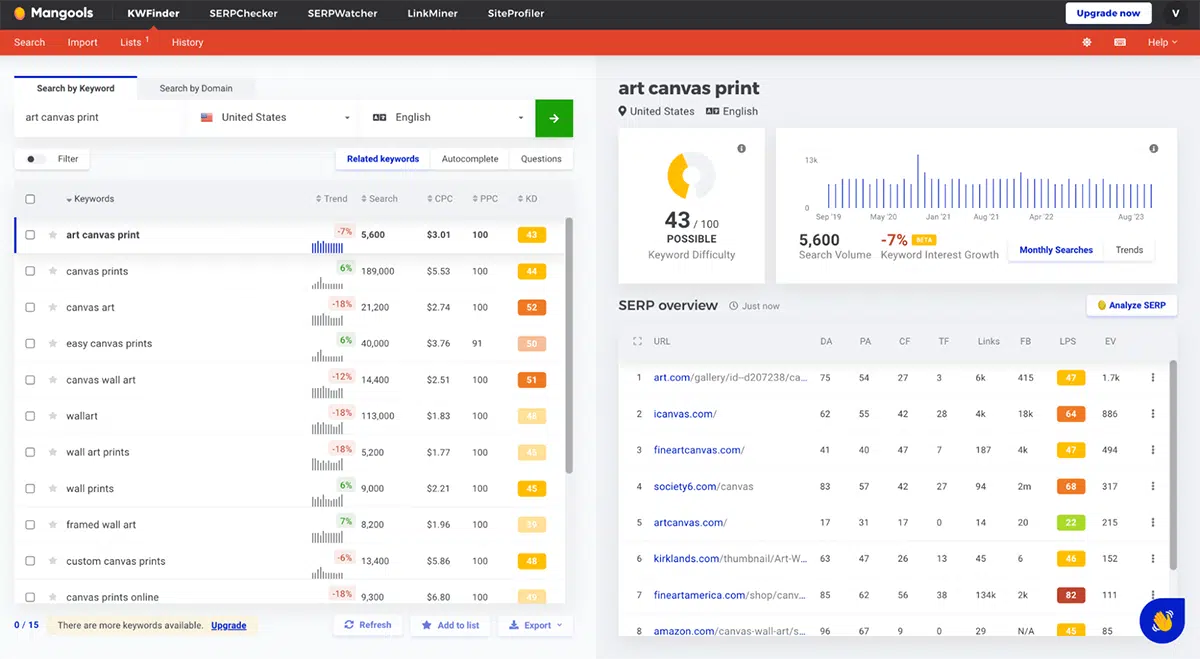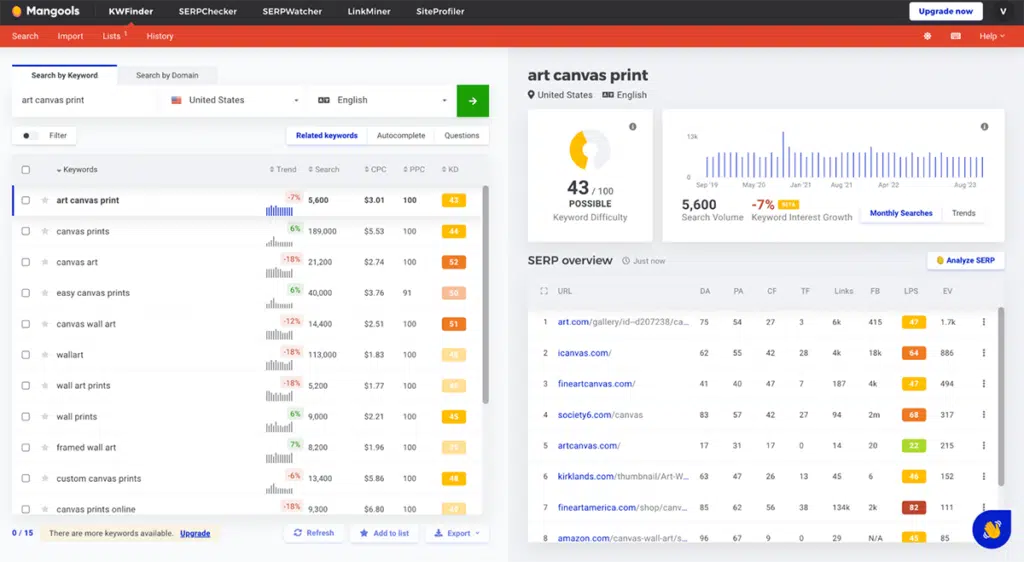 Pricing
The cheapest Entry plan is $29 monthly or $19.90 if billed annually, and is suitable for small website owners and freelancers.
The Mangools Agency plan unlocks unlimited keyword suggestions, competitor keywords, and tracked domains for $129 monthly or $89.90 if billed annually.
Best Feature: SERP Volatility Checker
The SERP Volatility Checker is my favorite Mangool tool, which shows whether any changes happen to Google SERP positions due to algorithm updates.
If the search volatility is high and you observe drastic changes to your website's impressions and traffic, it's likely due to a Google update.
SECockpit
SECockpit is an advanced keyword research tool that you can use to research competitors, find keywords for optimization and bidding, and track your keyword rankings over time for Google, Bing, and Yahoo.
Based on my experience, SECockpit might be overwhelming for SEO beginners due to the sheer number of features. However, SEO professionals will definitely appreciate detailed keyword research reports.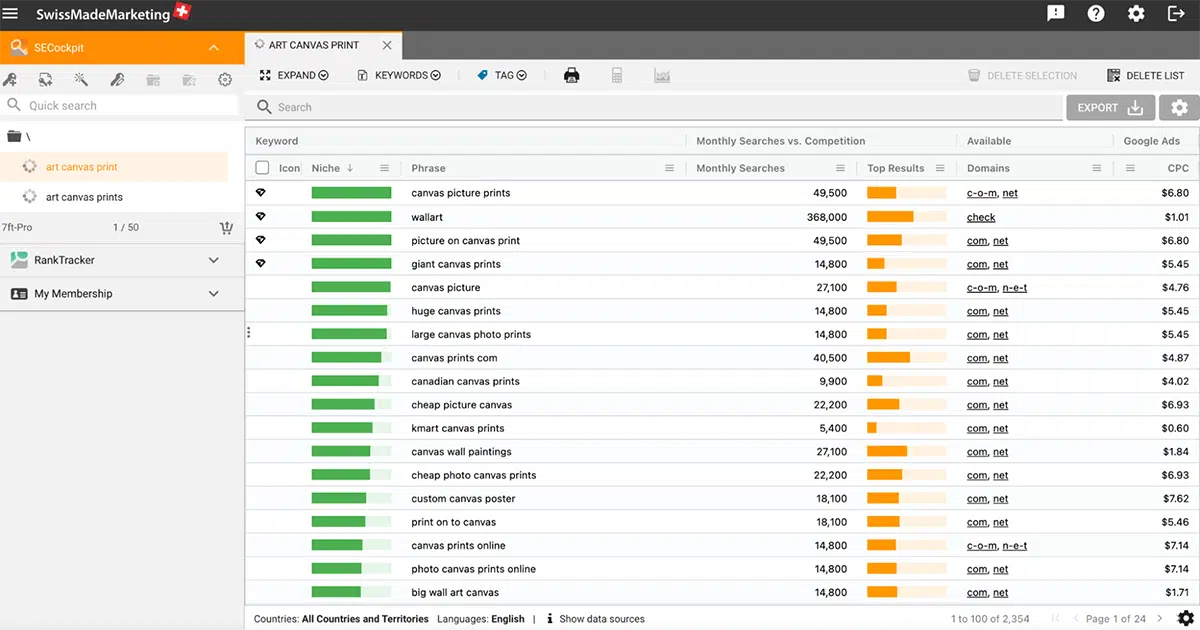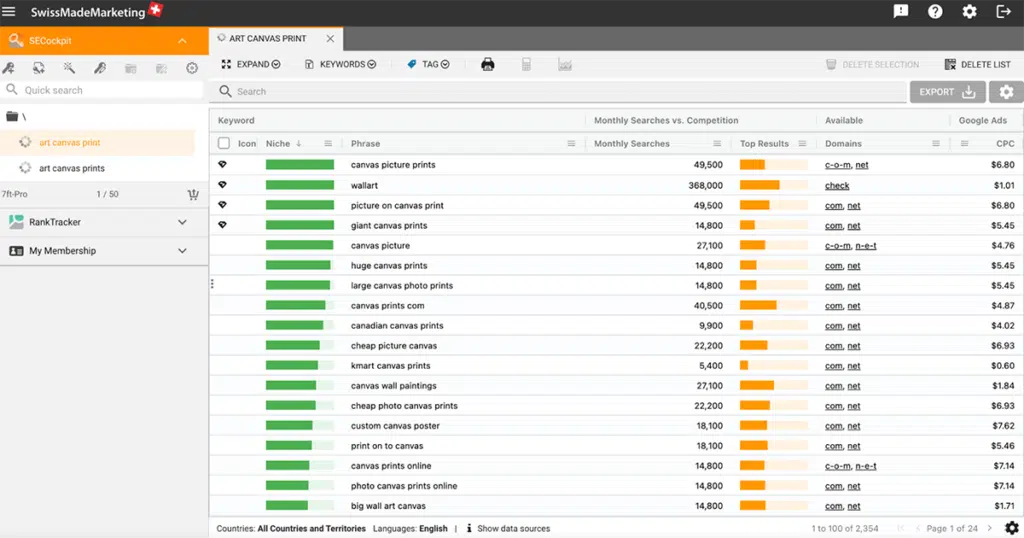 Pricing
SECockpit has a 7-day free trial, but you must link your credit card while creating an account. They won't charge you anything until the free trial ends.
The Personal plan is $39 monthly or $25 if billed yearly for only 10 keyword searches daily. The Agency plan costs $99 monthly or $75 if billed yearly for unlimited keyword searches.
Best Feature: AI Keyword Research
SECockpit has a unique feature I haven't seen in other tools – AI integrated into the keyword research tool to facilitate your keyword research experience.
Instead of manually researching keywords, you can specify what keywords you need, and the tool will automatically research them in the selected language and for the target country.
KeywordTool.io
This one is another Google suggest and related searches scraper, like AnswerThePublic.
Keyword Tool uses Google's autocomplete feature to generate a list of relevant keywords for any topic. It also provides data on keyword search volume and keyword difficulty.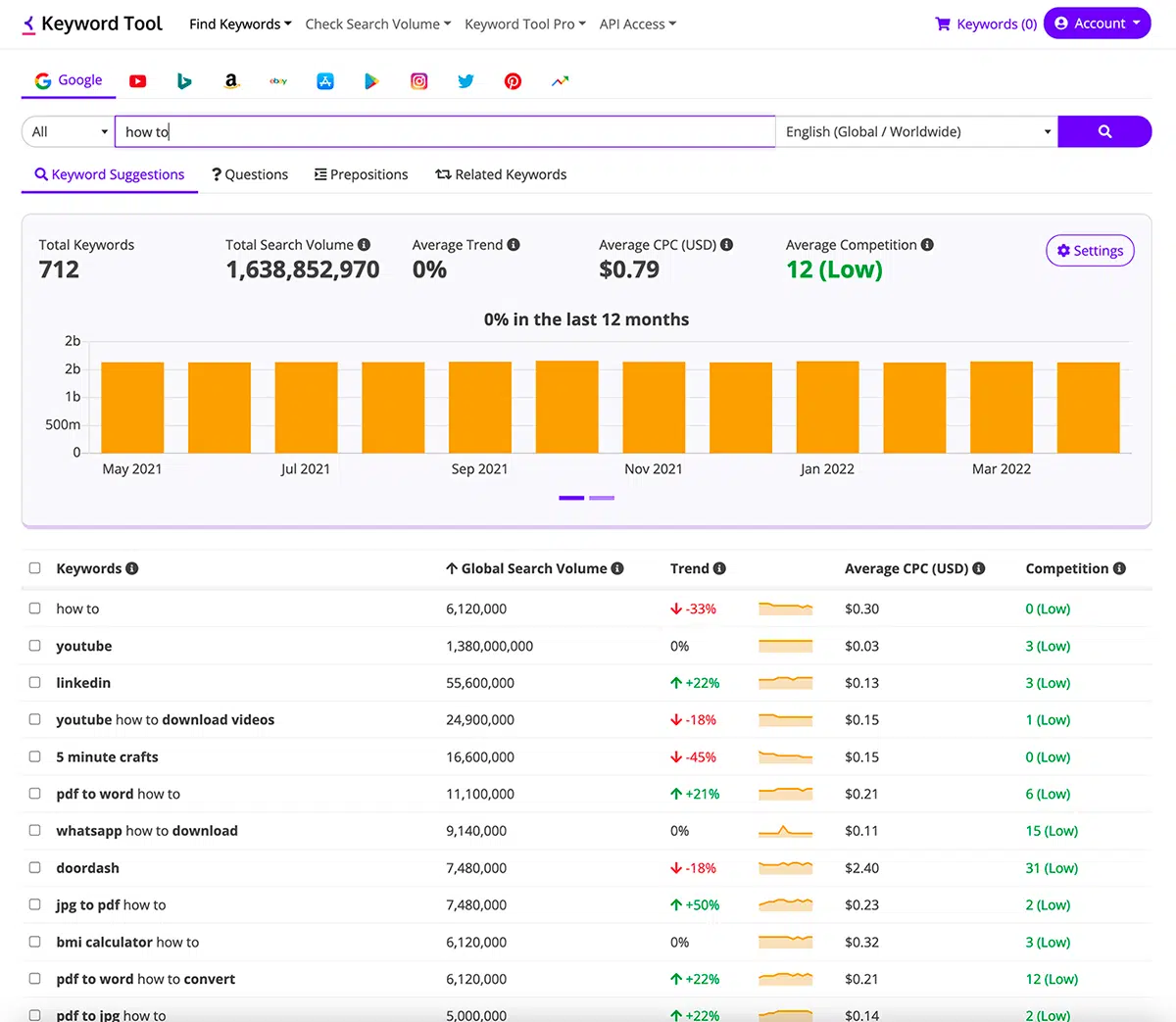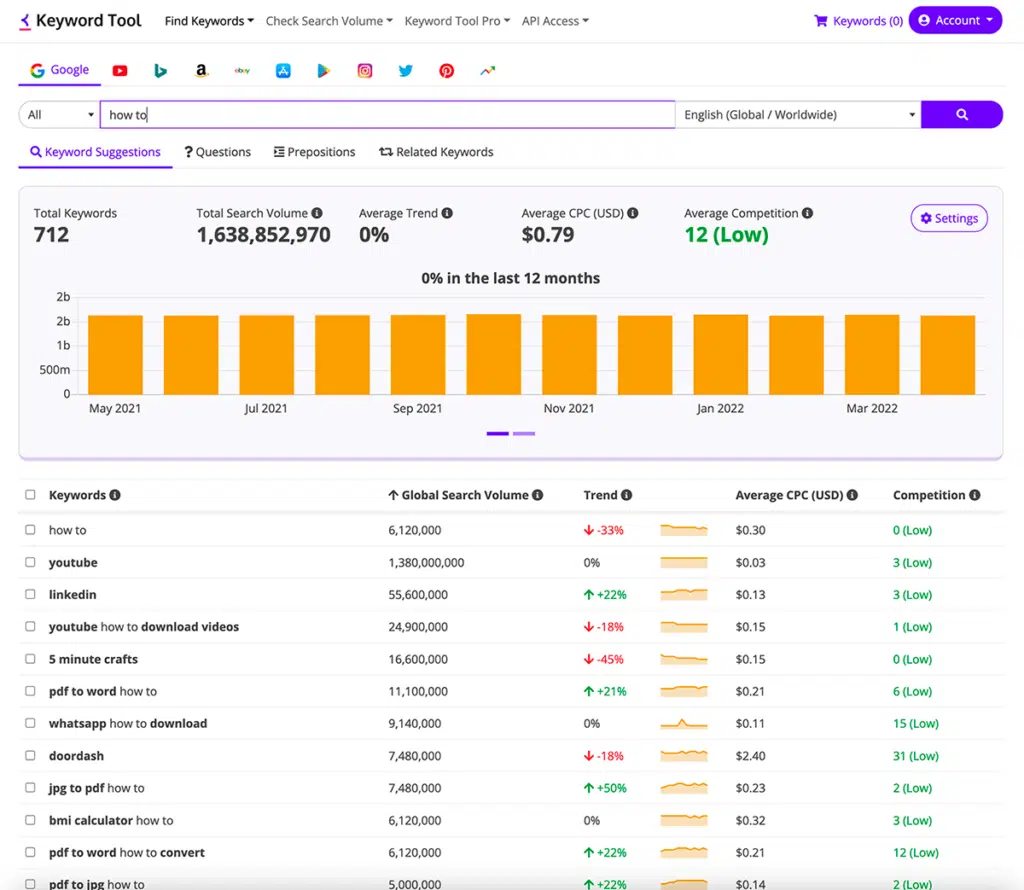 Pricing
Keyword Tool neither has a free plan nor a free trial. You can register for free and run keyword research, but most data will be hidden.
The Pro Basic plan costs $89 monthly or $69 if billed annually for one user account. The Pro Business plan will cost you $199 monthly or $159 annually for 10 user accounts and unlimited data.
If it doesn't meet your needs, you can request your money back within 30 days.
Best Feature: Simultaneous Keyword Research for 12 Platforms
Besides Google, you can also get keyword research data for all these platforms simultaneously: YouTube, Bing, Amazon, eBay, App Store, Play Store, Instagram, Twitter, Pinterest, Etsy, TikTok, and Google Trends.
4 Best Keyword Research Tools (Free)
Even though I am a fan of paid keyword research tools for their accuracy and vast functionality, you can also use free tools for keyword research.
Remember that the data these tools use will not always be accurate, and you won't necessarily have all the metrics to assess keywords properly.
Google Trends
Google Trends is a free online tool developed by Google that allows you to explore the popularity of search queries over time and in various countries and regions.
Even though I prefer Semrush for keyword research, I occasionally use Google Trends to analyze trending topics and understand public interest.
With Google Trends, you can see at what time of the year users start actively searching for your keyword, how popular it is, and what semantically-related keywords exist.
It's a great tool to get started with keyword research, especially if you don't have a big budget.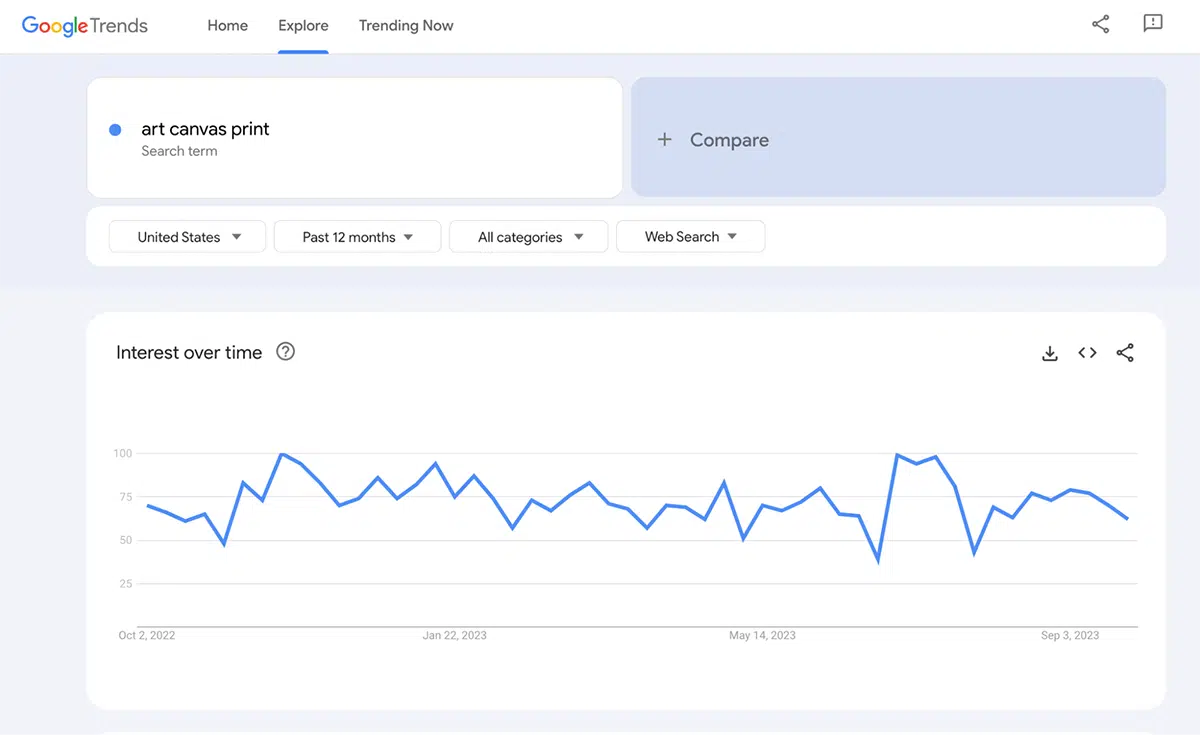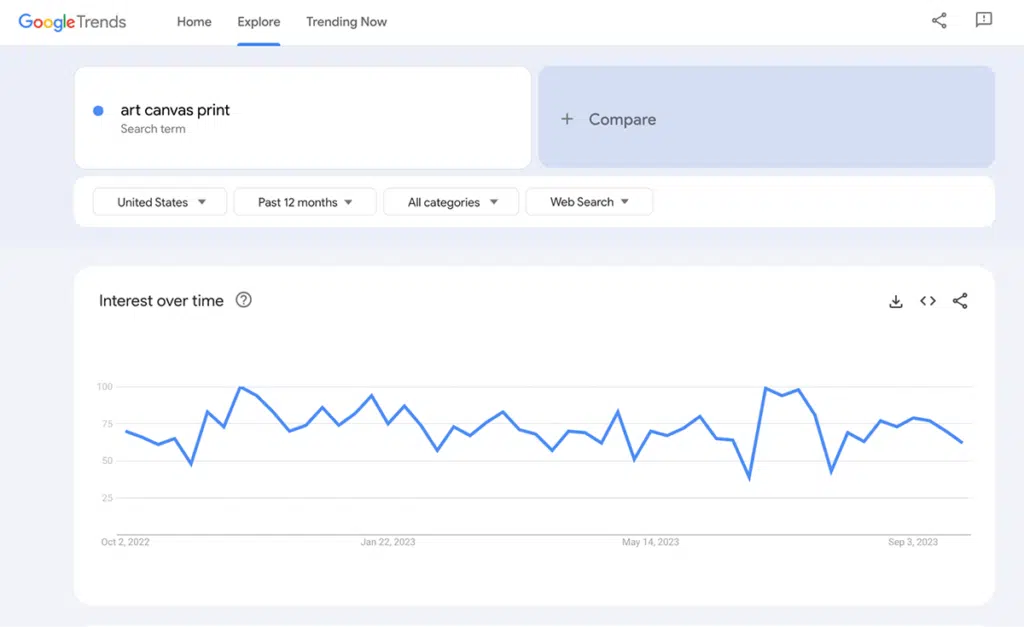 Best Feature: Search Terms Comparison
Google Trends lets you compare search volumes in different regions of one country for up to five keywords. This information can be helpful in ecommerce for understanding the popularity of different products or identifying trends in users' search behavior.
Google Keyword Planner
Keyword Planner is one of Google's free tools for paid search advertising. You can use it to find new keywords, research existing keywords, and get bid estimates.
I've used Google Keyword Planner only once when managing the client's ad campaigns.
With Keyword Planner, you can see the average monthly searches for a particular country and language, the level of competition in the paid search results, the lowest and highest bids.
Please note that the Keyword Planner data is valid for paid search only. You should not rely on this data while planning your SEO campaigns.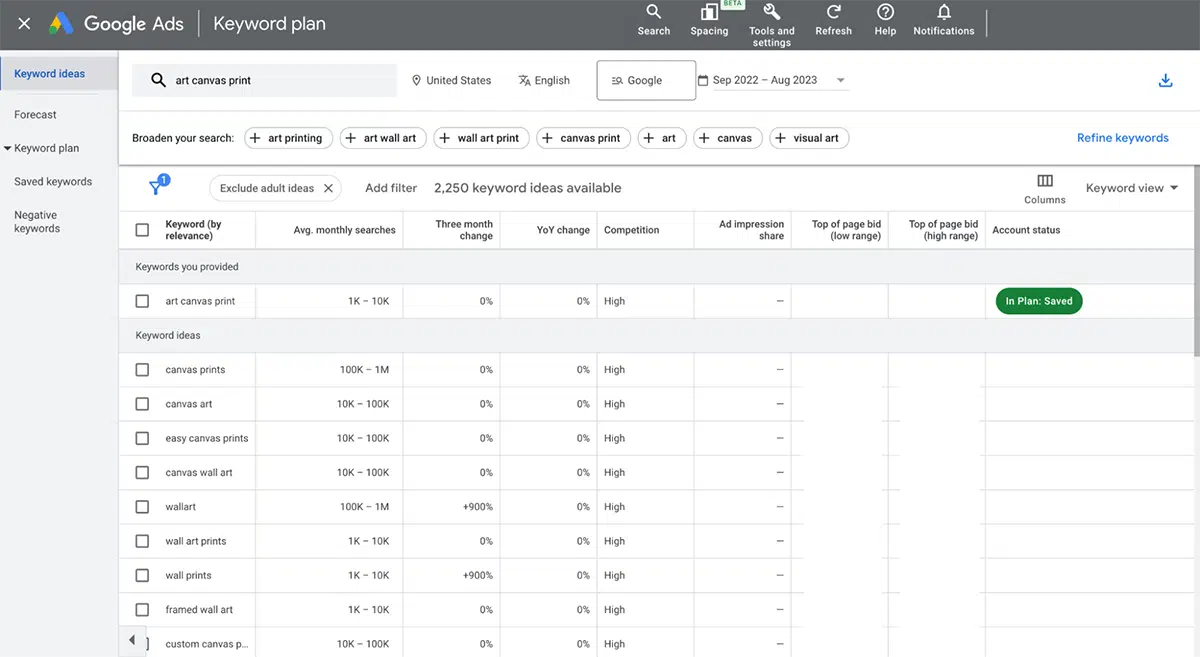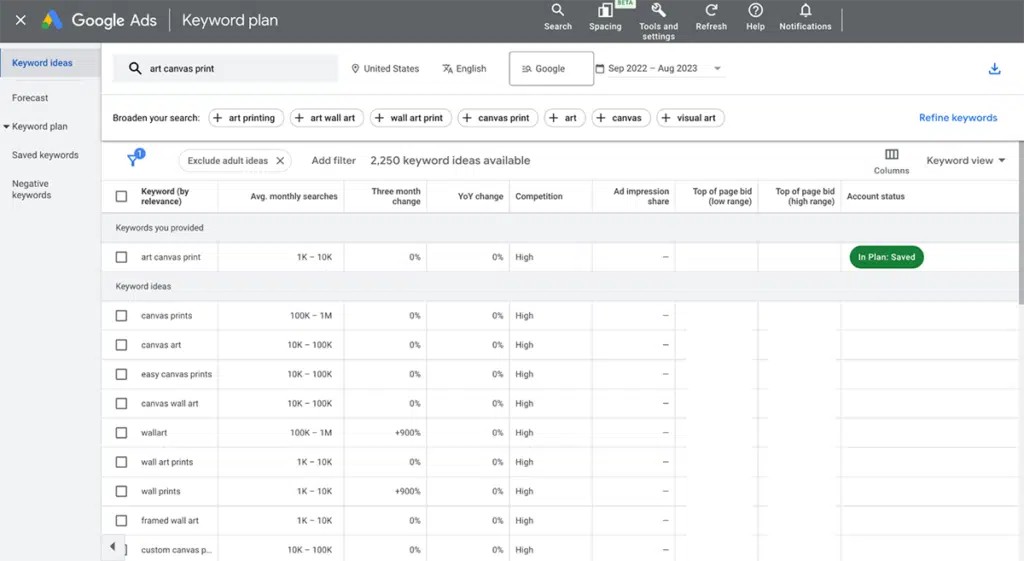 Best Feature: Keyword Ideas
If you run out of keyword ideas or want to add new keywords to ad campaigns quickly, you'll find a list of semantically-related keywords in the Keyword Ideas report (see screenshot above).
I recommend paying attention to the keywords with medium to low competition and 1,000+ search volume.
Keyworddit
Keyworddit is a free keyword research tool that pulls keyword ideas from titles and comments of Reddit threads. It is another free way to find keywords relevant to your niche people search for.
Note that the monthly search volume is just an estimate. Besides, the tool doesn't provide other essential metrics, like keyword difficulty and search intent.
Nevertheless, you can export keyword ideas from Keyworddit and analyze them through a different keyword research tool to get keyword data and find even more semantically related keywords.
I omitted the best feature description because Keyworddit does not have any features except for a simple search.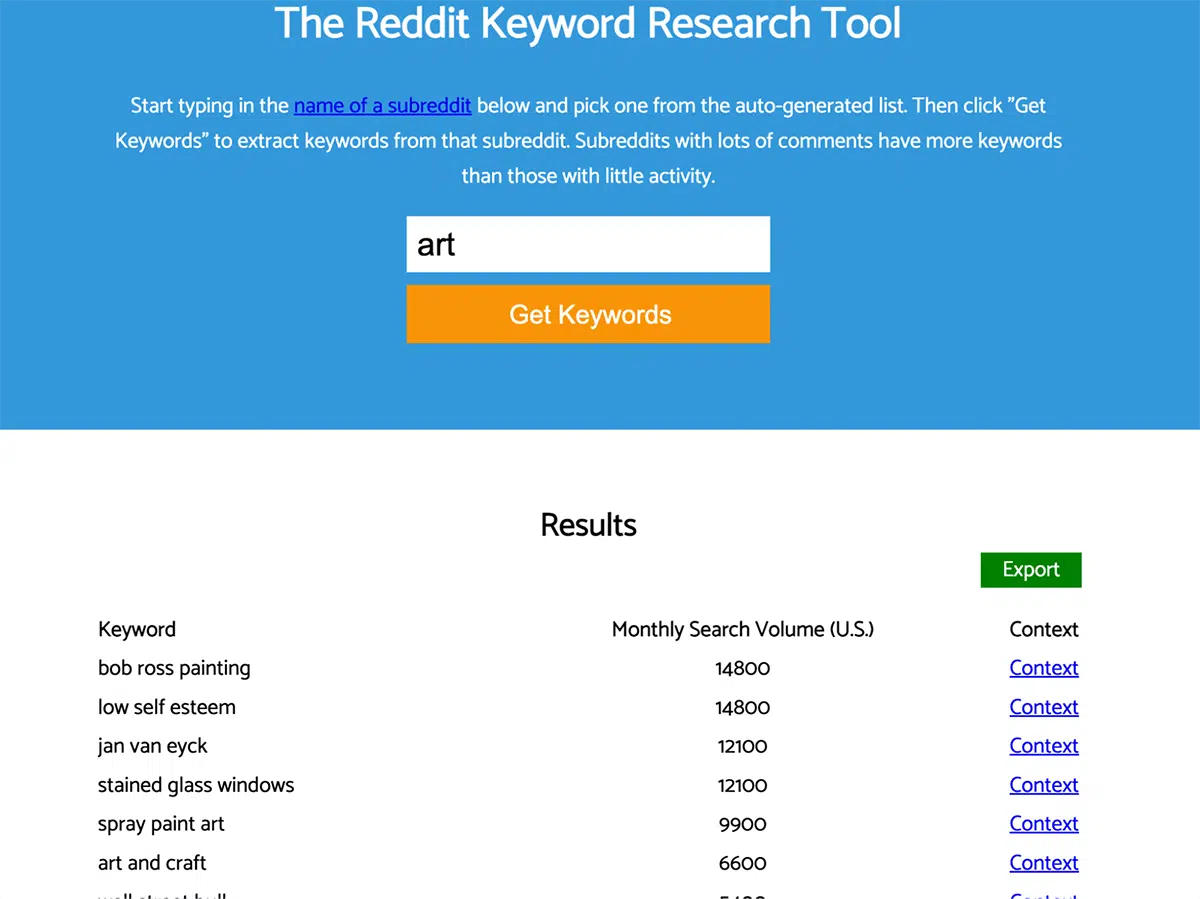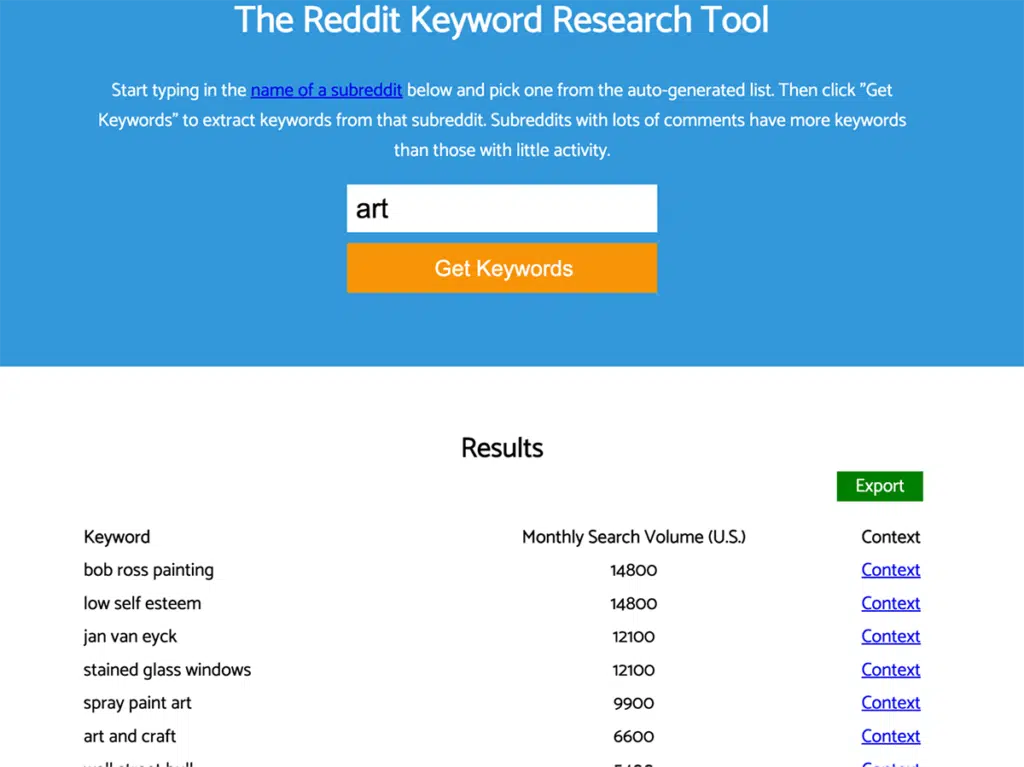 ChatGPT
Last, but not least, is ChatGPT. Something tells me you've already heard of it.
You can use ChatGPT to outline articles, create catchy titles, write FAQ sections, and more. It can even generate keyword ideas for your topic. Note that the output will heavily depend on your prompt. So, ensure it's precise.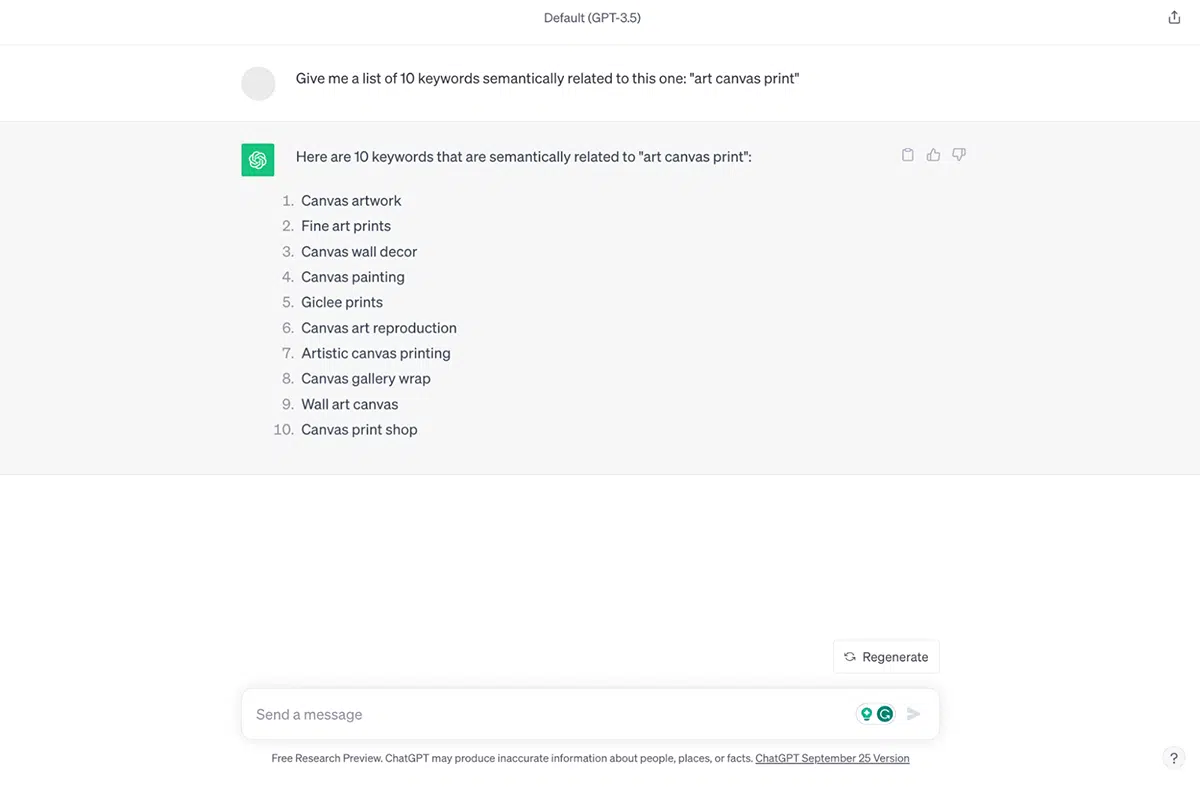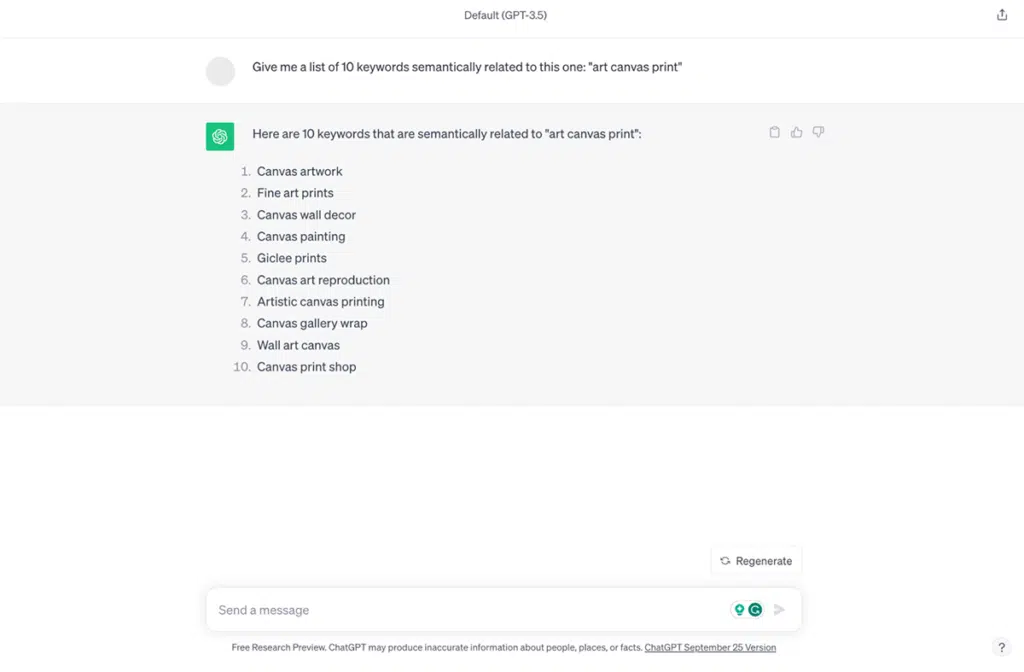 Wondering Which Is the Best Keyword Research Tool for You?
There you have it! A review of the 18 best keyword research tools.
They all can help you achieve the same goal — discover easy-to-rank-for keywords with decent volumes and business potential — but in different ways.
If you were to ask me which tool to use, I'd choose Semrush. Even though it's a paid tool, you'll get a powerful toolkit for competitor keyword research and analysis.
Semrush has one of the most extensive keyword databases on the market and a higher data accuracy level than competitors.
Try Semrush's Keyword Research Toolkit for free today!