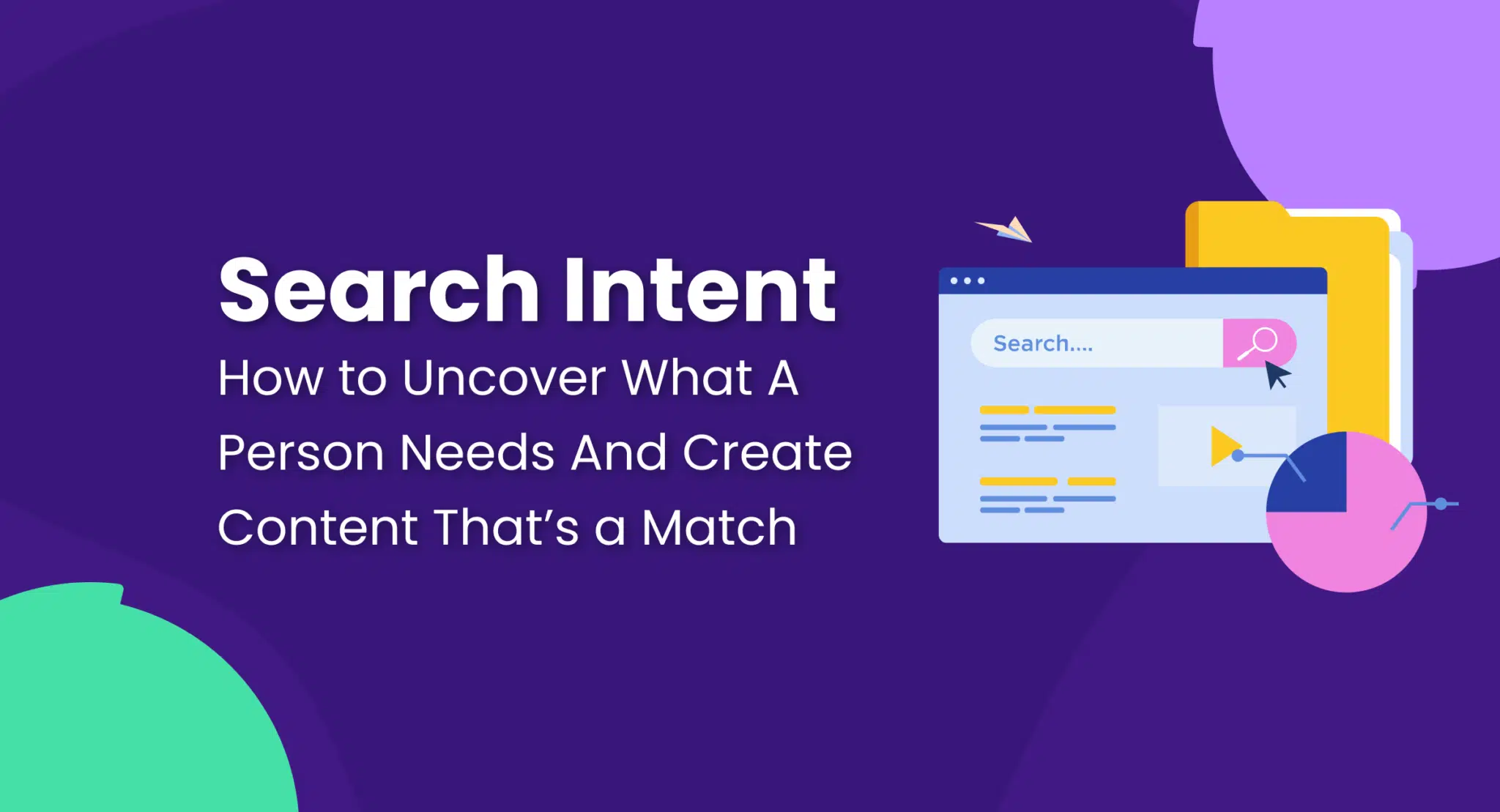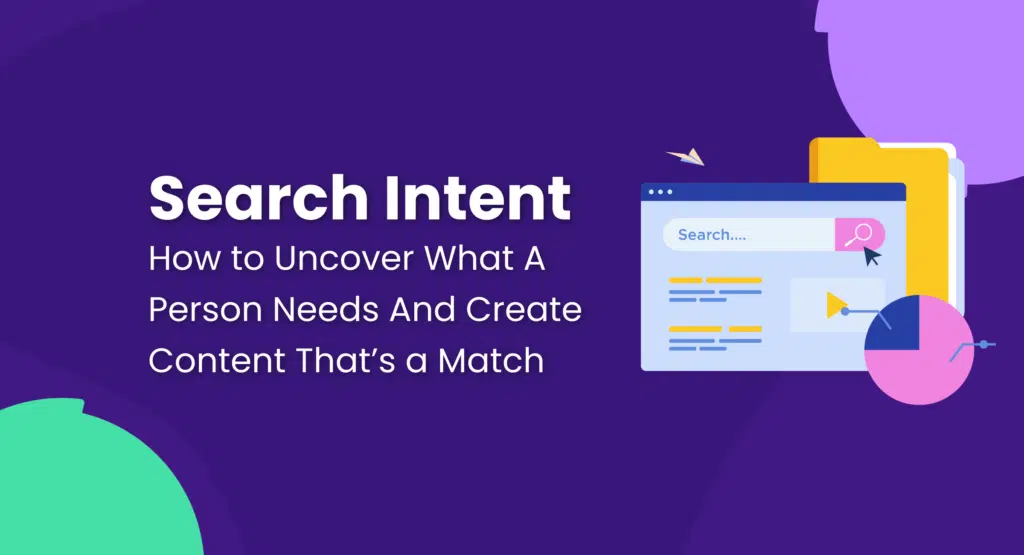 Search intent is not particularly exclusive to SEO.
Think about it. When you walk into a shop, you're in a particular phase of your journey as a customer.
Let's say you're just looking for information about a certain product or want to compare some different options. If a store employee ignores your questions and immediately gives you a high-pressure sales pitch to buy one of the products, you're going to be turned off.
When you're ready to buy the product in the future, you might even go to a different store to get it because the experience was so annoying.
On the other hand, let's say you've already done your research before you go into the shop and you're ready to buy a certain product. When you go to get it, you don't want the salesperson to relay all of the features or show you different options. In this case, that would be annoying. You want to swiftly make your purchase and go on with the rest of your day or night.
When a customer is face-to-face with a salesperson, the salesperson needs to assess where the customer is in their buying journey and then meet them with the right experience.
Online, the SEO copywriting on your pages and blog posts needs to give a visitor the right experience, because Google is the "salesperson" that guides them to your website.
What Is Search Intent?
While a person might not always consciously be aware of the type of search they perform online, Google has been keeping track.
The search engine wants to serve up pages that are the most closely related to what a person needs to find. Keyword intent is the same concept as user intent or search intent, and it helps Google do this. Search intent is Google's way of recognizing why a person performed their search.
Here are the four main categories that we'll explore further in a little bit:
Informational
Commercial
Navigational
Transactional
The name of each type of search can immediately start painting a picture of what each category represents.
For example: If someone has an informational search intent, Google wants to be the "salesperson" that connects them to the right experience that answers their concerns or questions. If someone has a transactional search intent, Google wants to directly show them purchase options.
Why Knowing Search Intent Is Critical for Effective SEO
If you want to rank better in search results to attract more of the right prospects to your website, it's time to start crafting your content around search intent.
Google also calls this the meaning of your query:
"To return relevant results, we first need to establish what you're looking for ー the intent behind your query. To do this, we build language models to try to decipher how the relatively few words you enter into the search box match up to the most useful content available."
– Google's How Search Works Guide
It's your job to think about the journey that stems from their search:
Is their goal to perform research?
Do they need to find a specific page on a website?
Are they ready to make a purchase?
Once you know the purpose of their search, you can make sure your blog post or landing page has the details that keep them on your site. This improves your on-page time, because when someone is engaged with your content, there's no reason for them to bounce.
Types of Search Intent
While you might be tempted to guess search intent, it's easy to guess incorrectly. (There's an example of this in the Transactional section below). So, it's much more effective to get a definite answer.
As I mentioned in my Semrush review, the Keyword Magic Tool is indispensable if you want to uncover new keyword opportunities.
Let's look at four specific search intent examples, all based around the keyword phrase "toyota celica."
I drove a Toyota Celica when I was in high school. I think I got it up to 140 miles per hour and the car went through seven engines, but that's a story for another time …
By reviewing each of these categories, you'll see why your SEO campaign will benefit from an accurate assessment of search intent.
Informational
"Toyota Celica" has an informational search intent.
Even though the search was not phrased as a question, Google understands that most users want more information about this term. The user might want to find out about the value of the car, its reliability, and whether or not it would be a good investment. The top results Google displays will have this type of information. In addition to text, they might also want images and videos.
In the Keyword Overview results in Semrush, there's a section for "Intent" next to "Global Volume" and above "Trend."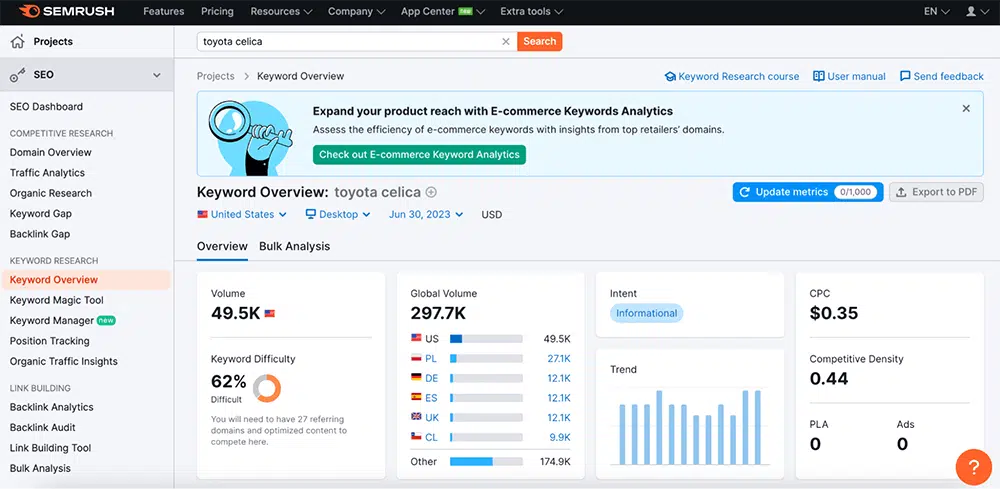 This type of content is important for the awareness phase of the buyer's journey. It's your opportunity to answer questions and become the most trusted and accurate resource on a topic. (You definitely want to remember that when you choose competitor keywords to target.)
The better experience that you can provide during this phase, the more likely a site visitor will choose your product or service when they're ready to make a purchase.
Commercial
Let's branch off from our "Toyota Celica" search to see an example of a commercial search intent.
Here's the Keyword Overview page for the phrase "car painting service."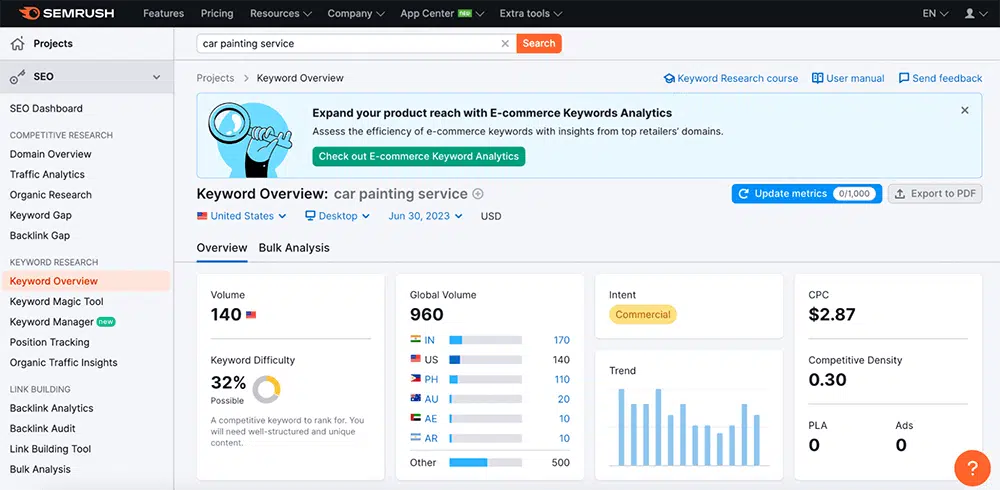 If your Celica needs a fresh coat of paint, you'll likely look up the best "car painting service" or "car painter" in your area.
Commercial intent is important for customers doing research because they're ready to make a purchase in the near future. You want to show that you're better than your competitor by providing a great experience for someone at this stage.
Now, it's often difficult to rank for commercial keywords. Google recognizes that product and company review sites are often the best matches for commercial search intent. See, I told you Google has been keeping tabs (no browser pun intended).
Ready for a cool tip?
Semrush's Surround Sound can help your site get in front of the right prospects.
Navigational
Navigational search intent is important for both:
Visitors who are already familiar with your product or company
Returning members (for membership sites)
Repeat buyers
Let's say that during your "car painting service" search, you discover the company Maaco. After you browse a few other companies, you want to return to Maaco to get a free estimate.
This time, you'd search for "Maaco free estimate" because you want to go directly to their free estimate calculator.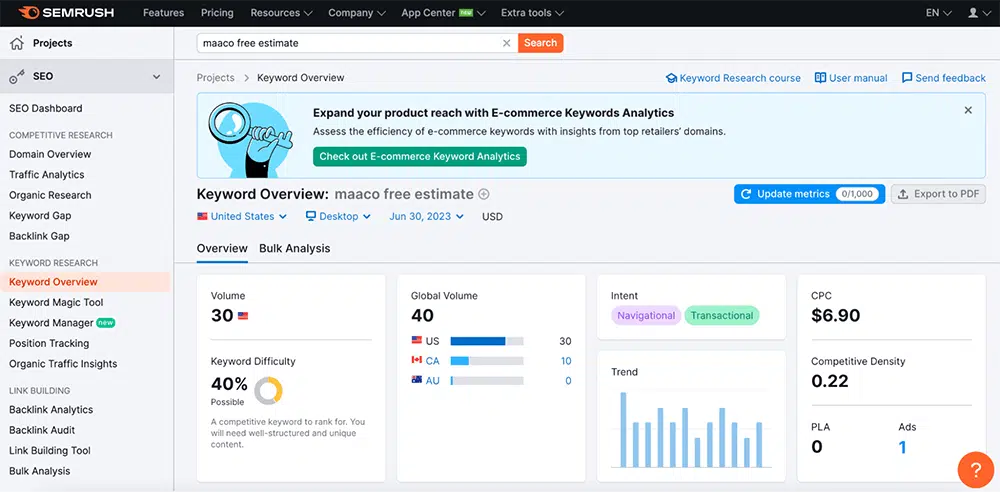 A person's search is navigational if they know the website they want to go to, but don't know the exact URL to type. To properly brand your site, make sure it can be found in navigational searches.
And as you can see in the screenshot from Semrush above, Google also recognizes this search as "transactional" because the user is farther along in their customer journey and almost ready to make a purchase. Which leads us to the last type of search intent …
Transactional
Finally, as you might have guessed, a transactional search is a phrase like "toyota celica for sale."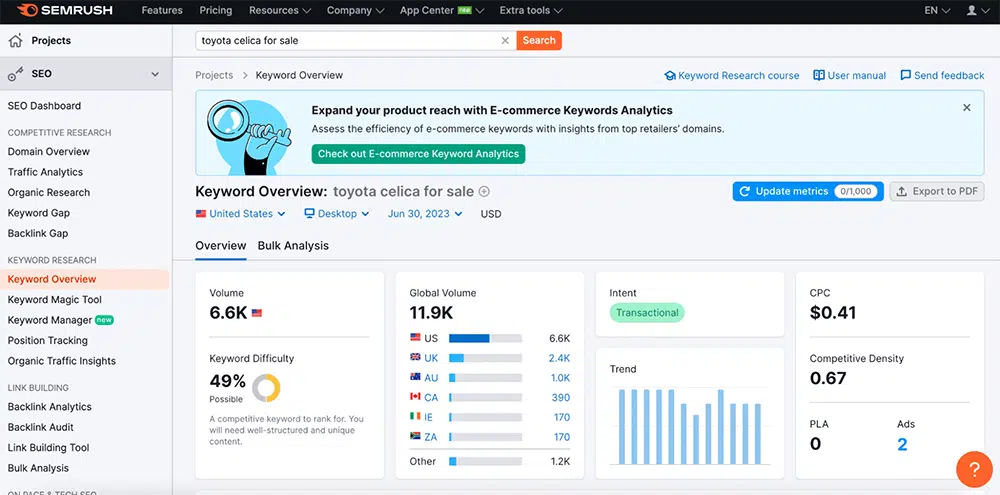 Another transactional keyword phrase is "used toyota celica."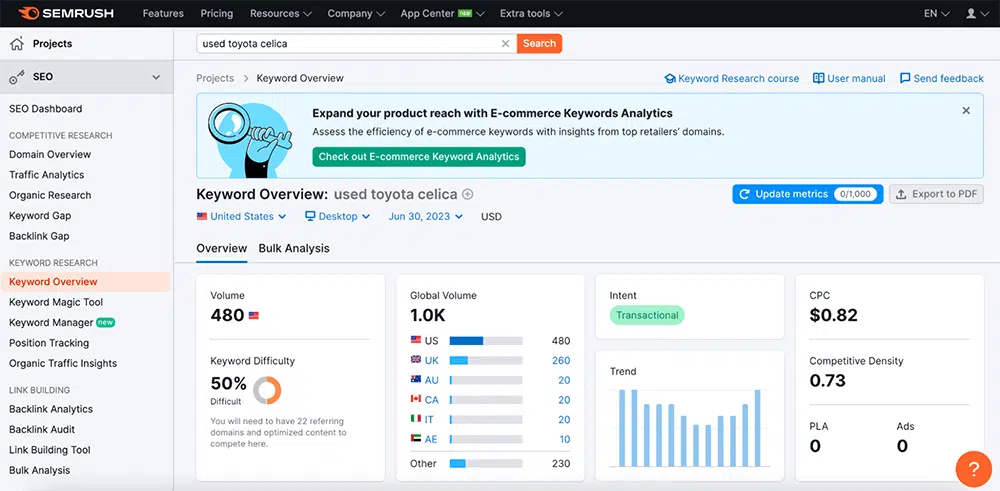 Here's an instance where you might have guessed that "used toyota celica" has a commercial search intent because someone could be researching used cars for sale.
But you would have guessed incorrectly, according to the information that Google has gathered. Remember, it's better to check.
This type of search intent is important for someone aware of your product and ready to buy right now. Depending on the long-tail keywords used in the search, content related to transactional searches might be customized for return/repeat customers.
How to Pinpoint Search Intent
Determining search intent will help ensure that the content you craft around a certain keyword phrase is the type of page Google wants to suggest.
To get you in the habit of assessing search intent for your SEO campaigns, let's now look at a few search intent guidelines.
Review Standard Keywords for Each Type of Search
Even though there are many variations, several standard phrases are associated with each type of search.
Informational: For informational intent, keyword SEO indicators could be single topics, as in our "Toyota Celica" example, as well as questions with "when" and "where," and the phrase "how to."
Commercial: For commercial searches, look for terms such as "reviews," "best", "versus", and "compare."
Navigational: For navigational searches, look for specific product or company names along with terms such as "log in," "contact," or "return policy."
Transactional: For transactional searches, look for specific product or company names along with buyer keywords such as "buy," "purchase", "for sale," "discount," or "trial."
When you keep these examples in mind, you'll start associating all of the keywords you research with their corresponding search intents.
Understand the Buyer's Journey
As you can see, understanding the buyer's journey will certainly help you craft precise SEO strategies that increase your chances of natural, automatic link building.
If you write blog posts to attract visitors to your site, you're going to be focused on satisfying informational search intent most of the time. Your content will help you educate your prospects and build trust.
Landing pages and product pages will be focused on the commercial and transactional searches of informed users who are ready to buy.
Your Go-To Search Intent Tool
We've already seen how the Keyword Overview feature in Semrush alerts you to the search intent of a keyword, but your go-to search intent tool will definitely be the Keyword Magic Tool.
The Keyword Magic Tool is the ultimate way to identify keyword opportunities that match the type of content you need to publish on your website.
For example, let's say you're doing SEO for a car painting business that specializes in painting Toyotas and also sells touch-up paint. Anyone who cares about getting their Toyota Celica painted by an expert would love to find out about this service. Similarly, it's a great resource for finding the exact paint color they need for their Toyota if they want to paint it themselves.
Searching "toyota painter" in the Keyword Magic Tool gives you a huge list of keywords to choose from, along with their search intent, volume, keyword difficulty, cost-per-click, etc.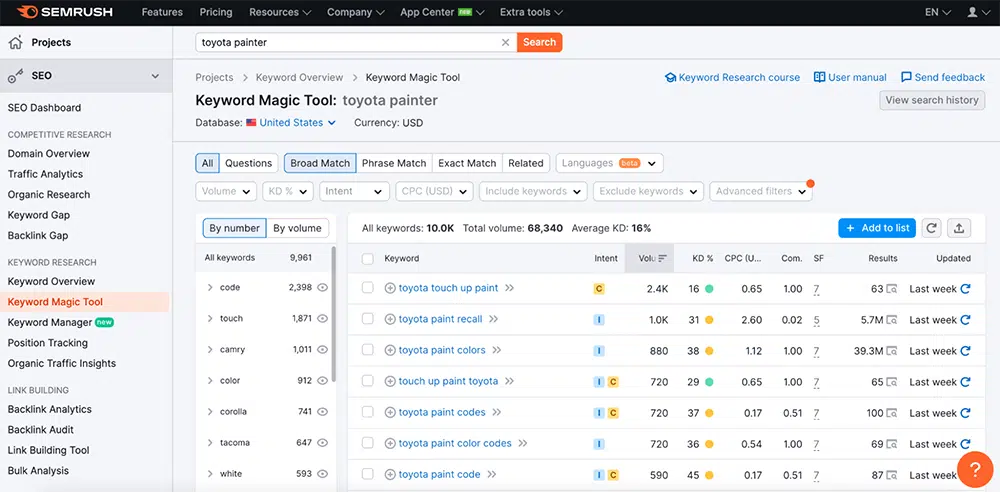 By just taking a quick look at the screenshot above, we have some options to consider.
"Toyota paint colors" and "toyota paint color codes" are informational searches that could inspire blog posts you write for those terms.
"Touch up paint toyota" and "toyota paint codes" are both informational and commercial searches that you could use for blog posts or product pages for someone farther along in their customer journey.
"Toyota touch up paint" is a commercial search, which is an opportunity to create content that demonstrates why someone would want to buy this product from you over a competitor.
You can also filter results for the search intent you need and then easily look at the sites that currently rank for each keyword.
Optimize Your Content for the Right Search Intent
After you've identified search intent for a certain keyword, checking out the SERPs for that keyword will help you determine whether or not that keyword is right for your campaign.
What do the pages that rank for a certain keyword look like?
Would similar content make sense for your site?
Could you provide a better experience?
A better experience could mean taking the search intent into consideration and covering what a person needs more thoroughly or providing original media that supports your content.
The variety of content you create — from blog posts to landing pages — will meet prospects at different phases of the buyer's journey. You want to be able to satisfy someone who's gathering information, as well as capture the attention of someone who is ready to buy.
Incorporating search intent from the beginning of your SEO strategy will help inform the keywords that you choose to target and the angle that you choose for your content.
Ready to master search intent to save time and get better results?
Click here to learn more about using Semrush's Keyword Research tools to do just that.