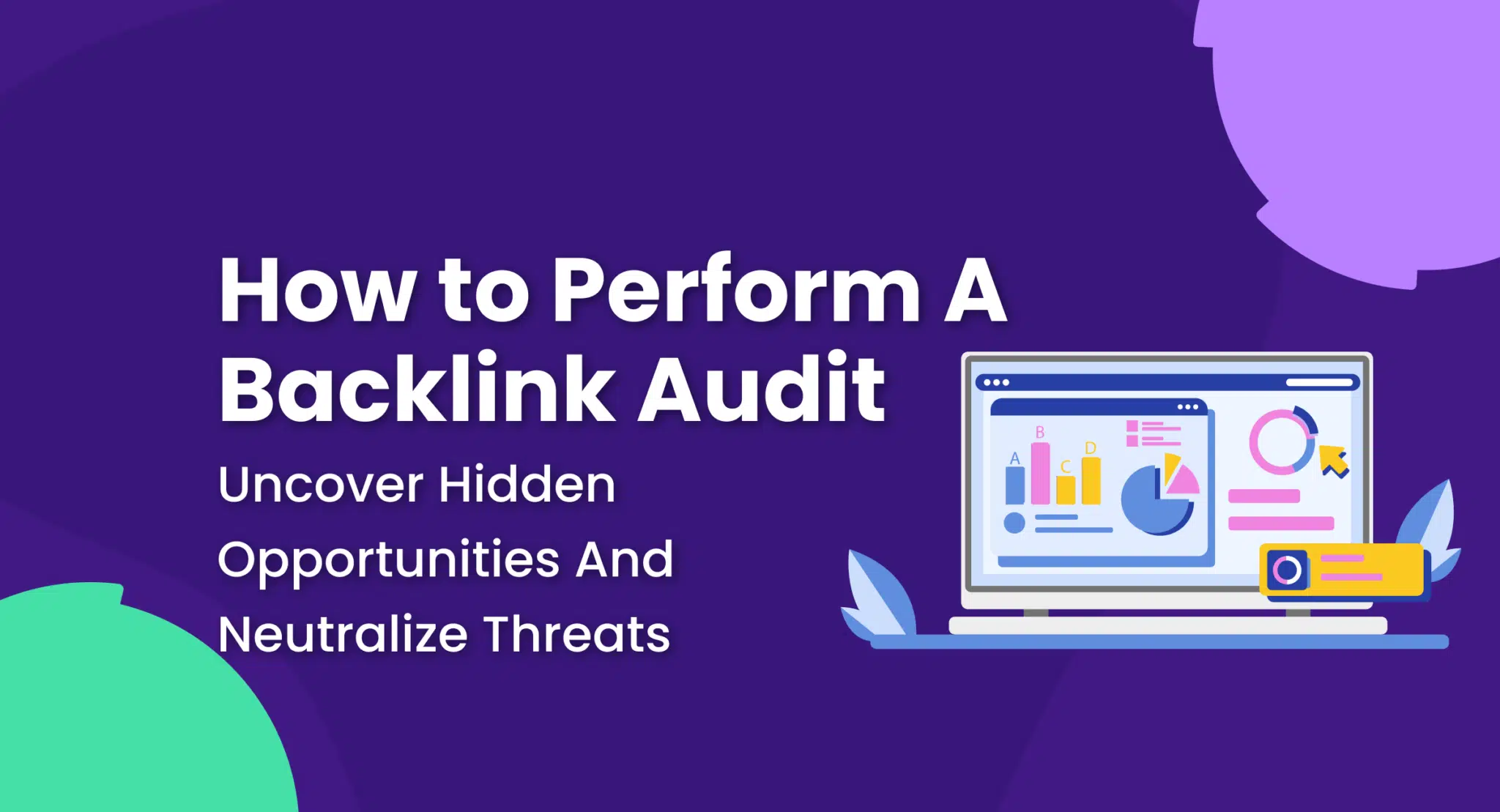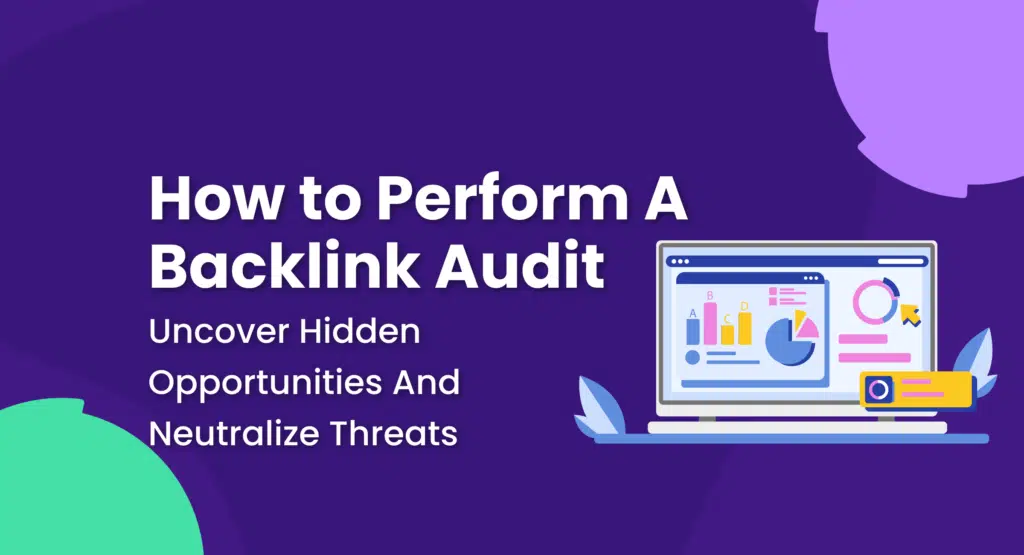 Wondering which other sites link to yours (and how they affect your rankings)? Then it's time to conduct an in-depth backlink audit.
A carefully crafted backlink profile can be the secret weapon in your SEO strategy.
Your backlink profile is the compilation of all inbound links to your website. It includes the variety, quantity, and quality of the sites linking to you. A robust backlink profile reflects credibility, influence, and relevance in your industry or niche — all critical for high rankings.
Backlinks are potent signals to search engines that your site is worthy of being noticed. Every inbound link is a vote of confidence, a nod of approval, a virtual thumbs-up from the digital universe. All those kudos add to the credibility and authority of your site.
But a site with an unchecked backlink profile can find itself in the murky waters of SEO obscurity.
Enter: backlink audits.
During a backlink audit, you can verify that every backlink to your site adds value, not headaches, to your off-page SEO efforts.
Let's dig into what backlink audits are and why they're essential.
Then I'll explain the three types of audits you need to perform regularly so you can understand your competitor's link-building strategies, deal with toxic links, and find new opportunities for quality backlinks.
What Is a Backlink Audit?
A backlink audit is a comprehensive review of your site's inbound links. This process helps you assess your site's link profile, identify harmful links, and formulate strategies to improve your rankings. You'll evaluate the number, quality, and diversity of backlinks, as well as the relevancy of the linked domains.
Good quality backlinks suggest to search engines that your content is valuable and worth referencing, which can potentially improve your website's visibility.
On the flip side, low-quality or spammy backlinks can have a detrimental effect on your search ranking. That's why conducting a backlink audit is critical — it allows you to identify and remove harmful backlinks so your website's reputation stays squeaky clean.
What's the Point of Doing a Backlink Audit?
Getting a lot of backlinks is a critical part of improving your Google ranking, but the quality of your backlinks is just as important as the quantity. And during a backlink audit, you'll be looking at both.
Quality backlinks typically come from reputable and relevant websites with high authority in your niche. They're contextually fitting, accompanied by high-quality content, and usually gained organically. Even a few high-quality backlinks can make a more significant impact on your search ranking than a slew of low-quality links.
Here are the three top reasons why you should consider performing a backlink audit.
1. Keeping Tabs on Your Competitors
With backlink audits, you can analyze your competitors' backlink profiles and use that research to give yourself a massive advantage.
If you see that one of your competitors' newest pages has a ton of backlinks, you'll know there's something about that content that people really like. You can pick apart that page, find out why it's so great, then create a superior piece of content on the same topic.
(If you're deciding between using Semrush or Similarweb, for instance, you'd want to go with Semrush, because Similarweb doesn't offer backlink audits.)
During your audit, you can also examine your biggest competitors' link velocity, which is how fast they're gaining backlinks. If you want to stay ahead, you'll need to outpace them.
A healthy link velocity suggests a website is continuously producing valuable content that others want to link to. But remember that it's possible to go too far: An unusually high link velocity could raise red flags to Google because it suggests "black hat" link-building activities.
2. Taking Action Against Toxic Backlinks
Google takes link spam very seriously. To avoid manual penalties, you need to be on the lookout for toxic backlinks.
These are undesirable links from suspicious or low-quality sources, which can jeopardize your site's reputation and ranking on search engines.
When you conduct a backlink audit, you assess every link leading to your site, evaluating the quality and credibility of each source. If you detect toxic backlinks, you can initiate the process of removing or disavowing them.
This practice of routine inspection and cleanup helps maintain your website's integrity so you can stay in search engines' good graces.
3. Finding New Backlink Opportunities
A backlink audit is a great way to find new link-building opportunities.
When you can get a clear picture of how many backlinks each page of your site has, you'll be able to see which pages are light on links and focus on your link-building efforts on those pages.
Choose a Backlink Audit Tool to Help With Your Investigation
You could opt for the manual route and extract a list of your backlinks from Google Search Console, but that's a pretty labor-intensive approach.
Investing in a paid backlink audit tool can significantly simplify your task and spare you hours of frustration. These tools offer invaluable insights and metrics that aren't available on Google Search Console.
Majestic SEO, Moz, and Ahrefs are all popular backlink audit tools, so if you've got a subscription to one of these, you can use it for auditing your backlinks.
I prefer using Semrush's Backlink Audit tool to conduct a comprehensive review.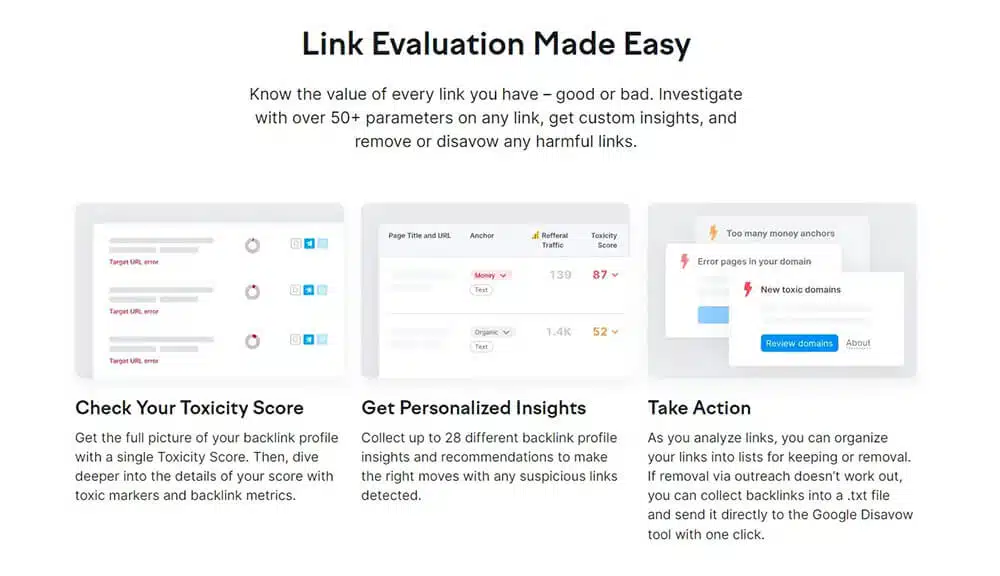 Semrush's link audit tools provide you with the following metrics in an easy-to-understand dashboard:
The ratio of backlinks by type (text, image, frame, and form)
Authority scores (for your site and your referring domains)
The ratio of nofollow to dofollow backlinks
Referring domains' categories
Number of referring domains
Backlink profile toxicity score
Anchor text types
Top target pages
Top anchor texts
Now that you understand the available tools, let's dig into the steps you can follow to conduct a thorough backlink audit for any site.
Competitor Analysis
A competitor backlink analysis is a strategic comparison of your backlinks against your competitors.
During this step, you'll see what types of links are influential within your industry, identify potential link-building opportunities, and evaluate where your link profile may be falling short.

You'll be able to spot gaps like links from reviews, industry-specific directories, product features, or mentions in niche online publications.
Follow these steps to perform a competitor analysis.
Step #1: Examine Industry-Related Websites
The first step in conducting a competitor backlink analysis is to evaluate industry-related websites. These websites will likely link to companies within your industry, including your competitors.
Look for industry-related sites consistently producing high-quality content with a substantial following or social presence. Remember, these sites should ideally be related to your niche, so you can maintain relevance.
Here's the overview tab of backlink analytics from an example Nick used in his article about SEO copywriting.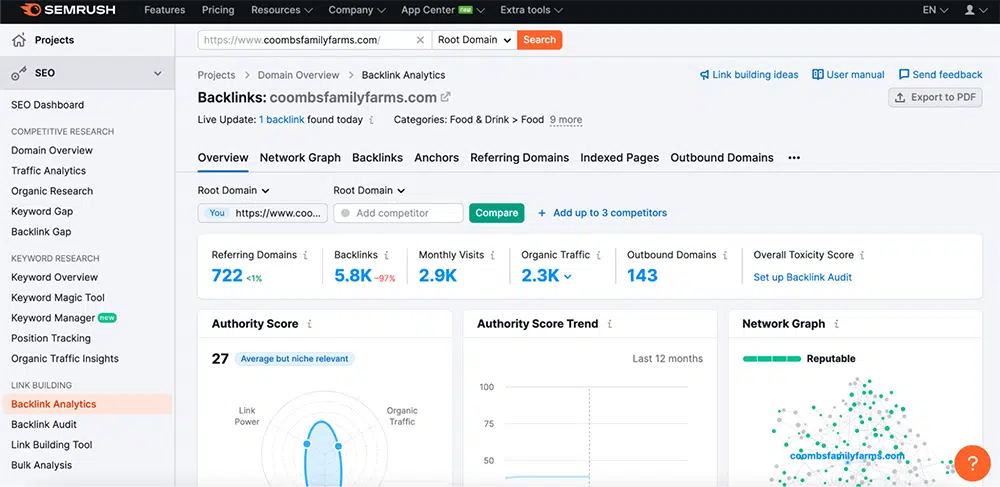 Examining these types of sites can give you insight into where your competitors are securing backlinks. You might discover new guest blogging opportunities, industry forums, or directories where your competitors are listed, but you aren't.
Step #2: Gather Competitor Backlink Data
Once you understand industry-related websites, the next step is to assemble data on your competitors' backlinks. Enter your domain (and your competitors') into the backlink checker in your audit tool to get a comprehensive list of the links to each site.
Each time you do an audit, document the data you uncover, including the source of the backlink, the type of link (nofollow or dofollow), and the anchor text used. This data can provide valuable insights into the strategies your competitors are using to attain backlinks.
Depending on your industry and the competitive landscape, consider doing this audit monthly or quarterly. Conducting regular audits ensures you stay updated with your competitors' latest link-building strategies.
Step #3: Analyze and Compare Backlink Profiles
Next, compare your backlink profile to those of your competitors. Learn everything you can about your competitors' link-building strategies. Use the data to spot potential areas for improvement within your approach.
A key aspect of this step is examining the backlink acquisition rate over time. This will help you understand the pace at which your competitors are earning links, and identify any significant spikes that may indicate a successful link-building campaign.
Action Item: Chart a Plan
Once you've completed your competitor backlink analysis, the next step is to apply your new insights.
Chart a backlink plan for your website to level the playing field with your competitors. This plan should include strategies for acquiring links from relevant, high-authority sites discovered during your analysis, as well as tactics for pursuing new, unique opportunities.
Consider your competitors' backlink acquisition rate and aim to match or exceed it so you continue to strengthen your own link profile. Remember that your goal isn't just to catch up to your competitors – you want to outperform them in the long run.
Toxic Backlink Identification
To maintain a healthy backlink profile, you need to find and remove any harmful, explicit, or negative backlinks that could jeopardize your website's standing with search engines.
These undesirable backlinks can come from low-quality, spammy, or untrustworthy sites, and if you don't stay on top of them, you could get hit with penalties that damage your site's visibility and ranking.
Here are the steps you can follow to identify and remove negative links.
Step #1: Use Backlink Analysis Tools
Analyze the list of backlinks to your site that you generated during the first audit.
Backlink audit tools, like the one in Semrush, can be helpful not only in assessing the number of links you've attracted, but also their quality — which can help you spot potentially toxic links.
Step #2: Assess Link Quality Indicators
As I've mentioned, if you want to outrank your competitors, you want to match the number of backlinks they have. But that doesn't mean you should hustle to collect as many links as possible.
Even if you have a similar number of links to your competitors, it won't matter if your links are all low quality.
The overall authority of your backlinks needs to beat that of your competitors if you're going to outrank them.
So if what you want is high-quality backlinks, what does that mean, exactly?
The best quality links you can get are from sites that:
Are relevant and have content that is related to yours. Ask yourself, "Does it make sense for this site to link to my content naturally?"
Rank high and attract a lot of organic search traffic. Look for sites that bring in at least 500 organic visitors per month and rank for hundreds of keywords in your location.
Are highly authoritative. When evaluating this, think about Semrush's Authority Score metric.
Attract a lot of inbound links. In other words, the sites you want to get backlinks from should also have a diverse backlink profile and a high link velocity.
Have a good ratio of nofollow to dofollow links.
Include a balance of inbound to outbound links. If a site includes many outbound links but very few inbound ones, it might be a link farm. Anything over a 2:1 ratio of outbound to inbound is a red flag.
Once you've figured out the quality of the site using these characteristics, look at the placement of your link on the page. High-quality links will be placed near the top of the referring page. The anchor text should be relevant, and the link should be surrounded by plenty of relevant text.
Backlinks from sites that aren't relevant to your site's content or have low domain authority can potentially be considered toxic.
Spammy links include:
Backlinks from link farms (sites that are designed purely for link-building purposes)
Links coming from sites that are clearly not topically relevant to your site
Too many links using exact match anchors that appear over-optimized
Backlinks from sites that aren't indexed by Google
Links coming from every page on a site
Links hidden in websites' footers
Blog post comment spam links
If the backlink comes from a site filled with ads, appears to be spammy, or contains adult, gambling, or other inappropriate content, it's likely a problematic backlink.
Step #3: Disavow Toxic Backlinks
Once you've analyzed your backlink profile and identified a list of potentially harmful or toxic backlinks that could be undermining your SEO efforts, the next step is to disavow them.
The disavow process involves creating a list of these toxic backlinks and submitting it to Google using Google Search Console's Disavow Tool. This signals to Google that you don't want these links to be considered in assessing your website's ranking.
A word of caution when disavowing: this tool should be used sparingly and with care. Disavowing beneficial backlinks can negatively impact your site's SEO performance.
Be sure that the links you've chosen to disavow are actually harmful and that you've exhausted other remedies, like reaching out to the linking site's owner to request the removal of the link.
Action Item: Create a Disavow File and Submit It to Google
Here's a step-by-step guide to disavowing links:
Create a disavow file: Make a complete list of all the toxic backlinks you've found during this phase of your audit. The file should be a simple text file (.txt) containing one URL or domain to disavow per line. If you're disavowing a whole domain, use "domain:" before the domain name to indicate this to Google.
Submit the file to Google: Once your file is ready, head over to the Google Search Console Disavow Tool. Select your website from the dropdown and click on "Disavow Links." You'll then be prompted to upload the .txt file you created. Once uploaded, Google's bots will incorporate your feedback into their next round of crawling and indexing.
Wait for Google to process the request: Disavowing links isn't an immediate solution. Google needs to re-crawl and re-index the disavowed links, which can take weeks or even months.
New toxic backlinks may emerge over time, so periodically review, update, and re-submit your disavow file.
Discovering New Backlink Opportunities
During your competitor analysis (above), be on the lookout for new backlink opportunities.
When you're scrutinizing the backlink profiles of key competitors, make a list of high-quality sites that are linking to them. The aim is to uncover potential link-building opportunities that could boost your own site's visibility and ranking.
Step #1: Identify Key Competitors
You probably already have an idea of who your key competitors are, but go beyond the obvious. Use the SERPs to research businesses that directly compete with you in your industry and are getting desirable search rankings.
By focusing on these competitors, you'll find websites already interested in your niche, potentially increasing the likelihood that they might also be willing to link to your site.
Step #2: Gather Competitor Backlink Data
Once you've got a list of your key competitors, collect their link data using your backlink audit tool.
Find out what sites are pointing to your competitors, the content being linked to, and the type of link (nofollow or dofollow).
Step #3: Find New Backlink Opportunities
Comb through the data and identify potential backlink opportunities for your website. Look for reputable sites that are linking to your competitors but not to you.
Pay particular attention to high-authority sites relevant to your industry or niche. These represent the prime targets for your link-building efforts. Earning backlinks from these sources could significantly improve your rankings.
Action Item: Create Compelling Content and Ask for Links
Once you identify potential backlink opportunities, you can develop customized content to fit the sites already linking to your competitors. Examine the content type and topics these high-authority sites link to and create similar but even more valuable content.
You could create content like informative blog posts, detailed how-to guides, infographics, or case studies. Offering something novel or useful beyond what your competitors have published can make your site an attractive option for authoritative sites to link to.
Reach out to request links once you've published your content. Craft personalized outreach emails to the owners or editors of the sites you identified as potential backlink sources.
Remember, successful link-building is about providing value, so make sure your content truly offers something worthwhile to the site you're reaching out to (and their audience).
In your outreach, explain why your content would be valuable to their audience and respectfully suggest they might consider linking to it.
Be respectful and concise when corresponding with owners and editors, and use attention-getting (but not spammy) subject lines. If you don't get a response within a week or two, consider following up on your initial email to ensure your message wasn't missed or forgotten.
Backlink Audits Are Essential for a Complete SEO Strategy
While there may be many moving parts in backlink audits, they're an essential practice.
The benefits these types of audits give you — monitoring competitors, dealing with toxic backlinks, and unearthing fresh backlink opportunities — are well worth the effort.
And when you use powerful audit tools, you can streamline the process and maintain a healthy backlink profile that contributes to your site's overall reputation and improves its visibility.
Try out Semrush's backlink audit tool for yourself!