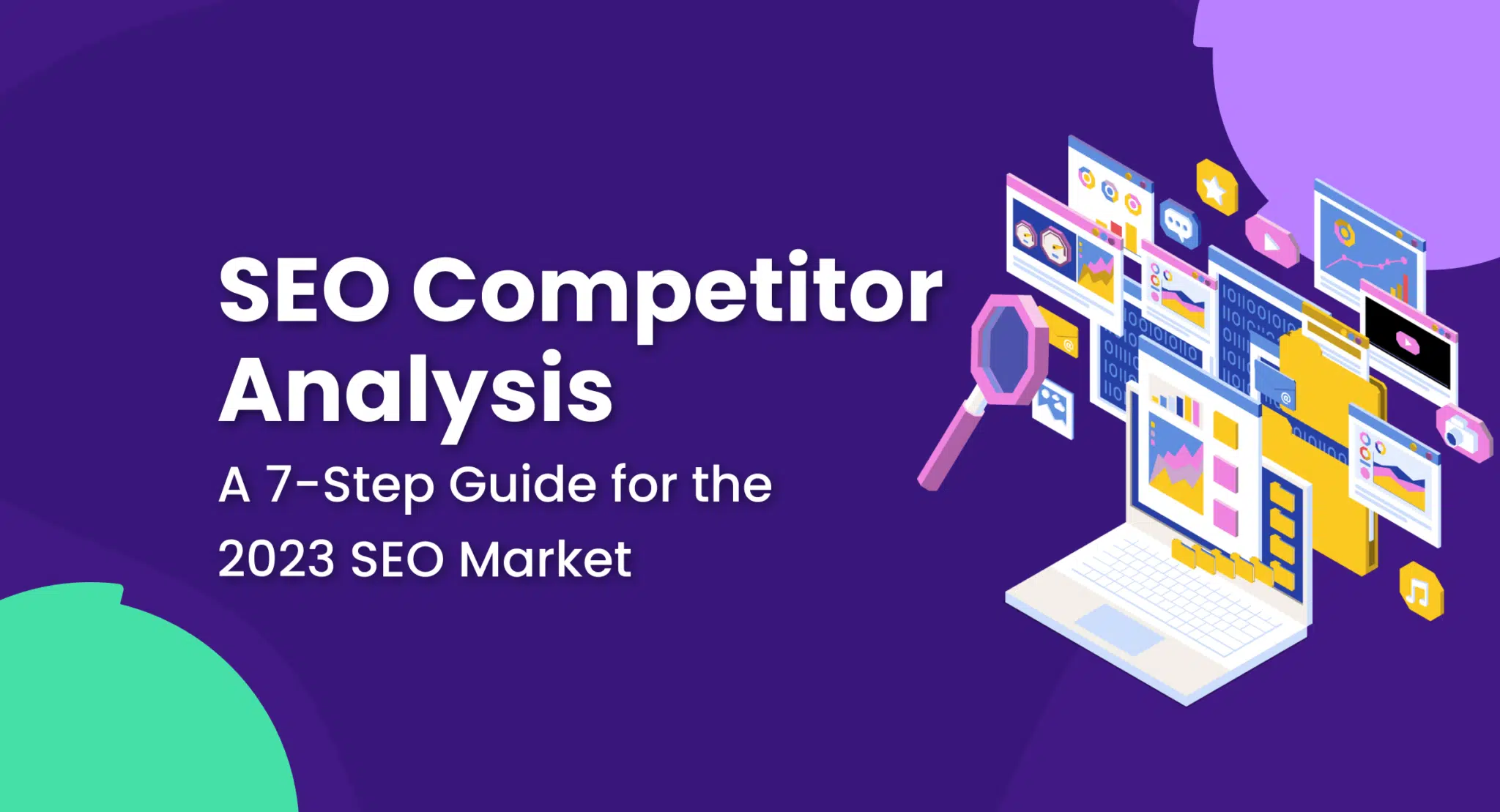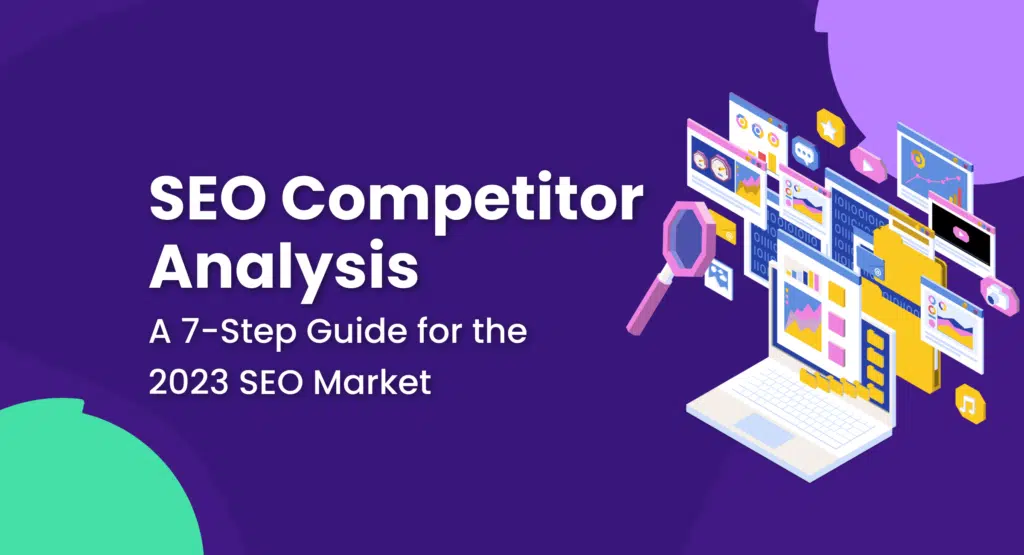 If your website pages don't get well-deserved organic traffic, then who gets it? Your competitors in organic search results!
And there's a good reason why their web pages outrank yours — they might be doing a better job than you. You'll never know this, however, unless you investigate competitor keywords and other game-changing factors. That's why SEO competitor analysis is essential.
In this article, I'll show you how to do SEO competitor analysis using my proven seven-step method.
If you follow my recommendations, you'll learn who your SEO competitors are (and who are not), find out how they maintain their top-ranking positions, and understand how to improve your SEO strategy.
What Is an SEO Competitor Analysis?
SEO competitor analysis is the process of discovering and analyzing your competitors in organic search results. It usually involves assessing their backlink profile, content creation strategy, keyword rankings, optimization techniques, and technical issues.
The main goal of an SEO competitor analysis is to discover what your rivals are doing to rank so that you can outrank them.
Why Is Competitor Analysis Important for SEO?
The truth is this: SEO competition will unfortunately get even stronger over time. While countless websites get created every day, the top ten spots on Google and other search engines don't increase.
Whether you want to grow a new niche website or boost the performance of an existing one, you must know who you are competing with.
In a nutshell, conducting an SEO competitor analysis can help you:
Understand what SEO strategies work and don't work in your niche.
Reveal competitors' strengths and weaknesses.
Discover competitors' top traffic generation and customer acquisition channels.
Find keywords your competitors' websites rank for, but your website doesn't.
Get new content and backlink ideas.
Estimate how challenging it will be to outrank your competitors.
These are a few of the benefits that come to mind. However, you'll learn much more while conducting an SEO competitor analysis of your own.
How to Do an SEO Competitor Analysis in 7 Steps
Let me walk you through the 7-step SEO competitor analysis process that I've used throughout my SEO career. This process is straightforward, can be easily replicated, and it won't take up a lot of your time.
Let's pretend you run an artcanvas.com website. Here is what your competitor analysis would look like.
Step #1: Find Your Top-Performing Competitors
Artcanvas.com sells canvas prints, paintings, and art home decor in the U.S. and abroad.
By knowing your products and where you sell them, you can quickly discover your SEO competitors.
Here are a few proven-to-work methods on how you can do it.
Manually Search for Your Competitors
If you actively sell, let's say, art canvas prints, insert this keyword in a search bar and hit "Search" to see who else targets this keyword.
It's probably one of the easiest ways to discover your organic competitors and do an SEO competitor analysis, even though not every website from the top ten search results will be your direct rival.
In my case, I'm interested in e-commerce websites selling art canvas prints and ranking high in organic search results, such as iCanvas, Society6, Art.com, and Fine Art America. If my potential customers want to purchase art canvas prints, they will probably head to one of these websites.
You can use this simple method to discover organic SEO competitors offering the same products and services. However, it requires you to manually review every website from organic search results. It's a resource and time-consuming process. That's why I prefer the second method.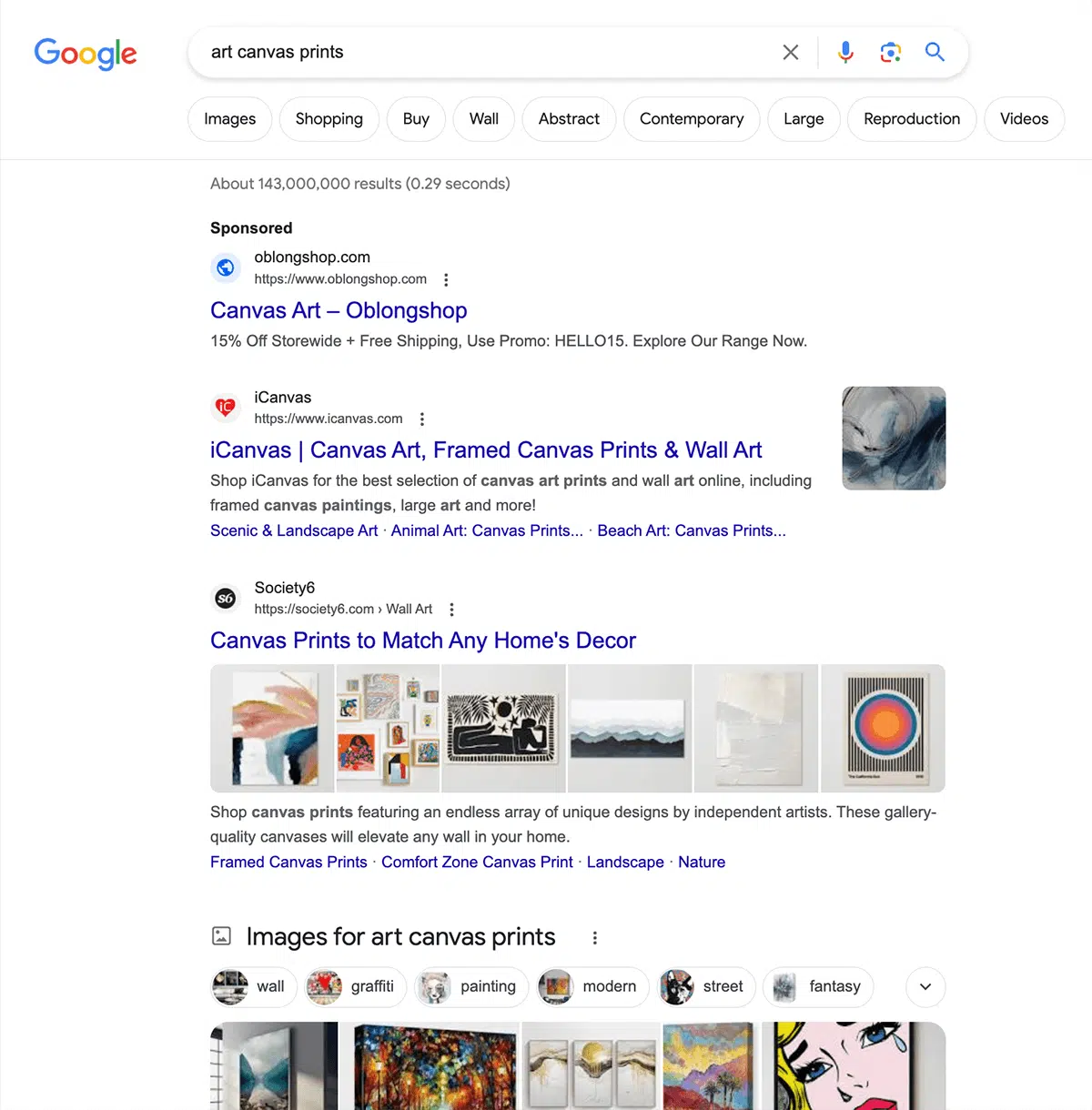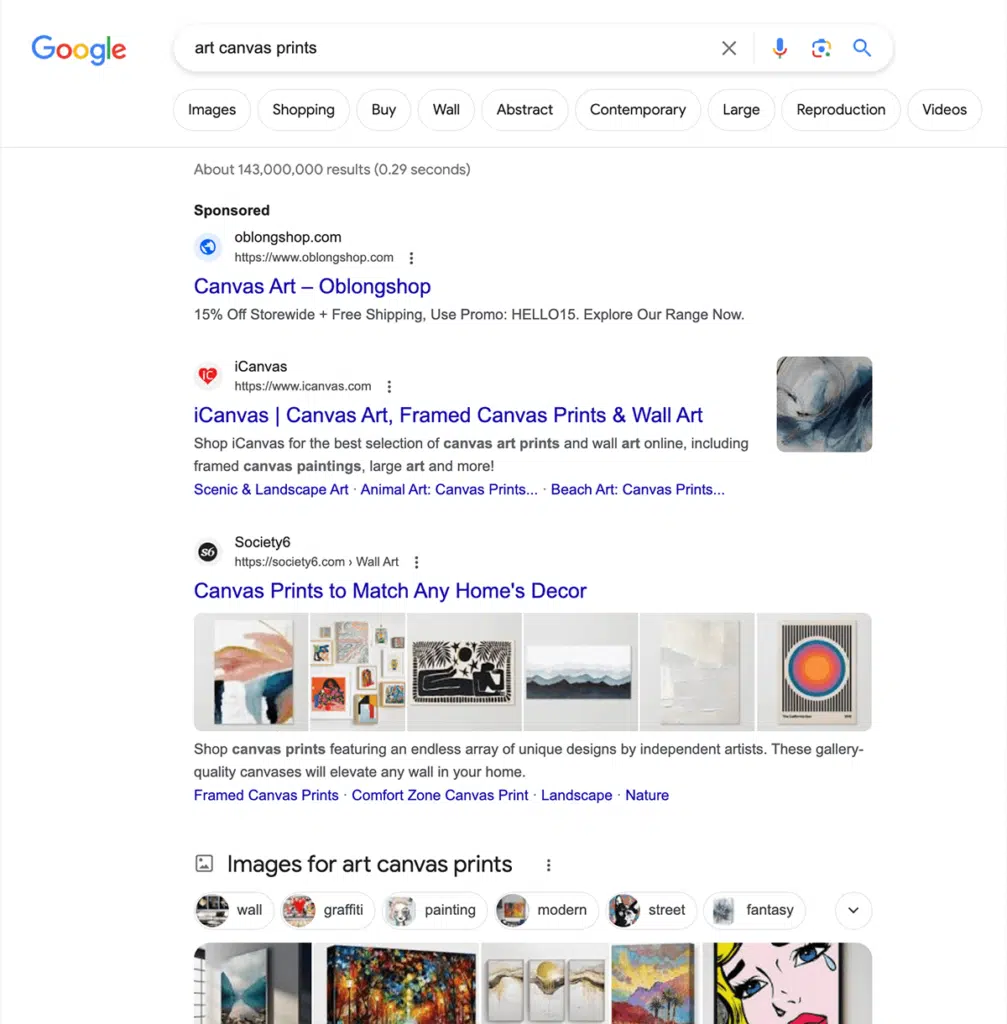 Use SEO Tools, Such as Semrush
Semrush's Organic Research report shows who you compete with depending on the country.
In two clicks, I've got a list of over 5,000 artcanvas.com competitors based on the competition level. You don't have to go through all the competitors — it's enough to choose the top 5–10 from the list.
Please note that your competitors in organic search will likely change if you select a different country.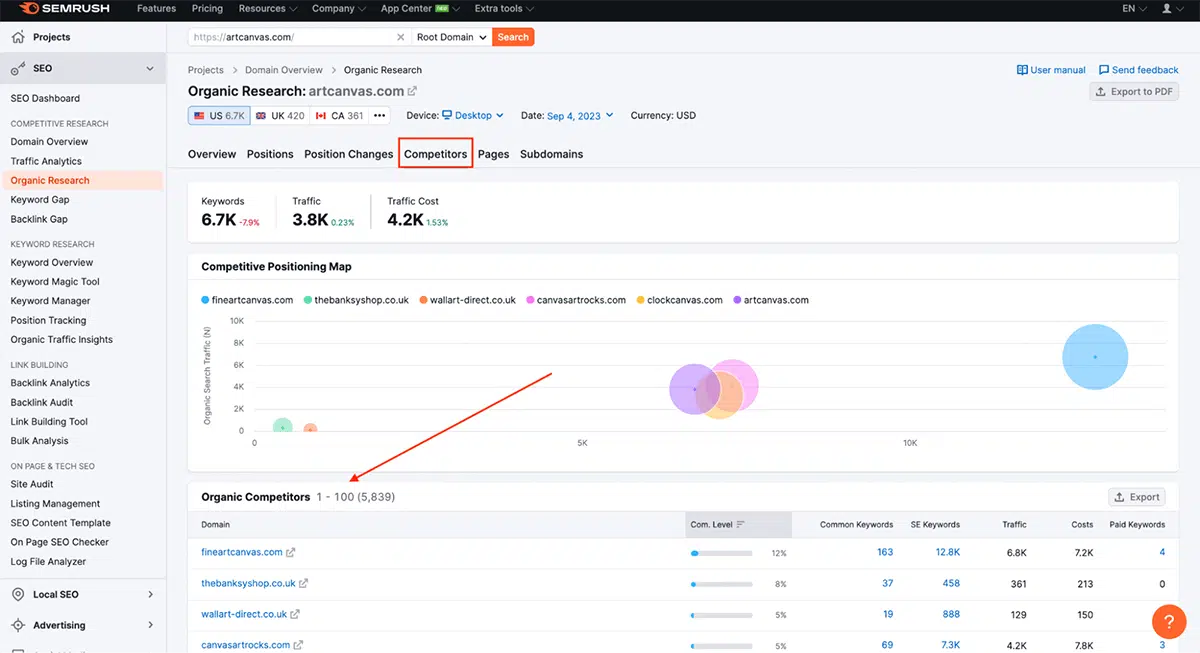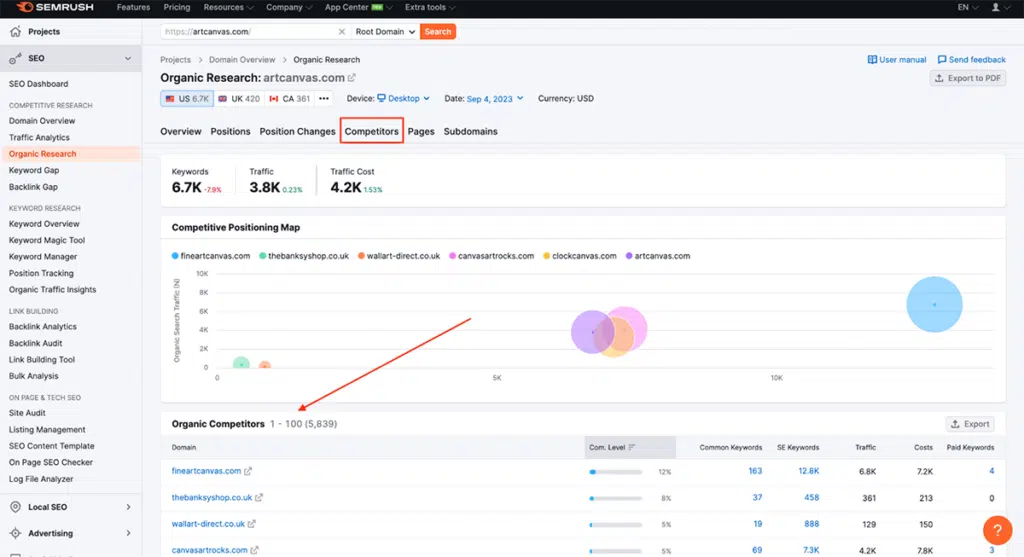 Use Semrush Market Explorer
Semrush has one more powerful tool for SEO competitor analysis research you'll find particularly useful: the Market Explorer tool that shows competitors and their market share based on country.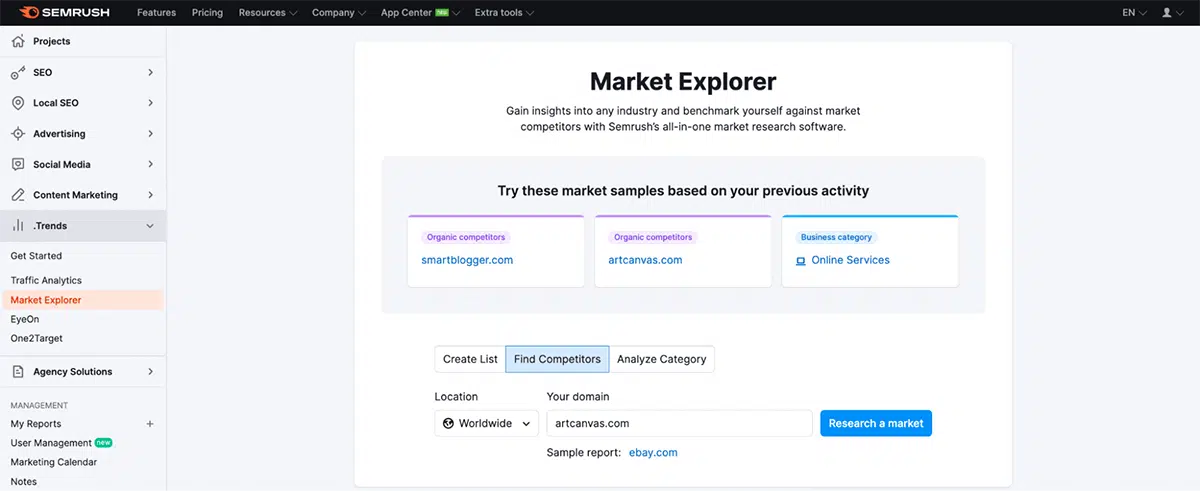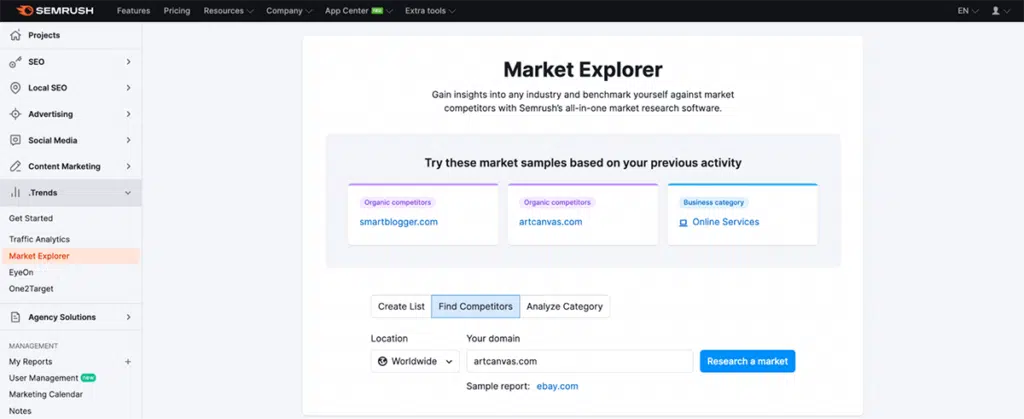 Insert your website URL and hit "Research a market." The tool will then generate reports such as the ones on the screenshot below, which show top market players and their share of visits for every user acquisition channel.
Again, choose 5–10 competitors based on the organic search share of visits. Now that you've got your list of competitors, let's move on to the second step of the SEO competitor analysis.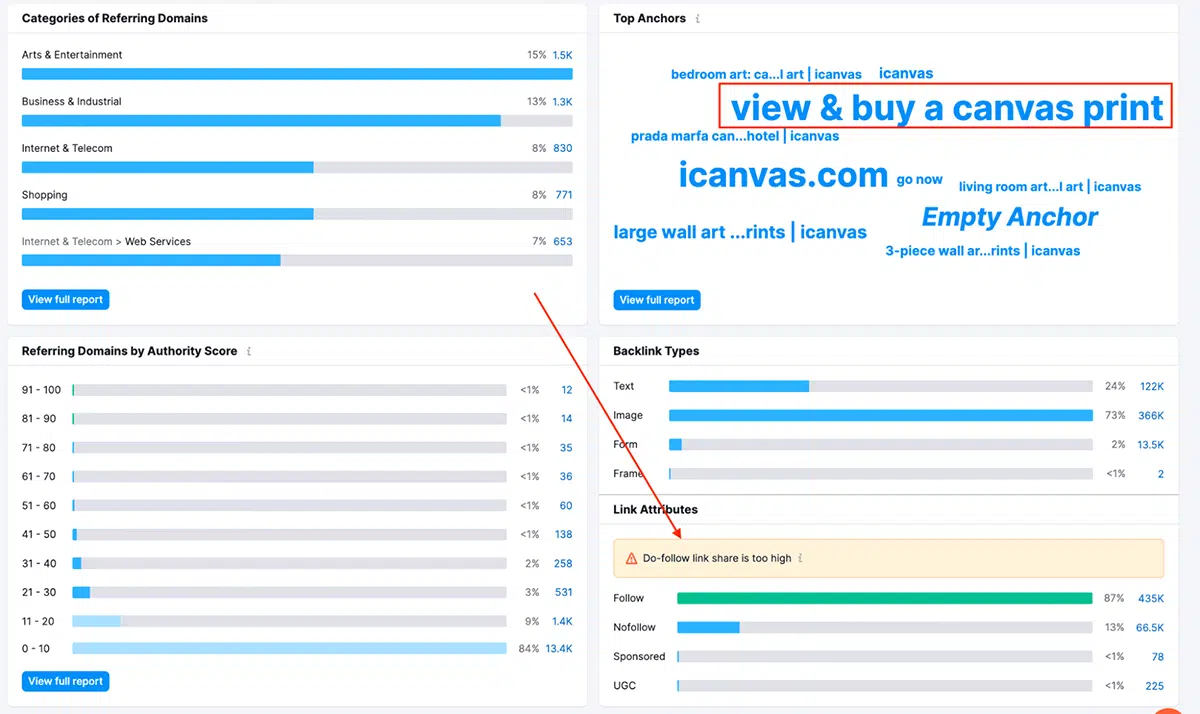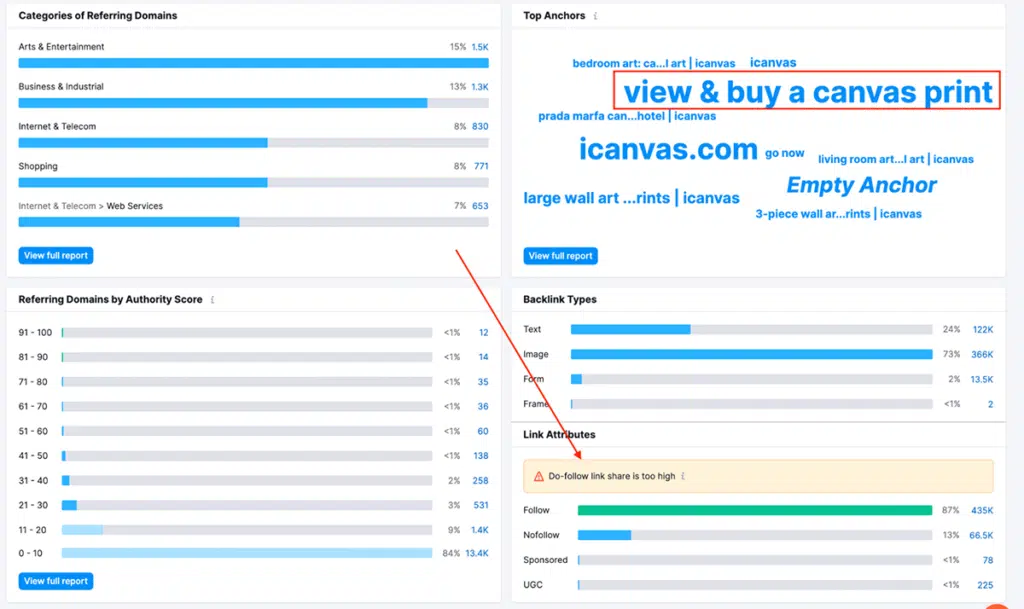 Step #2: Analyze Competitors' Keywords
Once you know your competitors, you can research keywords that their websites rank for but your website doesn't.
Insert your competitors' URLs in Semrush's Keyword Gap Tool to discover keywords your website does not rank for yet and hit "Compare."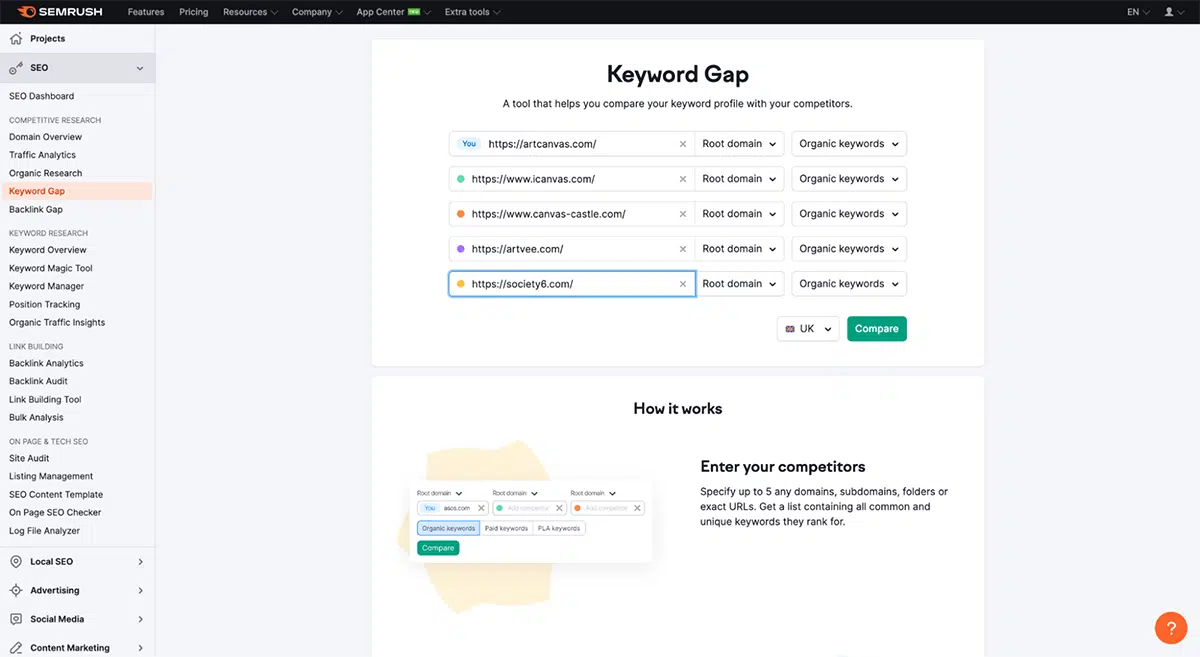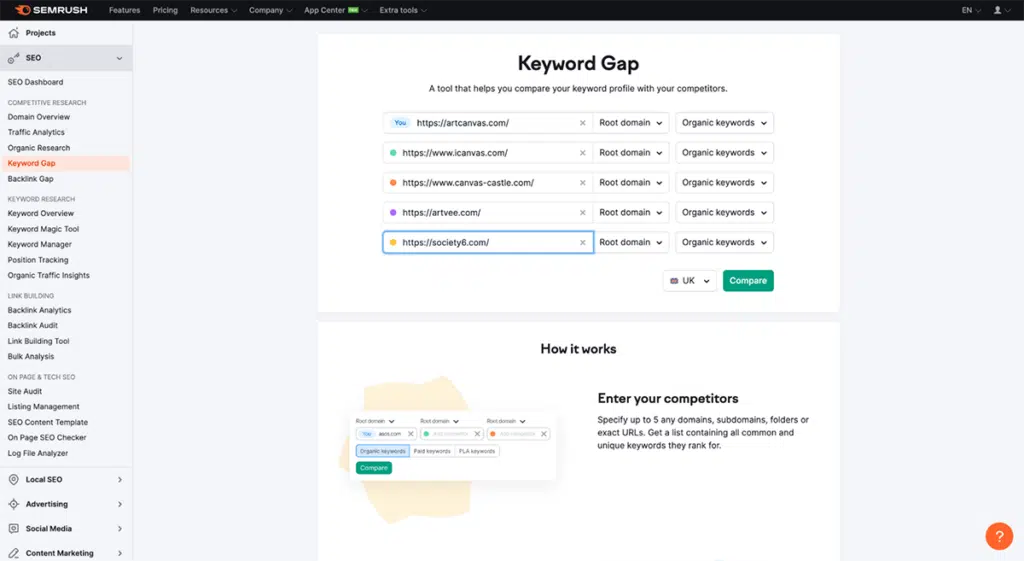 In my example, Semrush discovered over 19.7k untapped keyword opportunities for artcanvas.com. However, it does not mean you should review all of them, even though this list provides many content ideas.
I recommend reviewing keywords with the commercial search intent marked as "c" in the Intent column. People searching for these keywords will likely make a purchase.
If you don't have landing pages for these keywords, you'll have to create them. On the other hand, if your website happens to have suitable web pages, you'll have to work on on-page and off-page SEO.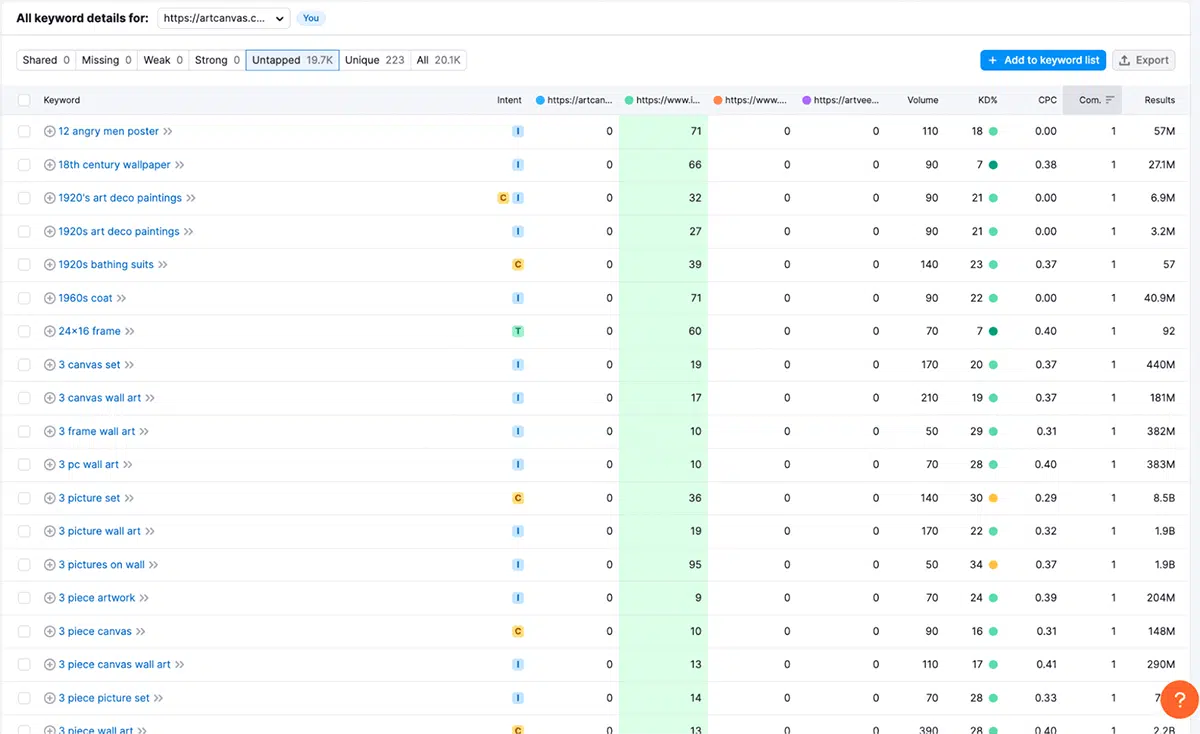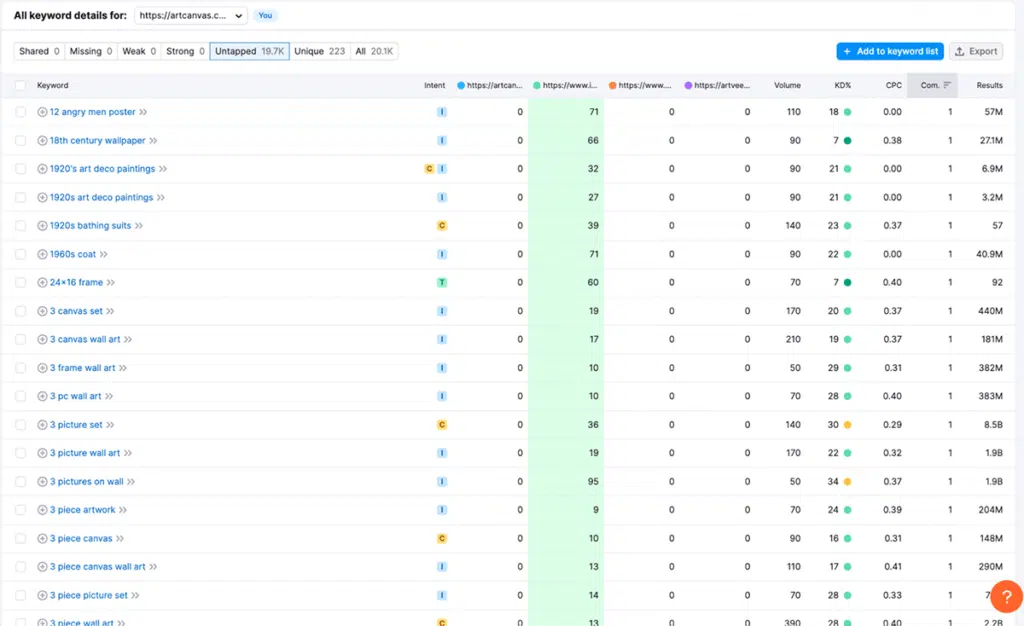 Step #3: Analyze Competitors' Backlinks
The third step of SEO competitor research is backlink analysis.
What are backlinks? Backlinks are one of the strongest ranking factors for Google … and Semrush's Backlink Analytics tool can help you quickly assess the backlink profile of your competitors.
I recommend paying attention to the following metrics:
Domain authority and whether it's growing
The number of referring domains and backlinks
Whether the number of referring domains is growing or declining
"Nofollow" vs. "Follow" backlinks numbers
Anchor texts
You can quickly assess the backlink profile of any rival during an SEO competitor analysis by checking the Top Anchors and Link Attributes reports.
In the case of icanvas.com, the domain most likely buys backlinks because the top anchor "view & buy a canvas print" is commercial. Besides, 87% of all backlinks are "Follow," which is unnatural and might look fake for Google.
If you happen to be in a similar situation, don't close this competitor's website. You can find many domains for collaborations by reviewing the backlinks.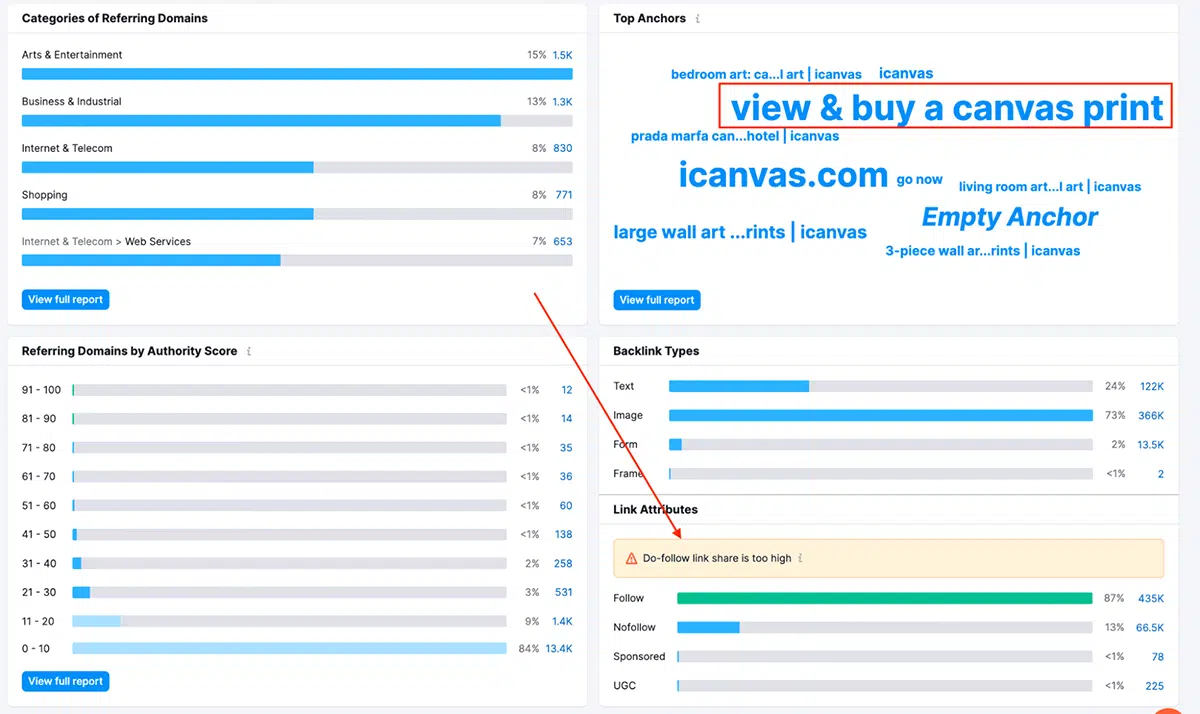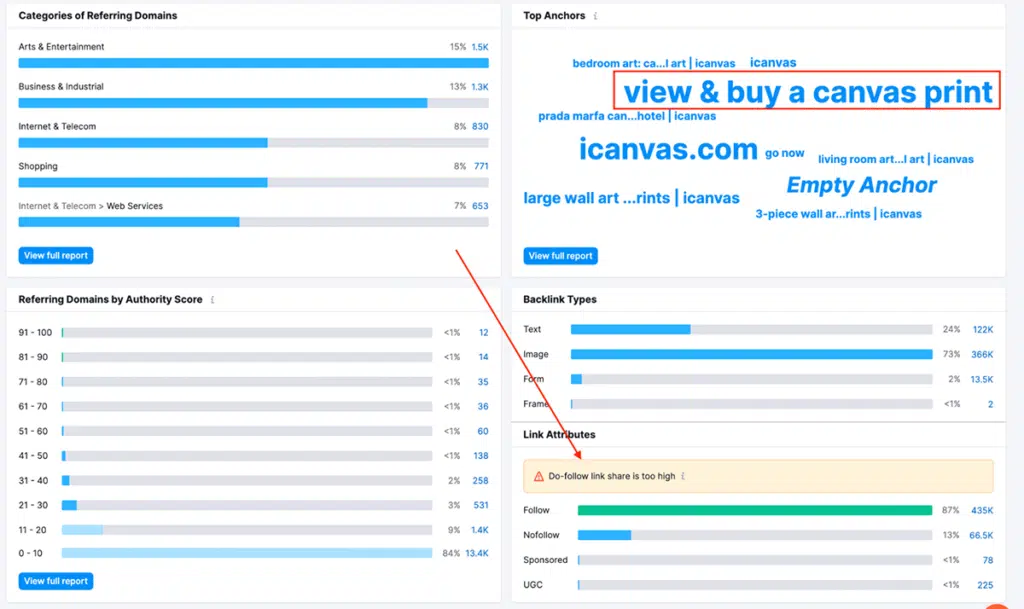 If you need more backlink ideas, I recommend using the Backlink Gap tool to discover websites that link to your competitors but don't link to your website.
In my example below, I've inserted only one competitor URL. Nevertheless, I've got over 15,000 backlink ideas. That's too many to go through, so I applied the Authority Score filter to only see websites with the Authority Score between 31 and 40. This way, I've got 252 prospects to work on.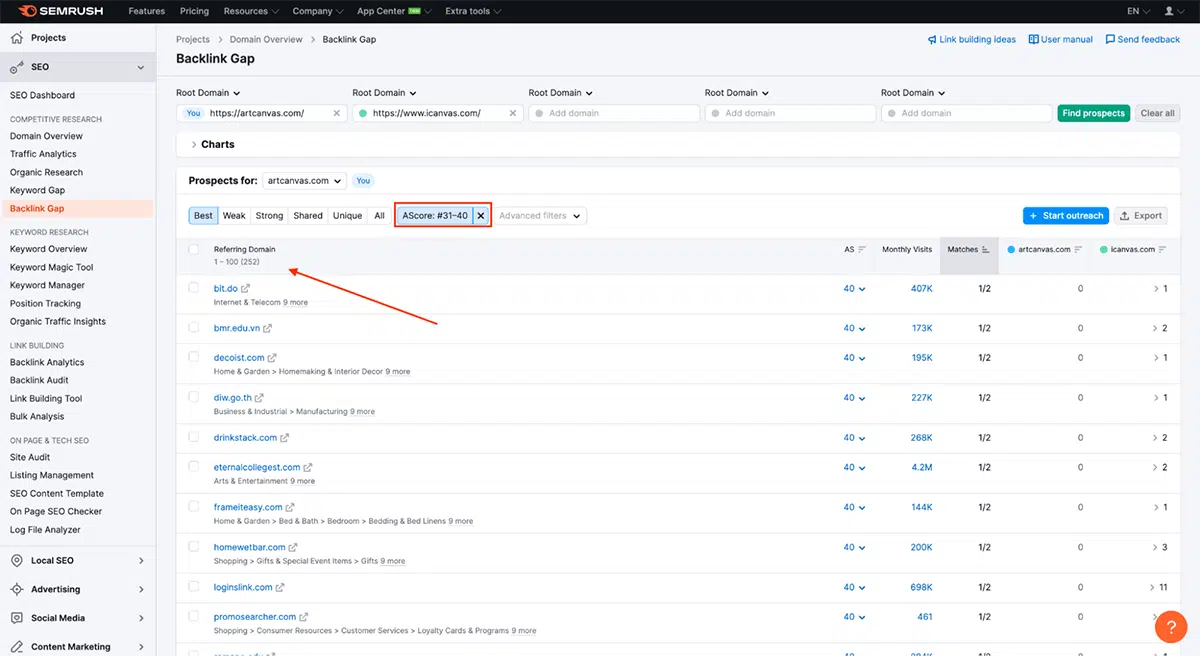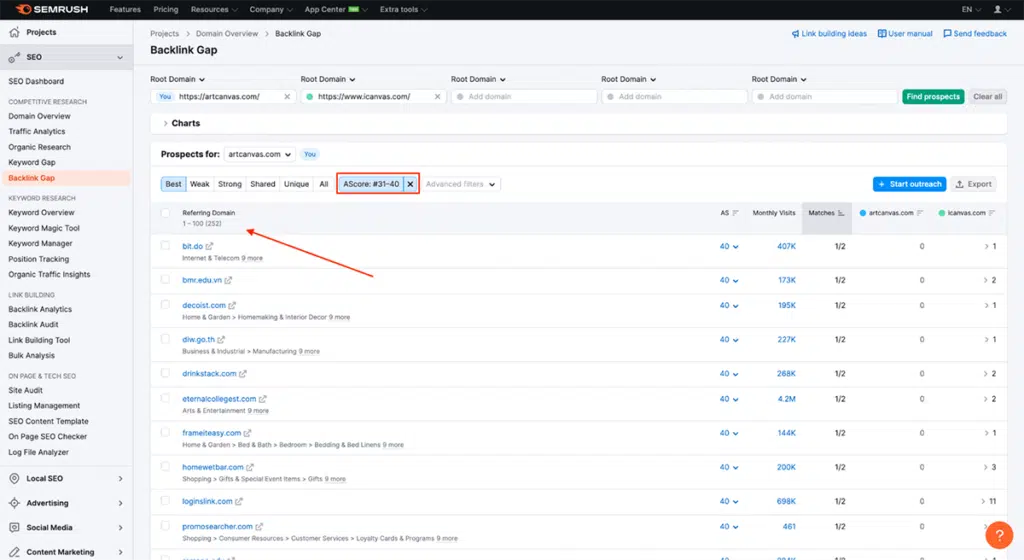 And one more pro tip … if you stumble upon competitors' broken backlinks, reach out to website owners, inform them about the issue, and offer to link back to a relevant source on your website.
I've used this broken link-building strategy a couple of times, and it's a surprisingly effective way to acquire some high-quality backlinks.
Step #4: Spy on Competitors' Content and On-Page SEO
This step requires you to manually review competitors' content … and the findings will shape your own content creation strategy.
After conducting plenty of SEO competitor analysis throughout my career, I recommend focusing on the following aspects:
Content Types
Be aware of the content types your competitors focus on. Do they consistently create new product pages? Do they publish optimized listicles, how-to guides, or reviews to attract the target audience from organic search results? What kind of outbound links do they use? Do they repurpose their content for social media?
Content creation strategies can vary, but the ultimate goal is always the same: to convert visitors into customers.
You can manually review competitors' websites, product categories, product pages, and blog posts to understand what content types they produce. Alternatively, I recommend reviewing competitors' top organic performance pages in Semrush.
This report gives you an idea of what content types perform best for your competitors.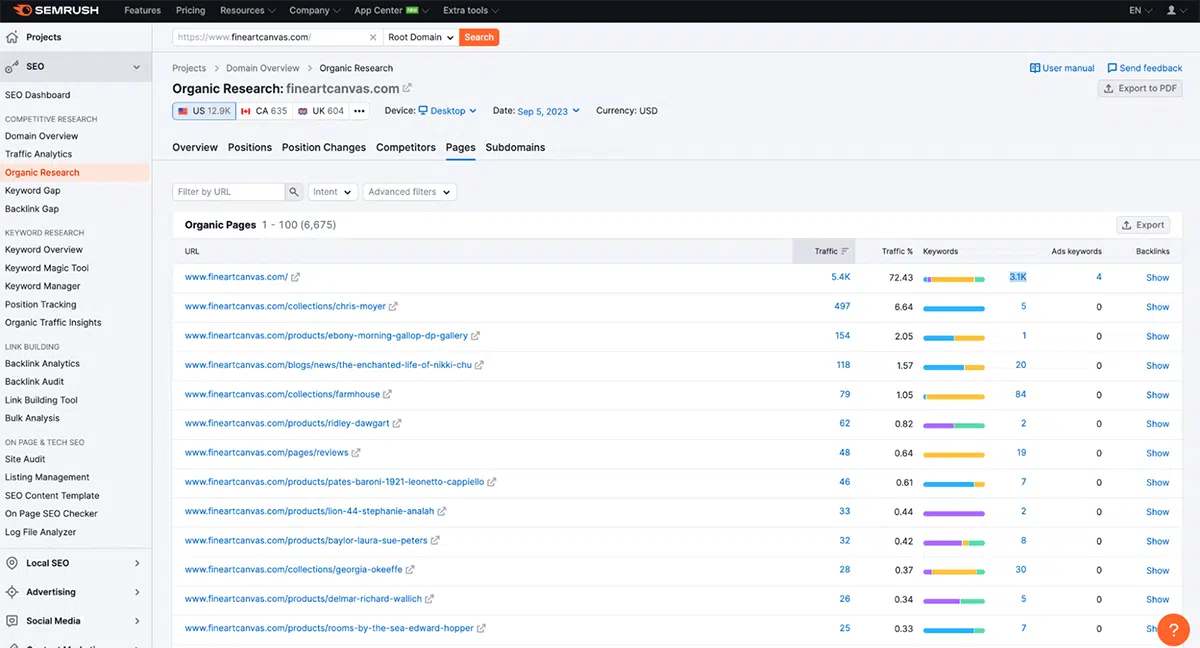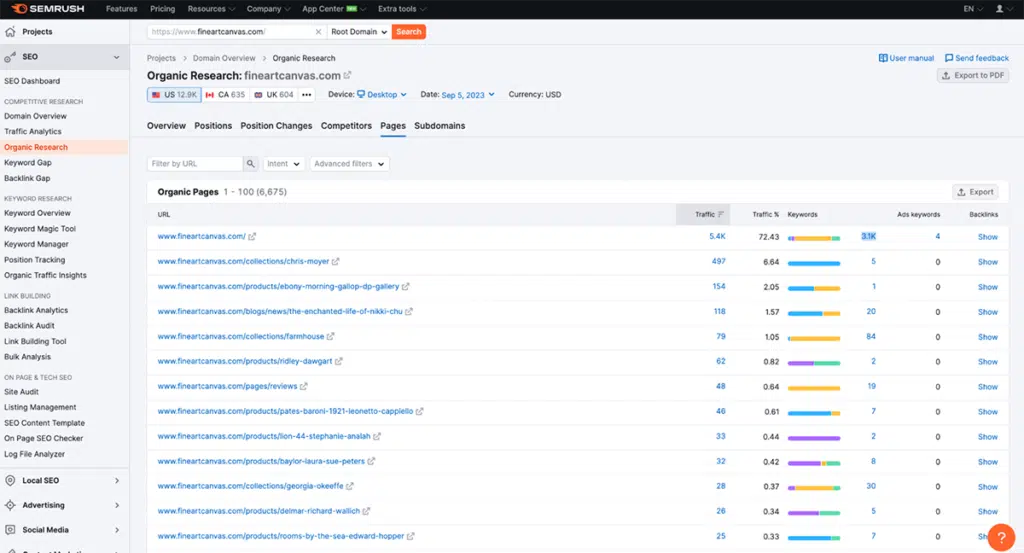 For fineartcanvas.com, the top-performing pages are product pages. You can also notice one high-ranking blog post about one of their artists selling artistic works.
After reviewing the fineartcanvas.com top-performing web pages, I'd probably recommend picking product terms with decent keyword search volumes and low competition. 
Combining this strategy with SEO copywriting and sharing artists' stories and tips can boost organic search traffic and persuade visitors to make a purchase.
Content Quality
Even though content quality is an abstract term, your content should:
Be well-structured
Be easy to read
Be up to date
Not contain glaring ads
Include an author bio section
Include quotes from experts
Link to studies
Include the writer's personal experience and opinion
Share new research findings, approaches, tips, or strategies that have not been known before
If you feel your time was not wasted after reading a particular piece of content, then it was likely written well.
I talk a lot about content quality since it has become crucial in times of rapid AI technology development.
Even though Google is not against AI content, massive content production for the purpose of rankings manipulation is a policy violation.
Google's "helpful content update" and the recent core algorithm updates heavily impacted websites with lots of AI content.
Therefore, I always recommend complying with Google's E-E-A-T and YMYL guidelines. They also help you keep your target audience in mind when creating content for your website.
On-Page SEO
How your competitors optimize their content can share much about their SEO capabilities.
Throughout my SEO career, I've seen cases when content was published without optimization, and meta titles and descriptions did not include keywords and were way beyond the allowed character limits.
Here is what you can do to find competitors' on-page optimization weaknesses:
Review the website structure, in particular, category pages, product pages, tags, and blog
Review the URL structure
Check whether any product page is accessible via multiple category pages (it's a common issue for e-commerce websites)
Check whether H1 and metadata include the target keyword
Check whether semantically related keywords are used (in general, one keyword should be placed in every 150–300 words)
There is no need to review all web pages during an SEO competitor analysis. It's enough to check 5–10 top-performing web pages to understand whether your competitors use on-page optimization strategies.
User Experience
User Experience (UX) is a critical factor that can make or break your website's success. It encompasses all aspects of a user's interaction with a website, including its design, usability, accessibility, and overall satisfaction.
The first impression matters. That's why a high bounce rate can indicate that users don't like something about your website and leave.
You won't be able to measure competitors' bounce rate, scroll depth rate, the number of page views in one session, and other SEO KPIs reflecting user engagement.
However, you can assess user experience from a user point of view. Ask yourself the following questions while reviewing competitor websites:
Does the website look clean?
Does the H1 copy on the main page clearly communicate the website's purpose?
Do website pages use one H1 and several H2, H3, and H4 titles?
Is the design consistent across all web pages?
Is it easy to navigate around the website?
How easy is it to buy a product or submit a contact form?
These are a few UX aspects to take into consideration while reviewing your website versus your competitors' websites.
Step #5: Analyze Competitors' in Search Results
When I say "presence", I mean the meta title, meta description, structured data, and overall metadata quality, which directly impact the organic click-through rate (CTR).
No matter how good your content is, no one will read it if they don't open your web page first.
Therefore, your meta title and description should be catchy, have featured snippets ideally, and comply with Google's rules.
Even though I've seen websites that completely ignored metadata character limitations, I am sure the majority have it set correctly.
So, your goal is to assess competitors' presence in organic search results and ensure your meta title and description are optimized to entice a reader to click.
When analyzing title tags and meta descriptions of your competitors, ask yourself the following:
Do meta titles and descriptions include keywords?
Where are the keywords placed? The closer to the beginner, the better.
Do meta titles and descriptions effectively convey the purpose of web pages?
Do meta titles and descriptions entice a reader to click?
Do your competitors have featured snippets in organic search results? If yes, what kind and how did they achieve it? If not, that's your chance to improve your website's search results and attract more visitors.
Semrush and Brado published an excellent research study on how featured snippets work and how to optimize for featured snippets. Check it out if that's relevant for you now.
You can also navigate to the Semrush Organic Research report and open the "Positions" subreport to check whether your competitor has featured snippets and what keywords trigger them.
Based on my experience, featured snippets are more likely to appear for web pages ranking in the top ten organic search results. It's also possible for one search result to display multiple featured snippets simultaneously, such as FAQs and site links.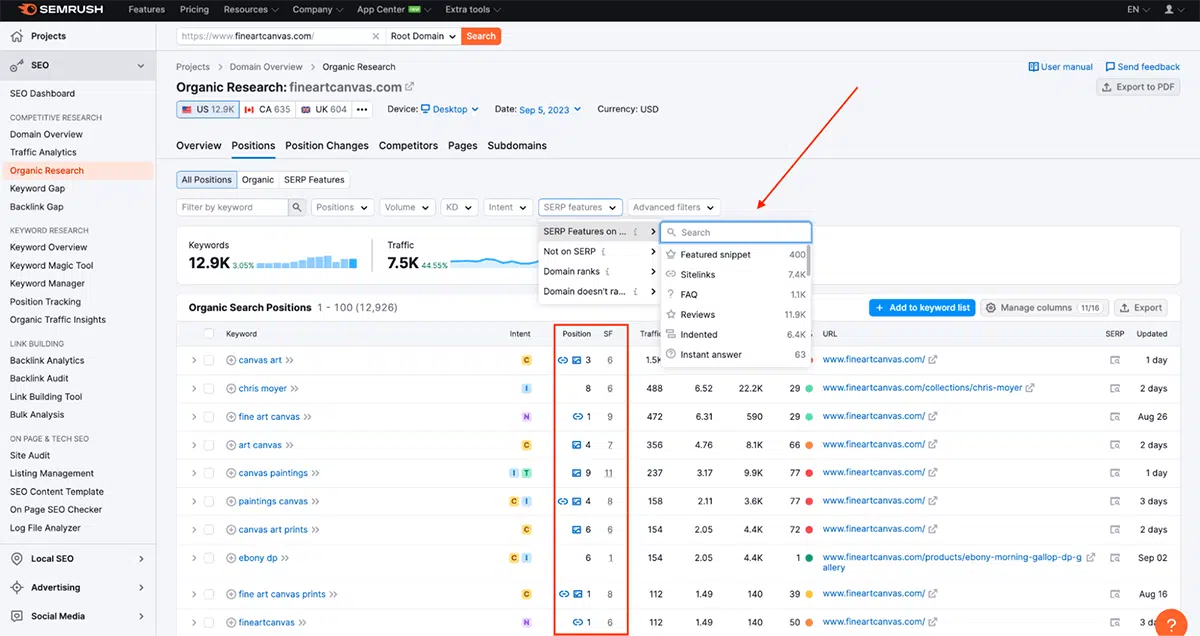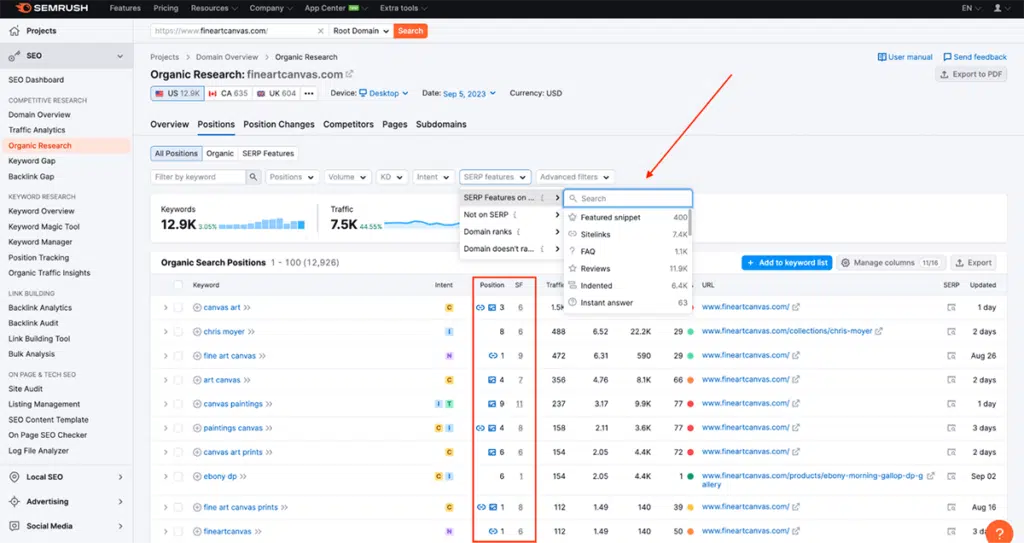 Step #6: Check Core Web Vitals
If two websites are similar for Google bots, the one that complies with Core Web Vitals will most likely rank higher in organic search results.
According to Google, "Core Web Vitals along with other page experience aspects, aligns with what our core ranking systems seek to reward."
That's why I recommend checking competitors' Core Web Vitals and comparing them to your website's metrics.
There are two proven-to-work ways to do it.
Page Speed Insights
Google has a free tool to help assess website performance on desktop and mobile called PageSpeed Insights.
After running a quick test, the tool provides recommendations on how to improve page speed and the Core Web Vitals metrics.
Unlike artcanvas.com, our competitor's home page, fineartcanvas.com, has passed the page speed test.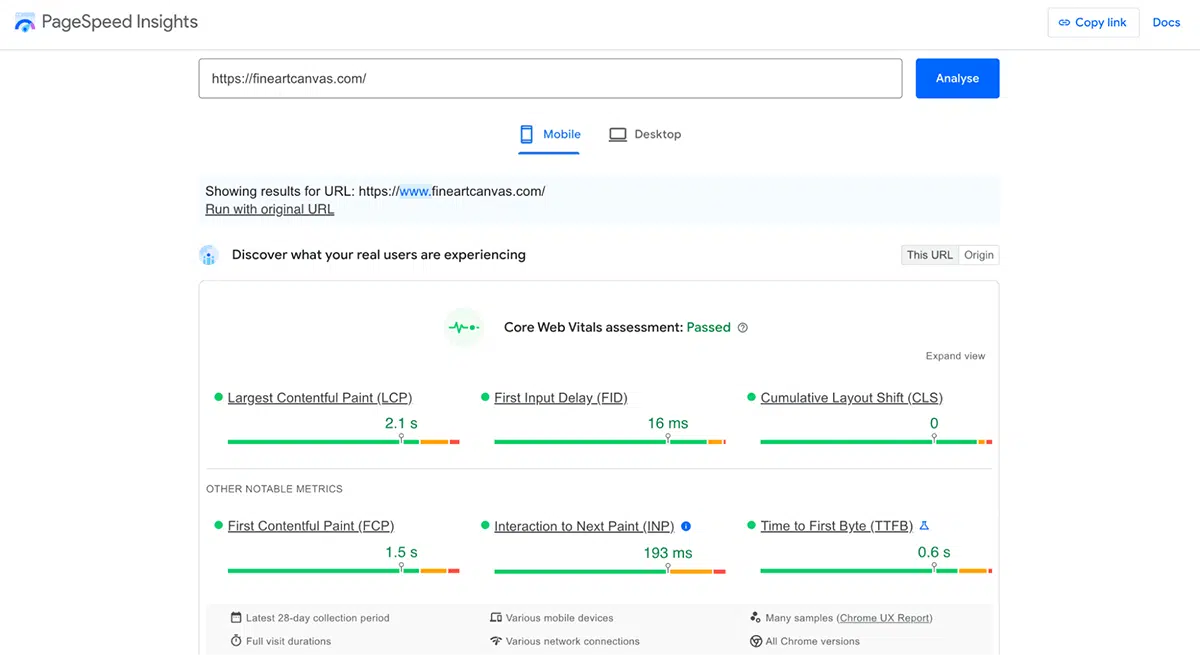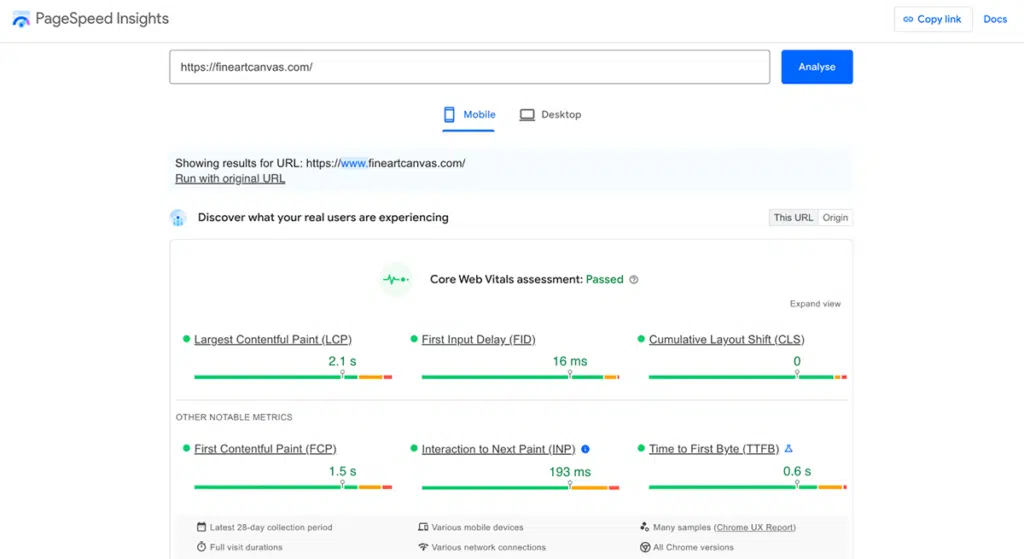 Semrush Site Audit
Alternatively, you can use Semrush Site Audit to see all technical issues on your website and competitors' websites.
I prefer this method since you get a lot more information about the current state of your website, critical technical issues, and tips on how to solve them.
Unlike PageSpeed Insights, Semrush checks the Core Web Vitals metrics for ten URLs at a time. You'll get the results consolidated in one report with improvement recommendations, which is very convenient.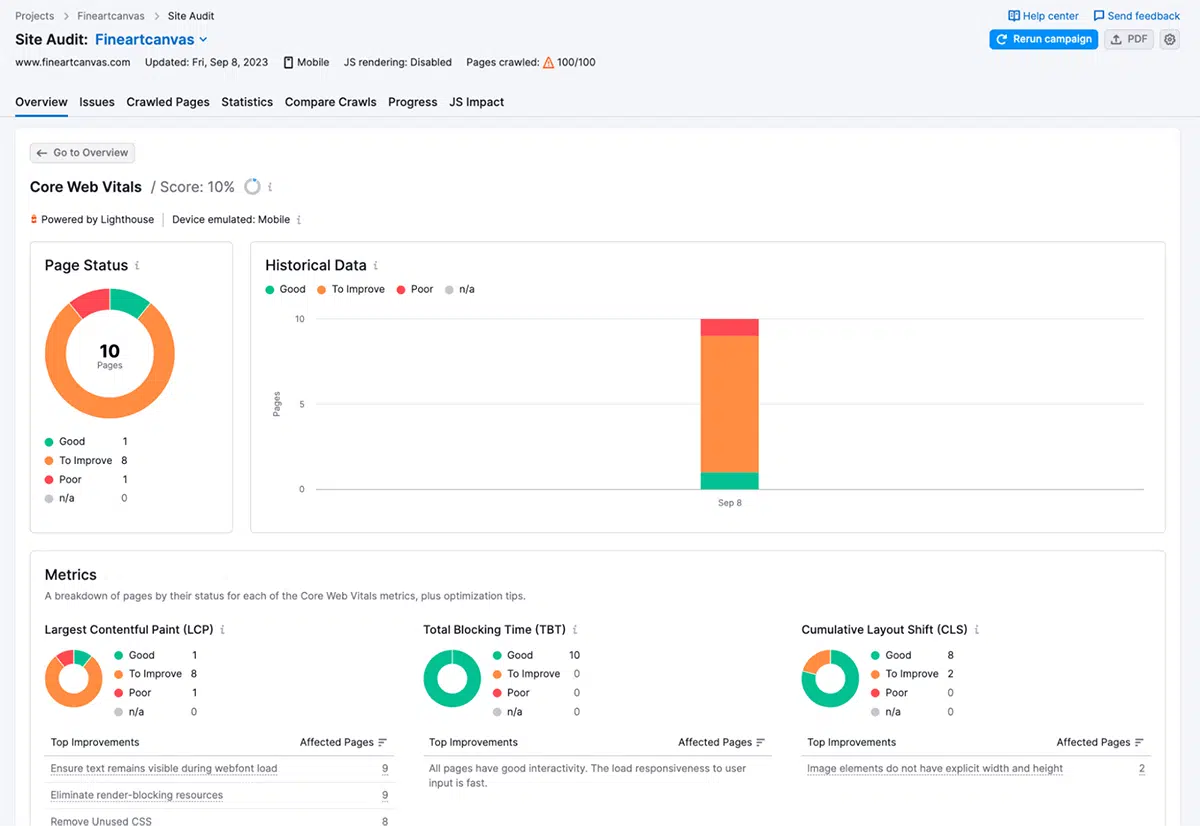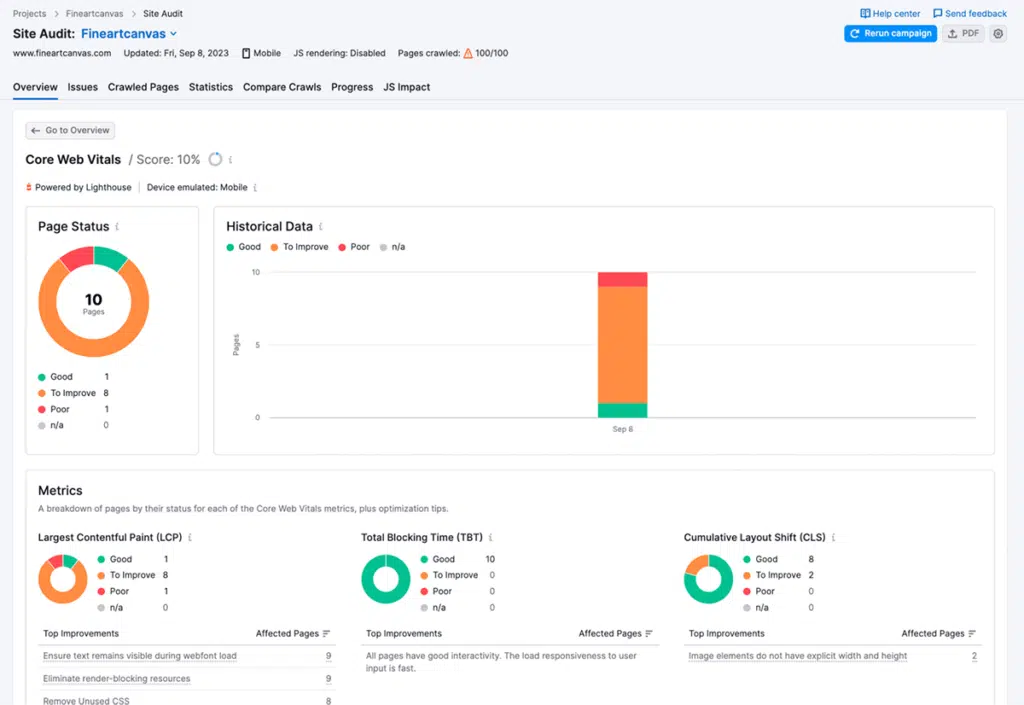 Step #7: Review Their Traffic Generation Channels
The last but not least important step is analyzing competitors' top traffic generation channels.
Using Semrush Traffic Analytics, you can see what traffic generation channels work for your competitors.
For instance, fineartcanvas.com has over 50% of direct traffic, which indicates high brand awareness. Organic search is the second top-generation channel, which means website owners invest in SEO and content production.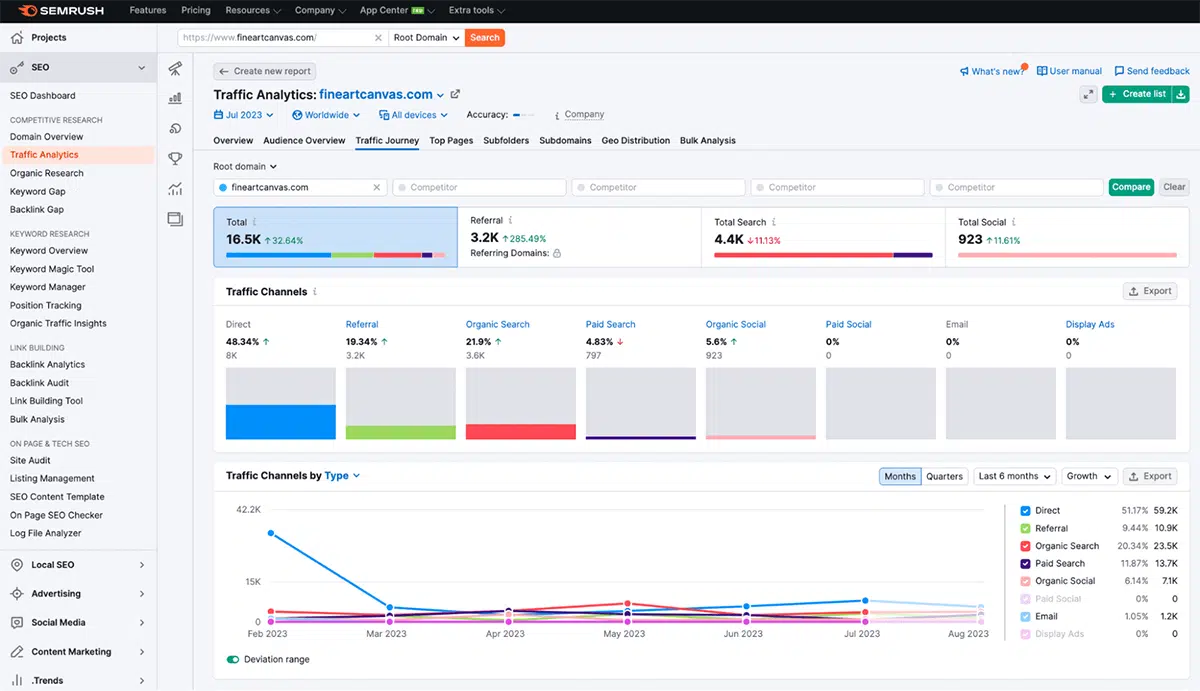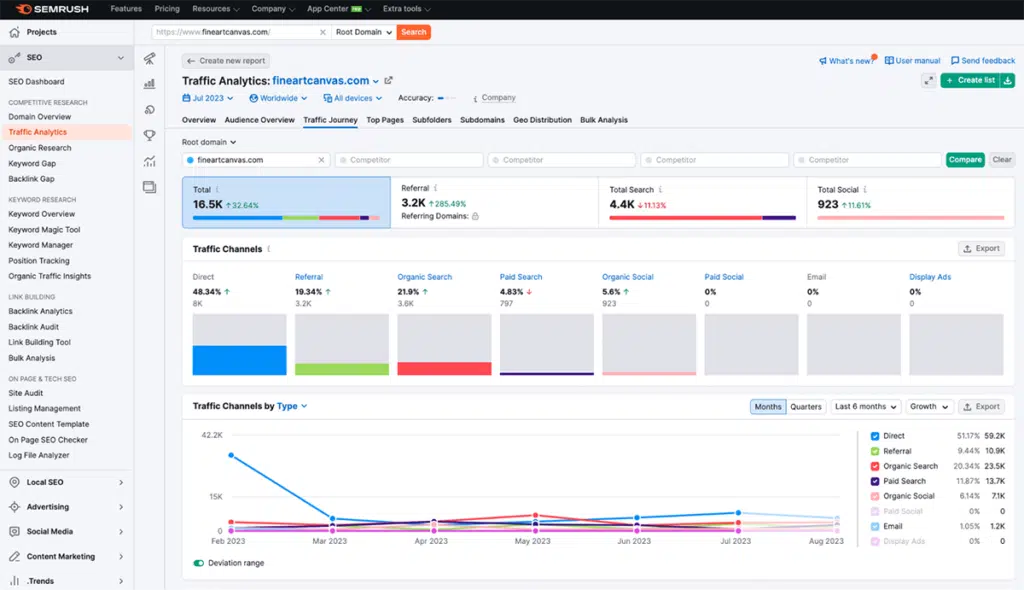 If you see a high percentage of traffic coming from paid search — like in this case of 11.87% — it's worth exploring competitors' PPC keywords.
Semrush Advertising Research shows all the keywords your competitors bid in paid search, ad copies, and historical paid search trends.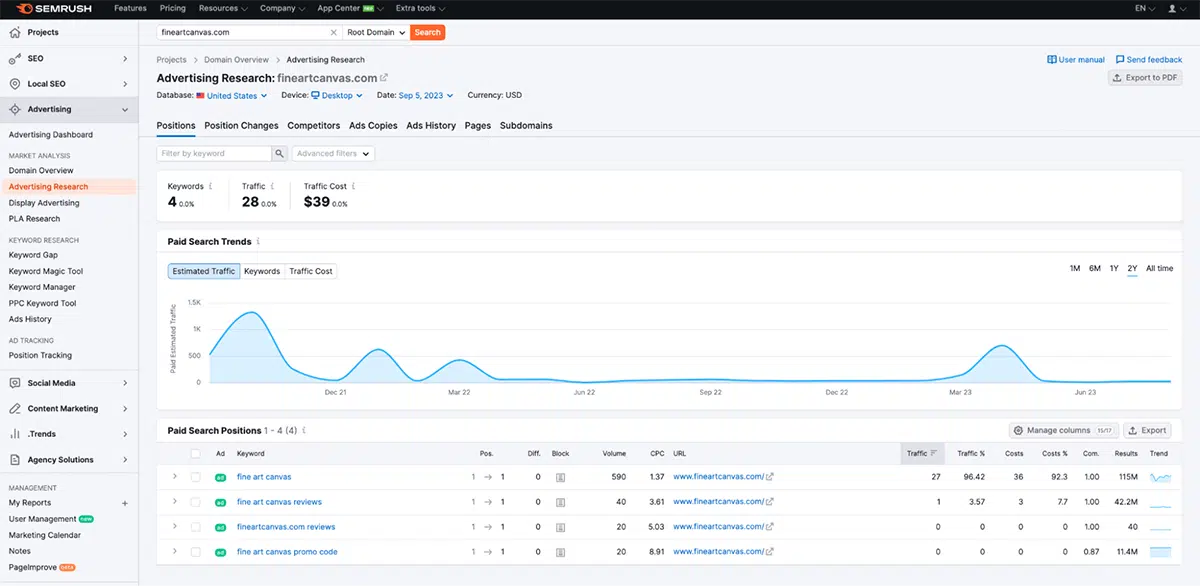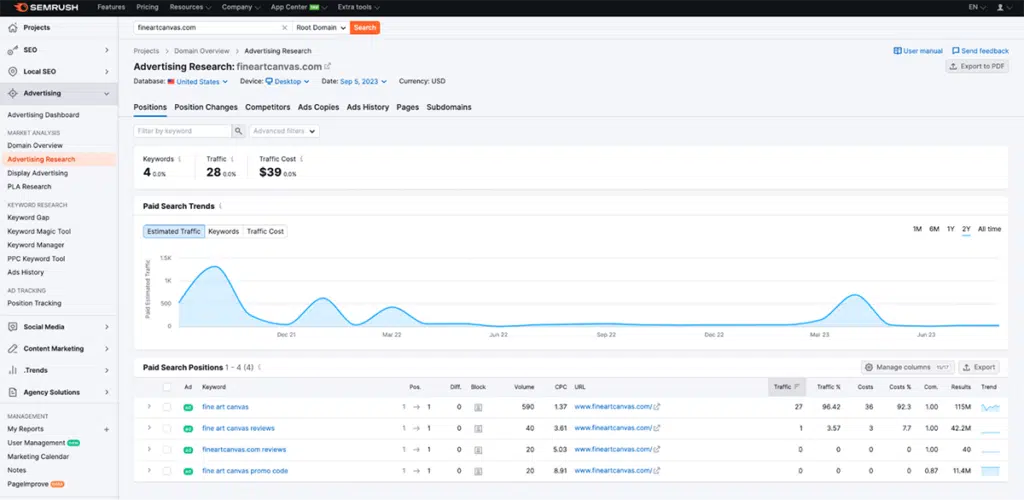 What's Next?
After going through these steps, you should already know who your competitors in organic search results are and how their websites perform compared to yours.
Of course, you can do more if you want to dig deeper into some areas, but it's good enough for you to get started.
SEO competitor analysis usually provides a lot of ideas for implementation. However, it does not mean you should implement all of them at once. Instead, prioritize the tasks you believe will help your website outperform competitors and meet your business goals.