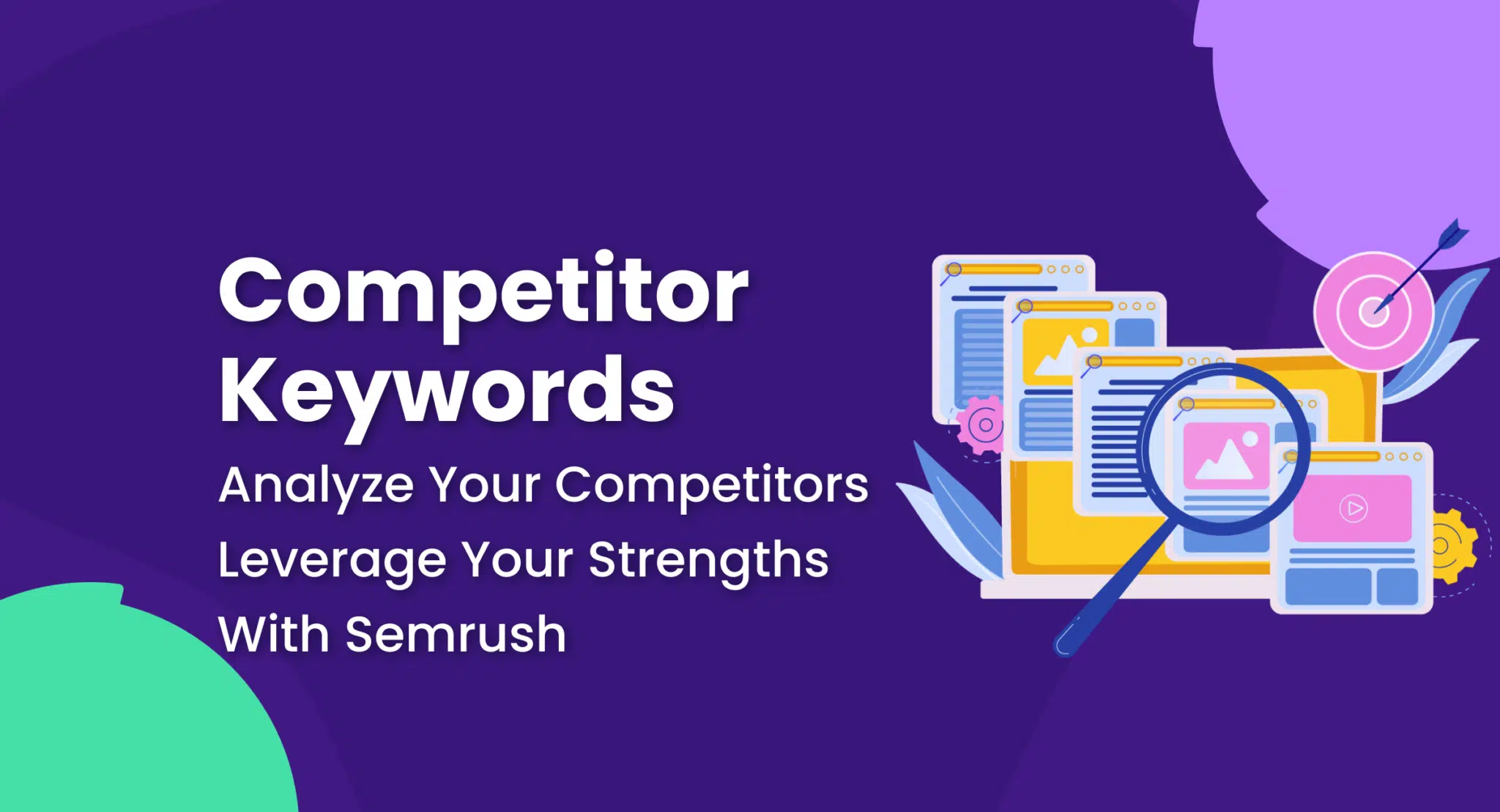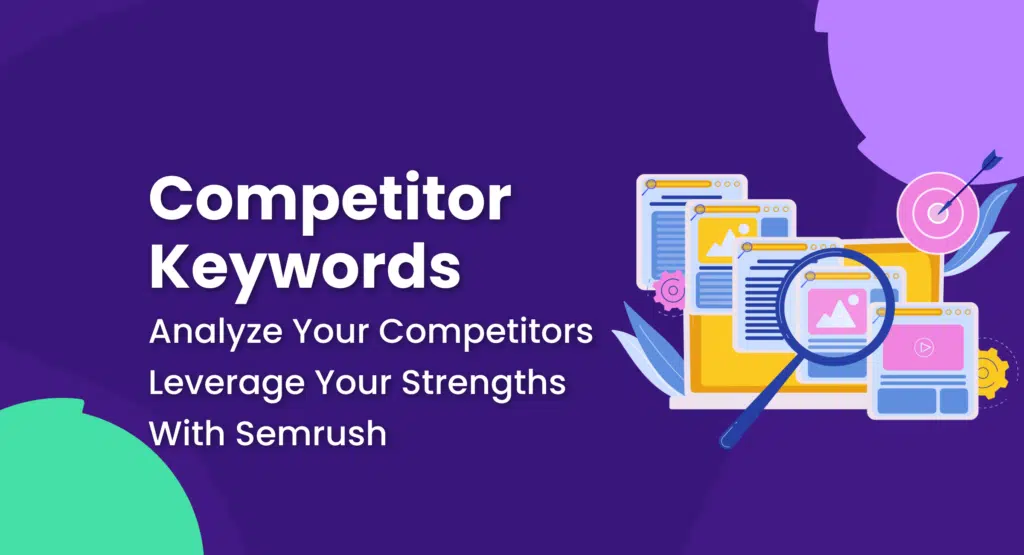 Competitor keywords can be fun to explore for the private detective in all of us.
But they're not just amusing to browse … discovering top competitor keywords is strategic.
When you keep track of the keywords that your competitors' websites rank for, you can craft a smart SEO plan to target those keywords as well.
In my article on keyword difficulty, we looked at an example about a website that sells art prints, and I'm going to continue with a similar example today.
How can you leverage a competitor's SEO strengths — and weaknesses — to boost the visibility of your site?
Let's find out …
What Are Competitor Keywords?
Competitor keywords are the search terms that your competitors deem valuable, and if they've targeted certain keywords to drive more relevant traffic to their sites, those keywords should interest you as well. A competitor keyword research tool can also help you find untapped opportunities.
That's why this process is a bit like detective work. If a keyword helps a competitor get more traffic, sure, there's a good chance you should target that keyword as well. But you can also find gaps in their strategy to help you rank for important keywords (before they do).
After you discover the keywords your rivals want to target during an SEO competitor analysis, you can organize that information and use it to help clarify your priorities.
How do you find competitor keywords to help with your own rankings?
You first have to gather a list of your competitors. Here's a short guide that will help you assess other sites in your niche.
A Short Guide on Assessing Competitor Websites
Before you perform a keyword competitive analysis, you want to make sure that you're looking at the right sites.
In other words, all competing websites are not created equal. So you want to select the best ones to analyze.
Both methods below get the ball rolling on this process, but the second one is going to give you access to the most insights.
Perform a Google Search
Who are your search competitors? Let's take a look at Google to find out.
When you Google keywords related to your site, you'll quickly uncover your top search competitors.
If your website is vangoghartprints.net, here's a Google search relevant to your website: "van gogh art prints."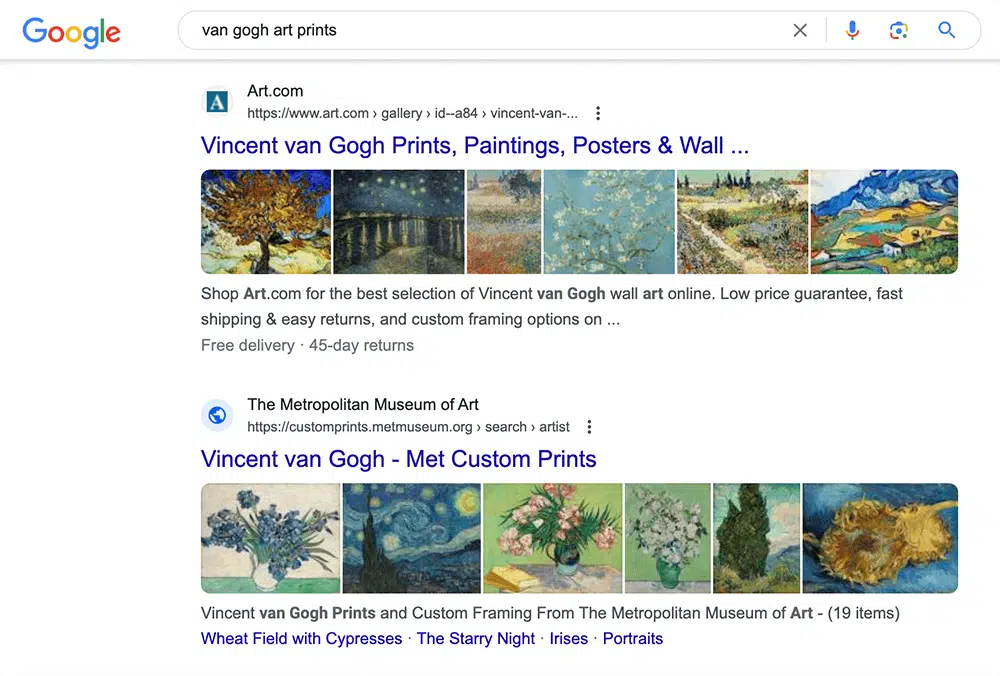 But this information isn't always immediately helpful. If your site isn't on Page 1 yet, the top rankings on Google aren't going to be the right competitors to analyze.
It's important to realize that competitors with the highest organic rankings are not always the best competitors to compare with your own site.
For example, as you can see in the screenshot above, sites like Art and The Metropolitan Museum of Art have the top placements in search.
That's good to know in general, but if you dig a little deeper, there's going to be competitor data (including long-tail keywords) that you can use right away.
Use Competitive Research Tools
I mentioned in my Semrush review that the platform's competitive research features are essential.
So, if you have a website like vangoghartprints.net that isn't near Page 1 yet, and you're not quite sure who your biggest competitors are, SEO software can help. (And if you're comparing Semrush vs. Similarweb, Semrush is the way to go when it comes to competitor research tools.)
For this case, we'll start with the Organic Research tool. Simply enter your domain name in the Organic Research search bar. You'll first see stats about your own site in the Overview tab.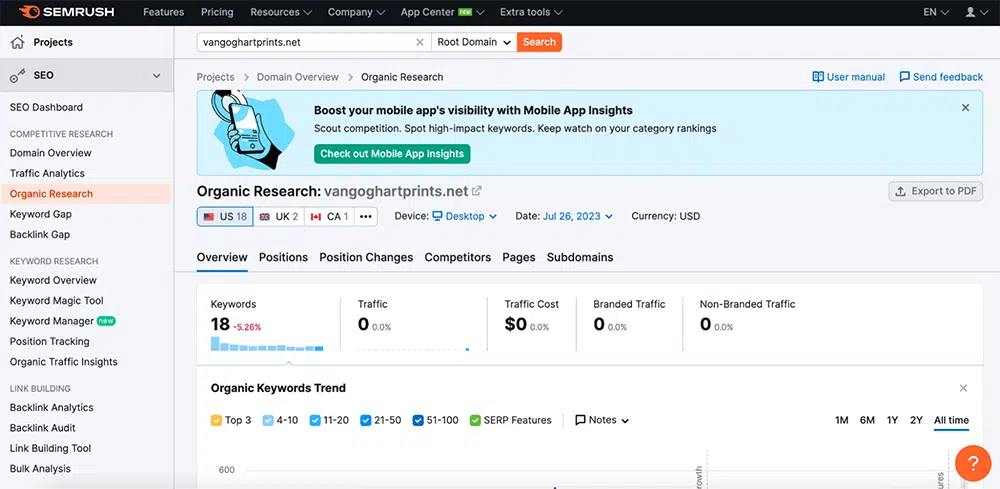 If you scroll down, you'll find Organic Keywords, Top Keywords, and Keyword by Intent.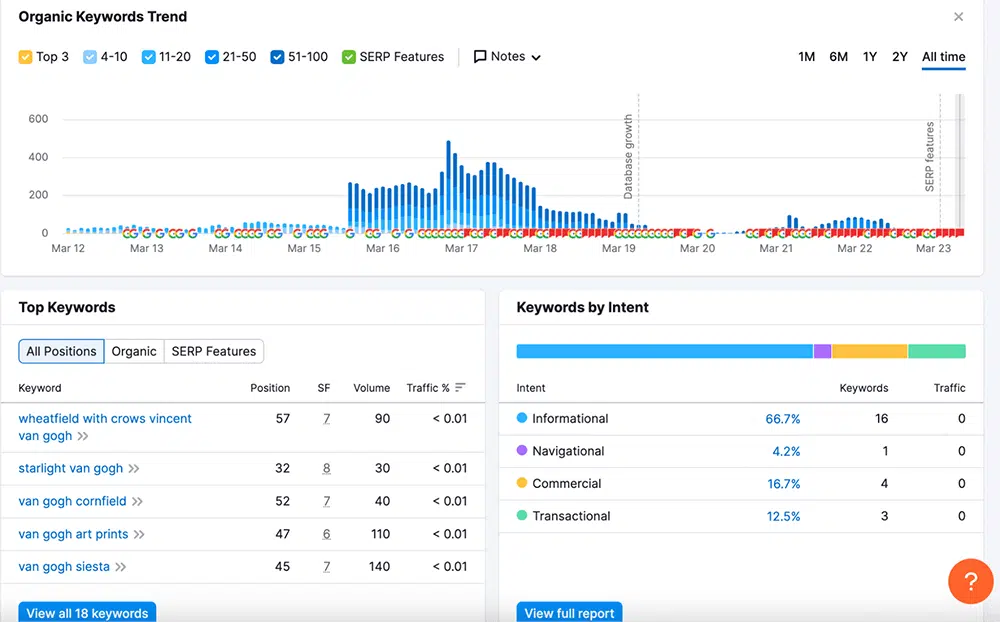 Then you can navigate to the Competitors tab to view other sites in your space.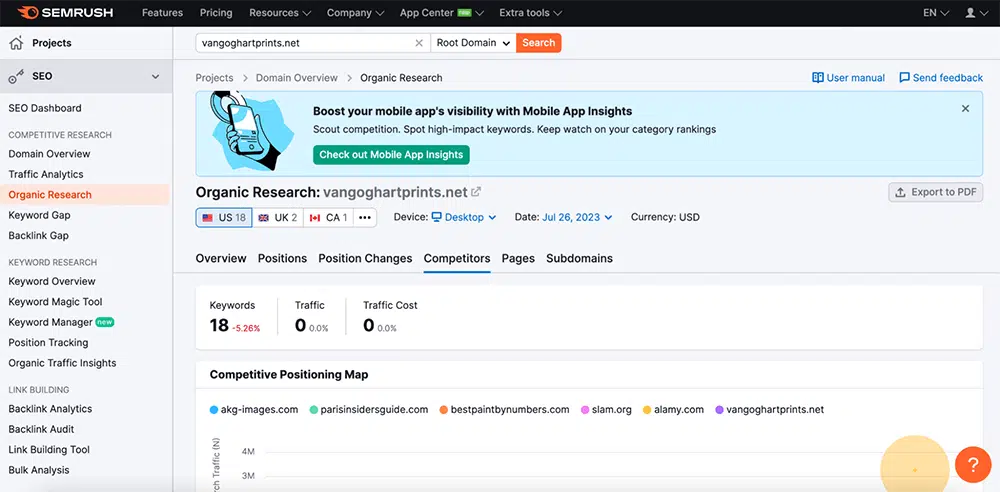 See how this tool saves you time? Instead of endless scrolling through Google to find the sites that most closely compete with yours, you get this information (and much more) with the click of a button.
How to Find Competitor Keywords
The Organic Research tool doesn't just reveal your competitors. It shows you how well they're doing in search, which you can use to improve your own rankings.
That's the "much more" I hinted at above.
Has a competitor won certain keywords?
What are the top pages related to your niche?
Have there been recent position changes for organic keywords?
You can examine each organic competitor to discover how much traffic they get, which keywords they have in common with your own site, and their paid keywords.
Discover a Competitor's PPC Keywords
To perform the most comprehensive competitor analysis, you'll want to gather information about paid keywords as well.
We can use Semrush's Advertising Research tool to find which keywords a competitor bids on, along with any live ads they're currently running. You can even see whether or not the campaigns are going well.
Let's look at one of vangoghartprints.net's competitors: artdesigna.com.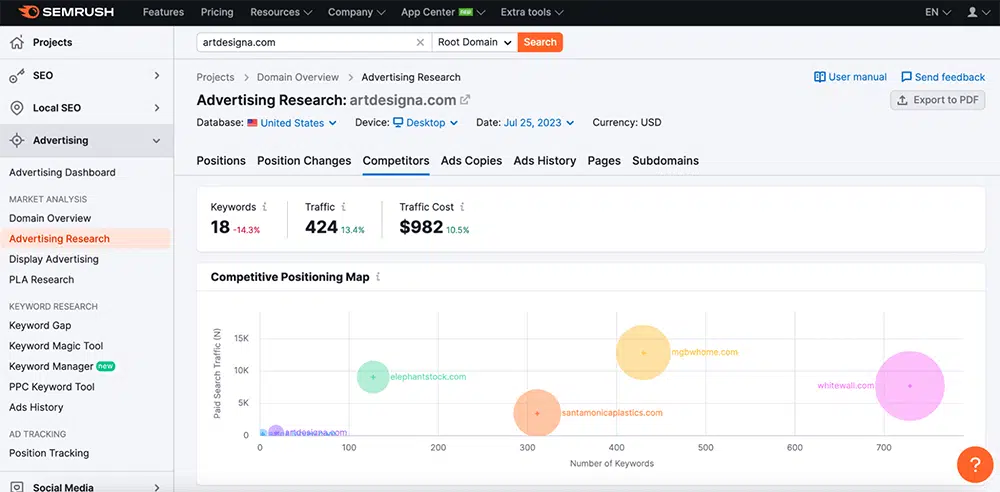 In a minute, I'm going to show you just how handy the Keyword Gap tool is, but for now, you can see that it really complements the Advertising Research tool.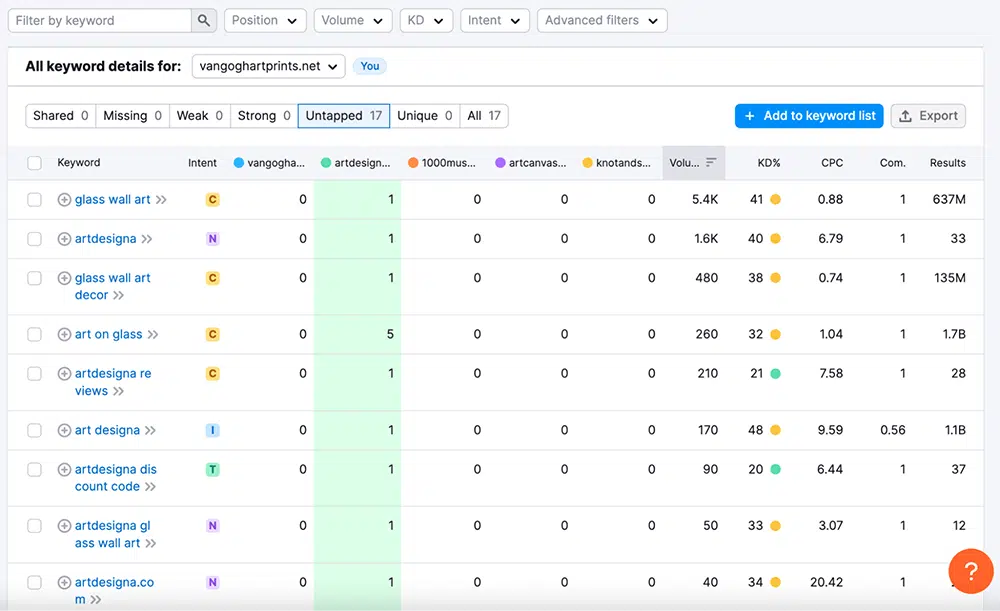 You can quickly analyze a competitor's paid keywords to find untapped opportunities that will drive more traffic to your site.
3 Steps to Perform a Keyword Competition Analysis
Let's put the foundational information we collected above into action.
Here are three steps to complete your keyword competition analysis.
Step #1: Collect Keywords to Analyze
Once you find your organic competitors, you'll see a column that reveals "common keywords."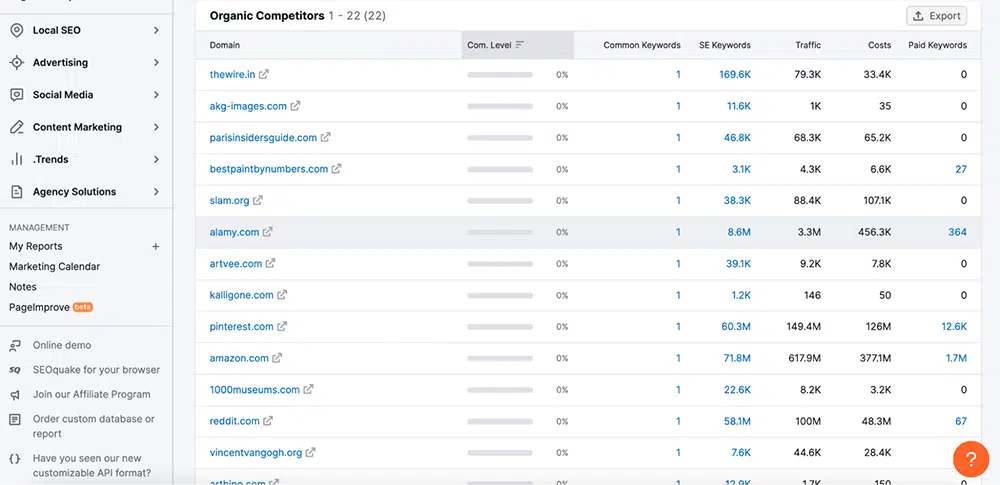 Clicking on any common keyword will take you to the Keyword Gap tool to discover more data. With the Keyword Gap tool, you can compare up to five domains.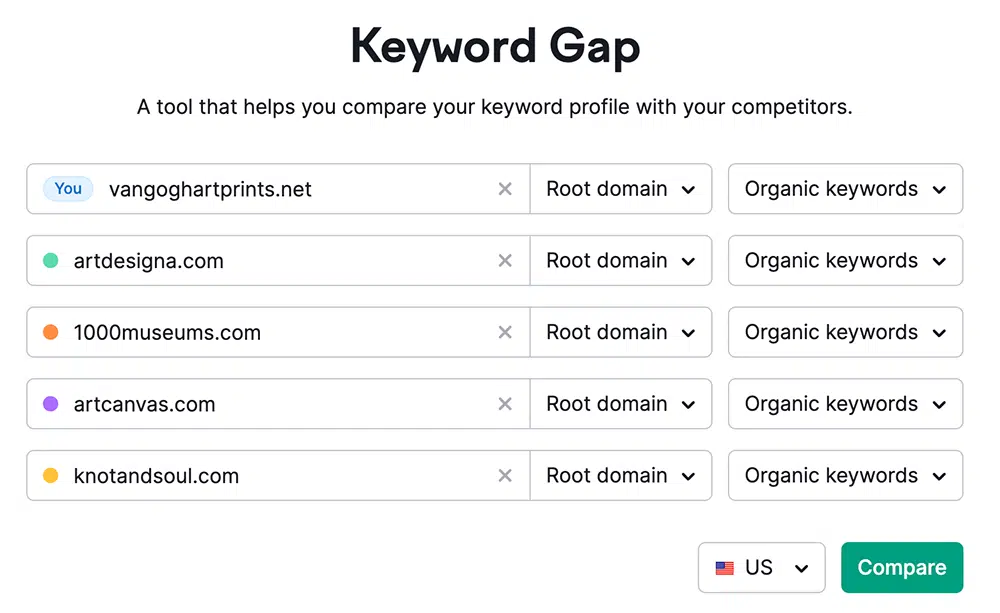 You'll find all of the keywords that you share, as well as the ones that your site lacks.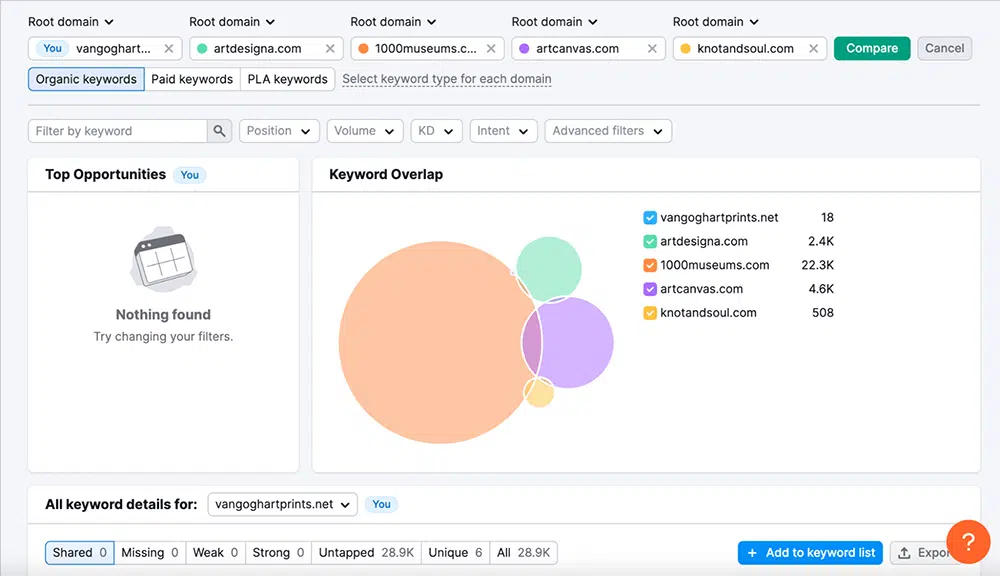 Simply add the keywords you're interested in exploring further to the Keyword Manager by clicking the blue button "+ Add to keyword list."
Need all of your results in a spreadsheet? No problem. You can click "Export" to transfer all of your keywords at one time.
Step #2: Organize Competitor Keywords
Now it's time to get organized.
When you compare your domain to others, you'll find details about keywords that are:
Shared
Missing
Weak
Strong
Untapped
If you're looking for new opportunities, filter for Untapped keywords.
For vangoghartprints.net, there are a number of new keyword opportunities based on data from 1000museums.com.
Again, you can add keywords you're interested in to the Keyword Manager or export them to a spreadsheet.
Step #3: Review Your Results
Find anything good?
To narrow down your results so that you can craft your new SEO strategy:
Eliminate keywords that won't drive relevant traffic to your business.
Save high competition keywords for later, if your site is new.
Plan to target organic or paid keywords that have strong domain and trust authority.
You'll also want to review your existing content for potential keyword cannibalization issues.
Don't forget about search intent either. Matching your content's style and format to the right search type will help you create successful posts and pages that'll give your competitors a run for their money.
Take Advantage of Competitor Keywords for More Visibility
Before you start your SEO copywriting to tackle new topics, take some time to analyze each keyword's metrics, such as:
Search volume
Keyword difficulty
Keyword variations
Average CPC
Live ads
You can use Position Changes to your advantage as well …
Has a top competitor lost a ranking recently? That could be your chance to focus on that keyword for an easy win.
Competitor keyword research takes time and strong analytical skills. But with a free tool like Google at your disposal, and a paid tool like Semrush that reveals invaluable data, you're ready to tackle this process.