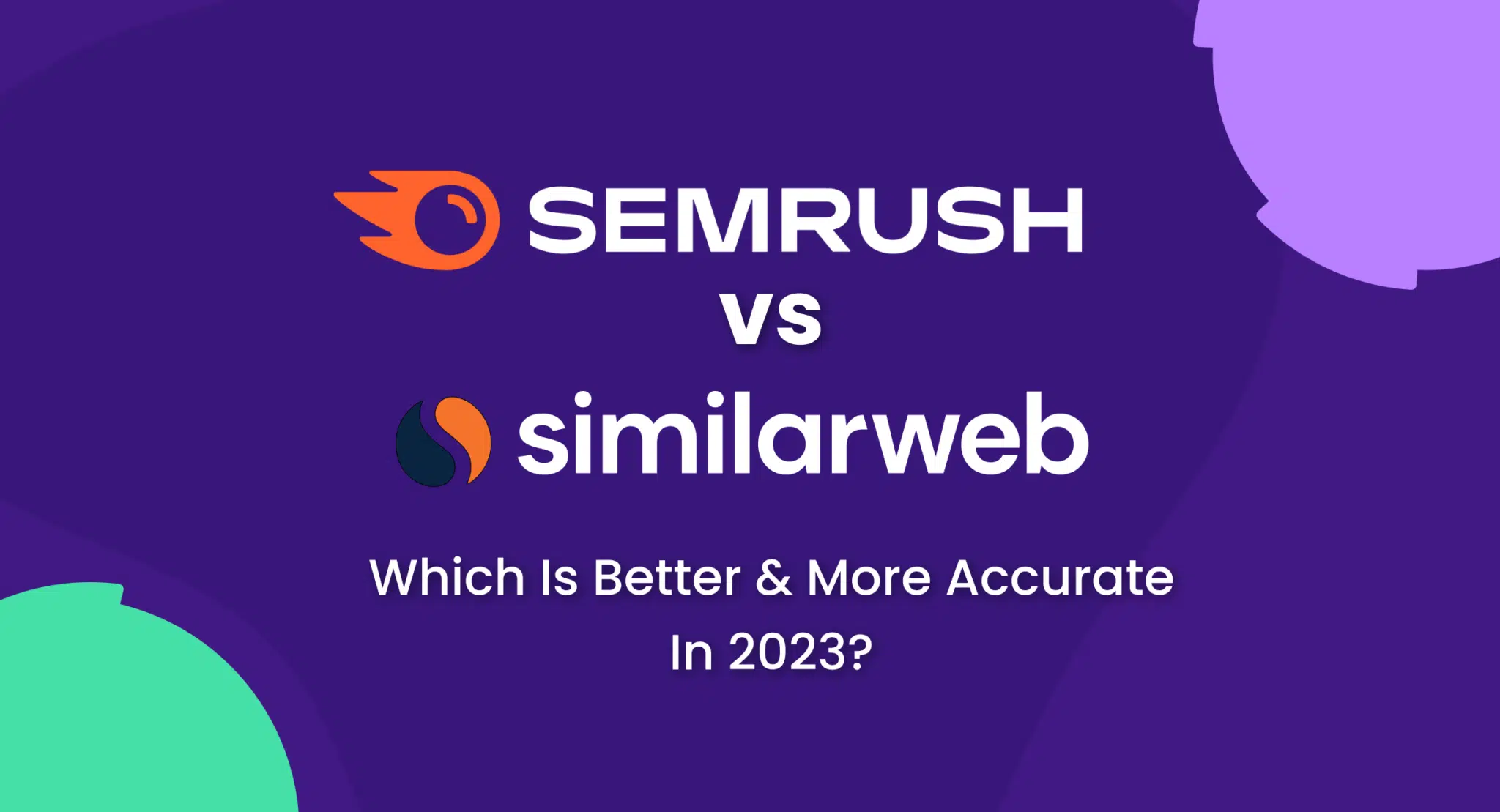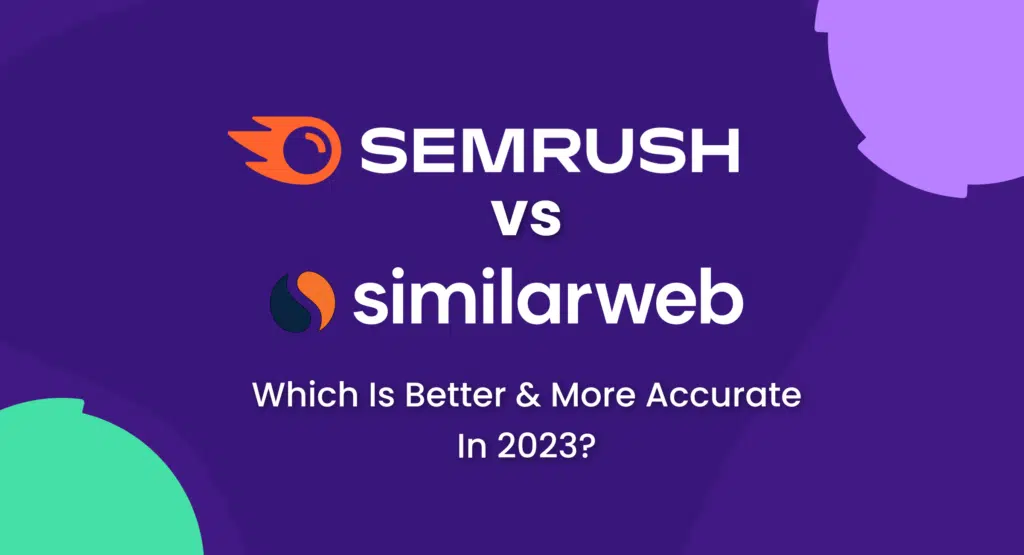 Given the vast number of SEO tools currently on the market, how do you decide which one to use?
If this question is bugging you, then you've come to the right place. I've been working in the SEO industry for years, and have used and reviewed all types of tools.
Most recently, I wrote an in-depth review of Semrush and did a Semrush vs. Ahrefs comparison.
Today, I'm going to be diving deep into a comparison of Semrush vs. Similarweb.
Launched in 2008, Semrush started with only keyword research and ranking tools. Today, however, Semrush's toolkit has grown to include 50+ digital marketing tools, including SEO, paid ads, social media, content marketing, and more.
Similarweb is a widely used web analytics tool. Launched in 2007, Similarweb allows users to analyze website performance, competitors, audience demographics, traffic sources, and other website metrics.
Below is a brief overview of the pros and cons, the tools' unique features, and my honest opinion as a Semrush and Similarweb user to help you quickly pick the most suitable tool.
TL;DR Semrush vs. Similarweb
Even though Semrush and Similarweb offer slightly different features, I'll compare them from an SEO standpoint.
Semrush is an all-in-one digital marketing platform suitable for SEO beginners, professionals, small businesses, and established companies with giant websites.
In a nutshell, it's a go-to solution for SEOs and agency owners.
Similarweb's strengths are in web analytics and as a powerful competitive analysis toolkit.
I cover the pros and cons of both tools in detail in the following paragraphs. But if you don't have time to read the entire article, I've summarized the key points in a table below.
Keyword Database Size
22.3 billion keywords
1 billion keywords
Backlink Database Size
43 trillion backlinks
Unavailable
Rank Tracking
Available
Unavailable
Historical Data
Dates back to 2012
Shows data for up to 3 years
Pricing
The cheapest plan is $129.95.
You have access to all features covered by a chosen monthly plan.
The cheapest plan is $149.
The functionality of the Starter plan is limited.
Free Trial
7 days
7 days
Customer Support
Email Live chat Phone
Email Contact form Account manager
Unique Features
Search Intent
Topic Clustering
Advertising Research
SEO Writing Assistant
Backlink Audit
Toolkit for Outreach
Engagement metrics for desktop and mobile
Audience interests
Toolkit for affiliate marketing
Chrome extension
User Rating on Gartner
4.4 out of 5 (61 reviews)
4.7 out of 5 (12 reviews)
Pros
3,000+ daily reporting requests
Wide range of features for SEO, PPC, content marketing, and social media
Free trial
Ability to use the tool without registration
Extensive toolkit for competitive analysis
Pros and Cons
Now that you have a clear picture of what each tool is and what it can do, let's take a look at their benefits and weaknesses in more detail.
I've used both tools for years before writing this Semrush vs. Similarweb review, so I have a good handle on what they do really well and where they fall short.
Semrush
Semrush is a comprehensive digital marketing solution that can help you with SEO, PPC, social media, and content marketing.
Unlike Similarweb, Semrush offers more features for SEO professionals, including tools for backlink analysis, keyword research, on-page, and technical SEO.
If your goal is to conduct in-depth keyword research, for example, Semrush is more suitable for this task. Semrush's Keyword Research Toolkit offers a comprehensive keyword overview with unique features such as:
Global volume
Search engine result page (SERP) overview
Keyword clusters
An estimated number of URLs in SERP
And historical performance
This data is a must-have for keyword research, and unfortunately Similarweb offers nothing similar.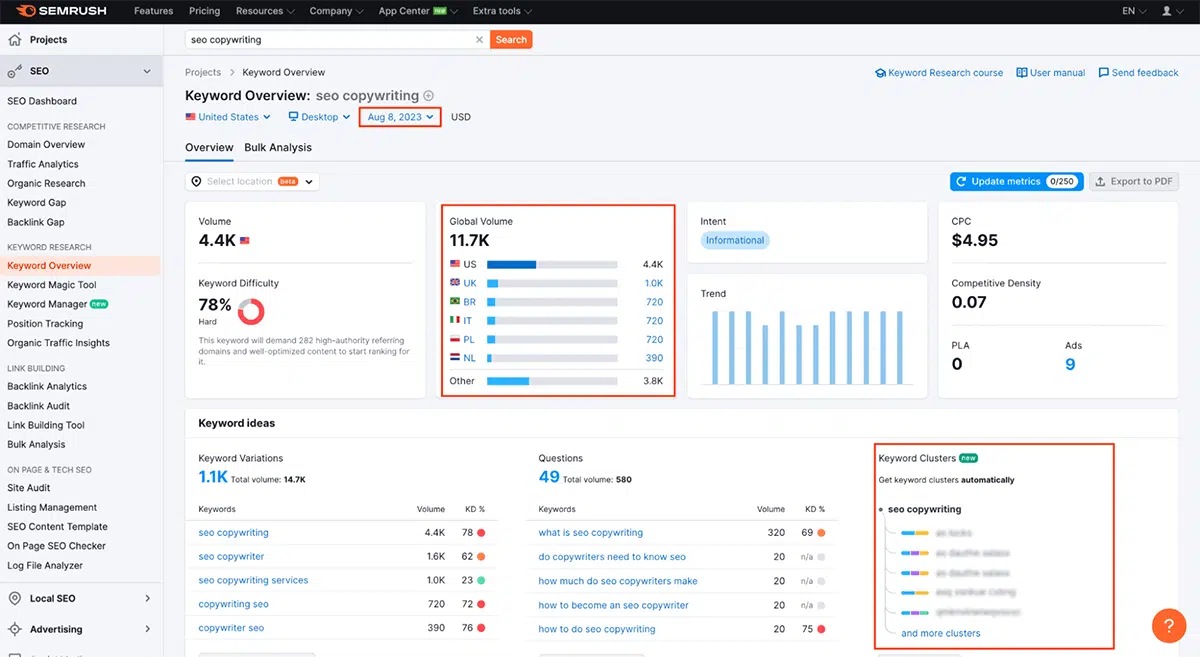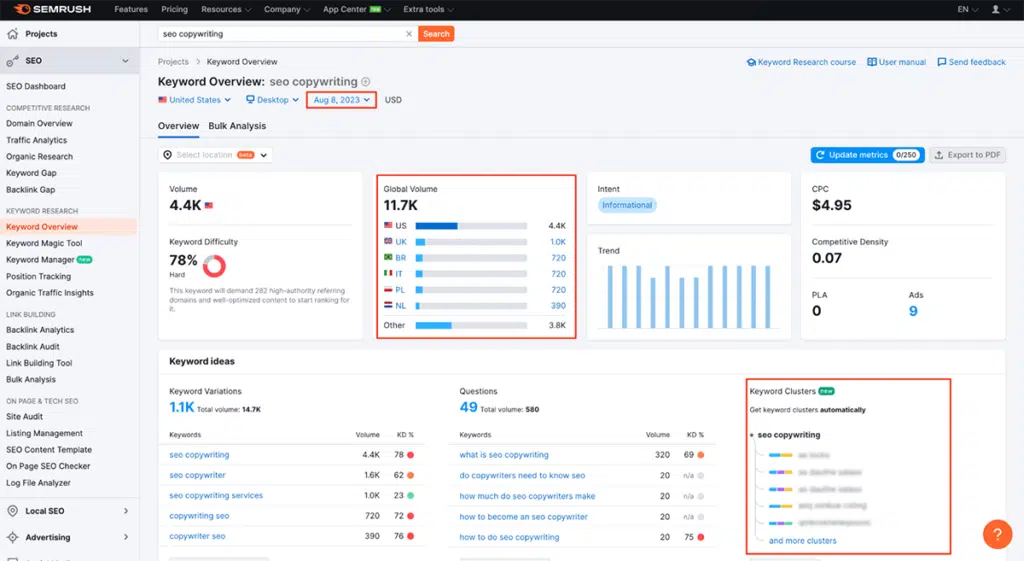 Even though Similarweb's traffic analysis reports are more comprehensive, you'll only see the data from the past three months. This often isn't enough data for an SEO.
Upgrading to the custom pricing plan will let you see the data for up to three years, but it's pretty expensive.
Semrush, on the other hand, shows data for up to one year, even on the cheapest pricing plan. It helps you spot traffic spikes and understand what digital marketing strategies work.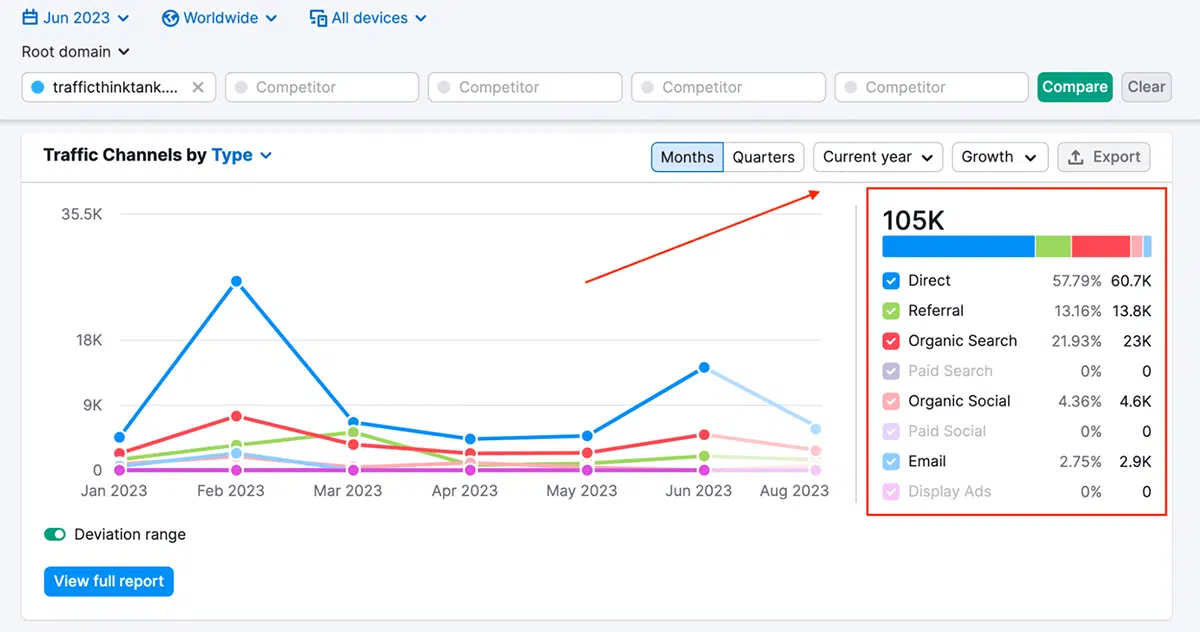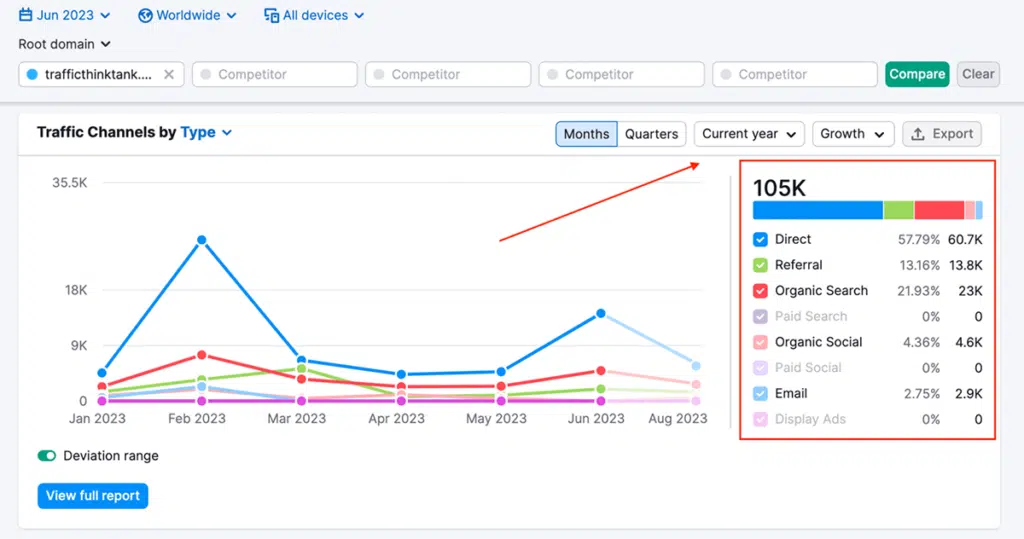 Semrush is also more generous with reporting limits, which means you'll be able to pull more reports regardless of a pricing plan.
Keep in mind that even though Semrush gets data from various clickstream providers to evaluate web traffic, its measurements are approximations.
Only one user can access and utilize Semrush and Similarweb at any given moment. If you intend to include additional users to the account, the price starts at $45 per month per user for the Semrush Pro plan. Similarweb does not offer extra user seats. However, you can choose a custom pricing plan for over five user seats.
Similarweb
Similarweb helps you gain a better understanding of your own website's performance as well as your competitors' online presence. It's widely used for SEO competitor analysis, market research, and strategy planning.
Similarweb can also show your website's traffic sources for up to six months if you have a Professional plan for $399 monthly. Unlike Semrush, Similarweb shows traffic distribution by devices and social channels, which is particularly helpful for e-commerce websites.
However, I've encountered many limitations while using the Similarweb Starter Plan, which can make your work more challenging. For instance, location-based research and historical performance are not available.
In addition, the plan only covers some aspects of SEO, such as keyword research, website performance analysis, and competitor analysis, to name a few. It also can't be used to perform backlink audits, link building, on-page, and technical SEO.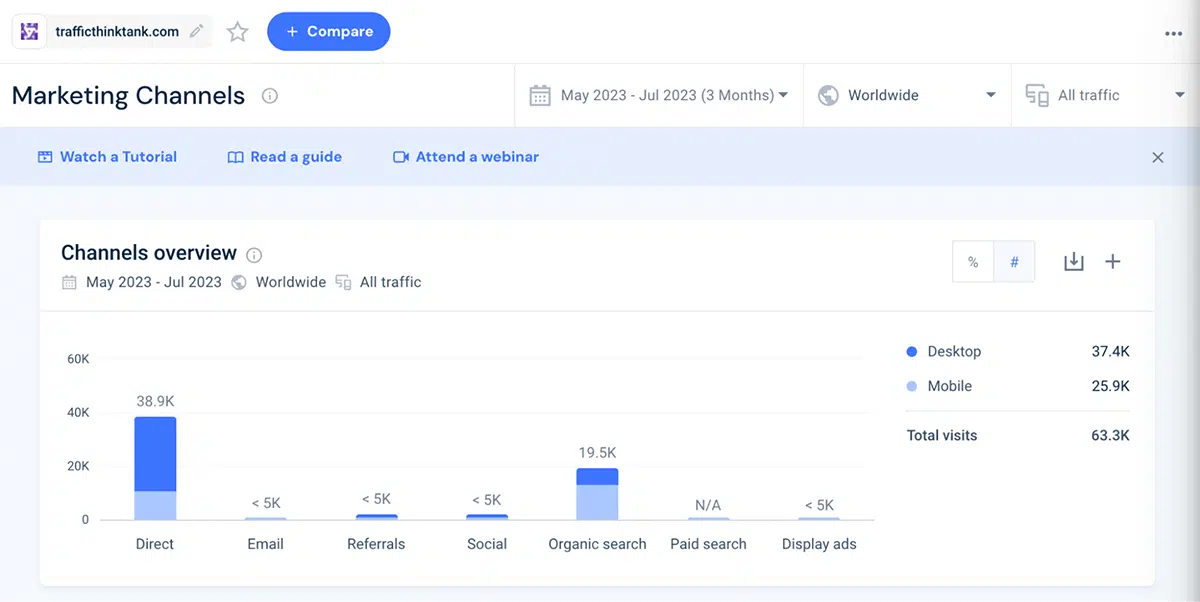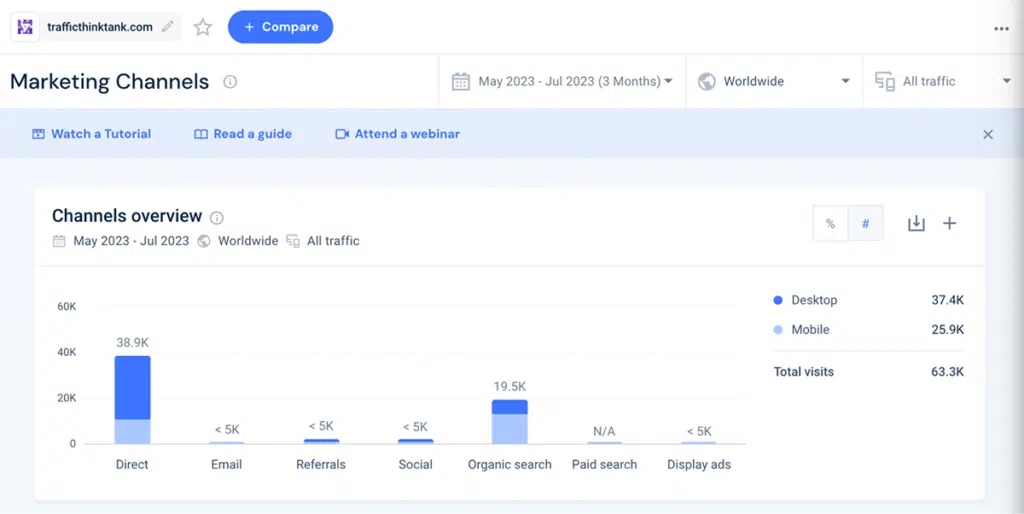 Both Semrush and Similarweb offer a 7-day free trial. However, Similarweb's 10-step registration process is long and confusing.
I once registered for a free trial with my business email but got a message that my trial was over right after the registration. Managing the issue with the support team took me a few days, which I felt was a frustrating waste of time.
When comparing Semrush vs. Similarweb, Semrush is a clear winner in the number and the variety of SEO features. If you are an agency or an SEO contractor, you can do much more with Semrush. However, if you need a tool for in-depth competitor research, Similarweb can definitely help you out.
Key Features Compared
Even though Semrush and Similarweb may seem similar at first glance, they have quite a few pertinent differences.
1. Keyword Research
Semrush's Keyword Overview report provides all the information you need to analyze the keyword potential, including global volume, country-specific volume, keyword difficulty, search intent, and semantically-related keywords.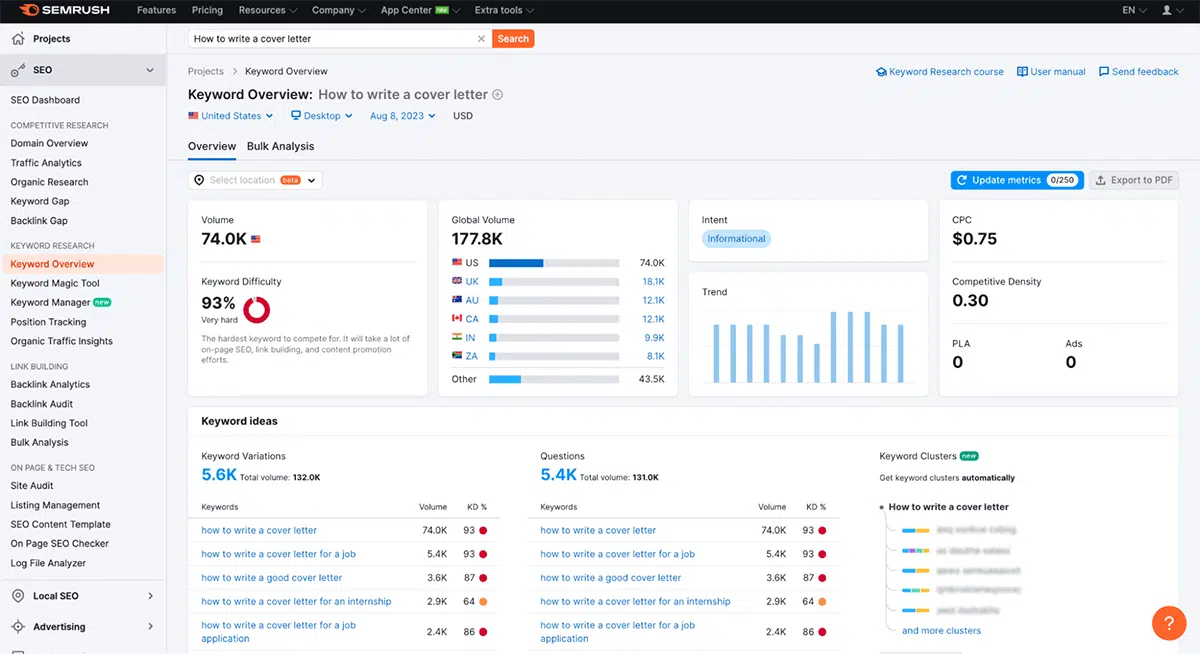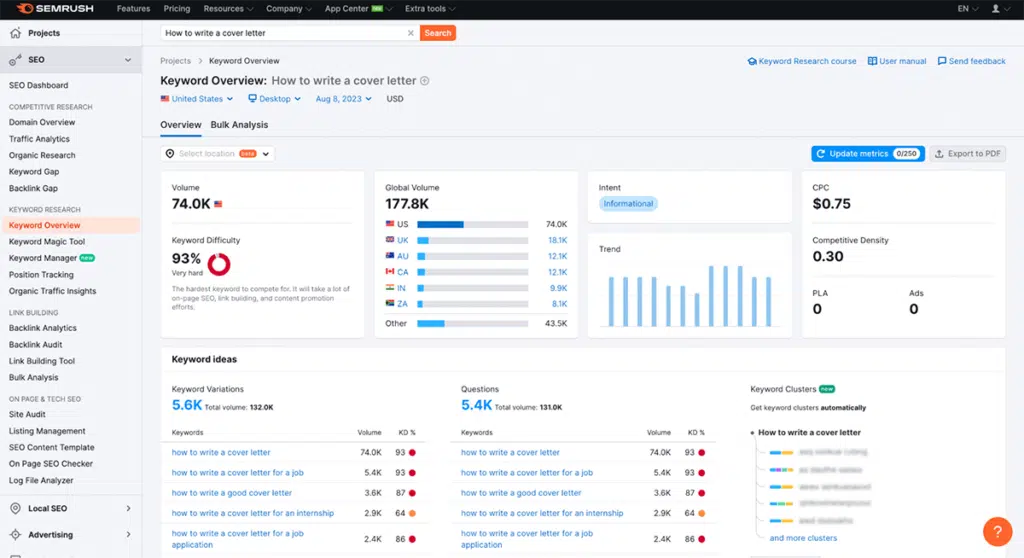 Unlike Semrush, Similarweb's dashboard is more cluttered, making it difficult to quickly analyze keywords.
Similarweb's keyword overview report also lacks SERP and competitor keyword analysis, which are both essential for keyword research.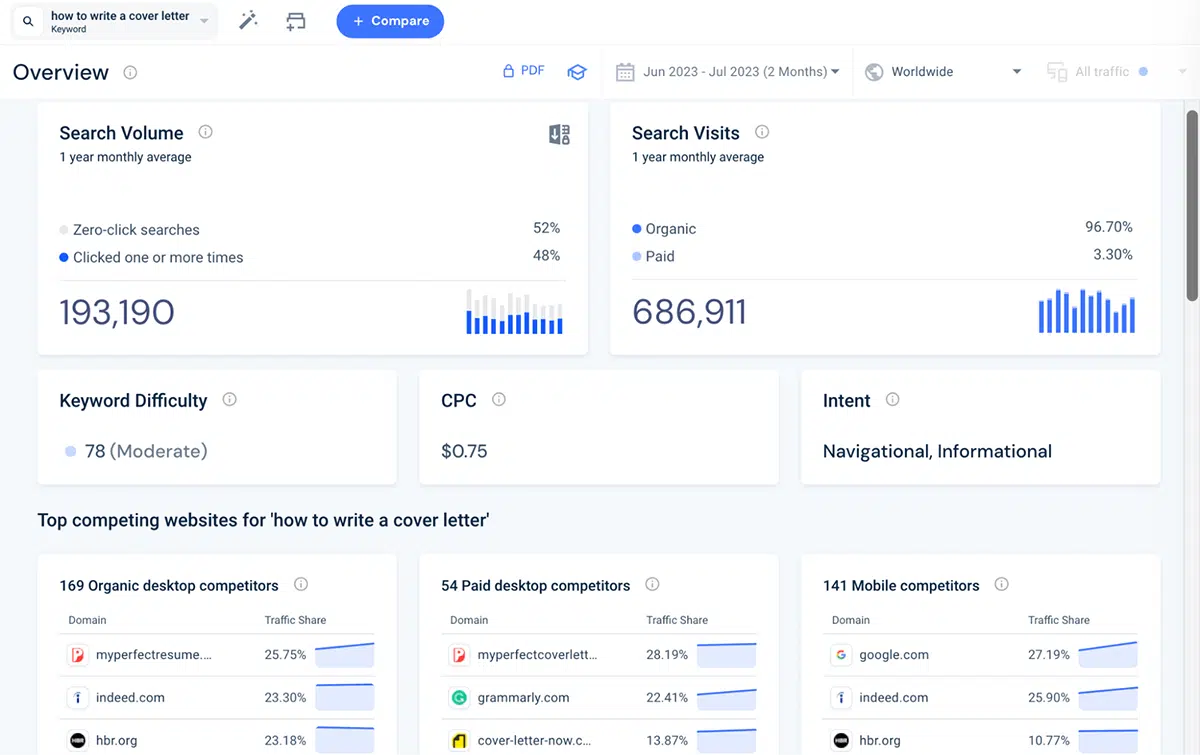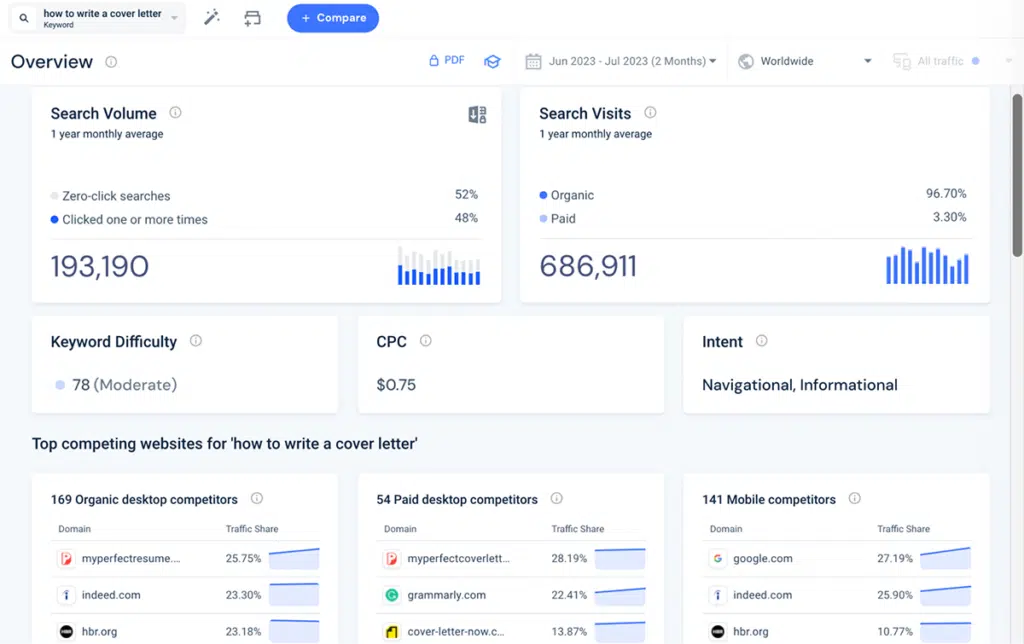 One of Similarweb's unique features is the ability to research keywords for Google, Amazon, and YouTube — but unless you use a custom pricing plan, you won't be able to choose a specific country or time frame. Besides, limited filtering makes it challenging to process long lists of keywords.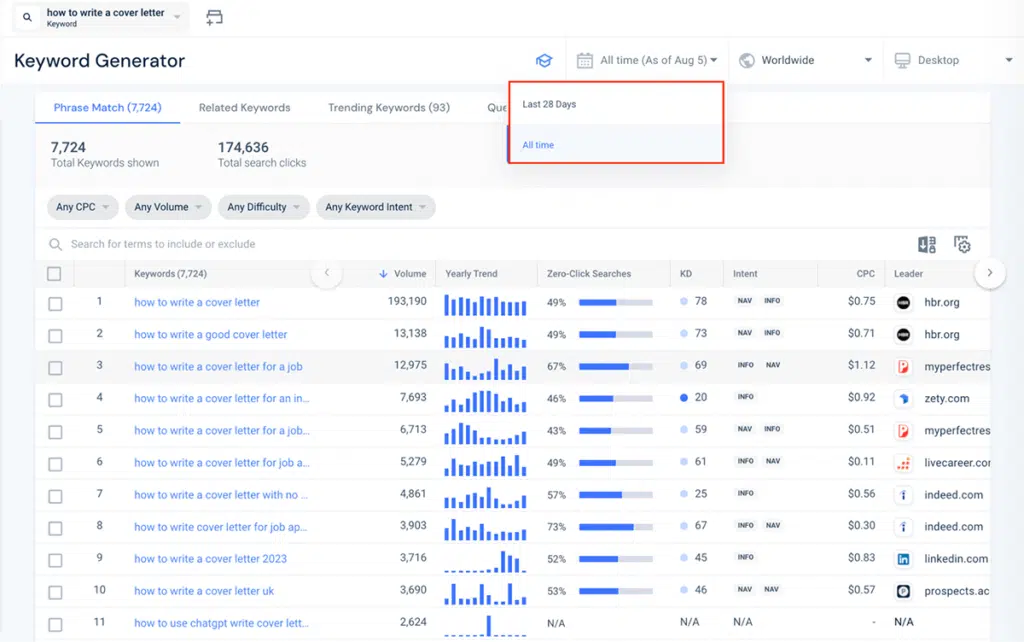 Overall, Semrush stands out with its clean user interface (UI) and comprehensive keyword research toolkit. Semrush shows more data in its keyword overview report, including SEO and PPC, making Semrush a more suitable tool for in-depth keyword research.
2. On-page and Technical SEO
If you want to analyze your website's "health," you can easily do it with Semrush's Site Audit. Semrush will crawl your website and identify critical issues to address.
In the example below, it took me a few minutes to customize the settings and get the site audit results. What I particularly like about Semrush is that you get a prioritized list of issues, so you know what to tackle first (including any 4xx error you might need to fix ASAP). 
As for Similarweb, it does not have any features to help you with technical SEO.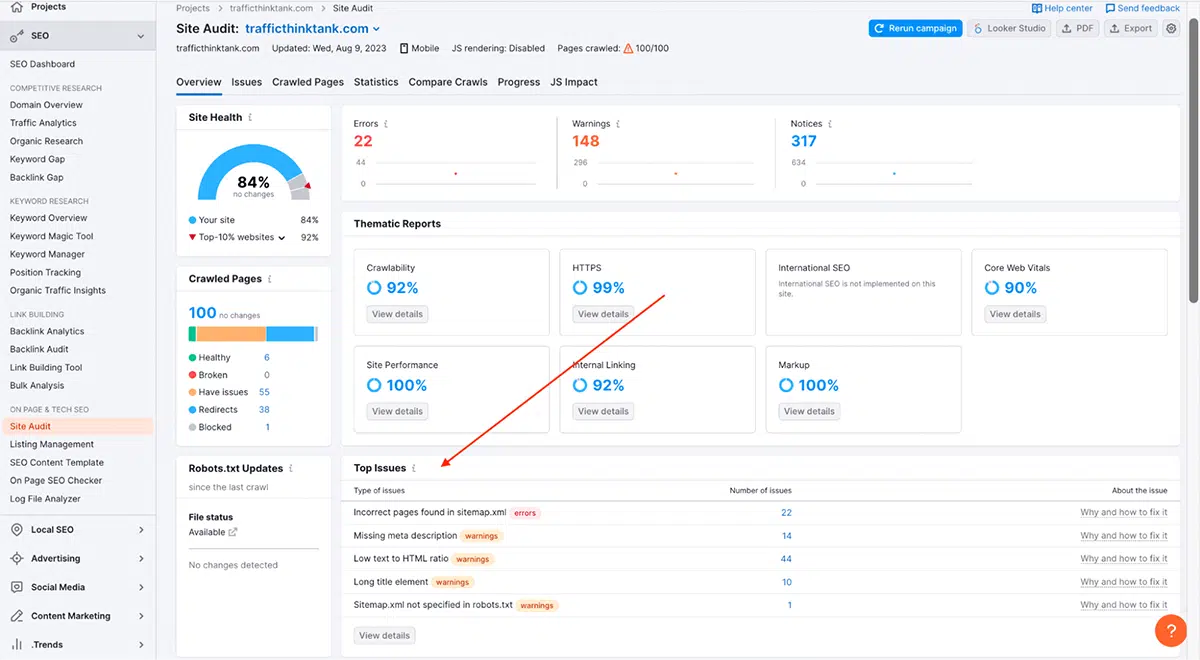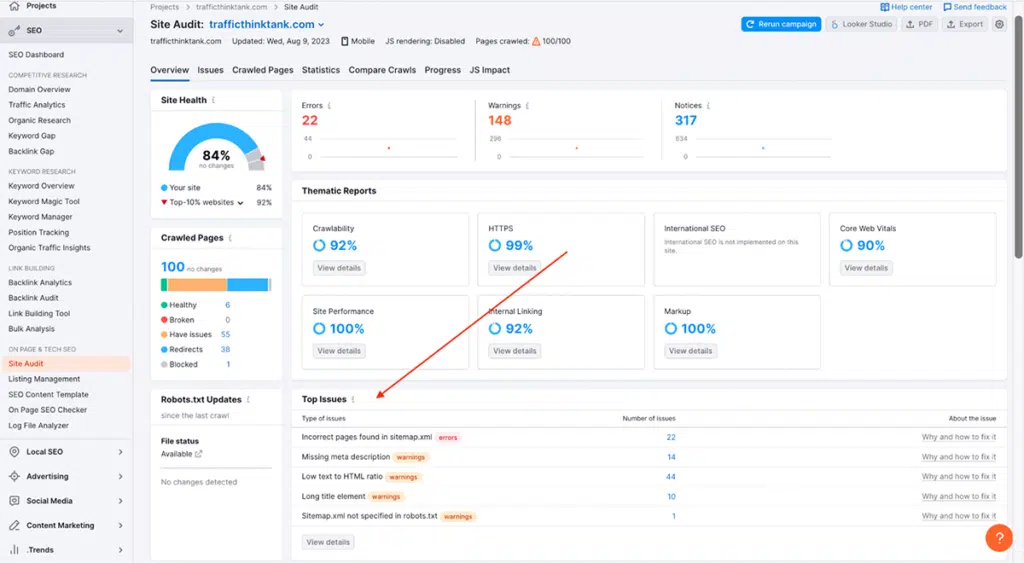 Semrush's On-Page SEO Checker can make your job much easier if you consistently deal with on-page SEO. It audits your website content and recommends on-page improvements to boost your website's visibility in organic search results.
In the example below, I put together 135 ideas for 21 web pages that are believed to boost my website's organic traffic by 100%. In particular, Semrush recommends semantically-related keywords, user experience (UX) ideas, SERP feature ideas, and content writing suggestions based on top-performing websites.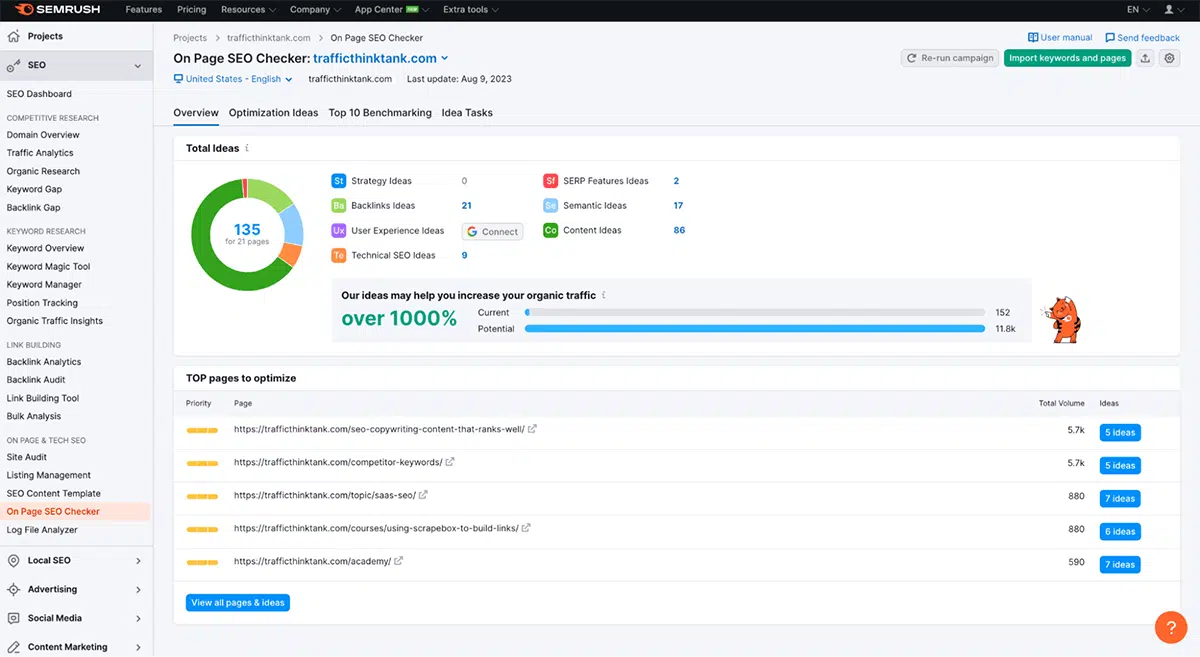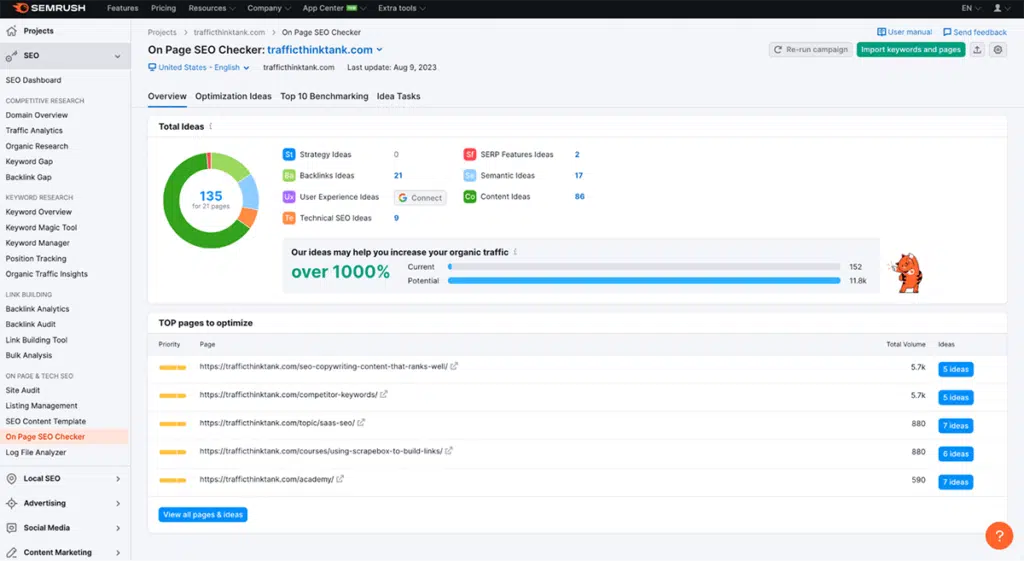 Similarweb does not have any features for on-page SEO. However, you can use its Keyword Gap tool to discover the keywords your competitors rank for that you don't. Similarweb also shares a list of opportunities you can implement to boost your website's traffic.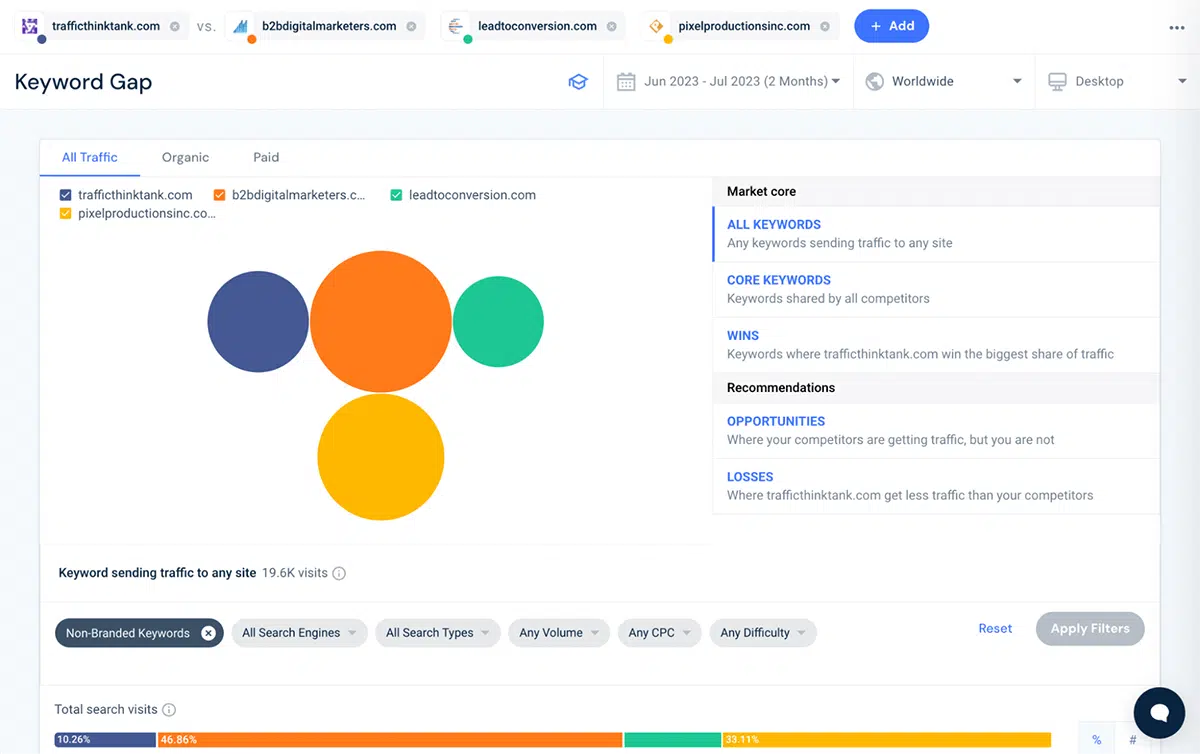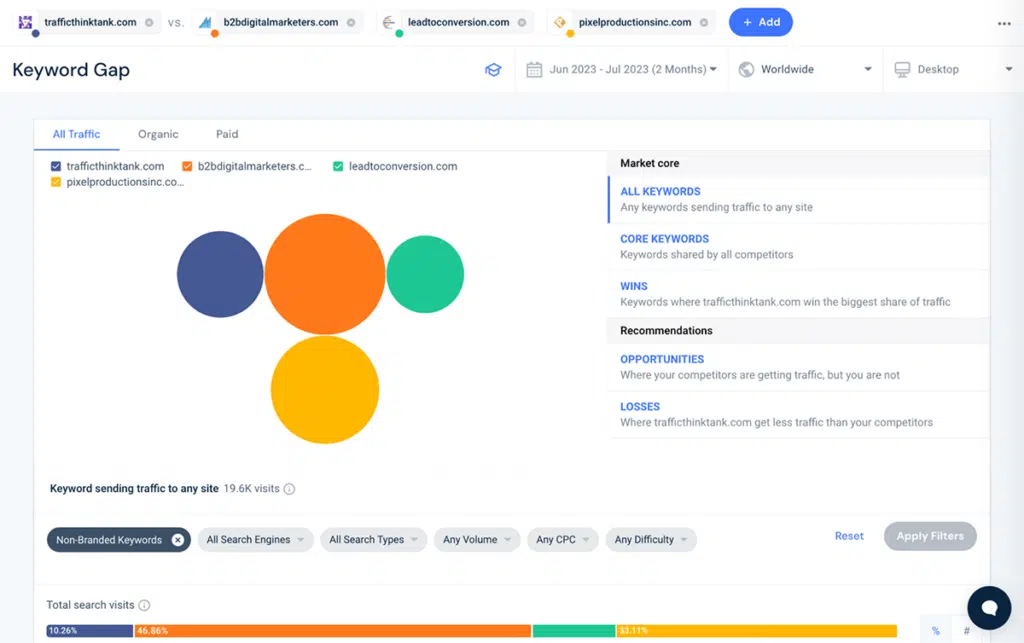 Compared to Semrush, Similarweb's on-page and technical SEO capabilities are very limited.
Because of that, Semrush takes my vote here.
3. Off-page SEO
Did you know backlinks are among the top factors Google considers while ranking websites? That's why link building is a widespread off-page SEO strategy used by SEO professionals all over the world.
Semrush has a number of features for backlink analysis and outreach activities. You can check the number of referring domains and backlinks, whether your backlink profile is toxic, and find new link-building opportunities in your niche.
Semrush daily backlink updates are particularly helpful as you can immediately see the newly built backlinks in the report.
I also recommend paying attention to the number of backlinks and the referring domains. If it drops or suddenly grows, examine the issue closely. Luckily, Semrush shows all the essential data for backlink profile analysis in one report.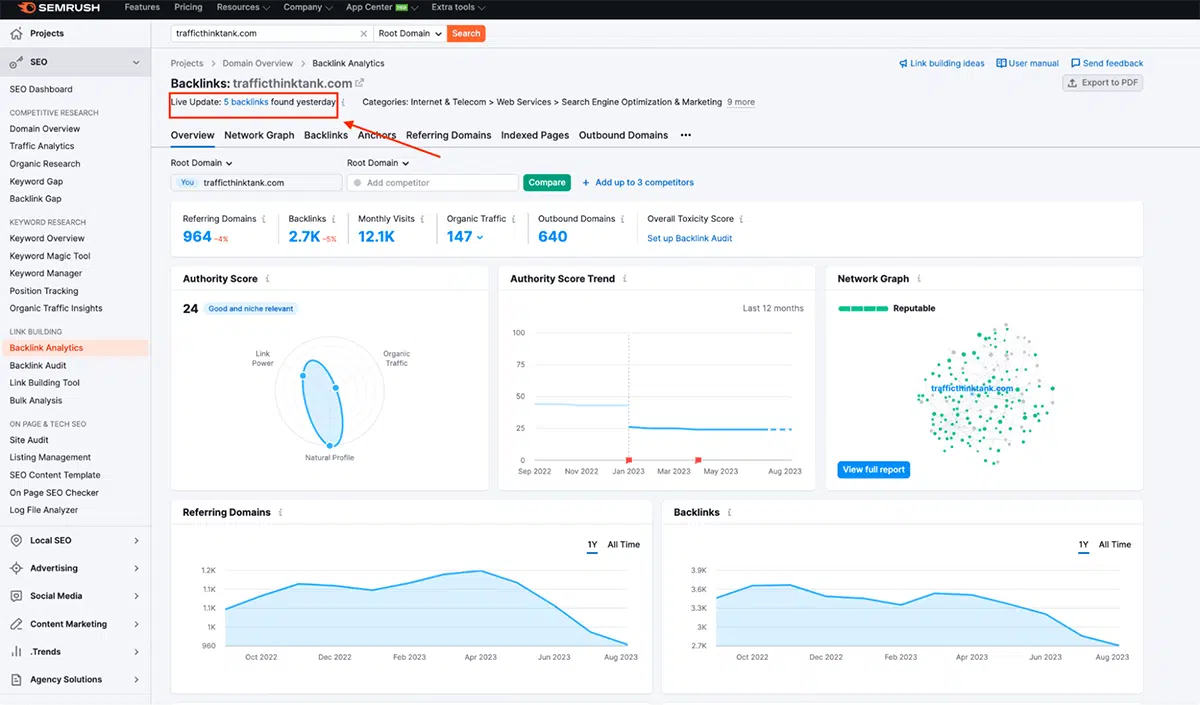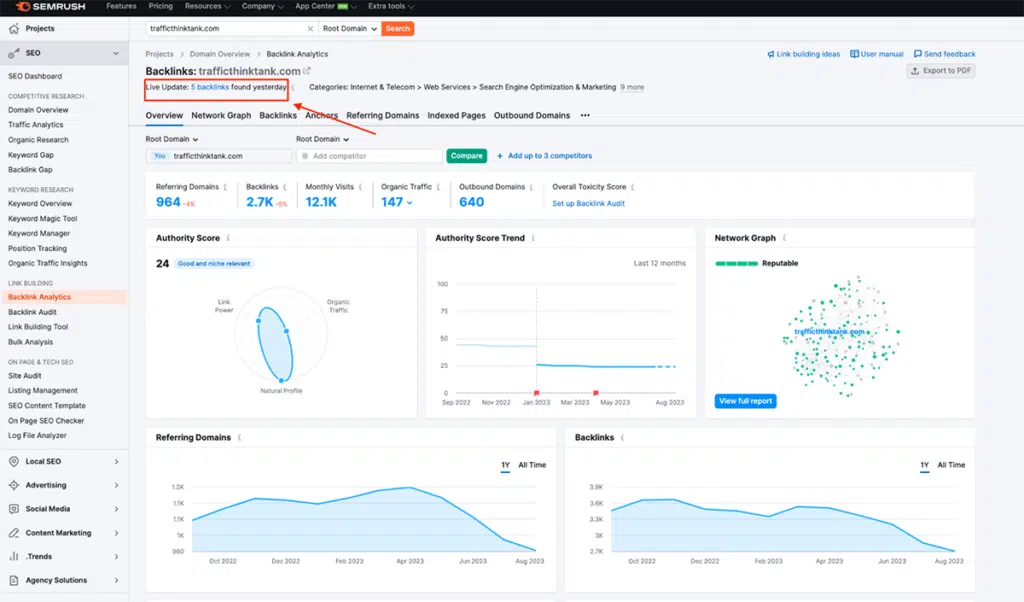 Unlike Semrush, Similarweb does not have backlink analytics and link building tools. You can't even check competitors' backlinks as a part of a competitor analysis.
Another vote in favor of Semrush in the Semrush vs. Similarweb battle!
4. Local SEO
Unlike Semrush, Similarweb does not offer local SEO functionality. You can only see country-specific search ads and keyword metrics.
If you want to manage a local listing and search for location-specific keywords, you can do it all with Semrush. Insert your keyword in a search bar, pick any location, and hit "search" to get an overview of the keyword potential.
In the example below, take a look at the search intent, cost-per-click (CPC), competition, search volumes, and semantically-related keywords for the "wedding dresses in New York" keyword. If you were running a wedding store, this report would help you decide whether the keyword is worth targeting.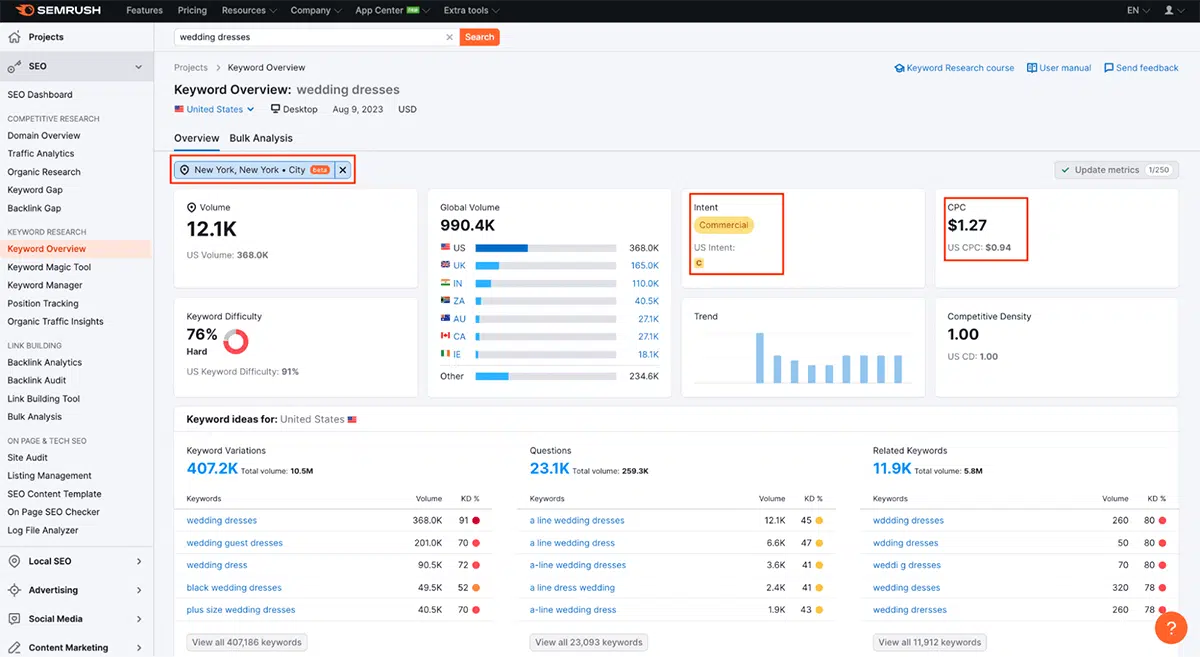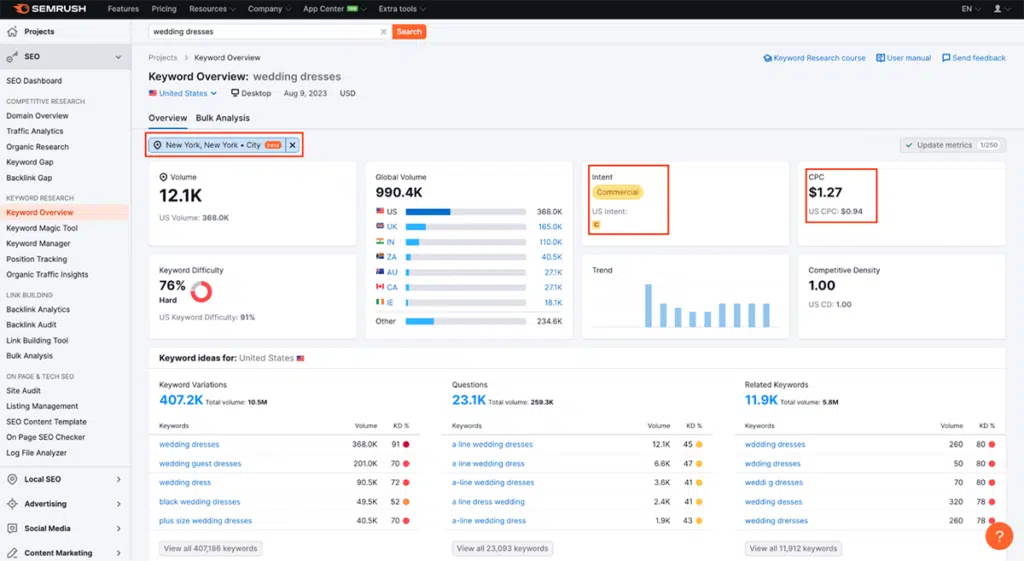 Furthermore, Semrush's Listing Management tool lets you find relevant business directories, manage your Google My Business data, and find opportunities to improve your rankings in local search results.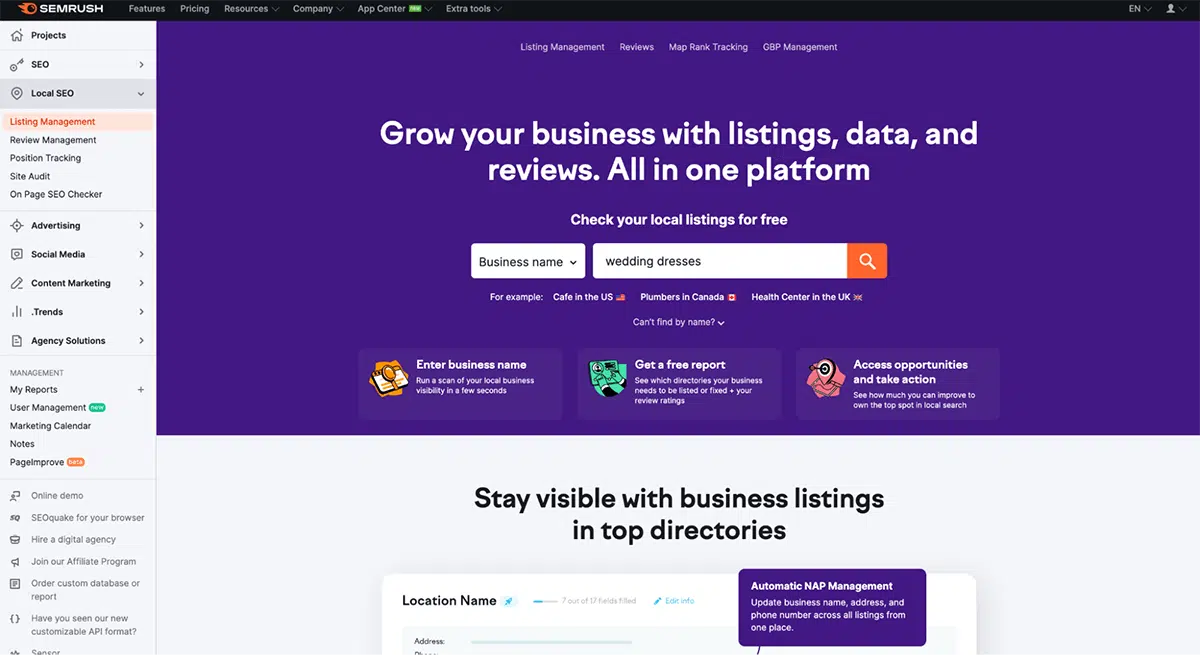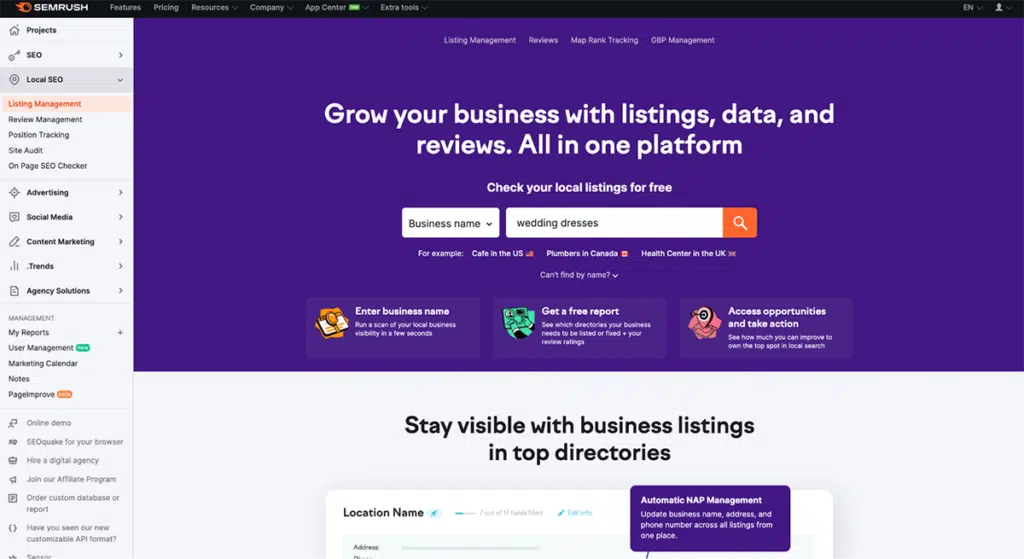 5. Paid Advertising
Semrush and Similarweb have paid advertising features, but you can achieve different goals using them.
With Similarweb, you can check your competitors' performance in a paid search for up to three years worldwide.
In particular, you can analyze their ads, landing pages, the total paid search traffic, the bidding keywords, and the ad spent. This information is useless unless you can check these metrics for a particular location.
Imagine you run a small online business on a budget. In this case, you'll still have to upgrade to the custom pricing plan to see country-specific ads for longer time frames. There is no point in doing it if there are powerful and more affordable alternatives, like Semrush.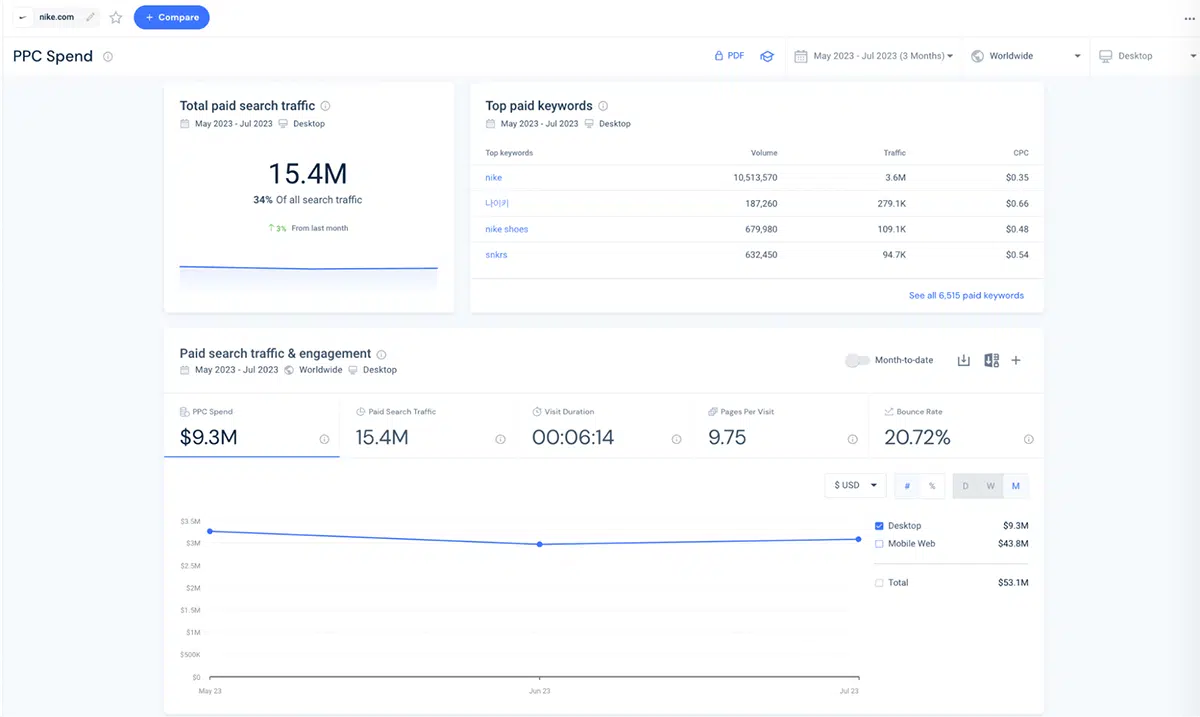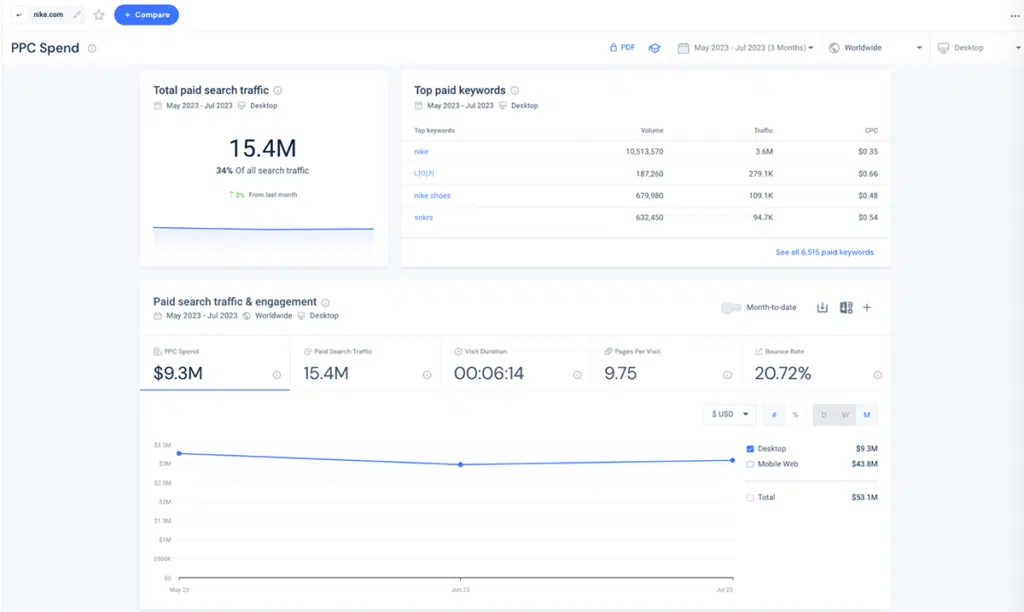 Semrush lets you do a lot more with its PPC Advertising Toolkit.
In addition to what Similarweb lets you do, you can design and optimize your Google Ad campaigns, discover low-performing ads and optimize them, and track your visibility in a paid search for any country and time frame.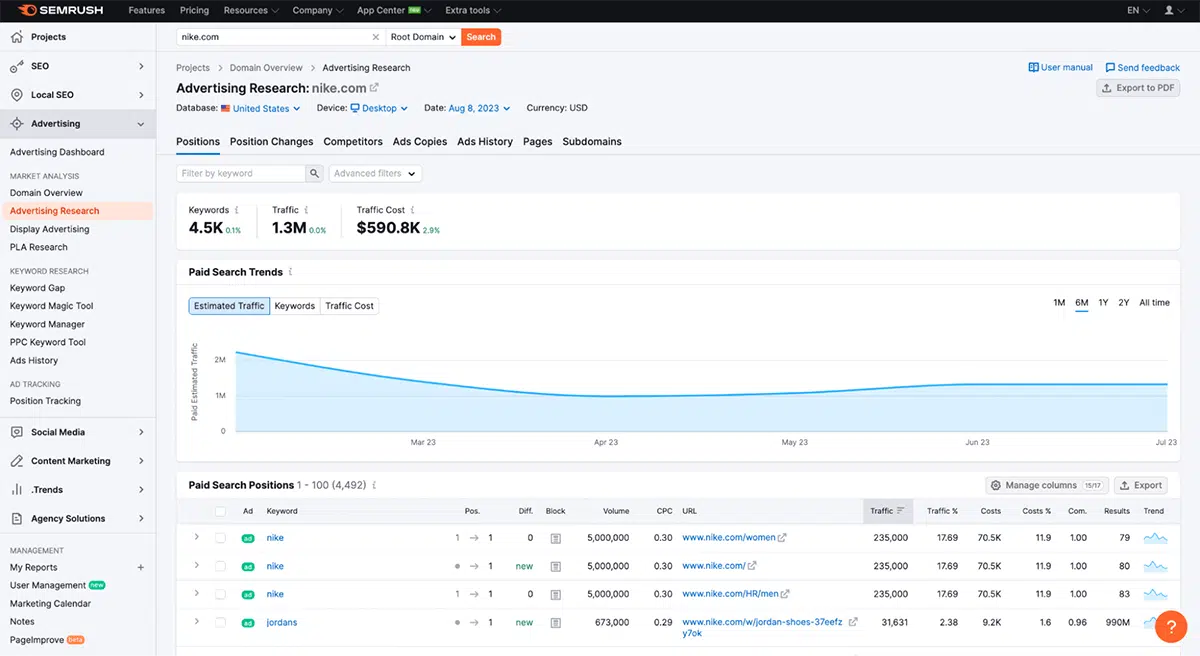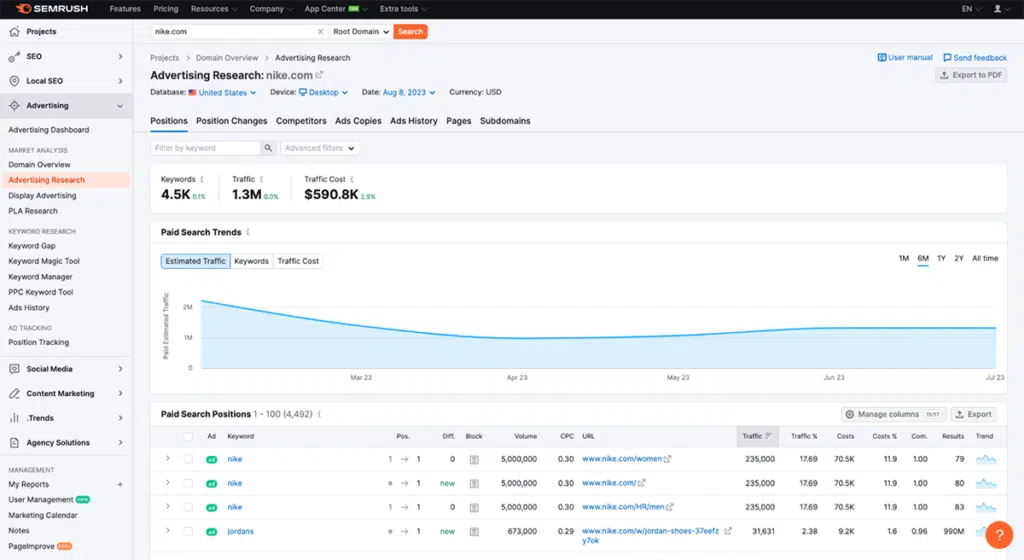 If you run ads on Amazon, Semrush has an AI-powered solution to optimize your Amazon ad campaigns. This feature is not included in the standard Semrush pricing plans, though.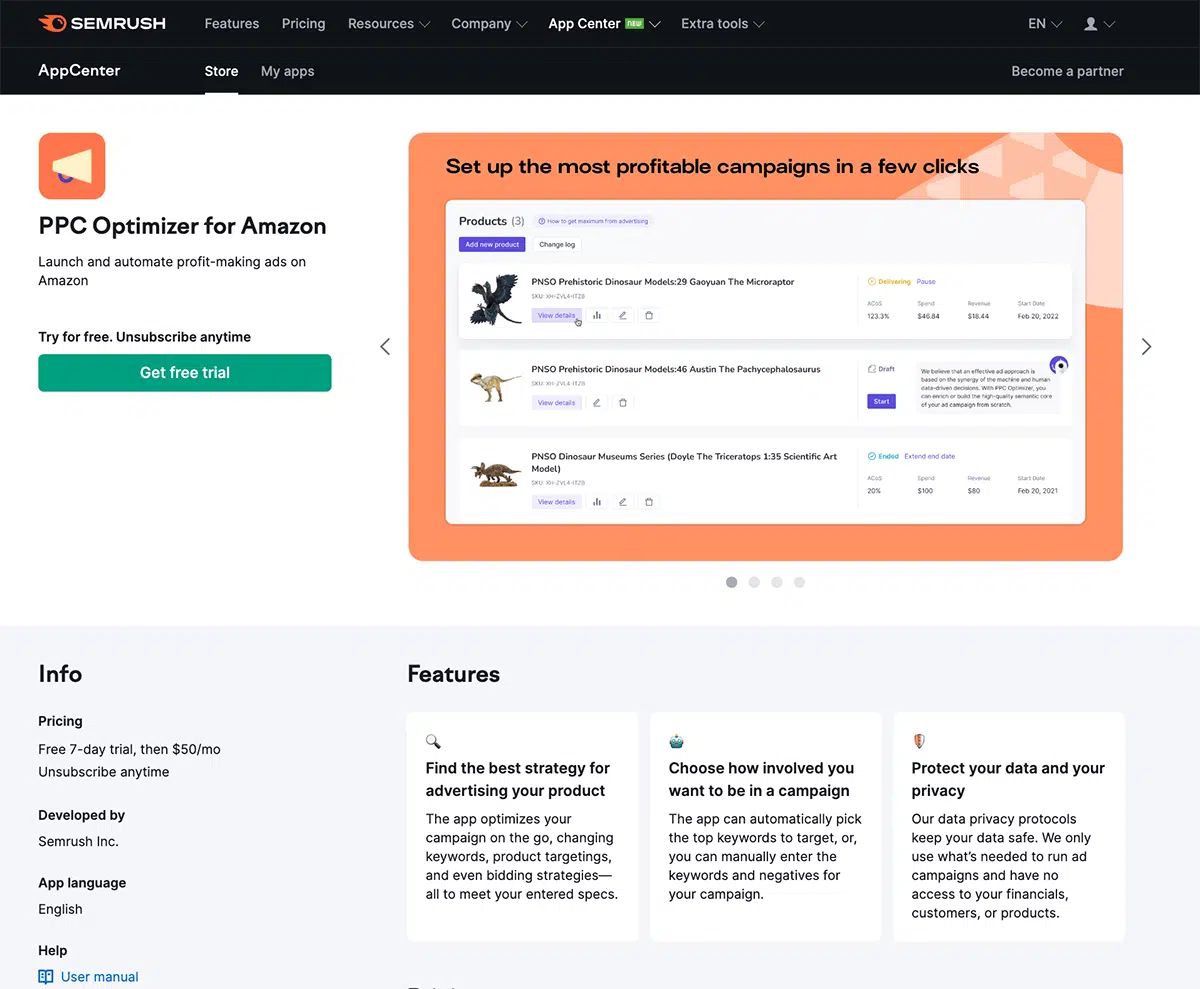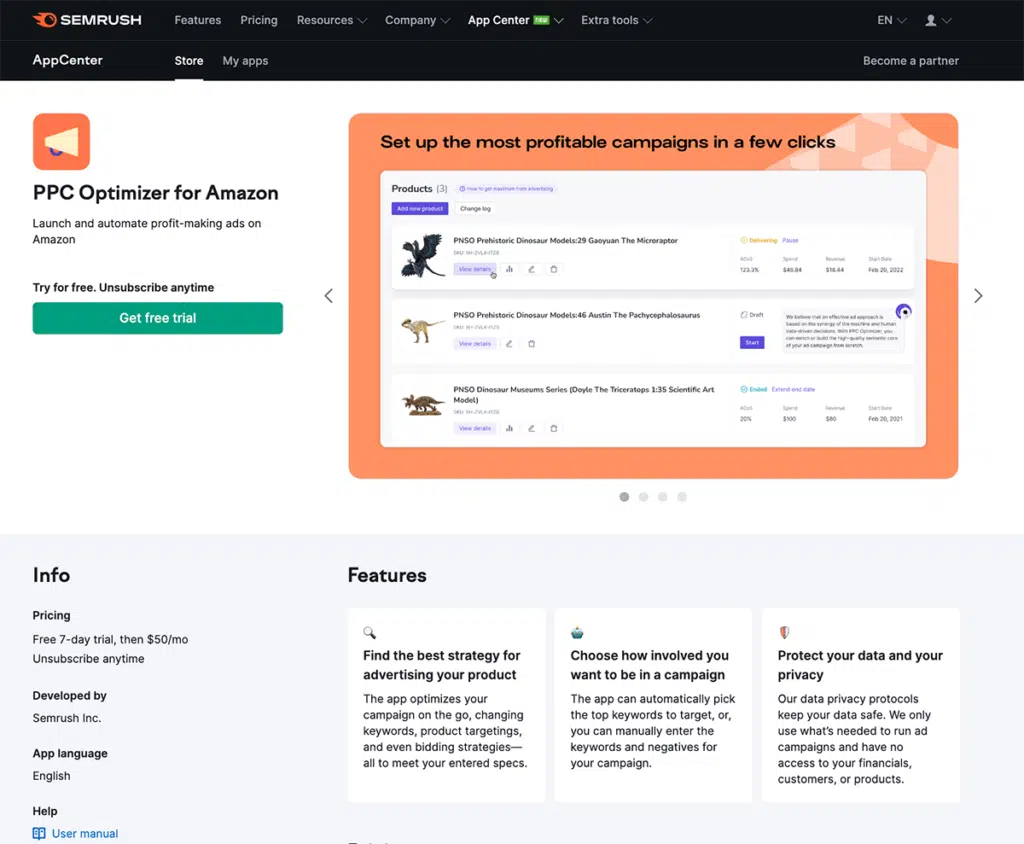 Overall, both tools offer decent paid ads functionality, but I'd go with Semrush because it provides a much better value for your money.
6. Reporting
I've used many tools, but Semrush is the most generous regarding daily report limits.
Even if you use the cheapest pricing plan — Semrush Pro — you can pull 3,000 domain and keyword analytics reports daily, which, trust me, is more than enough, even for a giant website. Semrush's Guru and Business plans offer 5,000 and 10,000 daily report limits, respectively.
With Semrush Pro, you'll get 10,000 keyword and domain analytics results per report. It's a lot of data to process, even for data analysts. On the other hand, Similarweb shows only 1,000 results per report. Increasing the number of results to 5,000 will cost you $399 monthly, more than double the price of Semrush.
Semrush is an absolute winner here!
7. Content Marketing
Besides SEO, I've used Semrush to research popular topics in my niche and generate ideas for engaging content. Luckily, you don't have to waste time brainstorming with Semrush's Topic Research. Enter your topic in the search bar and simply click "Get content ideas."
I recommend choosing "Trending subtopics first" to see the most popular articles. This information is a goldmine for content marketers. With Semrush's SEO content template and SEO writing assistant, you can automate and significantly speed up your content creation process.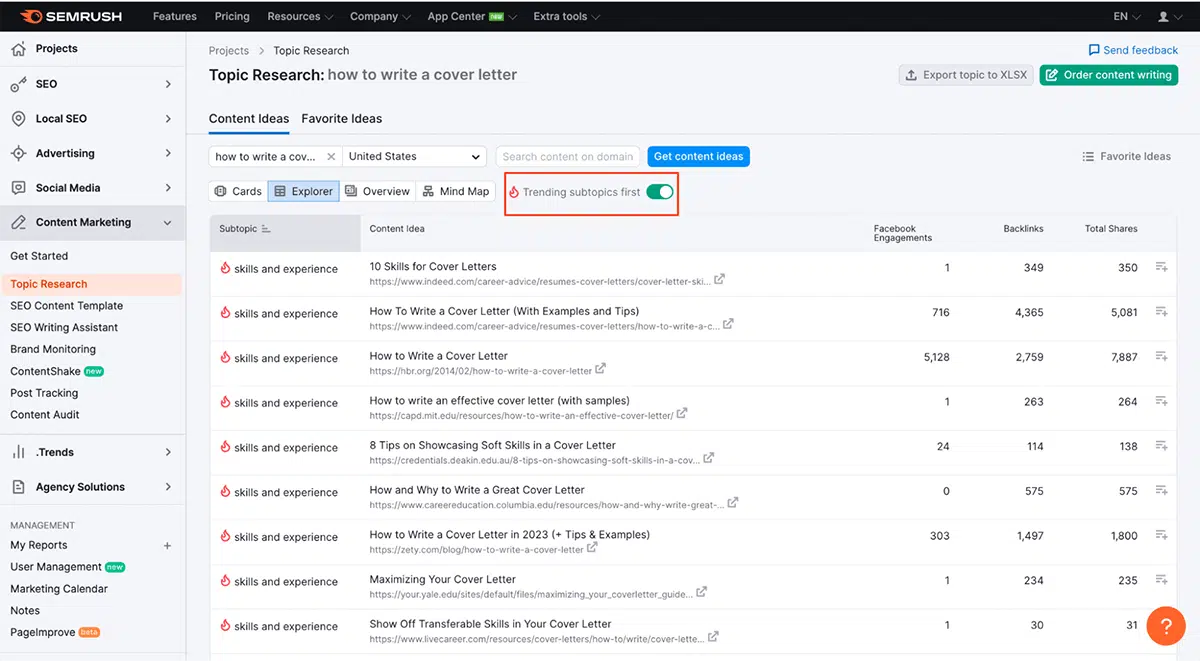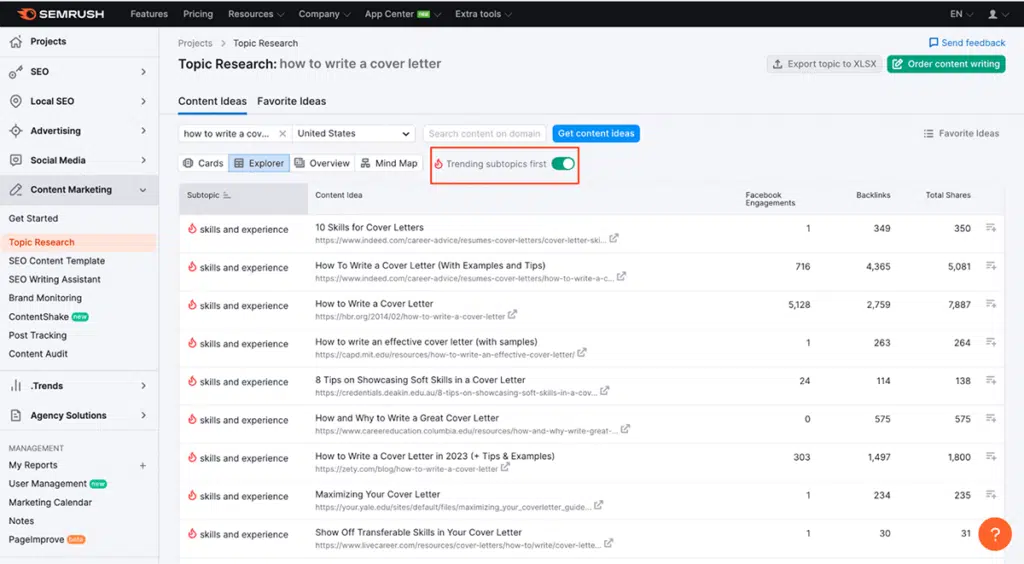 Unlike Semrush, Similarweb can't help you at every step of the content creation process. However, there are a few tasks it can do exceptionally well.
One of Similarweb's unique tools, for example, is Keywords by Industry, which provides a list of popular keywords in your industry parsed from hundreds of websites.
In addition, their Keyword Seasonality report reveals trends, so you'll know when your content should be ready for publishing and promotion. This information is essential for e-commerce stores that run seasonal campaigns. The drawback is these tools are only available when you subscribe to a custom pricing plan.
I also want to highlight Similarweb's Incoming Traffic report, which shows a detailed overview of your competitors' traffic sources. While useful, this report is not unique. In fact, Semrush has a similar feature. Regardless of the tool you choose, this data is essential for an effective content marketing strategy.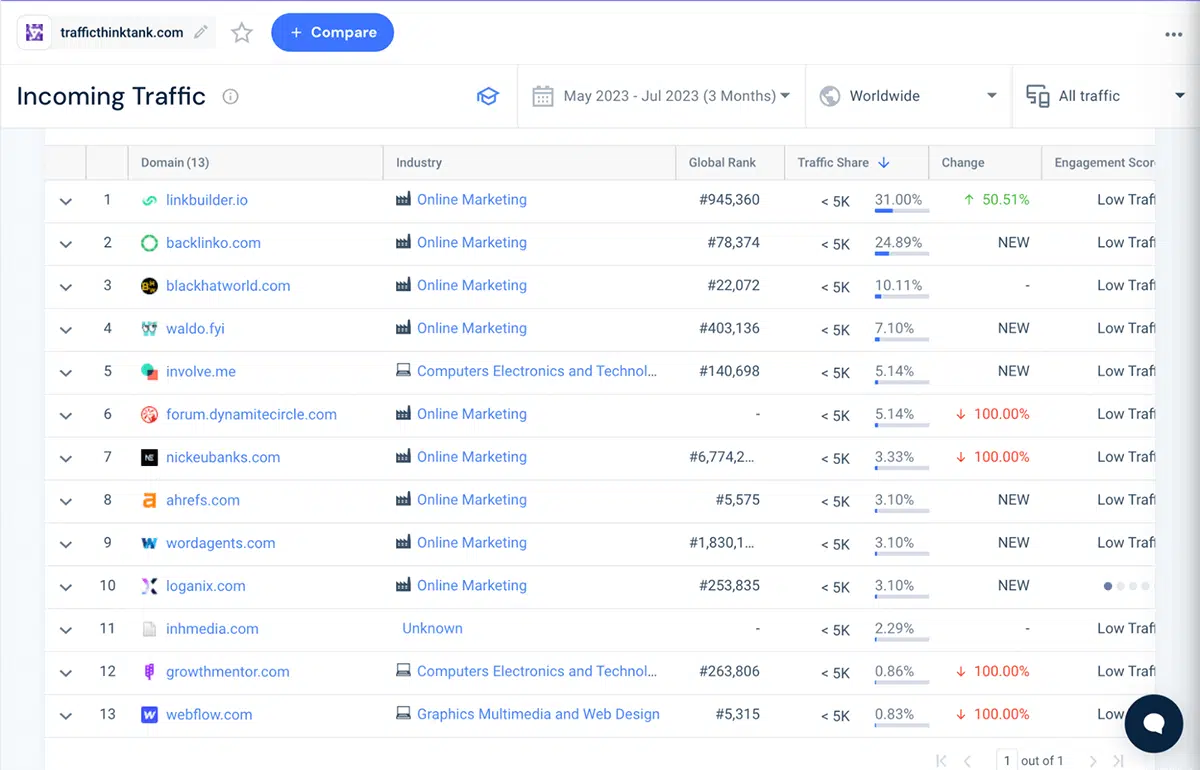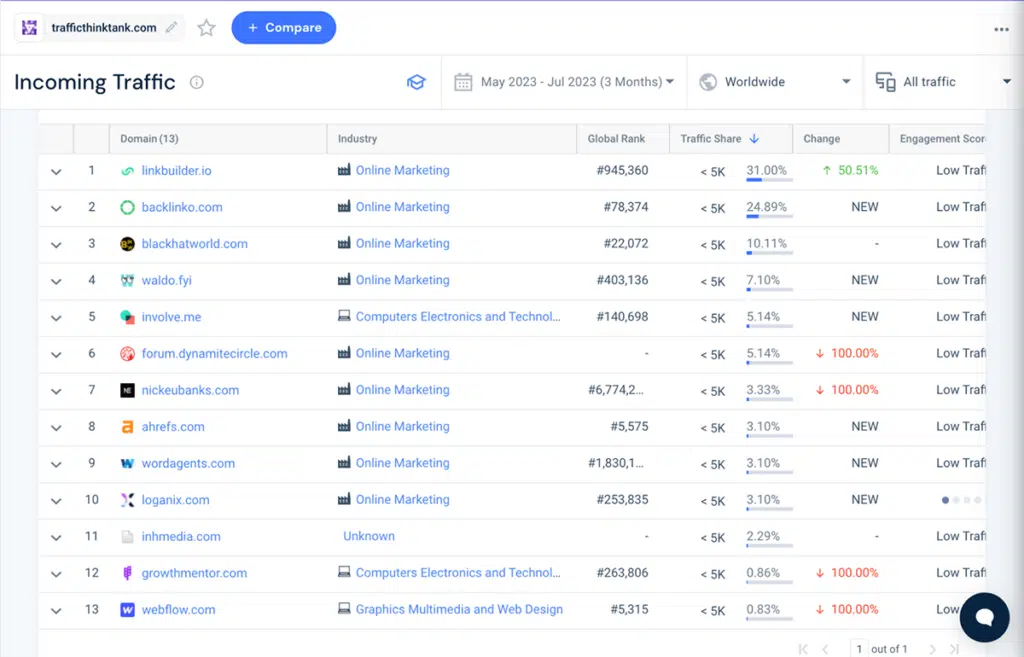 8. Social Media Marketing
Semrush can identify the best-performing content types, create and distribute content to drive engagement, schedule posts, and monitor your social media activity. With Semrush's Influencer Analytics, you can also identify ideal brand ambassadors for a collaboration.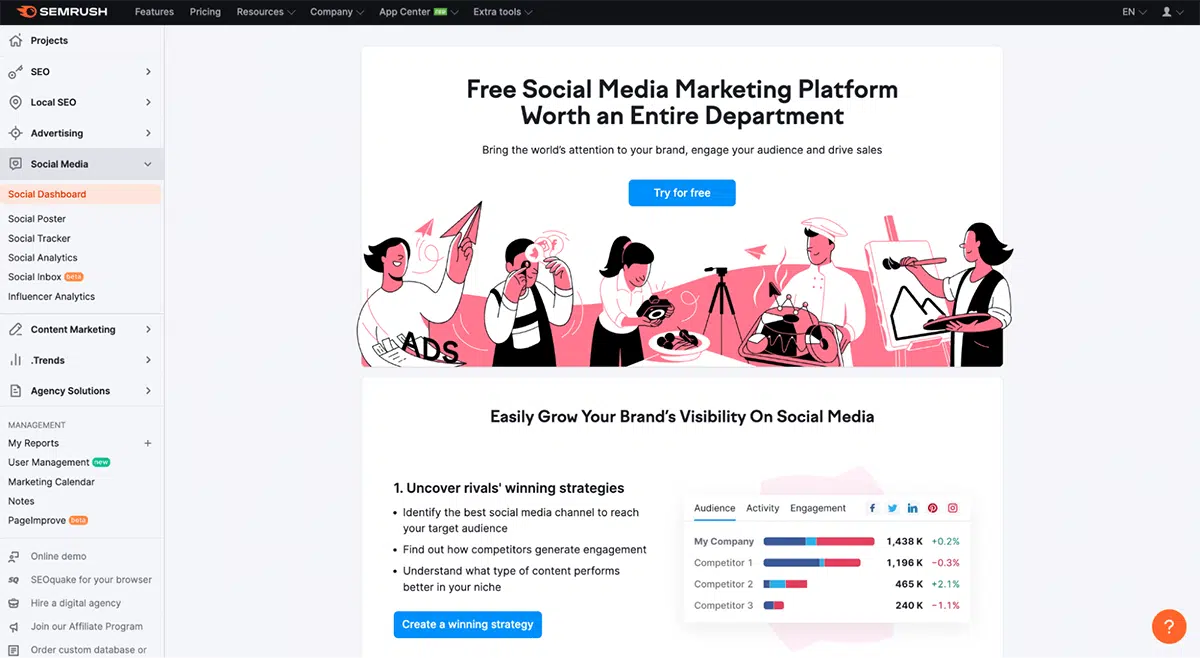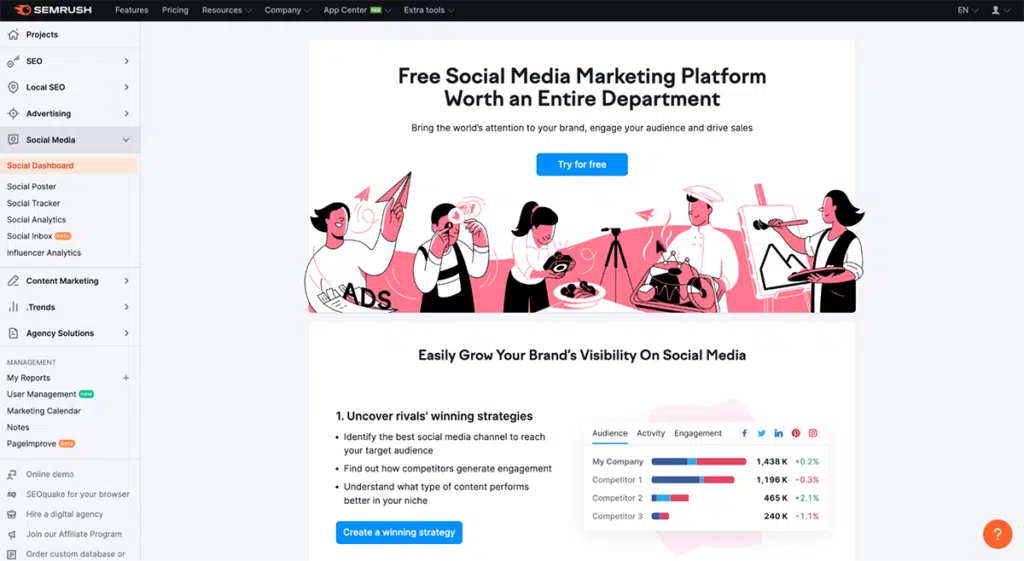 Similarweb's social media toolkit is more limited compared to Semrush's. You'll only have a few traffic reports to analyze the social media activity of your competitors. That's pretty much it.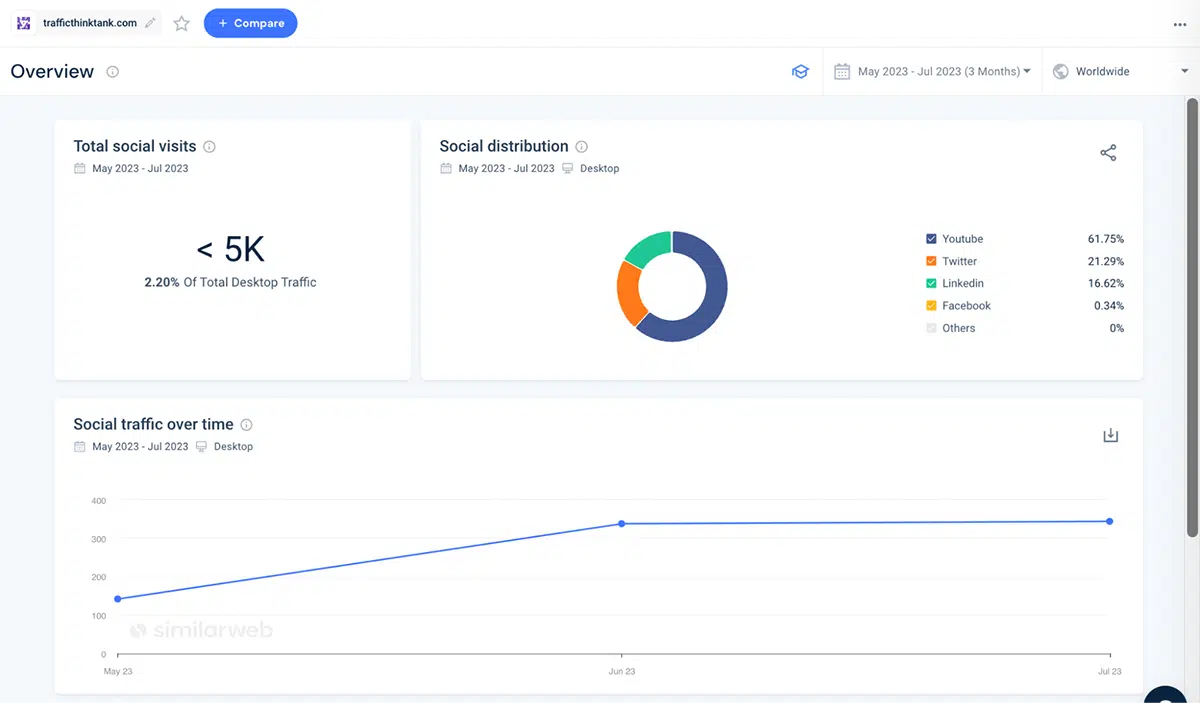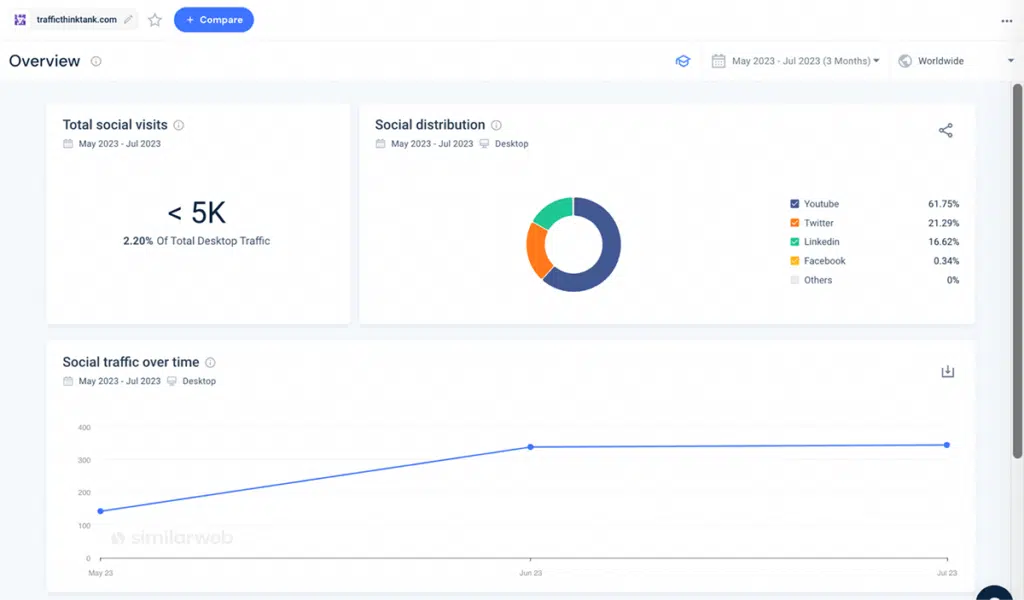 Even though none of these tools are built for social media management, Semrush is a clear winner, providing various tools to help businesses increase their brand awareness.
Semrush and Similarweb Data Sources
Data reliability is one of the first things I consider when choosing an SEO tool. If data is inaccurate, what's the point of using a tool? Therefore, I compared data sources for Semrush vs. Similarweb below.
Where Does Semrush Get Its Data?
Semrush uses a combination of machine learning and third-party data to estimate keyword metrics. It also analyzes organic and paid search results for the top 100 positions to calculate your website's rankings.
It's important to note that the data provided by Semrush is an estimate, not an exact figure. Additionally, Semrush's algorithms are constantly being updated, which can also cause slight data variations.
Where Does Similarweb Get Its Data?
Similarweb analyzes data collected through first-party analytics of millions of websites and apps. Moreover, it collects anonymous traffic data when users install Similarweb products on their devices.
What Users Say
I wanted to find out what users think about Semrush and Similarweb, so I checked their ratings and testimonials on Gartner Peer Insights.
Some users highlighted Semrush's keyword research and backlink analysis features:
"I frequently use the keyword magic tool, which on entering a URL, domain, or keyword displays a list of broad, phrase and exact keywords along with their search volumes and SERP rankings. Their keyword and backlink gap feature is highly beneficial in discovering untapped keyword and backlink opportunities."
Others mentioned its all-encompassing digital marketing solutions suitable for agencies with multiple clients.
Compared to Semrush, Similarweb has fewer testimonials, which is insufficient to assess users' feedback objectively. However, some users on Gartner highlighted the competitive research features and enterprise SEO reporting. Among Similarweb's dislikes, users mentioned limited keyword research functionality and a lack of on-page SEO features.
My overall conclusion is that people use Similarweb for analyzing and monitoring competitors. However, SEOs and agencies turn to Semrush and other advanced online visibility tools for digital marketing.


Pricing
Semrush and Similarweb are expensive compared to other SEO tools, so it's really important to determine your goals before choosing any pricing plan.
Based on my experience, the Semrush Pro plan is a go-to option for bloggers managing their websites. In contrast, SEO contractors and multi-client agencies will benefit from the Semrush Guru or Business plan.
Since Semrsush is an all-in-one digital marketing solution, each pricing plan covers everything you'll need to manage a website, including keyword research, content writing and optimization, backlink analysis, and technical SEO.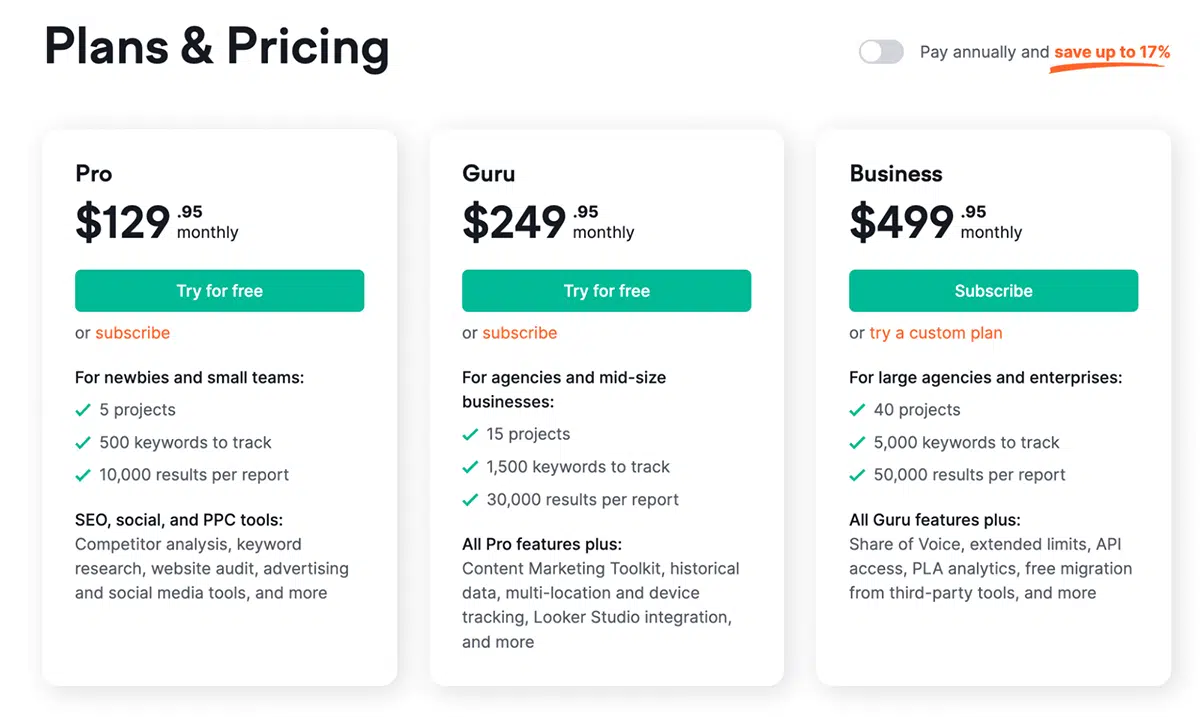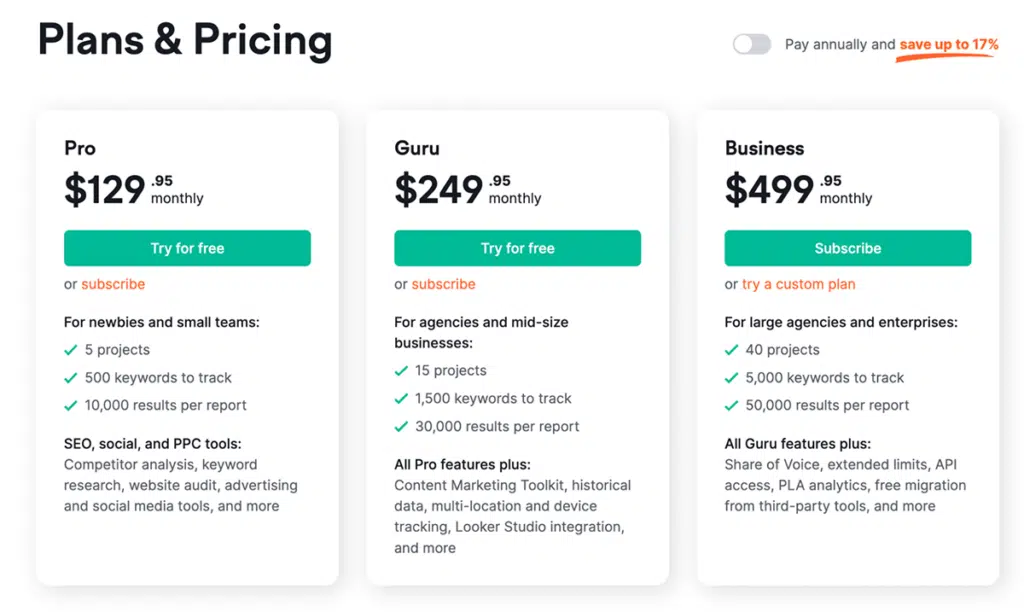 Similarweb's pricing plans are less generous but more expensive.
I used the Similarweb Starter plan for a while and encountered various limitations. For $149 a month, I could not conduct keyword research for a particular location. I did not have up-to-date rankings information, and the historical data was only available for three months.
To eliminate limitations, I had to switch to the custom pricing plan.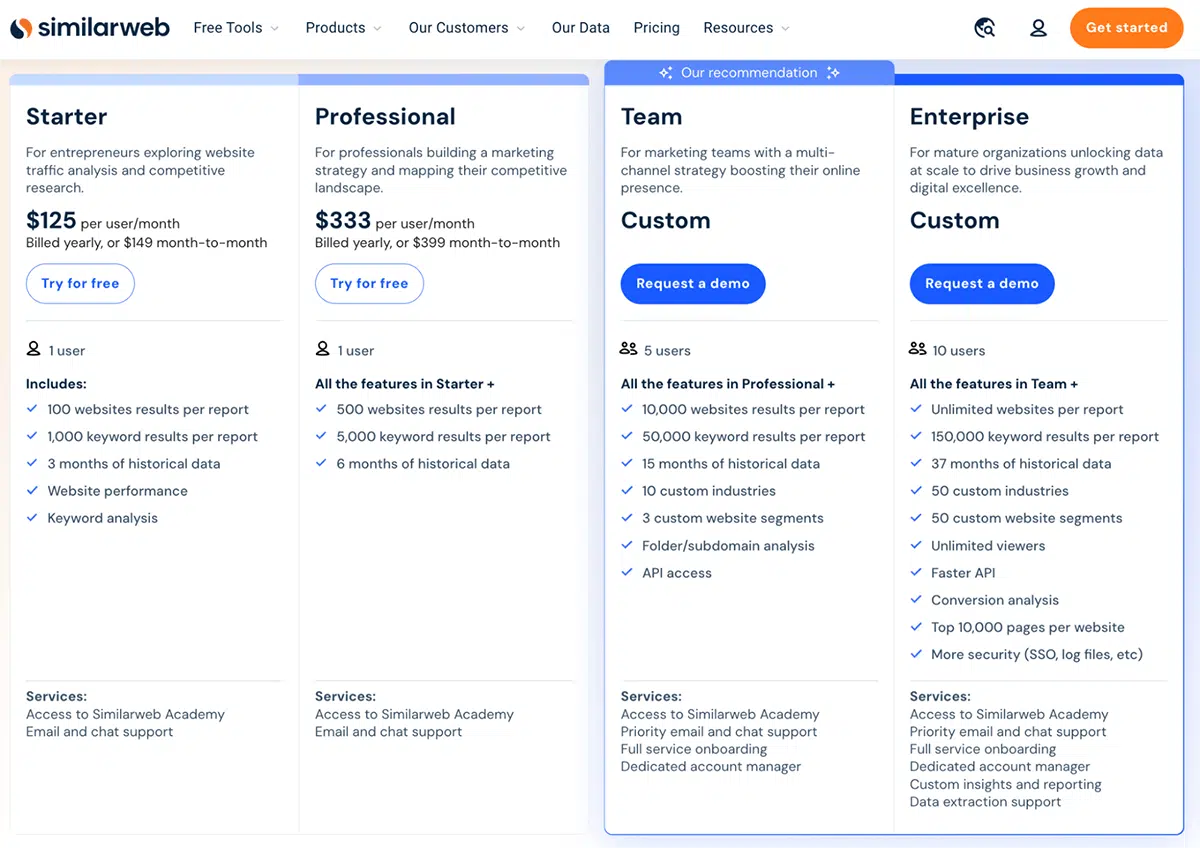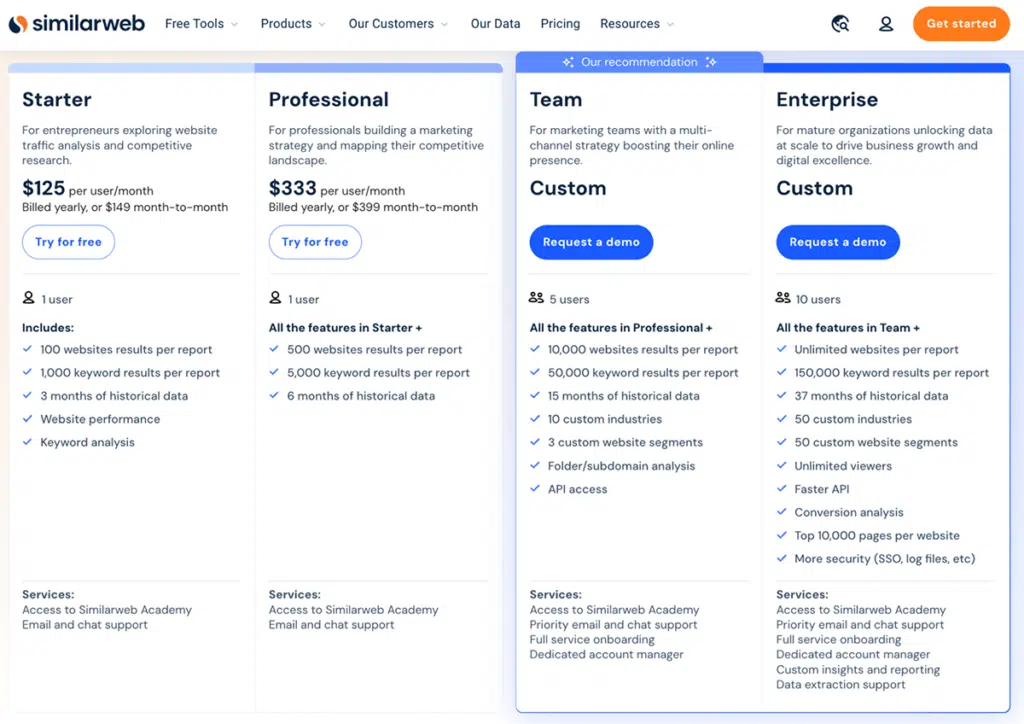 Which Tool Has the Best Support?
Unlike many SEO tools, Semrush lets you connect with the support team even if you don't have an account yet. You can contact Semrush via email, live chat, and phone, and existing users can ask questions via the live chat and contact form inside their accounts.
Based on my experience, the Semrush team responds within one business day. When I accidentally paid for the Semrush Business plan, they answered my refund request in a few hours and sent my money back promptly thereafter.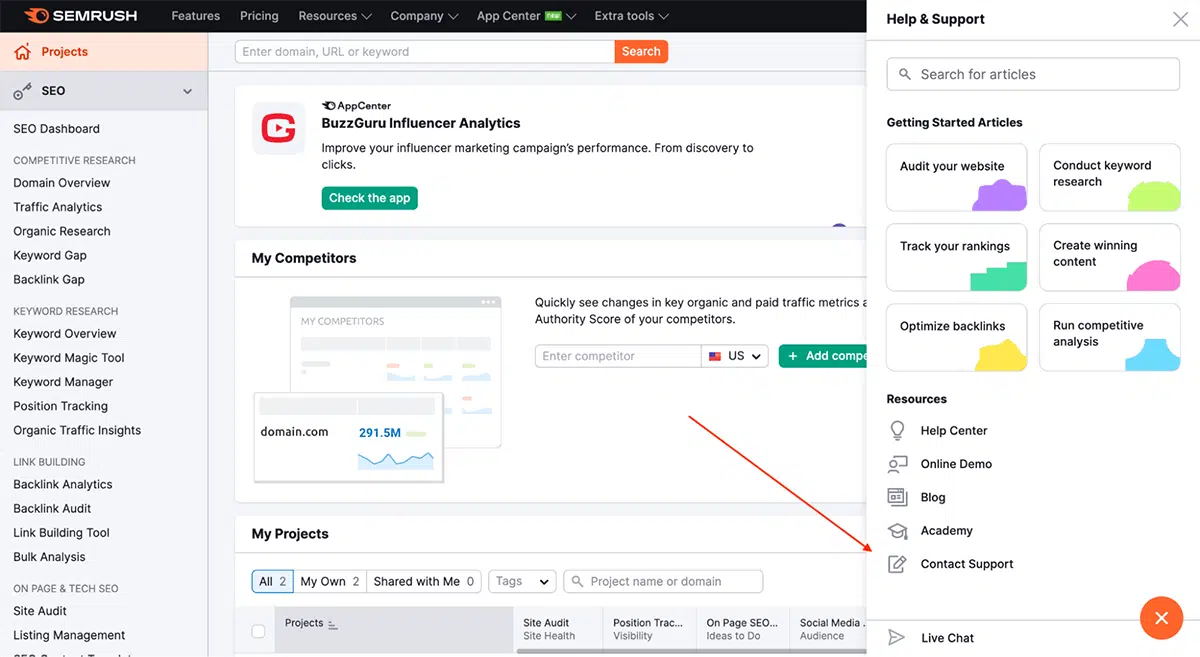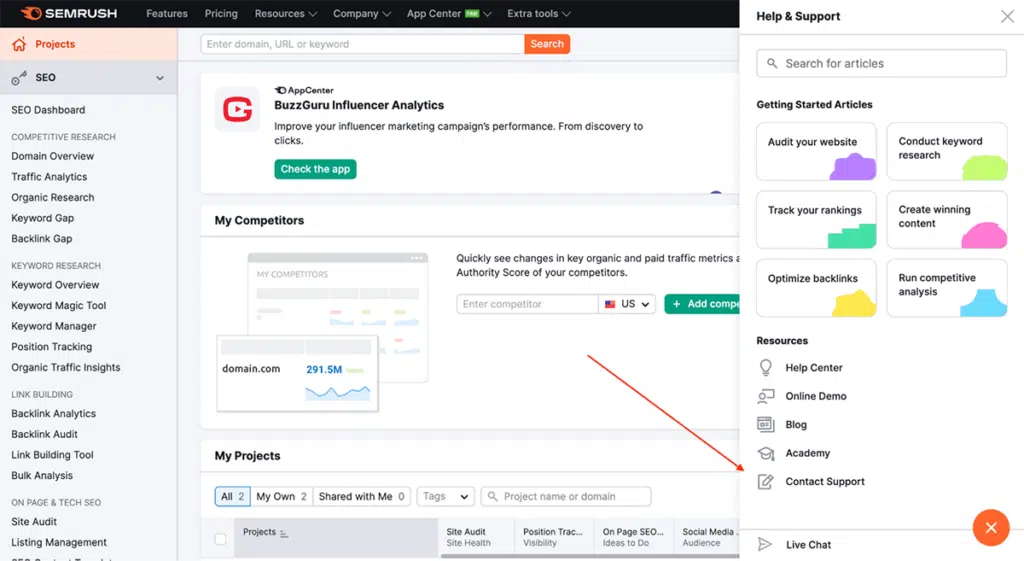 Similarweb also has a live chat and contact form for website visitors and regular users. If you upgrade to the custom pricing plan, you'll have a dedicated account manager and full-service onboarding. Onboarding is an excellent addition, considering the complexity of the tool.
Overall, both tools have multiple options to reach the support team in a timely manner.
Which Is Better: Semrush vs. Similarweb?
Even though I've used both Semrush and Similarweb for quite a while, determining which one is best is a tricky question.
While both tools are powerful digital marketing solutions, they're not interchangeable.
If I had to choose between these two, I'd go with Semrush. With its multiple powerful features, much better value for your money, and ability to be used by an entire marketing team, it stands out clearly as the better option.
Give it a try yourself. Start your 7-day Semrush Pro trial for free!
FAQs
If the above review didn't answer all of your questions, maybe these FAQs will.
Is Semrush better than Similarweb?
Semrush and Similarweb serve different purposes. Semrush is an all-in-one marketing solution, while Similarweb offers website analytics and competitor insights. The choice will depend on your project needs and budget.
How accurate is Similarweb traffic?
For Similarweb, the traffic data accuracy depends on the website size. Its data is more precise for large websites with a lot of traffic. However, Similarweb does not show any data for websites with a search volume of less than 5,000.
How accurate is Semrush traffic analysis?
Semrush considers various data sources, like clickstream data and keyword rankings, to estimate traffic. The actual traffic figures differ slightly.