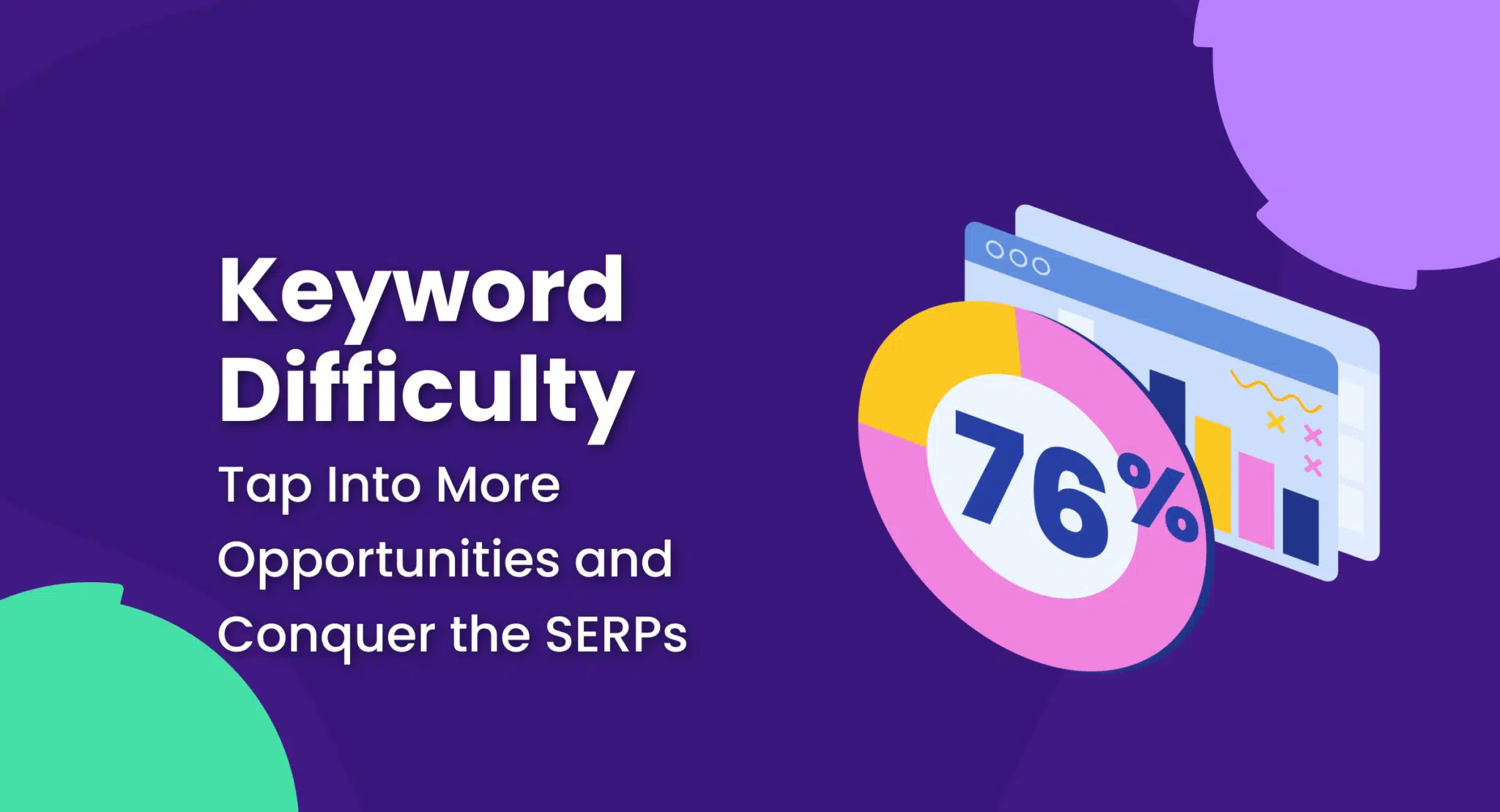 Can you forget what you think you know about keyword difficulty for a moment?
Sometimes outdated ideas keep us stuck and we make our lives harder without realizing it.
I'd love to see you evolve away from quickly scanning a keyword difficulty checker and determining that some keywords are too hard to target while some are easier.
Also, we can move past the idea that the harder ones with higher search volumes are always more valuable. As I mentioned in my article about keywords, I've targeted keywords that get one search a month but generate thousands of dollars in sales.
You're definitely not out-of-luck if your first-choice keyword happens to have a lot of competition.
By the time you're done reading this blog post, I hope you'll feel better positioned to discover untapped opportunities that align with your SEO goals.
What Is Keyword Difficulty?
Assessing keyword difficulty is a process of evaluating how easy or hard it is to rank for a specific keyword. SEO tools provide a metric as a percentage to help you craft an attainable strategy that goes after meaningful keywords for your website.
Here's where we can really start to dissolve your preconceived notions about keyword difficulty. Rather than consider it an objective metric, simply think of it as an essential step to take during your keyword research.
If a keyword is "easy," it doesn't necessarily mean it's the best choice. And luckily, if a keyword is "hard" (but desirable), it doesn't necessarily mean that you should avoid it. Search volume and search intent are other relevant factors that give you a comprehensive picture of the best opportunities.
But, of course, we also have to consider the status of your website.
Is your website new?
Do other sites link to it as an authority?
What type of traffic are you looking to attract?
When we look at how to evaluate keyword difficulty, I'll circle back to those questions.
Keyword difficulty scores can be found in all of the most popular SEO software, including Mangools, Moz, and Ahrefs. But it's important to remember that each keyword difficulty tool has its own criteria for calculating the metric.
I'm going to show examples from Semrush in this post because it's one of the most accurate resources at your disposal. (If you aren't already using it, check out my full Semrush review.)
Why Is Keyword Difficulty Important?
Keyword difficulty is a logical starting point when selecting topics you intend to research further.
Why?
You don't want to rush ahead with SEO copywriting to fill your content calendar only to discover that your keyword has too much competition. Some competition is not a bad thing, but I'm talking about competition that looks like an uphill battle.
Targeting the right keywords positions you to create successful content that has a good chance of ranking well. When you understand how to figure out your chances of ranking for a specific keyword, you can make an informed decision about your priorities …
And taking a few important precautions can make your work a lot easier.
For example, let's say you sell art prints online. When we enter "art prints" in Semrush's Keyword Overview tool, you quickly see that it has a high search volume, but it's also a very difficult keyword to target.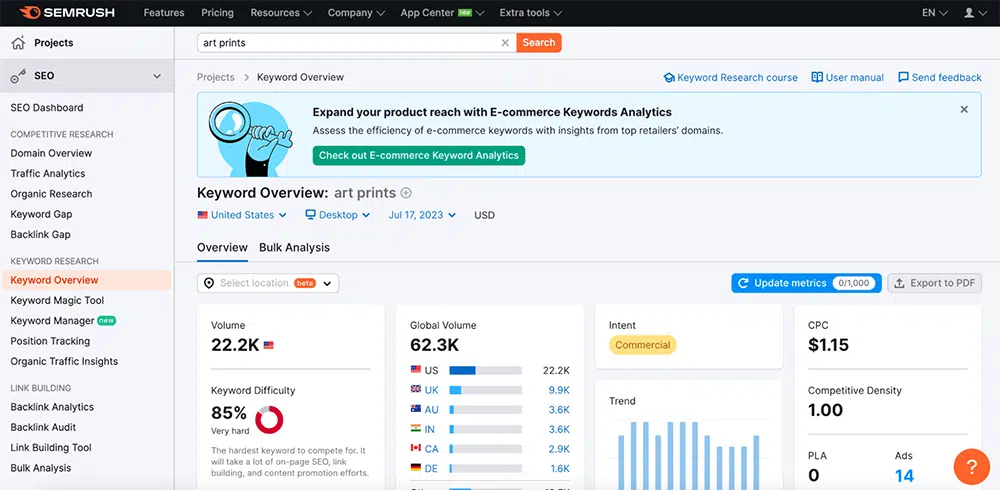 If your website is new, and you didn't consider keyword difficulty, you might think it's a good idea to create content for the keyword "art prints." After all, it has a high search volume.
But if you don't have a good chance of ranking for that term, you'll never see any of that traffic.
Instead, you could consider getting more specific and targeting long-tail keywords that are relevant to the prints you sell.
If we enter "classic art prints" into the Keyword Overview tool, we're getting closer to better selections.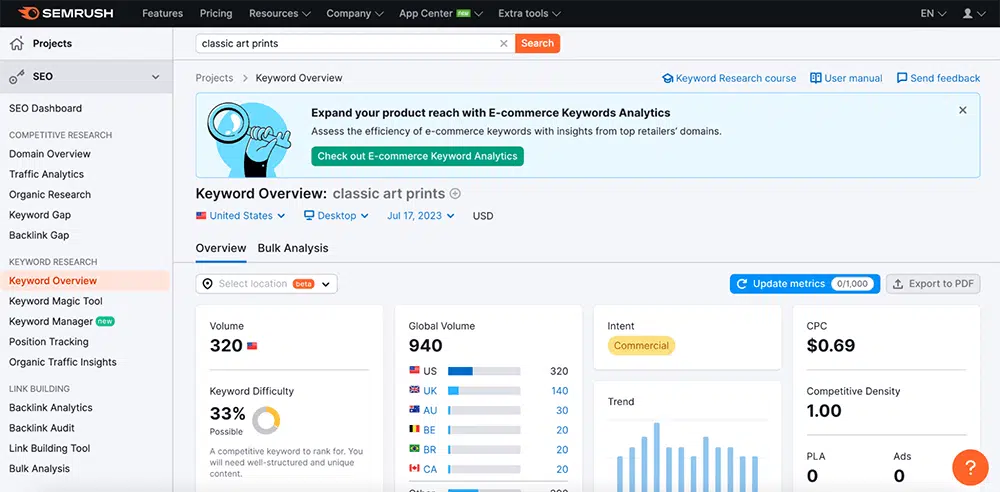 "Classic art prints" has a lower search volume, but if you sell classic art prints, you're going to attract much more relevant traffic than if you try to target the very difficult term "art prints."
Not only do you have a better chance of ranking for this keyword, it also means that you have a higher chance of converting the people who land on your site.
I'll be using this example throughout the rest of this post, and it's especially useful for when we dig deeper into search intent.
How to Evaluate Keyword Difficulty
Your website's domain authority is going to help you make sense of keyword difficulty metrics, but you really have to investigate your competitors. Comparing the domain authorities of your top rivals to your own during an SEO competitor analysis will give you a clear understanding of what's possible for you in the SERPs. 
When you know how to effectively evaluate keyword difficulty, you'll be able to determine how difficult it is for your site to go after a certain keyword (rather than take any SEO metric at face value).
Let's look at five elements that influence keyword difficulty, starting with your domain authority.
1. Domain Authority
Your domain authority score is a metric that sums up the overall quality of a domain. Your domain authority will grow as your site expands with better content that attracts more high-quality backlinks.
If your competitors' domain authorities are much higher than yours, it will be more difficult to pass them in the SERPs.
2. Competitor Research for a Specific Keyword
There's a SERP analysis within Semrush's Keyword Overview tool. If we look at it for "classic art prints," we can see which sites currently rank.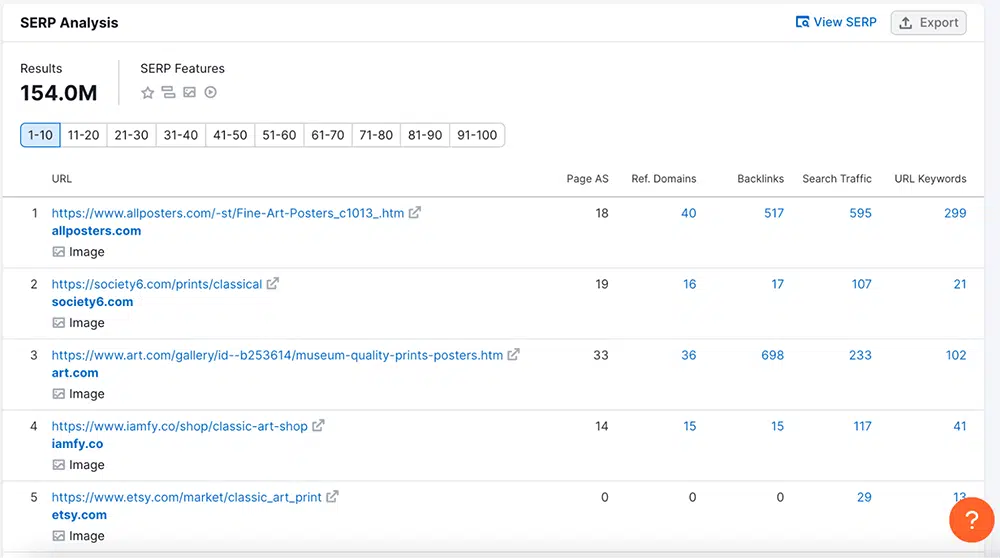 We also can evaluate other helpful data, including:
Page authority
Referring domains
Backlinks
Comparing this information to your own site will help you determine whether or not you want to move forward with this keyword or narrow down your topic even further to find better options.
3. Search Intent
Now, the keyword "classic art prints" has a commercial search intent. Keywords with commercial search intent and transactional search intent attract people who are closer to making purchases. Accordingly, they're typically more competitive than other types of search.
If you want to find keyword opportunities with informational search intent, so you can attract people who are interested in art, get even more specific about the type of art prints you sell.
For example, if you enter "van gogh quotes" into Semrush's Keyword Magic Tool, you get a number of informational searches with decent search volume and realistic keyword difficulties for a newer site.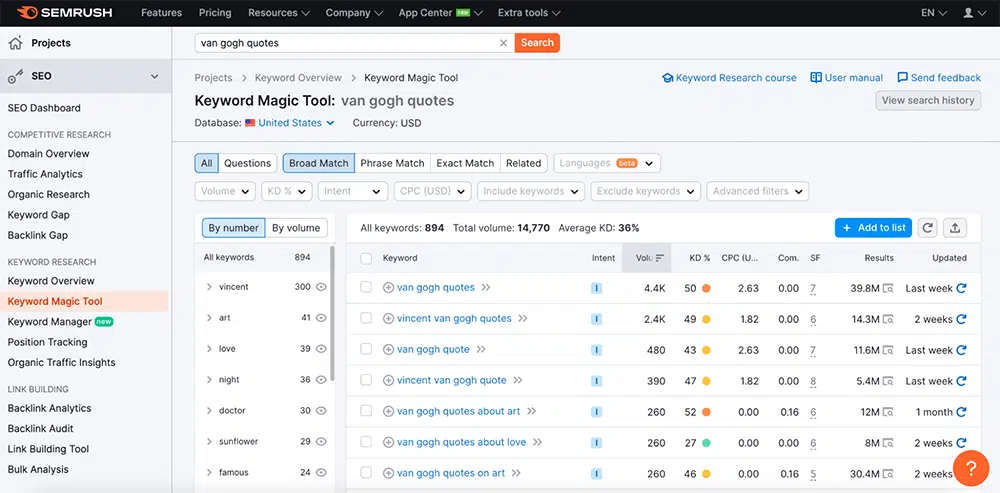 Content that you create around these keywords could attract interested prospects to the art prints you sell — all without targeting the very difficult keyword "art prints."
4. Number of Backlinks
To calculate keyword difficulty, two main factors that Semrush looks at are:
The authority of the pages currently ranking
The number and quality of backlinks to those pages
The more authoritative sources link to your website, the more Google trusts your website. This happens over time, and when you think about it, it's a good argument for prioritizing easy-win keywords to give your site momentum …
Create great content, use link-building tools to promote it, and remember to be patient.
5. Quality Assessment
The quality of your content should not be underestimated. Yes, you want to optimize it based on the keyword you select. But ultimately it should be the perfect match for the people you want to attract to your site … especially if you're going after competitor keywords.
Don't take any aspects of your product or service for granted. Break down all of your features and benefits to uncover long-tail searches that put your post or page in front of the right readers.
What Does the Keyword Difficulty Score Tell You?
So, what happens when you discover a keyword difficulty metric?
The score is going to tell you, in general, how much competition there is for the keyword and what your content needs to look like in order to have a chance of ranking.
(If you're debating whether to use Ahrefs or Semrush for this, you might find my article on Semrush vs. Ahrefs helpful.)
One of the reasons that I like looking at Semrush's Keyword Difficulty Score metric (KD%) is that it's very intuitive.
It's a basic percentage, ranging from zero to 100. The lower the score, the easier it is to rank for that keyword. The higher the KD%, the more difficult it is to compete.
| KD% | Impact on Your Content |
| --- | --- |
| 0 – 14: Very easy | Perfect for new websites, if there's enough search volume |
| 15 – 29: Easy | Achievable if you focus on quality |
| 30 – 49: Possible | Get your organization and structure precise to compete |
| 50 – 69: Difficult | Quality backlinks are essential now |
| 70 – 84: Hard | Better for authoritative sites to target |
| 85 – 100: Very hard | Save for later, if your site is new |
A quick way to prioritize which keywords to target is to pick a maximum keyword difficulty score.
For example, "van gogh quotes" has a 50% KD, and this might be the highest keyword difficulty score that you go after at this time, if your site is new.
What Is a Good Keyword Difficulty to Target?
Rather than think in terms of "good" or "bad," keyword difficulty will be subjective based on:
Your website's authority
The type of traffic you want to get
How quickly you aim to rank
You also want to keep search intent in mind, like we did in the "van gogh quotes" informational search.
If you can create the right content for interested prospects, "van gogh quotes about love" with a 27% KD might be the perfect option for a new site that wants to rank quickly.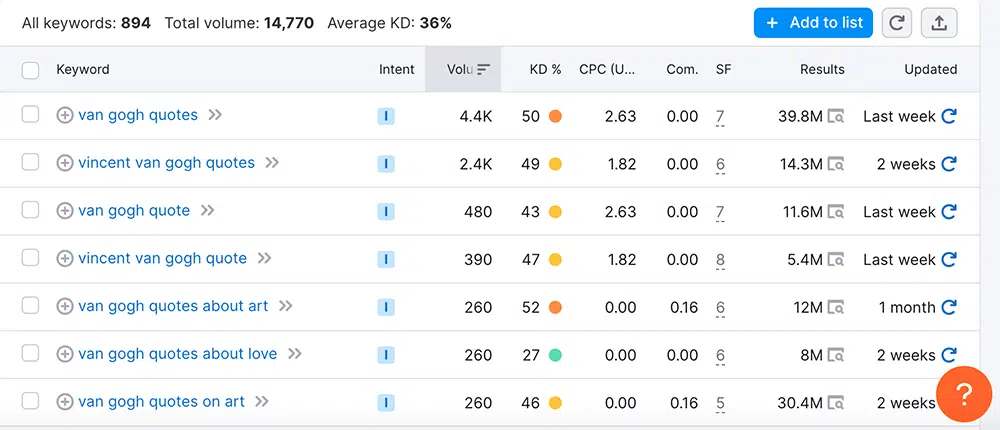 Then, after you've created additional content that ranks (and attracted backlinks to it), you can work your way up to the "van gogh quotes" search with the 50% KD.
Get More Out of Your Keyword Difficulty Tool
When it comes to reviewing different types of data and analytics software, it's less a matter of finding the best keyword difficulty tool, and more a matter of picking one and using it to make smart decisions about which keywords to realistically go after.
Mangools, Moz, and Ahrefs all have keyword difficulty checkers. I'm using Semrush because their keyword difficulty score is conveniently alongside other data I frequently reference when analyzing keywords.
Want to try Semrush yourself?
Start your 7-day free trial to explore smart keyword options right now.