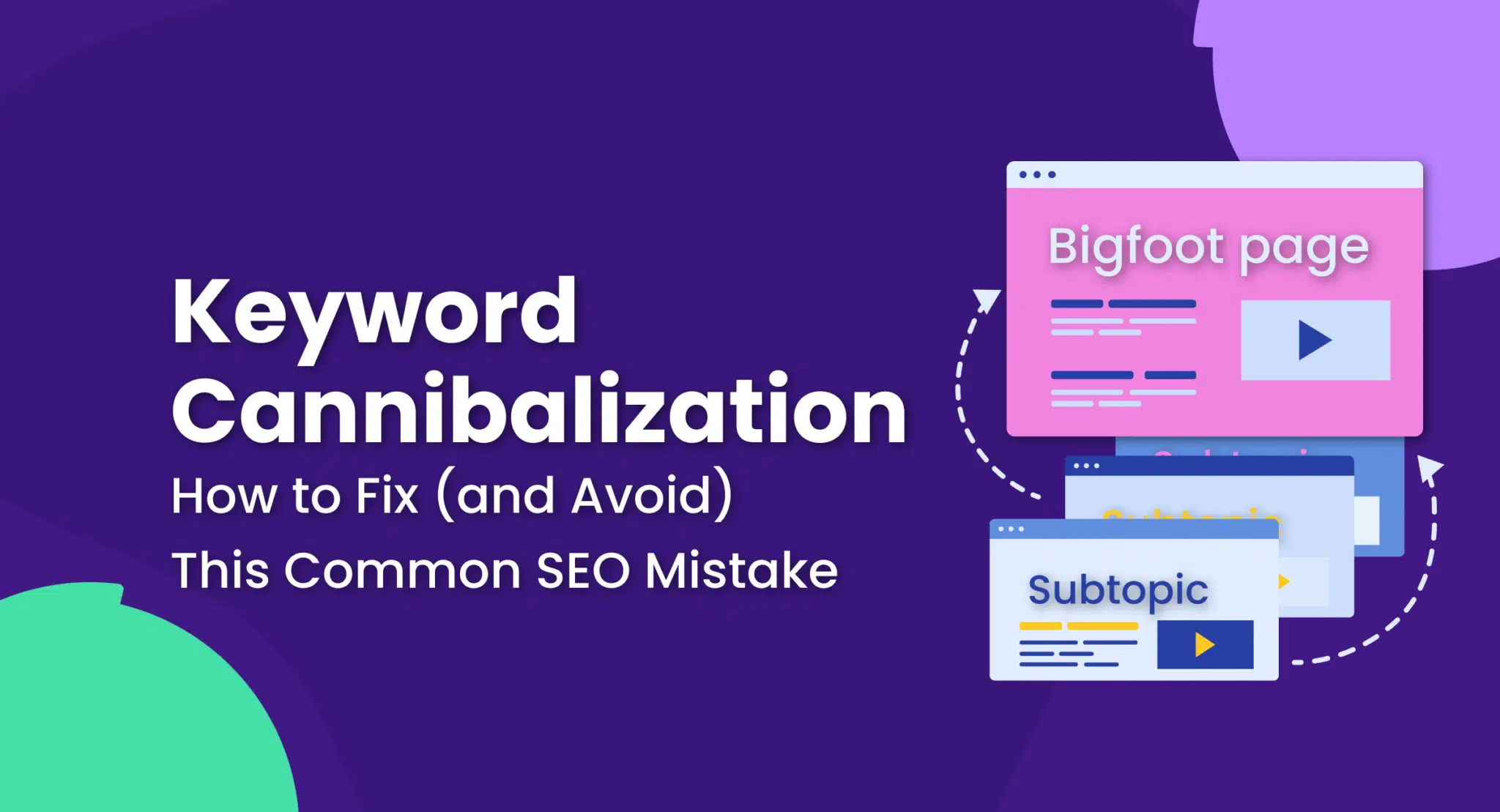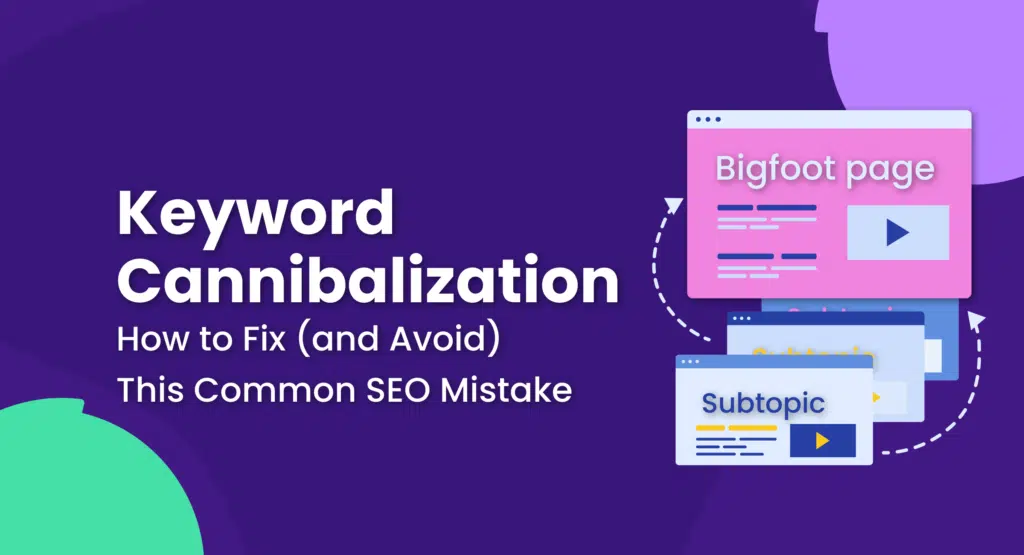 When you start on a new SEO project, oftentimes you'll have to address keyword cannibalization on the site.
Despite the best intentions of the site's content manager or previous SEO, websites often end up with multiple pages of similar content. Subsequently, this could cause some issues with the site. If you don't take search intent and the structure of your content into consideration, you'll quickly discover the consequences of over-optimizing.
More advanced SEOs will tell you that there are specific circumstances where optimizing different posts or pages for the same keyword might make sense — but those instances require proper research and planning.
I'm going to show you how simple it is to avoid over-optimization in the first place, as well as how to fix keyword cannibalization.
Let's stop your site from eating away at its own SEO potential!
What Is Keyword Cannibalization?
Keyword cannibalization can happen when multiple pages of content on a website target the same keyword. Even targeting too many similar keywords can result in cannibalization, because the content might still compete for the same search engine ranking. Consequently, you could run into performance issues.
In other words, if you — intentionally or unintentionally — optimize different content on your site for the same search queries, Google won't know which page or post is the most valuable. The danger of keyword cannibalization is that you lessen the chances of any of your pages or posts ranking. This is very often just an accident, due to a lack of SEO strategy.
If you have a high domain authority, Google might be more lenient and show multiple results from your site. But that's the exception, not the rule. So you definitely want to monitor for content that serves the same purpose as other content on your site.
Why Keyword Cannibalization Hurts Your Site
You compete with your own site in Google when you have two or more pages on the same topic. And most of the time, one of those pages doesn't correctly match the search intent for the keyword you'd like to win.
Keyword cannibalization splits the power of each piece of content. Even though you might think you need to create different pieces of content that cover a topic from different angles or perspectives, Google has gotten smarter. Some topics are synonymous or very closely related, even if they don't contain any duplicate words.
For example, if you have multiple blog posts on the same topic, which one should a user click on from a SERP? Which one would you want other sites to link to? If you don't know the answers to those questions, Google won't know the answer either. As a result, this situation could hurt your rankings, along with your CTR and backlink profile.
This might happen after researching competitor keywords and getting a little overzealous about the new terms you want to target. Take a look at these two blog post headlines:
Toyota Paint Color Codes: Find Your Perfect Match
Is It Time to Freshen Up Your Ride? Discover the Best Toyota Paint Colors
At first glance, they might make sense as individual articles. But if both blog posts have similar keywords and satisfy the same search intent (in this case, intentional search intent), it's unclear which one you prefer to rank.
Identifying Keyword Cannibalization
When you select a keyword to target, you do so because you believe it will drive relevant traffic to your site. It doesn't make sense to limit your chances of ranking, which occurs when you prematurely create multiple pages or posts on the same topic.
Most of the time, those posts or pages are filled with weak, thin content. Instead, you'll often want to go with a "less is more" approach and smart SEO copywriting. A well-researched, organized piece of content on your site sends Google a clear signal.
Here are three simple ways to spot keyword cannibalization.
Consult Google Search Console
Ready to roll up your SEO sleeves and do some manual work with Google Search Console (GSC)?


With GSC, you can review your top performing keywords to see if two or more pages on your site get impressions and clicks for them. Do any of the pages have the same search intent?
That requires a bit of investigating, but if they do, this could be a cannibalization indicator. What you want to look for are pages with overlapping search intent that affect performance.
For example, let's say two pages on your site rank for the same keyword, but not very high up in the SERPs. It could be way more beneficial to have one powerful page rank higher for that keyword and drive more traffic than the two individual pages currently do.
Use Keyword Research Tools
Keyword research tools offer more streamlined options. They allow you to easily monitor a bulk number of keywords and their URL rankings.
As I mentioned in my Semrush review, position tracking can be a bit addictive.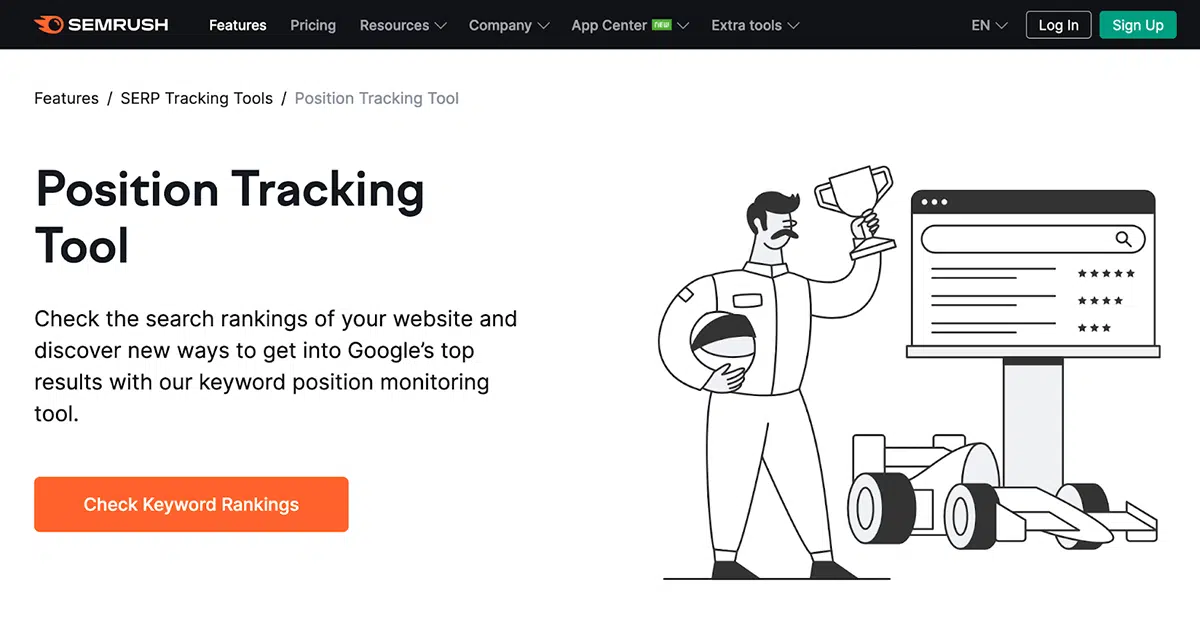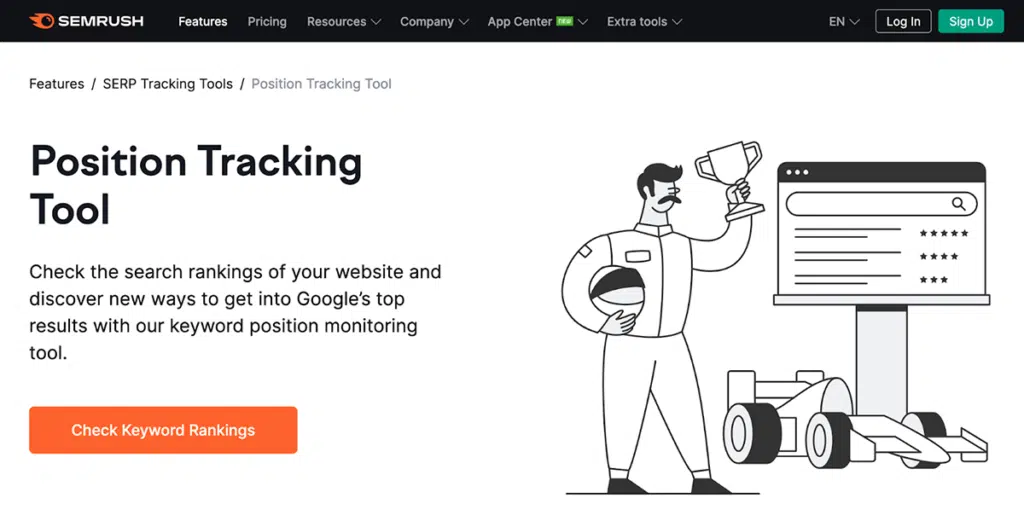 You can easily set up position tracking in Semrush with all of your target keywords.
Once you have that foundation for your site analytics, you can get a Cannibalization Report with important insights, such as affected keywords and cannibal pages.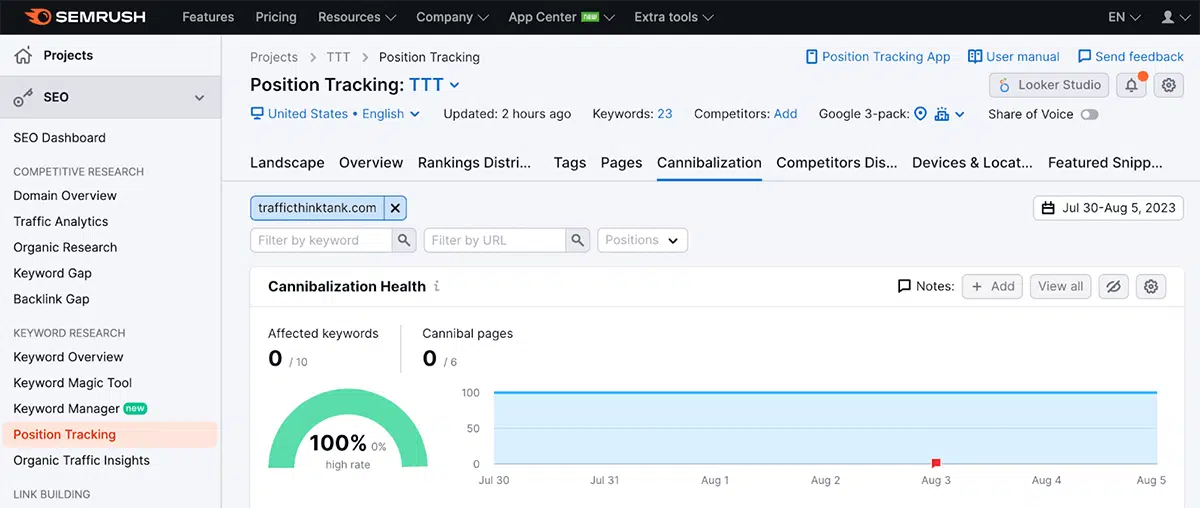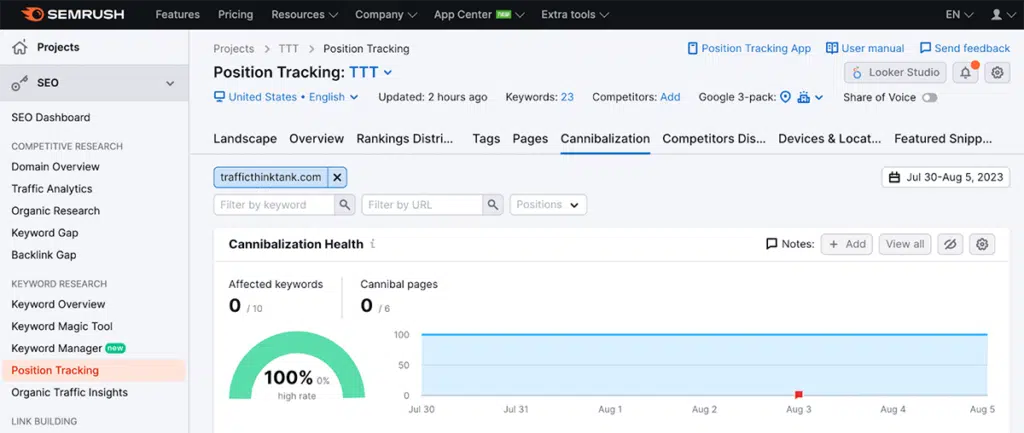 This is going to be your fastest and most accurate option.
Filter Results with Search Operators
Search operators are another manual option that work well in a pinch.
Type "site:[domain] + keyword" to find all of the relevant results on your site.
For example, here's what I'd search to find the Traffic Think Tank posts related to off-page SEO.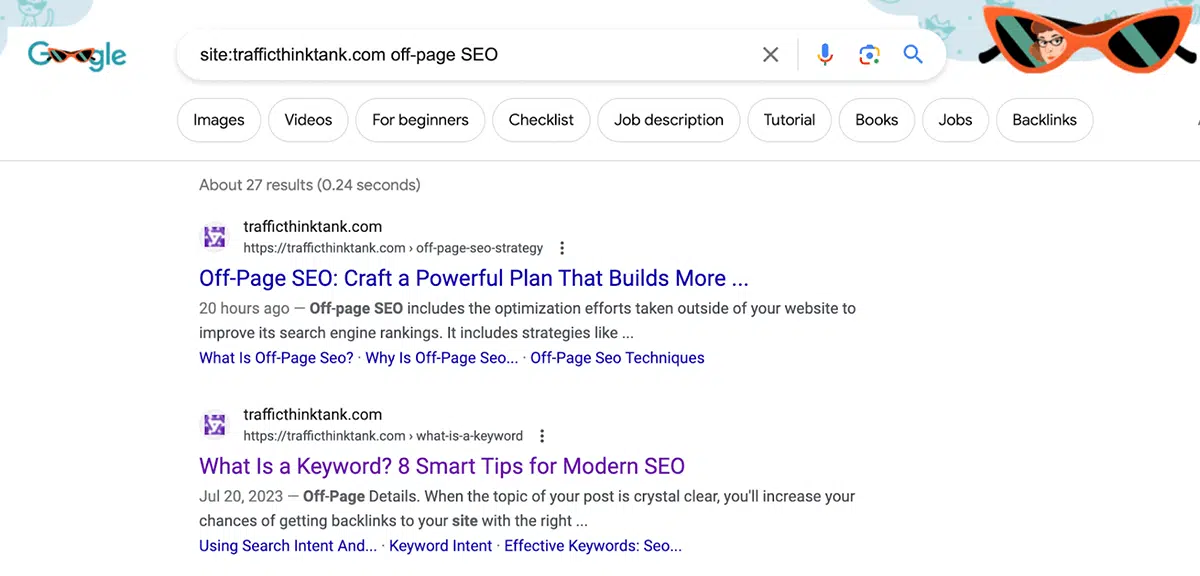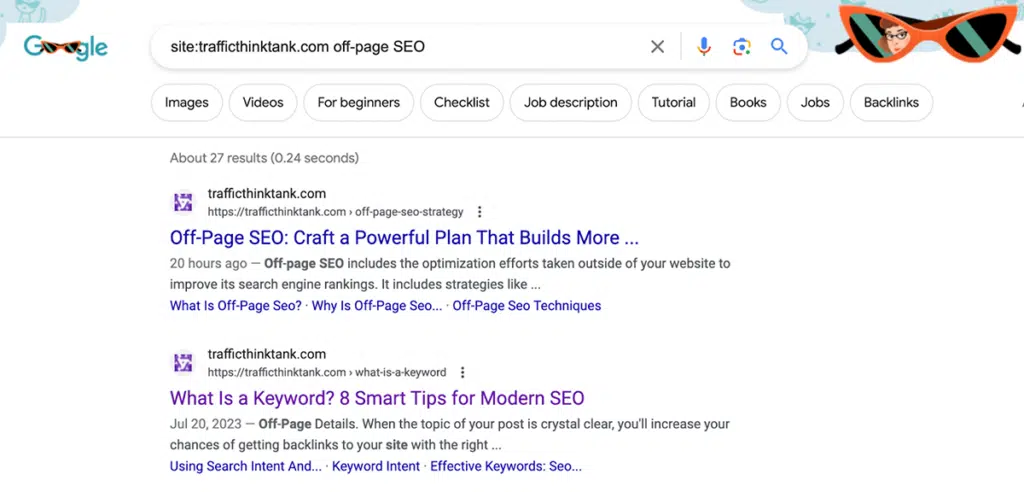 If I found any overlapping results with the same search intent, I'd prepare to fix them with one of the options below.
5 Ways to Fix Keyword Cannibalization
I've already mentioned how keyword cannibalization can hurt your rankings, but what does that really mean?
It means it can hurt your conversions. So you'll want to chart a plan to clean up these issues as soon as possible.
Here are five solutions you can try.
Keyword Cannibalization Issue >>
Try This …
Duplicate or similar content
Consolidate & Redirect
Duplicate content
Add Canonical Tags
Duplicate content
(and canonicals won't work)
Proceed with Caution: No Index
Similar content
De-Optimize & Re-Optimize Content
Similar content
Update Internal Links
You can read more about each option below!
1. Consolidate & Redirect
Have you found posts or pages on your site that you don't need to keep?
You might have found this extra content during a specific search for keyword cannibalization. Or, you might have performed a content audit on your site, which uncovered these redundant or weak pages. Cleaning them up immediately will help prevent future cannibalization issues.
To get started with consolidating your content and redirecting the old pages, select the one main post or page you do want to keep. I call this a Bigfoot page. This is the option with the most SEO potential based on factors such as the quality of the existing content, ranking, CTR, and backlinks. You're going to be deleting other content and redirecting URLs to this content pillar, so choose wisely.
You can add more valuable information to the Bigfoot page, as well as consolidate anything essential from the posts and pages you plan to remove from your site.
Then delete the other posts and pages you don't want to keep and 301 redirect the URLs to the Bigfoot page (to avoid a 4xx error).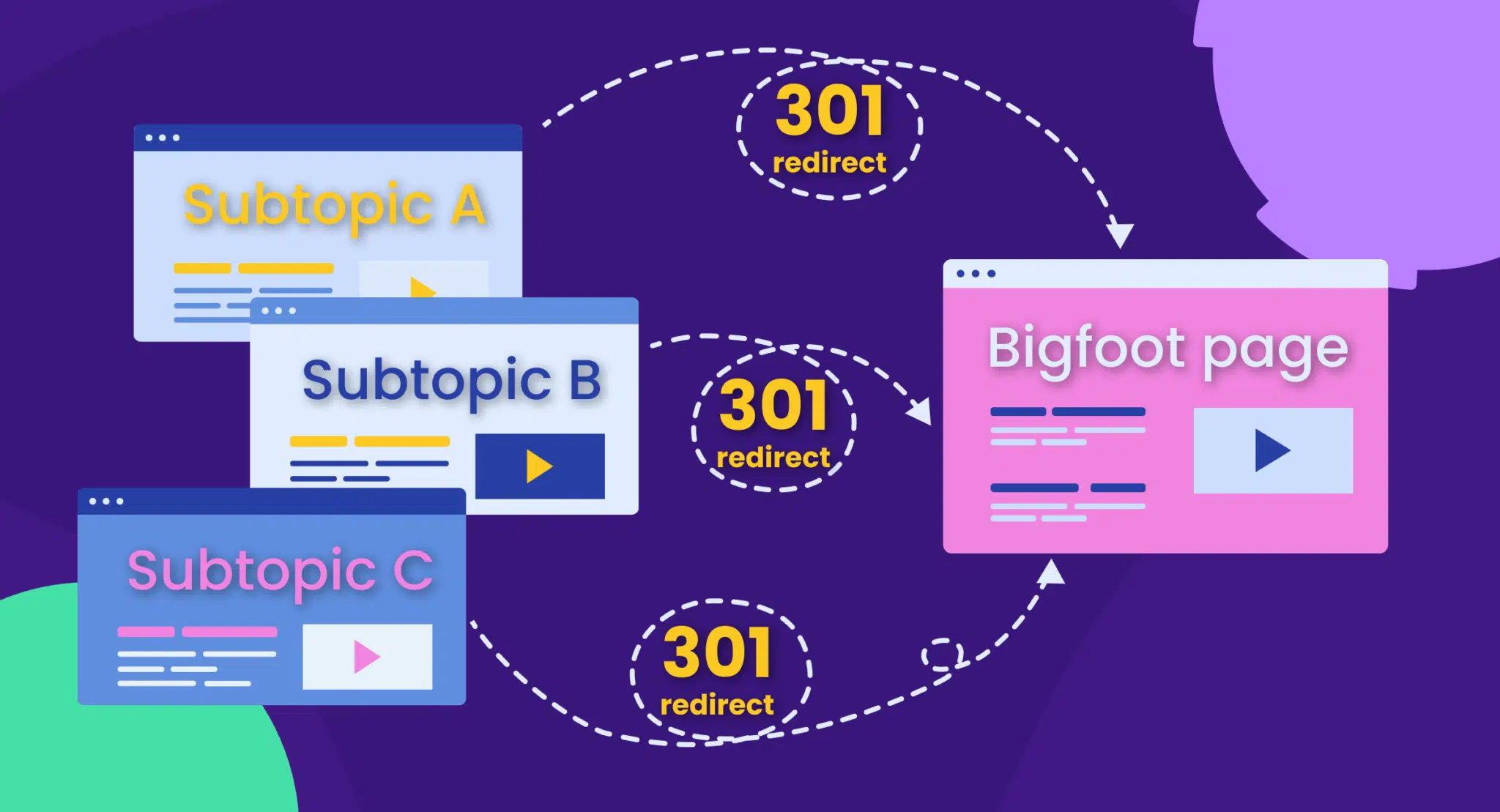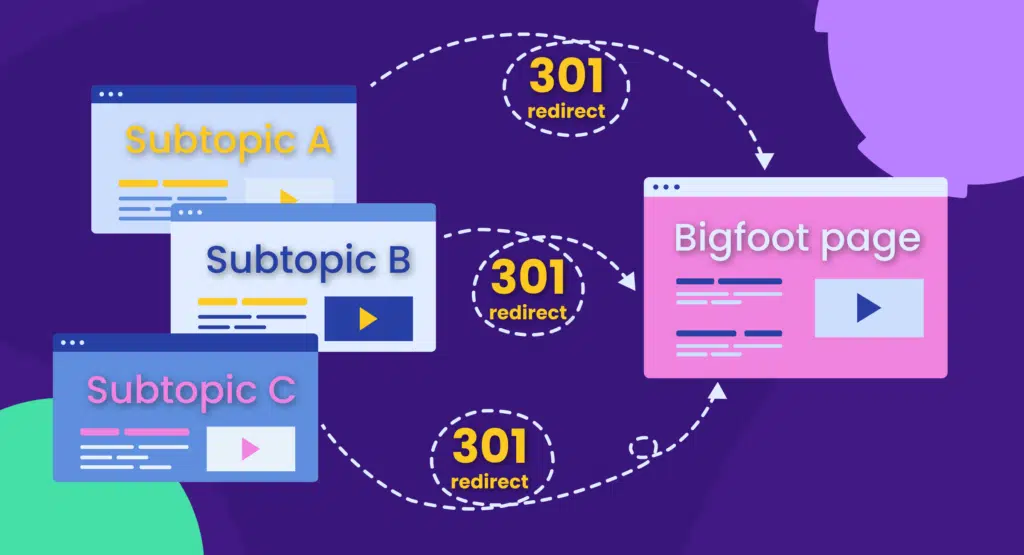 2. Add Canonical Tags
When you find duplicate pages that you do need to keep, canonical tags are your friend.
This time you won't be maximizing your SEO power into one Bigfoot page, but canonical tags will make search engines less confused. You'll essentially be clarifying for Google which page you'd like to rank for the target keyword.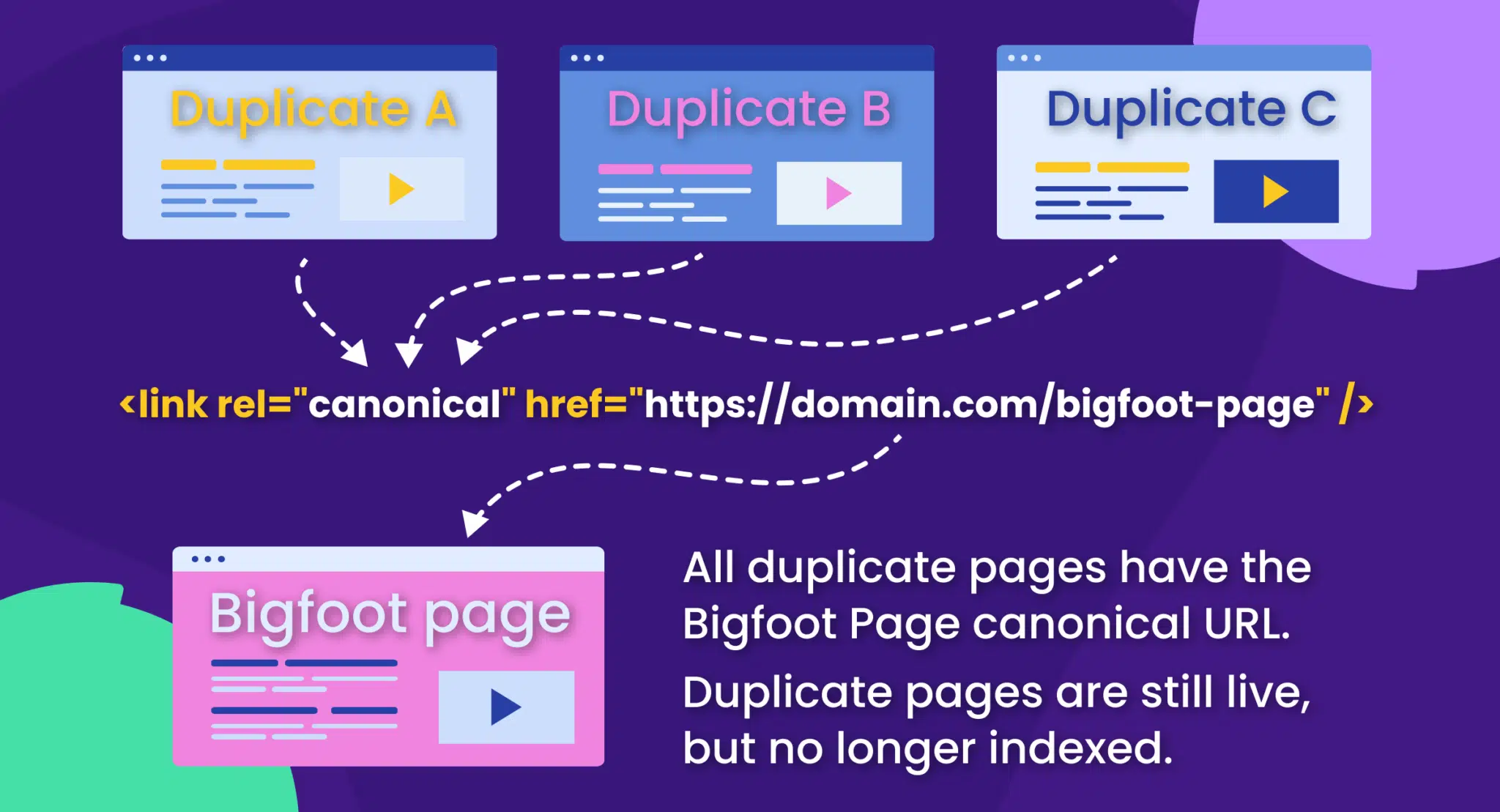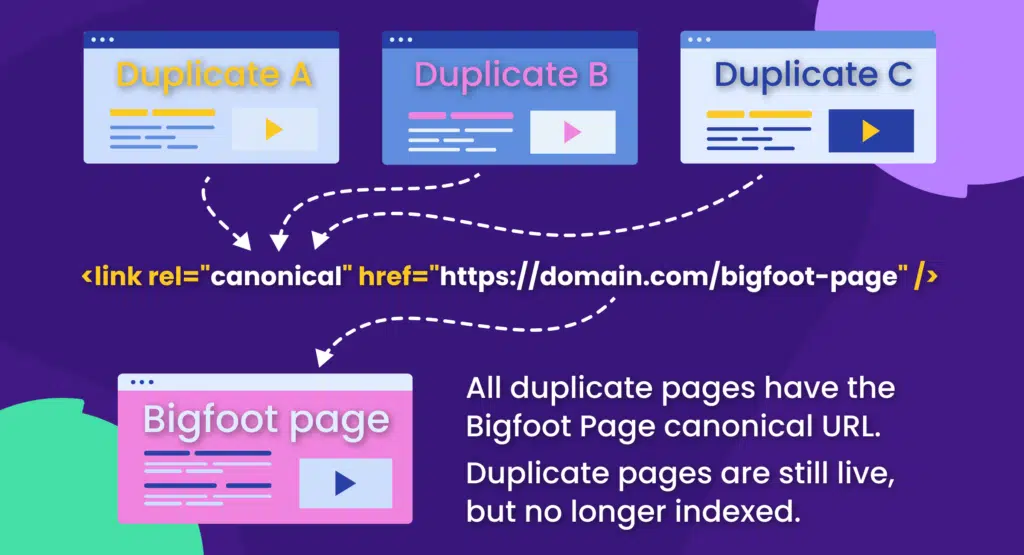 3. Proceed with Caution: Noindex
If canonical tags make Google less confused, noindex tags make Google stone-cold sober. They completely exclude your content from search engines.
Proceed with caution, because this is an extreme solution. Ranking signals in search engines are not transferred with a noindex tag. This solution is most commonly used with pages you want to remain visible on your site, but that provide no value to search engines because you've also published stronger, similar content.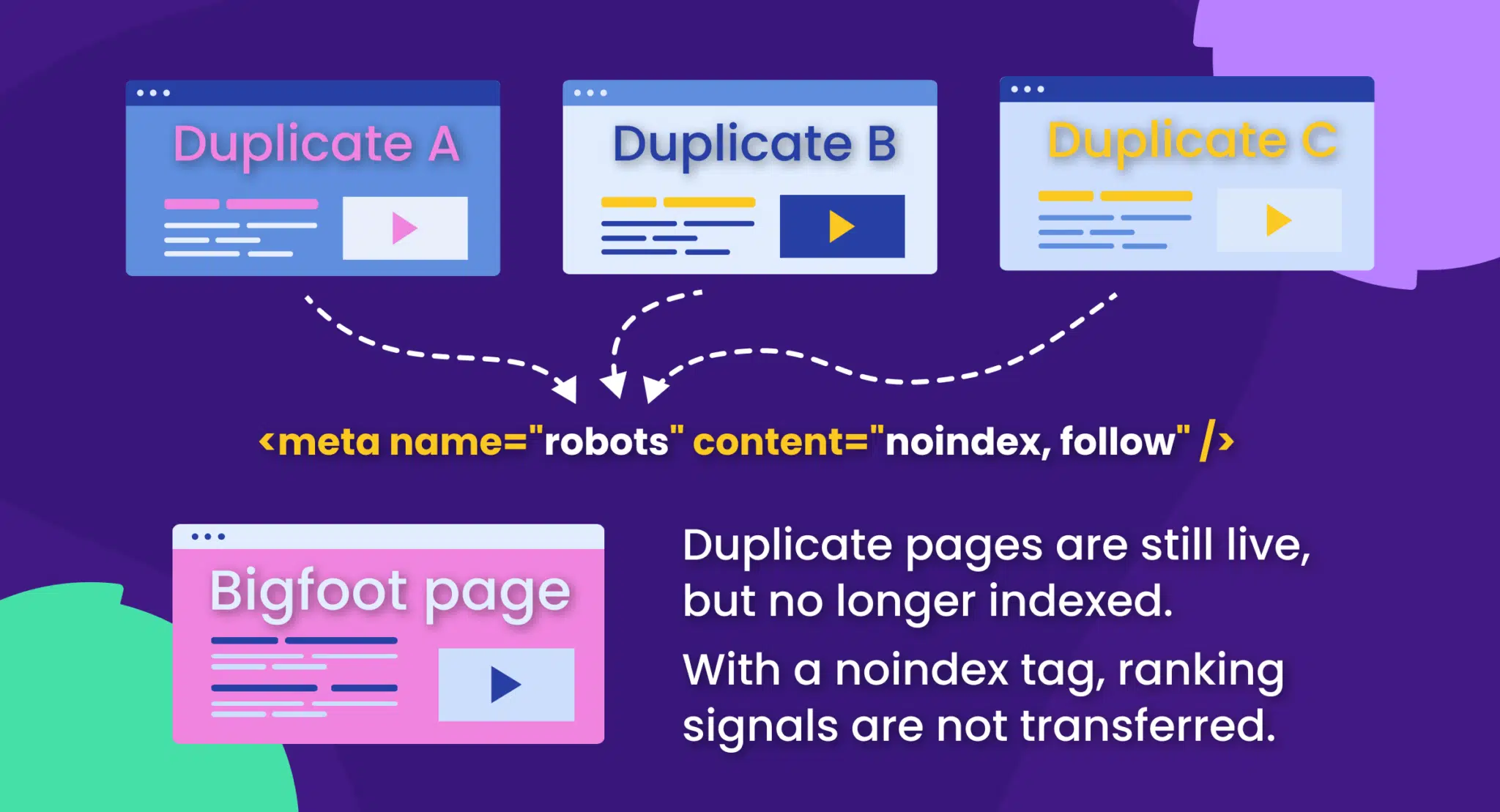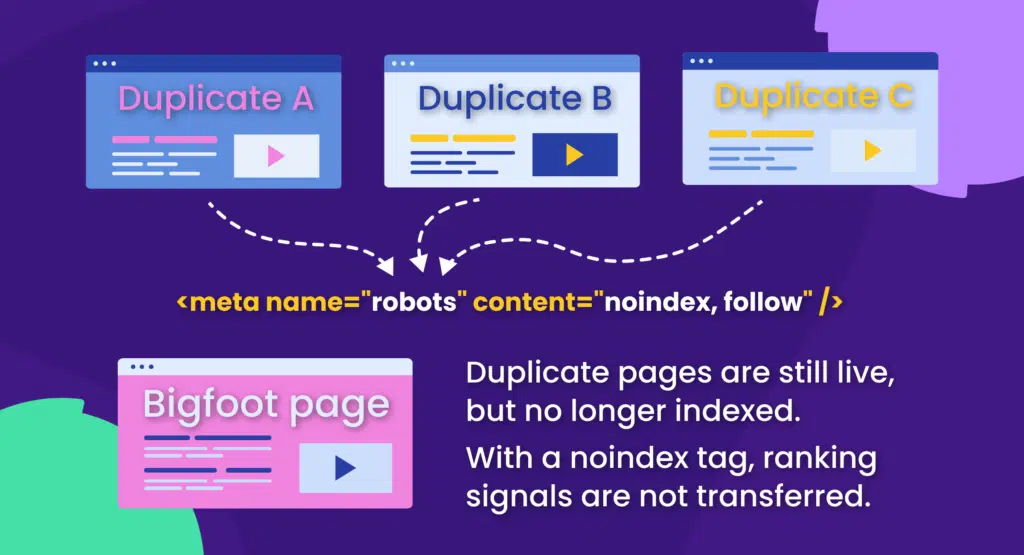 4. De-Optimize & Re-Optimize Content
Let's go back to the drawing board. Or rather, the on-page board, if you will.
Could a duplicate post be re-optimized for a different term? In an effort to stop content from ranking for a certain keyword, you can revise it.
The main idea here is to get Google to recognize the post you want to rank for a certain term. You'll first de-optimize the duplicate post by removing the target keyword from the content, headings, meta description, etc.
At this stage, you might also have to rewrite this duplicate post so that it's optimized for a different term.
Then, you'll go back to the original page you wanted to rank for a certain term and optimize it. This could include minor tweaks to add the keyword in appropriate places, or it could involve extensive rewriting.
Your re-optimizing will likely include revising the anchor text of your internal links …
5. Update Internal Links
This solution complements the other four techniques above and requires some elbow grease: Review internal links to your cannibal pages, along with their anchor text. Screaming Frog's SEO Spider Tool can help with this.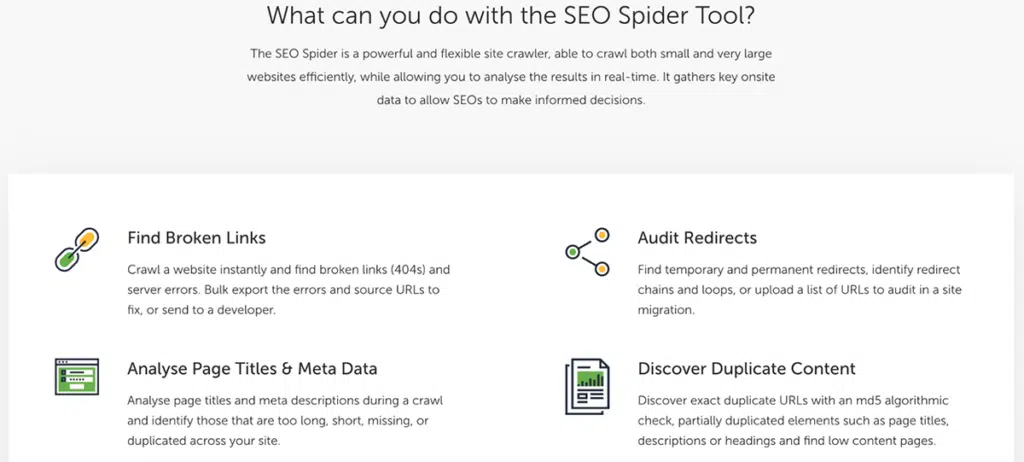 Similar to de-optimizing and re-optimizing content, your goal is to revise areas of your site that point to the posts or pages you no longer want Google to recognize for a certain keyword. Update the anchor text of your internal links to match your new and improved content.
Fortify Your Content From the Start
Keyword cannibalization can be a critical mistake that dilutes the power of your SEO strategy.
When you have complete control over a site from the start, carefully planning content for your target keywords will save you time and effort.
But don't worry if a new project has existing cannibalization issues, or if the problem does arise despite your intention to prevent it.
Semrush has your back with Keyword Research and Technical SEO Tools that help you both avoid, identify, and fix keyword cannibalization.
Want to try them out for yourself?