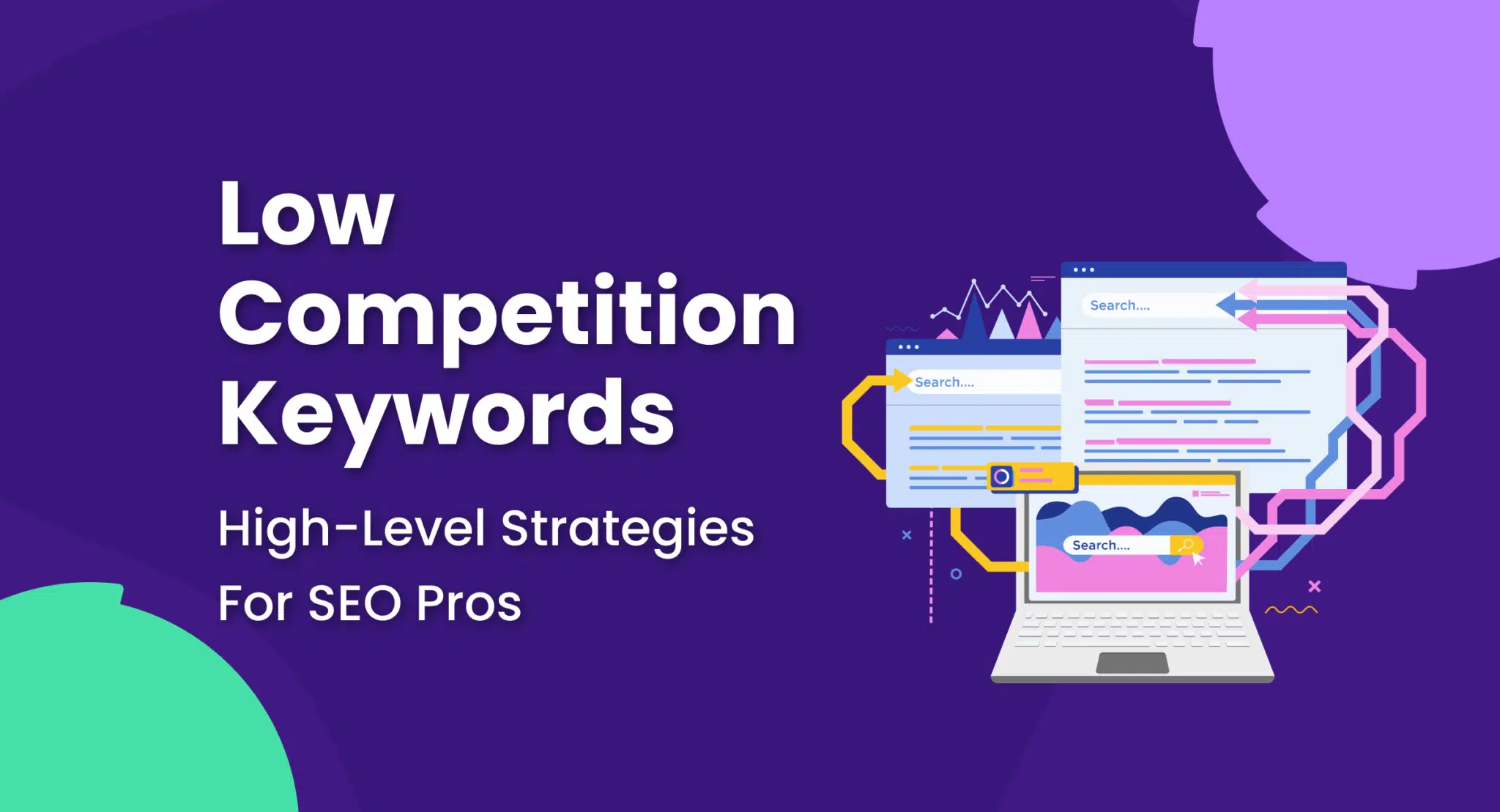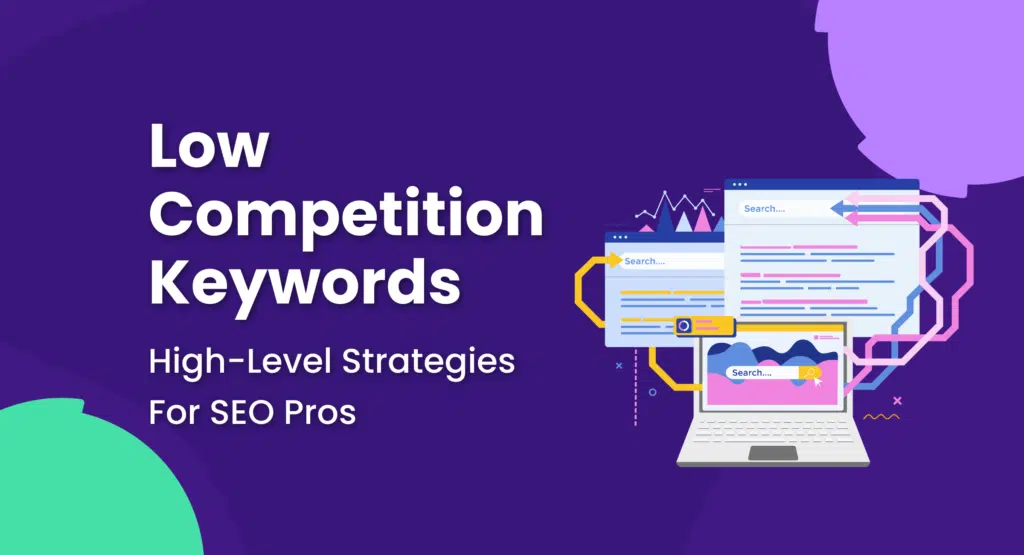 As an SEO professional, you're no stranger to low competition keywords. 
You've spent countless hours sifting through data to identify the keywords that will give you the best results with the least resistance.
But have you gone beyond the basics? What tactics have you used to discover low-difficulty keywords that will get you ranking quickly, with less off-page SEO and social promotion?
I'll share advanced techniques for doing deeper keyword research, so you can start driving quality traffic to your site in no time, without having to battle for the top of the SERPs.
But first, let's review what low-competition keywords are, and why they're important.
What Is a Low Competition Keyword?
A low competition keyword (also called a low-difficulty keyword) is a word or phrase that fewer websites and companies are competing for. With less competition, you'll have an easier time ranking high for these search terms.
Semrush identifies low-competition keywords using a metric known as keyword difficulty (KD). This indicator, expressed as a percentage, estimates how difficult it would be for a new website to start ranking on Google's first page for a given keyword. Keywords with a lower KD score are considered less competitive.
Semrush incorporates a variety of factors into its KD scores, such as:
The authority of domains currently ranking for the keyword
The presence of SERP features
The live data from the organic search results
Other keyword research tools offer a simpler (and often less effective) analysis of keyword difficulty based only on search volume vs. competition index.
In this post, I'll show you how to find low-competition keywords using Semrush, since it's one of the most accurate resources for keyword research. (If you aren't already using it, check out my full Semrush review.)
Why Low-Competition Keywords Matter
The lower competition level for these keywords means they're easier to rank for in the SERPs. A well-optimized page with quality content that targets low-competition keywords can achieve higher rankings and better visibility in the SERPs with less effort than required for more competitive terms.
As experienced SEO professionals, we often focus on "low-hanging fruit," which are high search volume, low-competition keywords. These are searches that are common enough to send traffic to your website, but not so popular that they'll be overly crowded by competitors.
If you're launching a new site or entering a new market, find as much low-hanging fruit as possible for your SEO strategy.
Leverage Semrush to Find Low-Competition Keywords
Here's a brief overview of how to use Semrush's basic tools to build your initial keyword list.
After this walkthrough, I'll give you some advanced strategies for expanding your list and finding even more low-hanging fruit for your site.
Step # 1: Build Your Initial List of Keywords
Use Semrush's Organic Research tool to enter a competitor's domain and identify a list of keywords your competitor's site ranks for in Google's top 100 organic search results.
Filter and select keywords with a low keyword difficulty percentage (KD%) and add them to a new list in Keyword Manager.
Find long-tail queries using the Keyword Gap Tool to compare keywords between domains. Select the low competition keywords in the comparisons, and add them to your Keyword Manager list. 
Step #2: Expand Your Keyword List
Use the Keyword Magic Tool to expand your initial list of keywords. This tool suggests related phrases, question-based queries, and variations you may not have considered.
Add all the new options to your Keyword Manager List.
Step #3: Filter for High Search Volume, Low Competition Keywords
Once you've built your list in the Keyword Manager, filter for low-difficulty keywords, and sort by volume to find the sweet spot of high search volume, low competition opportunities.
4 Advanced Strategies for Identifying Low Competition Keywords
Now let's explore some advanced strategies that can help you pinpoint even more low competition keywords that can lead to quick wins and sustainable traffic.
1. Research New, Popular Niches Where You Can Get Your Foot in the Door
Understanding your competitors and audience within a new niche can help you find low competition keywords.
With tools like Semrush, trends — including Traffic Analytics, Market Explorer, and One2Target — you can gain insights into customers' purchasing behavior, preferences, and online activity patterns within a niche.
You can also use the workflow below to find additional online competitors, including sites similar to those you're already familiar with in your niche. This information is critical for spotting gaps in the market where low competition keywords may exist.
Enter a domain in a market you want to study into the Market Explorer tool. This could be a competitor's site, or your own. You'll see the market defined by multiple parameters like:
Audience interests
Number of backlinks
Website categories
Common organic keywords
Positions in the SERPs
At the top of the report, you'll see the Growth Quadrant, which shows you the competitive landscape, made up of the 100 top industry players. This helps you visualize how your niche is shaping up.
You can customize your view of the niche by:
Changing the time period and location
Turning "Growth Paths" on to view market players' growth across the selected period
Viewing in full-screen mode or zooming in or out
Filtering traffic sources to show competitor positions based on the selected channel
Revealing or hiding certain sites on the matrix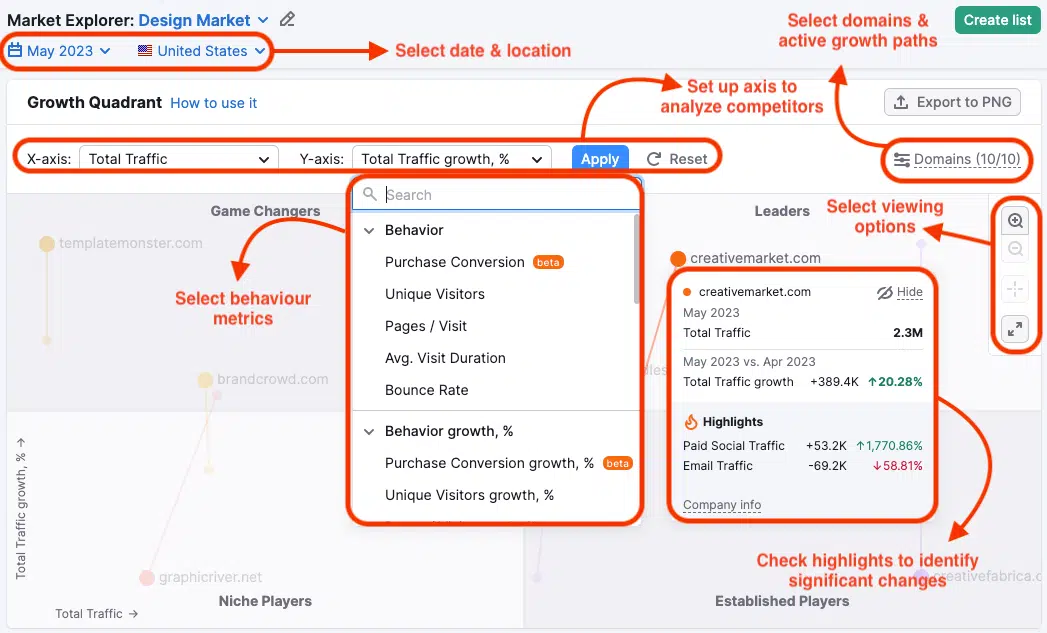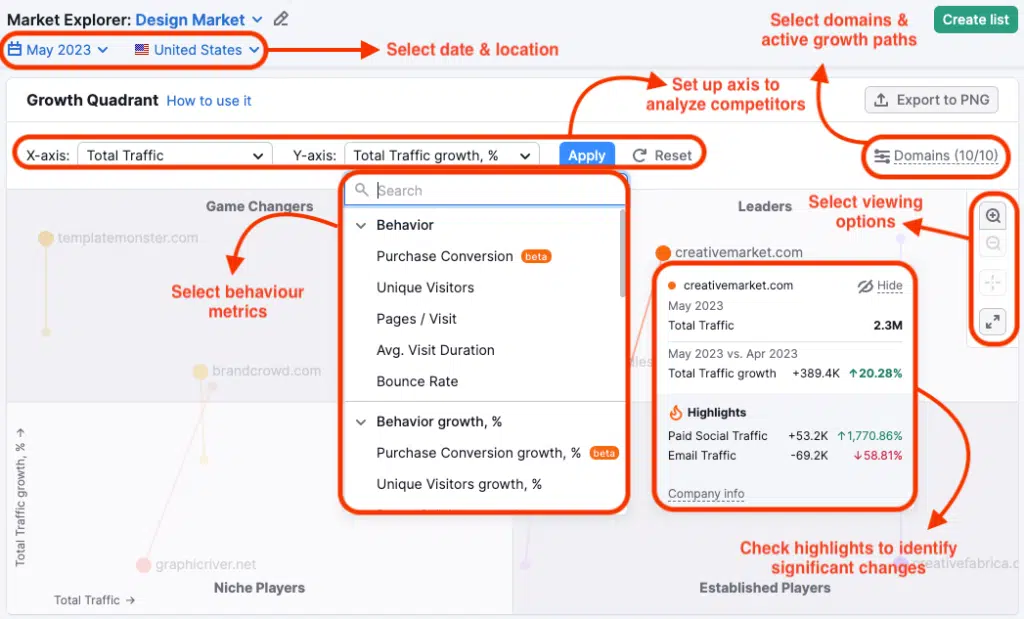 Research like this helps you pinpoint where niches are saturated and where there are openings — openings that can indicate the presence of low competition keywords.
The customization options in Semrush's niche research tools let you zero in on specific market segments, such as a particular product niche within a larger industry.
By focusing on detailed market segments, you can identify and select relevant keywords that aren't over-targeted by the competition.
2. Integrate Semantically Related Low Competition Keywords to Improve Content Relevancy
Semantic keyword analysis is an advanced SEO approach that involves identifying and integrating contextually relevant keywords. This technique goes beyond targeting exact-match phrases and delves into the broader context of a topic or query.
Semantic keywords often open the door to a treasure trove of long-tail variations that are less competitive. By understanding the broader topic's language and related concepts, you can capture the nuances of how different audiences might search for the same topic.
To discover these semantic and long-tail keywords, start by constructing a list of initial keywords central to your content. Then, expand this list by exploring synonyms, related phrases, and questions potential customers might ask.
Semrush's On-Page SEO Checker is an excellent tool for conducting semantic keyword analysis. This tool evaluates your existing content and compares it to top-performing competitors' content, then gives you recommendations on how you can improve your content.
For example, the On-Page SEO Checker gives you a list of semantically related words to include in your content, which can help you rank for a wider range of relevant queries.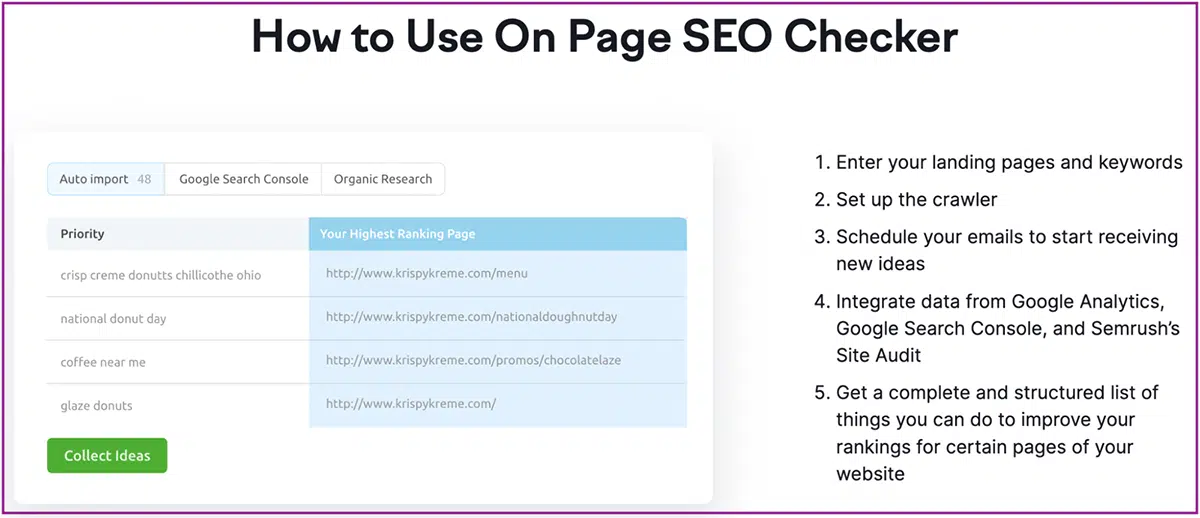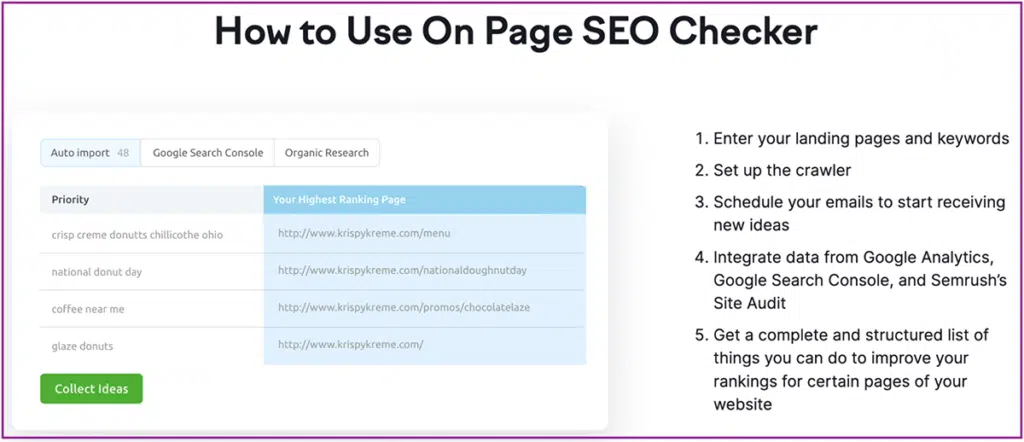 The SEO Content Template from Semrush takes it a step further by offering SEO guidance tailored to your specific keywords. It analyzes the top 10 ranking pages for your target keywords and determines what semantically related keywords those pages use.
Then the tool provides a content template highlighting which semantic keywords you should include to improve content relevancy for users and search engines.
To use the SEO Content Template, enter a target keyword for a page. Semrush will analyze the top 10 Google results and provide you with a list of semantically related keywords.
For example, these are the results for "how to make pizza dough":


Once you've got your results, use the content template to integrate the best low-competition semantic keywords into your content.
3. Conduct a Content Gap Analysis to Intercept Traffic From Your Competitors
Content gap analysis is crucial for identifying missed opportunities in your current content strategy, especially for uncovering low competition keywords that you might not be targeting yet. 
Using Semrush's Keyword Gap Tool, you can systematically compare your content to your competitors and find your weak spots.
Before we get into the details of doing a content gap analysis, let's back up for a second. What are content gaps? Why are they important?
When there are keywords your competitors are ranking well for (but your website isn't), that's a content gap. These gaps are strategic opportunities for you, and you can use them to find low competition keywords.
Here's how to perform a content gap analysis using Semrush:
Enter competitor domains: Start by listing out competitor domains within the tool. These are the websites that rank for keywords in your niche and are considered authoritative by search engines.
Set up your parameters: Configure the tool's settings to include keywords for which any of the entered competitors rank in the top 100, but your domain doesn't.
Analyze the data: Once the analysis runs, you'll see a list of keywords your competitors rank for. From this list, you'll focus on the ones with lower keyword difficulty scores.
Filter for relevance: Within Semrush, you can filter this list by search volume, keyword difficulty, number of results, and even CPC to prioritize which keywords are most relevant and valuable to your content strategy.
Create new content (or optimize existing content): The next step is to create new content or optimize existing content around the low competition keywords you uncovered in your audit. This content should provide value and relevance to the reader and be optimized for search engines.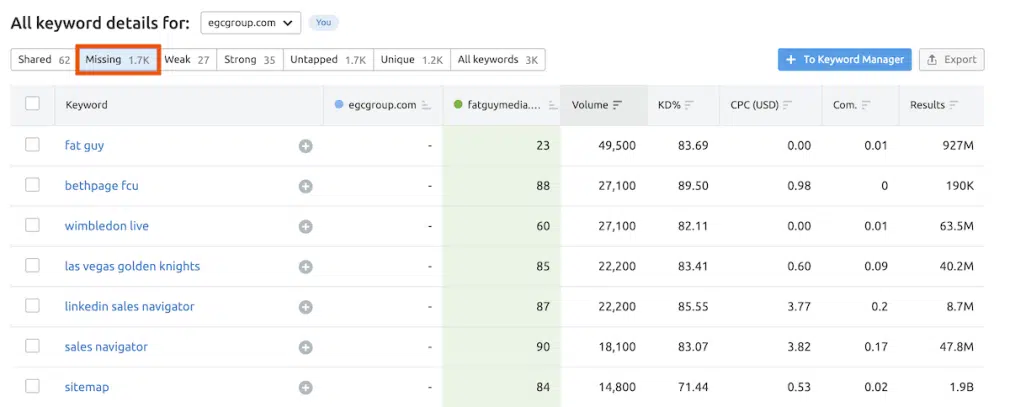 4. Discover Location-Based Keywords
Local keyword research is finding keywords people search for when looking for amenities, products, or services in their local areas.
Use Semrush's Keyword Overview tool to find less competitive local keywords by checking search metrics in target locations.
Enter a keyword into the Keyword Overview tool and click "Search."


Once you see the results, click the "Select location" dropdown and type your desired area (state, county, province, city/town, or municipality).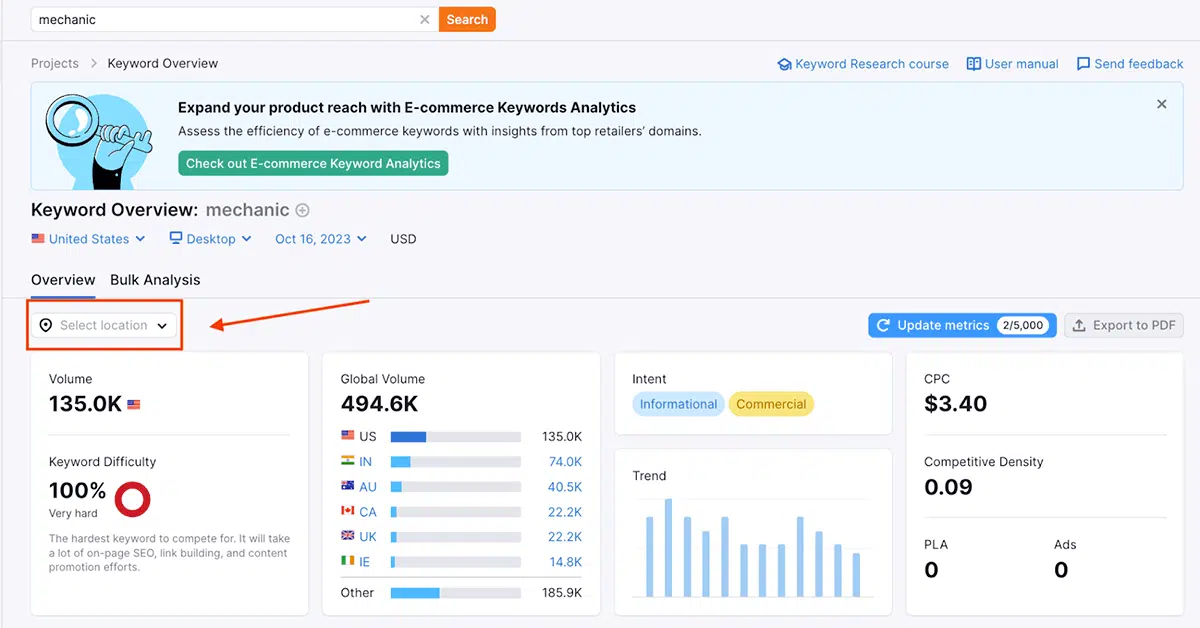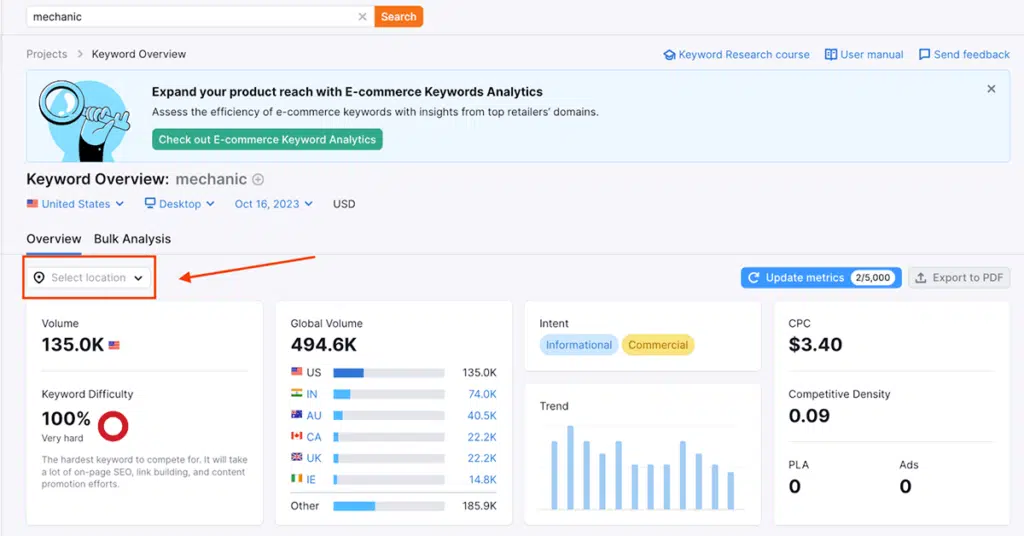 When your target location appears, click it to get updated volume metrics for that specific area.
You'll get local and national data side by side, and be able to see how difficult it will be to rank for your keyword in your target location.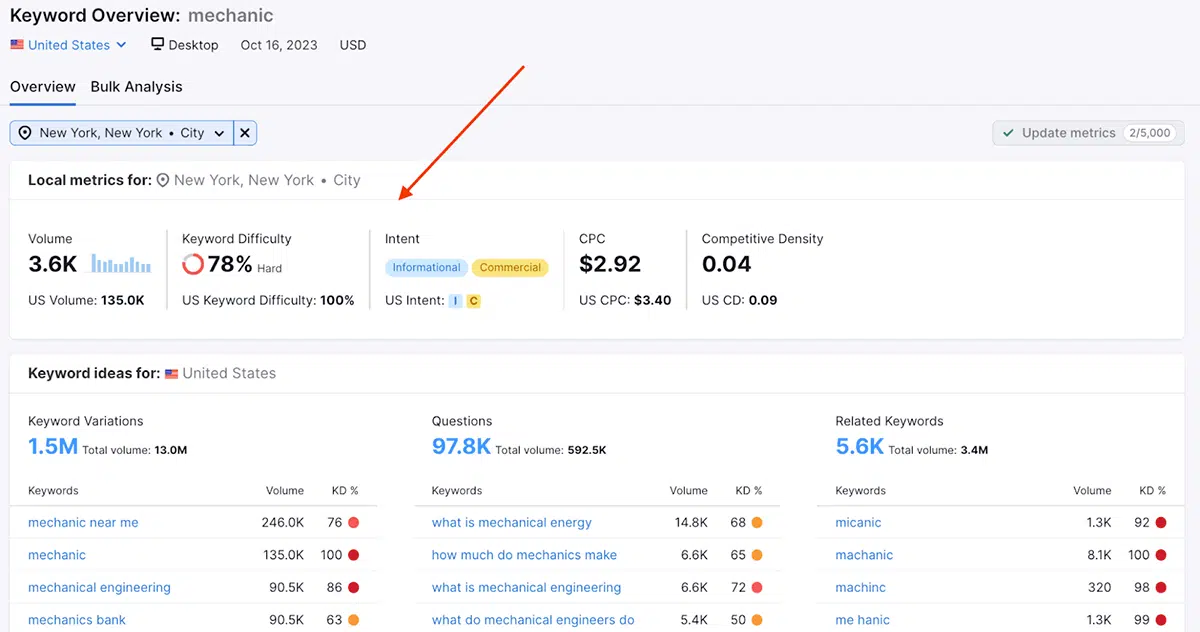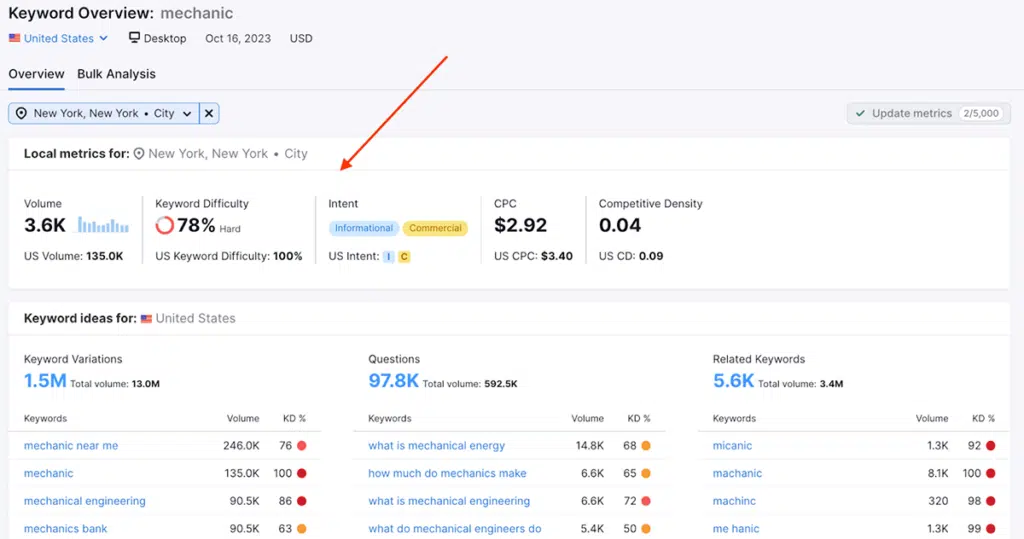 How to Target Low Competition Keywords in Specialized Fields
As SEO pros, we know that specificity drives website traffic.
In this section, I'll discuss finding low-competition niche keywords that can help you connect with targeted audiences and boost your online presence in specialized markets.
Decoding Informational vs. Commercial Intent for E-commerce Keyword Research
To find low competition keywords for e-commerce, you need to understand the difference between informational and commercial search intent.
With informational intent searches, users are looking for information, often as a precursor to making a purchase decision. In e-commerce, these keywords are often less competitive and valuable for top-of-the-funnel content.
Use these low competition keywords to educate and engage potential customers through content like blog posts, FAQs, and buyer guides. Common keywords that signal informational intent include terms like "how to," "guide," or "tutorial."
On the other hand, commercial intent comes into play when users are ready to buy. Searches with commercial intent often include terms like "buy," "deal," or "coupon." These keywords are usually more competitive, but you can still find low-difficulty opportunities by looking for:
Product-specific terms
Long-tail phrases that include brand specifics
Local identifiers
To effectively target low competition e-commerce keywords, use tools like Semrush to analyze search terms for both intents, look for gaps in competitors' strategies, and optimize your product pages and content accordingly. 
The goal is to capture users at different stages of the buyer's journey — from initial research to the point of purchase — by tailoring your keyword strategy to match their search intent.
Leverage Long-Tail Keywords for Niche Service Markets
Service keyword targeting identifies and optimizes web content for specific keywords that potential customers might use when searching for services a business offers.
This is a core component of SEO and content marketing strategies for service-based businesses, such as professional services, home repair, medical services, or any industry where the business provides a service rather than a tangible product.
If you're trying to identify low competition keywords for a service business, look for:
Service-specific keywords: Identify keywords that are directly related to the services you offer (e.g., "air conditioning repair service", "professional tax preparation").
Intent-based keywords: Find keywords that indicate intent to engage a service ("hire", "consultation", "appointment", "quote").
Long-tail service-related keywords: Longer, more specific phrases can have lower competition and higher conversion rates ("emergency plumbing service in Dallas", "estate tax attorney for high net worth individuals").
Location-based keywords: For local services, include geo-targeted keywords ("dentist in Seattle", "Chicago wedding photographer").
The Right Tool for Uncovering a Wealth of Low Competition Keywords
The path to SEO success is frequently paved with low competition keywords — those hidden gems that are easy to rank for and ripe with potential. 
We've discussed the basics of finding these low-difficulty keywords and some advanced tips for unearthing even more keyword possibilities that can help you outrank your competitors and drive traffic. With the right tools, there's a wealth of opportunities out there.
Semrush helps you identify, analyze, and target a wide range of keywords that can propel your content to the top of SERPs. Get started today with a free 7-day trial.