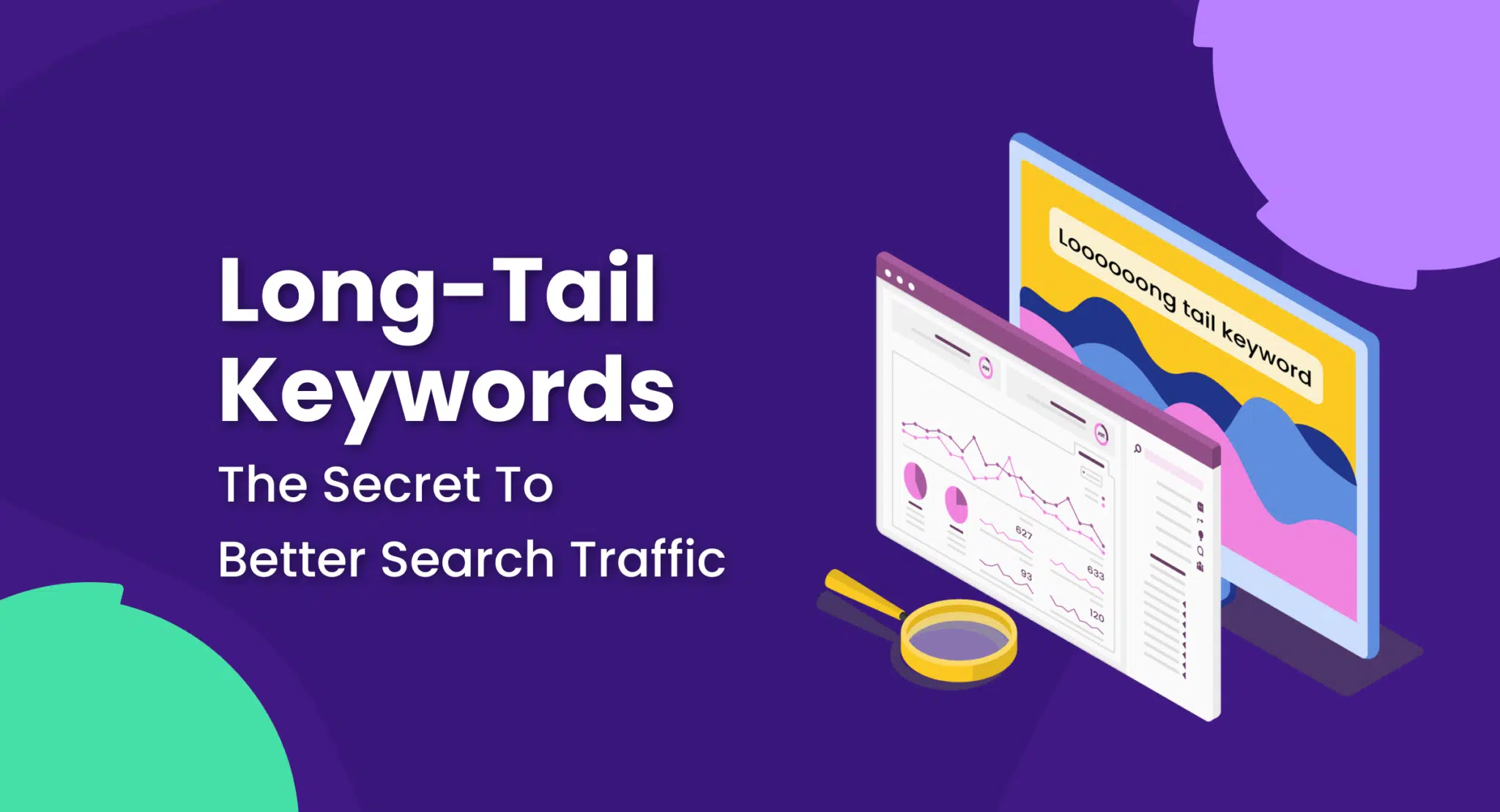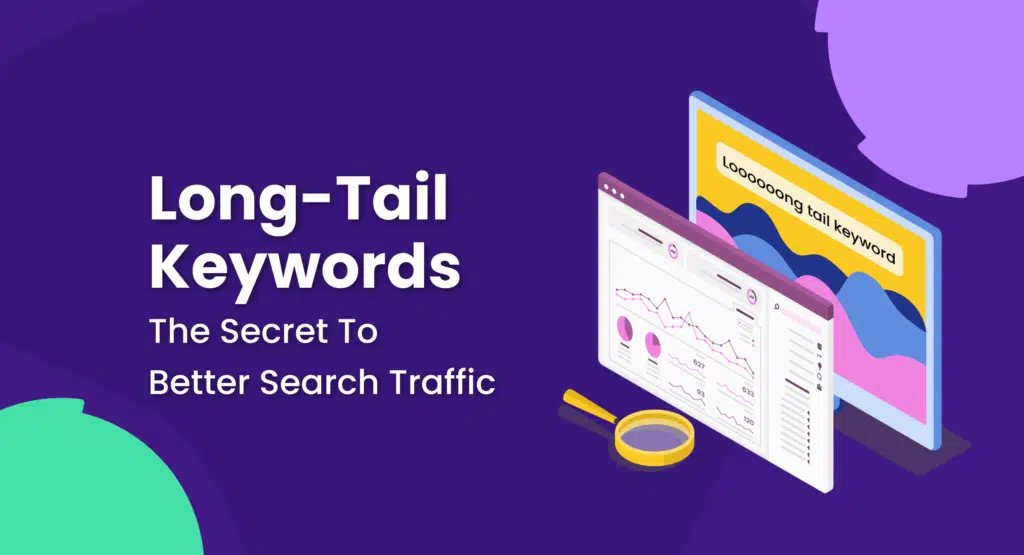 Right now, as I type this, you could be leaving money on the table because you've overlooked long-tail keywords in your niche.
"But, Nick …" you might reply. "I've explored long-tail keywords and there just isn't enough search traffic to justify creating content on those topics. I want to go after big competitor keywords."
I get it, my SEO friend. More traffic. More potential sales. That's a perfectly reasonable perspective to have. Unfortunately, only focusing on high-traffic keywords is a little short-sighted.
You see, a long-tail keyword is highly specific and therefore will drive highly relevant traffic to your site. Targeting long-tail searches helps your content get in front of people who might be perfectly positioned to act immediately, leading to (almost) instant sales.
I've smoked competitors by targeting keywords they've dismissed — keywords that have very little traffic (on the surface, a negative), but that generate thousands of dollars in sales (clearly a positive).
If you want to learn how to find profitable keyword opportunities that your competition might not prioritize, keep reading.
What Are Long-Tail Keywords?
Long-tail keywords include more specific information than a broad keyword or head term, and typically contain three or more words. When someone types a long-tail keyword into Google, they have a very specific search intent and are typically closer to making a purchase.
Voice searches are also typically questions or phrases that include long-tail keywords used in natural language.
Some common modifiers that transform head terms into long-tails are "how to," "best," "near me," "on a budget," or (conversely) "luxury." Others are going to be specific to your brand's product or service and might include additions like "recipe for," "DIY instructions," or "at home."
Semrush's Keyword Magic Tool is an easy way to discover long-tails, and I'll show you how it works in just a little bit.
First, we can modify an example I used in my post on keyword difficulty to immediately see how expanding on a head term can transform it into a powerful long-tail.
Here's the search volume and keyword difficulty for the head term, "art."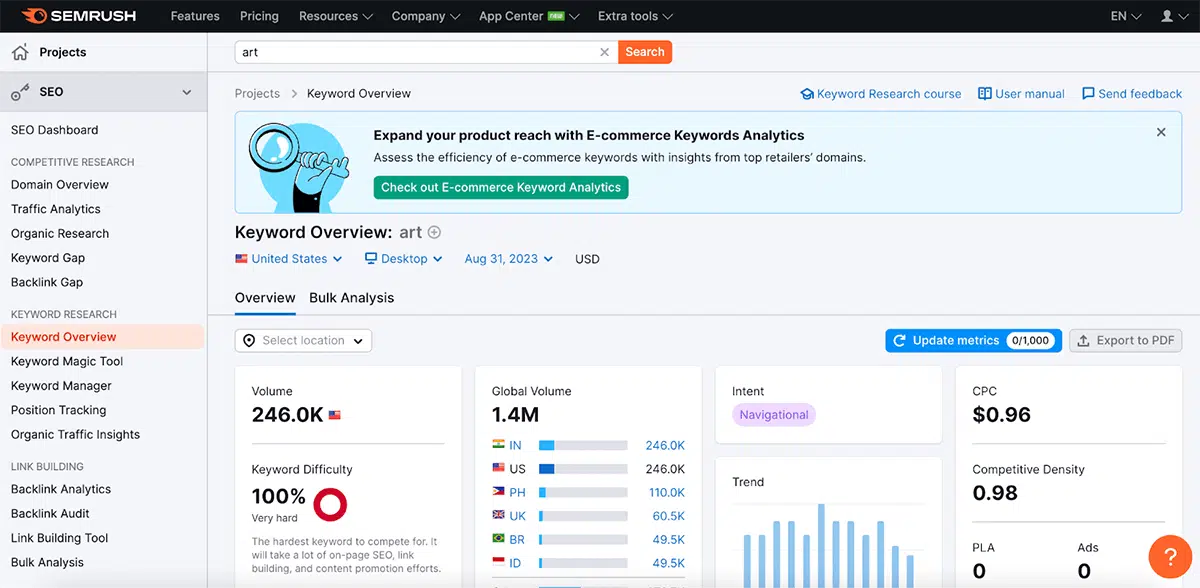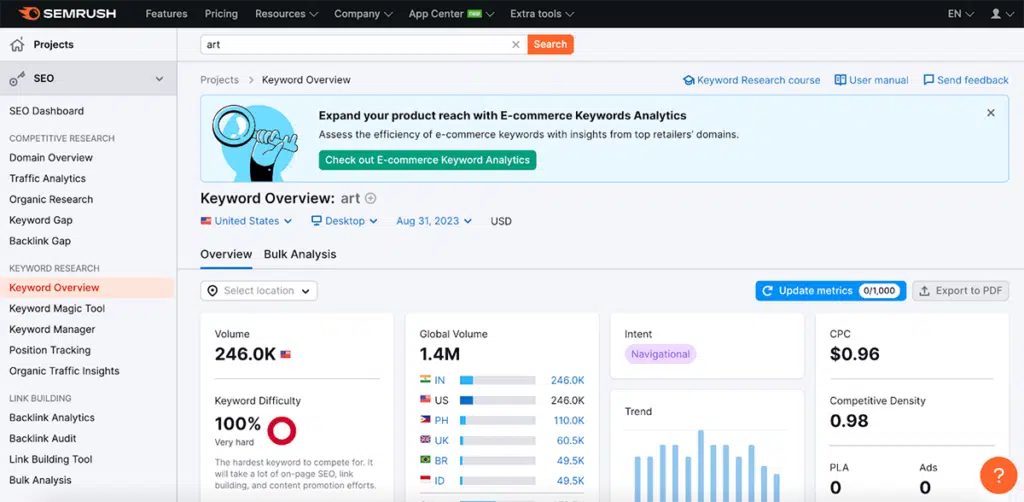 We can start to make the keyword more specific (medium-tail) with the term "art prints":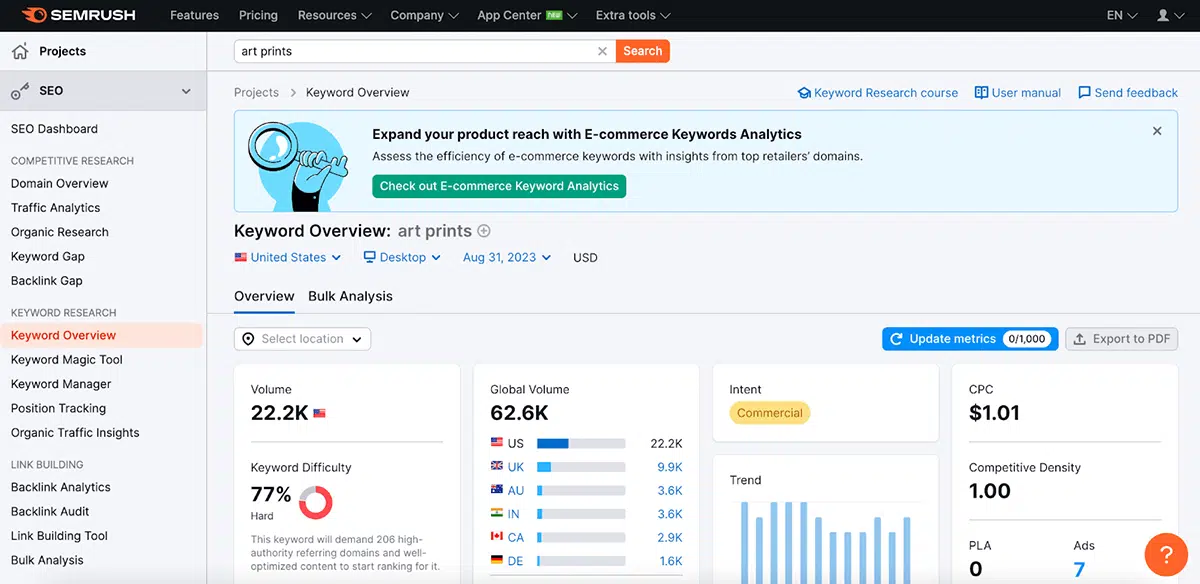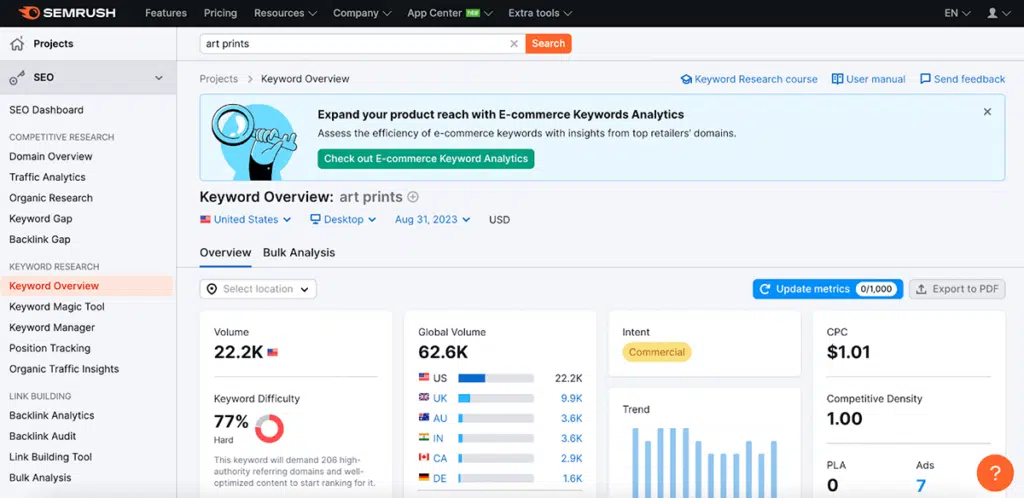 That search still has a high keyword difficulty, so let's expand on it even more.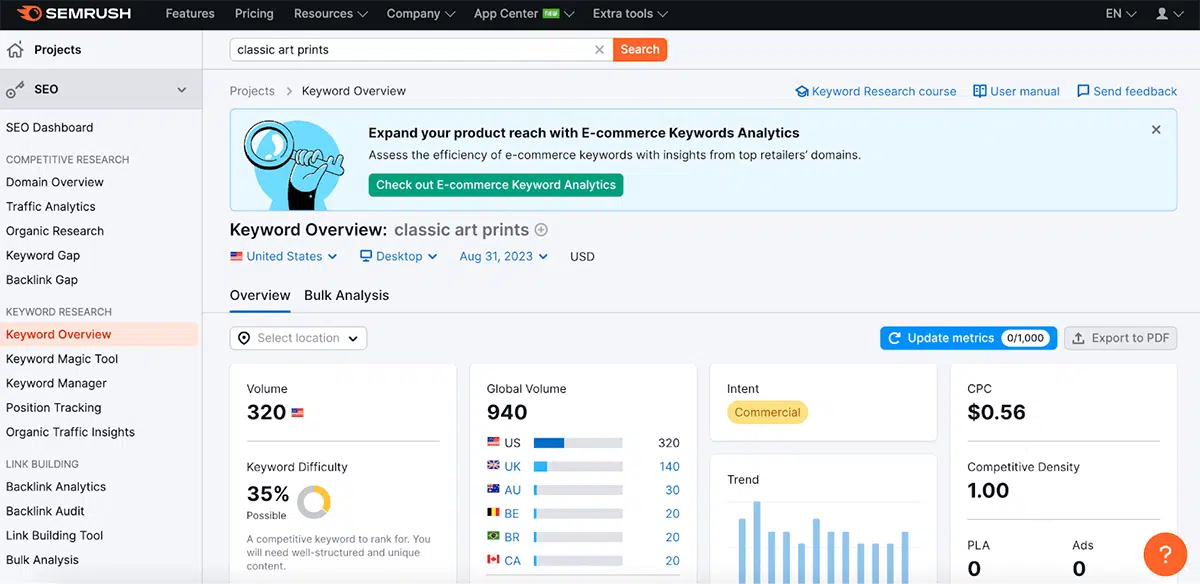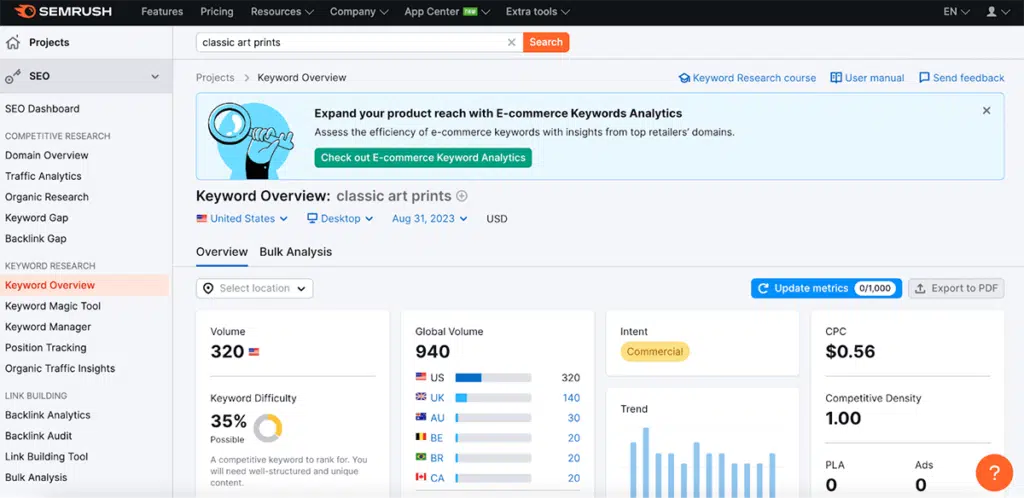 There we go. "Classic art prints" has a lower search volume, but the keyword difficulty has also decreased. It could help you attract much more relevant traffic that converts.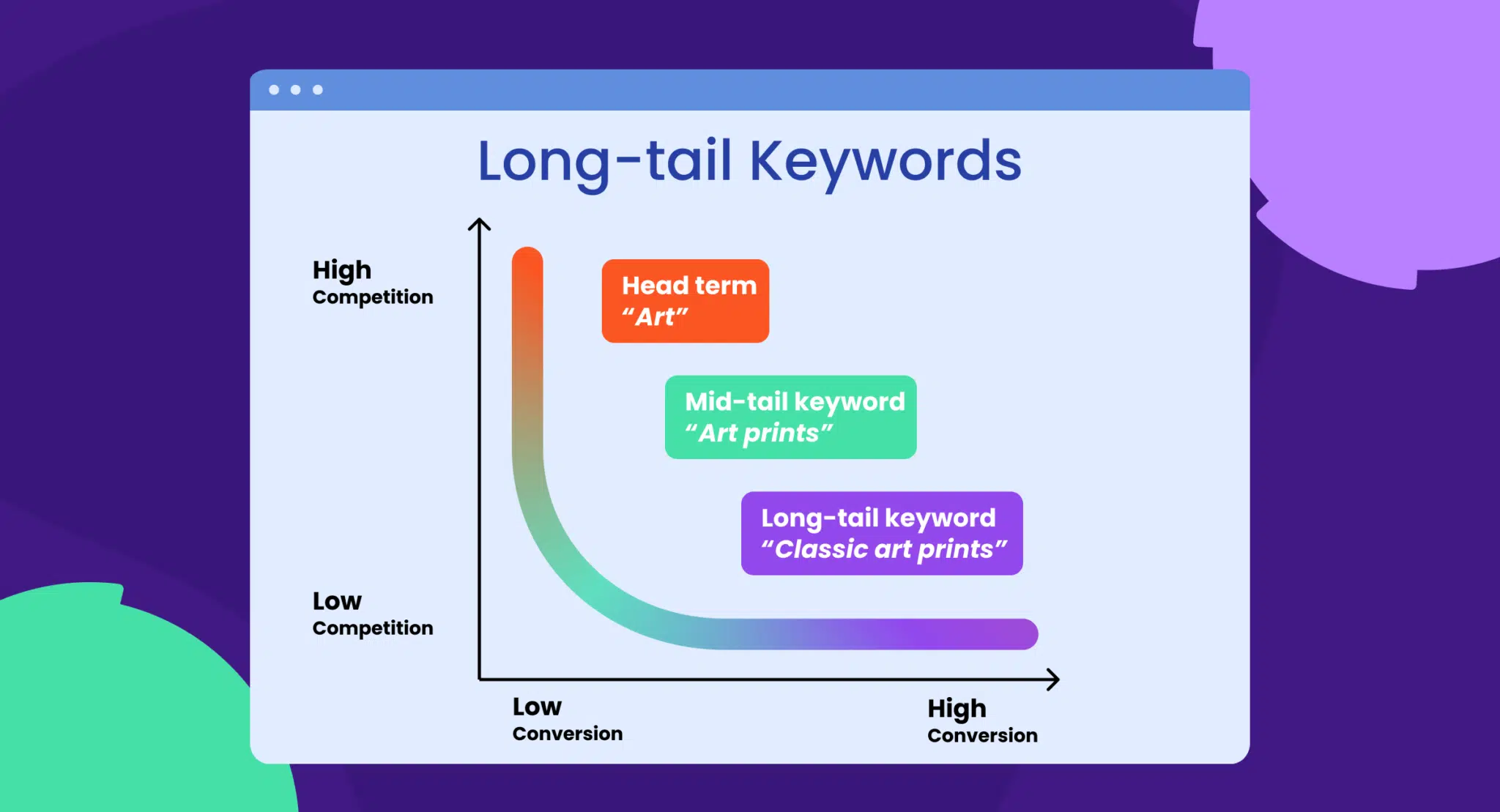 Although people search for individual long-tail keywords less often, they make up the majority of Google searches overall.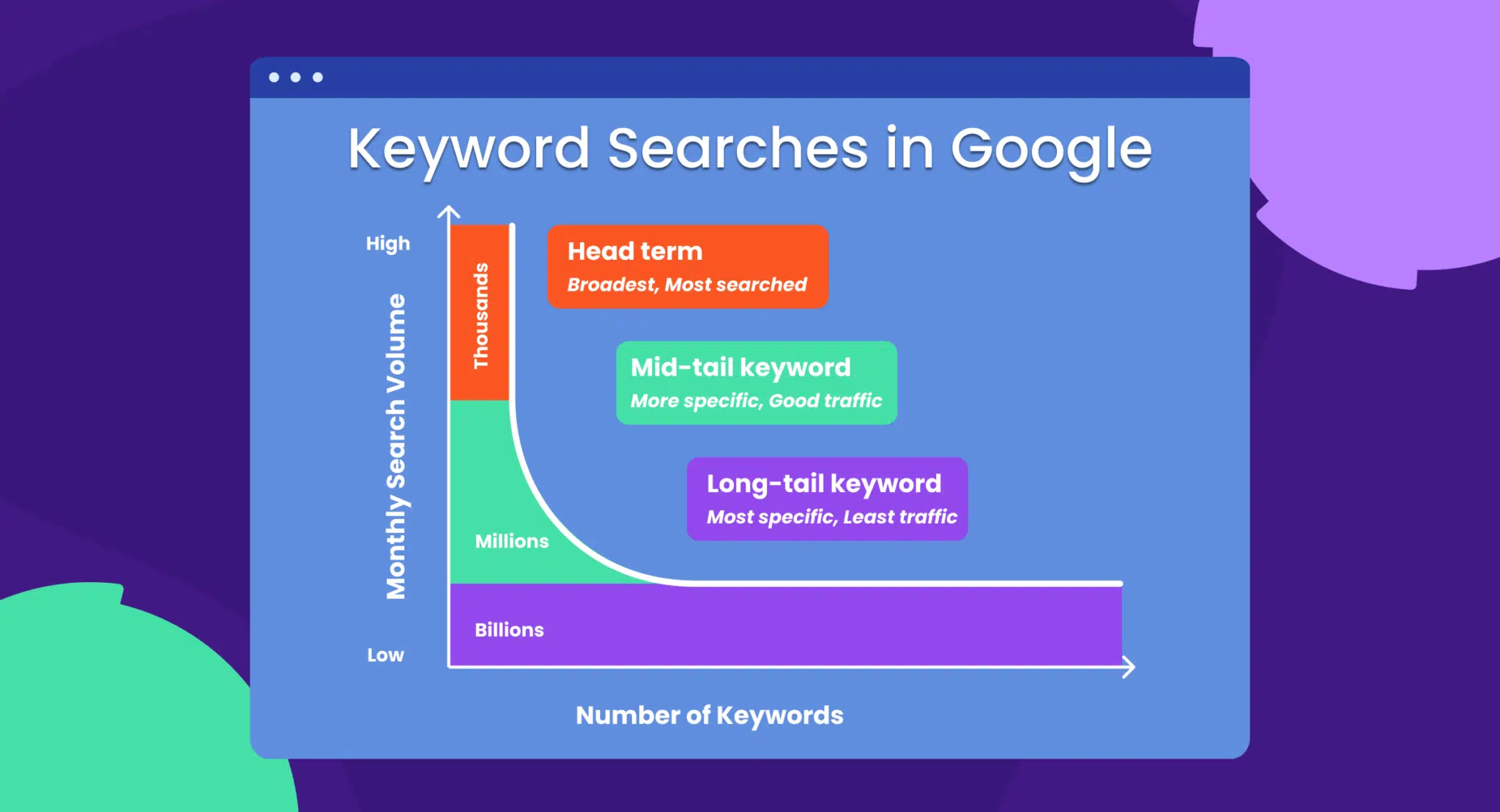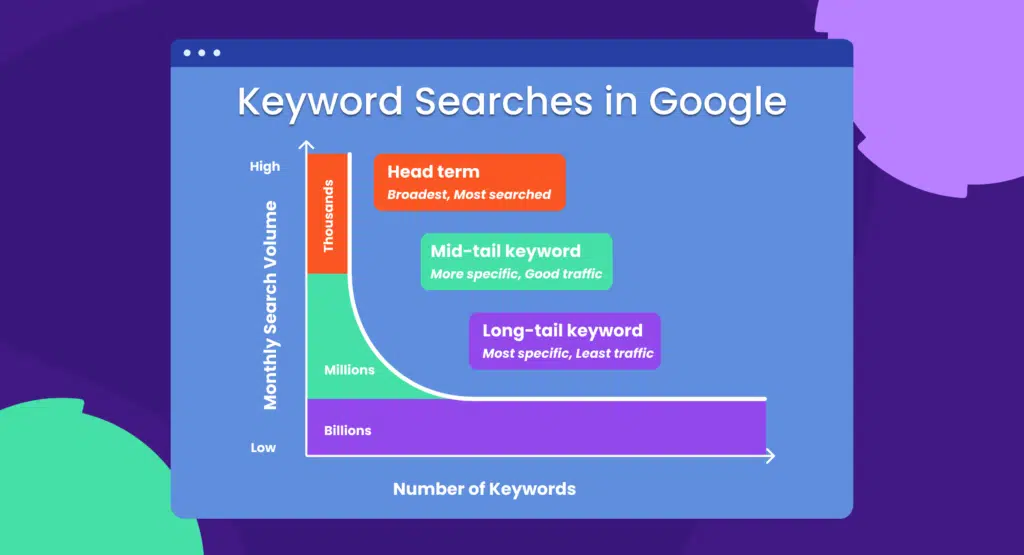 Long-Tail Keyword Examples
Here are a couple additional examples of head terms and how they turn into long-tails as you expand on them and make the search more granular.
Let's say your client has a car dealership that sells German car brands, such as Audi and Porsche.
Head term: Audi R8 [volume: 246.0K/keyword difficulty: 85%]
Medium-tail: 2018 Audi R8 [volume: 3.6K/keyword difficulty: 35%]
Long-tail: 2018 Audi R8 for sale [volume: 480/keyword difficulty: 22%]
Here's the Keyword Overview data for the long-tail "2018 Audi R8 for sale."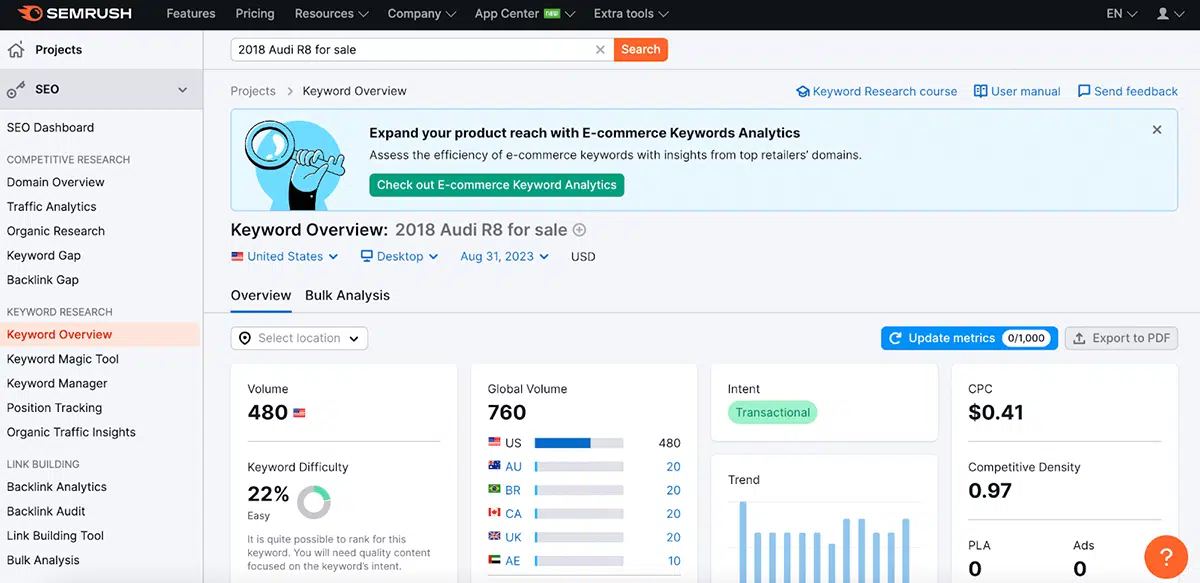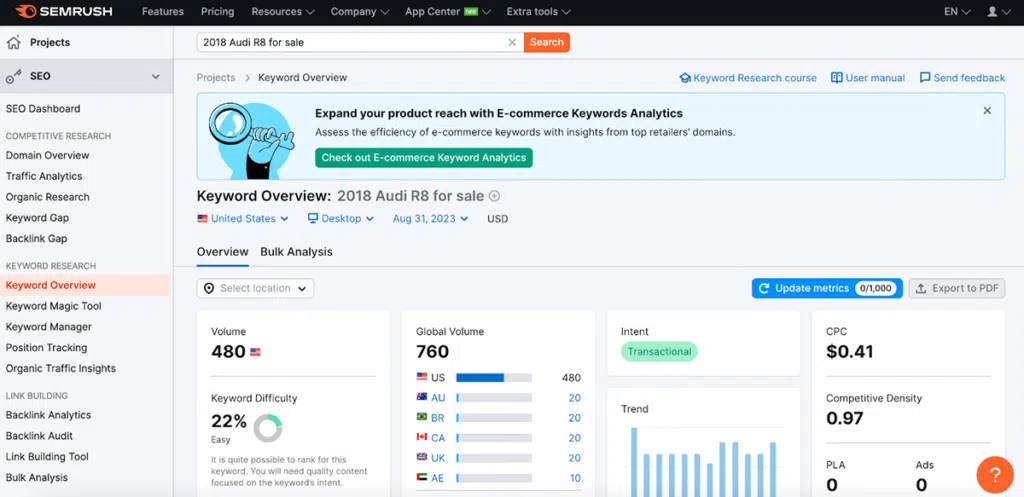 Or perhaps your client sells headphones and their content attracts music fans.
Head term: Drake songs [volume: 40.5K/keyword difficulty: 87%]
Medium-tail: Best Drake songs [volume: 4.4K/keyword difficulty: 48%]
Long-tail: Top 10 Drake songs [volume: 720/keyword difficulty: 47%]
We started from the head term, now we're here. (Sorry, I couldn't resist the "Started From the Bottom" reference.)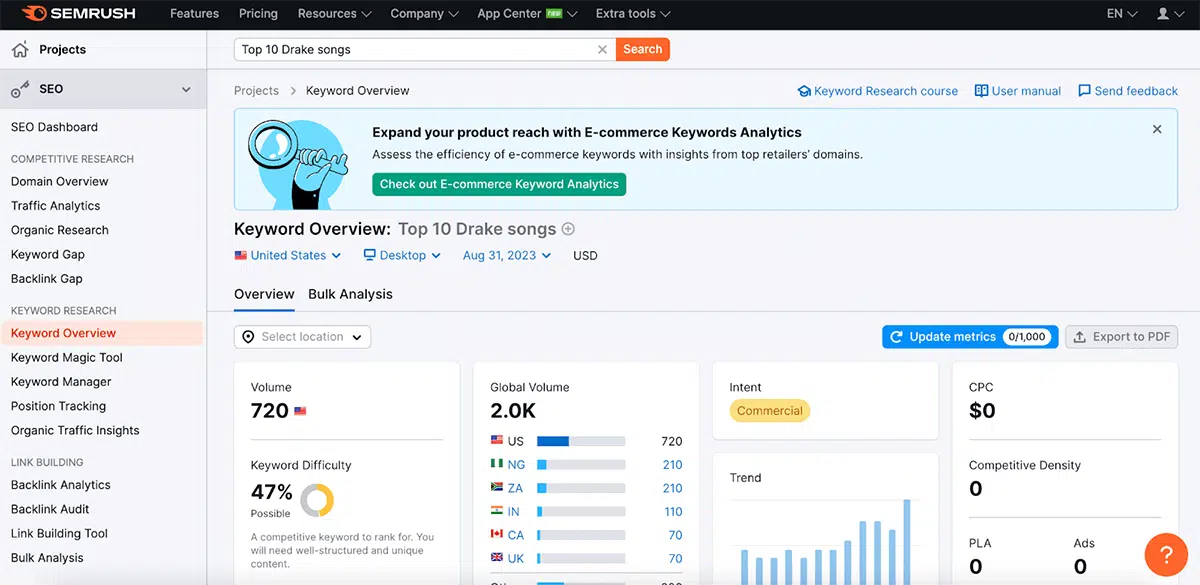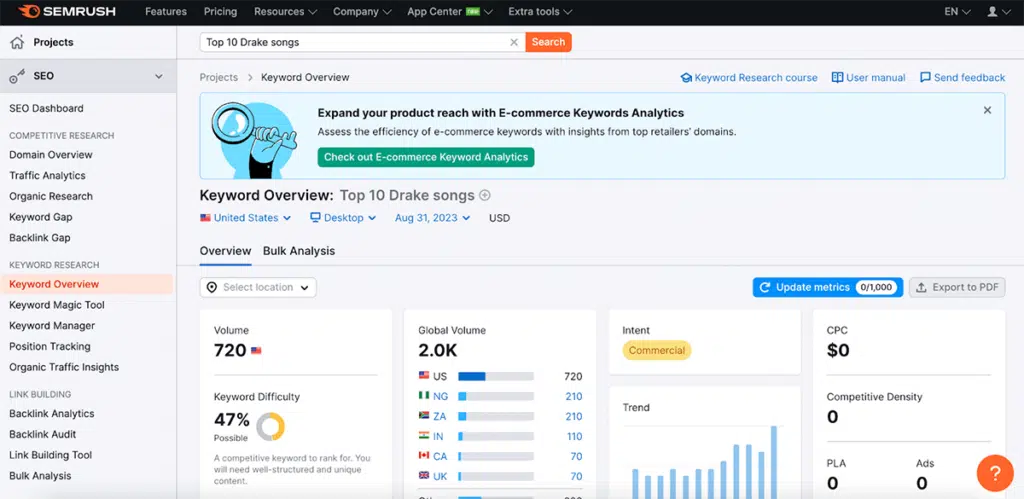 Is there other SEO software that you could use to find long-tail keywords? Sure, but as I mentioned in my Semrush vs. Similarweb review, Semrush has a much larger keyword database than a tool like Similarweb. It'll help you uncover more untapped opportunities.
Why Is Targeting Long-Tails Important?
Things might be starting to click for you as you review your own SEO project and think about ways long-tail keywords will help you reach your goals.
Or maybe you need some more convincing. No problem … check out these five solid benefits of targeting long-tail keywords.
#1: The Pareto Principle (the 80/20 rule)
You like options. I like options. The Pareto principle, or the 80/20 rule for long-tail keywords, gives us options … so we don't have to fixate on the search terms with the highest volumes.
The keywords with the highest volumes only make up a small percentage of searches (about 20%). What about the other 80% of searches? You guessed it. They're longer, more specific keywords. Less people search for these terms, but the ones who do could be the perfect visitor for your website.
#2: Traffic Is More Targeted and Relevant
In Chris Anderson's book The Long Tail, he explains that some markets online could be really small — but also profitable. Niching down can work in your favor if there is a demand for what you sell.
Long-tail keywords help you go after topics that don't have the highest search volume, but that attract extremely relevant traffic.
For example, you might want to work your way from:
low traffic, high conversion to
medium traffic, medium conversion to
high traffic, low conversation.
It depends on your business, but it's often more important to get leads as soon as possible, and then work toward scaling up traffic.
#3: Rank Faster and Easier
What's even better than options? Less competition.
A nice side effect of a lower search volume is a lower keyword difficulty. A head term might have a keyword difficulty of 85% or higher, but a long-tail keyword might only have a keyword difficulty of 47% or lower.
Remember, the "2018 Audi R8 for sale" example above showed a search volume of 480 and a keyword difficulty: 22%. Not bad.
If your site is new, you want to start ranking as fast as possible to get momentum. Keep more difficult head terms in mind, but get some easy wins by going after long-tails. At the end of this post, I'll show how head terms can work for your content pillars and long-tails can work for your topic clusters.
#4: Higher Conversions
Because long-tail keywords are more detailed, they can lead to faster conversions for commercial and transactional searches.
While a search for "Audi R8" is informational …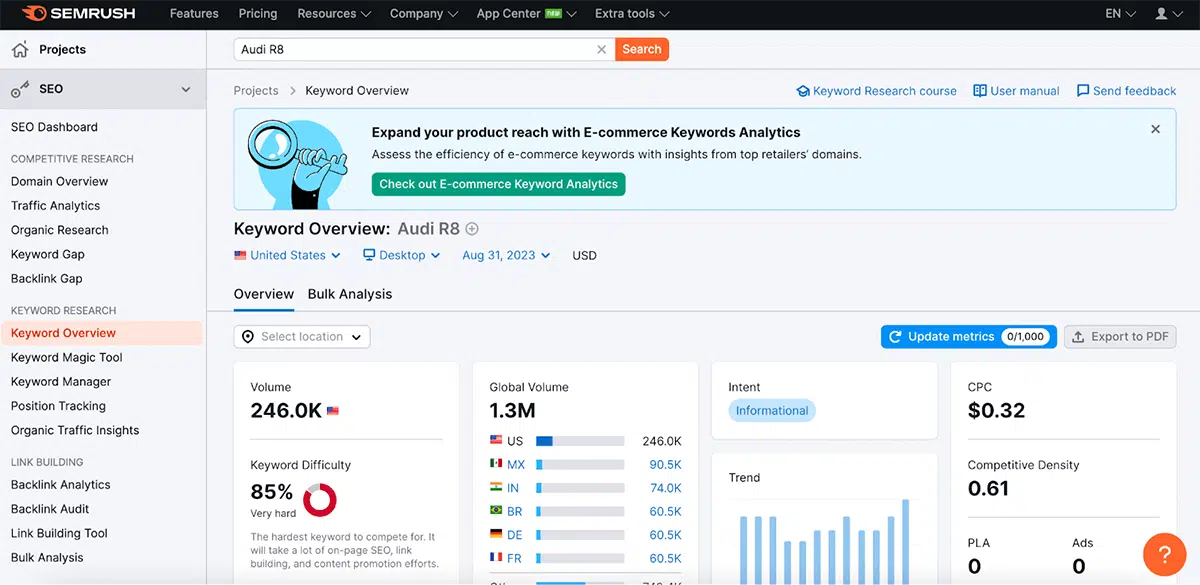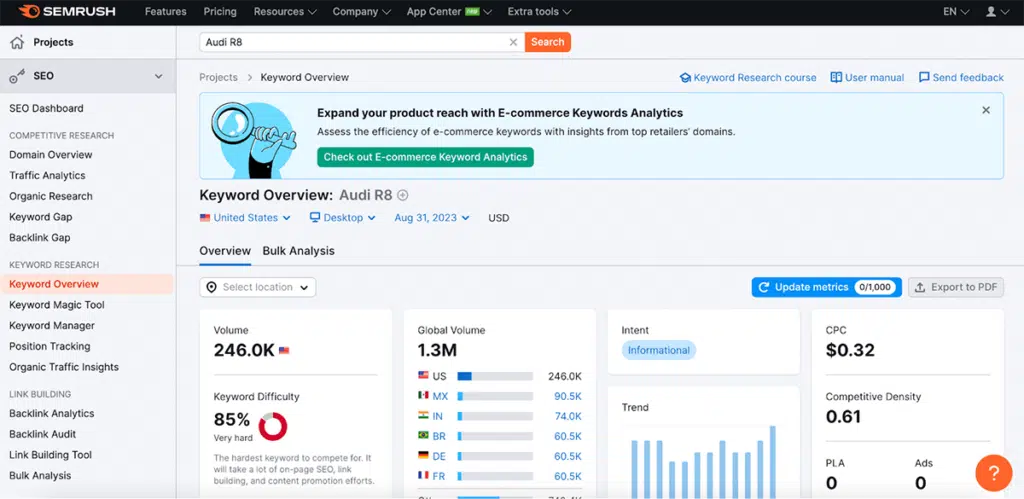 … a search for "2018 Audi R8 for sale" is transactional.
It's not only easier to rank for "2018 Audi R8 for sale" [volume: 480/keyword difficulty: 22%], the person who performs that search isn't gathering general information about the car.
The user knows the make, model, and year of the car that they're interested in buying. Long-tail keywords help Google match this person with the right car dealership. Commercial and transactional pages highly benefit from long-tails.
#5: Less Expensive PPC Campaigns
If broader searches typically don't convert well, it doesn't make much sense to spend your advertising budget on them. Yet, highly competitive keywords are going to have a high cost-per-click (CPC).
Save your money and focus on long-tails in your campaigns to get your page in front of the right eyeballs. You won't get as much traffic but you could target several long-tails for the price of one head term.
For example, the CPC for "art prints" is $1.01, but it drops to $0.56 for "classic art prints" and $0.49 for "retro art prints."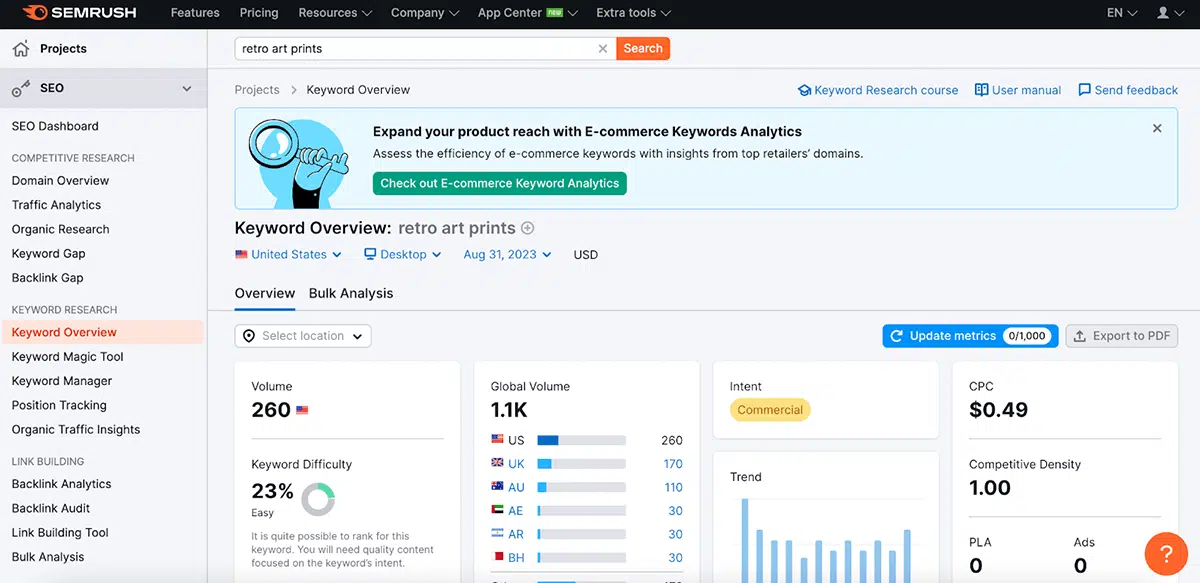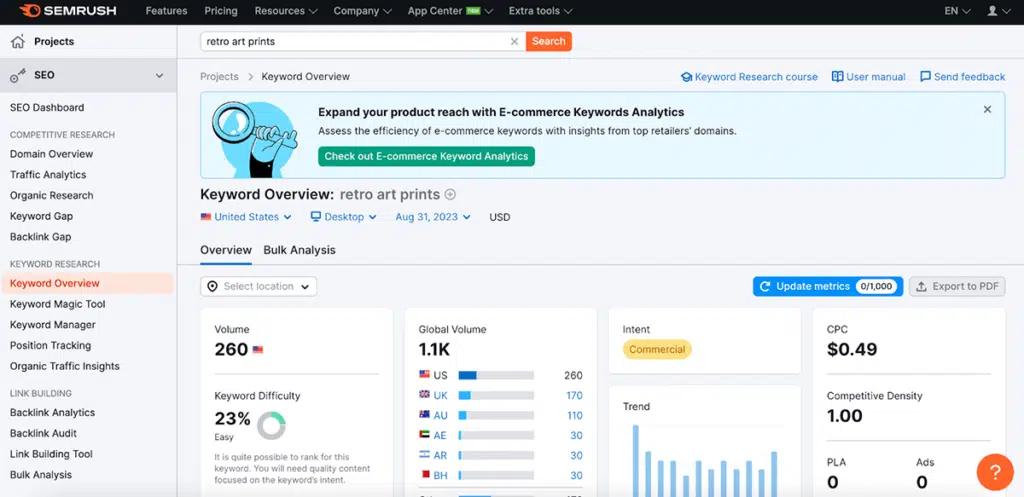 How to Research and Select Long-Tail Keywords
Ready to start looking for more keyword options for your SEO project?
Here are some options that will help you get started using long-tail keywords today.
Don't Avoid Low Search Volume
You can use Semrush's Keyword Magic Tool to search for low volume, low difficulty keywords in your niche.
For example, if you want to break down the head term, "Drake songs" enter it in the Keyword Magic Tool and then filter for "Easy" keyword difficulty.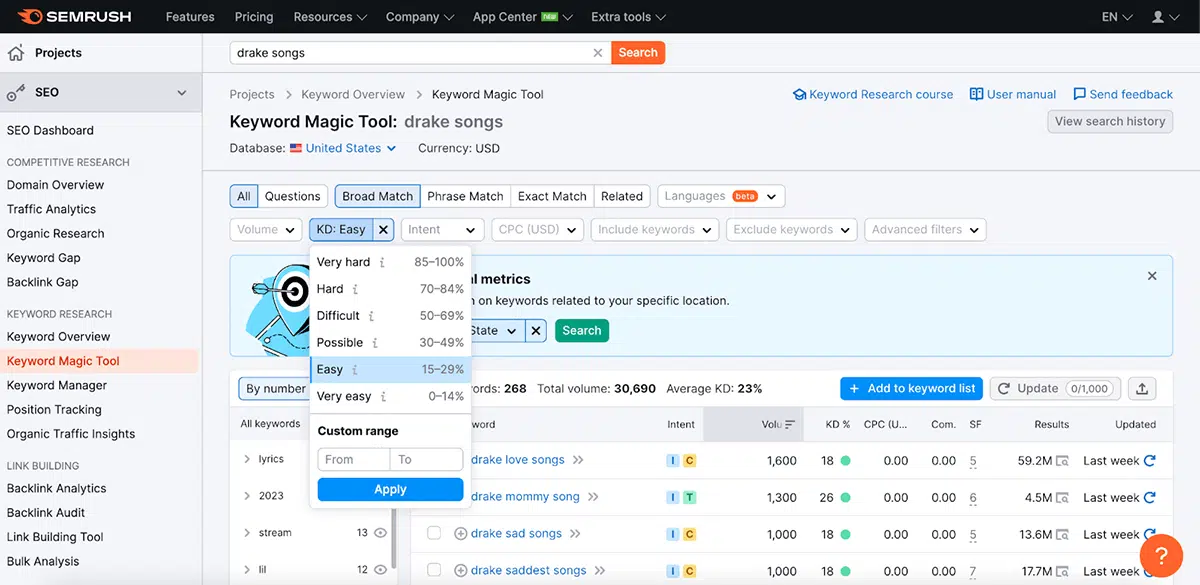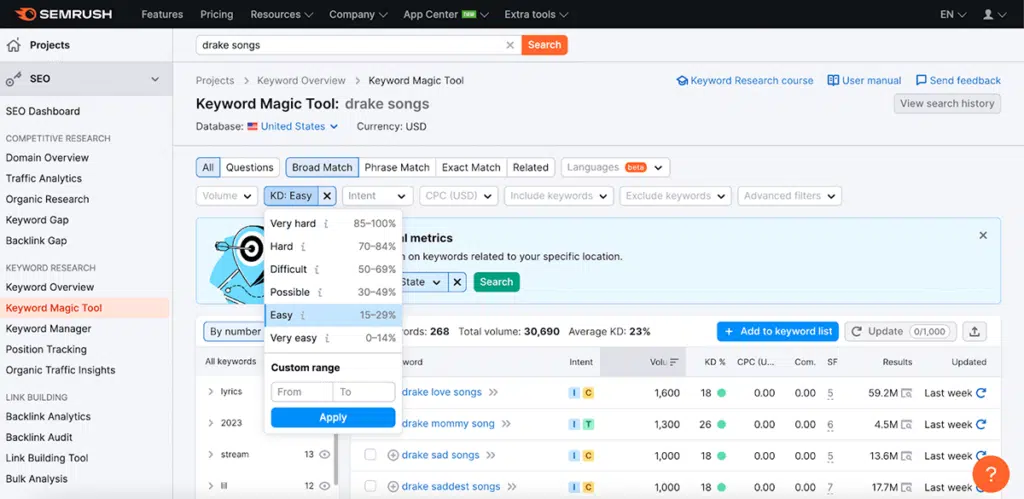 You'll get a number of options that might work for blog posts or product pages, depending on the search intent.
The volume on some keywords might be crazy low, maybe 10 searches a month. These are terms that Google would report as "zero," and you might be quick to pass on them. But you shouldn't.
Consider:
Conversations you've had with customers
How interested prospects talk on social media
Live Q&As you've hosted or attended
Based on that information you've gathered, you know people are searching for these low-volume terms.
If no one else bothers to build pages that rank for these terms, this is your opportunity.
Perform a Keyword Gap Analysis
You might already know which head terms your competitors rank for, but you can perform a specific keyword gaps analysis for long-tails.
Semrush's Keyword Gap Tool helps with this and gives you insights about terms that might be a good fit for your site as well.
For example, here are some competitors in the "art prints" space.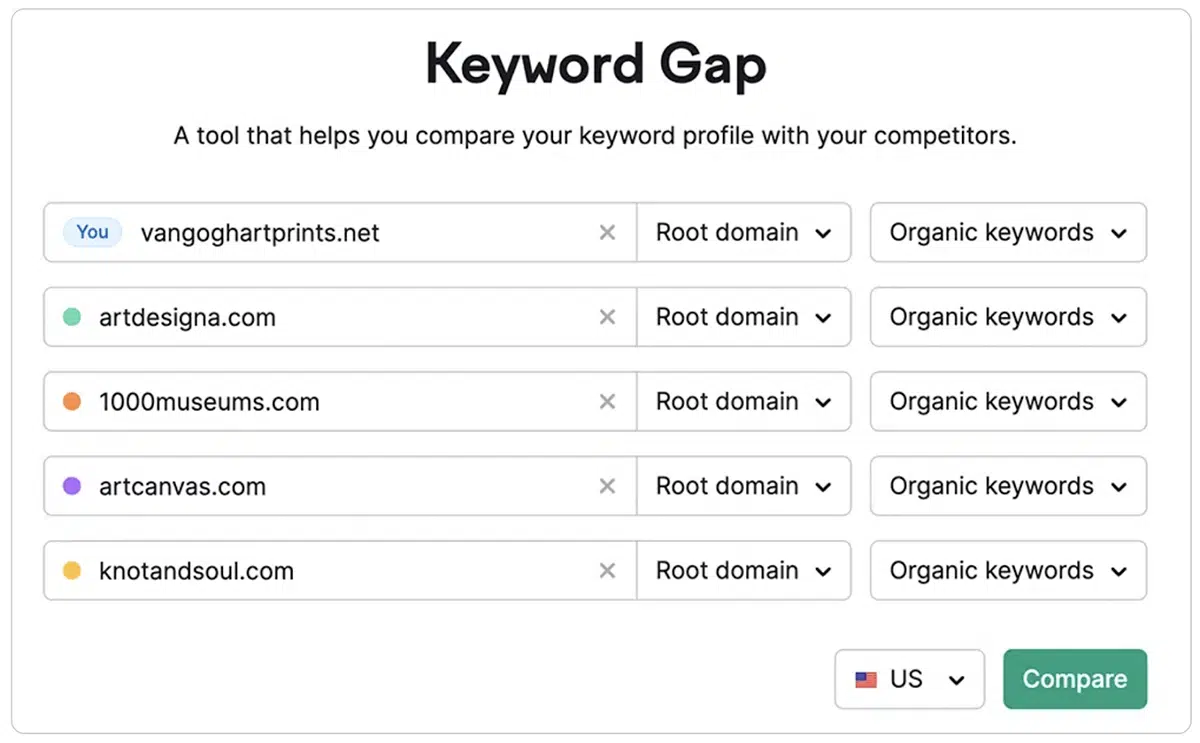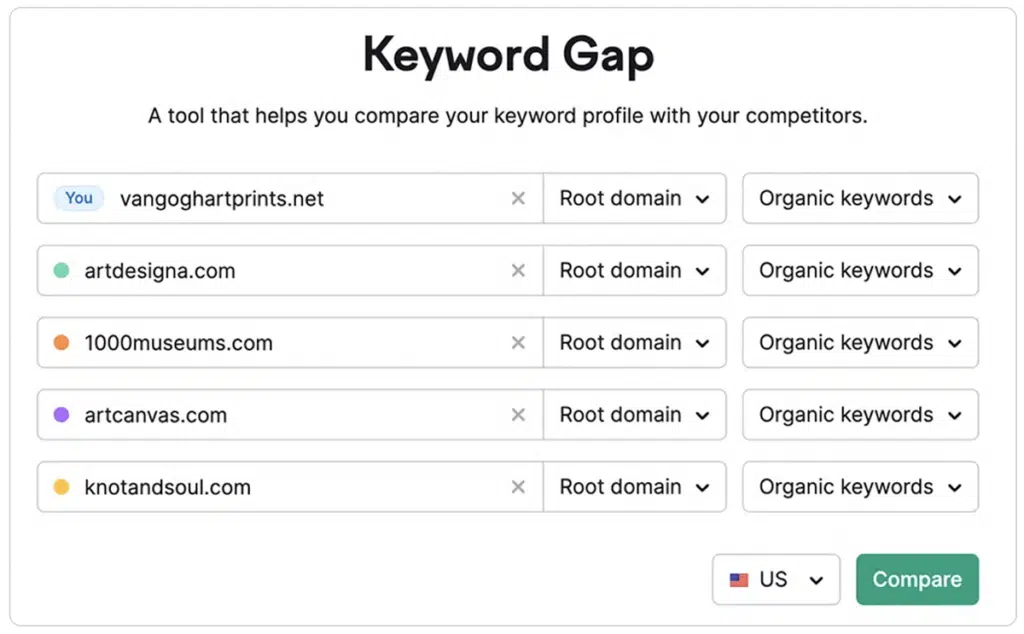 When you tap "Compare," you'll see keywords that your competitors rank for …
To narrow down your results for long-tail keywords, you can adjust filters for:
Ranking position
Search volume
Difficulty
Search intent
Advanced fields


If your competitors rank for these long-tails, that's a great indicator that you should target them too.
Expand on Forum Topics
Forums related to your site's topic are a great place to brainstorm long-tail ideas.
People are already talking about pressing issues and important questions related to your niche, and you can listen in!
Look at the titles of the latest discussions, and then scour the words and phrases people use in the subsequent threads.
For the head term "Drake songs," you could find relevant forums using the following Google searches:
Drake songs + forums
Drake songs + discussions
Drake songs + community board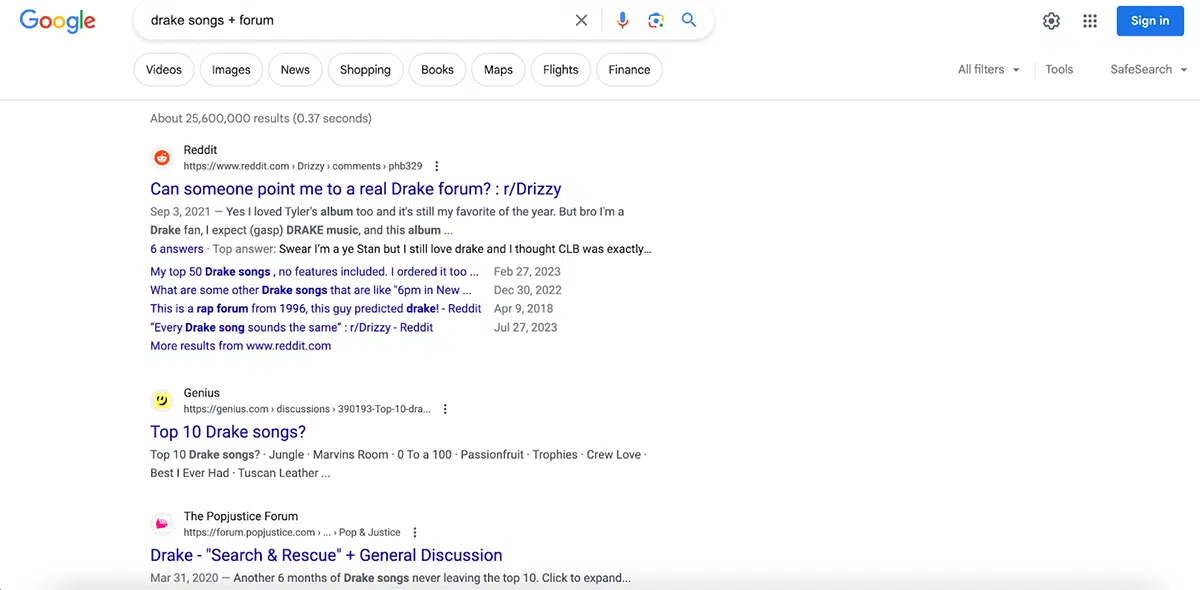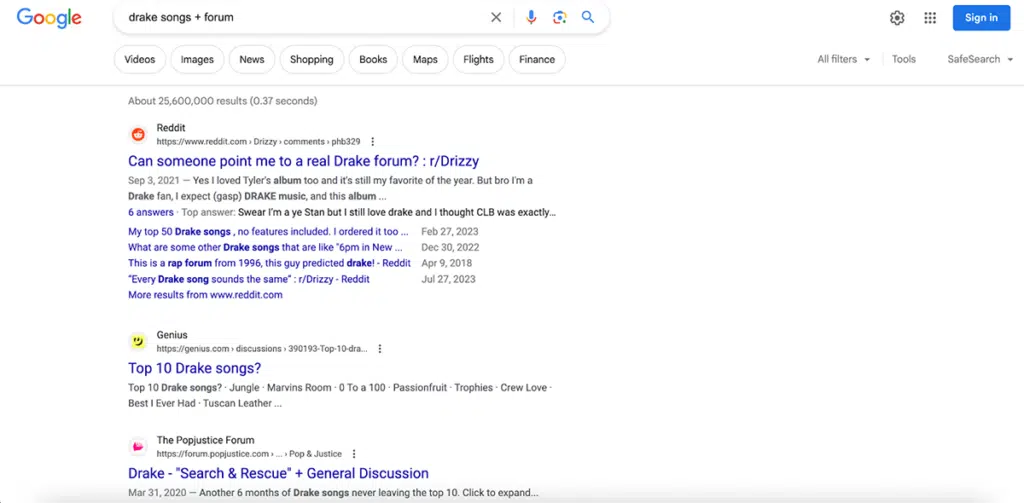 Check any ideas you come up with against their actual search volume and keyword difficulty in Semrush, and you could have just uncovered some great content ideas.
Review "People Also Ask" Suggestions
Here's another way Google can help you generate ideas.
Just type in your head term, such as "Drake songs," and look at the "People also ask" suggestions. Then use Semrush's Keyword Overview tool to see if the topics are worth targeting.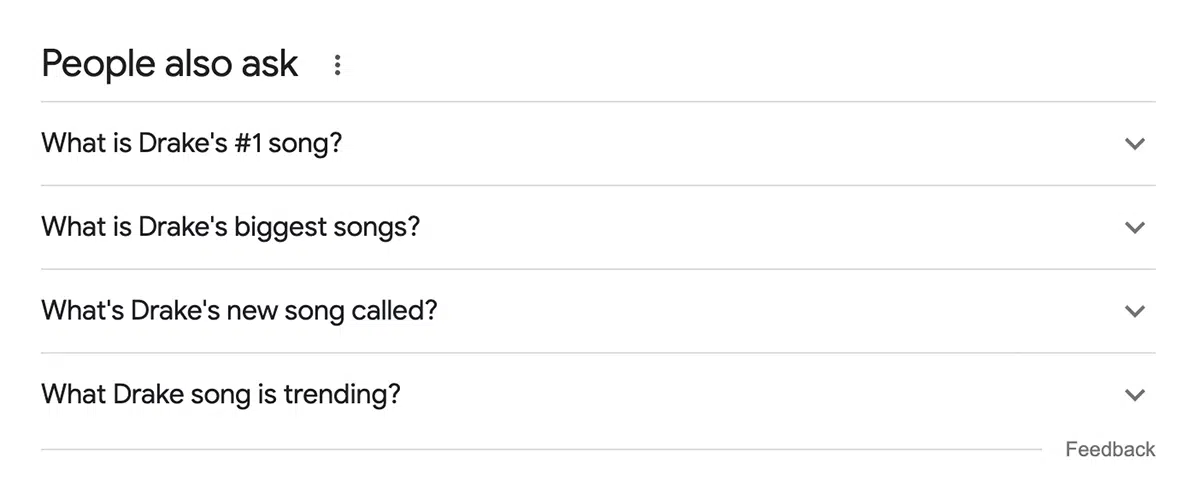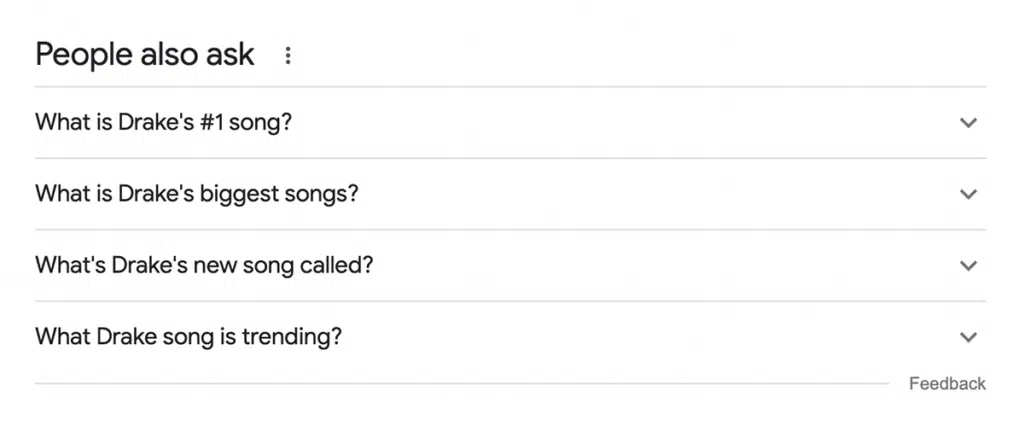 While you're on the SERP, you can also review the pages that currently rank for these questions and get a feel for the type of content on the pages.
How to Optimize for Long-Tail Keywords
Now that you've done your research, it's time to craft your SEO copywriting strategy.
Here are three techniques that help you get the most out of the long-tail keywords you've selected.
Analyze Search Intent
You want to create content that's a match for the user, so keep in mind that not all searches are informational.
For example, if you want to create content for "top 10 Drake songs," it's smart to find out the search intent behind the long-tail keyword before you move ahead with creating a blog post about it.
"Top 10 Drake songs" is actually a commercial search, and a number of other related keyword options are also commercial and transactional.
That's why the Keyword Magic Tool is so handy. You can quickly find the right long-tails for blog posts. In the example below, I filtered for related "Questions" with an "Easy" keyword difficulty.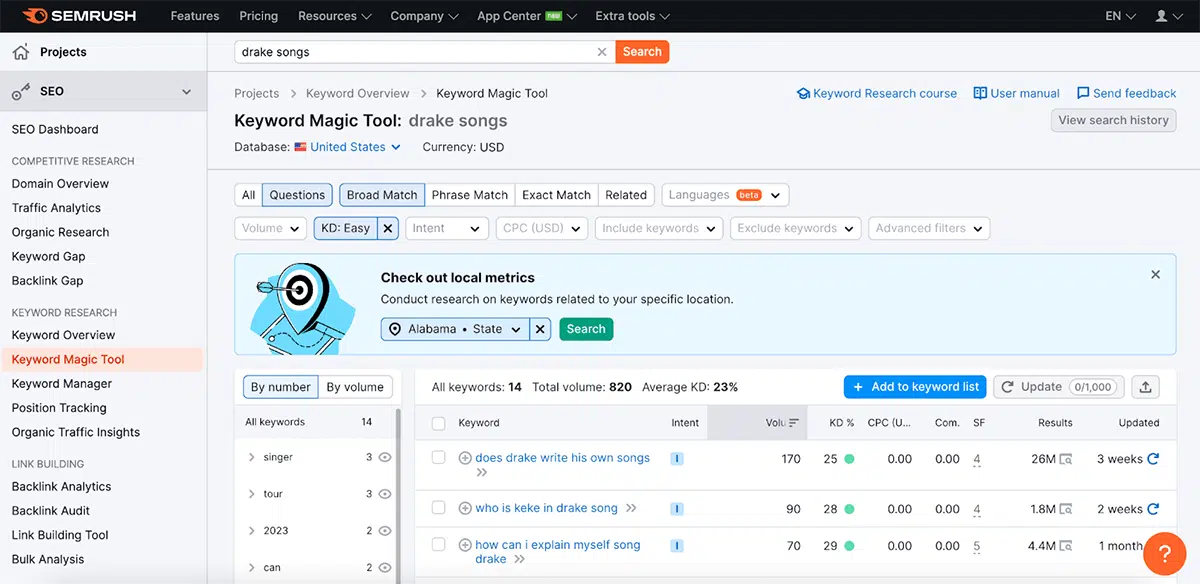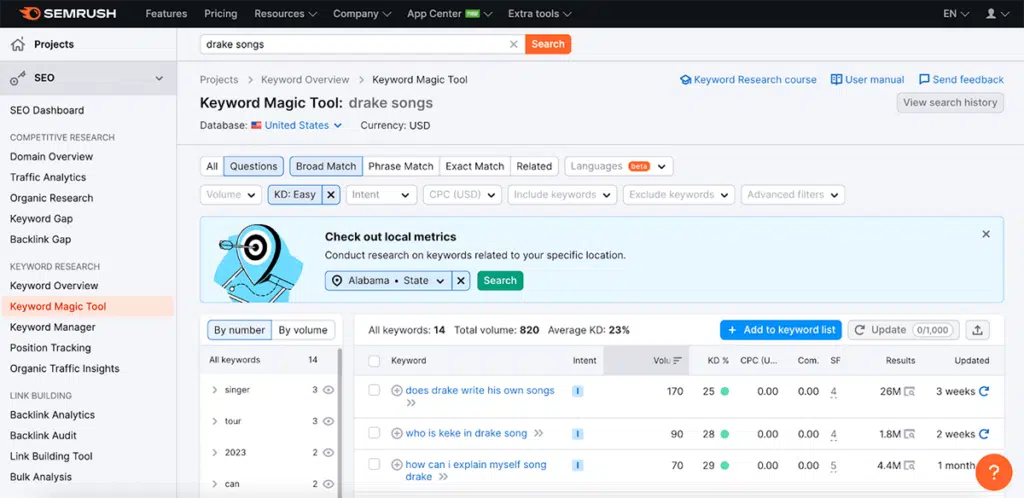 You can use this information to target easy-win keywords and create the right type of content for your searcher.
Outline Content Pillars and Clusters
Creating a content pillar that links out to topic clusters is a solid strategy. Your content pillar will be your head term and the long-tail keywords you researched will be your topic clusters.
In the image below, "Drake songs" is your content pillar. Your clusters are long-tail keywords from the Keyword Magic Tool and "People also ask" section in Google search results.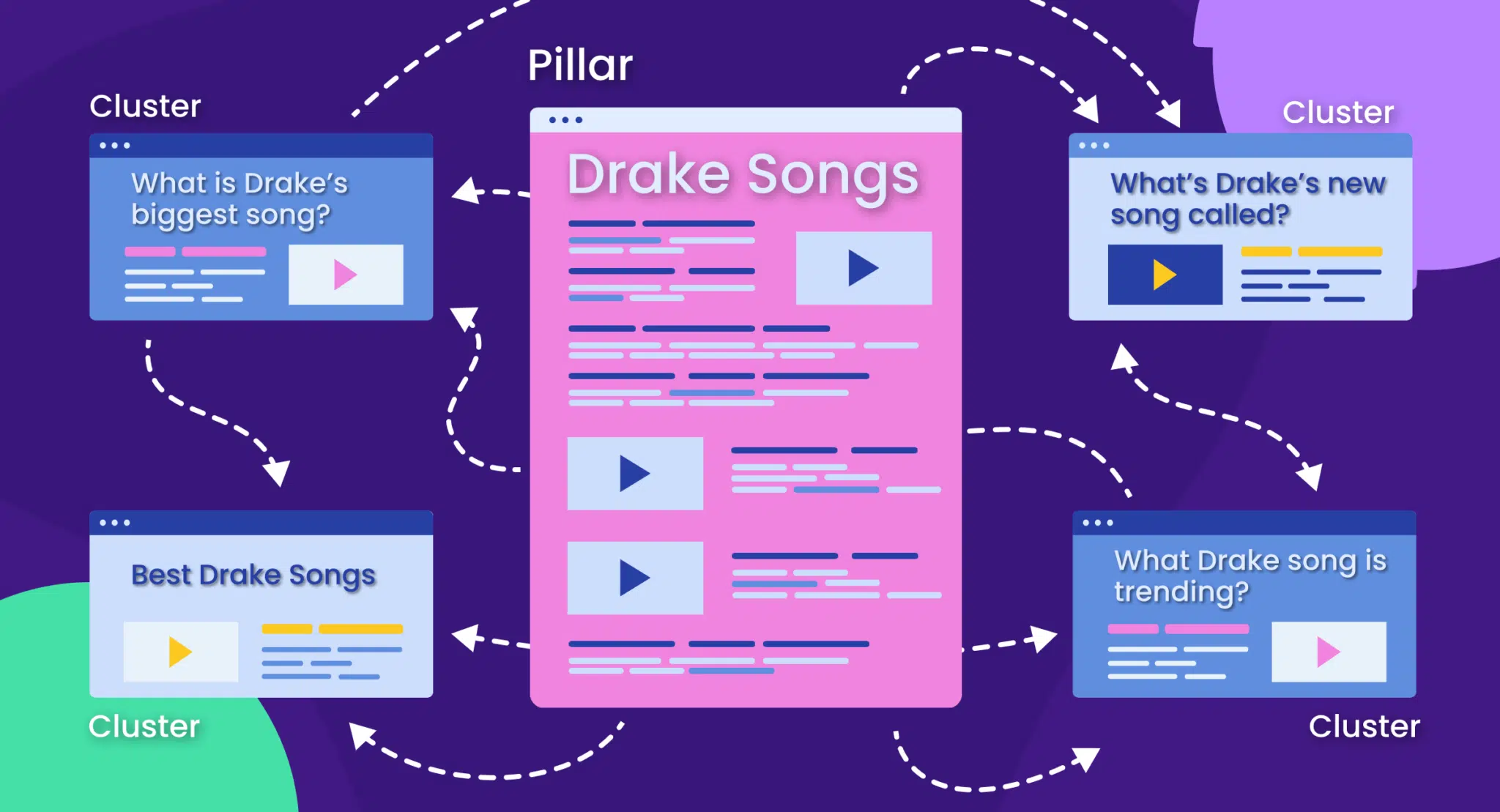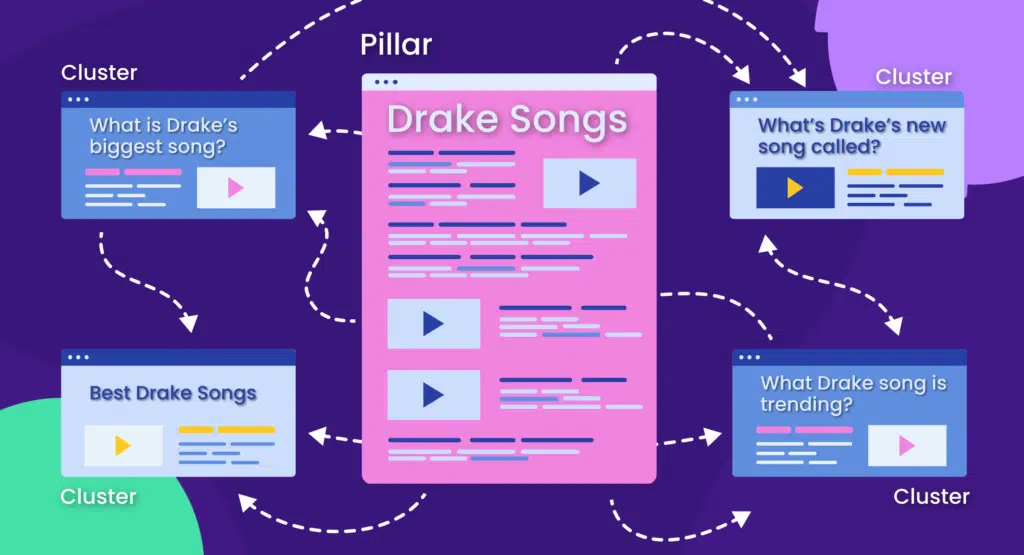 This is just an example, so you'll want to make sure there is a decent amount of search volume for any terms you find without using SEO tools. Again, you'll want to review search intent as well to make sure the pages will be a match.
Create Detailed Content
This is your time to get creative and go beyond the type of information competitors have used in their content.
Instead of just putting the long-tail keyword in your title tag, meta description, and first paragraph, think of a unique angle that will keep visitors on your page and also inspire them to share it.
You will get fewer visitors, since long-tails have less search traffic, so make the most out of the traffic you do get. Give them the exact experience they're looking for and guide them to the next step you'd like them to take.
Traffic Think Tank's article on the best link-building tools does this well. The term "best link-building tools" is a great example of a long-tail with decent search traffic [volume: 320/keyword difficulty: 44%]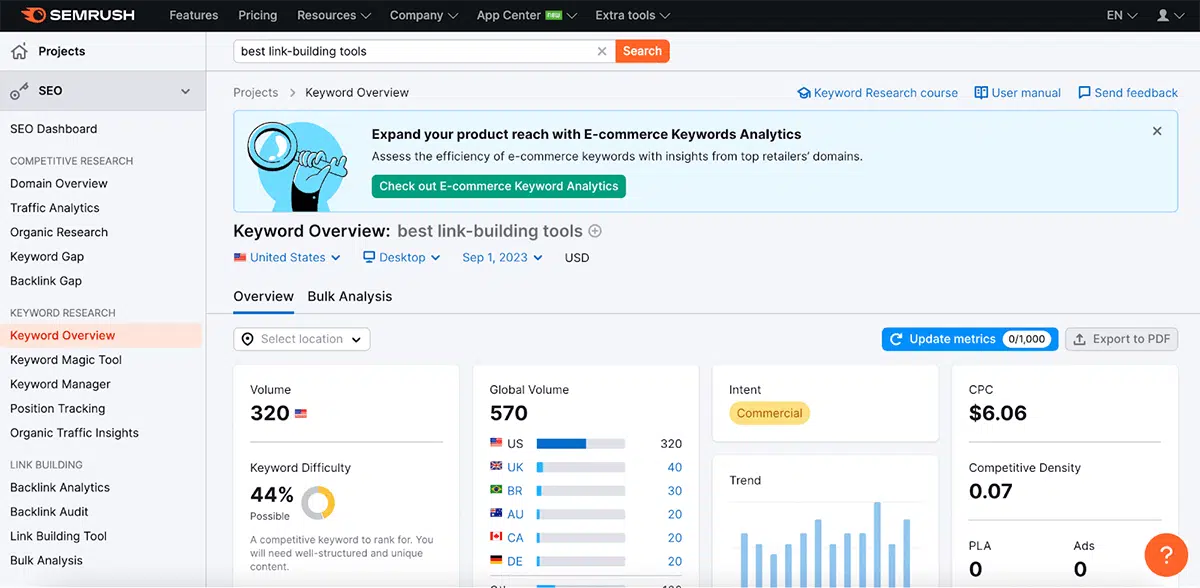 Another approach is to review your existing medium-tail content and sprinkle in long-tail keywords to increase your chances of the post ranking for an additional term that could drive relevant traffic to your site.
You'll avoid keyword cannibalization as long as you don't over-optimize two pages that have the same search intent (which might end up competing for the same keyword).
Content Is a Long Game; Play It with Long-Tails
Are your creative juices flowing? Looking forward to supercharging your SEO strategy by targeting long-tail keywords?
Try out some of the tools I mentioned in this post by starting your 7-day free Semrush trial today!