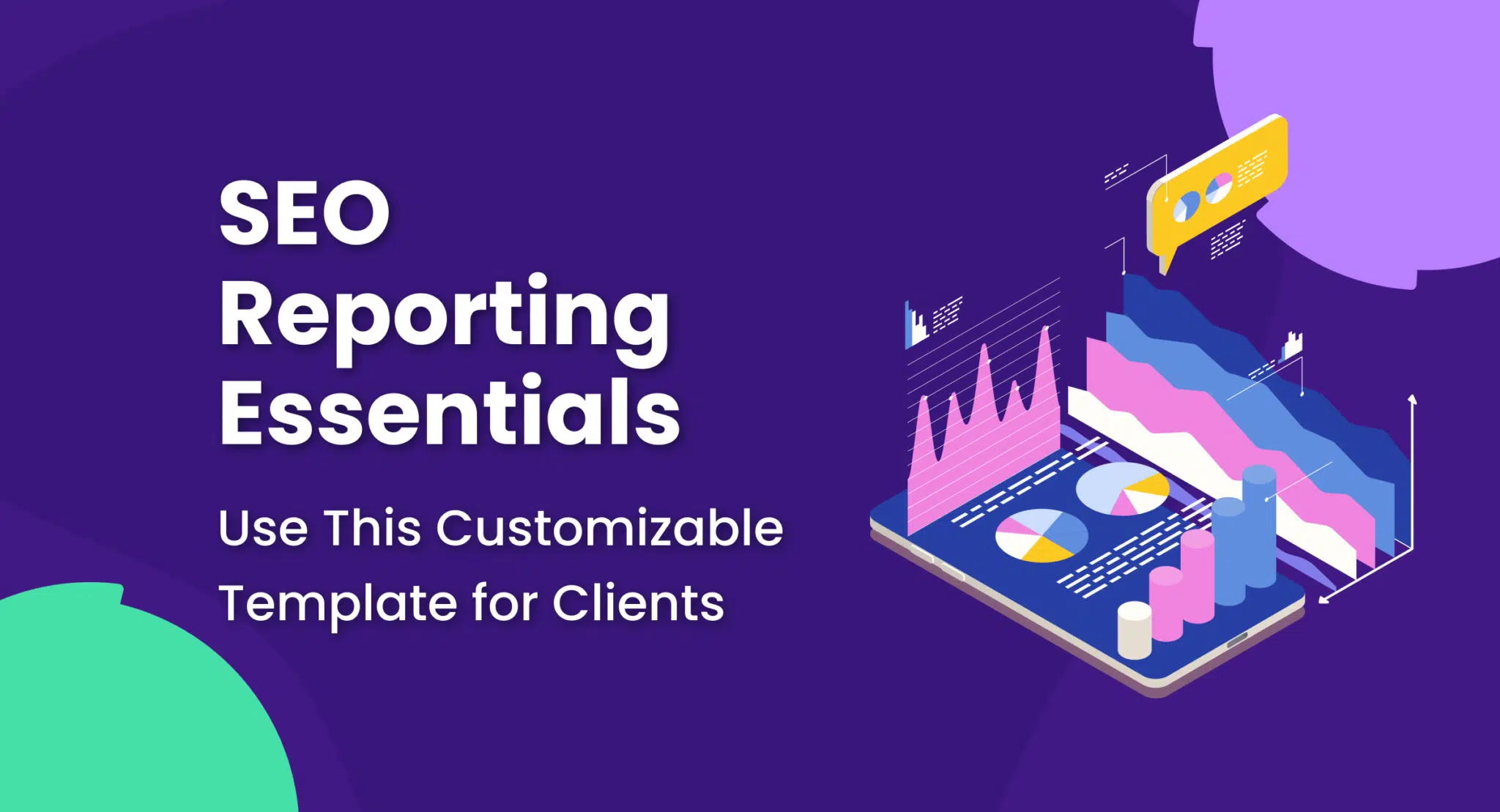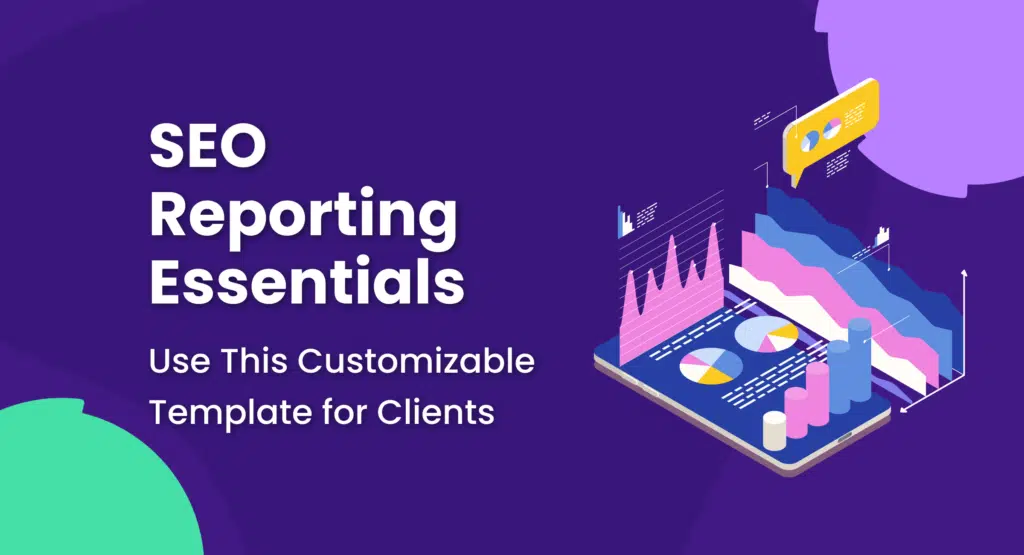 "If you can't measure it, you can't improve it."
You might have heard this quote famously said by Peter Drucker, known as the father of modern management theory.
So, what does this quote have to do with SEO?
As an experienced SEO, I know first-hand that improving your website's rankings is impossible without knowing its current performance in organic search results — it's why SEO specialists regularly report on their progress to their team and stakeholders.
However, there are so many SEO KPIs and metrics. How do you know what to include in your report?
I wrote this article to help you better understand the SEO reporting process. Depending on your business and niche, the SEO metrics you need to report on will vary.
I've also included an interactive SEO report template below that you can download and customize according to your needs.
Let's jump in.
What Is an SEO Report?
An SEO report is used to track your SEO progress and identify areas for improvement.
A well-written SEO report is concise and easy to understand. It should also be tailored to the specific needs of your company.
For example, a client report can be more focused on high-level results, such as conversion rates. After all, your client will want to see your positive impact and ensure their money is well-spent.
On the other hand, a report for your team members may include more technical details, such as organic traffic trends and keyword rankings, to name a few.
Here are some of the most common metrics included in a monthly SEO report:
Organic traffic
Keyword rankings
The number of backlinks and referring domains
The overall website health
Business-related KPIs, such as the number of sales and conversion rates
Feel free to download, analyze, and replicate this SEO reporting template for your website that I created using Looker Studio. I'll also talk more about SEO reporting platforms in the following sections. So, keep reading!
Why Are SEO Reports Important?
SEO reports provide insights into how well your website performs in organic search results and whether your actions help generate revenue.
You probably don't need to frequently check SEO reports if you work on a website daily.
However, I assure you that your team members and stakeholders have no idea what you do. They don't need to know the details, but they'll want to see the impact of your work.
Based on my experience, monthly, quarterly, and annual reports will help you regularly monitor your work and keep your teammates and management on track about your progress.
There is one more advantage of SEO reporting I find exceptionally beneficial.
Detailed insights about your website performance can help you discover low-hanging fruit opportunities that, if implemented, will positively impact your SEO strategy.
For example, if a particular type of content drives a lot of traffic to your website, you can create more content of that type. If a web page ranks well for a specific keyword, you can conduct keyword research to find similar keywords.
What Should an SEO Report Contain?
There is no universal report template that will suit every business (and what you need to report will vary depending on your SEO vs. SEM efforts).
Moreover, the structure of your SEO report can also vary from quarter to quarter, depending on your time, budget, and goals.
Below, I've listed the most common metrics to include in a monthly report. Feel free to steal the ideas if you find them suitable for your SEO project.
1. Organic Traffic
When I say "SEO," what do you instantly imagine? You can probably imagine growing organic traffic to your website.
That's because an SEO specialist is expected to improve any website's visibility in organic search results. Therefore, I recommend including organic traffic numbers in your SEO report regardless of your initial goals.
You can compare organic traffic numbers month-by-month or display an annual growing (or descending) trend.
Don't forget to separately report on branded and non-branded organic traffic because non-branded searches are the primary source of organic traffic and growth.
If you have verified Google Search Console and Google Analytics, I recommend using them since these tools provide the most accurate data.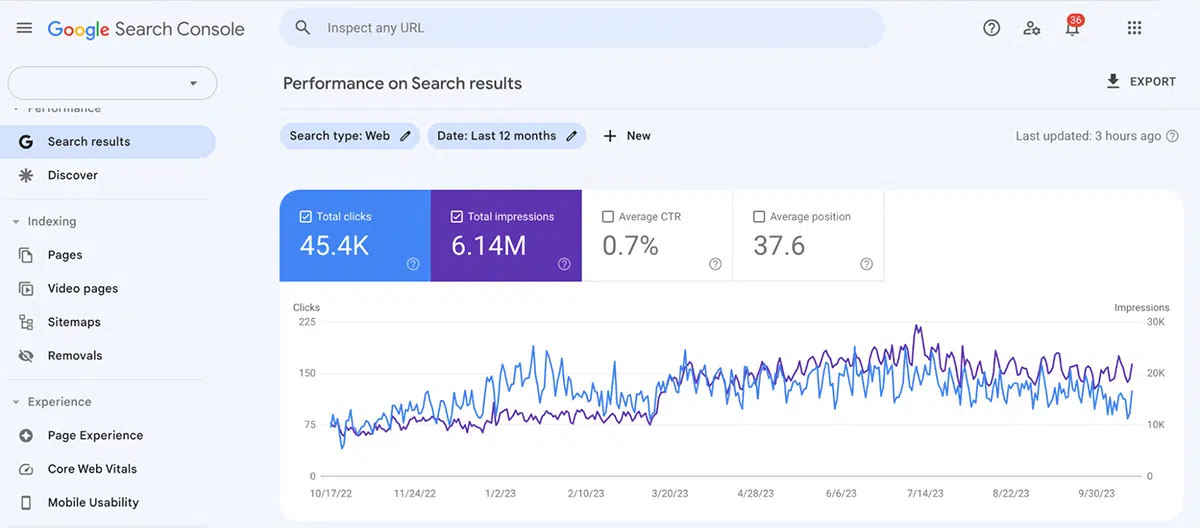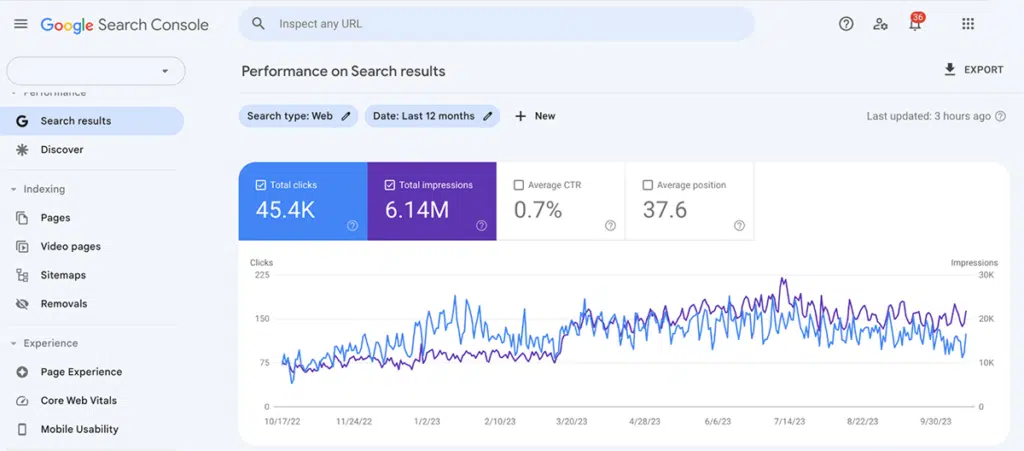 Alternatively, you can use SEO tools like Semrush to check the organic traffic numbers and traffic sources.
Semrush has a dedicated Traffic Analytics tool that accurately shows your website's traffic from various marketing channels.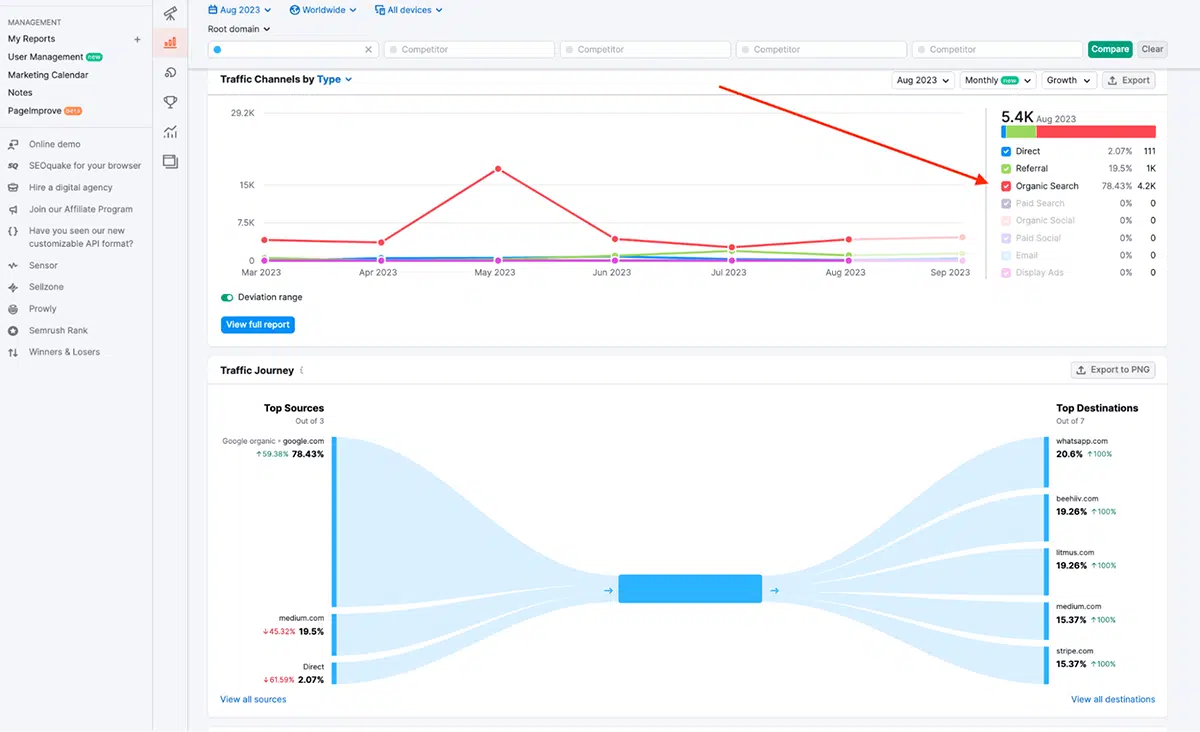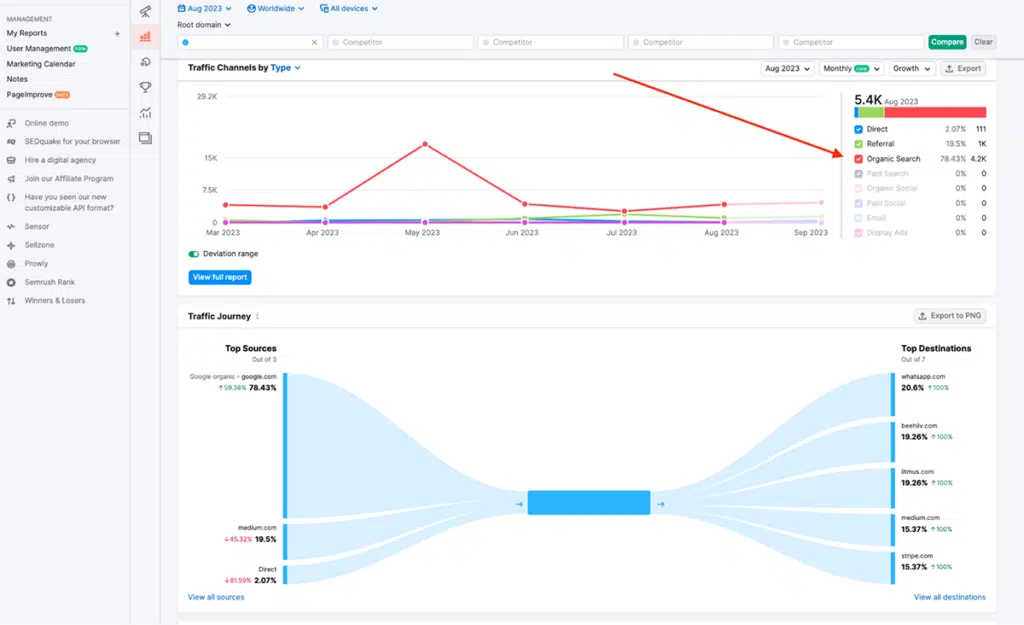 2. SEO Rankings
Besides organic traffic, your manager or stakeholders will likely want to know how well your website ranks for target keywords and whether keyword rankings have improved.
During my SEO career, I regularly reported on keyword rankings with commercial search intent. These keywords bring money — so it's no surprise that managers and stakeholders are particularly interested in them.
You can check keyword rankings in Google Search Console for your target country and the keyword.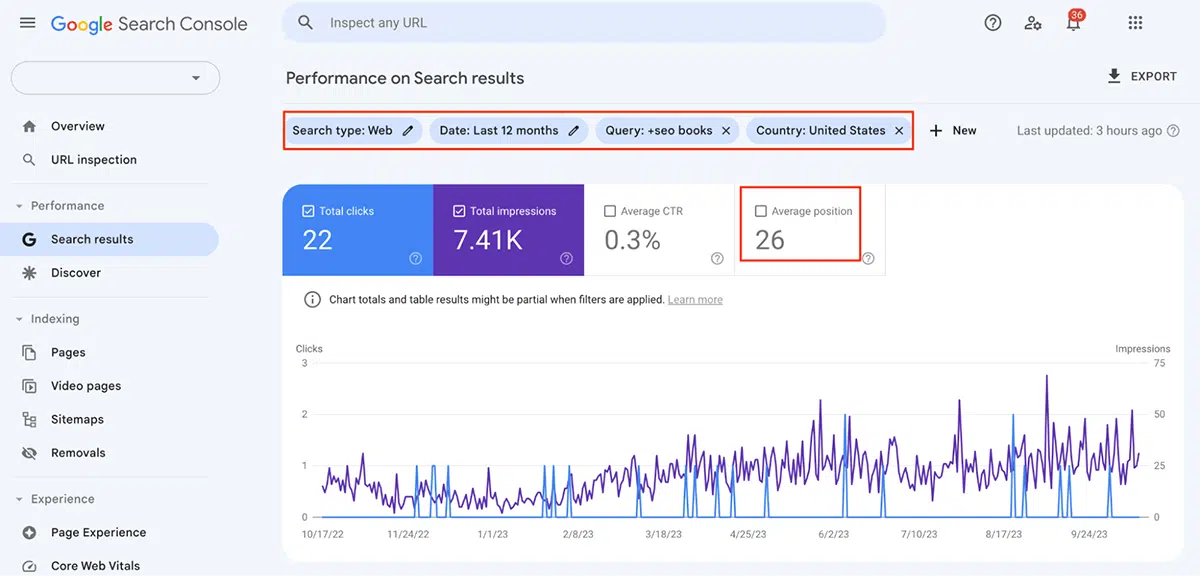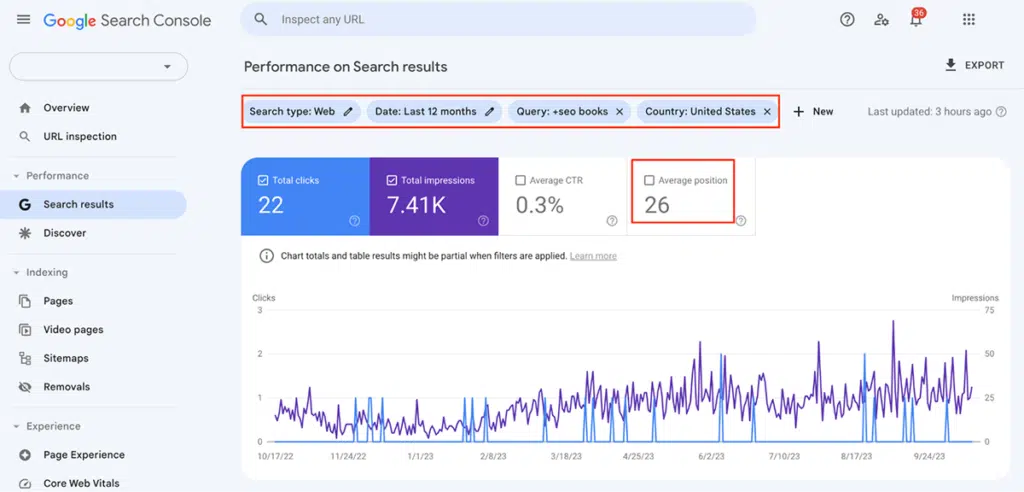 However, that's a relatively long process.
I'd recommend using keyword tracking tools, such as Rank Tracker or the Semrush Position Tracking tool, to automatically track keyword rankings and get notifications whenever ranking positions change.
Once you add your keywords, Semrush will automatically track rankings in the top three, 10, 20, and 100 positions in the organic search results.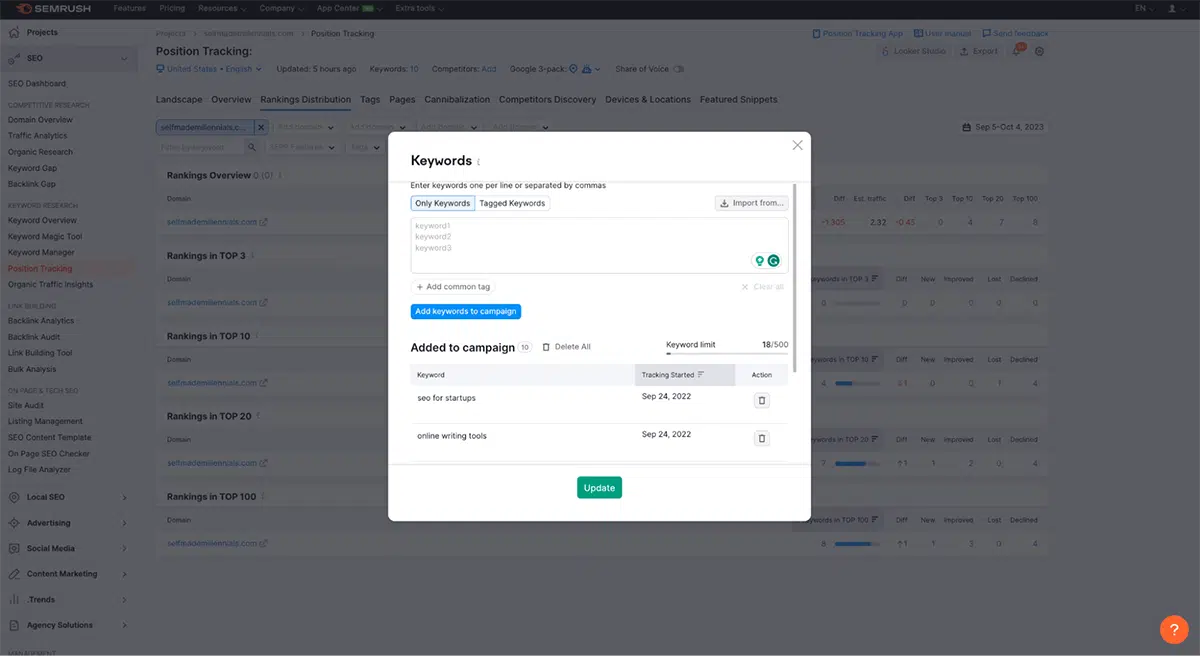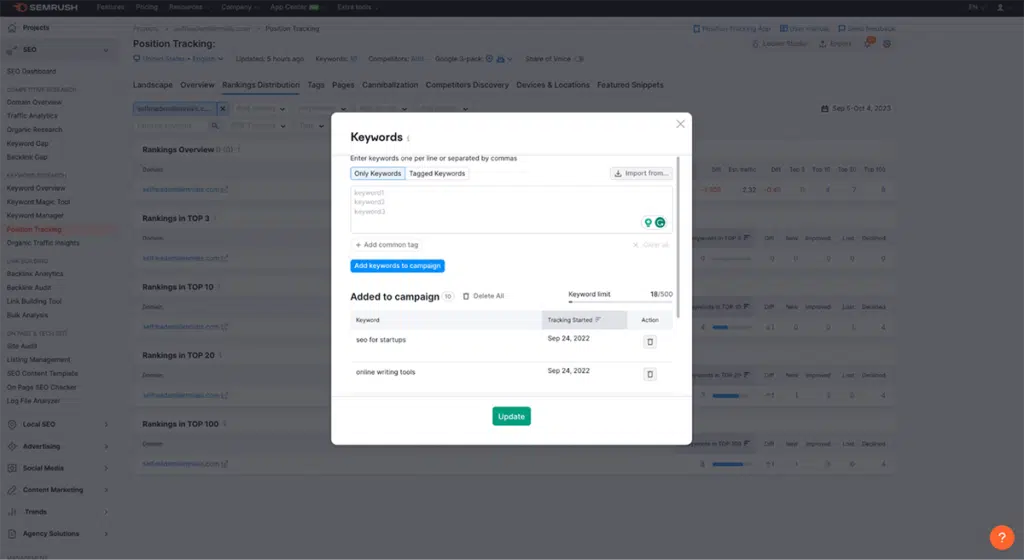 3. Technical SEO
In the past years of my SEO career, I've only seen a few companies with KPIs related to website health. It happens because technical SEO does not directly help achieve business goals. That's why technical SEO KPIs are often overlooked.
Nevertheless, I recommend reporting on the following issues that can adversely impact your website performance:
Crawlability issues
The number of indexed web pages
HTTP status errors, if there are any (for example, 4xx errors)
Duplicate content
Core Web Vitals (and whether your website fails to meet the requirements)
Broken URLs
You might say there are many more technical SEO aspects worth tracking. I've highlighted the essential ones above that can harm your website's rankings if you don't discover and fix them.
There are various reporting tools you can use to track your website's health. My favorite ones are Screaming Frog and Semrush Site Audit.
Semrush automatically tracks your website's health and reports on the issues weekly or monthly, depending on your settings. You don't need to come up with any SEO report structure — instead, you can use the Site Audit report generated by Semrush.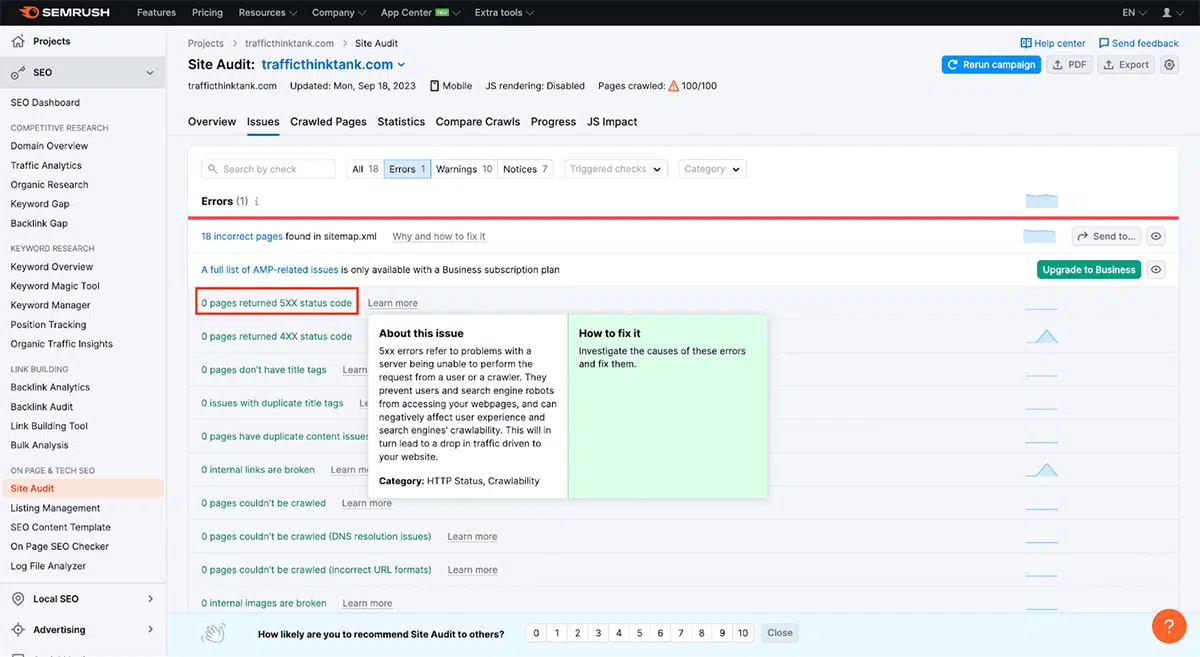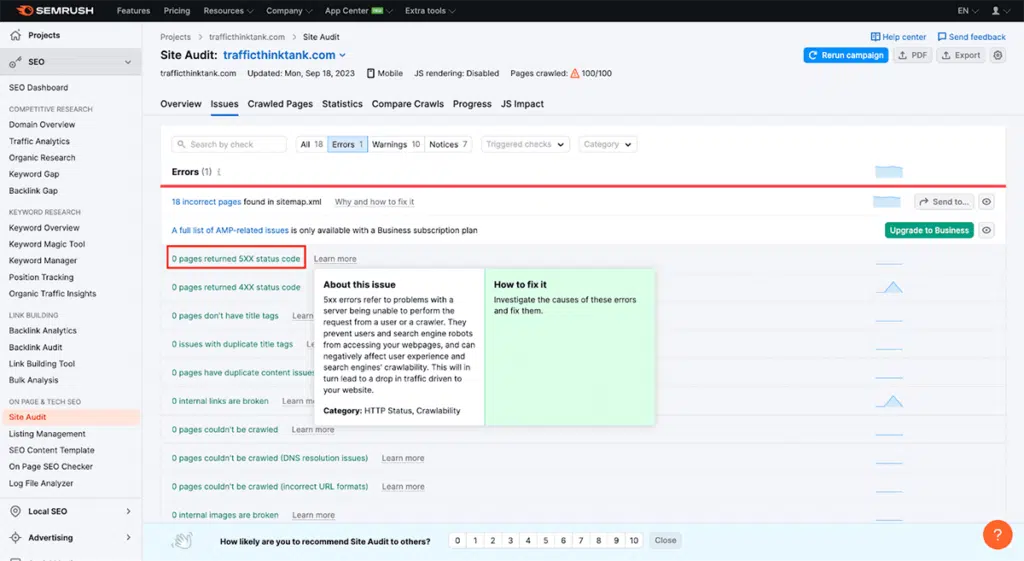 4. Backlinks
The number of backlinks that a site has is still among the top Google ranking factors. That's why website owners use various paid and free link-building practices to acquire new backlinks.
If you've ever done link building, you know that acquiring backlinks is expensive. Many websites, especially established ones, require a high paycheck to publish your guest post with a do-follow backlink.
If you or your company allocates a monthly link-building budget, ensure you report on your progress. In particular, here is what your teammates and stakeholders want to know:
The number of new backlinks you've built in the past month
The domain rating (DR) of the donor websites
What pages did you build backlinks to
Whether building backlinks resulted in a rankings boost
You can use Ahrefs or Semrush to conduct a backlink audit and backlink profile analysis.
I personally use Semrush to discover and track backlinks because their Backlink Analysis Tools has the most extensive backlink database on the market, which is updated daily — it currently has more than 43 trillion backlinks!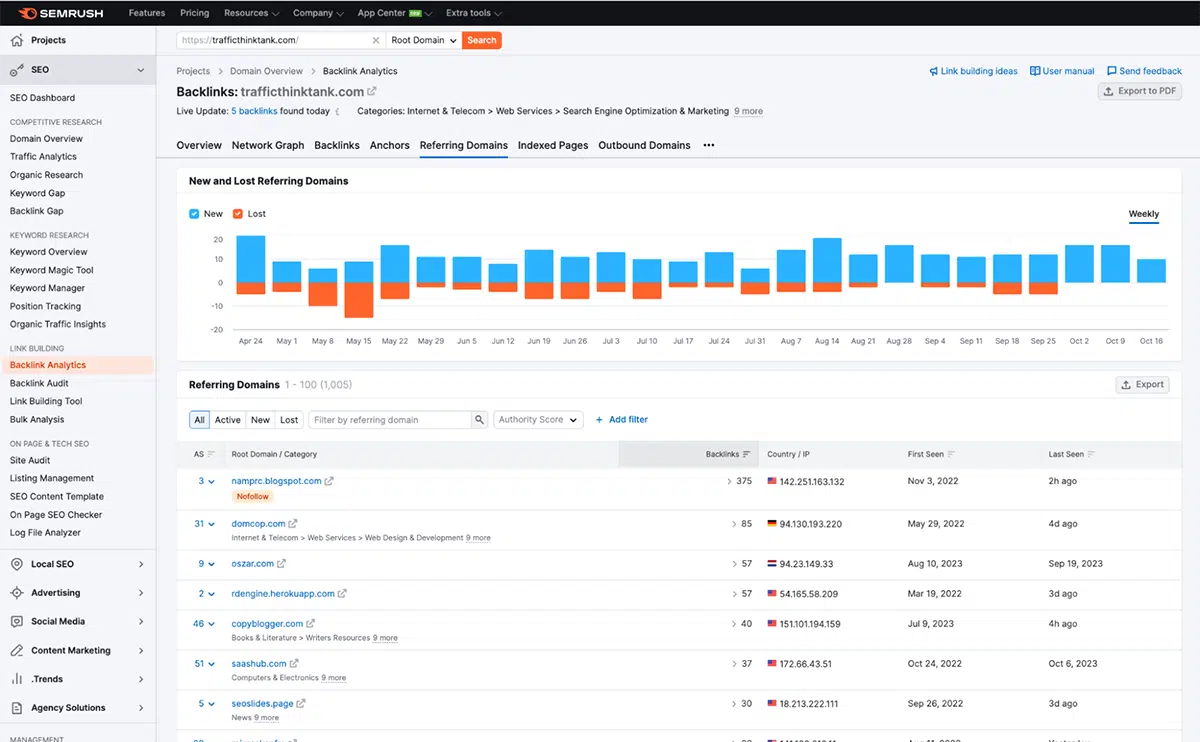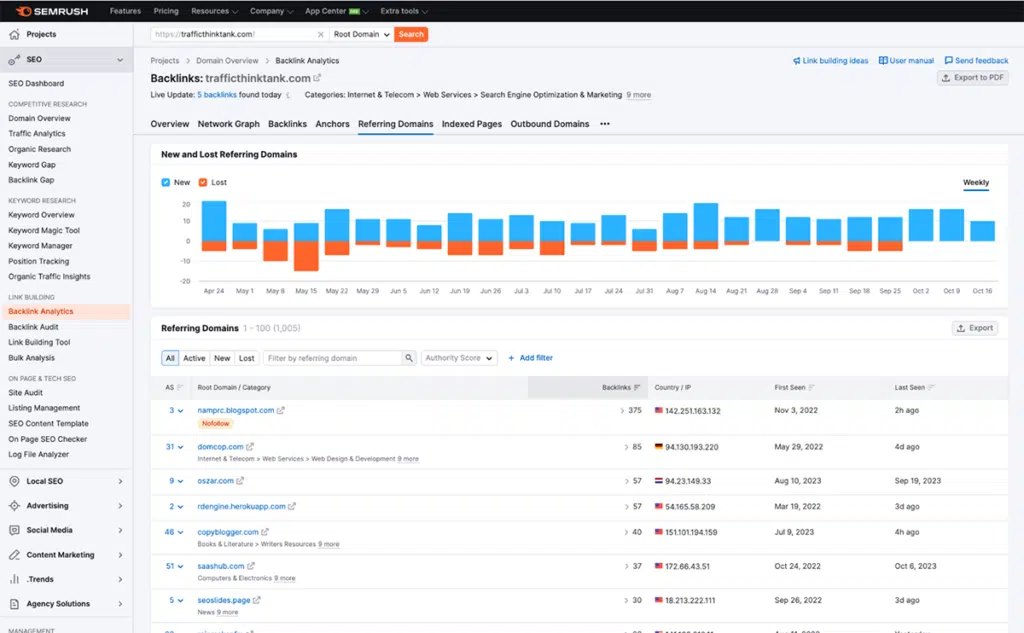 5. Other KPIs Relevant to Your Business
Besides general SEO KPIs, website owners and companies have their own unique, business-related goals, too.
For example, ecommerce website owners want to know how many monthly conversions they're getting thanks to their SEO work. B2B companies want to know what web pages help them acquire leads as well as the quality of those leads.
When I worked at a SaaS company, we tracked visitor-to-lead and lead-to-customer conversions from organic search results.
These are just a few examples.
If you don't know what business-related KPIs should be added to your SEO report, discuss it with your manager or stakeholders. They know the high-level company goals and will be able to help you define the right KPIs to track.
SEO Reporting Platforms
There are many ways to create an SEO report.
You can use Google Spreadsheets with pivot tables to manually create reports customized to your company's needs. Alternatively, you can use reporting tools to quickly create visually appealing reports from your data.
Below, I reviewed the most common and effective platforms for SEO reporting I've used during my SEO career.
Note that these platforms vary in terms of features and pricing. The choice of an SEO reporting platform will depend on your specific needs, budget, and the scale of your SEO campaigns.
1. Looker Studio
Looker Studio is a free online data visualization tool that can help you create interactive dashboards and reports. It's pretty easy to add and remove charts, tables, and other elements with its drag-and-drop interface.
You can connect Looker Studio to various data tools, including Google Analytics, Google Ads, Google Sheets, and BigQuery. This way, you can quickly import the required data for report creation.
Feel free to download and use our monthly SEO reporting template I've created for you with the help of Looker Studio.
The template is easily customizable and contains monthly organic website traffic, historical organic traffic trends, and the most popular landing pages.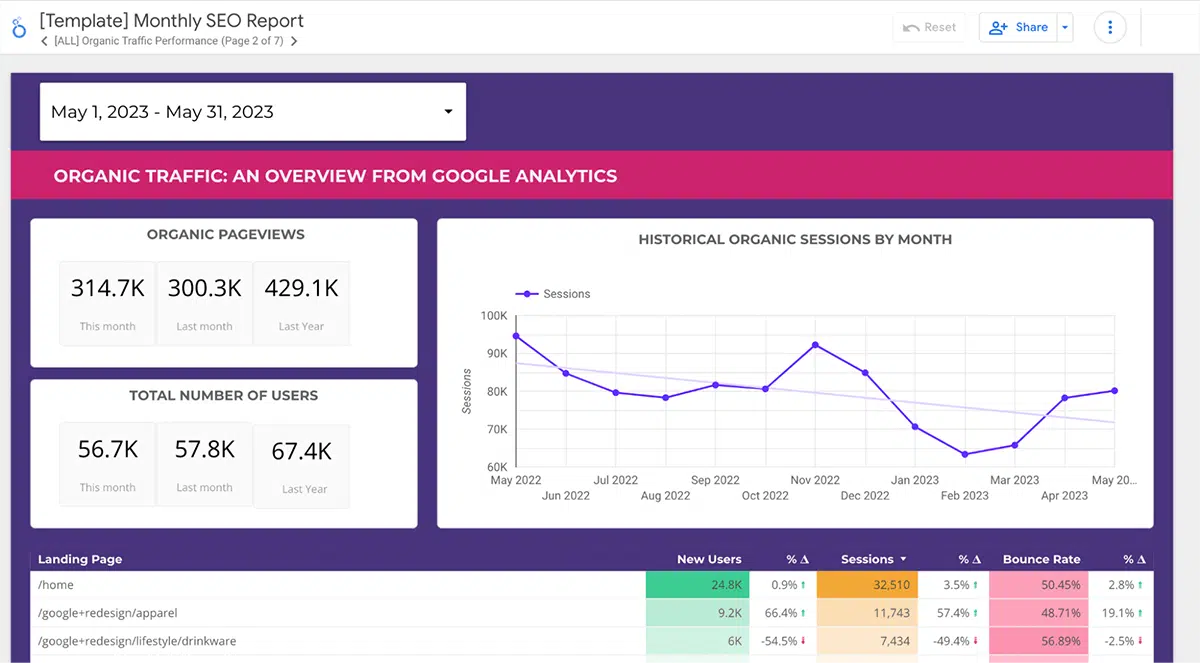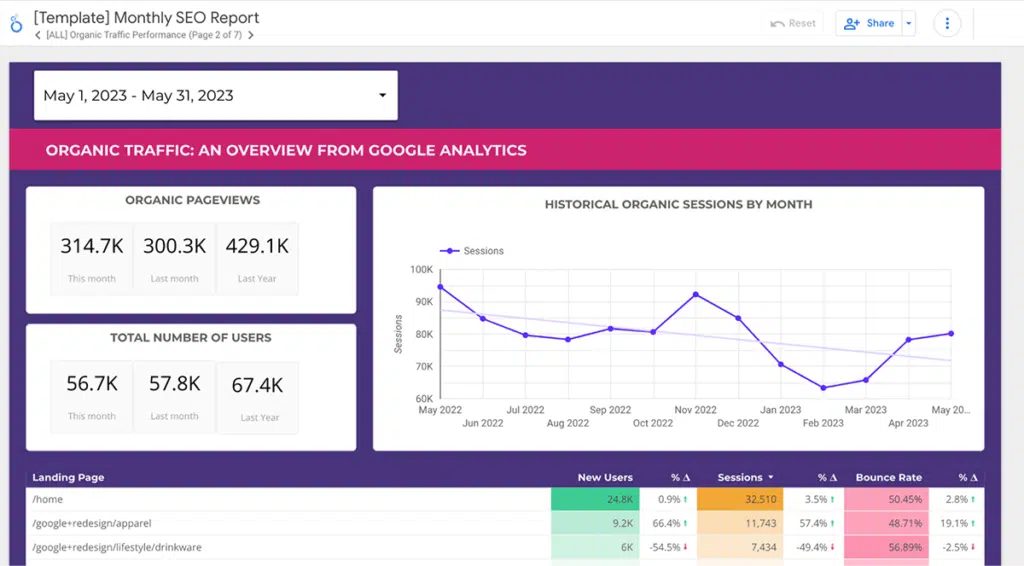 2. Semrush
Semrush is an all-in-one digital marketing toolkit with many ready-to-use SEO reporting templates. You can access all of these templates even with just a free account.
With Semrush, you can create a PDF report using existing templates or create new SEO reports from scratch.
Semrush's My Reports include:
Monthly SEO report
Monthly competitor analysis
Organic search positions report
Site audit report
Paid advertising report
Google My Business report
Backlinks report
Domain comparison
It took me a few minutes to generate a monthly report (see below) in Semrush. All the graphs and charts are customizable, so you can easily add new or delete unnecessary ones.
Semrush will use its own data to generate reports. In addition, you can link Google Analytics and Google Search Console accounts to import data.
Semrush also lets you automatically create daily, weekly, or monthly reports in PDF format and send them to your teammates.
In my opinion, it's a very efficient solution for busy professionals like me and you.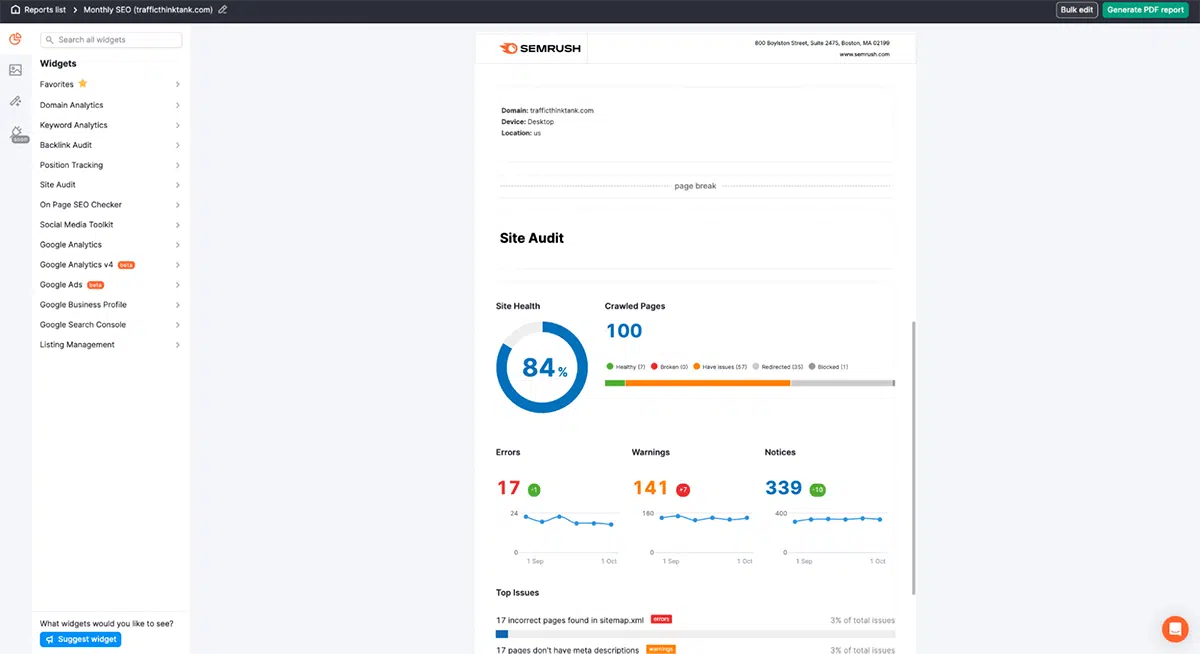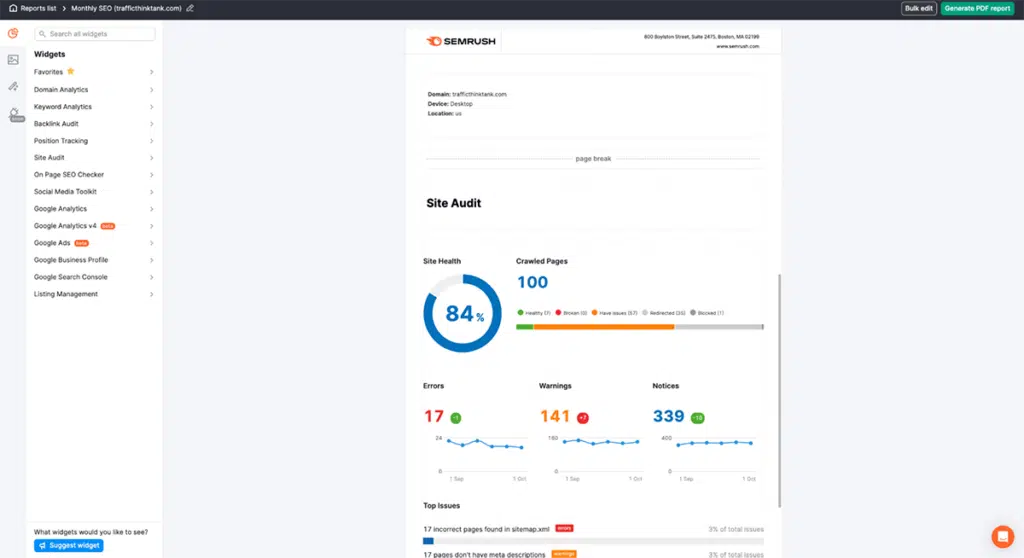 3. Google Slides
If you used Microsoft PowerPoint in the past, you won't have any challenges using Google Slides.
Google Slides is a free, web-based presentation software that is part of the Google Docs suite. It allows users to create and edit presentations online and collaborate in real time. It is a popular choice because its drag-and-drop interface makes adding and removing text, images, videos, and other elements very easy. It also has a library of pre-built themes and templates.
Unlike Semrush, you have to manually create graphs and charts elsewhere (usually in Google Sheets, Google Search Console, and Google Analytics) and then upload them into Google Slides.
Personally I find this process time-consuming and inconvenient — I prefer automating mundane tasks and using pre-built templates.
However, it can be a great SEO reporting platform when you agree on the reporting data with your team and create a custom design.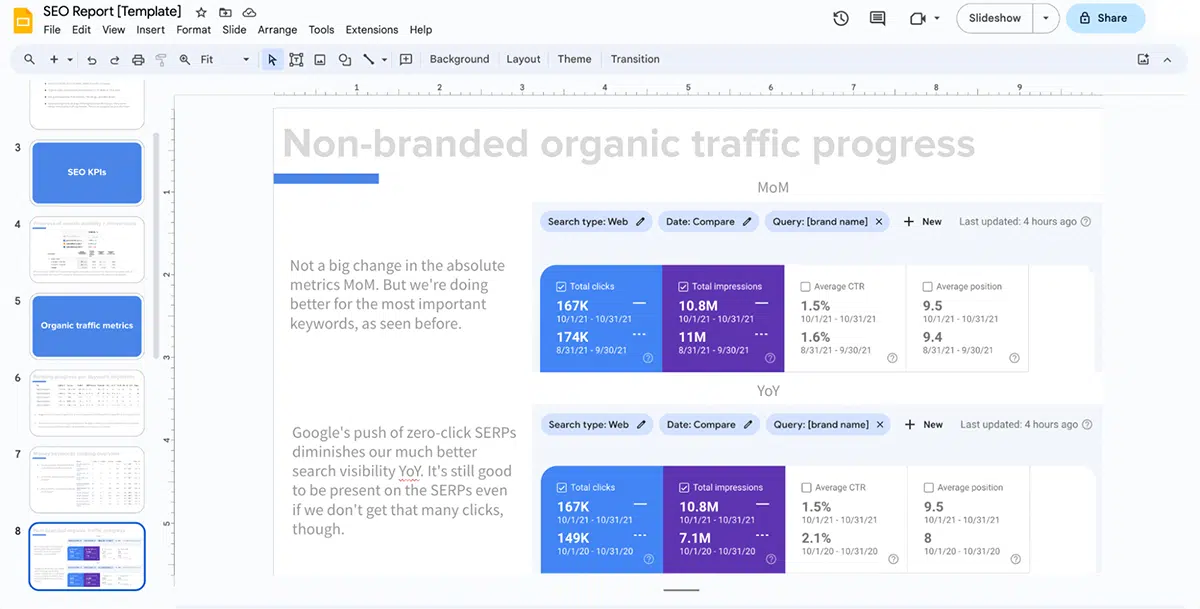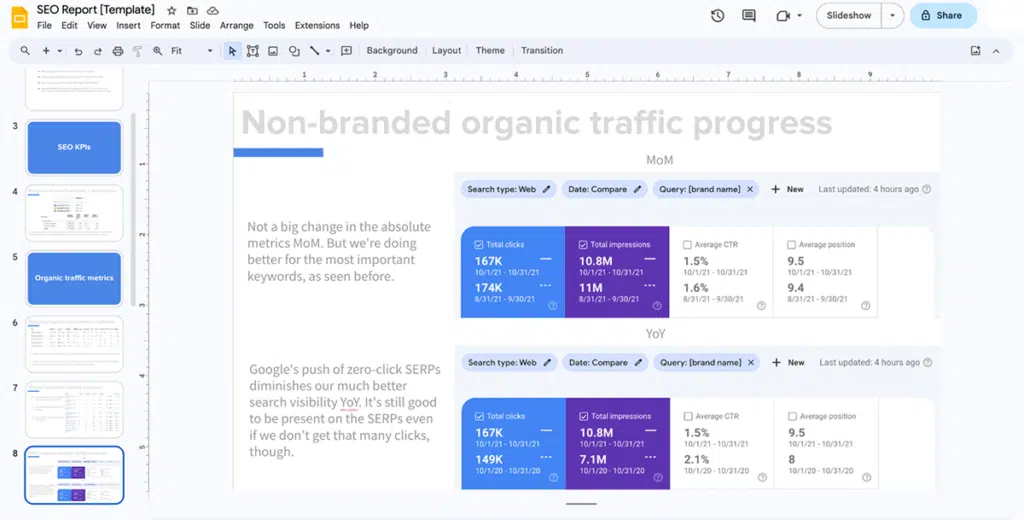 4. Google Sheets
Google Sheets is a powerful tool for various SEO tasks.
With Google Sheets, you can create reports that will help you track your progress and make data-driven decisions about your SEO strategy.
I've used Google Sheets pivot tables to create monthly SEO reports from the organic traffic database. Besides, I manually created reports showing the number of high-quality leads from the organic search channel.
Even though many Google Sheets features are intuitive, you'll need some technical knowledge to use functions and create charts.
You can also use add-ons to extend the functionality of Google Sheets, including Google Analytics, Semrush, and Keyword Planner add-ons that let you import data directly into Google Sheets.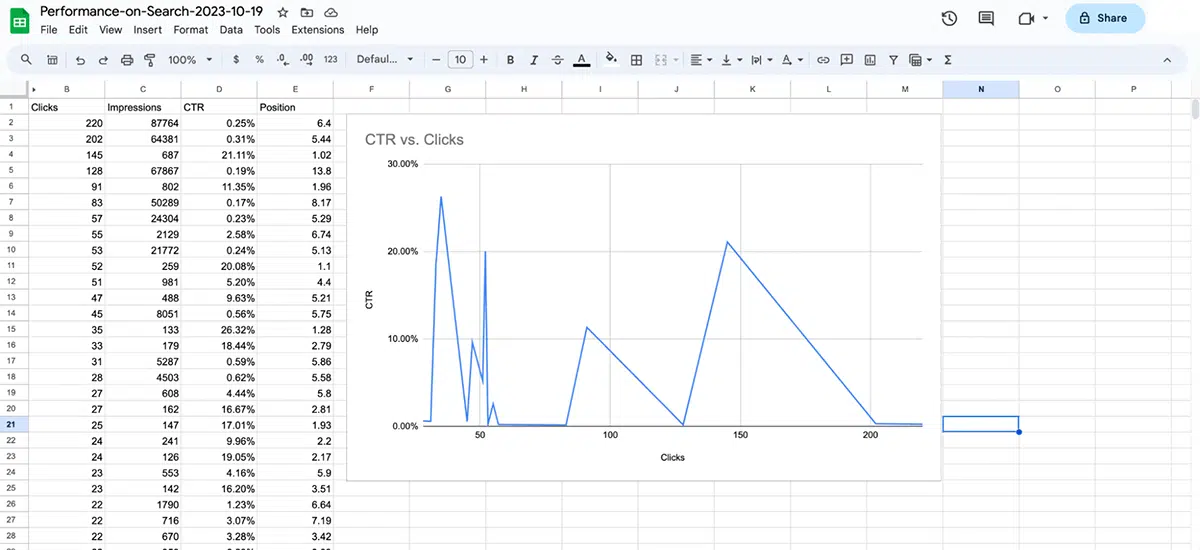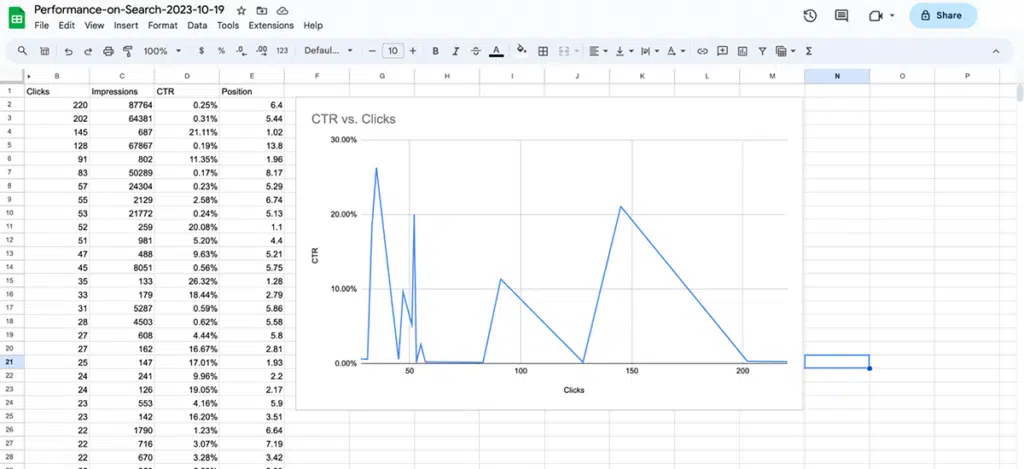 Where to Pull SEO Reporting Data From
Regardless of your online business type, there are two most reliable data sources to use – Google Analytics and Google Search Console.
These tools, developed by Google, provide the most accurate data about your website performance. If you don't use them yet, I highly recommend registering and verifying your website to start collecting valuable data.
Alternatively, many other SEO tools are available to track your website and competitors. SEO tools like Semrush, Ahrefs, or Moz use clickstream data and third-party data providers. Even though their metrics are often accurate, keep in mind that those are just estimates – the actual numbers might vary.
In the following paragraphs, I'll show you the sources and reports you can use to pull data for SEO reporting.
Google Analytics 4
One of my partners once told me they removed the Google Analytics 4 tracking code from their website because it adversely impacted page loading speed. What happened next? They could no longer track organic traffic, conversion, and bounce rates. Don't make this big mistake!
GA4 is essential for tracking your website performance and user behavior on your website. Once Google Analytics accumulates information, you can pull the following data for your SEO reports:
Organic traffic
Conversion rates
Bounce rate
Page views
Time on page
Exit pages
Demographics and interests of your audience
You can easily pull data from any Google Analytics report by downloading the PDF or CSV file.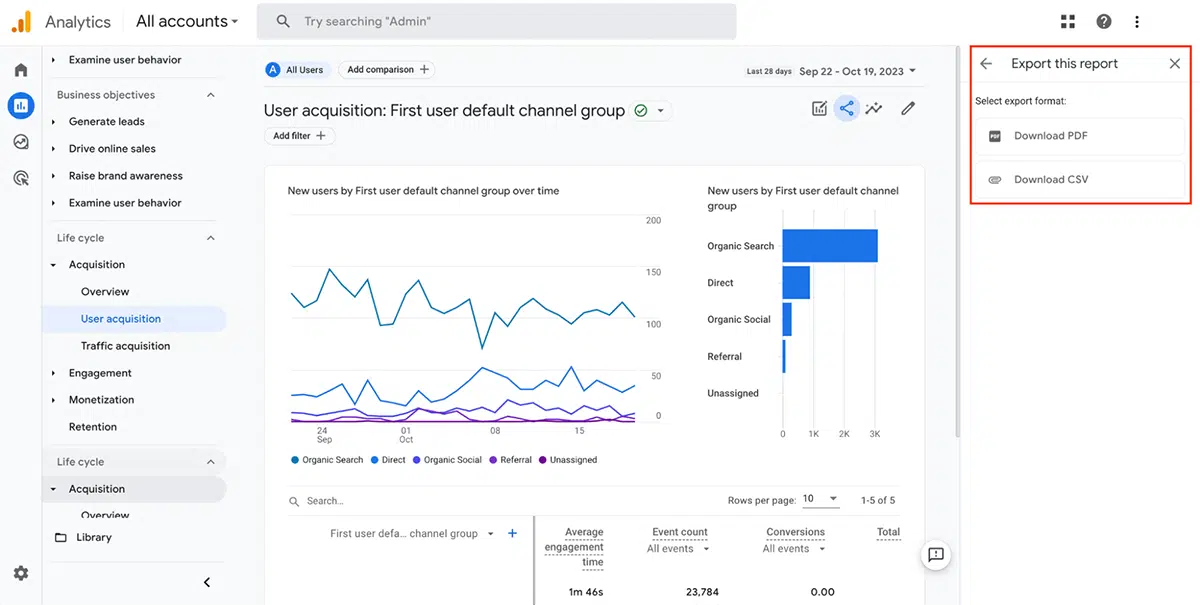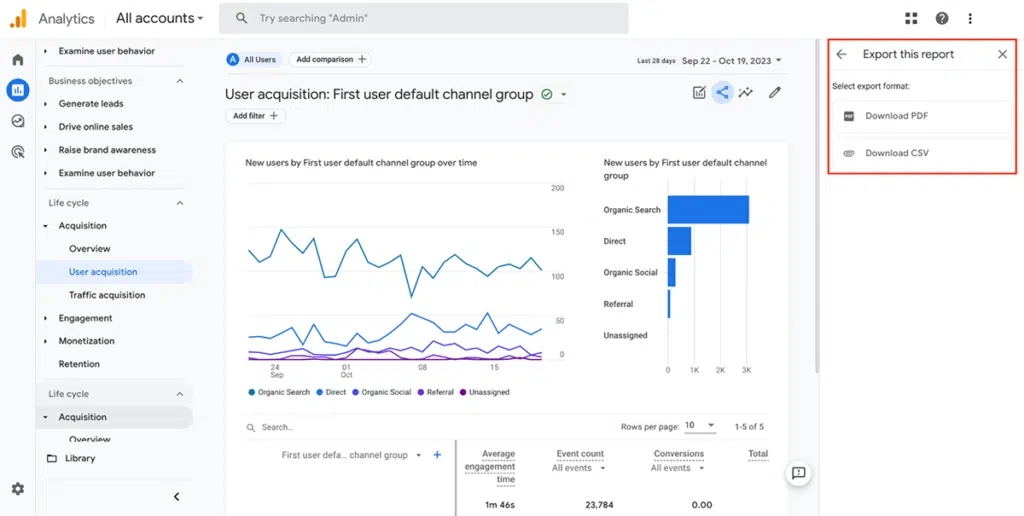 Google Search Console
Verifying a Google Search Console account is one of the first things a website owner should do after launching a website.
This free tool can help you understand whether your website pages are indexed and searchable and, if not, what the issue might be. You can also see whether your website's impressions and organic traffic grow over time.
Checking Google Search Console reports is part of my daily routine. It's insightful and fun at the same time.
You can pull the following data from Google Search Console:
Organic traffic
Click-through rate (CTR)
Average position
Search queries
Impression share
Technical issues
I frequently use GSC data to report the overall website performance and technical issues. You can easily export data from GSC to Google Sheets (I recommend this option) or download a datasheet in XLS or SCV format.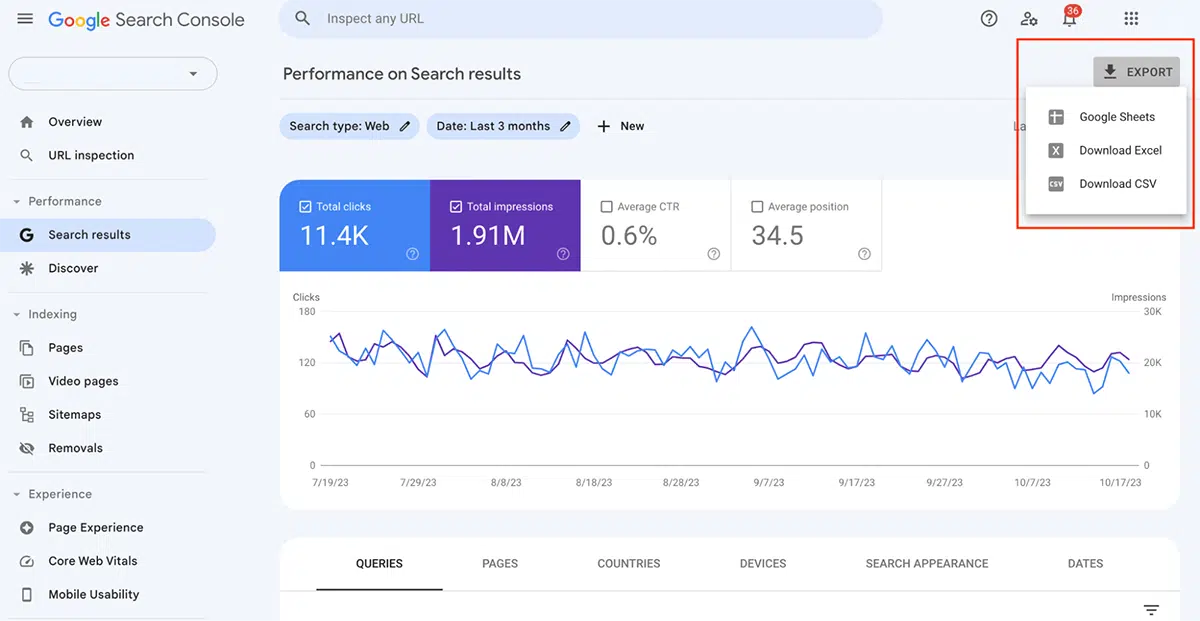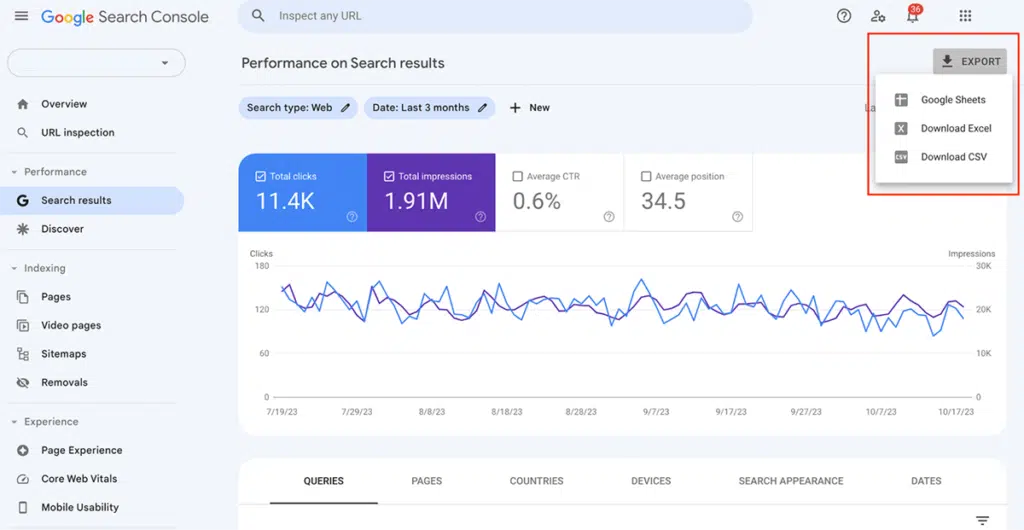 Semrush and alternatives
If you don't have access to Google Search Console and Google Analytics for some reason or collect data on your competitors, I recommend using SEO tools like Semrush.
As I've already mentioned, Semrush gets data from clickstream and other third-party data providers to give you pretty accurate metrics.
You can pull the following data from Semrush for SEO reporting:
Organic traffic
Keyword overview
Keyword positions
Backlink data
Rank tracking
Technical SEO audit
Content analysis
Every Semrush report has an "Export to PDF" button in the top right corner. Besides the PDF option, you can also download the data in a CSV file for further analysis in Excel or Google Sheets.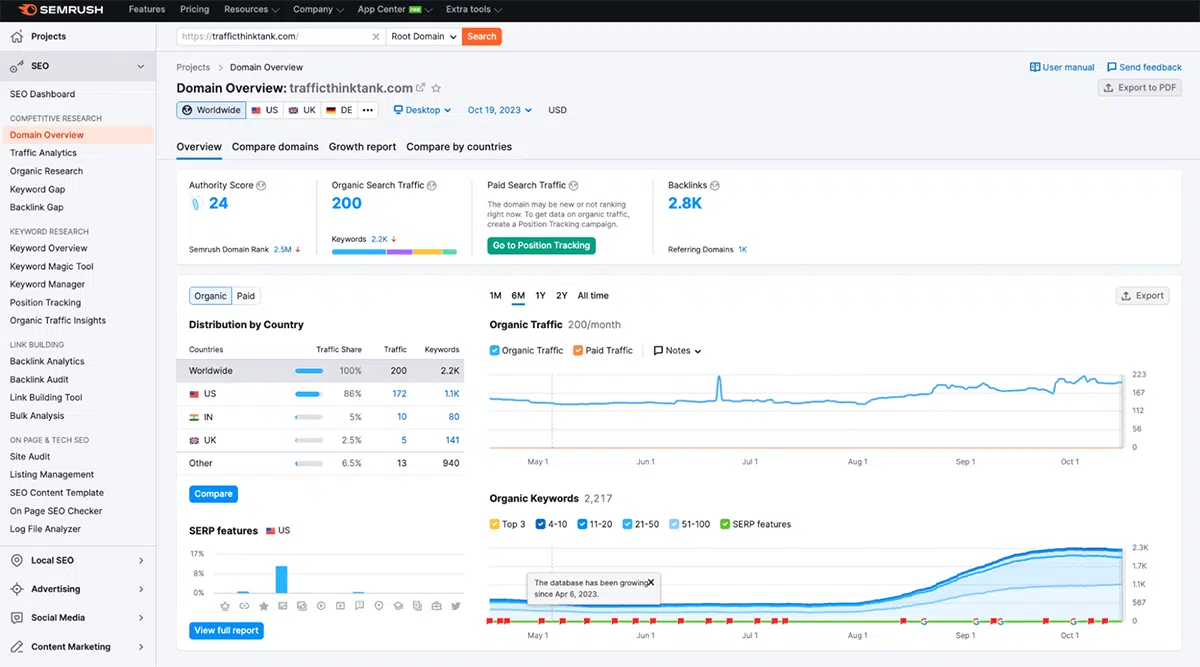 Steal Our SEO Report Template
Reporting on your SEO success is the key to helping your team members and stakeholders understand your progress and impact.
Furthermore, regularly monitoring SEO metrics will help you define the proven-to-work tactics and strategies that only waste your budget, resources, and time.
Even though there is no perfect SEO reporting template that would fit every business's needs, I tried to create one you can start customizing right away …
It contains an organic traffic overview from Google Analytics with interactive and colorful charts to help your clients monitor your SEO progress.
Feel free to download our monthly SEO report template today!