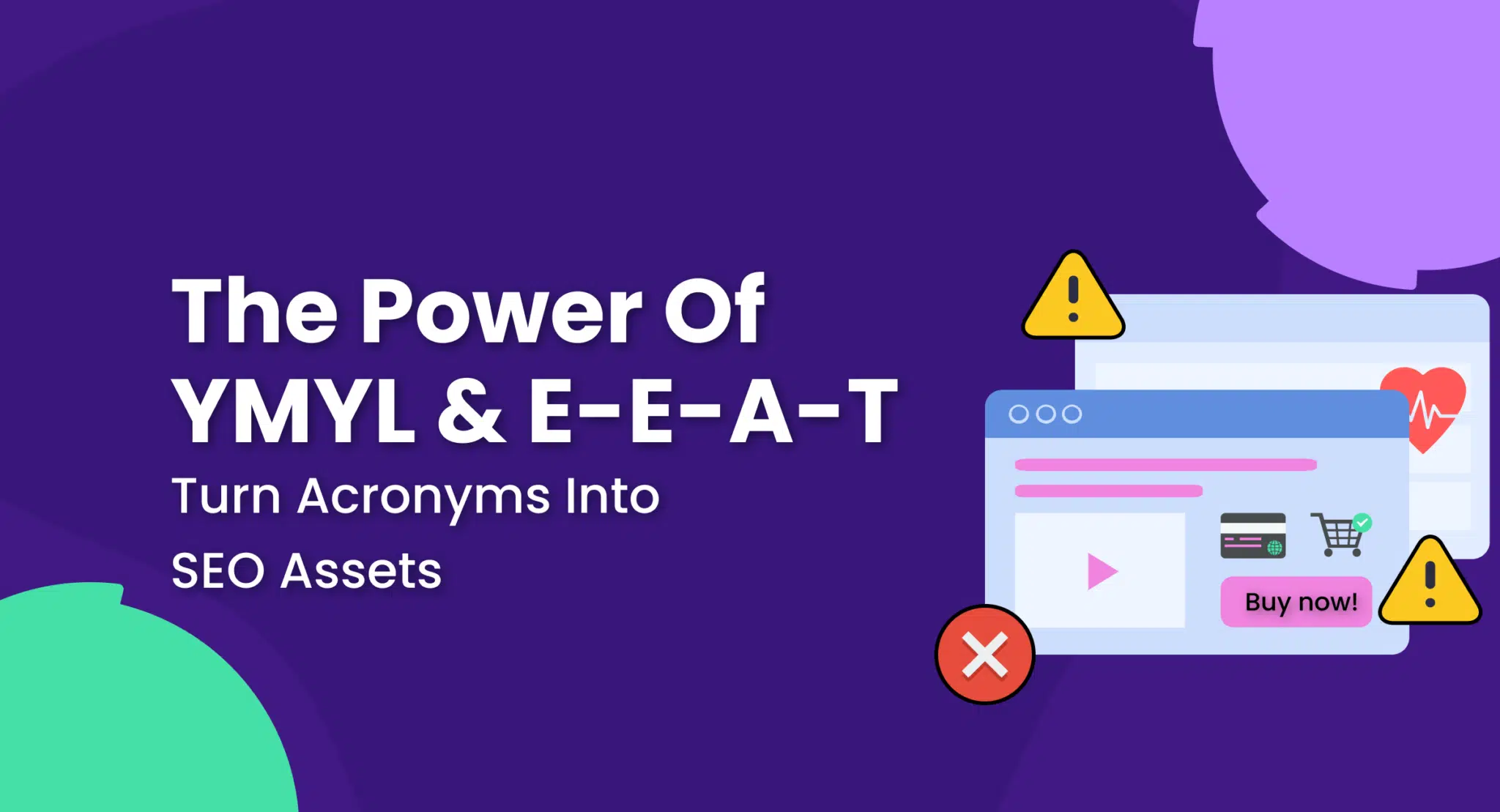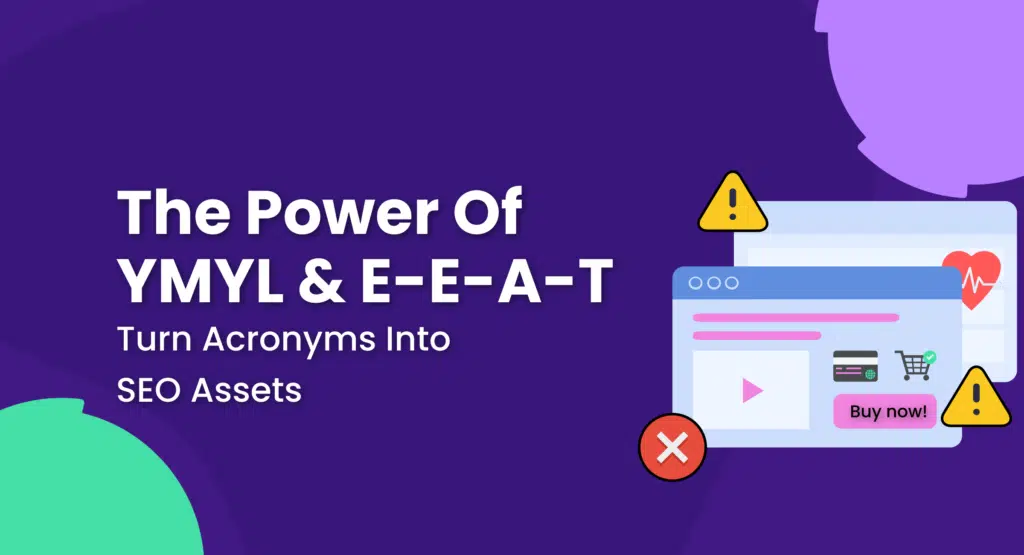 Picture this: You're walking through a library, and the most trustworthy, relevant, and authoritative books are displayed prominently on the main table just inside the front door.
The less reliable ones relegated to obscure corners.
In the online world, search engines are the librarians, and the guidelines they follow to rank content are boiled down to YMYL and E-E-A-T.
As a professional SEO, you need to understand what these terms mean, so you can tailor your content to sit proudly on that main display table.
In this article, you'll learn what YMYL and E-E-A-T mean, why they matter, and how to use these definitions to improve your SEO copywriting and boost your rankings.
Understanding Essential Terms in Google's Search Quality Evaluation Criteria
Let's look at these critical terms, discuss where they come from, and talk about how they should shape your content strategy.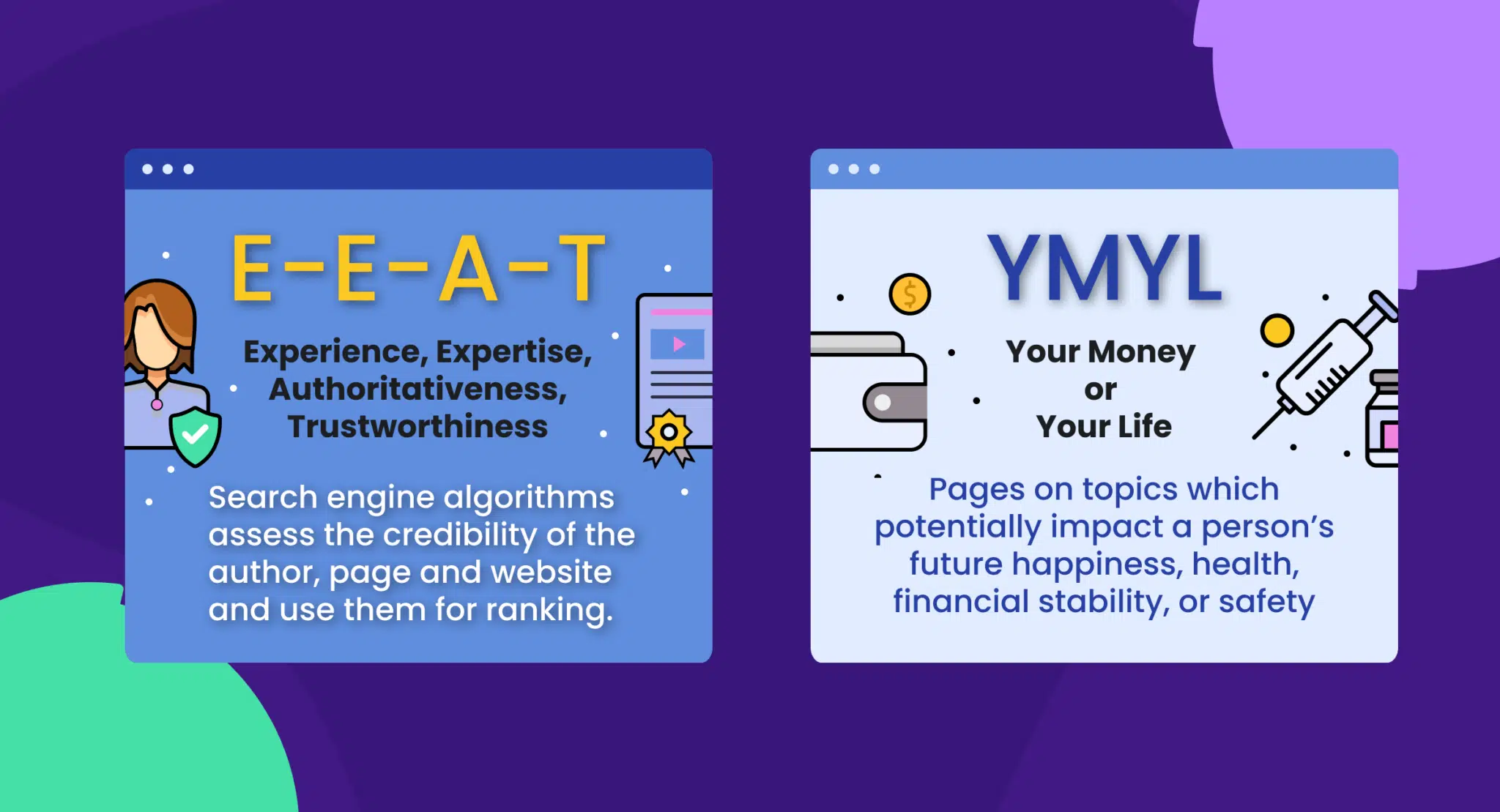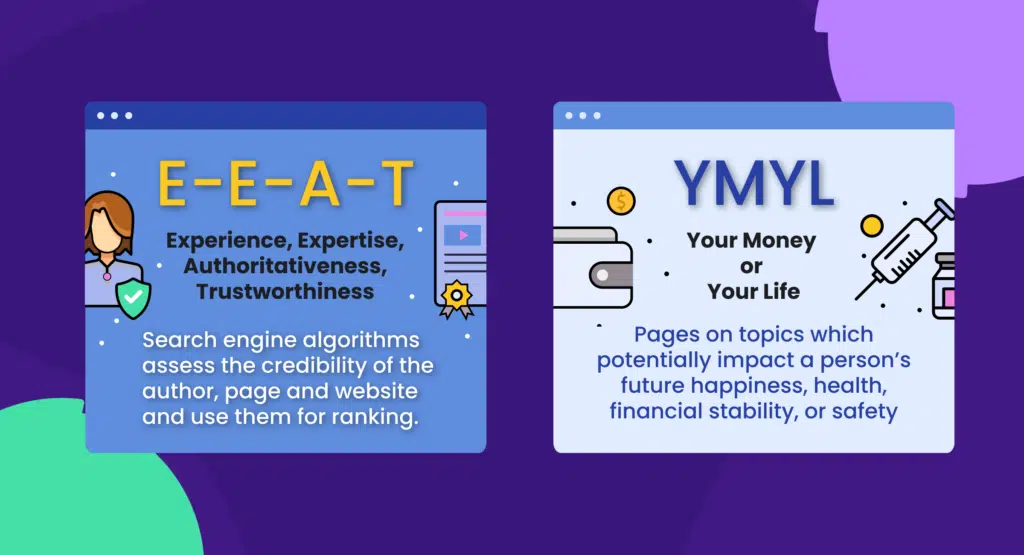 What Is YMYL?
YMYL stands for "Your Money Your Life." It's a term used by Google to categorize web pages that could affect a person's future happiness, safety, health, or financial stability.
Given potential real-world implications, YMYL content is held to a higher standard in terms of Experience, Expertise, Authoritativeness, and Trustworthiness (E-E-A-T, which we'll talk about in a minute). Inaccurate or misleading information on YMYL topics could have significant consequences for users.
What Is E-E-A-T?
E-E-A-T stands for Experience, Expertise, Authoritativeness, and Trustworthiness. It's a framework used by Google to evaluate the quality of content on web pages.
A good score in E-E-A-T indicates that the content:
Demonstrates first-hand experience
Is created by an expert in the field
Is supported by authoritative sources or platforms
Is trustworthy in its accuracy and intent
You can receive a poor E-E-A-T score by including inaccurate information, displaying a lack of expertise or experience, or creating questionable content.
What Are Some Examples of YMYL Content?
Here are some examples of YMYL content.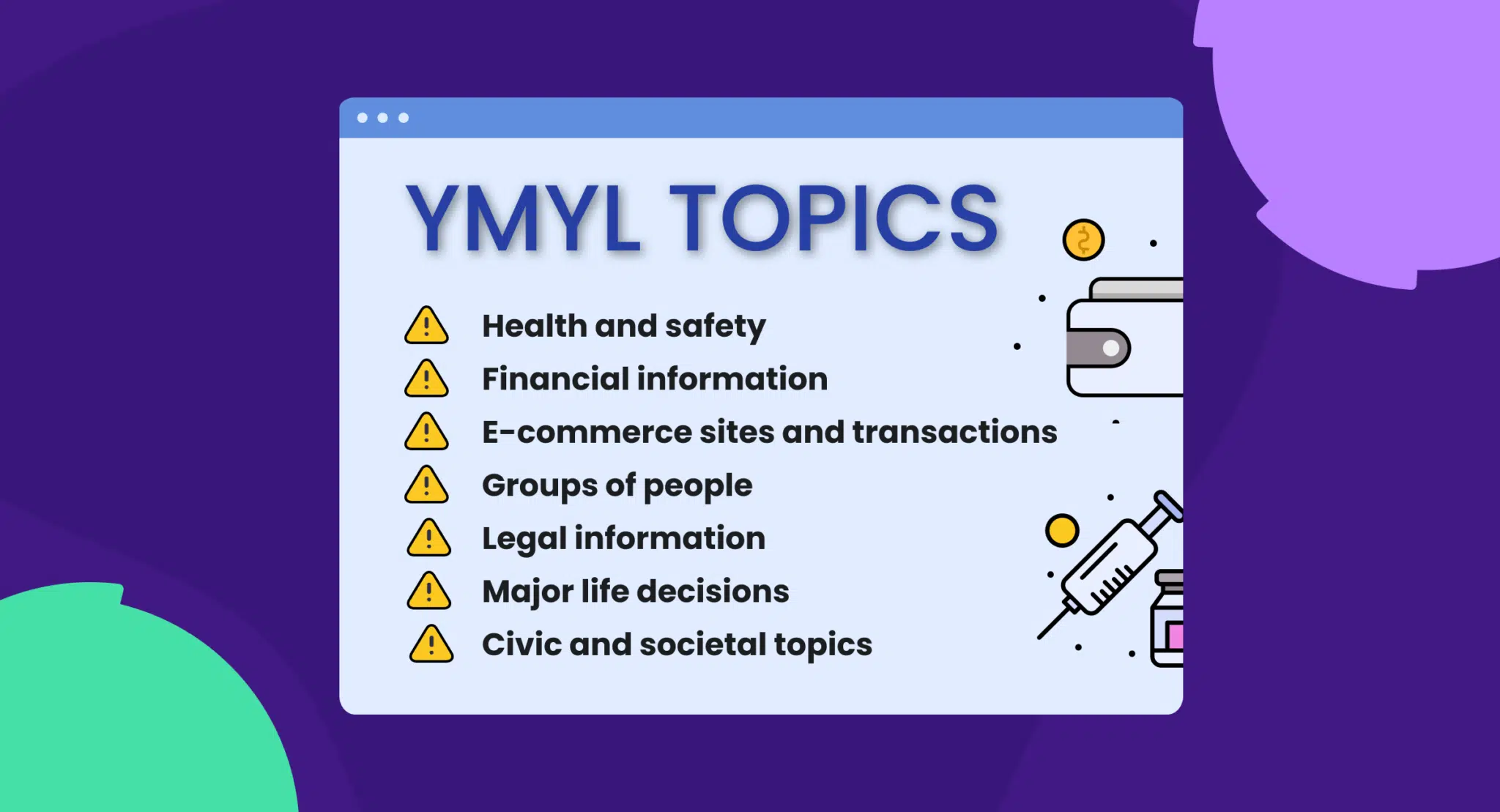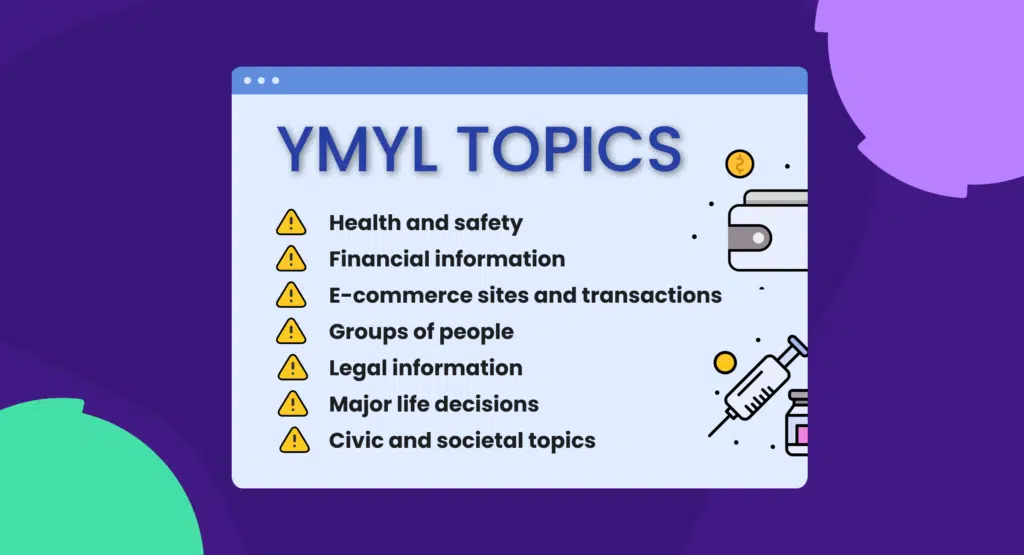 Health and safety:
Medical information, including symptoms, diagnosis, treatment, and prevention of illnesses
Advice on major life decisions like choosing a treatment for a serious condition
Content discussing drug use, mental health, wellness practices, and diet
Financial information:
Tax planning and details on handling major transactions like buying a home
Investment strategies, financial planning, and retirement prep
Information on banking, loans, mortgages, and insurance
E-commerce sites and transactions:
Any website where money transactions occur, including shopping platforms, online banking, or transfer of assets
Groups of people:
Information or advice about groups based on race, ethnicity, nationality, religion, disability, gender, age, veteran status, sexual orientation, or other related categories
Legal information:
Guidance on legal rights, like tenant or workplace rights
Information on divorce, child custody, or writing wills
Details about immigration procedures
Major life decisions:
Buying guides for significant purchases such as homes, vehicles, or large appliances
Educational choices, like selecting a university, course, or study program
Civic and societal topics:
Discussions on human rights, marginalized groups, or advocacy topics
Information on voting, citizenship documentation, and public service
What Are the E-E-A-T Guidelines?
E-E-A-T principles are foundational concepts of Google's Search Quality Rater Guidelines. Human evaluators use these guidelines to review and rate the quality of search results.
You can improve your content's chances of being recognized as high-quality by Google by focusing on these guidelines — especially when creating YMYL content.
Here's a breakdown of E-E-A-T directly rooted in Google's guidance.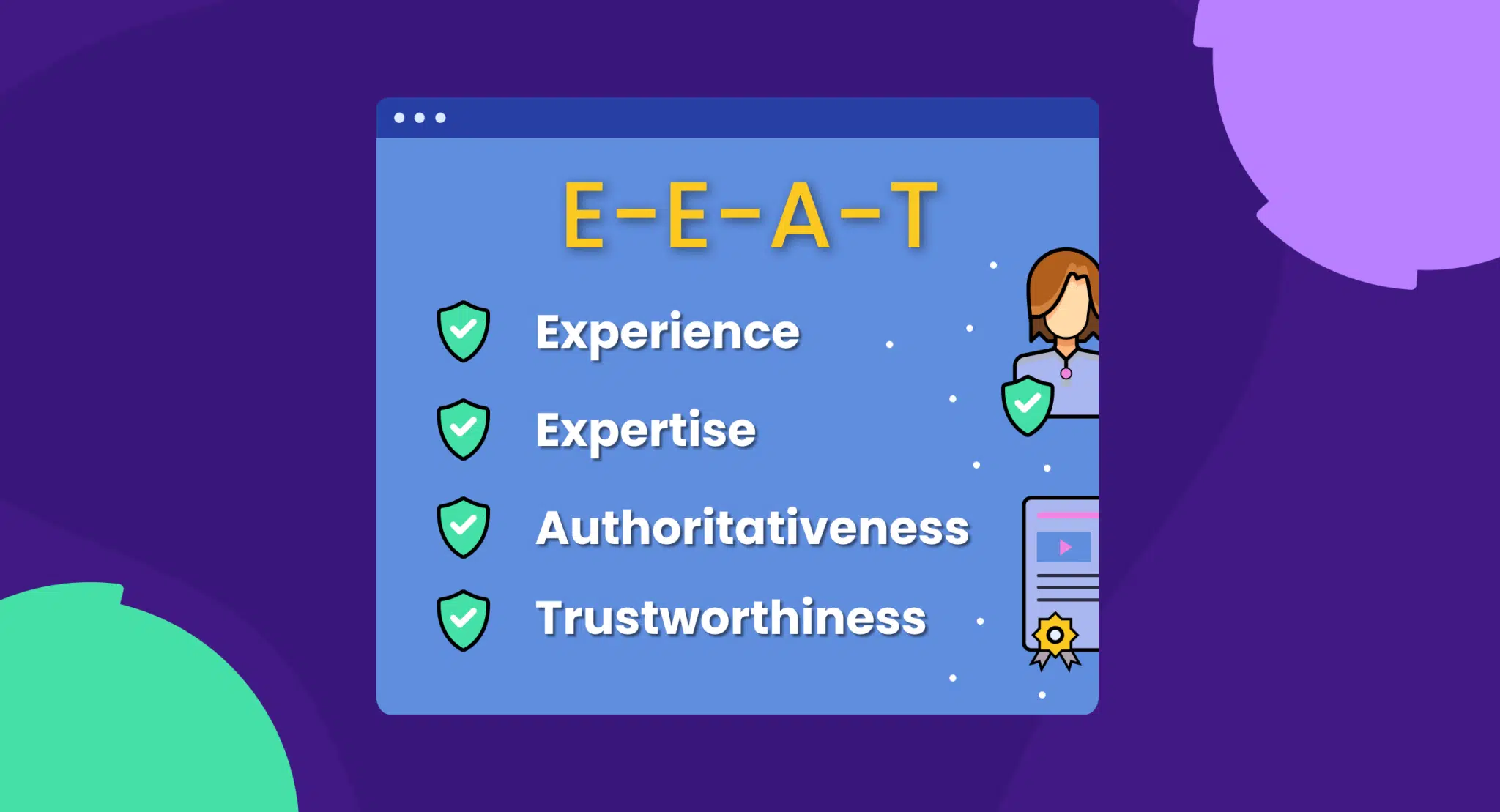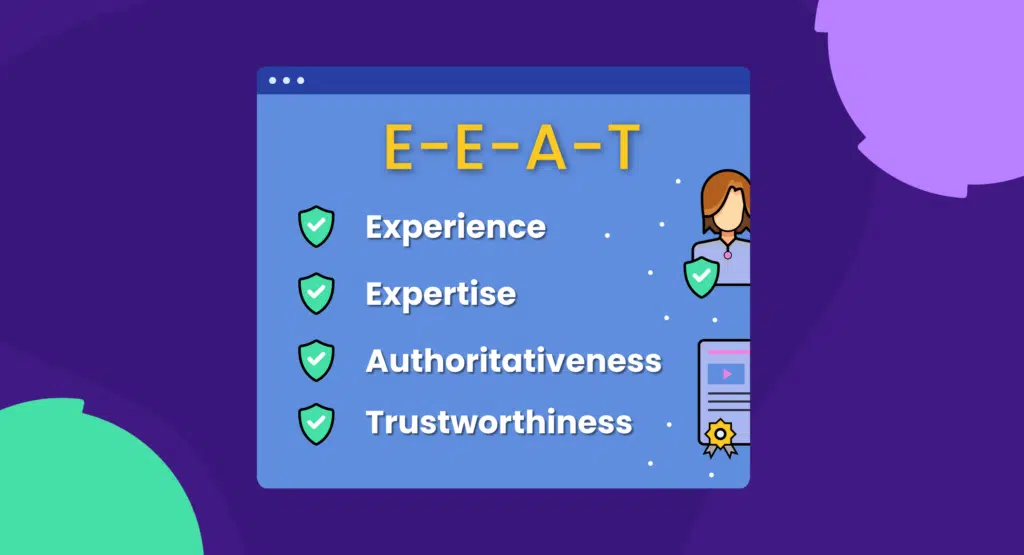 Experience
The latest addition to Google's quality E-A-T guidelines is the concept of "Experience," which expanded E-A-T to E-E-A-T. This addition shows the significance of first-hand experience in the content evaluation process.
Experience is the authenticity of content based on direct encounters, usage, or personal involvement. Google adding Experience to their guidelines means that while formal expertise is crucial in some domains, there are scenarios where real-world, personal experiences can be equally — if not more — valuable.
This focus on Experience underscores Google's commitment to ensuring that search results align with expert views and resonate with genuine, real-world situations.
Expertise
Experts with relevant skills, qualifications, and backgrounds should create content pillars for topics requiring specialized knowledge (e.g., medical, legal, or financial advice). Expertise often overlaps with experience, but they're not the same.
For example, some people want advice on college financial aid from university staff members. Others want to hear from students and parents who have filled out the FAFSA and received aid. Both types of content offer value, and both can perform well under E-E-A-T guidelines.
Authoritativeness
Authoritativeness measures the credibility of a website or content creator based on their reputation and credentials.
Evaluators look at the author's credentials, references to them or their work from reputable sources, or other indicators that people in their field recognize them as an authority.
The reputation of the website hosting the content also plays a part in this. For instance, a renowned medical journal would typically be considered more authoritative than a personal blog on the same topic.
Semrush's Authority Score is a metric that assesses a website's overall domain strength and prominence in its niche based on a combination of indicators like backlink analysis data, organic search data, and social signals.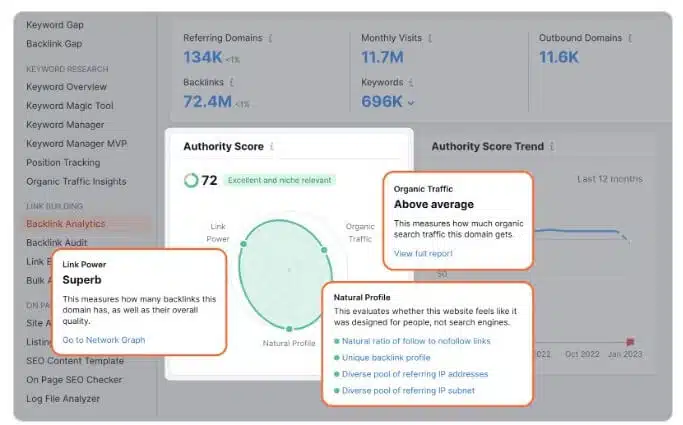 The Authority Score is designed to help marketers quickly gauge the quality and credibility of a website in relation to other domains.
A high Authority Score may indicate that a website has a strong off-page SEO strategy. It has attracted backlinks from reputable sources, has significant organic visibility, and is mentioned or shared across social channels.
Trustworthiness
Trustworthiness assesses the reliability and accuracy of the content, the content creator, and the website. This means accurate representation of information, clear references to data sources, and transparency about the content's intent and origin.
How to Improve Your YMYL Pages for Better Rankings
To ensure your content stands out and resonates with both search algorithms and readers, add the following steps to your to-do list.
Deliver Value With High-Quality Content
Your content should provide advice, answer questions, and leave the reader feeling satisfied that they got what they needed after they searched for a certain keyword. I recommend auditing your content regularly to ensure it has a high level of E-E-A-T.
Have Experts Write and Vet Content
In the age of information overload, discerning readers need authoritative and trustworthy sources. That's what Google is looking for, too.
Engage with subject matter experts to write and review your content, so you always present accurate information that matches search intent and resonates with your target audience.
Consider the difference between reading an article about heart surgery written by a journalist versus one penned by a cardiac surgeon. While both might provide value, the latter carries more weight because of the practical experience and expertise of the surgeon.
Content produced by professionals in the field tends to be more detailed, nuanced, and aligned with current practices or theories. And when content undergoes a rigorous vetting process, it minimizes errors and potential misinformation.
Include Author Bios
Highlighting author bios that include details about the content creator's qualifications and experience helps you establish credibility and authority.
When readers can see and relate to the person behind the content, it humanizes the information and instills confidence in its accuracy.
Think of it as a virtual handshake, where the author introduces themselves and presents their credentials before sharing their insights. It's a seal of transparency that assures readers they're in knowledgeable hands.
Update Content Often
After you review your SEO KPIs, regularly revisit and refresh your content to remain current, accurate, and valuable. Staying up to date can position you as a reliable online source.
Quote Respected Sources
Backing your claims with reputable sources emphasizes the credibility of your content and reinforces the "A" (Authoritativeness) in E-E-A-T.
But when you draw on other sources, avoid copying or rewriting that information. Instead, use information from your sources as a springboard to create original content that provides additional value.
Capitalize on User-Generated Content
User-generated content (UGC), like reviews or testimonials, offers genuine insights and builds trust with your audience. Authentic experiences from actual users can validate your content's relevance and help you establish brand loyalty.
Over three-quarters (79%) of online shoppers say UGC-like videos and images highly impact their purchasing decisions.
Google's Search Quality Rater Guidelines recognize User-Generated Content (UGC) as Main Content (MC) and emphasize its value in web page evaluation. Page content is broadly categorized into MC, Supplementary Content (SC), and Advertisements/Monetization (Ads).
Effective UGC strategies include:
Holding contests to promote user engagement
Collaborating with influencers to amplify reach
Using hashtags for easy content collection
Regularly interacting with online followers
Reminding buyers to post reviews
Always remember to obtain permission before using UGC and to give credit to the original creators.
Get Backlinks from Authoritative and Relevant Sources
Backlinks play a pivotal role in authenticating your site's authority and improving your SEO standing. Just as we value a friend's brand endorsement, we're more inclined to trust a site referenced by a trusted source.
And, of course, all experienced SEOs know that generating compelling content is the cornerstone of attracting valuable backlinks. Great content includes things like:
In-depth how-to blog posts
Original research findings
Shareable infographics
Video guides
After publishing high-quality content, conduct a backlink audit and reach out to other platforms or publications to see if they're interested in linking to your material. (You could also try one of these link-building tools.)
Improve Your Content with YMYL and E-E-A-T Guidelines
YMYL content and increasing your E-E-A-T are the foundations of creating high-quality content and ensuring your site is filled with trustworthy, expert-backed information.
You can also use Semrush's suite of content marketing tools – which include a topic research tool and an SEO writing assistant – to make your content more valuable, readable, and authentic. Get started for free right here.