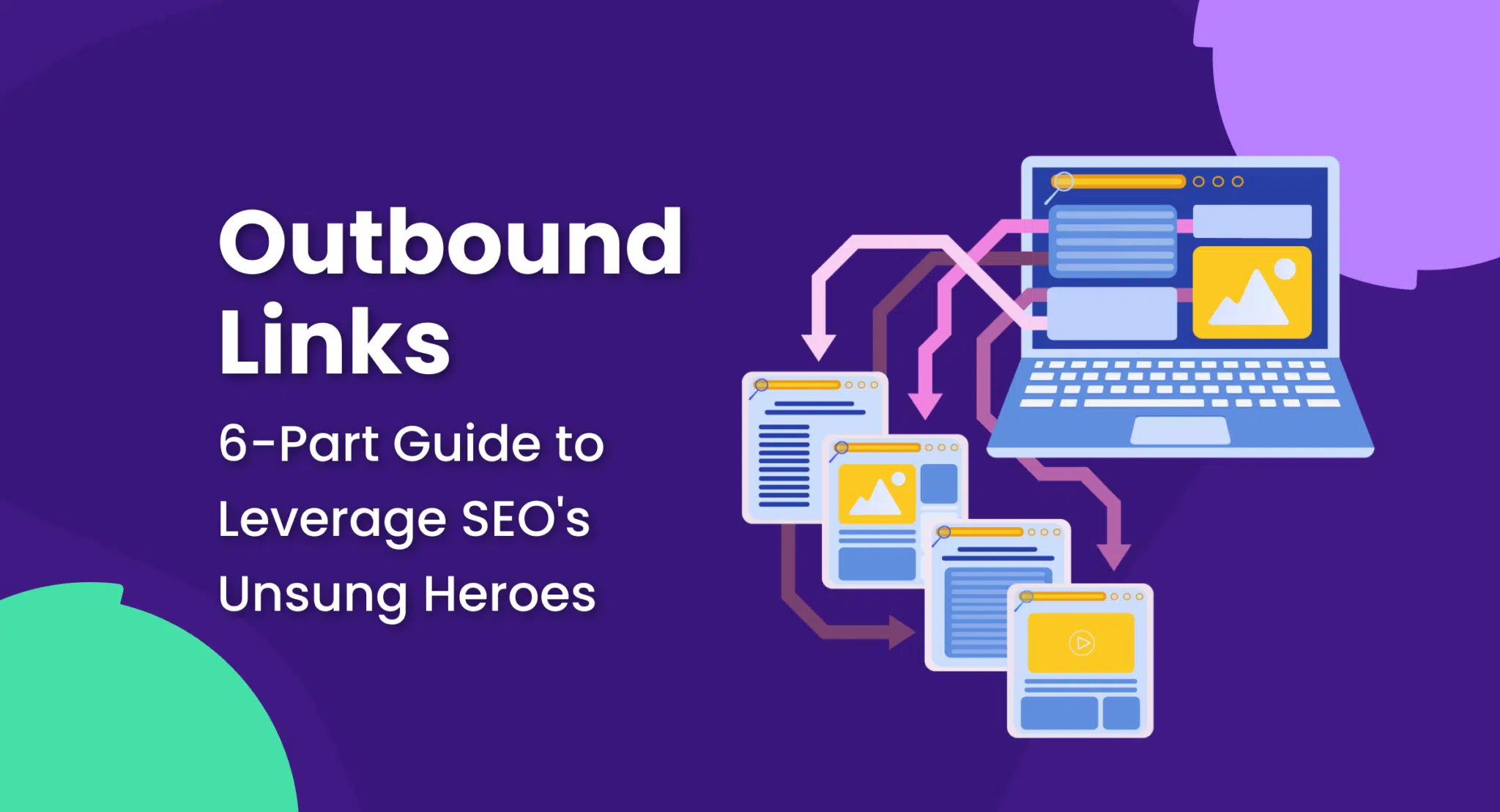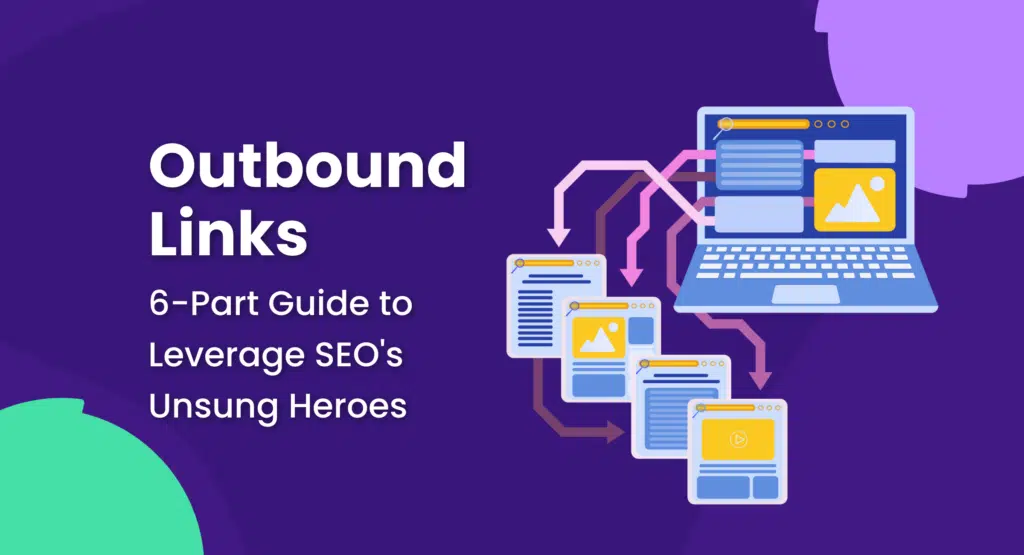 Including outbound links in your content is an often overlooked way to improve search engine rankings.
While backlinks are a well-known and popular topic, outbound links are a more nuanced part of our toolkit … and they merit a deeper exploration. Want to know how to use them to improve your rankings and build authority in your niche?
Let's examine what outbound links are and why they're beneficial. Then we'll explore the nitty-gritty of how to use them to your advantage in your content.
What Is an Outbound Link?
An outbound link, also known as an external link, directs a user from your website to a different site. These links serve as pathways that connect your content to valuable resources, offer examples, or direct visitors to more in-depth articles related to your topic.
By including external links, you offer additional value to your readers and prove that your article is well-researched.
Outbound links are an essential part of SEO, but there are several other reasons you should leverage them in your content.
For example, external linking:
Adds depth to your writing and enriches your content
Guides readers to additional sources of information
Solidifies the relevance of your topic
Boosts your authority and credibility
Demonstrates expertise
Offers more insight
Builds trust
Clear sourcing and citation provide evidence of expertise, which is an important quality metric for Google. Learn more about using E-E-A-T (Experience, Expertise, Authoritativeness, Trustworthiness) and YMYL (Your Money or Your Life) to improve your rankings.
Are External Links Good for SEO?
The short answer? Absolutely. Outbound links can improve your search engine rankings.
First and foremost, they enhance user experience. By linking out, you provide additional resources that can offer value and depth to your readers. A seamless and value-driven user experience is directly correlated with better SEO rankings.
Secondly, external links can offer users and search engines a clearer understanding of your content's niche and subject matter. By linking to relevant sites and sources, you map out the broader context in which your SEO copywriting exists. This helps Google figure out the relevance and depth of your content.
Remember, search engines always aim to connect users with the most pertinent and helpful information related to their search intent. When we generate top-notch content that acknowledges and cites authoritative sources, we're raising our hand and saying, "Yes, we're relevant!"
A Common Misconception about External Links
Misconception alert: There's a pervasive myth in SEO circles that having too many outbound links can "leak" your site's authority. While it's vital to maintain a balanced link profile, thinking of outbound links as authority-drainers oversimplifies what's happening in the search algorithms. Quality and relevance are what's most important, not just quantity.
Outbound links, when used judiciously, can indirectly boost your inbound links. When you link to high-quality, authoritative sources, you provide additional value to your readers and send a message to the wider web community about your commitment to quality.
This can improve your website's reputation and make it more appealing for other credible sites to link to you. By providing valuable external resources, you're indirectly building relationships and creating a network of trust.
Over time, people in your network can reciprocate, which could lead to more high-quality incoming links for you — a big bonus for your off-page SEO.
For example, take a look at the image below of Nick's blog post: "What is a keyword?" He links to an article on Semrush when mentioning "domain authority." This way, the reader can get more information on the topic if they need it.


Speaking of Semrush, the platform makes it easy to check out the number of outbound links any website has … just use the Backlink Analytics tool.


How to Build External Links for SEO
Building external links for SEO isn't just about linking out. It's about doing it right. Keep the following best practices in mind to shape your external linking strategy.
1. Use Relevant Links
Your outbound links should be relevant to your original content. This provides added value to the reader and signals to search engines that your content is well-researched and aligned with authoritative sources on the subject.
2. Link to Authoritative, Credible Sites
Be selective and always link to reputable high-authority websites. Users appreciate and trust content backed by well-regarded sources, which can lead to longer engagement on your page and more social shares and backlinking.
Connecting with top-tier websites in your niche positions you as a knowledgeable and discerning content creator to your audience and search engines.
3. Include Helpful Anchor Text
Make sure your anchor text — the clickable text in each hyperlink — is descriptive and useful. Avoid vague phrases like "click here" and opt for text that gives readers a clear idea of what they'll get if they click the link.
You can use Semrush's Site Audit tool to identify and resolve anchor text issues on your site.
After you've set up a site audit for your project in Semrush (adjust your preferences to the number of pages you want to scan, etc.), navigate to the Site Audit tab to see the results.


Then navigate to the "Issues" tab and enter "anchor" in the search field.


Click on "Why and how to fix it" beside each issue for insights and advice on how to resolve problems.
4. Use "Nofollow" or "Sponsored' Parameters
When linking out to other websites, use the "nofollow" or "sponsored" attributes where appropriate.
The "nofollow" attribute tells search engines not to pass any link equity (commonly referred to as "link juice") to the linked page. This is handy for links you need to mention in your content but don't fully endorse, or when you want to preserve your site's authority. In general, though, you'll only want to use outbound links that provide value for your readers!
The "sponsored" attribute is designed explicitly for links that are advertisements or paid placements.
By using this attribute, you tell search engines that the link was compensated. Labeling sponsored links ensures you stick to best practices and maintain the integrity of your site's link profile.
5. Vet Every Outbound Link
Never link to dubious or questionable websites. Such associations can harm your site's reputation and even lead to penalties.
Vet every external source you consider linking to — ensure it's credible and relevant to your content.
Keep in mind that the quality of your outbound links is a direct reflection of your content's trustworthiness. In the age of misinformation, maintaining a clean link profile is more crucial than ever to secure the confidence of users and search engines.
6. Regularly Review Your External Links
Get into the habit of regularly reviewing your website for external link issues. You can use Semrush's Site Audit tool to streamline and automate this process.
Navigate to the "Issues" tab and search for "external" to see outbound link concerns.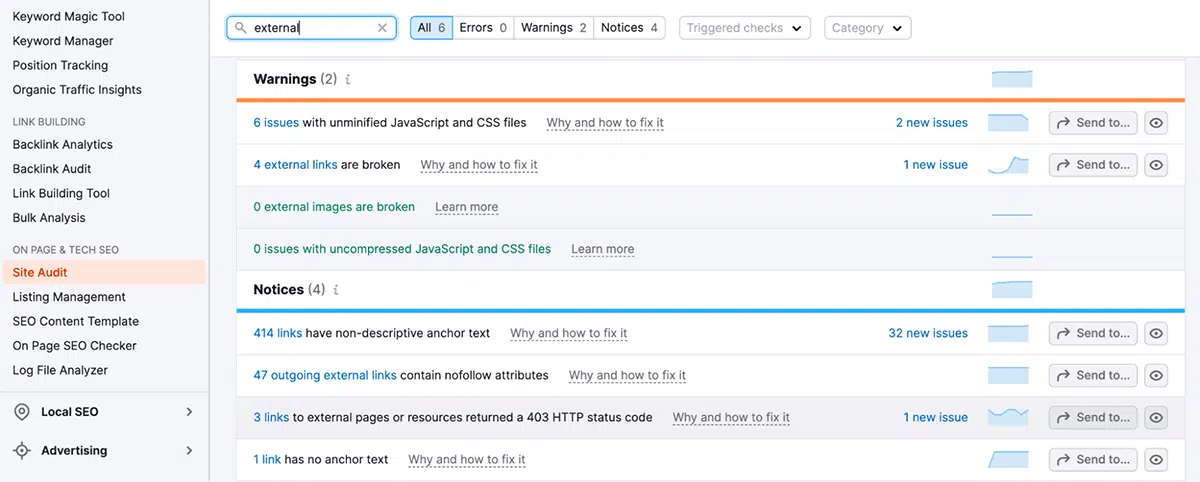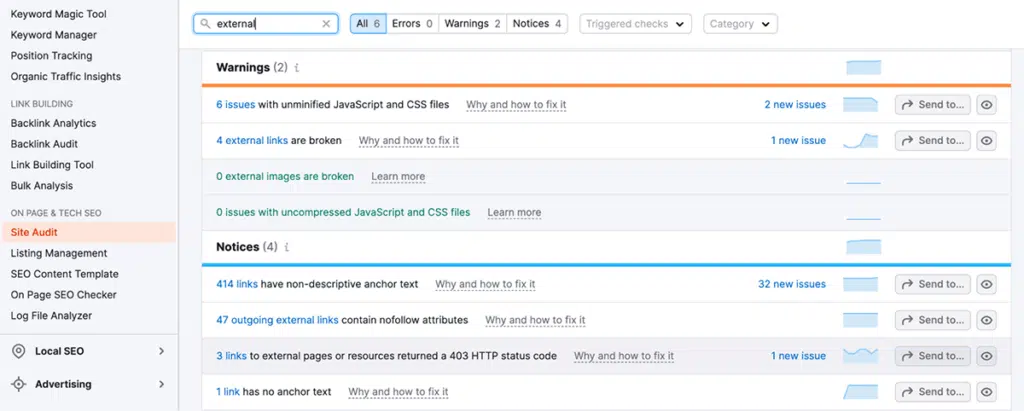 Keep an eye out for these common problems:
Unnecessary nofollow attributes on outbound links
Links with vague, incomplete, or excessive anchor descriptions
Broken external links
Not sure how to fix an issue? Semrush can advise you — just click on "Why and how to fix it" next to the problem for resolution tips.
You can even use the "Settings" icon on the far right to set up automated weekly audits and receive email notifications with results when each check is complete.
Why It's Important to Be Mindful of Outbound "Follow" Links
Many professionals in our field believe that you should mark all external links as nofollow to conserve your site's SEO value (and that if you don't do this, you're risking a potential penalty). This isn't entirely accurate.
I recommend being discerning with your outbound follow links. If you're linking to dubious websites or engaging heavily in sponsored links, you risk drawing scrutiny (and possible punishment) from search engines. But it's okay to include some "dofollow" links.
Just make sure the sites you link to are reputable and relevant, to maintain the integrity of your site and the trust of your audience.
And while it's entirely legitimate to give "dofollow" links to your direct competitors, it might not always align with your SEO goals. Every link is a potential vote of confidence in the eyes of search engines, so always think about the strategic implications of linking to another site.
Final Thoughts on Outbound Links
Looking for a tool that can help you find and fix outbound link issues?
Start your free 7-day Semrush Pro trial today to start building outbound links that increase your authority, build trust, and improve your rankings.