18 Damn Good Reasons to Come to Traffic Think Tank LIVE 2019
By Nick Eubanks
---
8

0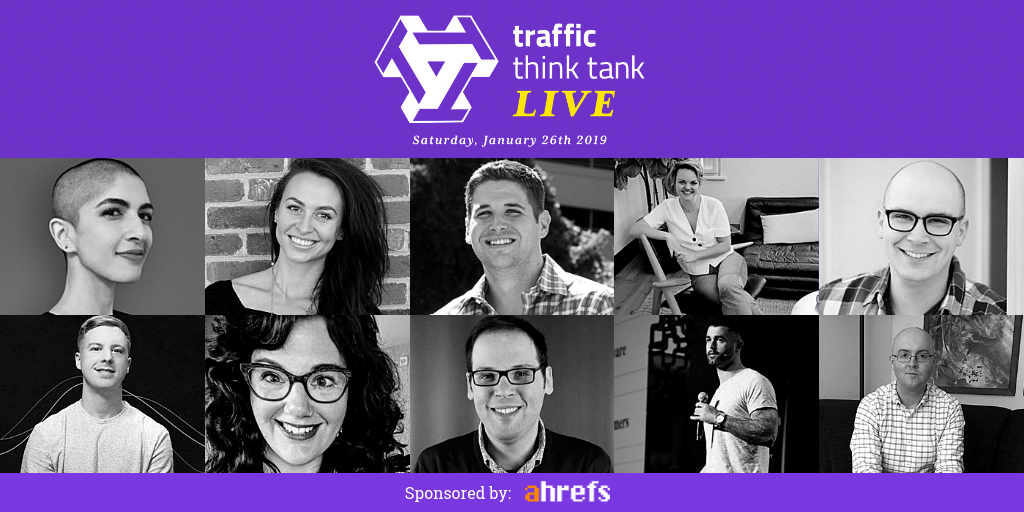 If you haven't heard of Traffic Think Tank yet, that's OK.
If you don't have any interest in joining what's been called the most impactful investment some people have ever made in their SEO career; still totally fine.
But, you should consider attending Traffic Think Tank LIVE 2019, our 1-day in-person event happening on January 26, 2019 at the DoubleTree Hotel in Philadelphia, PA – for the following 18 damn good reasons.
This event will break away from your traditional "sit and listen" format, featuring seats at 10 person roundtables and dedicated breaks throughout the day so you can catch-up with fellow attendees and get face time with the speakers. The event is limited to 150 attendees to keep it small and allow for conversations; the ticket split is 100 for Traffic Think Tank members and only 50 for non-members.
Plus: while you're here, there are all these cool things to do in Philly
1. A Killer Welcome Party
Thanks to the wonderful folks at DeepCrawl, we will be hosting a welcome party consisting of local craft beer, great wines, and appetizers at the From The Future offices on Friday January 25th from 7-9pm.
Come meet digital marketers from around the world (TTT has members from over 30 countries, many of who are making the trek to Philadelphia for our event), hang out with the speakers, and get to talk about real world SEO from folks who are actually doing the work.
2. Catered Breakfast
From 7:45 to 8:40am on Saturday January 6th enjoy a catered spread fro breakfast courtesy of the Hyatt's in-house chef's. We'll make sure you're full of local coffee from La Colombe and all the breakfast fixin's you could want to get you through an action-packed morning.
3. Understanding How Everyone (even non-technical folk) Can Leverage API's for SEO
Kicking off our day of deep knowledge sharing, from 9 to 9:35am Paul Shapiro, Director of Strategy & Innovation at Catalyst's Data Science Department & Head of their SEO Practice, will present his knowledge on how you can leverage API's to automate and extend your SEO research and analysis; even if you don't know how to write a single line of code.
4. A Deeper Understanding of Mobile-First Indexing
Cindy Krum, Founder & CEO of MobileMoxie, will take you through the nuances and implications of Google moving sites to the Mobile-First index from 9:35 to 10:10am. Then, as soon as she's finished her presentation…
5. Dedicated Networking Break #1
Unlike every other SEO conference, the speakers are eager to catch up with you and answer your questions personally, face to face, not while they're on stage. So from 10:10 to 10:25am you can grab Paul or Cindy and chat with them about their presentation, about your personal site and circumstances, and get hands-on knowledge that matters to you.
6. Roundtable Discussion with The Founders of TTT
Matt, Ian, and I will be hosting a roundtable from 10:25 to 11:25am answering questions sourced from everyone who buys a ticket. Have specific questions for us you want answered in the context of your exact niche, for your target keywords, with your specific budget or resources? This is your chance to get them answered live and in-person.
7. A Step-by-Step Look at How to Design a Conversion Funnel
From 11:25 to 12pm, wordsmith connoisseur Joel Klettke, the Founder of Business Casual Copywriting and Case Study Buddy, will show you specific actionable ways to fix the leaks in your website's funnel that are costing you conversions.
8. Catered Lunch
The Hyatt Chef's are back to bring their 'A Game' while feeding you a full buffet of delicious dishes from 12 to 1pm. Take this time to further engage with fellow attendees and to grab face time with the speakers.
9. The Best Kept Secrets within Ahrefs
Join Tim Soulo, the Chief Marketing Officer at Ahrefs, from 1 to 1:15pm as he shows us all some of the most powerful but least utilized functions within the Ahrefs toolset.
10. Exactly How An Online Cannabis Website Tripled Online Sales in 6 Months
Ryan Stewart, Founder of Webris and now a Partner at From The Future, presents details he can't share publicly on exactly how they tripled the ecommerce sales for Ardent Cannabis in only 6 months from 1:15 to 1:50pm.
Convinced?
Grab your seat before tickets are sold out
there are only a few tickets left!
11. How To Drive Massive Traffic Without a Big Budget
From 1:50 to 2:25pm, the Chief Growth Officer at Venngage, Nadya Khoja, will show you the exact steps her team took to grow their blogs traffic from zero to over 300,000 organic visits per month.
12. Dedicated Networking Break #2
Yes, another break engineered to get you in person time to catch up with the speakers. This one is from 2:25 to 2:40 and will allow you to step out of the gran room to grab a water or fresh coffee before chatting it up with the speakers and other attendees.
13. How To Build a Million Dollar Agency without Making a Single Hire
Yes you read that right. From 2:40 to 3:15pm, Kirsty Hulse, the Founder and Managing Director at ManyMinds Digital, walks you through how she grew her business from start to over 7 figures in revenue without the need to hire a single employee.
14. What Exactly is Machine Learning for SEO and Why Should You Care
Britney Muller, Senior SEO Scientist at MOZ, will break down the confusing world of machine learning and automation for SEO from 3:15 to 3:50. If you think these terms are important but have no grasp on what the heck that actually mean, and why you specifically should care – you'll come away with a clear picture of where the opportunity lies, and how you leverage it for your own SEO gains.
15. Dedicated Networking Break #3
If 2 short 15 minute breaks to catch up with the speakers and chat with fellow attendees you're in luck, here's a 3rd dedicated slot from 3:50 to 4pm to grab face time with any of the folks you want to.
16. Live Q&A Panel with Ian, Matt & Nick
We'll close out the events of the day with the 3 of us hosting one of our very popular monthly LIVE Q&A sessions actually live. From 4 to 5pm we'll be diving into the questions asked from the audience, sharing our personal opinions about what we've seen in the wild and sharing any real world data to support our experiences.
17. A Chance to Grab Dinner with Matt, Nick, and Ian at Del Frisco's Philadelphia
Throughout the day you will be able to buy raffle tickets to grab a 5 course dinner from 6 to 7:30pm in the private vault within Del Frisco's with Matt, Nick and Ian. 100% of proceeds will be donated to a local Philadelphia charity supporting kids; so you can feel great about buying your tickets (and eating all that delicious food).
18. A Raging After Party
Courtesy of one of our personal favorite outreach tools, Pitchbox, we'll be hosting an after party for all attendee's at The Balcony back at The DoubleTree Hotel from 8 to 11pm. Come hang out and unwind with your new friends (and plenty of free drinks).
*BONUS*
A sweet bag full of cool (and practical) TTT swag.
Join us for a wealth of information, knowledge transfer, and lifelong memories. Tickets are extremely limited so grab yours before they're gone.