At my old job as an in-house SEO Manager, my team grew organic search traffic 5x almost overnight by newsjacking trending finance keywords related to the COVID-19 pandemic.
It happened almost by accident.
Here's how you can do it on purpose.
How to Rank for Trending Keywords
Have you ever seen clicks in Search Console for queries that keyword research tools said have no search volume?
15% of Google searches every year are from completely new queries.
If you spend any amount of time in Google Search Console, you discover that the keyword impression data that it reports is sometimes vastly different from that of the Google Keyword Planner, SEMrush, Ahrefs, or any of the other keyword tools.
So if there is no trustworthy tool to identify these keywords, how do you find them?
---
Learn SEO that works from people actually doing the work.
Dive into a growing library of resources for all skill levels: delivered by experts who practice what they preach.
View our Academy Content
---
1. Target Keywords Based On Real Life
To find new opportunities, you have to think like a reporter.
What are the latest trends? What's happening right now?
The problem with keyword research is that it is based on old data. If a keyword has never had search volume in the past, the tools won't show search volume for it.
Things that fall into the trending category include:
Non-recurring sporting events
New TV shows
Election candidates
New laws
New products
The goal here is to rank for things that you know people will have interest in in the future, or for the cutting-edge, happening-right-now trends.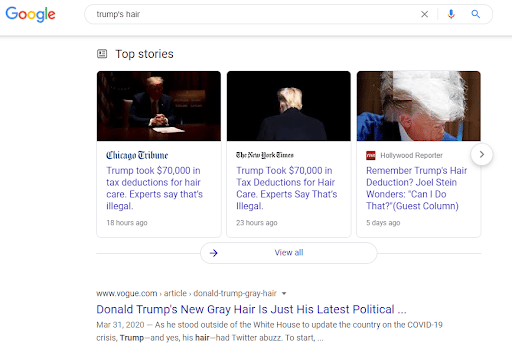 Earlier this year, "ppp loans" and "eidl loans" were keywords that none of the tools reported as having search volume.
But guess what everyone was talking about on the news?
Our content team was headed up by a director with a keen nose for quickly jumping on the latest stories. (I suspect this came from her news background.)
Almost instantly, our two best in-house writers started pumping out content about everything they could think of related to the new, government-backed loans.
A few of those pages drove massive organic traffic!
I took a look in Google Analytics and Search Console to see what was happening. That's when it hit me: most of the queries in Search Console weren't for keywords that were "supposed to" have any search volume. But Search Console showed loads of impressions for them.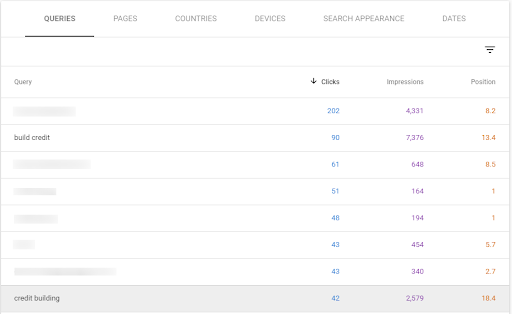 Our initial articles weren't a good fit for many of the keywords that we were ranking on the bottom of page 1 or page 2 for.
So we used what I call the "splinter off" technique.
We wrote articles optimized for the bottom-of-page-1 queries. And guess what happened?
Google loved the increased relevance of the new articles! Some of those articles ended up being our most visited organic pages.
Some of them were driving 1,000 organic users per day.
Examples of splinter keywords included:
ppp payroll requirements
sba emergency loans coronavirus
eidl loan requirements
eidl loan calculator
Even now, you'll see 3/4 of the above Nav.com articles still ranking on page 1 of Google for those keywords.
The key here is to use super strong keyword relevance. I made sure that the keyword, in its exact order, was in the URL, title tag and H1 of the page. Like so: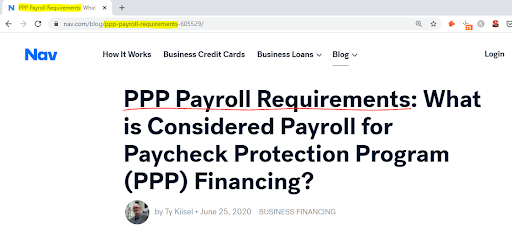 This is the type of tactic that only an SEO person would think of. Initially, my writers didn't like it. Why target "sba emergency loans coronavirus", when we had already written on that topic ten times before?
It worked because we had never targeted that keyword before. Yes, Google is getting smarter around topics – but keywords still matter in SEO.
To sum up:
Write about trending events
Splinter off separate articles around keywords that you see impression data for in Search Console
I do have a word of warning about successfully applying this tactic. Your website needs to have decent domain authority, and you need to have enough copywriting resources to put up a lot of content.
Nav isn't a big company, but they were still able to publish two articles per day during that time period. I would say that if you can't publish at least three articles per week, don't bother with this technique. This is an advanced, SEO Level 3 technique.
It's interesting to me that news websites don't employ this tactic. News teams are great about "being first to the story", but I've never seen any go back and publish articles based on related keywords.
That's why this strategy has to come from an SEO specialist.
Which brings me to my second tip.
2. Publish Articles Fast
Almost by definition, these types of keywords are a) time-sensitive and b) unreliable.
When you're targeting evergreen keywords that you know have search volume, there's a level of certainty to it. You may not be able to rank quickly, but when you do rank, you'll definitely get organic search traffic.
Not so with these keywords. You may not rank quickly enough in the time that you need to. And you may not get traffic once you do rank. That's the risk that you're taking.
To get this strategy off of the ground, you need to start by throwing spaghetti at the wall. See what sticks.
For example, if I was running a site about fantasy football, I might put up content targeting the next five games. It might look something like this:
buccaneers vs bears
jaguars vs texans
raiders vs chiefs
bengals vs ravens
bills vs titans
And so on.
You could either pre-write most of an article, so that you could publish it as soon as the game finishes. Or you could write the article weeks before the game starts, so that you're already ranking once the traffic starts to flood in.
"Query deserves freshness" is an important consideration here. If you want to show up in the "Top Stories" section of Google, then you'll need to keep the date within the last 24 hours of the big event.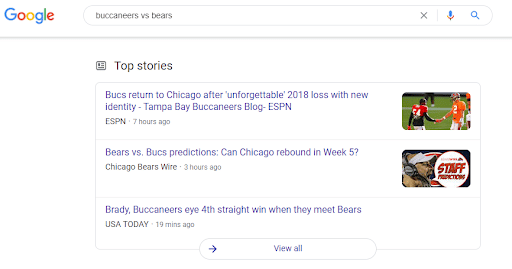 You've seen the advice to add the year to your title tag and h1 one hundred times before. If you want to really take advantage of time-based keyword modifiers, you could also include:
The month. Eg, "Bengals vs Ravens October 2020"
"Right Now"
"Tonight"
Wording that indicates being current. Eg, "College Football Week 6"
"Live Stats"
In our fast-moving world, people are hungry for real-time information.
Some good finance examples include anything to do with prices or rates. "Mortgage rates" is a great example.
Bankrate.com has a fantastic strategy here. They have a hyper-relevant title tag with the day, along with a page that automatically brings in the most up-to-date rates.

Their URL even has the day in it, too:

Are they automatically generating a new URL and page every day? I'm not exactly sure how their tech setup works, but you've got to give it to them for figuring out an automated solution for targeting hyper-relevant, longtail keywords.
3. Provide Unique Value
The key, as with all things in SEO (and business), is to provide unique value. What useful information or functionality can you provide, that your competitors are not?
At Nav, our CEO was quick to jump on the PPP loan trend. He announced in a company meeting that we would be the first FinTech company to publish a new PPP loan calculator.
In our company Zoom meeting, I sent out a message that the keyword "SBA loan calculator" had over 4,000 searches per month. After reading that, everyone got pumped!
Within two days, the calculator was live, with a page that had ample content.
In addition to targeting "sba loan calculator", I included the more timely longtails, such as "ppp" and "eidl". Again – these were keywords that the tools didn't show as having search volume.
I ran an outreach campaign to generate links to the new calculator. The work of our PR team, combined with my outreach and good timing, resulted in generating over 100 backlinks to this calculator.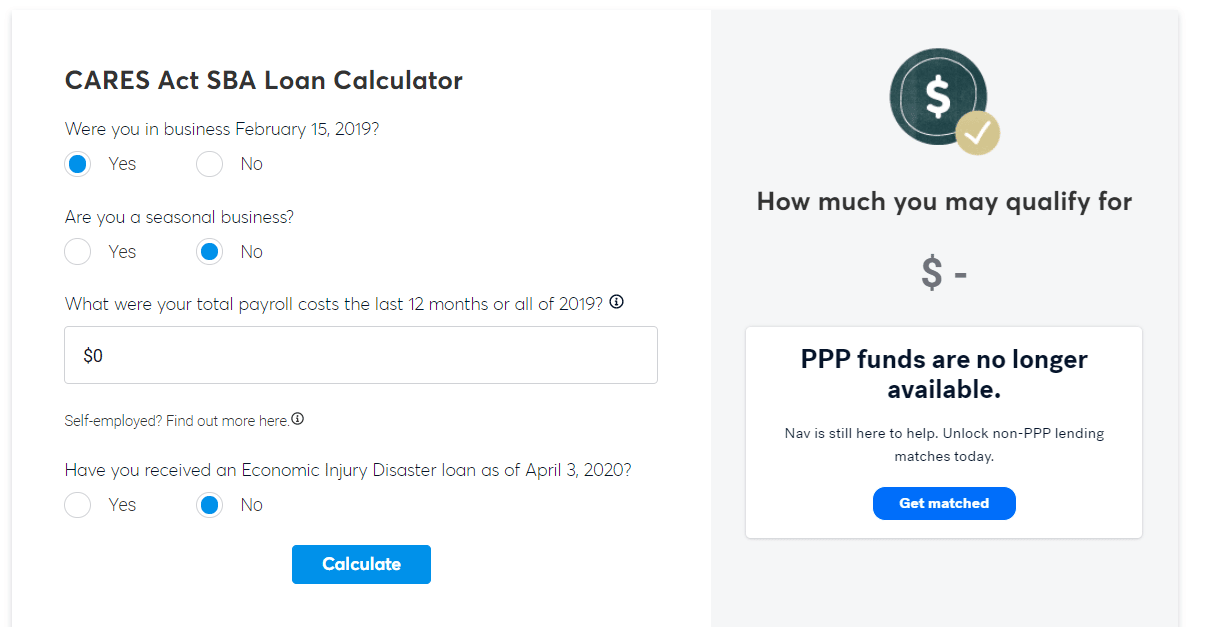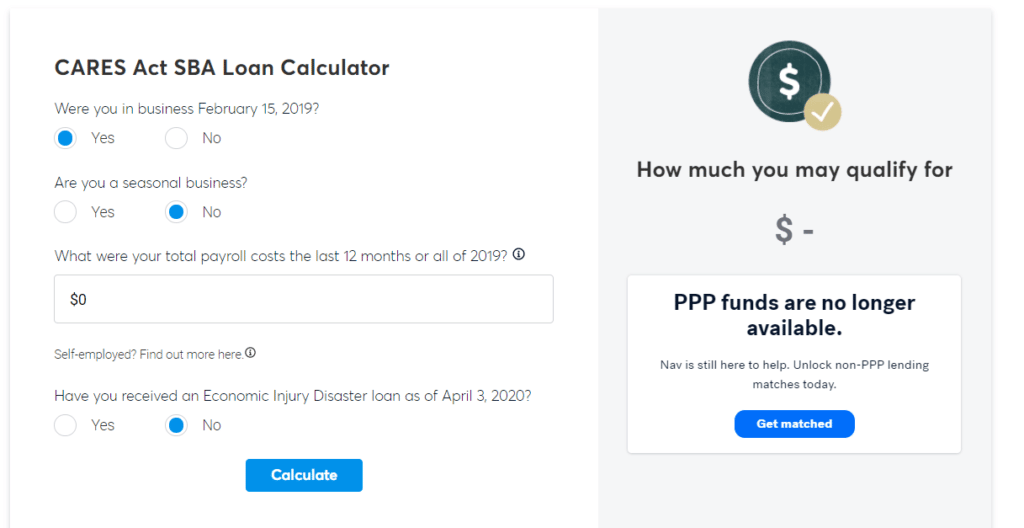 As you can see from the link above, it's nothing special. But it worked, and at the time, no one else had done it.
You don't have to have an API that uploads real-time market data, or build out a calculator based on a new law.
But you do have to satisfy the search intent of the user.
Since this is an election year, let's use that example. What if you could create a map of all of the voting booths in your county? Or an in-depth history on each local candidate? Or a detailed guide for each new ballot initiative?
Traditionally, news organizations do this type of work.
But they lack the SEO sophistication that we do. This leaves a gap that the enterprising content marketer can fill.


Tools for Trends
Some tools that I love for this include Keywords Everywhere, Google Trends, and Exploding Topics.
Everyone stopped using Keywords Everywhere since it became a paid tool. Their loss is your opportunity. It's insanely cheap, and it brings in data directly from the Google API super fast. This is what I love about it!
Not only will they give you longtail keyword ideas, but they just recently added a "Trend Data" graph: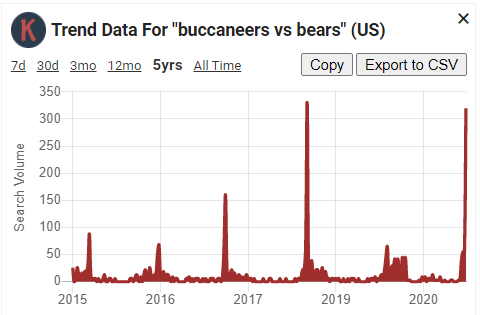 You're looking for the longtail keywords with "0" search volume and time-based modifiers. Don't trust that 0 number at all!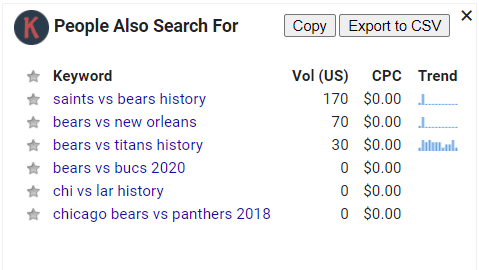 Google Trends might seem like an overly-obvious suggestion, but be honest with yourself. How often do you actually use it for keyword research?
You might not use it to find keywords with hidden search volume. But instead, you can target the up and coming keywords that your competitors are neglecting.
If you don't have specific keyword ideas, and are just looking for trends in your niche, then Exploding Topics is the way to go. Brain Dean of Backlinko fame got tired of trudging through keyword after keyword in Google Trends.
Then he realized: why not build a tool that pulls in the search data automatically for trending keywords?
Browsing through the finance section, I see that "socially responsible investing" comes up as a keyword with 400% growth over the past 5 years.


Then I pop that keyword into Keywords Everywhere, and find out that it actually got 1800 searches, just last week!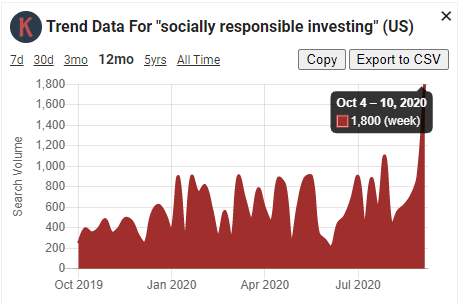 Just as you seek to pick stocks that are growing over time, you should seek to pick keywords that are growing over time, too.
Choose your keyword investments as carefully as you choose your stocks.


Final Thoughts
In SEO and digital marketing, we tend to chase shiny objects too often. I know that I do. Which is why it's important to remember: there's no magic button to press when looking for explosive keywords. But there are solid tactics that require some elbow grease.
And if you're consistent with it, you'll reap the rewards.