Irrationality is the new norm.
My friend lost $50k in the stock market back in March. Like actually lost it — because he sold the stock while they were down. Said it wasn't too big of a deal since it's for retirement anyways.
So… why sell?
If it was a good buy a year ago and will be a good buy a year from now, and you don't need the money right now, then just stay the course and ignore the doom and gloom.
The stock prices will come back up, and you won't lose any money at all.
Unfortunately, I am watching the same fear-based decisions playing out in digital marketing.
Don't get me wrong — things are tough right now. I don't want to be insensitive to the fear and uncertainty we are all facing.
But you can't let that fear drive you to make really, really dumb long-term decisions.
The companies that survive and thrive after this whole thing is over will be the ones that know how to stay the course — and don't let fear drive their business decisions.
The businesses that will bounce back are the ones who realize that stopping their marketing efforts is a death sentence for their business.
Because when things start going back to normal, your business will be nowhere to be found. Instead of letting fear lead, it's time to pivot your marketing efforts.
---
Learn more about content strategy
Check out our Content Strategy course to learn even more about running content audits, planning and executing content campaigns, and how to find quick wins with existing content.
View our Content Strategy Course
---
Get Better at Leveraging Existing Assets
I don't know about you, but I am tired of cooking dinner every night.
But I've noticed something — it's a lot easier to get creative with what I have when I do it on a regular basis.
Leftover steak, a few carrots that aren't looking so hot, some broth, and I've got the makings of homemade ramen.
That same "make do" policy can work for leveraging the content and other assets you already have.
When I talk about getting more out of your existing content, I am not just talking about strategies like:
Turn listicles into separate articles
Combine several blog posts into an ebook
Add an infographic to current content
Updated old content with new stats and research
Those are tired strategies.
I mean, they can work. But if you've been in this game for more than 2.5 seconds, you've heard of these strategies, and you may have even tried them yourself.
Instead of just copying and pasting and moving content around, I am talking about adding real value to the content you already have.
So, if you are tired of reading 112,232 ways to take the same tired blog post and turn it into THE WORLD'S MOST AMAZING content (🙄), here's what I suggest doing instead…
Add videos to your content
We're all (well, most of us) craving a bit more human interaction these days. There's a reason why Zoom stock soared just after the social distancing guidelines were announced.
(They've since nosedived, which is what happens when you lie about how many users you have and do shady things like taking over admin privileges to gain root access, but that is another rant altogether.)
The point is video provides that human interaction most of us are craving right now. It was a big deal before COVID-19, and it's a bigger deal now.
Consider this:
YouTube has more than 2 billion monthly users — and they watch 1 billion hours of content daily.
According to Forbes, the average user will spend 88% more time on a website with video.
If you aren't on the video bandwagon, now is the time.
Here's the deal — you don't need a $2k video production budget to turn a solid piece of content into a killer piece of content.
You just need a smartphone and a bit of free software.
Turn videos you already have into killer content
What if you already have a bunch of videos? Maybe they're doing great, or maybe not.
The point is, you've already taken the time to record those videos, so it's time to make sure they are actually doing something for your company — both now and in 6 or 8 or 18 months when this whole thing is over.
Here's what you need to do…
Transcribe — and edit
Start by transcribing your videos using a tool like Rev or Scribie.
The content you get back is going to be kinda boring and likely all in one big block.
You aren't going to drive massive amounts of traffic by just using a cheap transcription service and throwing it up on your blog.
That's just lazy.
You want to turn the transcription into a piece of useful content that actually ranks by adding more context, and deleting verbal transition phrases like the ones below:


Then, start adding a bit of back story and breaking the content up into short paragraphs.
The goal here is to make the content readable — but also create a piece of content people want to read, rather than a 5,000-word block of text. Once you've got a halfway decent piece of content, it's time to optimize it.
Optimize your transcript-turned content
Every recipe online starts with 1,000 words about how their Grandmother smuggled the recipe out of the old country in her shoe.
It's a recipe for polenta, not a map to find the fountain of youth, Susan. Get to the point.
I have feelings about this, clearly. (And yes, I understand the SEO/Copyright purposes, but I just want to cook my polenta in peace, okay?)
Anyway. My point is, don't just add words for the sake of words. Add value.
Once you've got more of an essay (and less of a boring transcript), it's time to start optimizing the content pillar so it will actually rank.
That means:
Adding key terms to your title and content.
Including a bio that highlights your expertise and shows Google you know what you're talking about (think E-E-A-T and YMYL).
Adding H2s, H3s, and H4s with key terms.
Include internal links to other content on your site (and use optimized anchor text).
Adding external links to reputable sources.
Getting external links from reputable sources.
Don't just add whatever search terms pop in your head. If you want to drive actual traffic, you need to evaluate keyword difficulty and get some data to work with.
I really like Clearscope for this. It's a keyword research and content optimization tool with a super streamlined dashboard.
It loads fast and gives you tons of info about who your content is competing against, the search volume for keywords — and relevant terms you can add to beef up your content.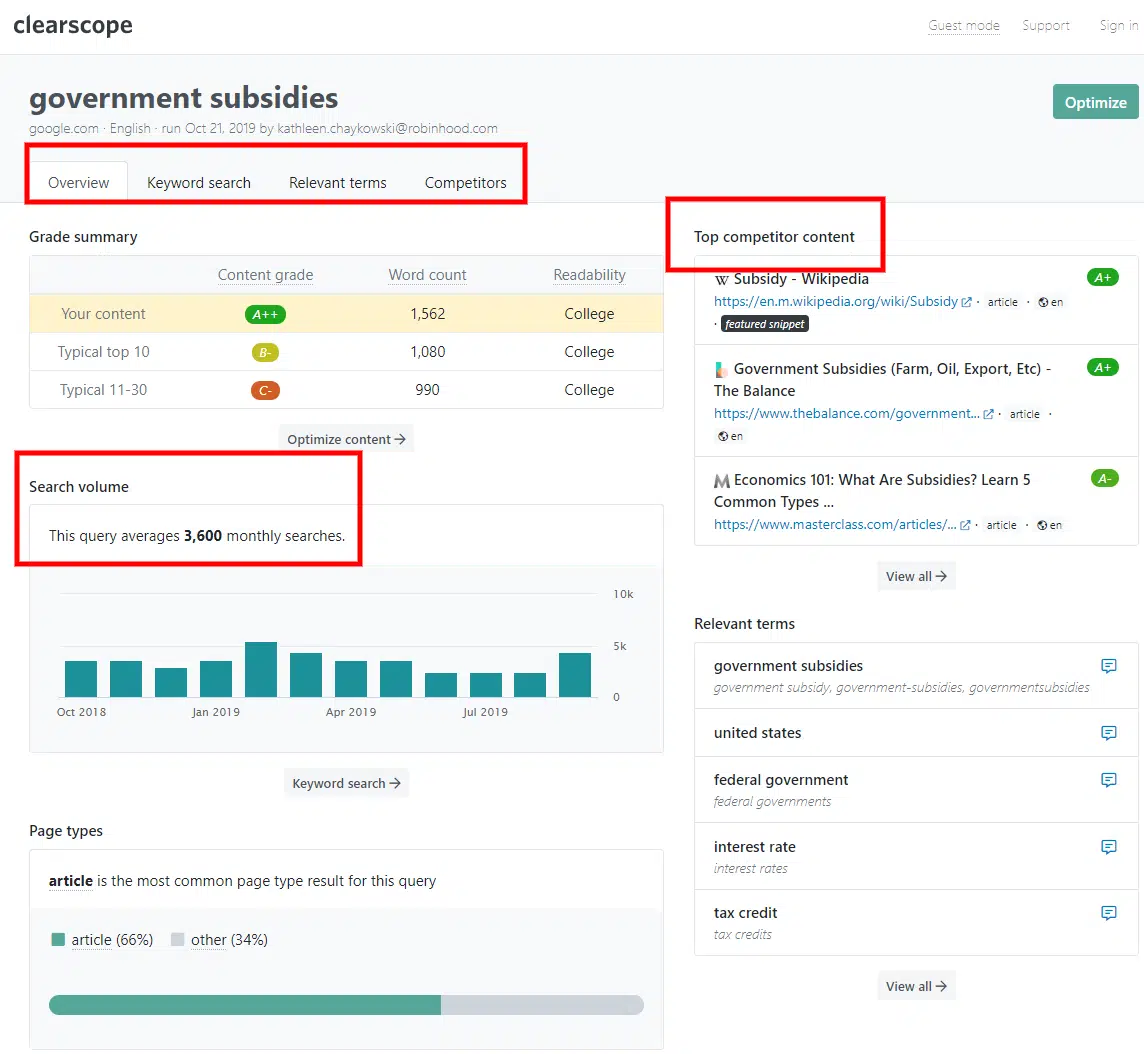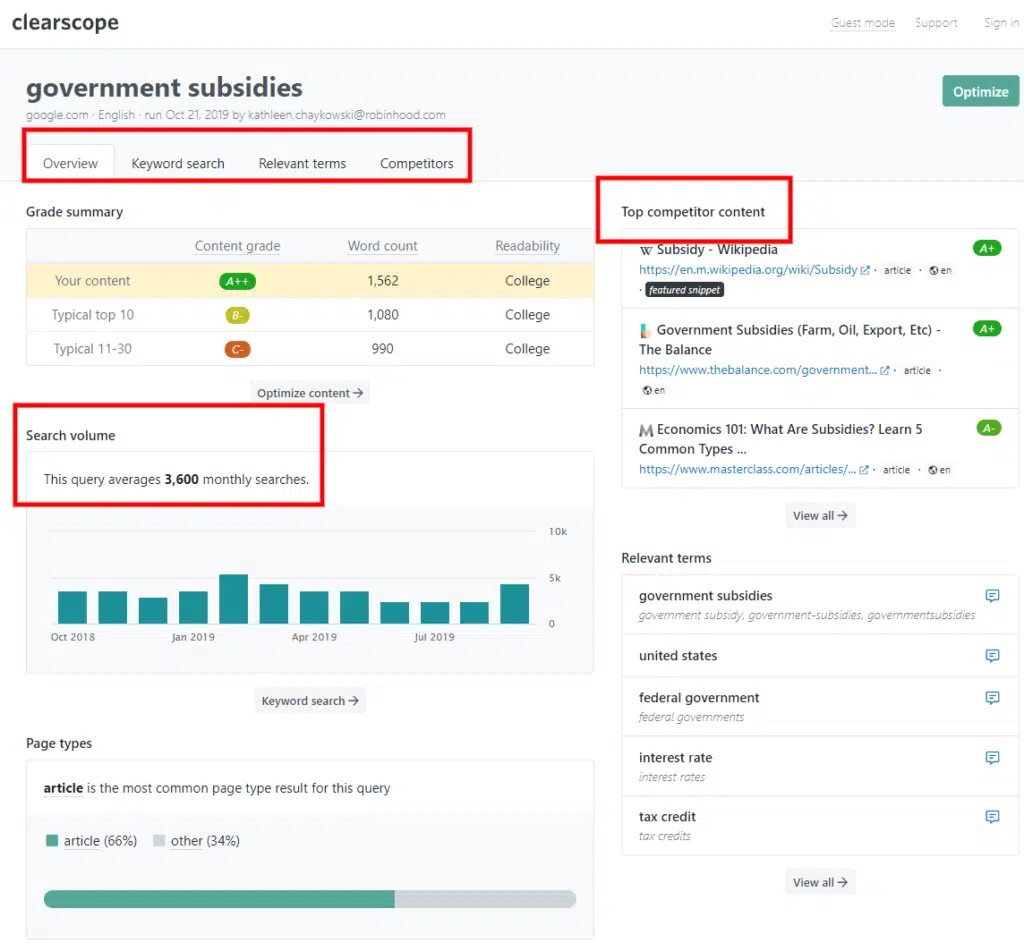 If those relevant terms aren't already in your piece, you'll want to add them.
Take a look at the competition and see how your content can beat it — can you add more visual elements, cover more topics, or up your word count?
Engagement edits
Now you have a pretty solid piece of content that is likely to rank pretty well. (And without any stories about your Grandmother, hopefully.)
Now, it's time to add a little something extra.
We're talking takeaways, dropdowns, and frequently asked questions that help you stand out.


Imagine these are like the chocolate shavings and caramel garnish that goes on a slice of $12 cheesecake from your favorite restaurant.
Would the cheesecake taste just as good without it? Maybe.
Does it make your cheesecake feel fancier? It does.
This is good, original stuff that helps you go after competitor keywords. It also gives you the chance to land those Google Featured Snippets, which answer questions right in the search results, like this: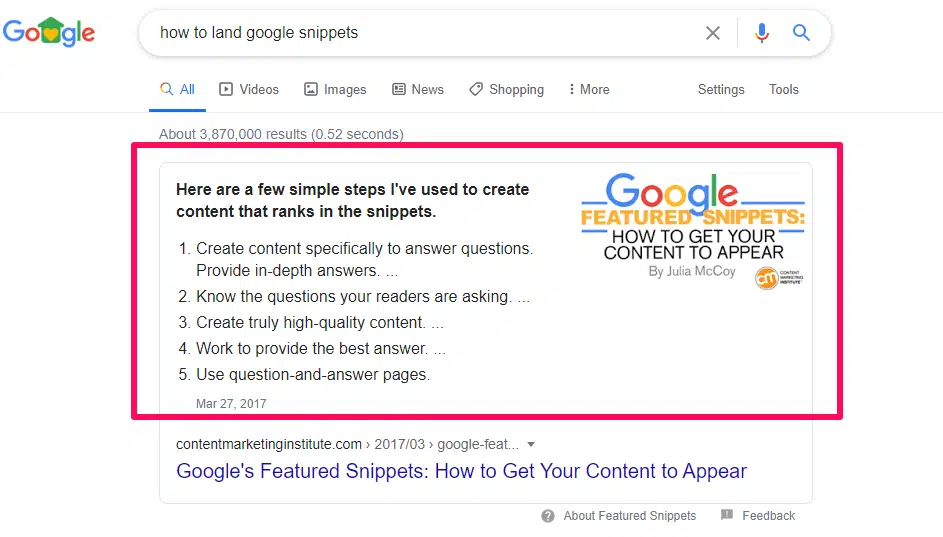 You want these snippets because, despite the fact that it looks like they give away all your content upfront, they drive a ton of traffic.
In fact, HubSpot found that their clickthrough rate for high volume key terms increased dramatically when they managed to snag the Featured Snippet.
Publish at scale
The process above can work for all your videos and is scalable either in-house or (if you write that process down) by outsourcing it to a 3rd party or freelancer from a platform like UpWork or Freelancer.
Which brings us to an age-old content marketing question:
How often should you publish?
The answer is simple: often.
Let's take a look at how publishing frequency affects results for marketers and bloggers like you:

Here's a step-by-step to publish transcribed content frequently and at scale:
Create a spreadsheet (or use a project management tool) listing all videos which need a transcription.
Create a process for transcription and how to turn video content into written.
Assign the transcription work to an assistant (or do it in-house on your own)
Edit and optimize for SEO and engagement
Once complete, use a tool like Wordable to mass export this content into your CMS directly from Google Docs (at scale, and without taking hours for each piece).
Promote and build up your pages
Once you've published this content, don't expect it to rocket to the top of the SERP of its own accord.
Like any written content, you need to promote it (social media, internal and external newsletters, etc) and you need to build its footprint.
What do I mean when I say "build its footprint"?
When your content is published, you want its impression made on the web to be as big as it can be.
To effectively build out your newly-made content's footprint, you need to do a few primary things:
Ensure your site's design makes it easy to share, so your community and readers increase awareness of (and links to) your content.
Make your content itself engaging and elements of it "bite-sized" (also to incentivize sharing).
Create internal links within your site (particularly within content pieces that are related to your new content)
Build external, referring links within other, high-domain sites. These act as "votes" in your content's favor by the web's electorate. When Google decides who wins the SEO election, the content with the most votes (referring links) wins.
By identifying, transcribing, optimizing, promoting, and linking to your video content, you can take full advantage of it.
But what about existing written content?

Updating existing content
Updating existing content is the marketing equivalent of shopping your own closet before a big event — or making ramen out of leftovers.
It's about taking what you already have, dressing it up, and giving it a new life.
Your first step is to find content to optimize. Not every piece of content is worth dressing up.
Start with low hanging fruit — pages that rank on the bottom of the first page or the top of the second page for their target keywords.
These are already doing pretty well, and it will take just a little bit of extra effort to take them to the top.
Here's how to find them:
Head to Google Search Console and click on the Performance tab and then Search Results.
Click on Average Position to see where individual pages are ranking for their keywords. Look over the results and pay attention to any pages that are in positions 5 to 10.
These pages are worth optimizing.
Toss them in a spreadsheet to keep yourself organized.
So, you can just add a few sentences, sprinkle in some key terms, and you're good to go, right?
Not exactly.
Just like you can't slap a new coat of paint on your 2001 Odyssey and call it a race car, you can expect a few tweaks to take meh content to the top.
Here's how to breathe new life into your content:
Dig deeper & cover more topics
Thin content doesn't rank.
Google made sure of that with its Panda algorithm update, and it keeps showing us in our GA dashboards and search results.
To make your content stand out, you need to go deeper. That means making your content better than what's already ranking.
But what does better mean, anyway?
Longer? Yeah, sometimes.
More keywords. Yes, but not too many.
Lists and images? Those are great, but you gotta make sure they are also relevant to the topic.
You actually want a helpful answer, don't you?
Luckily there's a tool for that, too — MarketMuse.
Add your content, and MarketMuse will give you an opportunity score, which tells you what your current authority is and areas for opportunity.




Then, plug it into MarketMuse's Optimize tab, which will give you a list of key terms to cover, a content score, and a target word count to hit.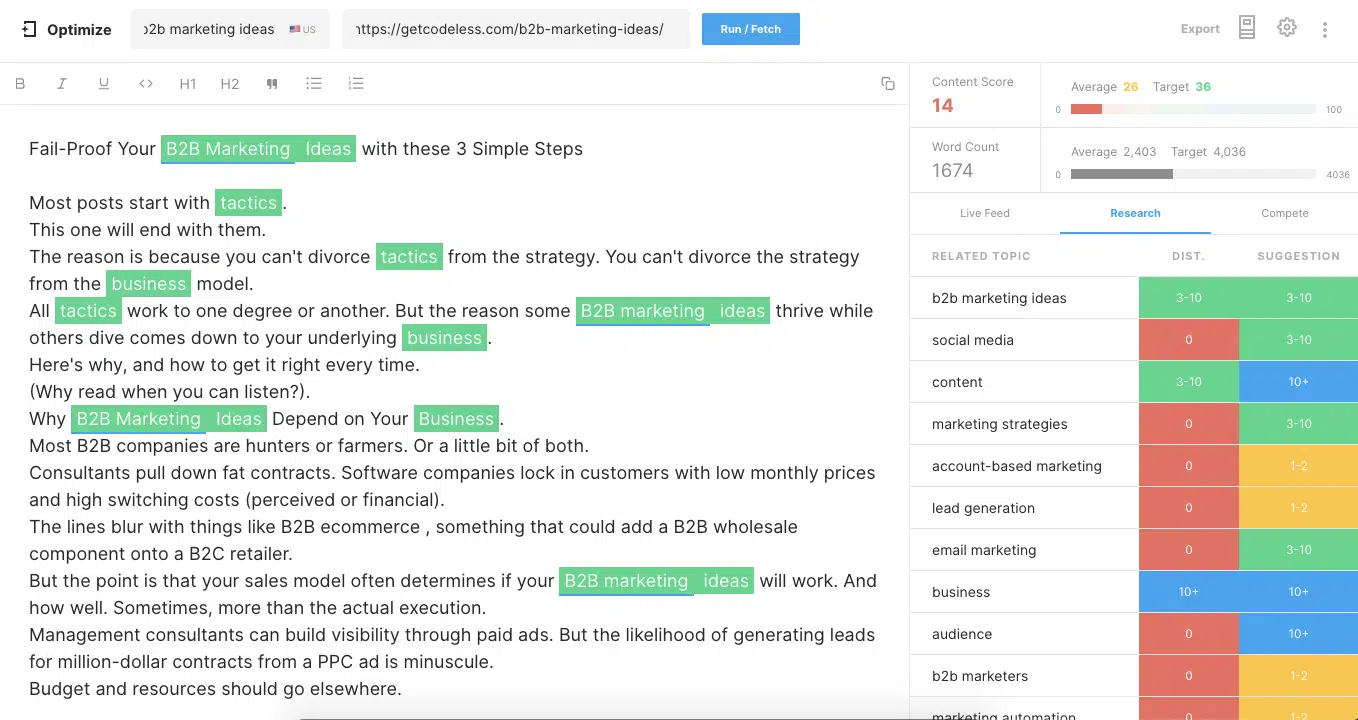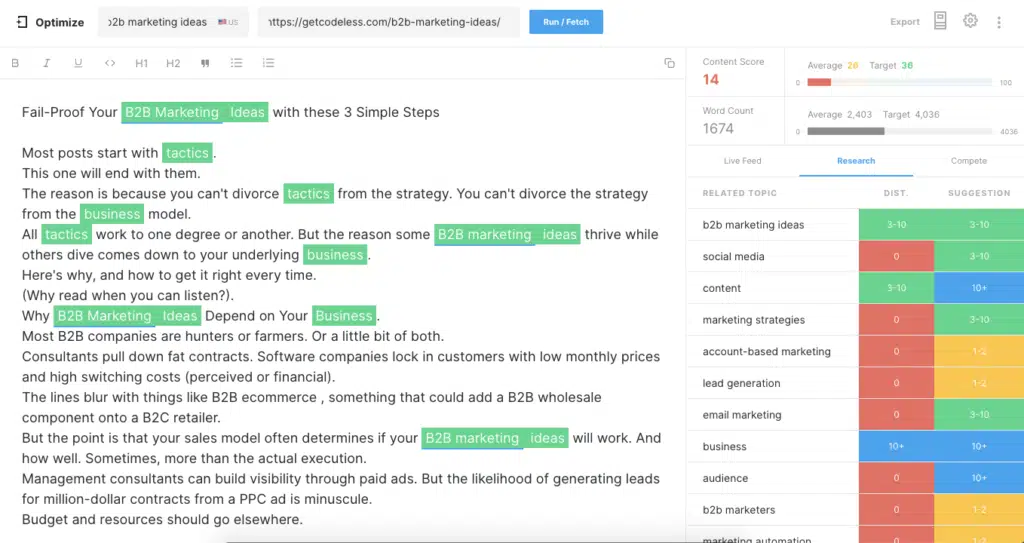 As you make those changes, make sure you are updating old stats, adding new images, and including links to newer content you've published.
Then, run that bad boy through MarketMuse again to see how much you've improved your content.
Review your content for grammar issues and tone
You've made your content more comprehensive, updated your links, and added new images.
Give your content another read-through. And then another. Look for all those pesky errors that you missed the first time.
Then, drop your content into an editing tool like Grammarly. It will check for any grammatical errors or readability issues you might have missed.
If you want to get fancy, you can use their Goals feature to get tailored writing suggestions based on your audience, the level of formality, and the type of business you have.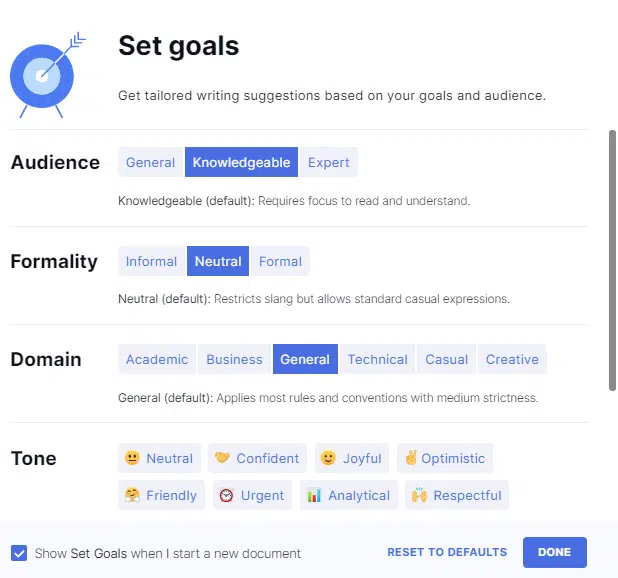 It's not perfect, so make sure you check all their recommendations, but it serves as a solid set of second eyes.

Final Thoughts
A few months ago, I met a few friends for dinner at a local Italian restaurant. We ate food with far too much cheese, we had a few glasses of wine, and we swapped industry stories.
It feels like a lifetime ago.
A few months ago, your business was likely chugging along just fine. You might have been looking at expanding your team, adding more products to your e-commerce store, or adding new features to your software.
Then, in the space of a few weeks, everything changed.
But with that change came a lot of opportunities. The opportunity to reel back extra spending, to take a long hard look at what you are building.
There's a lot of fear, too, of course. But don't let that fear convince you to make really poor business decisions.
Focus on what you have, and look for ways to do more with less. Add videos to your content, turn those videos into content people actually want to read — not just rehashed transcripts.
Once you've done all that, build a promotional strategy that will help people actually find all that content you've created.
These moves will give your business the edge it needs to not just survive the next few months, but thrive again — either now or when the time is right.